11 Top-Rated Day Trips from Marseille
Discover the beautiful countryside and charming cities around Marseille. This area of Provence has a distinctive Mediterranean character and diverse landscapes: a spectacular coastline, rolling hills dotted with ancient villages, and pristine nature reserves.
The traditional Provençal towns of Arles and Aix-en-Provence will delight you with their fascinating history, rich artistic heritage, and array of excellent museums, while Nîmes impresses with its well-preserved ancient Roman sites.
You will also enjoy day trips to the postcard-perfect fishing village of Cassis; the "Most Beautiful Village" of Gordes, with its quaint cobblestone streets and sensational views; and Hyères, which was one of the first wintertime seaside resorts in France.
Other rewarding places to visit include Salon de Provence, a medieval village that boasts an incredible history, and Saint-Maximum with a pilgrimage church that will inspire the faithful.
Explore the highlights of this picturesque corner of the Provence region, with our list of the best day trips from Marseille.
1. Arles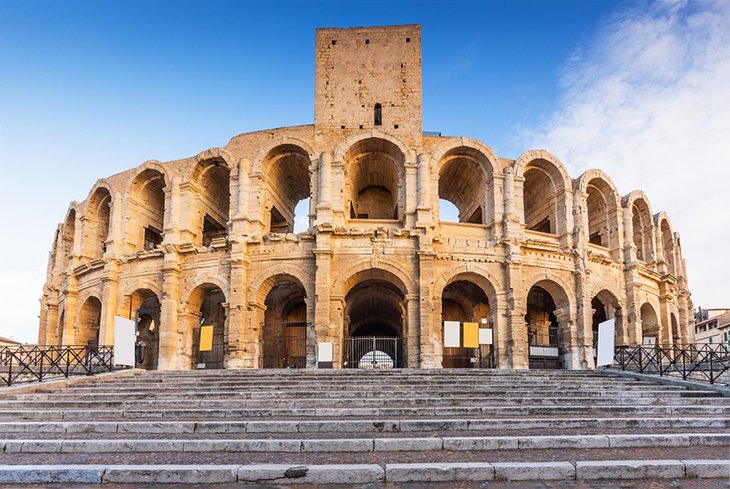 This sun-drenched town has a traditional character that is distinctly Provençal. The historic charm of Arles reveals itself in shady public squares, tree-lined streets, and atmospheric outdoor cafés.
Vincent van Gogh captured the alluring atmosphere of the cafés at the Place du Forum in his famous painting Terrasse du Café le Soir (Café Terrace at Night). The café depicted in the painting today is called the Café Van Gogh.
Other landmarks painted by Van Gogh can be found on the Van Gogh Pedestrian Path which indicates over ten scenes that Van Gogh painted. The Fondation Vincent van Gogh Arles displays contemporary paintings that were influenced by Van Gogh's works.
Arles is equally renowned for its ancient Roman sites, including an amphitheater dating to the 1st century CE (that today is used as a venue for bullfights and music concerts) and the remains of a 1st-century BCE theater that once accommodated an audience of 10,000 people.
Although the ancient theater is partially in ruins, the seating is still used as an outdoor venue for summertime performances and events.
During the spring and summer months, Arles becomes animated with traditional festivals that delight locals and tourists alike.
Less than one hour from Marseille by train, Arles is a rewarding day trip for anyone who appreciates history and culture.
Read More: Best Places to Visit in the South of France
2. Nîmes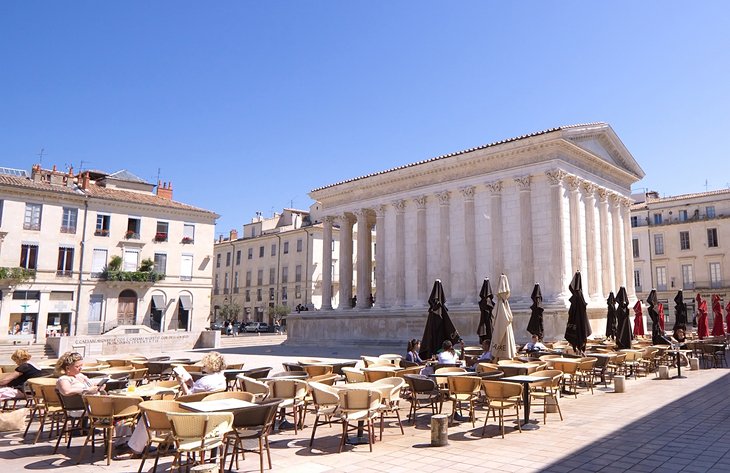 Drenched in the sunshine of southern France, Nîmes offers many reasons to visit. Besides balmy weather and summertime festivals, the city boasts many cultural attractions.
Throughout Nîmes are well-preserved ancient Roman monuments, including an amphitheater (the Arènes) that was the most important monument during the Roman era and the remarkable Maison Carrée, a rare example of a completely intact classical Roman temple.
Similar to many Provençal towns, the historic center of Nîmes features shady tree-lined streets, public squares adorned by gurgling fountains, and bustling cafés with outdoor terraces.
Because of its proximity to Provence and Catalonia, Nîmes shares some Provençal and Spanish traditions.
Throughout the springtime and summer, Nîmes comes alive with cultural events, outdoor performances, and festivals. The annual Festival de Nîmes in June and July draws large crowds with music concerts held at the Ancient Roman Amphitheater.
Nîmes is about a 90-minute drive from Marseille, a worthwhile detour into the Languedoc region that borders Provence.
3. Calanques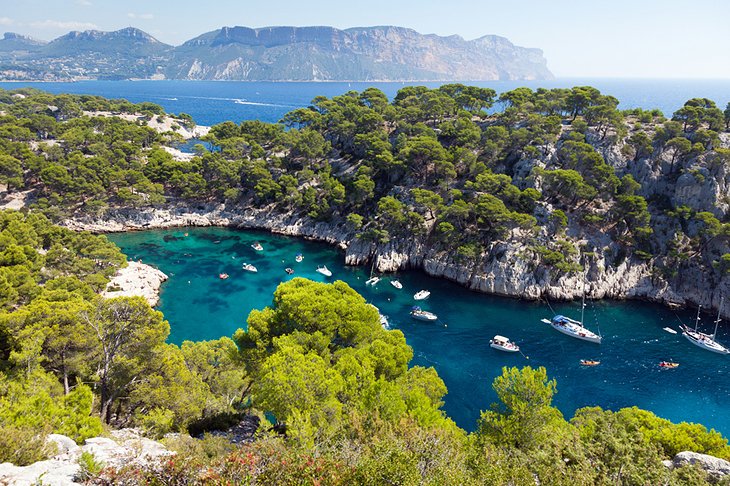 A sublime natural landscape awaits you at the Parc National des Calanques. Along the coast between Marseille and Cassis, this national park encompasses both land and sea. The dramatic landscape includes limestone coastal cliffs and sheltered inlets called "calanques."
The French word "calanque" translates to "cove" in English. The narrow fiord-like coves cut deep into limestone rock walls, forming pools of seawater that are as calm as lakes. Because the light reflects off the white limestone, the water appears a stunning turquoise color.
The Calanques National Park also has amazing wildlife and rare plant species because of its unique environment. The area is partly used as natural yacht harbors and is popular with rock climbers. The large Calanques, Port-Miou, En-Vau, and Port-Pin, are particularly impressive.
The Calanques are accessible by land, as well as by sea from Marseille. You can choose from various private boat excursions, catamaran trips, and cruises such as a daytime brunch boat tour or a sunset dinner cruise.
If you're sporty, the Calanques offer endless things to do. Popular recreational activities include nature walks, hiking, swimming, scuba diving, and snorkeling. Feeling adventurous? Then try kayaking, rock climbing, and electric mountain biking.
A great way to discover the Calanques National Park is on an Electric Bike Tour. Departing from Marseille, this full-day guided trip includes an electric biking excursion through the wild Calanques terrain; then allows time for sunbathing and swimming at the Callelongue Cove. The tour ends in Marseille with a tour of the city's top attractions.
4. Aix-en-Provence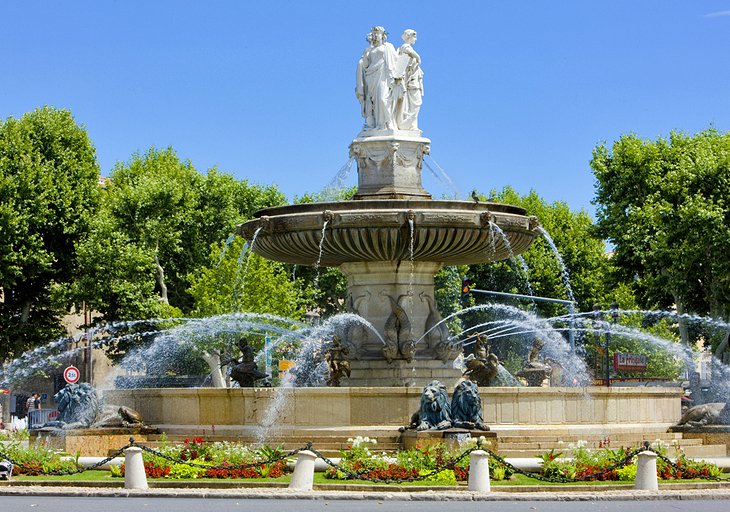 Elegant and refined Aix-en-Provence feels worlds apart from the modern era. Well-preserved monuments and traditional festivals create the impression of time standing still. Centuries of history are entwined in the majestic public squares, stately Baroque buildings, medieval cobblestone streets, and the fountains that have been flowing since ancient Roman times.
At its heart, Aix-en-Provence is a slow-paced country town. One of the most important traditions is the city's outdoor Provençal market, where artisans, craftsmen, and food producers sell their fresh products and handcrafted goods.
Aix-en-Provence has outstanding museums, including the Musée des Tapisseries (Tapestry Museum), with a rich collection from the 17th and 18th centuries; the Musée Granet (Museum of Fine Arts and Archaeology); and the Atelier de Cézanne, where the artist painted some of his most famous works.
On a hillside about a 10-minute walk from the Atelier Cézanne is the Terrain des Peintres, a public park where Cézanne and other Impressionist painters created glorious images of the Sainte-Victoire Mountain and the Provençal landscape.
To see the highlights of the Provençal countryside, join the Provence Lavender Fields Tour. This full-day trip from Marseille leads you on an excursion through the lavender fields of the Valensole Plateau and includes stops in the quaint villages of Valensole and Moustiers-Sainte-Marie.
5. Cassis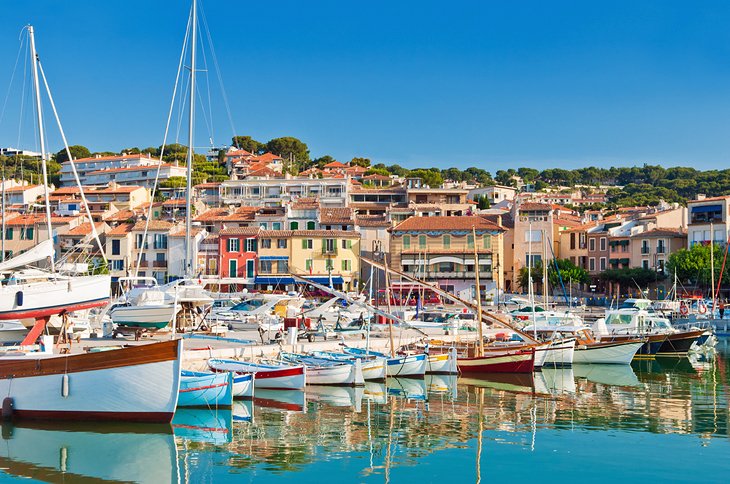 Presiding over a semicircular bay and framed by mountains, this picturesque fishing village once attracted painters, including Vlaminck, Dufy, and Matisse. The artists were drawn to the charming scene of pastel-colored houses and sailboats reflected in the bay.
Today, Cassis is a popular recreation center for the residents of Marseille. Tourist attractions of Cassis include the old settlement center with remains of 12th- and 14th-century fortifications, a castle built in 1381, and the beautiful Fontaine des Quatre Nations.
For a carefree visit to Cassis, try the Small-Group Marseille and Cassis Tour. This seven-hour guided tour departs from Marseille and includes stops at the top attractions of Marseille, a scenic ride along the Route des Crêtes to Cassis, and free time for you to explore the village of Cassis.
Cassis is an easy day trip from Marseille, only 22 kilometers away.
6. Gordes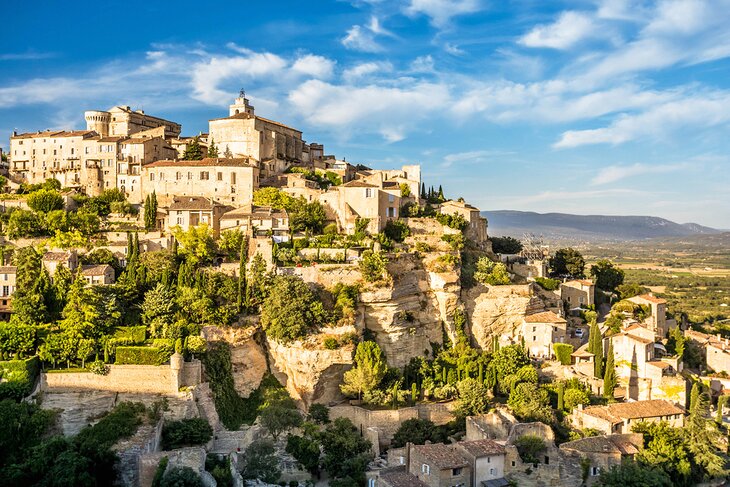 In the heart of the Luberon region, Gordes has earned a place on the Plus Beaux Villages de France list. This enchanting hilltop village has captivated many famous artists, including Marc Chagall and Victor Vasarely.
The center of Gordes village, in its lofty perched position, is a cluster of narrow cobblestone streets that thread their way through tall houses built against the rock. The most impressive monument is the Château de Gordes, with machicolated towers and massive ramparts.
Besides Gordes, other Plus Beaux Villages nearby include Ménerbes, a characteristic Provençal village with many artisan boutiques and cultural events; Lourmarin, known for its Provençal festivals and art de vivre; and Roussillon, a dreamy village perched high on an ochre cliff.
A driving itinerary is required to visit these villages, but the effort is sure to reward. If you want to leave the driving to someone else, a great choice is the Perched Villages of the Luberon Day Trip from Marseille. This full-day guided tour allows you to soak up the slow-paced lifestyle of the Luberon villages and enjoy a drive through the rolling hills.
7. Abbaye Notre-Dame de Sénanque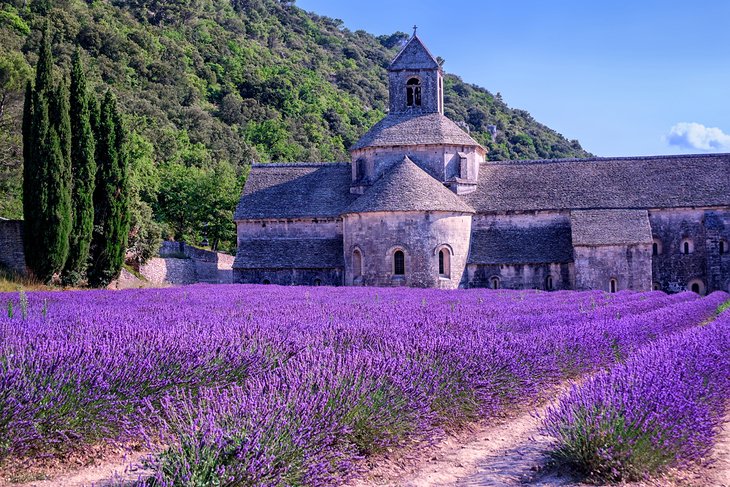 The serene Abbaye Notre-Dame de Sénanque nestles between lavender fields in an idyllic valley three kilometers from Gordes. Built in the 12th and 13th centuries, this monastery exemplifies Romanesque Cistercian architecture.
This listed Monument Historique is still home to a community of Cistercian monks, who follow the Rule of Saint Benedict. The monks dedicate their lives to prayer and work such as making olive oil and lavender honey. (The products created at the abbey are sold at a boutique on-site.)
You may visit the Abbey of Sénanque to take a guided tour (with English-language audio guide) or for religious purposes. It's possible to participate in silent prayer or attend a Mass. Religious services are held several times daily.
The abbey also hosts spiritual retreats that last for up to eight days. These silent retreats include accommodations and meals.
8. Hyères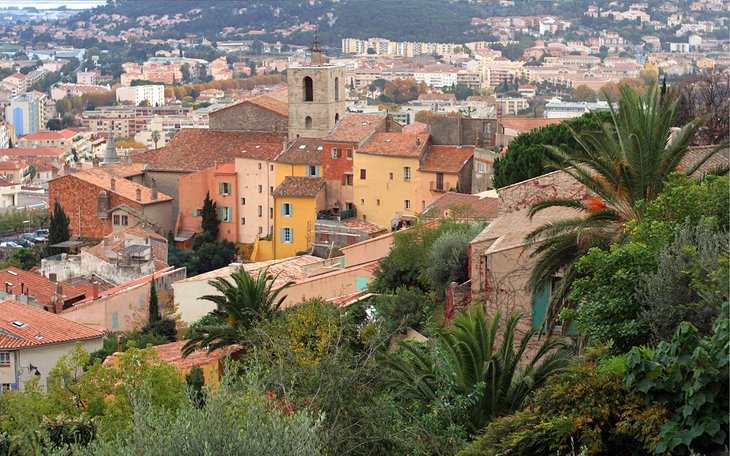 This beautiful seaside town was the first resort destination on France's Mediterranean coastline. The sublime sandy beaches and mild weather continue to draw vacationers throughout the year.
At the foot of the Castéou Mountains, the landscape surrounding Hyères is absolutely gorgeous. The town itself is also attractive. Hyères' Old Town is full of charming cobblestone streets and quaint pastel-painted houses.
Noteworthy listed Monuments Historiques in the Old Town include the 12th-century Chapelle Saint-Blaise (Tour des Templiers), the remains of a residence of the Knights Templar; and the Collégiale Saint-Paul, a 12th-century Romanesque church that was renovated in the 14th and 16th centuries.
From Hyères, you can take a 30-minute ferry ride to the dreamy Île de Porquerolles, considered one of the best beach destinations in France. The Island of Porquerolles is prized for its secluded sandy beaches and idyllic Mediterranean scenery.
9. Saint-Maximin-la-Sainte-Baume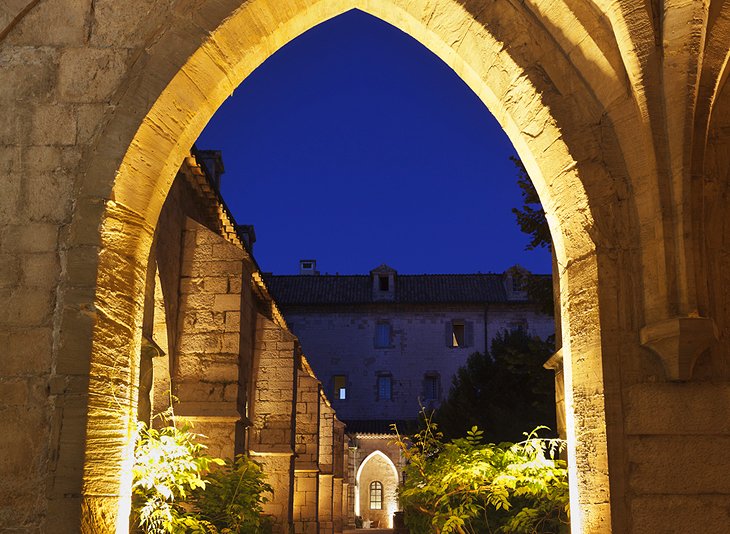 Mary Magdalene is supposed to have landed by boat at Saintes-Maries-de-la-Mer, and it is said that she was buried in a mausoleum here.
The crypt of the 13th-century Basilique Sainte-Marie-Madeleine (Basilique de Saint-Maximin) contains an ornate gilded reliquary that houses a relic of Mary Magdalene. There are also precious relics displayed in the sacristy.
This historic church is worth visiting as a pilgrimage destination or simply to appreciate the Gothic architecture. The Basilique de Saint-Maximin is the largest Gothic edifice of the Provence region. The grand proportions include a length of 73 meters, a width of 43 meters, and a height of 29 meters in its vaulted nave.
10. Salon de Provence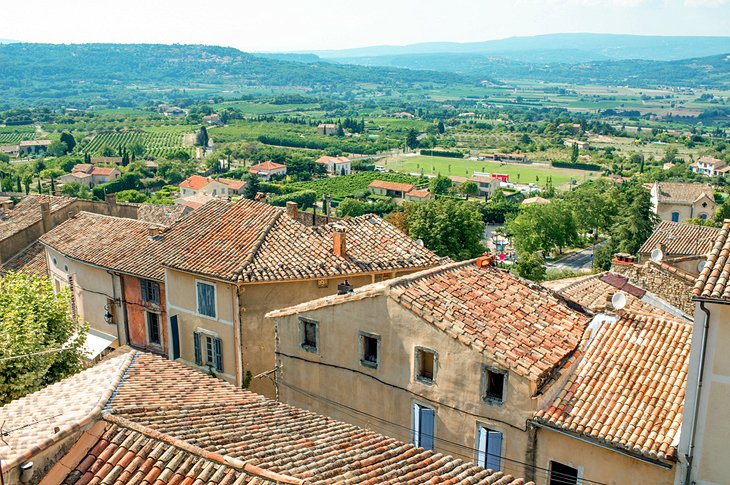 Salon de Provence lies on the edge of the Plaine de la Crau northwest of Marseille. In ancient times, there was a Roman site on the Hill of Valdemech, and the town also has origins in the time of Charlemagne.
The Château de l'Empéri, which dominates the town of Salon de Provence, is one of the best preserved and largest fortresses in Provence. The name "Emperor's Castle" refers to the rulers (Holy Roman emperors) who once reigned over the kingdom of Provence.
Listed as a Monument Historique, the Château de l'Empéri houses an Army Museum, which presents the military history of France from the time of Louis XIV until the end of World War One. When visiting the château, you can also admire the beautiful Chapel of Saint-Cathérine from the 12th century.
Another interesting attraction in Salon de Provence is the Maison de Nostradamus (2 rue Nostradamus), the former house of the cosmologist Nostradamus (1503-1566). Nostradamus spent the last 19 years of his life here. The house is now a museum that features historical editions of Nostradamus' prophecies, mementos, and a reproduction of his study.
Near the Maison de Nostradamus is the Nostradamus Centre, which provides workshops, lectures, and research assistance for scholars interested in Renaissance literature. This educational center is one of the best places to visit in Provence, for academics researching documents from the 16th century.
11. Toulon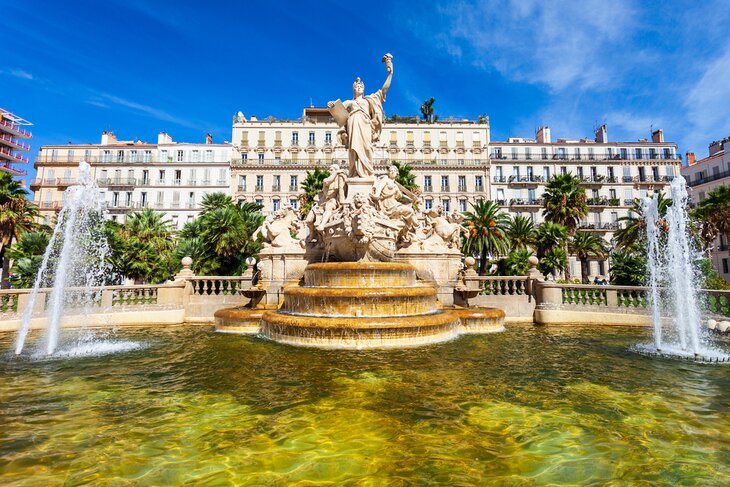 For a glimpse of a real working city in southern France, visit Toulon. This less-touristy destination has a busy port, with an important naval base and large fishing industry.
Despite its busy urban ambience, Toulon is a pleasant place to visit, with a lovely waterfront and picturesque pedestrian areas. Enjoy leisurely quayside meals and amble through cobblestone streets in the Vieille Ville (Old Town). Try a sightseeing city tour on Les Petits Trains de Toulon. This tour gives you a chance to see some highlights of Toulon.
The best views in town are from Mont Faron, which overlooks the Bay of Toulon. You can take a cable car ride on the Téléphérique du Faron to reach the 548-meter-high summit. From there, you will be dazzled by the expansive views of the coastline and the Mediterranean Sea.
Toulon is about 70 kilometers from Marseille, which takes around one hour by car.
Map of Day Trips from Marseille