10 Top-Rated Lakes in France
Author Lisa Alexander spent two years living in France and has traveled the country extensively.
To vacation as the French do, head to one of France's lake resort destinations. French families especially appreciate the relaxing ambience, and it will appeal to you if you're looking for a slower pace. The serene scenery allows you to experience a sense of tranquility and rejuvenation.
The fresh air and lakeside recreation ensure a blissful holiday experience. Adding to the fun are nearby cultural attractions, such as lakeside castles and quaint villages.
Enchanting lakes are found in several different regions of France. Some of the most awe-inspiring lakes are at high elevations in the French Alps, the Pyrenees, the Vosges Mountains, and the Auvergne region.
Learn about some of the most popular lake destinations, and plan a wonderful vacation, with our list of the best lakes in France.
1. Lac d'Annecy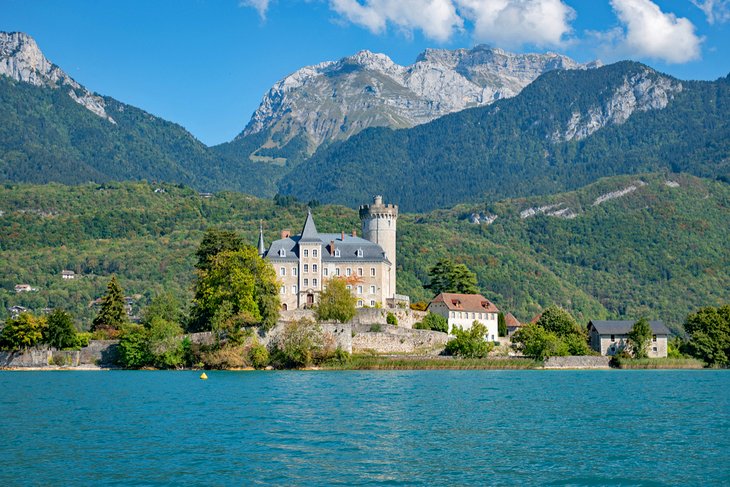 Step into a storybook scene in the French Alps at the Lac d'Annecy. Encircled by forested mountain peaks, this lake features sublime Alpine scenery. Dotting the edge of the lake are majestic ancient castles and fetching villages, including the picture-perfect medieval town of Annecy, which is full of tourist attractions.
Appreciated for its crystal-clear turquoise waters, Lake Annecy is a great place for swimming and water sports, such as sailing, canoeing, kayaking, and paddleboarding.
A more leisurely way to explore Lake Annecy is by boat. Many of the touristic cruises include commentary (in French) about specific sights around the lake.
Lake Annecy also charms visitors from its shores. Along the lake's perimeter are spacious sandy and grassy beaches with excellent facilities: public restrooms, showers, picnic areas, volleyball courts, and lounge chair rentals.
A scenic lakeside path (43 kilometers long) is used for walking and cycling. It takes about three hours to bike around the entire lake.
2. Lac du Bourget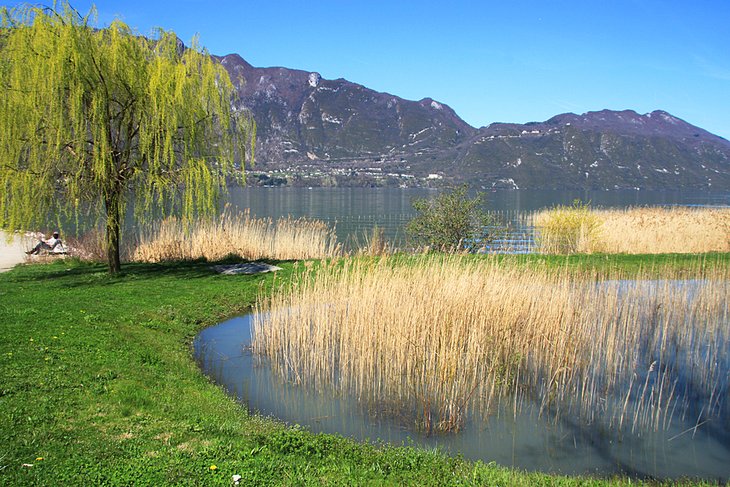 If you're seeking idyllic French Alps scenery as well as cultural attractions, the Lac du Bourget offers the perfect combination.
Densely wooded hillsides surround the Lac du Bourget, while picturesque villages, elegant towns, and historic castles grace the lake's shores. Aix-les-Bains, an internationally renowned spa resort, has been a destination for therapeutic holidays since the Belle Époque.
Today you can enjoy both spa treatments and recreational activities at the Lac du Bourget. There are about a dozen beaches (most accessible by bus) along its shores, including well-equipped beaches in Le Bourget du Lac and in the town of Châtillon, which are ideal for swimming, boating, and other water sports.
Several noteworthy monuments stand on the banks of Lake Bourget, including the medieval Château de Châtillon (open for guided visits; tours are in French) and the Château de Bourdeau, a romantic turreted castle with lake views. The Château de Bourdeau once hosted Queen Victoria and has been converted into a hotel.
Dating to the 12th century, the Château de Pomboz was built as an abbey for Benedictine monks. Today, the Château de Pomboz is listed as a Historic Monument and is open to the public for guided tours.
Exquisitely restored, the 17th-century Château de La Mar has been converted into an upscale bed-and-breakfast hotel featuring sumptuous period décor. This six-hectare property includes an outdoor swimming pool, gardens, and a vineyard.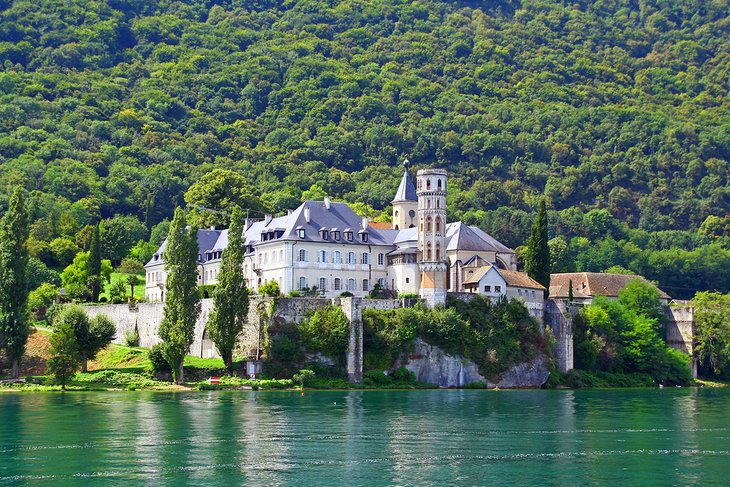 The most-visited sight is the Abbaye d'Hautecombe, a 12th-century Cistercian abbey built at the edge of the lake. Classified as a Historic Monument, this magnificent abbey has a lavish Neo-Gothic Troubadour-style church that contains exceptional works of art. Religious services are celebrated at the abbey church every day except on Tuesdays; mass is held at 12pm.
The Abbaye d'Hautecombe church is open to the public every day except Monday and Tuesday for self-guided audio-tours. Stop at the abbey's café for snacks, ice cream, and other refreshments on the lake-view outdoor terrace. Be sure to check out the abbey's boutique, where you can find honey made from the abbey's bee hives and other artisanal products.
A highlight for gourmands is Le Bourget du Lac, a tiny village with two outstanding gastronomic restaurants (both have been awarded a Michelin star). The family-run Lamartine Restaurant offers modern French cuisine in a stylish dining room or on the lake-facing outdoor terrace. Within a small boutique hotel, the Atmosphères restaurant serves seasonal cuisine of the terroir and also has lake views from its dining room and outdoor patio.
The Lac du Bourget is the most expansive natural lake in France, and its ecosystem is untouched by development. This protected environment provides a habitat for an abundance of birdlife, including ducks, herons, and cormorants.
Active types can plan an outdoorsy vacation here. The lake is ideal for recreational boating and water sports.
3. Lac d'Aiguebelette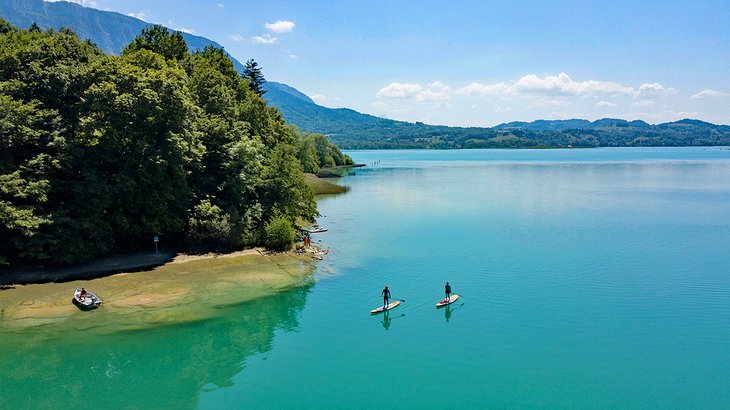 The Lac d'Aiguebelette is a gem of the Savoie Mont-Blanc region. Dazzling emerald waters and a verdant mountain scenery give the lake an ambience of serenity. The pristine environment makes it popular for fishing.
Quaint country villages dot the green, rolling hills that surround the lake, while the banks feature small boathouses and waterfront houses on stilts. Especially appealing to tourists are the handful of communities along the lake's peaceful shores that feature beaches with excellent facilities.
The Plage du Sougey in the town Saint-Alban-de-Montbel is a grassy beach with a restaurant, snack bar, and parking. Families appreciate the lifeguard supervision during summertime and the children's playground.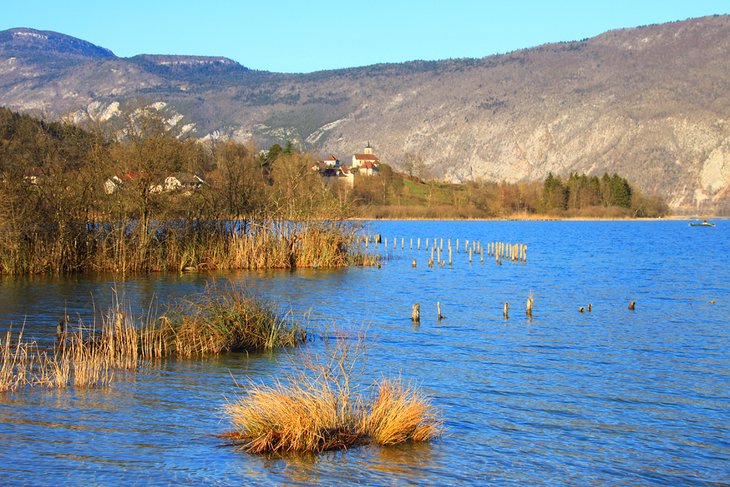 In the town of Novalaise, the Plage de Bon Vent offers gorgeous scenery and opportunities for paddle boating and beach volleyball. This beach has a snack bar, picnic tables, and a pleasant, shaded lawn that's ideal for relaxing and sunbathing. Lifeguards survey the waters during summertime.
The most extensive facilities are found at the beach in Plage d'Aiguebelette-le-Lac, which features a boat marina, children's playground, a picnic area with barbecue grills, a snack bar, a restaurant, lifeguards on duty during high season, and an area for water sports. Visitors can rent canoes, pedal boats, kayaks, and stand-up paddleboards.
Families will love the Plage de Lépin-le-Lac, a kid-friendly beach with mini-golf, water sports equipment rentals (pedal boats, kayaks, and stand-up paddleboards), and a children's playground. Other amenities include lifeguard supervision and a snack bar with shaded tables for outdoor dining.
Little ones adore the Saint Alban Plage in Saint-Alban-de-Montbel because of its bouncy castle and aquatic park with a waterslide and splash pool. Saint Alban Beach also attracts boating enthusiasts. Services at this beach include a restaurant, rentals of lounge chairs and beach equipment, and lifeguard supervision.
4. Lac de Gérardmer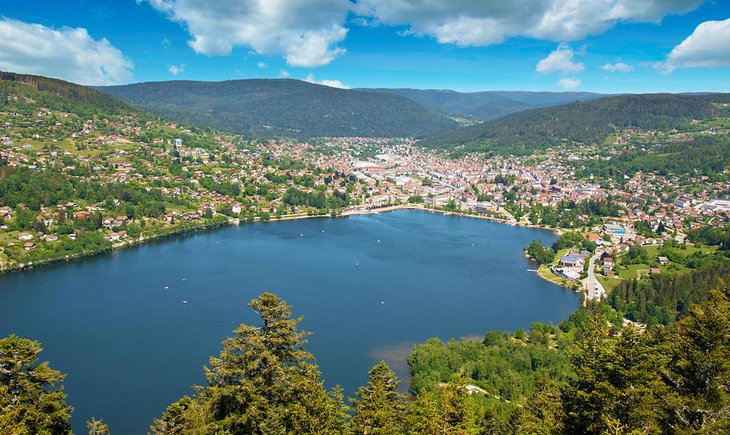 A highlight of the Lorraine region, the Lac de Gérardmer is the largest lake in the Vosges Mountains. The pristine forested environment and deep-blue waters make this lake stand out.
You will be delighted by this lake's tranquil scenery and relaxing ambience, as well as the endless recreational opportunities. Things to do include sailing, canoeing, hiking, mountain biking, and horseback riding. For boating and outdoor activities, the lakeside town of Gérardmer is a favorite resort destination in the summertime. Gérardmer has many restaurants and hotels.
During the ski season, this area draws many Alpine skiers. Ski resorts include the Domaine Skiable Alpin - Gérardmer Stations, which has 40 kilometers of ski slopes; the Champ de Neige des Truches, a small ski area with a bunny hill and sledding for kids; and La Bresse-Hohneck, which has excellent ski facilities, services, and lodgings. The town of Gérardmer offers a good choice of accommodations and restaurants.
Read More: Top-Rated Ski Resorts in France
5. Lac de Genève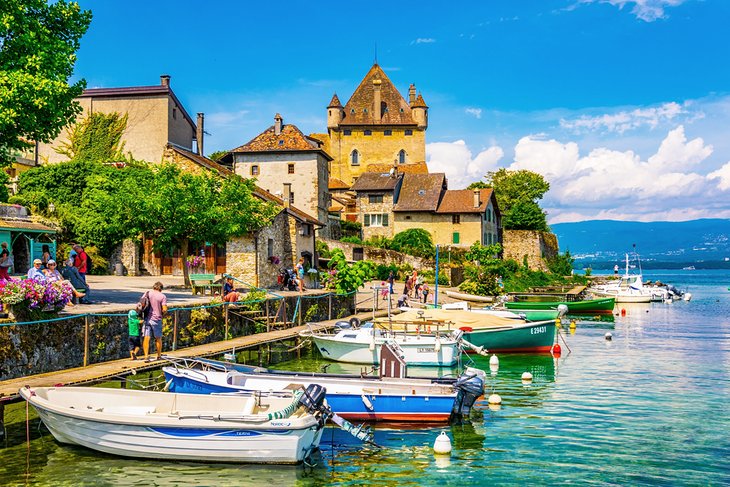 If you love charming lakeside villages, be sure to visit the Lac de Genève (also known as Lac Léman). On the French side, lovely little towns grace the waterfront.
Yvoire has been listed as one of the Plus Beaux Villages de France because of its attractive port, stately medieval castle, wisteria-trimmed alleyways, and old stone houses with flower-bedecked balconies (earning the town its Village Fleuri distinction). From the port of Yvoire, you can take a sightseeing boat cruise around the lake.
Several French spa towns and resorts are found along the banks of Lake Geneva, including Thonon-les-Bains, a historic spa resort with a 17th-century château; Excenevex, a summer holiday destination with a sandy beach ideal for sunbathing and water sports; and Evian-les-Bains, a Belle Epoque spa resort renowned for its summertime theater and music festivals.
The Lac de Genève spans two countries: France and Switzerland. Slightly more than half of Lake Geneva falls in Swiss territory with the cosmopolitan city of Geneva standing alongside the lake.
6. Lac de Gaube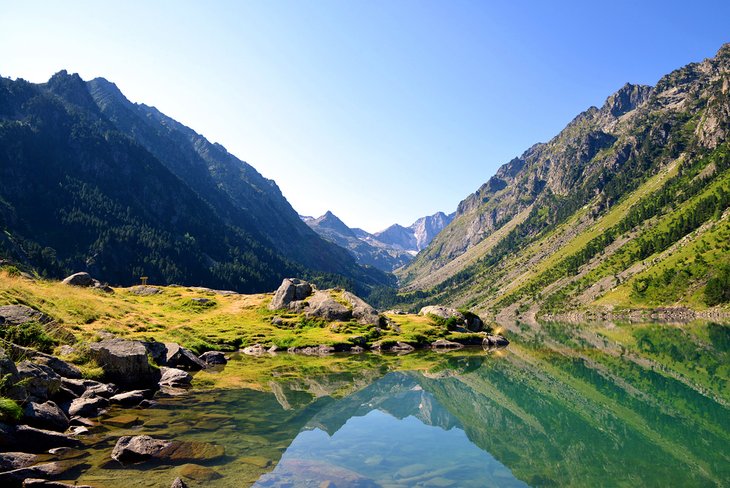 Nestled in the mountains along the border of France and Spain, the Lac de Gaube is one of the highlights of the Pyrenees region. The lake's crystalline waters reveal a reflection of the Pic du Vignemale, the highest peak of the Pyrenees Mountains. Visit this lake if you are seeking solitude and breathtaking Alpine scenery.
It is possible to arrive here by foot from the Pont d'Espagne near the spa & ski resort town of Cauterets. It takes about one hour to complete the walk along an easy hiking trail.
As this is a protected nature site within the Pyrenees National Park, the Lac de Gaube is not developed for tourism. There is only one restaurant, the Hôtellerie du Lac de Gaube, and it is only open during the summertime. This casual restaurant serves traditional cuisine at shaded tables next to the lake. The outdoor terrace looks out onto the Vignemale mountain peak.
7. Lac de Madine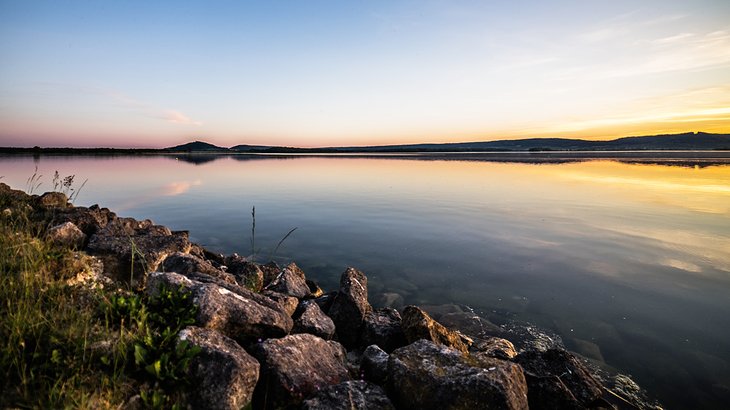 The gently rolling Côtes de Meuse (the Meuse Hills) enclose the Lac de Madine at the heart of the Parc Naturel Régional de Lorraine in the Lorraine region. This family-friendly vacation destination is located just 45 kilometers away from the Metz and about 60 kilometers away from Nancy.
Besides being the water supply for the city of Metz, the Lac de Madine is a wildlife reserve and a recreational area. If you are looking for outdoor activities, you can choose from hiking trails, cycling paths, and a sandy beach that's great for swimming and has lifeguard supervision.
Traveling with kids? Try paddle boating or head to the Aqua Parc Madine, an outdoor water park with a supervised swimming area, waterslides, and floating inflatable attractions. The Lac de Madine also has a Nautical Center where you can take sailing classes or join a canoeing expedition.
Accommodations are available around the lake, from four-star hotels to cozy cabins and rustic campsites. Younger travelers can opt to stay at a youth hostel. Families often prefer the gîtes (farmhouse accommodation).
8. Lac de Sainte-Croix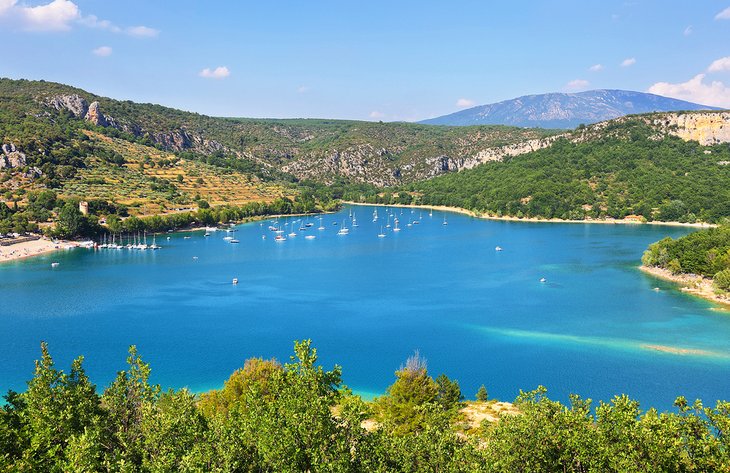 Discover one of the top destinations in Provence for water sports including boating, sailing, and windsurfing. The Lac de Sainte-Croix has crystal-clear turquoise waters and lovely little beaches dotting its shoreline.
You will find wonderful places to stay at the Lac de Sainte-Croix, in several appealing villages.
Less than 10 kilometers from the lake is Moustiers-Sainte-Marie, one of Les Plus Beaux Villages de France. A tiny community of around 700 permanent residents lives in charming old buildings with pastel-painted shutters and red-tiled roofs, clustered on the slopes of rocky limestone hillsides. The village brims with locally owned shops, small bistros, and gourmet restaurants as well as hotels, gîtes, and bed-and-breakfast hotels.
For the quintessential Provençal gourmet experience in Moustiers-Sainte-Marie, try La Bastide de Moustiers, tucked away amid lavender fields and olive groves. Created by Chef Alain Ducasse, this restaurant takes its inspiration from the southern French terroir and bases its seasonal menu (updated weekly) on fresh herbs, tomatoes, vegetables, and fruit from the property's garden, as well as products sourced from local farms. The restaurant's shaded outdoor terrace overlooks the stunning landscape of the Alpes de Haute Provence.
La Bastide de Moustiers also provides tastefully decorated guest rooms and suites. Guests enjoy the chirping of cicadas so typical of Provence and views of the rural landscape, the park, the garden, and the village of Moustiers-Sainte-Marie.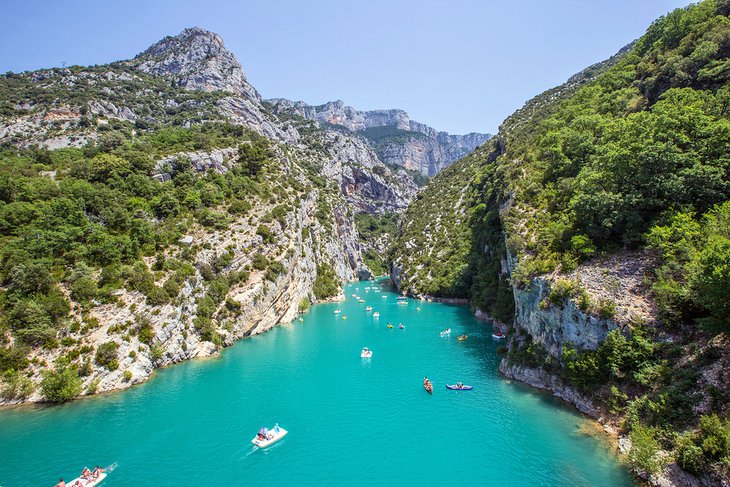 The Lac de Sainte-Croix is located within the Parc Naturel Régional du Verdon, as well as the Géoparc de Haute-Provence, a UNESCO-listed nature reserve. The area around the lake has camping sites.
Within the Verdon Regional Natural Park is the Gorges du Verdon, a dramatic canyon in the northeastern corner of Le Var region (one of the best places to visit in the South of France). The area offers a wide variety of outdoor adventures, including canyoning, white water rafting, kayaking, sailing, fishing, mountain biking, and hiking.
One of the top-rated hikes in France, the Blanc-Martel Trail, is located at the Gorges du Verdon nature site.
Read More: Top-Rated Attractions & Scenic Drives in Provence
9. Lac du Der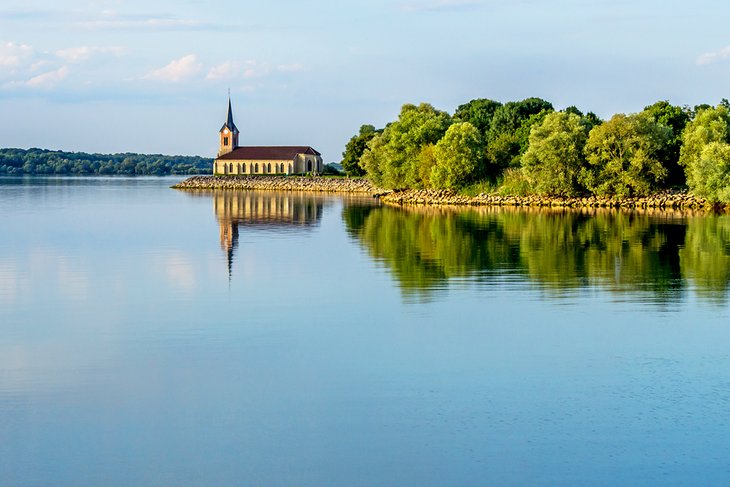 In the beautiful Champagne region of northern France, the Lac du Der is a paradise for bird-watchers. The lake is designated as a Réserve Nationale de Chasse et de Faune Sauvage (National Hunting and Wildlife Reserve); its protected ecosystem has allowed over 200 bird species to thrive here, including endangered and rare species. You can spot swans, white-tailed eagles, goldeneyes, and other migratory birds.
Besides bird-watching, other outdoor activities at the Lac du Der include boating and cycling. A bike path is found right alongside the lake. For those who enjoy swimming, the Lac du Der has six sandy beaches with lifeguards on duty during July and August.
You can choose from accommodations in the nearby towns of Giffaumont-Champaubert and Châtillon-sur-Broué. A well-equipped campground on six hectares of forest, Le Clos du Vieux Moulin, is located in Châtillon-sur-Broué. There are also other accommodations and a lakeside campground, Camping de la Cornée du Der, in Sainte-Marie-du-Lac-Nuisement.
French history buffs will want to stop in the town of Brienne-le-Château to visit the excellent museum dedicated to Napoleon Bonaparte, the Musée Napoléon (open year-round every day except Mondays, with reduced opening hours in the off season). This town also has a few hotels.
About an hour and a half drive away, the city of Reims is renowned for its many cultural attractions including a splendid UNESCO-listed Gothic cathedral that dates to the 13th century. The extensive selection of hotels in Reims includes something for every type of traveler.
10. Lac de Guéry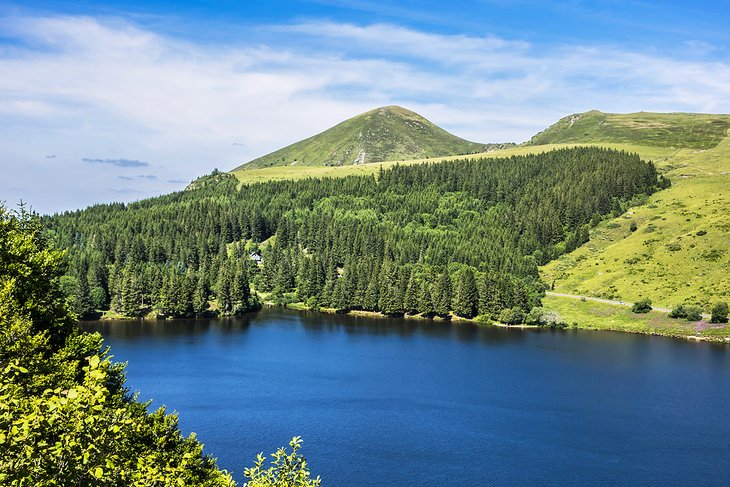 The Auvergne region in central France boasts a distinctive topography, unlike anywhere else in the country. The Parc Naturel Régional des Volcans d'Auvergne protects this rugged landscape of volcanic mountains, forests, and crater lakes.
The Lac de Guéry is tucked away in Les Monts Dore, volcanic mountains within the Parc Naturel Régional des Volcans d'Auvergne. The lake stands out as a very special place, an unspoiled natural environment in a lush forested setting.
Things to do at Lac de Guéry include hiking and fishing or simply meditating in nature by admiring the lake's mesmerizing deep-blue water and the panoramic views of the Chaîne des Puys and the Massif du Sancy mountains in the distance.
Swimming and boating are not allowed on the lake, and the area is almost completely undeveloped for tourism. Facilities are limited to a parking lot and just one hotel.
The Auberge du Lac de Guéry treats guests to refined rustic-chic accommodations and gourmet dining. The auberge (inn) has an elegant gastronomic restaurant that serves regional specialties and a casual bistro with an outdoor terrace next to the lake.
Map of Lakes in France