17 Top-Rated Attractions & Places to Visit in Corsica
With its stunning seaside scenery, expanses of pristine forests, and soaring snowcapped mountains, Corsica lives up to the label, "Island of Beauty." Along the coast are attractive port towns, and the hillsides are dotted with picturesque villages.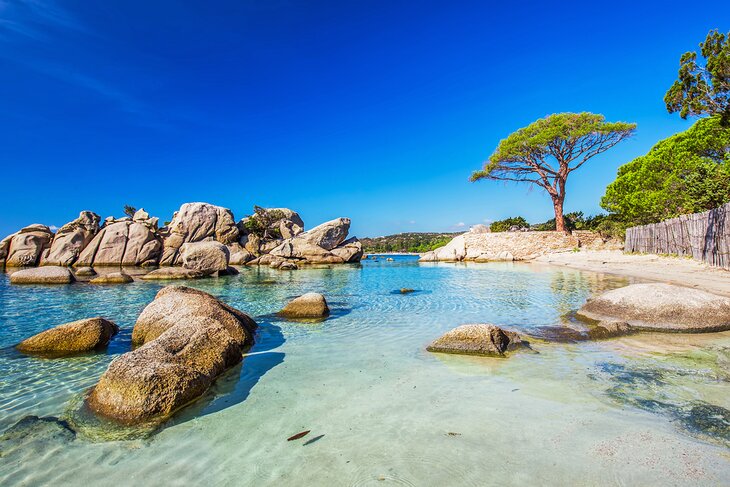 Corsica offers no shortage of things to do. This idyllic island is a paradise for beach lovers, hikers, and outdoor sports enthusiasts. The island boasts some of Europe's most inspiring rugged landscapes and a 1,000-kilometer shoreline with translucent waters, perfect for snorkeling or scuba diving.
Although Corsica has been part of France since 1769, the island has its own culture. Donkeys still roam the countryside; the music is unique; and the cuisine features distinctive specialties, such as strong spicy cheeses, chestnut polenta, and chestnut cookies.
Discover the best places to visit on this enchanting island with our list of the top tourist attractions in Corsica.
1. Ajaccio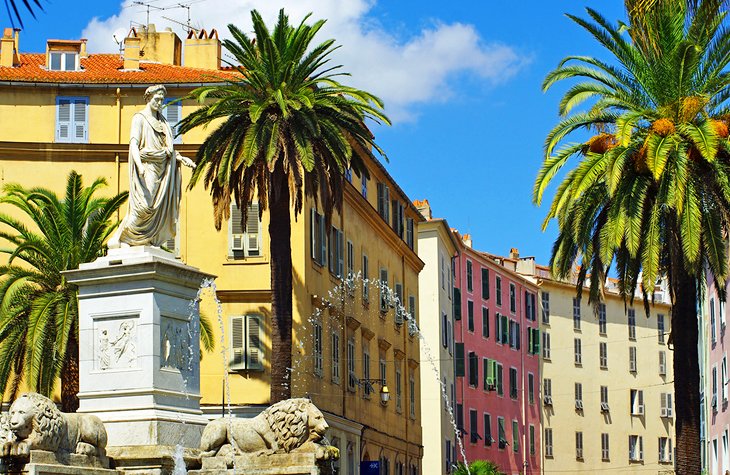 Corsica's most famous native son, Napoléon Bonaparte, was born in this bustling capital city, pleasantly situated on the Gulf of Ajaccio. Sensational views of the sea can be admired from various spots throughout the town.
At the center of Ajaccio is the Place de Gaulle, a grand square with an equestrian statue of Napoléon I (created in 1865 by Viollet le-Duc).
Next, visit the Musée National de la Maison Bonaparte (Rue Saint-Charles) to see the house where Napoléon I was born. The Bonaparte family lived here in the late 17th century and the 18th century. In the 19th century, Napoléon III inherited the house and refurbished the decor. Today, the Maison Bonaparte is classified as a Monument Historique and presents portraits, memorabilia, and family documents.
Continue your discovery of the Napoleonic era at the Palais Fesch (Musée des Beaux-Arts). The Collection Napoléonienne galleries display imperial portraits of Napoléon I and Napoléon III (both were titled "Emperor of the French") as well as medallions and coins that depict Napoléon I and Napoléon III.
The old town of Ajaccio is also worth exploring. Spend some time wandering around to discover the historic charm within its maze of winding, narrow streets.
Not to be missed in the old town is the 16th-century Cathédrale d'Ajaccio (Cathédrale Notre-Dame de l'Assomption), where Napoléon Bonaparte was baptized in 1771. The cathedral's most noteworthy work of art is the La Vierge au Sacré Côur painting by Eugène Delacroix.
2. Bonifacio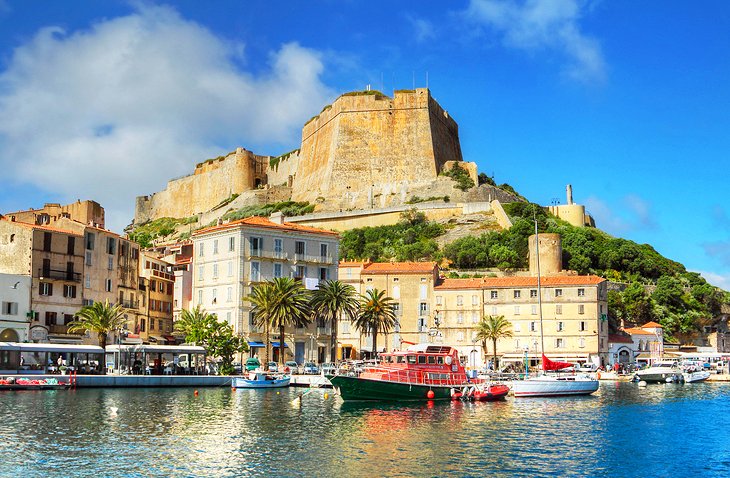 Bonifacio is a well-preserved fortified town perched on a steep limestone cliff with stunning sea views. Brimming with old-world ambience, the town is a jumble of medieval lanes and narrow alleyways.
At its heart is the 12th- to 13th-century Eglise Sainte-Marie-Majeure, a Romanesque church with early Gothic elements. Also worth visiting is the 13th-century Eglise Saint-Dominique, which has an austere facade and a simple interior.
Bonifacio is found within Corsica's largest nature reserve, the Réserve Naturelle des Bouches de Bonifacio, which encompasses limestone cliffs, seaside grottos, and the Lavezzi Islands.
Near the town are numerous beautiful beaches. Another destination within easy reach of Bonifacio is the port of Santa Teresa di Gallura in Sardini, just a one-hour ferry ride away.
Read More: Best Beaches in Corsica
3. Calvi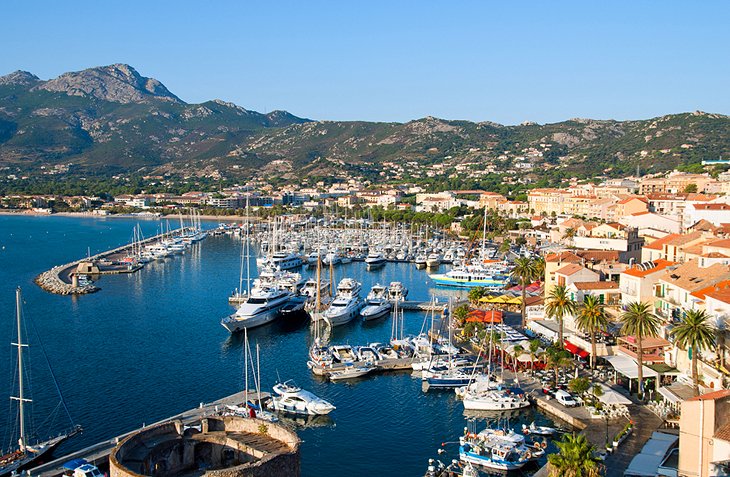 This sun-drenched waterfront town has an attractive marina and beautiful beaches along the Bay of Calvi. Soak up the marvelous scenery of the deep blue Mediterranean Sea, with jagged mountains framing the harbor.
Besides sunbathing, swimming, and spending time at outdoor cafés, a top attraction is the Citadel of Calvi. Enter the ancient walled Citadel and you'll find a cluster of medieval cobblestone streets and staircases that lead to discoveries of pleasant squares, historic churches, and fabulous views.
Within the Citadel, the 13th-century Cathédrale Saint-Jean-Baptiste exemplifies Corsican Baroque architecture. The interior features noteworthy works of art, including a 15th-century altarpiece depicting the Annunciation and a 16th-century Virgin of the Rosary statue from Spain.
Calvi is also renowned for its summertime jazz festival, which draws top musical talent. The Jazz in Calvi festival takes place annually at the end of June; performances are held at the Citadel and other venues.
Read More: Top-Rated Beach Destinations in France
4. Bastia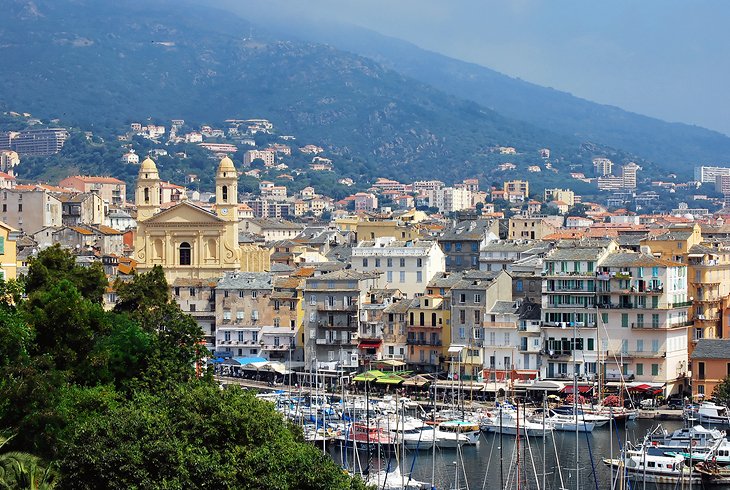 If you want to experience the real Corsica, this lively seaside city is the place to go. Bastia has a picturesque harbor and a quaint Old Town (Terra Vecchia) bursting with narrow lanes and tightly packed houses.
Within the Terra Vecchia are several noteworthy churches: the 17th-century Eglise Saint-Jean-Baptiste, the largest church in Corsica; the Baroque Chapelle de l'Immaculée Conception; and the Chapelle Saint-Roch, which overlooks the mesmerizing Mediterranean waters.
On a rocky spur to the south of the harbor is the ancient citadel, dating back to 1378.
Read More: Best Places to Visit in France
5. Cap Corse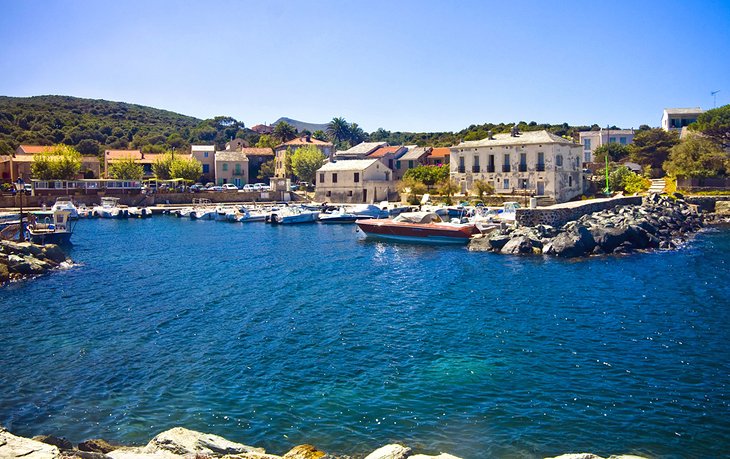 At the northernmost tip of Corsica, the Cap Corse peninsula is one of the prettiest areas of the island. The peninsula is covered by a range of foothills and fertile valleys where vines, fruit, and olives grow.
Dotting the landscape are medieval perched villages such as Pino on a wooded hilltop; Nonza clinging to a cliffside; and Rogliano, which is a collection of hamlets and old fishing ports. Rogliano encompasses Erbalunga near Bastia; Macinaggio, with a yacht marina; and Centuri, a tiny fishing village with a working harbor.
If you prefer sunbathing to sightseeing, then head to the Plage de Farinole. This picturesque beach has a fine sand shoreline and crystal-clear turquoise waters. The beach is not great for swimming because of the undercurrent, but the waves are appreciated by surfers. Another highlight of the Plage de Farinole is the restaurant on the beach.
6. Sant'Antonino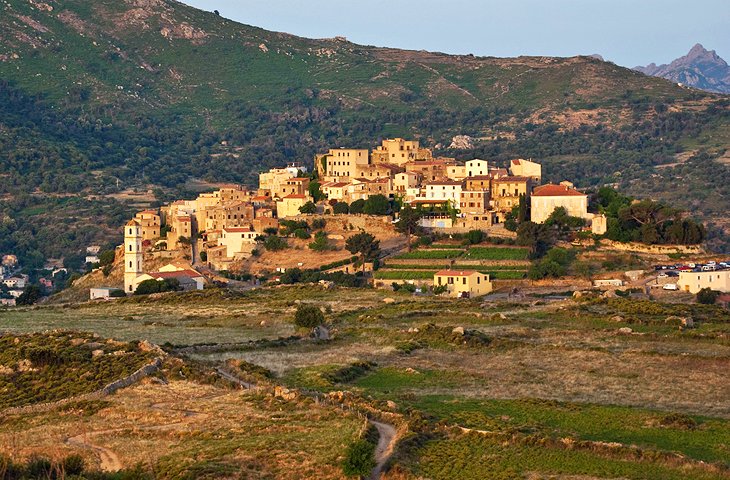 Perched like an eagle's nest on a granite hilltop at almost 500 meters, the ancient walled town of Sant'Antonino offers superb views of the surrounding countryside and the sea.
In the lush Balagne region, Sant'Antonino is one of the oldest villages in Corsica, with a Moorish heritage dating back to the 9th century. Thanks to its old-world charm, Sant'Antonino has earned a place on the list of Plus Beaux Villages de France.
Get ready to do some walking. The village is designed for pedestrians, with its medieval tangle of winding cobblestone streets, alleyways, and covered passageways.
About seven kilometers from Sant'Antonino, the Couvent Saint-Dominique des Frères de Saint-Jean à Corbara perches on a hilltop between snow-peaked mountains and the sea. It's worth the detour to see the splendid 15th-century architecture and admire astounding coastal views.
You may visit the Couvent Saint-Dominique des Frères de Saint-Jean à Corbara by taking a guided tour (in French) or by participating in a spiritual retreat. Guided tours are offered year-round every day (except Mondays) at 3pm.
7. Sartène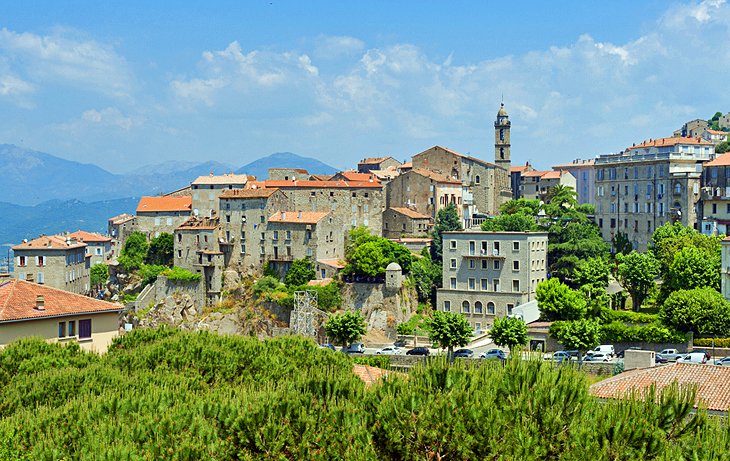 Sartène prides itself on being the "most Corsican" city. This characteristic medieval hilltop town is listed as a Ville d'Art et d'Histoire because of its exceptional heritage.
Must-see tourist attractions include the Eglise Santa-Maria-Assunta, with a simple facade typical of Corsican churches; the former Palais des Gouverneurs Génois, now the Town Hall; and L'Echauguette (tower), which affords sweeping views of the Vallée de Rizzanese.
The Musée de Préhistoire et d'Archéologie (Museum of Prehistory and Archaeology) brings to life the island's ancient history. Exhibits present statues from prehistoric megaliths; Bronze Age and Iron Age weapons, tools, and ceramics; Ancient Roman archaeological finds; and artworks and everyday objects of the Middle Ages.
Near the Palais des Gouverneurs Génois, you'll find an enchanting pedestrian area. Take a stroll to discover the secret corners: arcades, vaulted passageways, and picturesque staircases. The Place du Maghju is a hub of artisan boutiques.
Every year in the spring, the town celebrates the Carnaval de Sartène. This fun-loving carnival festival features parades, musical entertainment, and masked balls.
Sartène also hosts an annual religious procession on Good Friday called the "Catenacciu," which reenacts the events of the Passion of Christ. One of the "Penitents" carries a heavy cross and a chain during a somber procession, beginning at the Eglise Sainte-Marie and concluding at the altar of Sainte-Marie church. This event attracts pilgrims from near and far.
About 15 kilometers away from Sartène is the Domaine Rosa de Caldane, a pampering thermal bath facility with a mid-range hotel and a brasserie restaurant that serves seasonal cuisine.
8. Beaches near Porto Vecchio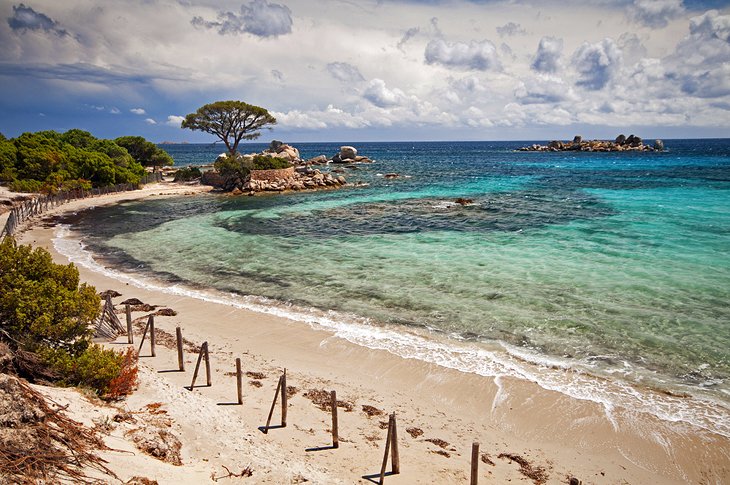 Some of Corsica's dreamiest sandy beaches are around Porto Vecchio, which has become a busy summertime resort. These beaches are prized for their expansive sandy shorelines, gentle waves, and unspoiled scenery.
The most famous beach is the Plage de Palombaggia, renowned for its wide sandy shore and calm turquoise waters. Another excellent sandy beach is the Plage de Santa Giulia. Both of these beaches are in sheltered bays, which provide a protected environment ideal for swimming.
Slightly farther away, the less-crowded Plage de Rondinara is halfway between Porto Vecchio and Bonifacio. This gorgeous sandy beach nestles along Rondinara Bay. The crystal-clear aquamarine waters at Rondinara Beach have an almost tropical quality.
The citadel of Porto Vecchio is also worth visiting. In the 16th century, the Genoese built this impregnable citadel with sturdy fortifications that remain intact. Enclosed within the citadel is a little world of atmospheric narrow alleyways, covered passageways, and quiet squares. Many restaurants and shops are found around the Place de la République.
9. Village of Piana and Calanques de Piana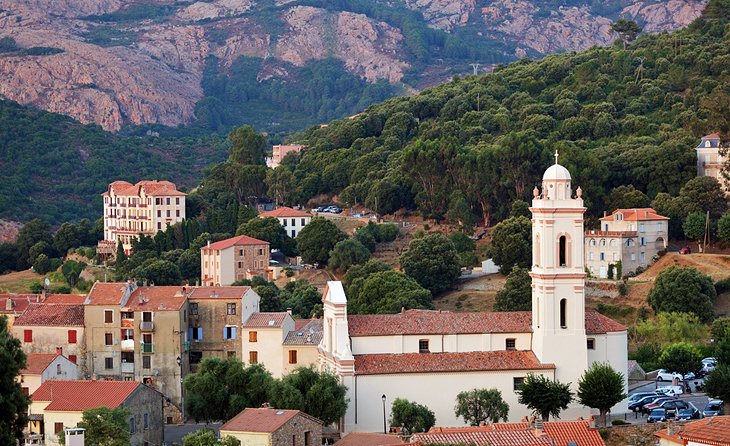 Piana dazzles you with its old-world character and stunning views of the Golfe de Porto. Thanks to its historic charm and natural beauty, Piana is listed as one of the Plus Beaux Villages de France.
Giving the village its special appearance, red-tile-roofed houses spiral around the slopes of a wooded hillside. An exquisite parish church stands at the heart of Piana. The Italian Baroque-style Eglise Sainte-Marie features lovely frescoes and arcades decorated with sculpted medallions.
A pedestrian jaunt is the way to discover this dreamy perched village. You will delight in strolling the quaint narrow streets, while stumbling upon pleasant tree-shaded squares and terraces with gorgeous sea views.
At the entrance to the village, Les Roches Rouges offers upscale accommodations and gourmet meals. In a magical setting, the hotel's guest rooms and outdoor patio look out onto the mesmerizing azure waters of the Gulf of Porto. The hotel's gastronomic restaurant serves classic French cuisine in an elegant dining room that is protected as a Monument Historique.
More awe-inspiring panoramas are found in the hamlet of Vistale, which has an ancient chapel, the Chapelle Saint-Lucie (open in July and August) adorned with Byzantine-style frescoes created by 20th-century Russian artists.
Between the village of Piana and the seaside resort of Porto is a scenic (and challenging) coastal drive on curvy roads that wind through the UNESCO-listed Calanques de Piana mountains. The Calanques de Piana is an inlet surrounded by rose-colored granite cliffs that plunge into the deep-blue Mediterranean Sea. The area's hiking trails feature amazing vistas.
10. Castagniccia Region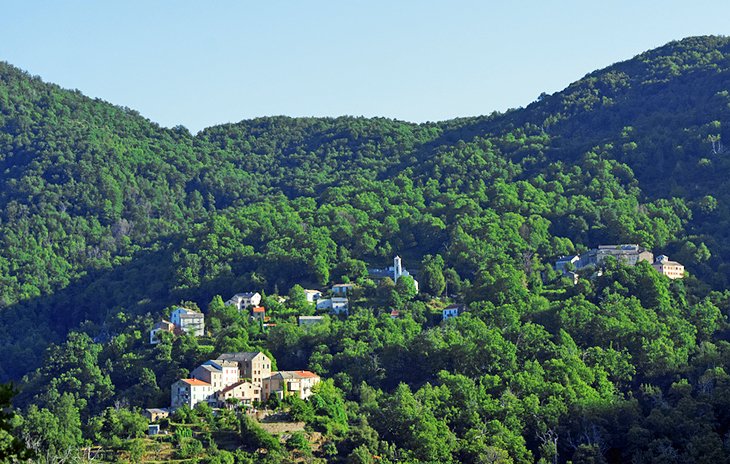 About a one-hour drive south of Bastia is the hilly region of Castagniccia, which takes its name from the chestnut trees that grow abundantly here. The traditional stone-roofed houses all have chestnut-drying rooms.
This peaceful countryside is dotted with ancient hilltop villages, small hamlets, and magnificent churches. Many of the churches, such as the ornately adorned Baroque Eglise Saints-Pierre-et-Paul in Piedicroce and the 18th-century Eglise Notre-Dame-du-Mont-Carmel in Stoppia Nova, are listed as Monuments Historiques.
In a sublime natural setting, the Couvent d'Alesani (another Monument Historique) in Piazzali has an inspiring spiritual ambience. You may take a guided tour in July and August and on the Journées du Patrimoine in September. During that period, tours are offered on Mondays, Wednesdays, and Saturdays between 3:30pm and 7pm. The convent also hosts summertime events.
Adventurous hikers can climb Monte San Petrone (1,767-meter altitude) from the starting point of Piedicroce or from the Col de Prato; either way the six-kilometer ascent takes about five or six hours. The trail traverses rocky mountain ridges, above chestnut-tree forests, valleys, and little hamlets. From the summit, the vistas sweep across the Mediterranean Sea to the coastline of Italy.
11. Réserve Naturelle des Bouches de Bonifacio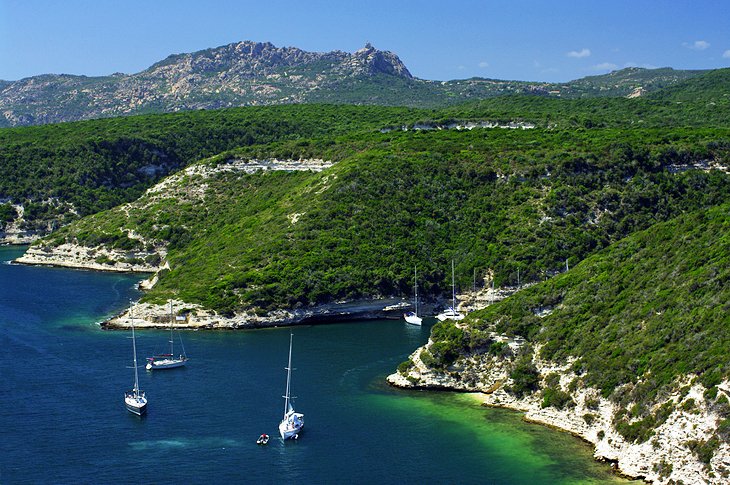 The UNESCO-listed Bouches de Bonifacio Nature Reserve is a protected marine environment that includes all of the waters in French territory, from the tip of southern Corsica extending to the French Riviera and Italian coastline.
Covering 80,000 hectares, the reserve also includes marshland, lagoons, and other coastal areas. Many rare, protected species of birds and fish thrive in this ecosystem.
A highlight of the Bouches de Bonifacio is the Lavezzi Islands marine reserve, a top snorkeling and scuba diving destination in Corsica. Beneath the translucent turquoise waters, a magical underwater world awaits deep-sea divers. Sightings include colorful and exotic fish such as the rainbow wrasse and the silver bream.
Many companies organize snorkeling and scuba diving expeditions; advanced booking is recommended. Boat tours and dinner cruises (departing from Bonifacio or Porte Vecchio) are available for those who prefer to simply relax and enjoy the scenery.
12. Belgodère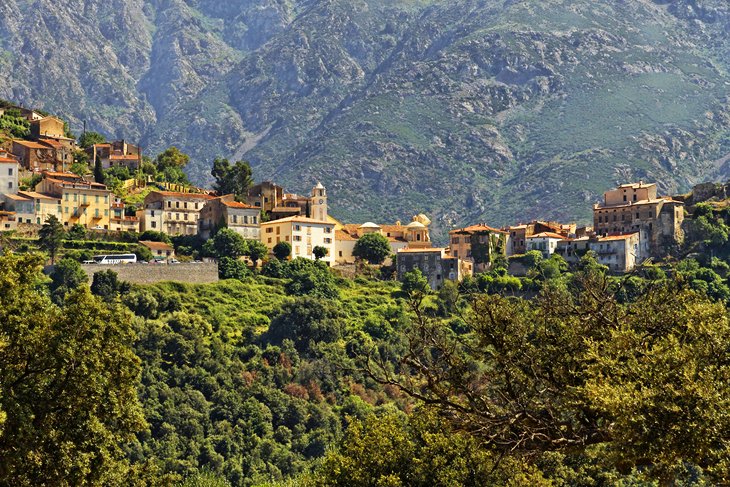 This medieval hilltop village will steal your heart with its enchanting ambience and sensational vistas. Exceptional panoramic views of the sea and the Regino Valley are found throughout the village.
If you're here for a beach holiday, you'll find everything you need in Belgodère and nearby. Below the historic part of Belgodère is a modern beach resort with many hotels, vacation rentals, and restaurants.
Be sure to explore the old walled area of Belgodère (the Cabanne and Cima du Fondu quarters). You will enjoy wandering around the winding streets, relaxing at an outdoor café terrace, and discovering historic monuments.
The Baroque Eglise Saint-Thomas displays a noteworthy 16th-century Virgin and Child painting.
13. Réserve Naturelle de Scandola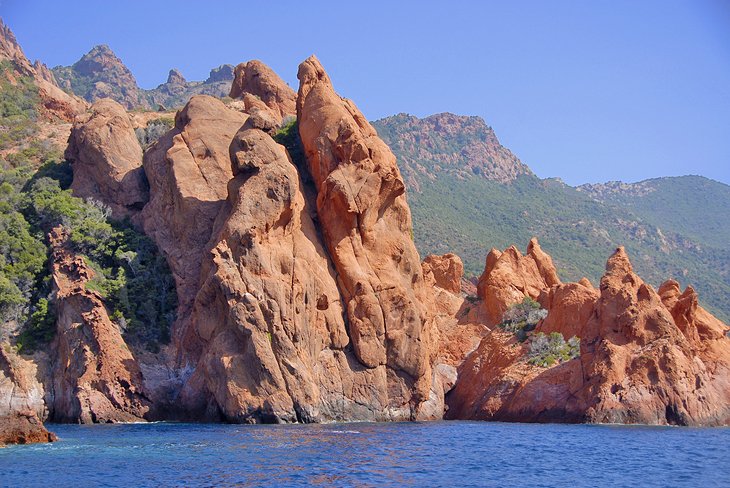 A surreal coastal landscape awaits you at the Réserve Naturelle de Scandola. Overlooking the Gulf of Porto, this UNESCO-listed nature reserve is only accessible by boat.
The Scandola Nature Reserve encompasses a remote mountainous peninsula and offshore islands formed from an ancient volcano. Crystal-clear turquoise waters lap against cliffs and hidden coves.
Scuba and snorkeling enthusiasts, rejoice! You will find here some of the best snorkeling and scuba diving in Corsica. Marine life includes dolphins, seals, moray eels, swordfish, and coral reefs.
Shuttle boats depart frequently from Calvi and less frequently from Porto and Galéria. Many companies offer organized tours, for an easier way to visit.
14. Désert des Agriates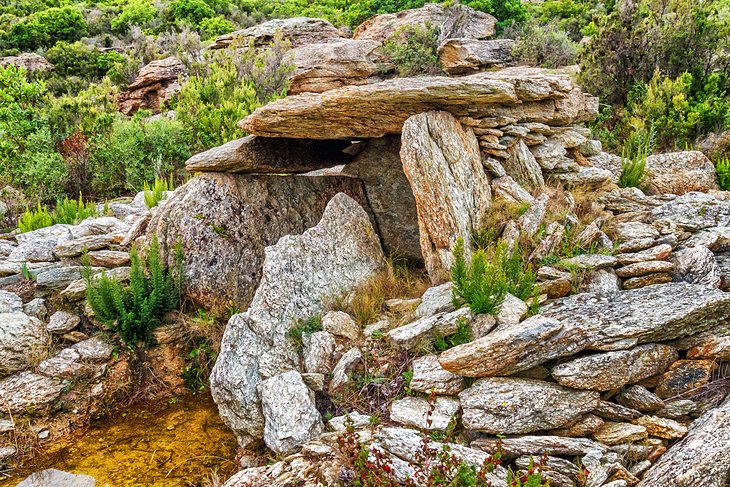 The Désert des Agriates is a vast protected wilderness of scrubland, agricultural plains, craggy coastline, and cream-colored sandy shores. If you're planning a summertime visit to the Agriates Desert, you will probably want to sunbathe at pristine sandy beaches.
Two favorite beaches are the Plage de Lotu and the Plage de Saleccia, prized for their soft white sand and transparent waters. Both beaches are ideal for sunbathing and swimming.
The Plage de l'Ostriconi, tucked away behind sand dunes, feels like a secret spot because of its secluded quality.
Besides lounging at the beach, other things to do in the Désert des Agriates include hiking, nature walks, and fishing.
15. Extreme Hiking on the GR20 Trail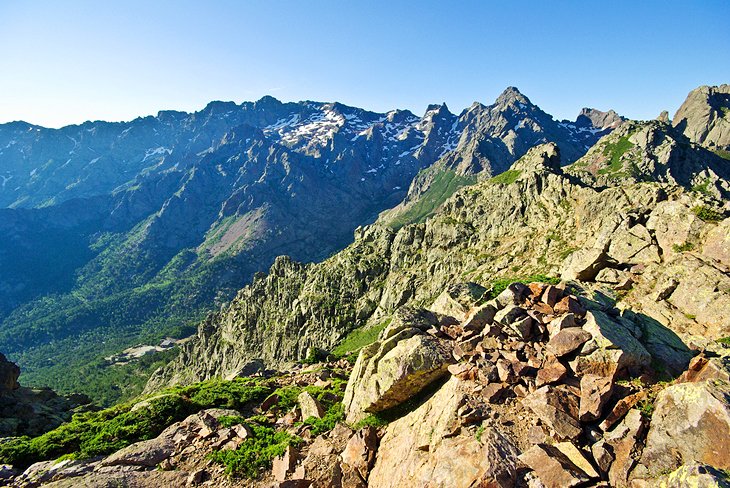 Corsica's GR20 trail traverses the island of Corsica from north to south, covering wild and remote hillsides and deep gorges. Extreme outdoor adventure enthusiasts and advanced hikers hold this trail in high esteem.
The trail is considered to be the most difficult long-distance hike in Europe. Not only is the trail extremely long, the terrain is rugged and dramatic. Those who are sufficiently conditioned to attempt the hike will ultimately be rewarded with jaw-dropping panoramas.
Read More: Top-Rated Hiking Trails in France
16. Col de Bavella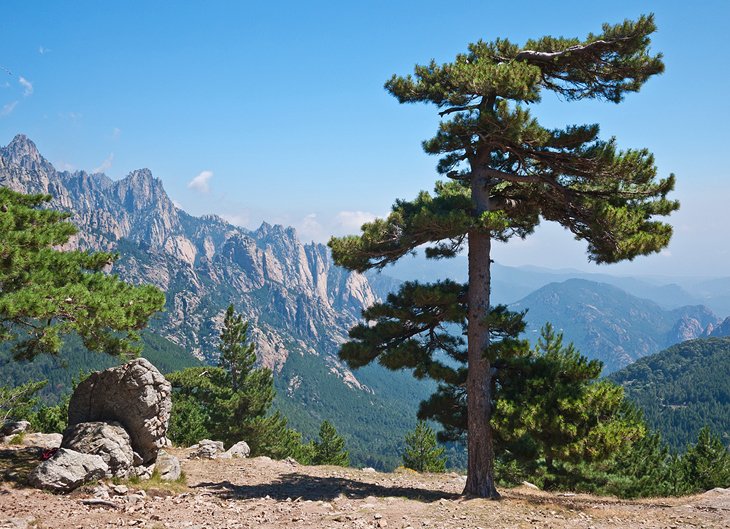 If you're touring Corsica by car, the scenic drive through the Col de Bavella is highly recommended. The road travels through majestic landscapes and along the path of an ancient Roman road, continuing up to the mountain pass at 1,243 meters. From that point, there are breathtaking views of the forests and plains, the mountains, and the sea.
17. Forêt de Valdo Niello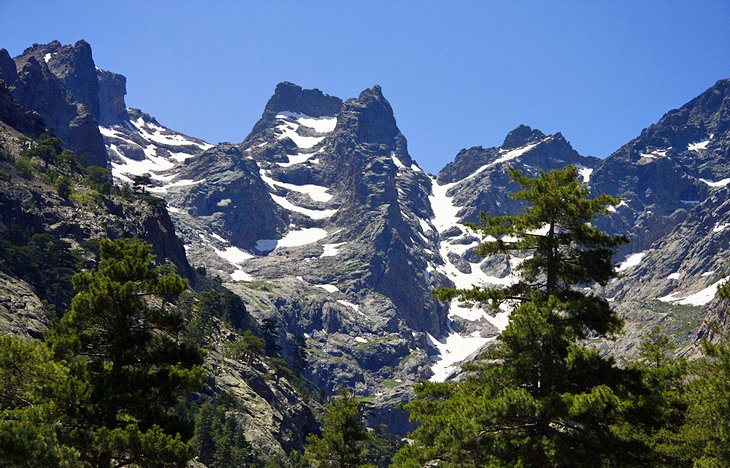 The Valdo-Niello Forest is an unspoiled environment of shady Corsican pine trees that can reach heights of 50 meters. The specific variety of tree, the Laricio Pine, is emblematic of Corsica. These dense woodlands provide a habitat for bird species such as the Corsican Nuthatch.
Also within the forest is Corsica's highest mountain, Monte Cinto, which soars to 2,706 meters and is snowcapped even in summer.
A variety of walking paths and hiking trails wind through the forest. Taking a hike here is an invigorating experience that allows you to breathe in the fresh air and admire the natural beauty.
Map of Attractions & Places to Visit in Corsica
More Related Articles on PlanetWare.com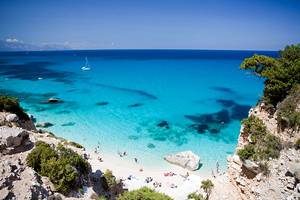 Dreamy Island Destinations in Italy: It's an easy ferry ride from Corsica to two idyllic Italian islands. Just 20 kilometers south of Corsica is the island of Sardinia (considered one of the best places to visit in Italy). The shortest ferry route from Corsica departs from Bonifacio and takes about one hour to arrive at the port of Santa Teresa in Sardinia.
From Bastia, it's a 4.5-hour ferry ride to the island of Elba in Italy's Tuscany region, where Napoleon was exiled. Today the island is a paradise of secluded beaches, alluring seaports, and luxuriant Mediterranean scenery.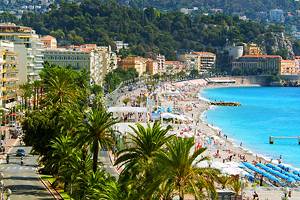 Stylish Towns in the South of France: Several destinations in the south of France could be combined with a visit to Corsica. From Bastia in Corsica, travelers can reach the fashionable city of Nice on the glamorous French Riviera in about five hours by ferry.
From the port of Ajaccio in Corsica, it's a six-hour ferry ride to the atmospheric port town of Toulon, which is near Provence's glitzy beach resort of Saint-Tropez (a one-hour drive from Toulon) and charming Aix-en-Provence (about a one-hour drive from Toulon).