12 Best Beaches in Corsica
The Island of Corsica basks in the sunshine and serene beauty of the Mediterranean. Glistening aquamarine waters surround "The Island of Beauty," which brims with natural splendor. Rugged mountains and scrublands, maritime pine forests, and pristine white-sand beaches define the unspoiled landscape.
For beach lovers, the Island of Corsica is a dream destination. The shoreline features a wide variety of topography, from small coves sheltered by rocky hillsides to sublime sandy beaches that extend for kilometers.
A ferry ride away from mainland France, the Island of Corsica is actually located closer to Italy than France, and its culture reveals a southern European flair that reflects this proximity.
To arrive in Corsica from France, travelers can take the ferry from Nice or Toulon or fly from various French cities. The quickest ferry crossings are from Nice to Bastia (six hours), from Nice to L'Île-Rousse (seven hours), and from Toulon to L'Île-Rousse (seven hours).
Plan a fabulous seaside vacation with our guide to the best beaches in Corsica.
1. Plage de Palombaggia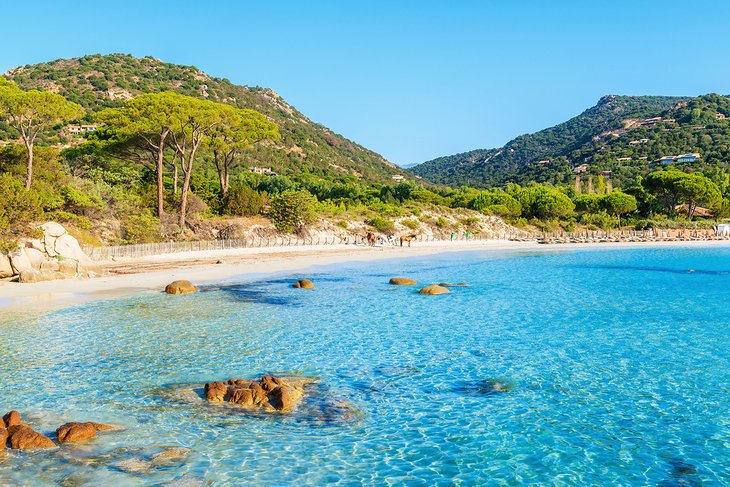 With its translucent turquoise waters and unique landscape, the Plage de Palombaggia has a mesmerizing quality. Its sublimely picturesque setting explains why the beach ranks among the best beaches in France.
Towering umbrella pine trees skirt the white-sand shoreline, which is dotted with giant pink porphyry rocks. The scenery includes wonderful views of the Îles Cerbicales nature reserve. This archipelago of four islands is less than five kilometers off the coast.
Nestled within a wide bay, the shoreline of Palombaggia Beach is one of the longest in Corsica. The sweeping stretch of calm Mediterranean Sea invites visitors to take a dip.
Swimmers love Palombaggia Beach for its tranquil waters that resemble a large swimming pool. Families with little kids like that the sheltered, shallow seabed makes it safe for children to wade and splash around. Lifeguards survey the beach during high season.
Palombaggia Beach has good facilities: several restaurants, lounge chair and parasol rentals, and parking. The downside is that this beach gets very crowded during summertime, and parking is limited. Arrive early to make sure that you get a parking spot. Some travelers prefer to visit in the off-season.
The Plage de Palombaggia is just 13 kilometers from the town of Porto-Vecchio (about a 25-minute drive).
The nearby Plage de Tamaricciu has a dramatic boulder-strewn sandy shoreline, similar to the Plage de Palombaggia, and is less crowded because it's more difficult to reach. A walking path connects the Plage de Palombaggia to the Plage de Tamaricciu.
2. Plage de Calvi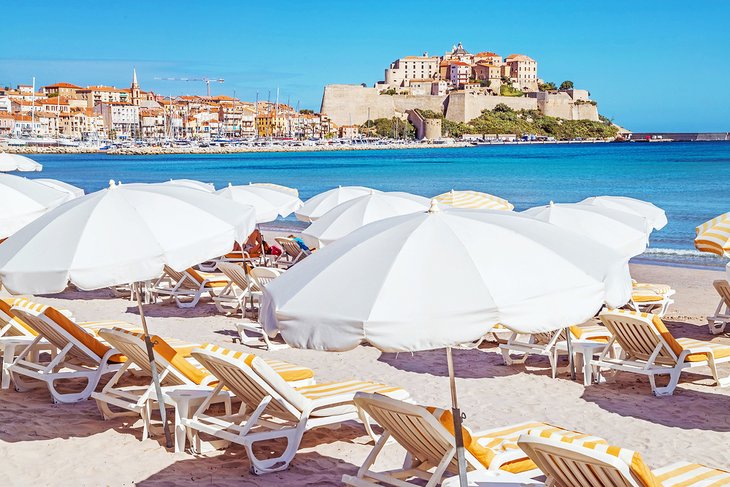 Calvi Beach stands out from all the other beaches in Corsica because of its spectacular scenery. The six-kilometer-long stretch of powdery white sand provides front-row seats (actually, lounge chairs) to admire views of the ancient Genoese Citadel perched above Calvi Bay.
Fringed by a grove of pine trees, this beach boasts natural beauty, as well as excellent facilities: snack bars, cafés, sun bed and parasol rentals; and picnic areas. Lifeguards survey the beach during the high season.
Blessed with a secluded setting in a wide bay, this sheltered beach has mellow waves. The placid waters are safe for children and ideal for swimming. Other things to do include windsurfing, paragliding, and sailing.
The Plage de Calvi is about a 10-minute drive from the historic city center of Calvi, where the citadel is located.
3. Plage de Santa Giulia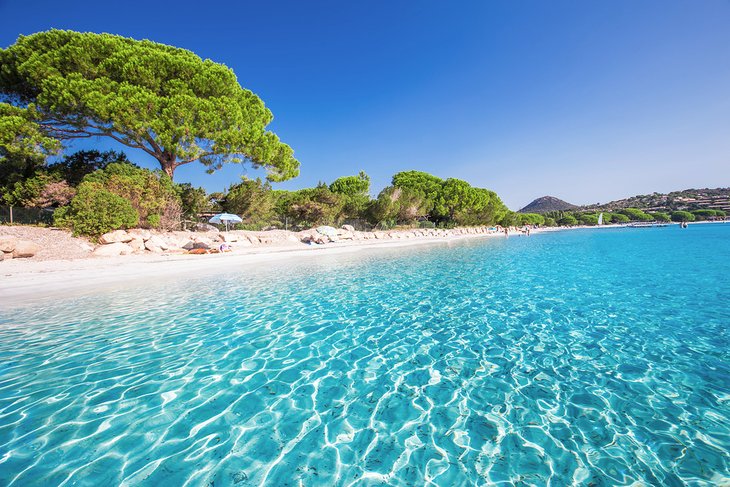 Mesmerizingly calm, translucent waters sparkle in the Santa Giulia Bay, revealing turquoise hues that appear tropical, despite being at the foot of rolling hills in southern Corsica. In this exotic setting, the beach of Santa Giulia Bay extends for kilometers and dazzles visitors with its pristine white-sand shoreline backed by umbrella pine trees.
Smooth granite boulders decorate the shoreline, adding visual interest, while the beach overlooks the Îles Cerbicales archipelago.
The beach fronts a lagoon within Santa Giulia Bay, and the shallow seabed makes this sheltered spot ideal for swimming and snorkeling. Parents with small children especially appreciate the safe, gentle lagoon.
Outdoor sports and adventure enthusiasts enjoy the ease of boating, waterskiing, and scuba diving.
Although the landscape is unspoiled, the beach offers top-notch amenities. Visitors will find paid parking; snack bars; and a stylish seafront restaurant, Paradisula, with a shaded outdoor terrace and some tables right on the sand. The restaurant serves French and Italian cuisine, as well as sandwiches and refreshments, and also hosts weekly events such as Corsican music and a Brazilian-themed evening.
The Plage de Santa Giulia is eight kilometers south of Porto-Vecchio (about a 15-minute drive). This beach gets very crowded during the summertime. Travelers who prefer a more relaxing and quiet atmosphere should visit during the off season.
4. Plage de Saleccia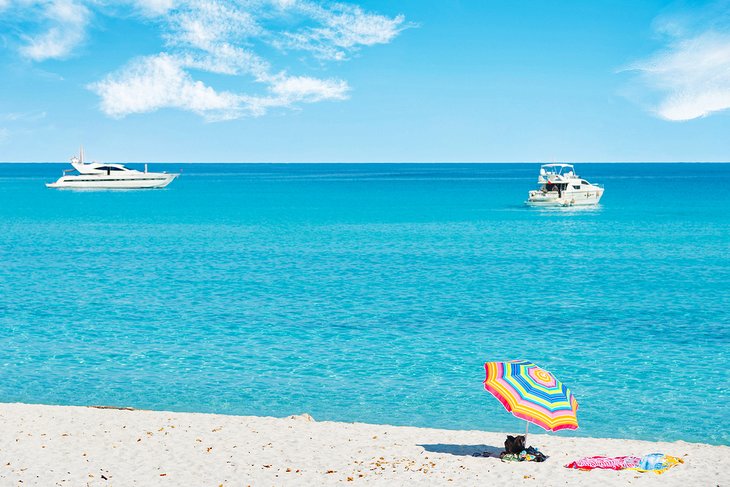 A pristine stretch of coastline, the Plage de Saleccia is sheltered behind a grove of pine trees in the Désert des Agriates, protected by Corsica's Coastal Conservation Agency. Boat taxis provide the only access to the beach.
The expansive shoreline features fine white sand, lapped up by crystalline turquoise waters. The sea is shallow here, which makes this beach ideal for wading and splashing around.
This undeveloped beach has limited facilities; there are no restaurants, snack bars, lounge chair/parasol rentals, or shops on the beach. Visitors should bring water and other provisions. The closest restaurant (open for lunch and refreshments) is about a 10-minute walk away.
The Plage de Saleccia is 50 kilometers from Bastia and 46 kilometers from L'Île-Rousse, where ferries arrive from mainland France.
5. Plage de Cupabia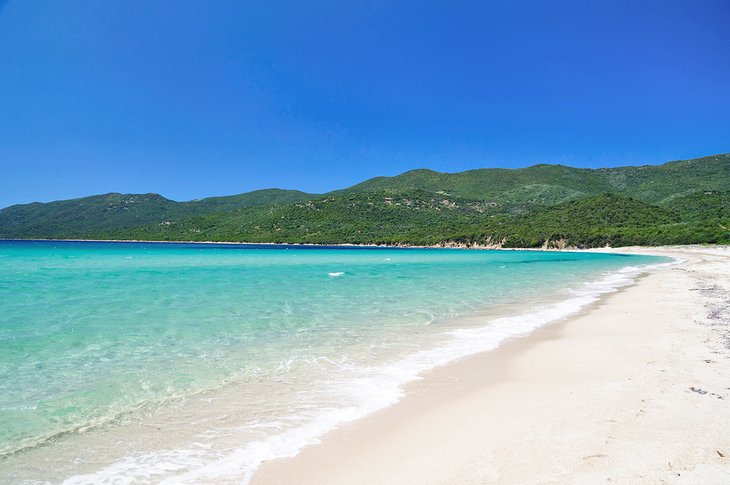 The peaceful Plage de Cupabia nestles in a secluded bay on Corsica's western coastline. This off-the-beaten-path beach features a vast shoreline of fine white sand, crystal-clear turquoise waters, and gentle waves. Woodlands border the beach, providing welcome shade on hot days.
Because it is completely undeveloped, Cupabia Beach appeals to visitors who love nature and prefer to avoid the crowds. The northern half of Cupabia Beach tends to be quiet, while the southern half is family friendly. Swimming is possible, although there are no lifeguards.
During the summer, the beach has a snack bar/restaurant and campsite. Visitors can also rent villas located steps away from the beach.
The Plage de Cupabia is three kilometers away from the village of Serra di Ferro and is a short drive from the town of Valinco, as well as from the south shore of the Golfe d'Ajaccio.
6. Plage de l'Ostriconi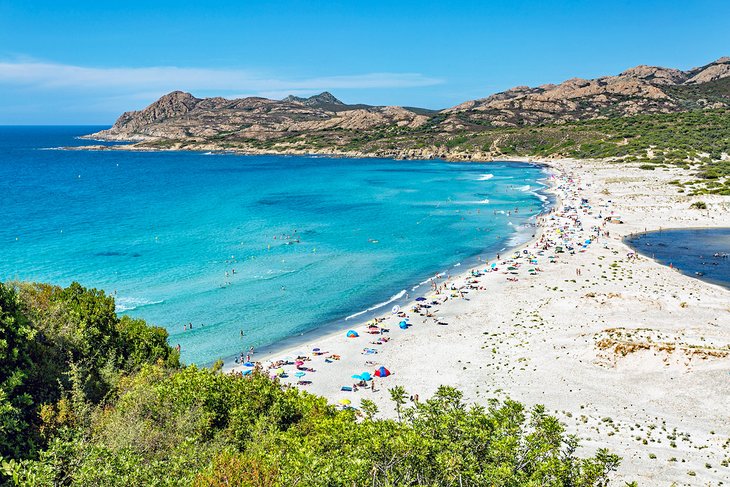 The Plage de l'Ostriconi delights visitors with the impression of an island paradise. This idyllic beach is tucked away behind sand dunes within the Désert des Agriates wilderness.
The secluded location inside a nature preserve means that the beach is completely undeveloped and has no facilities. Rolling hills and scrubland skirt the beach, while the Ostriconi River flows from higher elevations into the Mediterranean Sea.
A fine white-sand shoreline extends for 800 meters and is lapped up by translucent turquoise waters. Although the beach is sheltered, high winds sometimes cause dangerous waves. Visitors should observe the instructions at the lifeguard stand.
Lifeguards survey the beach during high season, but visitors should not expect other amenities. It's a good idea to bring along your own beach towels, umbrellas, snacks, water, and other refreshments.
To arrive at the Plage de l'Ostriconi requires a walk along a footpath from the main road. The beach also leads to the Sentier des Douaniers seaside path.
Sporty types, who are in good shape and up for an adventure, can hike along the Sentier des Douaniers to the Plage de Saleccia. It takes about 4.5 or 5 hours to complete the hike.
The Plage de l'Ostriconi is 15 kilometers away from the town of L'Île-Rousse, which has a ferry terminal, many hotels, shops, and restaurants.
7. Plage de Bodri
A sparkling seaside gem along Corsica's northern coastline, Bodri Beach is very popular and attracts many tourists yet still has a soothing ambience. The beach features dreamy turquoise waters and fine white-sand shores.
This beach has shallow, calm waters that are safe for swimming and for children to wade. It's also a good place for water sports. During the summertime, lifeguards survey the beach. Other amenities include a café/restaurant and parking.
Bodri Beach is just four kilometers (about a 10-minute drive) from the town of L'Île-Rousse, where ferries depart/arrive from mainland France.
8. Plage du Petit Spérone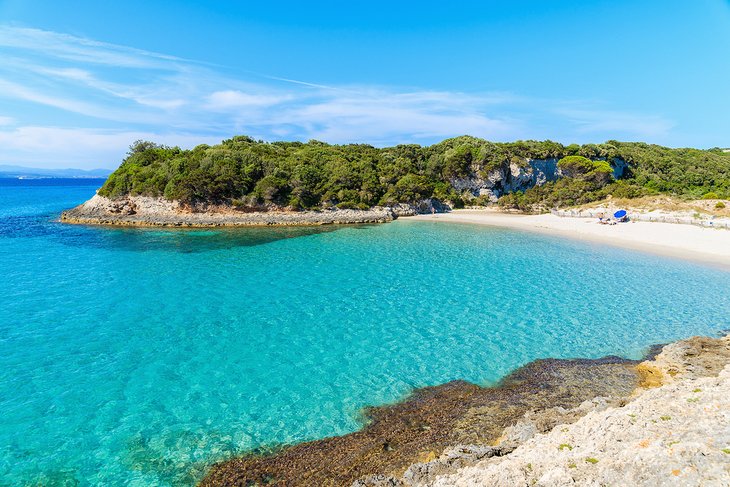 An idyllic natural setting distinguishes the Plage du Petit Spérone. In a peaceful cove, this enchanting beach in the Bonifacio region of Corsica faces the L'île de Piana, an island that sits just a few hundred meters off the coastline. The beach also looks out to the L'île Ratino and Sardinia in the distance.
The sandy shoreline at Petit Spérone is prized for its softness and luminous quality. Visitors appreciate this beach for its secluded and remote feel, thanks in part to its difficult access via a coastal footpath from the Plage de Piantarella, where the parking lot is located. Despite its remoteness, the beach does get busy during high season (mid-July through August).
Petit Spérone Beach has shallow, crystal-clear waters that are ideal for swimming, although visitors should note that there are no lifeguards. As an undeveloped beach, Petit Sperone does not have any facilities. Visitors will need to bring their own beach towels, snacks, water, and other provisions.
9. Plage du Lotu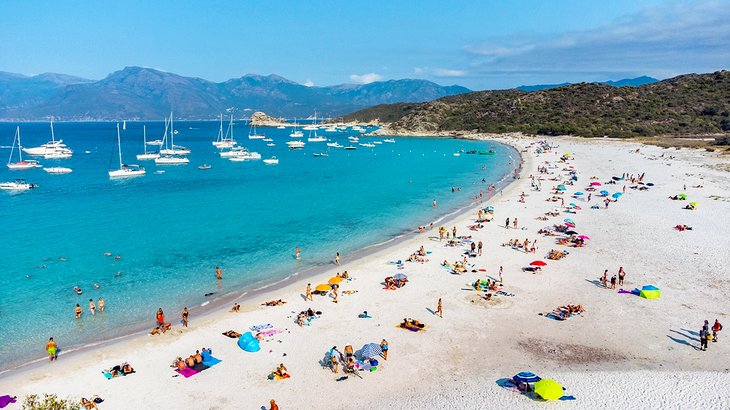 The scenic Sentier des Douaniers seaside path leads from the Plage de Saleccia to the Plage du Lotu in the Désert des Agriates nature preserve. The hike between the two beaches takes about 90 minutes.
This unspoiled beach has a fine white-sand shoreline and crystalline turquoise waters, just like the Plage de Saleccia but smaller. Similar to the Plage de Saleccia, the Plage du Lotu does not have any tourist facilities. Visitors will find a snack bar/restaurant about a five-minute walk from the beach.
10. Plage de Rondinara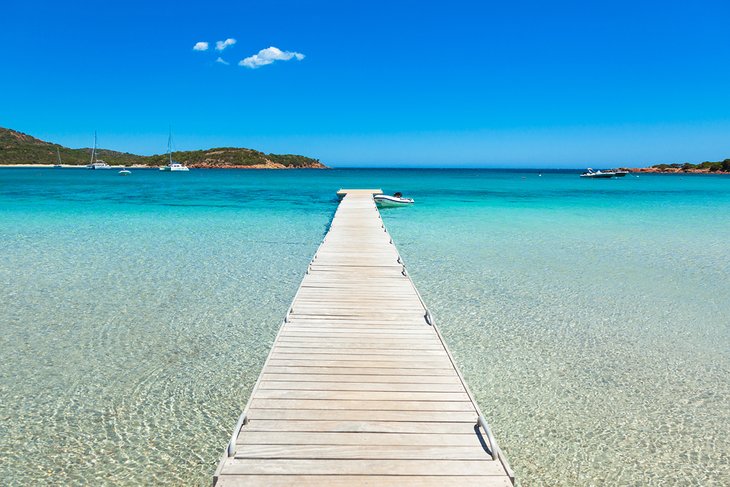 The Plage de Rondinara benefits from the sheltered environment of its crescent-shaped bay, which has a narrow inlet that ensures gentle waves. Shimmering azure waters splash along the sandy shoreline, while the sea invites swimming and water sports such as kayaking and pedal boating.
This beautiful beach in the Bonifacio region of Corsica has excellent amenities: a seaside restaurant with shaded outdoor seating, lounge chair and umbrella rentals, boat rentals, and parking.
Alongside the beach is a seaside path, the Sentier Littoral de Prisarella, where visitors may take a walk to admire views of the coastline and the rugged Mediterranean landscape.
The Plage de Rondinara is just 21 kilometers (about a half-hour drive) from Porto-Vecchio.
11. Plage de Pinarellu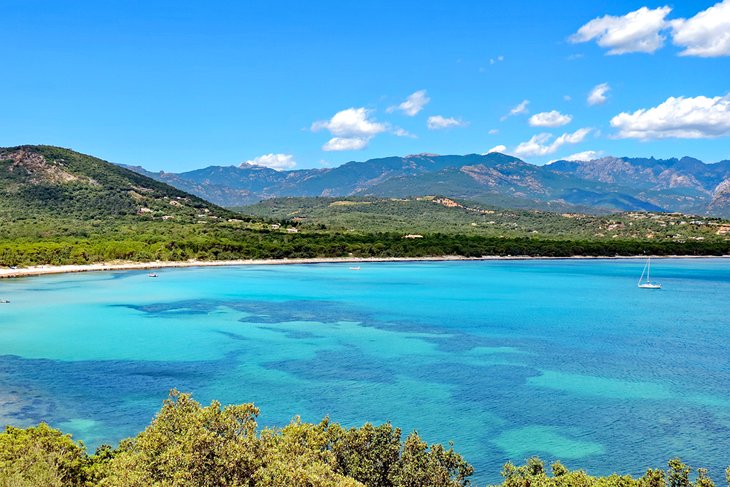 The crystal-clear waters and shallow seabed of Pinarellu Beach make it a popular spot for snorkeling. This lovely white-sand beach is also ideal for swimming and water sports.
Families appreciate that it's safe for kids to wade and splash around.
Surrounded by pine forests, Pinarellu Beach has a secluded feel yet provides superb facilities. Amenities include snack bars; several beachfront restaurants; and a nearby shop that rents kayaks, canoes, and pedal boats.
Pinarellu Beach is located four kilometers from the village of Sainte-Lucie de Porto-Vecchio, along the Golfe de Pinarellu. Sainte-Lucie de Porto-Vecchio village is just 15 kilometers (a 20-minute drive) from Porto-Vecchio.
12. Plage de Campomoro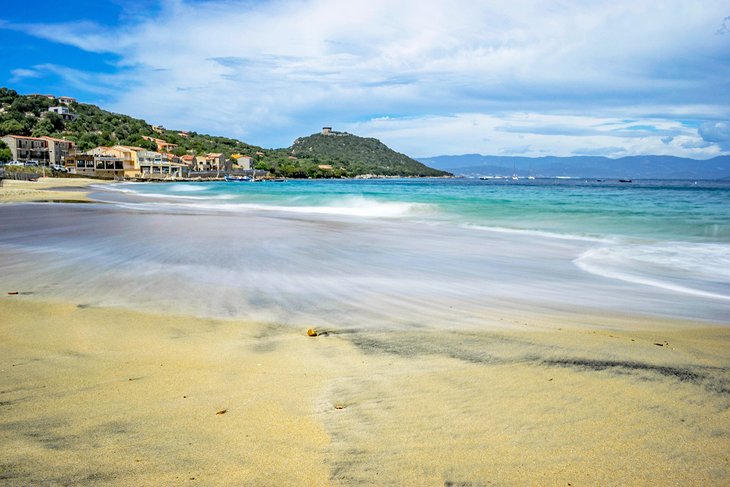 With its sun-kissed landscape of shrub-covered rolling hills and placid expanse of transparent turquoise sea, the Plage de Campomoro has a calming effect. The sandy shoreline extends for nearly a kilometer and features several waterfront restaurants.
During summertime (July and August), lifeguards supervise the beach. Thanks to its tranquil waters, it's a great place for swimming.
This beach is located near the resort town of Belvédère-Campomoro and is easily accessible by car. However, the parking lot fills up in the high season, so it's best to arrive early.