12 Best Beaches in Sardinia
For all its natural wonders, Phoenician ruins, and mysterious prehistoric stone towers, its spectacular beaches remain Sardinia's most alluring tourist attractions. Bordering all sides of this Mediterranean island and often washed by almost fluorescent turquoise waters, Sardinia's beaches are so plentiful that travelers are never far from one.
Unlike the beaches of mainland Italy, most of Sardinia's are not backed by resorts or hotels, although tourist facilities are usually near at hand. But the beaches themselves – which are almost all free – are in pristine settings backed by hills, dunes, rock formations, or cliffs. And even in August, when most Italians take their vacations, there are secluded, sandy coves to be found.
Choosing between several beaches in one stretch of Sardinia's coastline is like choosing chocolates out of a box – whichever one you're tasting at the moment is the best. So plentiful in most places are these small intimate coves and long sandy strands, that we have described them in groups. Rather than planning on a specific stretch of sand, choose an area, settle in, and sample several until you find your own slice of paradise. Use this list of the best beaches in Sardinia to help you plan your vacation.
1. Costa Sud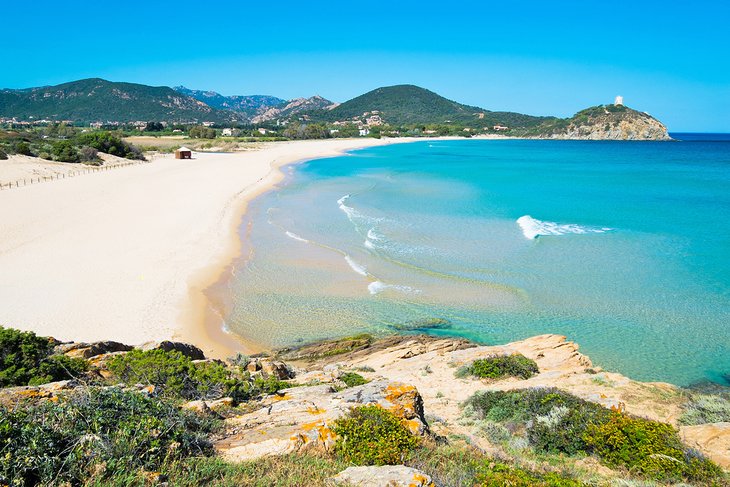 Southwest of Sardinia's capital of Cagliari, the Costa Sud is a coastline of headlands, between which hide sandy beaches. Some, like the one at Porto Campana, are mile-long stretches of fine sand backed by dunes and have facilities for water sports including paddleboarding and kiteboarding. Crystal-clear water and long shallow drop-off make this a good choice for families with young children.
Two other beaches, Spiaggia Sa Colonia and horseshoe-shaped Spiaggia Su Portu, lie at either side of a headland topped by a Spanish watch tower. Another gently sloping beach good for children, Spiaggia Sa Colonia has tranquil places to spread a beach towel even in August, when all beaches are the busiest. Between Sa Colonia and the beach of Su Cardolinu is the beautiful small crescent of Porticciolo Beach.
Swimmers will enjoy Tuerredda Beach, near Chia, where they can swim about 100 meters to a small island topped by a stone tower. The water here is especially beautiful, varying in shades of blue, green, and turquoise.
Chia is at the center of this coast, with a busy beach of its own, where you can rent kayaks, surfboards, even snorkel gear and sailboats. Chia is an easy day trip from Cagliari but has plenty of hotels and tourist services for longer stays. For the most spectacular sea views and deluxe accommodations, stay at the five-star Faro Capo Spartivento hotel, set inside a former lighthouse atop a promontory.
2. Maddalena Islands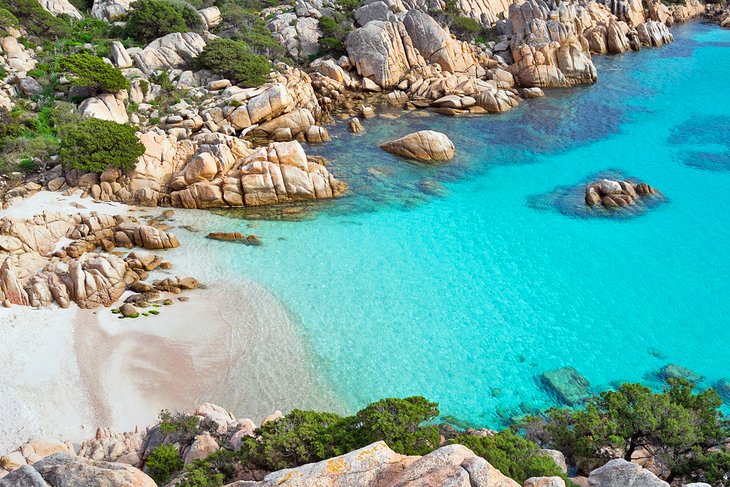 Even for those who don't care for sunning on a beach, the Maddalena Islands are one of the top places to visit in Sardinia, for their scenery, history, and setting in the region's fabled emerald-green waters.
The archipelago lies off the northeast shore, reached by ferry from Palau, and once here, you can walk or drive to beaches on the main island of Maddelena and the island of Caprera, which is connected by a causeway. Local boats will take you to other islands, where you can have secluded beaches all to yourself.
The islands are known for their pink sand, especially on the southeastern shore of Budelli, where Spiaggia Rosa (Pink Beach) is colored by microscopic grains of coral and shells. Cala Granara, on Isola di Spargi, is a white-sand beach, an idyllic scene backed by palms and tropical plants.
Cala Coticcio is on the island of Caprera, and also backed by tropical foliage. Although Caprera is frequently visited for the museum at the home of Italian patriot Giuseppe Garibaldi, it has several good beaches that you can access on foot or by car, including Spiaggia del Relitto, Cala Napoletana, and Cala Garibaldi. At these and other beaches in the Maddalena Islands, you will need to bring your own towels, umbrella, and refreshments, as most are entirely undeveloped.
3. Capo Testa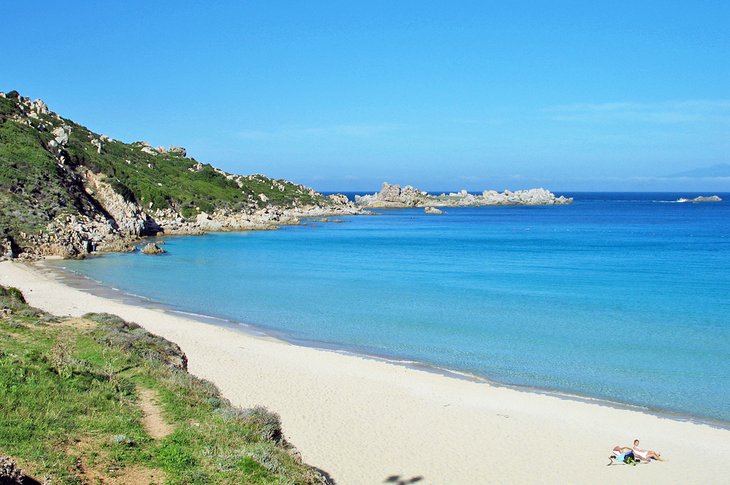 Located between the Maddalena Islands and the fabled Costa Smeralda, Capo Testa and the shore of Santa Teresa Gallura has an attraction neither of the others has: its beaches are public and easily accessed by land. These beaches share the same emerald waters and soft sand of their neighbors, and many add the bonus of scenic backings of rock outcrops and cliffs, carved into fantastic shapes by the wind.
Of the seven Blue Flag beaches found in northeast Sardinia, Santa Teresa Gallura claims three: Rena Bianca, Rena di Ponente, and Rena Levante. The largest and best known of these is Rena Bianca, a beautiful stretch of white sand sloping gently into the green water. With some of Sardinia's shallowest water, it is very popular with swimmers and families. To see some of the most beautiful of Capo Testa's wind-carved rock formations, follow the trail from the eastern end of the beach.
Rena de Ponente is another lovely beach with soft white sand and gentle waves, backed by low hills. Zia Colomba is a sandy beach with calm water and scenic rocks; Reparata is best for windsurfing and snorkeling.
4. Costa Smeralda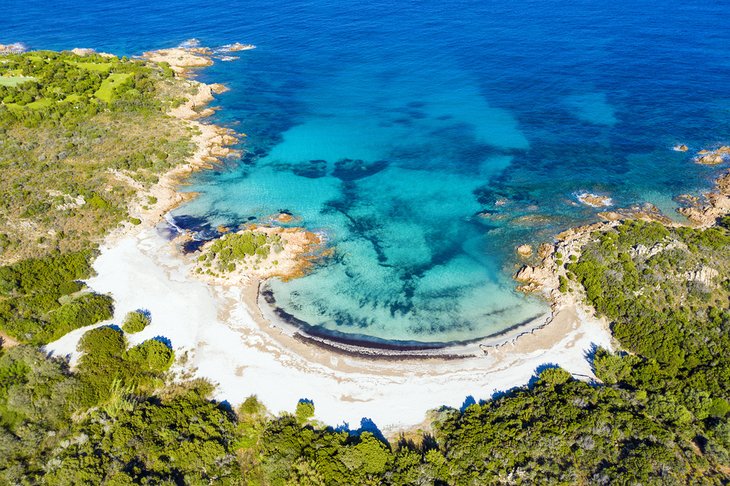 Although the Costa Smeralda (Emerald Coast) has some of the most beautiful beaches in the world, the drawback for budget-minded tourists is that most of those idyllic sandy coves can be reached only by private boat or by guests of the luxury resorts that surround them. That, of course, doesn't subtract from their beauty or from the famously emerald-colored sea that washes them.
Chic little Porto Cervo and its private yacht marina were created in the 1960s, when the Aga Khan developed the area into a series of posh resorts designed to look like villages in the Greek islands. Those resorts occupy - and seal - the land around those lovely little cove beaches shown on the travel brochures. But some larger and still beautiful beaches are open to the public. Spiaggia del Principe (Prince's Beach) was reputedly a favorite of the Aga Khan, for whom it was named. Its fine sand curves around the region's incredibly blue-green sea, backed by low cliffs.
Cala Granu beach is smaller, only 100 meters long, facing onto a lovely green bay just north of Porto Cervo. In the summer, it is more like a mainland beach, with rows of lounge chairs and umbrellas, but they are only in its center and there's plenty of space at either end. The water is shallow and a good place for children to play.
South of Porto Cervo, Grande Pevero is a half-moon of fine white sand surrounded by juniper. For a resort town that's less pricey than Porto Cervo, try laid-back Cannigione, on the Gulf of Arzachena.
5. Costa Verde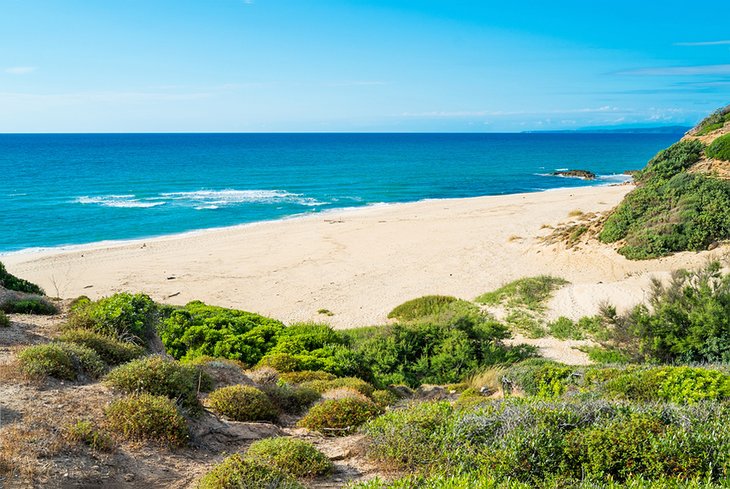 The wildest and least developed of Sardinia's beaches are where the shore swings northward at the southeast corner, known as the Costa Verde, Green Coast. Even at the height of Italy's August vacation, you'll be able to find stretches of golden sand without an umbrella in sight. Speaking of which, take your own, along with refreshments and sunscreen, as you're likely to find few of the usual beach vendors on these almost deserted sands.
The three kilometers of Scivu Beach is an exception, with a kiosk renting umbrellas. Behind the beach lie the Dune di Scivu, some of Europe's tallest sand dunes. Nearby, near Guspini, the beautiful Spiaggia di Piscinas separates the sea from another set of dunes that rise as high as 60 meters. The beach is as wide as two kilometers in places, the widest on the island. You're likely to have only the birds and patches of dune plants for company.
The southernmost beach is Cala Domestica, a stage-set cove with deep blue water and sand that sparkles in the sun. Set between two promontories, Domestica is wider (about 260 meters) than it is long. It is popular with scuba divers.
The sea and wind tend to be stronger along this western coast, so the beaches are not good places for children to swim.
6. Cala Goloritzè & the Golfo di Orosei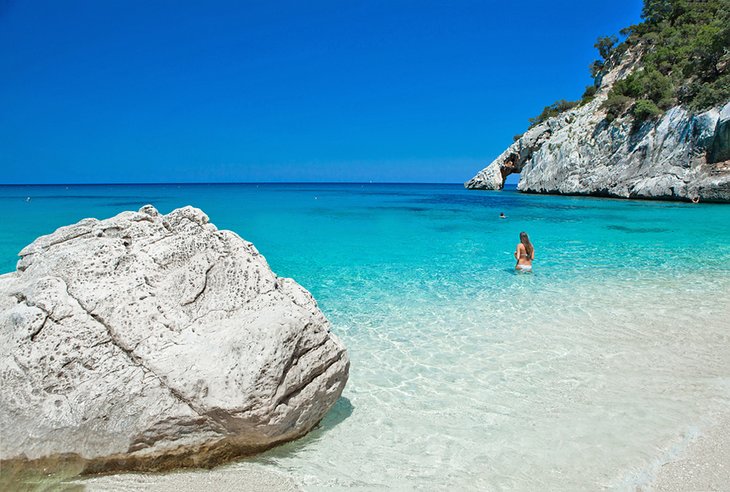 The poster child of the beaches along the Gulf of Orosei is Cala Goloritzè. Pink rocks seem to float in a pale blue sea, and along with a soaring cliff at its back, the beach is framed by a sea arch and the sharp-pointed Aguglia, a 148-meter rock pinnacle. Apart from its beauty, much of the beach's mystique surrounds the difficulties in getting here.
Unlike the other cove beaches along this steep shoreline, where the Gennargentu mountains drop into the sea, Cala Goloritzè is a protected Natural Monument where you can't land a boat. The closest you can come by boat is hovering offshore for photos. The only alternative is a steep, rough trail from the top of the plateau.
Other postcard beaches along this same coast are easier to reach by boat from Cala Gonone. All-day boat tours stop for a couple of hours swimming at several different beaches in one day. These might include Cala Mariolu, Cala Sisine, Cala dei Gabbiani, Cala Luna, and Cala Biriola. Cala Luna is a favorite for its sea cave beside the beach.
7. Costa Rei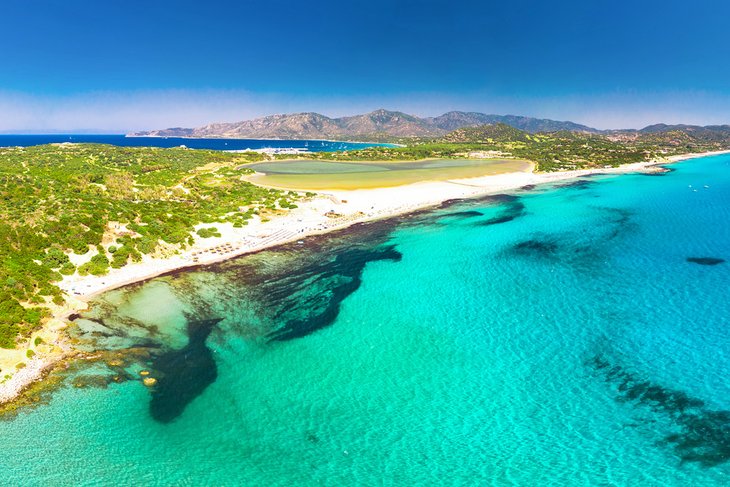 Capo Carbonara and the tiny island of Cavoli off its tip form an exclamation point at the southeast corner of Sardinia. The irregular southern coast is dotted with crescent beaches, and as it swings northward beyond Cabo Carbonara, beaches along the Costa Rei (King's Coast) become longer open stretches of sand.
These uncrowded white-sand beaches are backed by hills planted with olive and almond groves. Hotels and resorts scatter along the shore, but the main center for tourists is the attractive town of Villasimius, about 48 kilometers from Cagliari.
Close to Villasimius, the beach of Porto Giunco has pure white sand, which combined with its clear, pale-blue water invites the inevitable comparison with the Caribbean. Behind the beach, the large Notteri pond is home to pink flamingoes.
West of Villasimius, Punta Molentis juts into the sea, protecting its fine beach of pink and white sands from the winds. Here, too, the water shifts between shimmering blues and greens. To the north, near Castiadas, the Santa Giusta Beach has low, smooth rocks that form pools of warmer water and are ideal for small children.
8. Cala Brandinchi and San Teodoro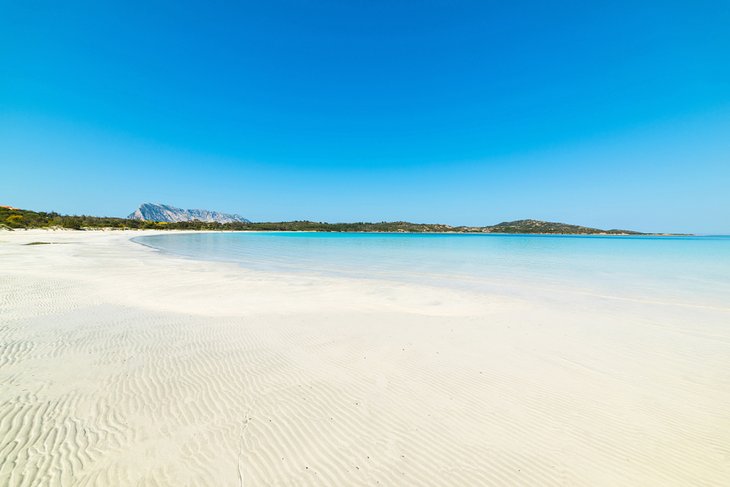 On Capo Coda Cavallo, south of the Costa Smeralda and near the resort center of San Teodoro, Cala Brandinchi is often called Sardinia's Tahiti for its brilliant white sand and shallow turquoise water. Rock formations at either side form pools that are a habitat for fish, and popular for snorkeling.
The beach is backed by a low pine forest and sand dunes, and off the shore stands the dramatic silhouette of the island of Tavolara. While there are tourist services - beach chairs and umbrellas for rent and refreshment kiosks - the beach is large enough for everyone to find space.
San Teodoro is one of the most popular summer resorts in Sardinia, and the entire area is lined with lovely beaches. Close to the town is Lu Impostu, with white sand and clear, gentle waters, which you can explore by rental kayak.
La Cinta is another of the best-known beaches in the area, with shallow water popular for swimming, paddle boating, and kitesurfing. White sand Spiaggia Isuledda is another nearby choice.
If the island of Tavolara beckons, you can go there by boat from Porto Paolo, a good day trip.
9. Capo Comino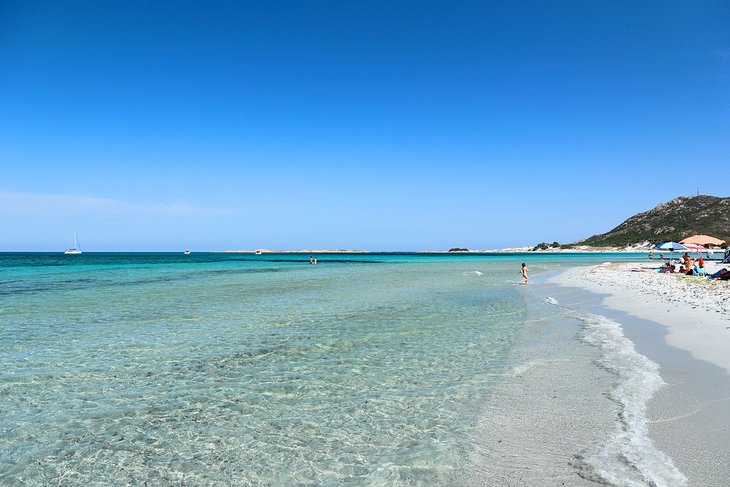 On Sardinia's east coast, north of Cala Goloritzè and the other Gulf of Orosei beaches, the large Capo Comino Beach is ideal for families, with a long stretch of sand that slopes gently into shallow blue water.
While the northern end of this four-kilometer beach has all the usual tourist amenities (including parking), the farther you walk to the south, the more space you'll find to spread your towel. The beach is backed by high dunes, and a lighthouse stands on a promontory at one end of the long cove.
The water is clear and its surface gentle, making it popular for snorkeling and scuba diving; a dive school at the north end has tours to a sunken ship from World War II.
10. La Pelosa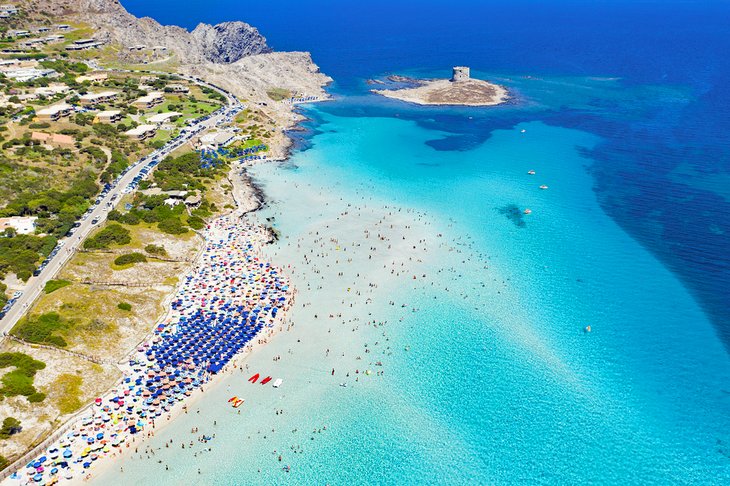 On any list of the best beaches in Sardinia, you'll find La Pelosa, at the northwestern tip of the island near Stintino. Despite the damage done to the beach by erosion and decades of overuse, the appeal of the shallow sea stretching from the beach in changing shades of blue and green is undeniable.
You can wade far out from the beach in the knee-deep iridescent water, toward the offshore island of Asinara, which you can visit by boat from Stintino. The placid waters and beach are protected from the open sea and wind by Capo Falcone, topped by a ruined 16th-century watch tower.
The dunes that once lay behind the beach at La Pelosa are largely gone, and the overcrowding has prompted a number of restrictions. You need to reserve ahead (far ahead in the summer) and pay by the hour; you can't bring a cooler, but there are restaurants on the beach.
11. Is Arutas and the Sinis Peninsula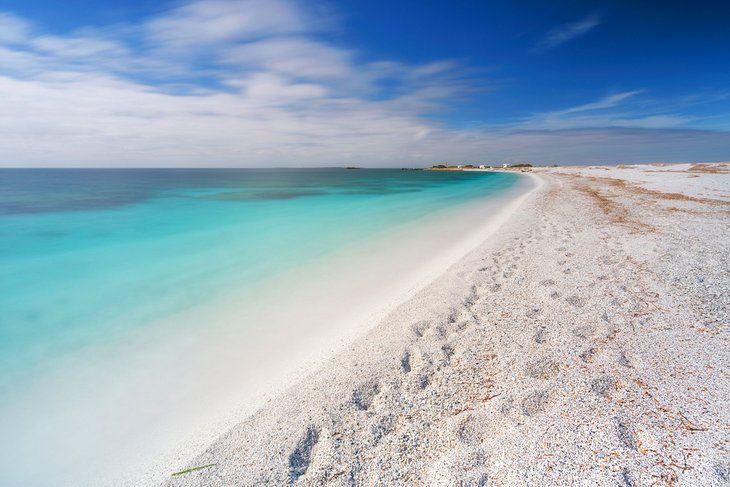 Known mostly to Sardinians, some of the most beautiful of their island's beaches are on the Sinis Peninsula, which extends into the Golfo di Oristano, on the western shore. The shoreline is part of a Marine Protected Area that's known for its birdlife and for the unusual beach of Is Arutas.
The beach consists of billions of tiny water-worn particles of quartz known as "grains of rice sand" that are in different colors. A handful of sand may have grains of pink, green, blue, white, and other pastel colors. For years, it was carted away for aquariums and to supplement other beaches, until the protected status made taking even a handful illegal.
You'll find hotels in the resort of Putzu Idu, and a beach almost two kilometers long with clear water and a shallow sandy seabed that extends dozens of meters out into the bay.
Nearby, a string of beautiful beaches have long rolling waves and clear waters that make them favorites for surfing, kitesurfing, and windsurfing. Horseshoe-shaped Spiaggia Su Portu is one of the longest, and Capo Mannu is one of the best for surfing.
Look also for Mai Moni and Sa Mesa Longa and the little cove beaches of Sa Figu and Dei Tedeschi, the latter a good place for scuba diving.
12. Poetto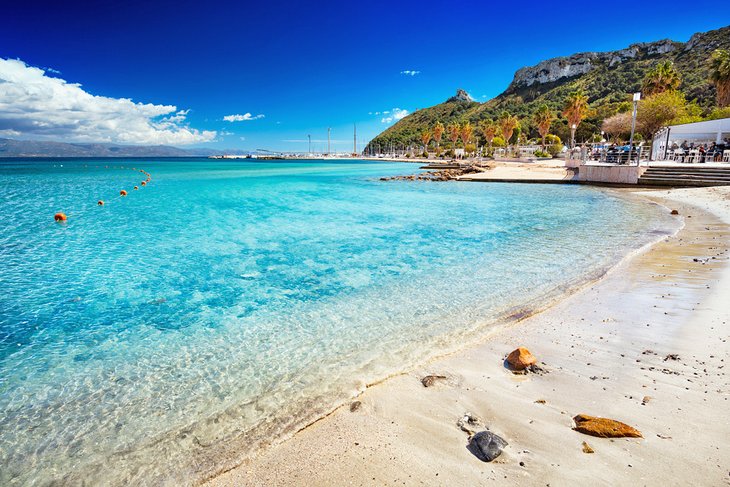 The appeal of so many other beaches in Sardinia is their wild, untamed beauty and lack of tourist incursions; Poetto is an eight-kilometer stretch of activity and sociability. While it is not a beach you would choose for seclusion, this beach, almost in the heart of Cagliari, is a good choice for the old-fashioned pleasures of a day at the beach.
The beach itself is lovely, with soft white sand and shallow water; pink flamingos lend color to the two ponds that separate it from the city. Most of the beach is backed by a succession of kiosks, where you can find all kinds of food and refreshment, as well as water sports equipment.
Large areas of the beach are free, or you can rent lounge chairs at one of the beach clubs. You can also arrange sailing, diving, or fishing trips from Poetto. The beach is easy to reach from Cagliari's harbor by tram, which stops at four points along the beachfront.
Map of Beaches in Sardinia
Sardinia, Italy - Climate Chart
Average minimum and maximum temperatures for Sardinia, Italy in °C
J
F
M
A
M
J
J
A
S
O
N
D

14

6

15

6

16

7

18

9

22

12

27

16

30

19

30

19

27

17

23

14

18

10

15

7

PlanetWare.com
Average monthly precipitation totals for Sardinia, Italy in mm.

46

58

43

38

23

10

3

8

31

56

56

56
More Related Articles on PlanetWare.com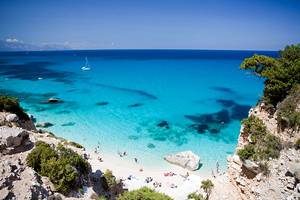 Where to Go in Sardinia: Whatever beach you choose, you are never far from one of the many tourist attractions in Sardinia, and you can find the best places to stay with our top hotels and resorts in Sardinia page. If you want to explore the area, you'll find our page on the top attractions of Cagliari and easy day trips helpful in planning your visit to the capital and nearby sights.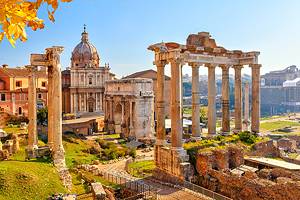 Where to Go in Italy: Beachgoers traveling on the mainland may want to soak up some sun on some more of the best beaches in Italy, and they will find several on the coast of Tuscany, close to some of the best places to visit in Italy.