From Rome to Pompeii: 3 Best Ways to Get There
We may earn a commission from affiliate links ()
The ancient Roman city of Pompeii is well-known for being buried under meters of volcanic ash many centuries ago. Located almost 250 kilometers south of Rome, Pompeii is now one of the most popular day trips away from the capital – but since it can take up to three hours to reach the ruins from the capital, planning your trip well is essential to make the most of it.
The Pompeii ruins receive over 2.5 million visitors every year, making them one of the most popular tourist attractions in the country. The massive ruins are spread over 66 hectares, though only 44 hectares have been fully excavated from under the ashes and can be explored by visitors. It would still take a full three days to properly explore every corner of the archeological park, so most visitors just stick to the main areas of the ruins to see as much as they can.
Buses, trains, and tours all connect Rome to Pompeii several times per day and offer a variety of options based on different prices, schedules, and even what kind of trip you're looking for: a relaxed on-your-own excursion or an in-depth experience with as much comfort as possible.
Regardless of your choice of transportation, here are the best ways to travel from Rome to Pompeii.
Note: Some businesses may be temporarily closed due to recent global health and safety issues.
1. From Rome to Pompeii by Tour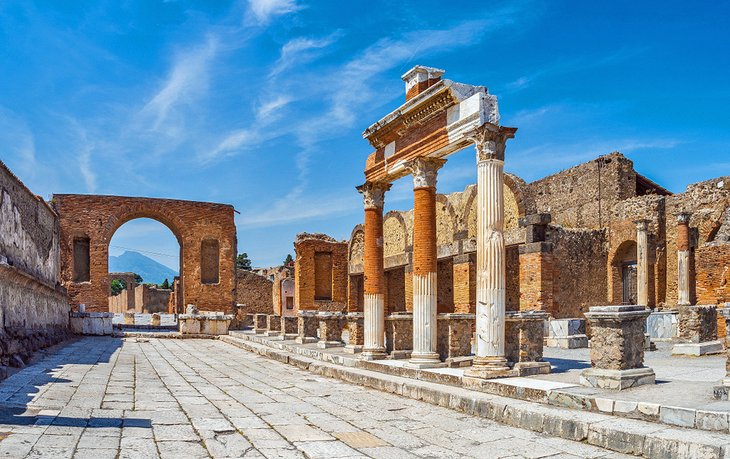 If you want to avoid the trouble of figuring out transportation connections and instead want to get to your destination as quickly as possible, the Rome to Pompeii Shuttle Bus & Independent Day Trip is a great option. This 12-hour hassle-free round-trip travel starts in the heart of Rome at 7:30am, when you meet your driver and board an air-conditioned coach or minibus shuttle.
From here, you'll start the 3.5-hour drive to Pompeii, crossing through the beautiful Tuscan countryside along the way. The English-speaking host on board will help you understand the history of Pompeii and what we know about the city before it was destroyed by the volcano Vesuvius in AD 79.
Once you arrive at the Pompeii Archaeological Park, you'll have time to explore the ruins on your own, using the walking paths, frescoes, and informative plaques to guide you around the ruins. You'll have a chance to discover the excavated ruins of streets, outdoor theaters, squares, and shrines that once stood here – some of them well-preserved, as is the case of the Temple of Apollo and its 48 Ionic columns.
If you want a more in-depth understanding of the ruins, you can buy an optional excavations-and-tour upgrade. This two-hour guided tour will show you the ins and outs of the most interesting stops in Pompeii, including the well-preserved houses of wealthy merchants, the oldest surviving Roman amphitheater, and ancient wall paintings.
In the mid-afternoon, you'll board your shuttle for the comfortable ride back to Rome.
2. From Rome to Pompeii by Train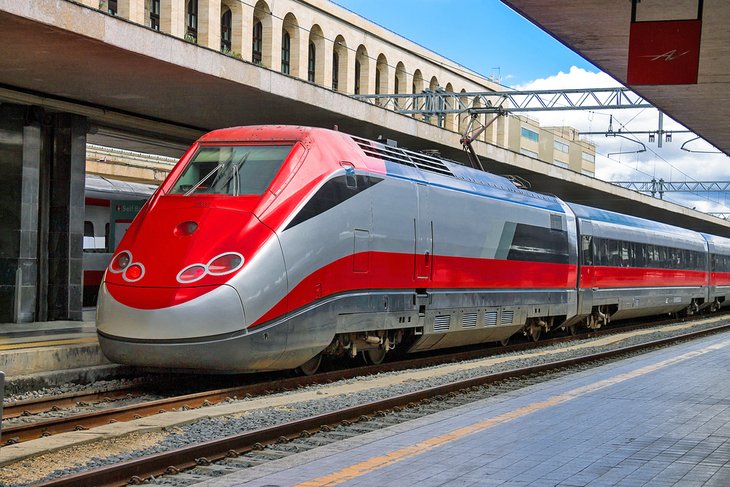 The quickest way to reach Pompeii from Rome is on a direct high-speed train, which covers the entire route in just around two hours – faster than driving there and much faster than taking a bus.
There are also cheaper, slower commuter trains that can get you to Pompeii in four hours, as well as high-speed trains that require a change in Naples. This last option is still faster than driving but longer than two hours, as having to change trains can add significant time to the trip.
If speed is important (especially if you're hoping to visit Pompeii as a day trip), the Frecciarossa and Freccibianca high-speed trains are your best option. These trains depart from the central Termini Station several times a day and offer plenty of great amenities, including comfortable first-class seats, free drinks onboard, air-conditioning, Wi-Fi, and power outlets.
The Frecciarossa trains have a café car and regularly get high ratings for their ultra-comfortable rides. Do keep in mind that high-speed trains cost about double what you would pay for a low-speed commuter train; local trains tend to be more crowded.
Booking a ticket at least a week in advance will save you significant money, as prices go up the closer you get to your travel date.
Most trains, including the Frecciarossa trains, stop in Naples. The ride between Rome and Naples takes around 70 minutes, and while Italian trains aren't as punctual or fast as Swiss trains, they usually run more or less on time. Once in Naples, you'll have to switch to a local inter-city train for the rest of the way.
Trains arrive at the tiny Pompeii Scavi-Villa dei Misteri station, just a few steps away from the ruins.
3. From Rome to Pompeii by Bus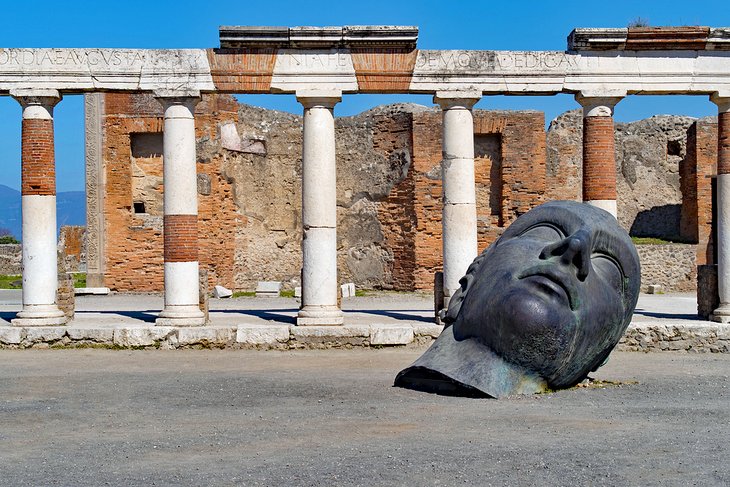 Long-distance bus companies Flixbus and Marozzi VT depart from the Rome Tiburtina Bus Station and cover the route between Rome and Pompeii several times per day. You can make reservations online in advance to secure the seat of your choice and to get cheaper prices. This is especially important in summer, when tickets sell out fast.
If you choose a direct bus, the journey takes approximately three hours, depending on traffic. The direct buses are comfortable, offering free Wi-Fi and hot drinks on board.
It's also possible to take a bus to Metropark Centrale in Naples and then change to a second, local bus there, but this will extend your travel time considerably. On the positive side, local public buses will take you directly from Naples to the ruins, so you will be just steps away from the entrance to the park.
The earliest bus to Pompeii leaves from Rome at 4:15am and the latest at 6:30pm. Always check in advance where the drop-off point is – long-distance buses often stop at the Piazza Falcone e Borsellino, which is not a walkable distance to the ruins. If your journey ends here, you can then take a local Busitalia bus to get to the entrance to the park.