From Rome to Assisi: 4 Best Ways to Get There
The birthplace of St. Francis, patron saint of animals, Assisi is home to a number of medieval constructions; beautiful palaces; and historical churches and cathedrals, including the Cathedral of Saint Rufinus, dedicated to the patron saint of the city, and the 12th-century Basilica of San Francesco d'Assisi.
Just 175 kilometers from Rome (an average drive of just over two hours), the city of Assisi makes for a perfect day trip. Fortunately for travelers, many buses, trains, and tours connect the two cities, making the planning even easier.
Sitting right against Monte Subasio, Assisi is laid-back and easy to explore on foot, no matter what time of the year you're visiting. Whether you're there to see the stunning medieval architecture, walk the cobblestone lanes, or explore the religious heritage of the area, here's our list of the best ways to get from Rome to Assisi.
1. From Rome to Assisi by Tour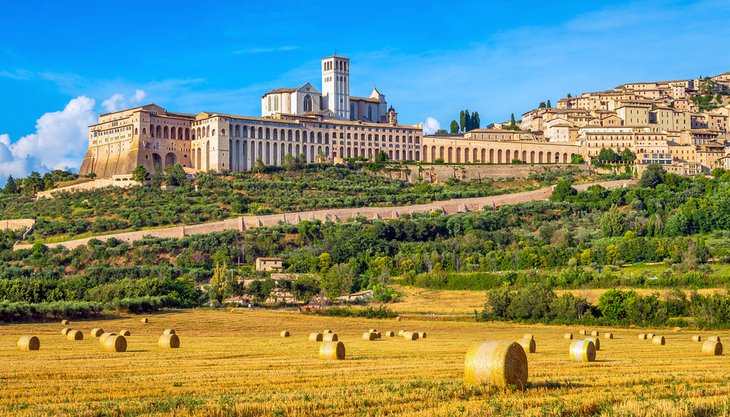 For a chance to explore two ancient cities at once, the Assisi and Orvieto Day Trip from Rome is a great choice. In addition to visiting medieval Assisi, this 12-hour-plus trip also takes you to Orvieto, populated since Etruscan times and well-known for its Gothic architecture.
The tour starts in the center of Rome, and you could be picked up right at your door if your hotel is centrally located. Once you board your air-conditioned coach, your English-speaking guide will greet you and share information about what's ahead as you drive north alongside the River Tiber.
After 1.5 hours, you'll have a chance to explore the town of Orvieto, built on volcanic rock and offering stunning views over the striking landscape of olive groves and green fields below. Here, you'll explore the Centro Storico (Historical Center) on foot, visiting the Gothic Orvieto Cathedral to see the beautiful stained-glass windows and mosaic murals.
Next, your driver will take you to Umbria, where you'll have lunch on the shores of Lake Trasimeno before you continue on to Assisi. In this World Heritage-listed town, you'll be able to visit a number of sites connected to the life of St. Francis, including the home where he was born and where he spent much of his life working for the church.
St. Clare, who followed St. Francis and founded the Order of Poor Ladies, was also born here, and you'll be able to learn about her own life and work when you visit the Convent of Santa Chiara. You'll also walk by other important sights in town, including the 14th-century Palazzo del Capitano del Popolo and the Roman Temple of Minerva.
After walking through the town, you'll stop by to see the 9th-century Santa Maria degli Angeli Basilica, built around the 9th-century little church, where young St. Francis used to pray. You'll then head back to Rome in the comfort of your shuttle.
2. From Rome to Assisi by Train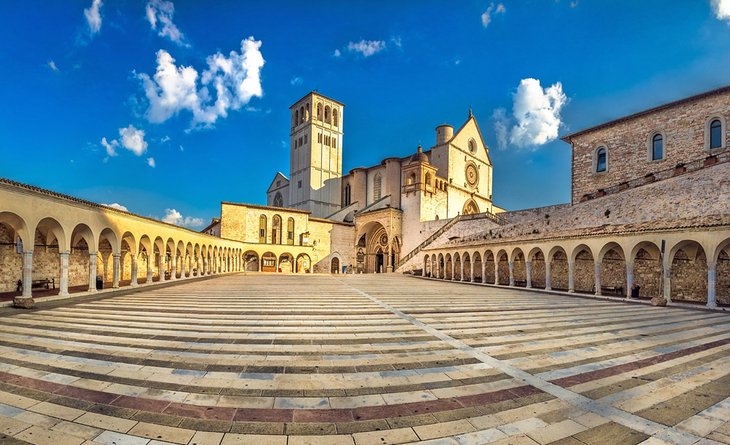 Trains to Assisi leave from the Termini station, located in the center of Rome and depart several times a day. Visitors have a choice between Alta Velocita (high-speed) trains and Trenitalia standard trains, which are slower and often require a change or two along the way but are also cheaper. Trains that require a single change usually stop in Foligno, an ancient town dating back to the 8th century BC.
Trains without a change along the way take an average of two hours to reach their destination, with changes increasing travel time by about 50 to 90 minutes. If you're going to Assisi for just the day, the direct high-speed trains make more sense, as you'll have more time to explore. Trenitalia trains traveling this route offer second-class seats only, which are comfortable enough but don't have a lot of extra legroom or space for big and heavy luggage.
Trains arrive at the Assisi station, a small but very busy station. From there, it's a 10-minute ride to the center of the city on a local bus. Get off at the Piazza San Pietro stop, from where you can take a walk through the city before you head over to the Basilica and explore the old town center.
The last train departs from Assisi at 8:47pm and doesn't arrive back in Rome until 11:42pm, so make sure you're up for the long ride if you choose this one.
3. From Rome to Assisi by Bus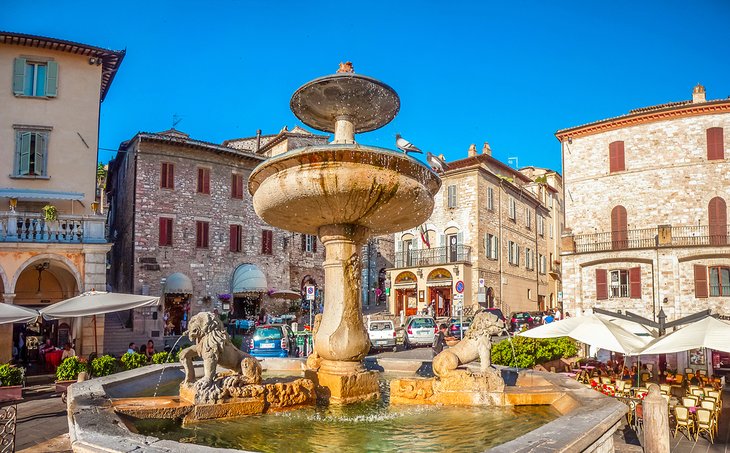 Bus travel takes longer than trains, and it's not ideal if you're only going to Assisi for the day. There are several buses per day covering this route – the first one just after 6am – operated by companies such as FlixBus and Sulga Autolinee. Buses leave from the Rome Tiburtina Bus station and sometimes require a change in Perugia Piazza Partigiani station.
While direct buses can take as little as two hours, others might take three to almost four hours, depending on whether the stops/changes are immediate or you have to wait for the connecting bus. Even direct buses will make several stops (an average of four) along the way – you just have to remember not to get off.
If you're traveling directly to Assisi after arriving in Rome, there's a direct Sulga Autolinee bus from Fiumicino Airport to Assisi. It departs from the airport just once a day at 9am, and it doesn't run on Sundays. This is the cheapest way to reach Assisi from Rome but the trip takes four hours and 50 minutes.
Buses connecting Rome to Assisi are comfortable, with plenty of legroom, free Wi-Fi onboard, drinks and snacks, plugs for your electronics, a toilet, and ample space for luggage.
Buses stop at the Piazza San Pietro in Assisi, from where you can take a local bus to get you to the center of the city.
4. From Rome to Assisi by Car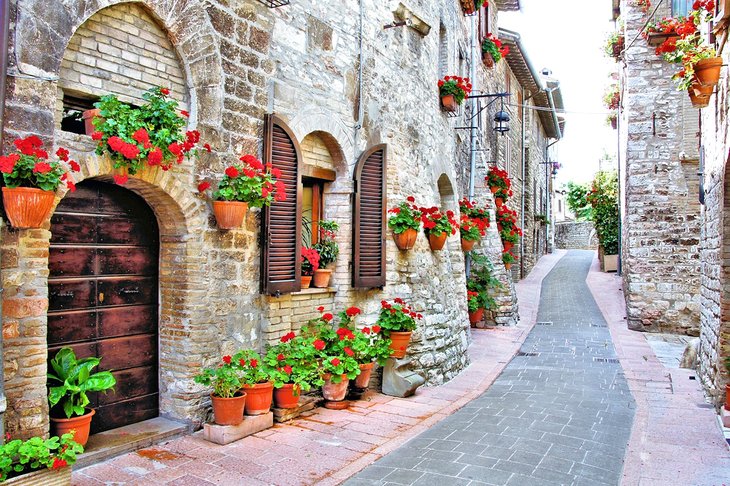 If you're up for an adventure, driving from Rome to Assisi could be a fun way to explore the Italian countryside. The drive takes just over two hours and crosses plenty of areas that make for a great quick stop. If you're not in a rush, it might be worth stopping to explore along the way.
For example, just 30 minutes after leaving Rome, you'll drive by the Réserve naturelle de la Marcigliana, a natural preserve of rolling green fields, medieval farms and towers, and even ancient Roman burials. Continue driving to cross another forest, a number of medieval towns and churches, and the ancient hilltown of Narni, the geographic center of Italy.
Driving in Italy can be a bit overwhelming at first if you don't speak the language, but Italian road signs include a lot of pictorial descriptions and fewer words than the average road signs in other countries. If you're still unsure, car rentals at the airport are more likely to rent out cars with GPS.
Unless you only have a day in the area, car rentals in Italy are more affordable when you rent the vehicle for at least two days. Either rent the car the night before you leave Rome or find a small pensione to spend the night in Assisi before you head back the next day.