From Rome to Florence: 5 Best Ways to Get There
There are several options to get you from Rome to Florence: You can jump on a high-speed train for speed and convenience, save money by traveling on a long-distance bus, or try local buses and trains for even bigger savings without missing out on the views along the way.
For those who want speed, there are also many flights every week between the two cities. Organized tours of Florence are also available for those who prefer the company of a knowledgeable guide to show them the best corners of the city.
The capital city of the Tuscany region, Florence is often considered the birthplace of the Renaissance and the best destination in Italy for art lovers. Florence is just close enough for a day trip from Rome – albeit a long one – so you can discover the beauty of this ancient city and then head straight back to your hotel in Rome at the end of the day.
Whether you're visiting to see the famous art, discover the local architecture, or explore the Tuscan countryside, here's our list of the best ways to get from Rome to Florence.
1. From Rome to Florence by Tour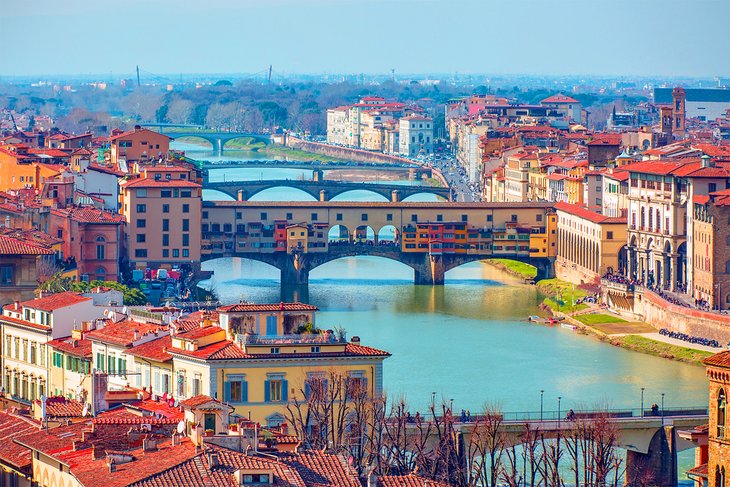 If you're hoping to visit Florence as a day trip and then return to Rome, a Florence and Pisa Day Trip from Rome is the perfect solution. Plus, this tour also gets you to Pisa for some additional great memories.
This 12-hour round-trip tour starts at 7am in the heart of Rome (hotel pickup is also available for centrally located hotels), where your driver and English-speaking guide will pick you up in an air-conditioned coach. From here, you'll drive south for three and a half hours, enjoying the views of olive groves and the sounds of the Tevere River as you crisscross through the Tuscan countryside.
Your first stop on your way to Florence is at the Pisa Cathedral, followed by the Piazza dei Miracoli and the Pisa Baptistery of St. John. You'll then make a quick stop at the Tower of Pisa, located just behind the cathedral, so you can take some photos of the world-famous leaning tower.
From here, your trip continues until you arrive in Florence, where you'll have a chance to see many masterpieces of the Renaissance, including the Accademia Gallery, where Michelangelo's famous David sculpture is housed. You'll also stop by to check out the Florence Duomo and Giotto's Bell Tower, as well as the medieval Ponte Vecchio over the Arno River and Piazza della Signoria,
2. From Rome to Florence by Train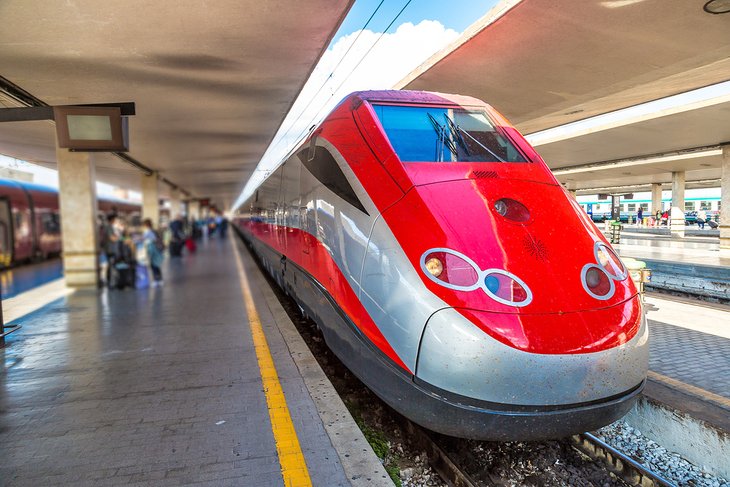 The Frecciarossa high-speed train (also known as the "red arrow train") is the fastest way to cover the route between Rome and Florence, though not the cheapest.
These modern trains travel between Rome and Florence at a speed of almost 300 kilometers per hour and take about 90 minutes to reach their destination. Frecciarossa trains come equipped with air-conditioned cars, a café car, Wi-Fi, and electrical outlets. It's also possible to buy drinks and snacks from a food cart without ever leaving your seat.
Another great option is the ItaloTreno, which offers four different classes (referred to as "Travel Ambiences") depending on how much comfort you want and how much you're willing to pay for it: Smart, Comfort, Prima, and Club Executive. Smart is the cheapest option, with comfortable reclining leather seats, free Wi-Fi, and a snack area with vending machines. Comfort is similar but adds more legroom and gives you the option of single seats if you want more privacy.
Prima (the equivalent to First Class) offers a Fast Track check-in and a welcome service with snacks, coffee, and drinks brought directly to you, plus wider and more comfortable seats. Club Ambiance is the ultimate option, with a Club Lounge at the station, on-board catering service, personal screens for each seat so you can watch movies, and spacious armchair-like seats.
If cost is a concern, there are also cheaper regional trains available on this route, but they take much longer and often require at least one change along the way, while high-speed trains are direct.
If you are planning on taking the train several times while in Italy, an Italy Rail Pass will save you both time and money. Otherwise, you can also save money on high-speed trains by buying your tickets as early as possible (at least a week in advance for the best prices).
Trains leave from either Roma Tiburtina or Rome Termini train stations as early as 5:35am and as late as 9:30pm. There are trains every 30 minutes, so if you miss one or didn't get a ticket in advance, you can always just wait for the next one, though keep in mind that high-speed trains do require a seat reservation, so it would not be possible to just jump on the next one if you miss yours.
Catch a daytime train if possible, so you can enjoy the views of the scenic Tuscany region along the way.
All trains arrive at the Firenze Santa Maria Novella train station, from where you can access public transportation to reach any destination within the city.
3. From Rome to Florence by Bus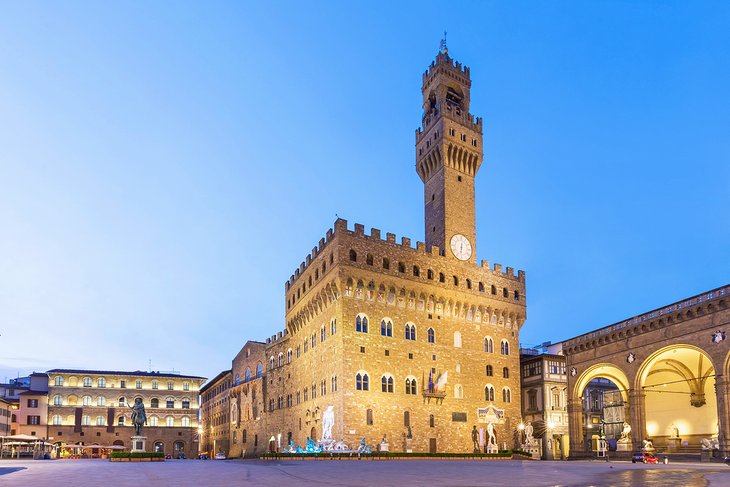 Buses are the cheapest form of transportation between Rome and Florence and one of the most convenient, as there are over 20 buses every day that make the trip from one city to the other.
Buses leave from either Roma Tiburtina or Roma Anagnina bus stations and arrive at either the Firenze Via Santa Caterina da Siena or the Firenze A1 bus station. The route can take anywhere from 3.5 to five hours, depending on which buses you choose and if they make stops along the way.
Baltour, Flixbus, and Eurolines France companies all travel this route, with tickets starting at single-digit prices if you buy well in advance and choose non-peak hours (very early morning tickets and late evening tickets tend to be cheaper, as they're more inconvenient).
The earliest bus on this route leaves from Rome at 1:40am and the last one at 11:35pm, arriving in Florence the next calendar day.
4. From Rome to Florence by Plane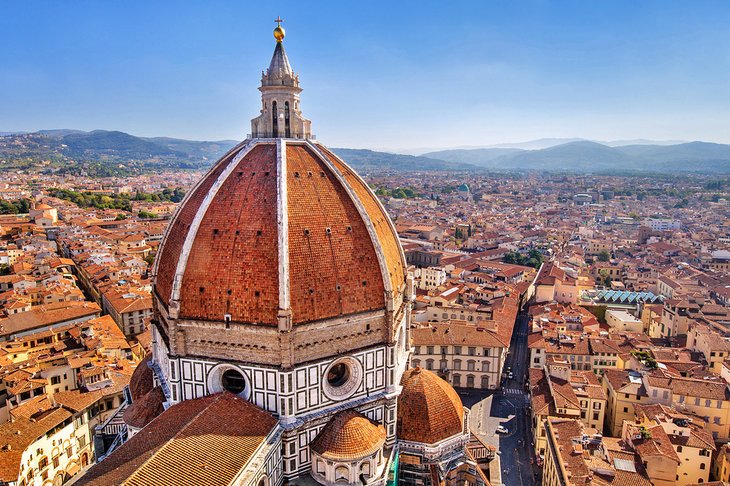 There's an average of four flights a week from Rome to Florence, all of them departing from Rome's Fiumicino Airport (FCO) and arriving at Florence Airport (FLR). The route is only covered by Alitalia Airlines, the flag carrier of Italy – low-cost airlines such as RyanAir and JetAir don't fly this route, which means you won't be able to find super cheap flights no matter what time of year you're flying.
While the flight from Rome to Florence is only 55 minutes long, getting to the airport requires a 30-minute ride on the Leonardo Express train. The train departs from the main train station in Rome, Termini, every 30 minutes. When you add to that the time to check-in and get through security, it would actually be faster to take a train between the cities, so keep that in mind when considering options.
If you do choose to fly to Florence, you will need to take a taxi or catch the Volainbus shuttle bus to get to the city once you arrive. Buses depart from the airport every 30 minutes and arrive at the Santa Maria Novella train station 20 minutes later. From here, visitors can grab a taxi or walk to their favorite destinations in Florence.
5. From Rome to Florence by Car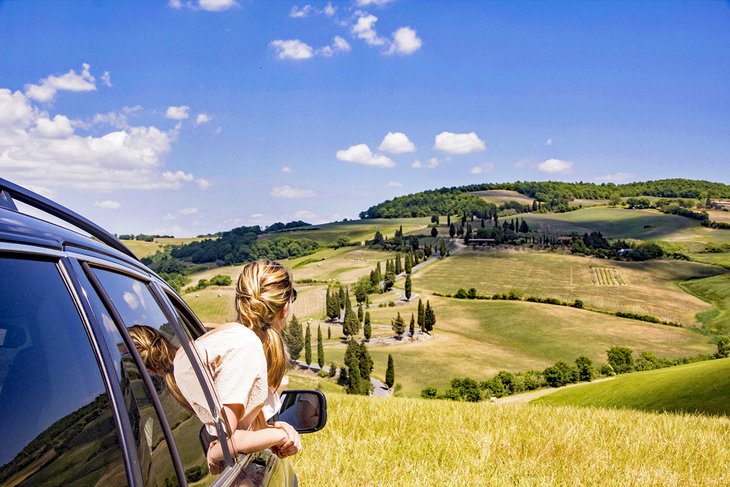 The drive from Rome to Florence is stunningly beautiful, but it's also 274 kilometers long if you don't make any stops. That's slightly over three hours in good traffic, so likely not ideal for a day trip. But if you're staying overnight, it's worth renting a car, so you can enjoy the beauty of the Tuscan countryside and make several stops along the way for some great photo opportunities.
Most of the drive is on the Austostrada 1 (A1), a toll highway, so have cash (Euros) or your debit card ready for when you get to a toll booth. Also keep in mind that every time you exit the highway to explore a town or attraction, you'll get another toll ticket as you reenter.
The town of Orvieto, with its amazing Etruscan history and views over the Tuscan countryside, is worth some time. Then there's also Cortona, the town featured in the book (and movie) Under the Tuscan Sun.
Keep in mind that you usually cannot park in the town center, so having a car is a bit of an inconvenience once you reach a town (and you'll have the same issue in Florence city center). To save you time and headaches, search online for parking areas in advance, so you can drive directly there once you arrive.