From Rome to Naples: 5 Best Ways to Get There
While Rome is a haven for visitors interested in ogling its famous tourist attractions, the city's hustle and bustle can feel overwhelming at times. That's why many tourists opt for a day trip to nearby Naples, located just over 225 kilometers south of Rome. There are many options to cover this distance.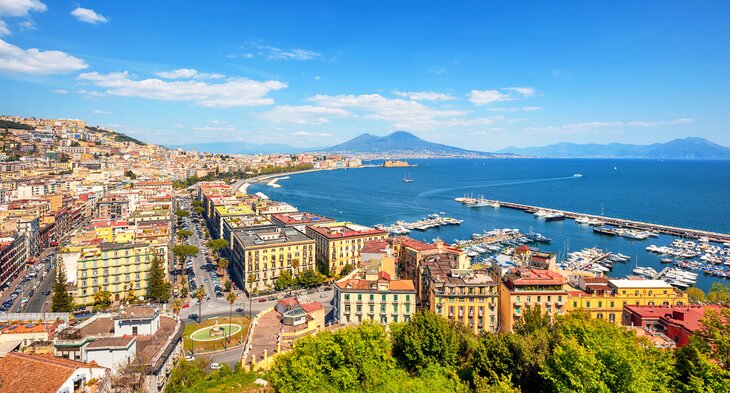 If you're familiar with driving in Italy, you know the roads are narrow, twisty, and crowded. Plus, many Italian drivers unleash their inner Lewis Hamilton behind the wheel. Driving only takes two and a half hours, but those who prefer stress-free travel should opt for other modes of transportation.
Flying between the two cities is the fastest way to travel, with a train, bus, and private transfer following close behind as the easiest way to get between the two destinations.
Our list of the best ways to get from Rome to Naples will help you choose the best method.
1. From Rome to Naples by Train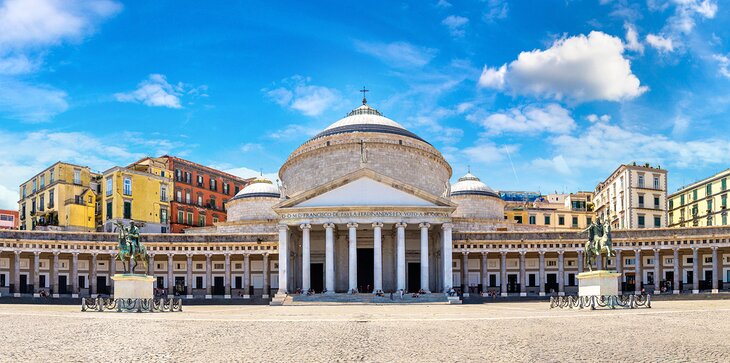 Taking the train is the easiest way to get to Naples from Rome, especially if you book a trip on the Frecciarossa high-speed train. This speedy line will have you to Naples in about an hour and 10 minutes. Tickets cost around $17 to $90 in high season, depending on the class you choose.
Standard fare includes air-conditioned cars, reclining seats, power outlets, and access to a café. Executive class is the most expensive, with "ultrawide" leather seats, plenty of legroom, free drinks and snacks, and on-board executive meeting space, as well as access to Freccia Club lounges in the train stations.
ItaliaRail offers multiple direct trains daily, making it easy to plan your trip perfectly. The early train leaves around 7 am. Hoping to have dinner in Naples before heading back to Rome? Plan it early, as the last train leaves at about 7:40 pm, arriving back in Rome at 8:55. The trains leave from Roma Termini train station and arrive at Napoli Centrale.
ItaloTreno also offers trains that run from Roma Termini to Napoli Centrale or Napoli Afragola stations. They take between 55 mins and an hour and 13 minutes, depending on the route (Napoli Afragola station is a bit closer), and tickets start at about $12. Trains run at least once an hour starting at 6 am until about 10:30 pm.
2. From Rome to Naples by Bus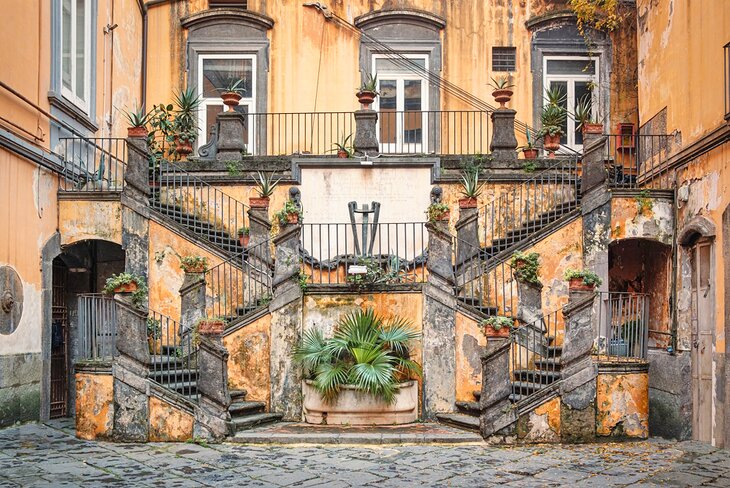 Taking the bus is the cheapest way to get from Rome to Naples. One-way tickets on Itabus, for instance, can cost as low as $4, depending on the time you depart. Buses leave Rome Tiburtina Terminal as early as 5:15 am and arrive at Naples Metropark Centrale station about two hours and 40 minutes later, longer if there's traffic.
There are multiple buses a day, making it easy to schedule a day trip to Naples, with the last one returning just after 8 pm.
Flixbus is another good option, with buses departing Rome Fiumicino Airport as early as 4 am and taking just under four hours to arrive at Naples Metropark Centrale station. There are usually five buses a day (depending on when you travel), with the last leaving around 10:30 pm. Tickets range from about $18 to $35.
Flixbus buses depart Rome Ciampino Airport twice a day, before 5 am and around noon, with comparable rates. They take about three hours and 10 minutes to reach Naples Metropark Centrale.
This company also has buses that leave multiple times a day from Rome Tiburtina Bus Station. They take between two and a half and three hours to reach Naples Metropark Centrale. The buses run from 3 am to 11:30 pm with fees as low as $4.
MarinoBus is a great option for early risers. They offer one bus daily that runs from Rome Tiburtina to Naples Metropark. It leaves at 4:30 am and costs about $21.
InterSaj buses are less convenient, as they leave only twice weekly, at 5 pm from Rome's Tiburtina station, arriving in Naples Metropark over two and a half hours later. Tickets cost about $22.
3. From Rome to Naples by Plane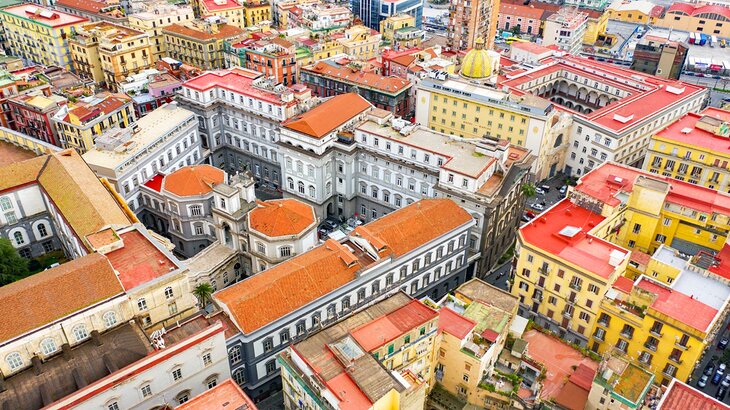 An easy flight will transport travelers from Rome to Naples. The quickest way to get to Naples, flying on ITA Airways isn't the cheapest way to travel. A round-trip ticket will cost over $220 per person round trip, but it takes a mere 50 minutes to reach your destination.
Non-stop flights leave Rome multiple times a day, with the morning flight departing around 9:40 am and the last flight leaving at roughly 9:55 pm. If you choose to take to the skies, be sure to budget fees for things like checked luggage, seat selection, and taxis to the Rome Fiumicino (a.k.a. Leonardo da Vinci) Airport and from the Naples-Capodichino International Airport.
4. From Rome to Naples by Car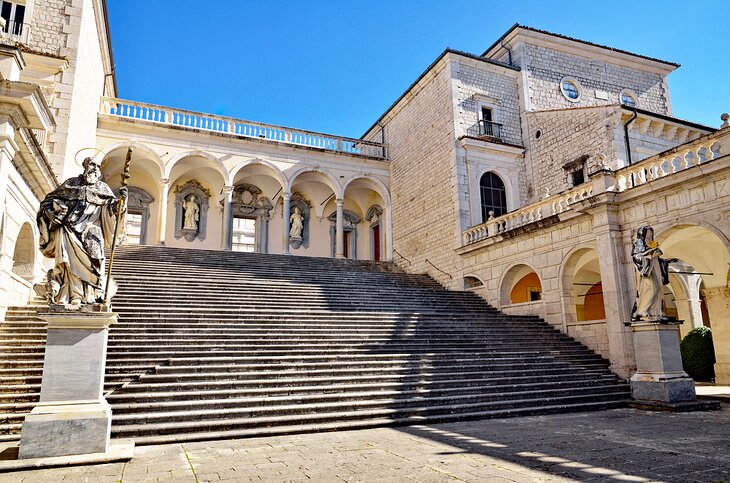 Driving from Rome to Naples will take about three hours, depending on traffic, but this is the most stressful way to travel, especially for those who feel anxious behind the wheel. Most of the journey follows the A1, which is quick but peppered with confident drivers who love treating the roads as if they're an F1 race track.
The Italian countryside is enough to make your heart skip a beat as it flashes past the car window, but it's better enjoyed close up. Make a stop in the sweet town of Tivoli, an ancient wonderland best known for landmark tourist attractions like Hadrian's Villa and Villa d'Este Gardens.
The fastest way to get from Rome to Tivoli is by taking the A24. Without traffic, it will take about 35 minutes.
Cassino is another town worthy of a stop. The Abbey of Montecassino is its most famous place to visit. This 6th-century monastery is one of the largest in Italy. It lies about halfway between the two cities, about an hour and 15 minutes north of Naples.
Caserta Palazzo Reale is a must-visit attraction on the route from Rome to Naples. A UNESCO World Heritage Site, it boasts a 116-step Grand Staircase, a 1,200-room palace, and magnificent gardens.
It is located across the street from the Caserta train station, which is a stop on certain Rome to Naples train routes but lies a mere 34 kilometers from Naples.
Note: Keep cash or a debit/credit card on hand, as these routes involve tolls.
5. From Rome to Naples by Transfer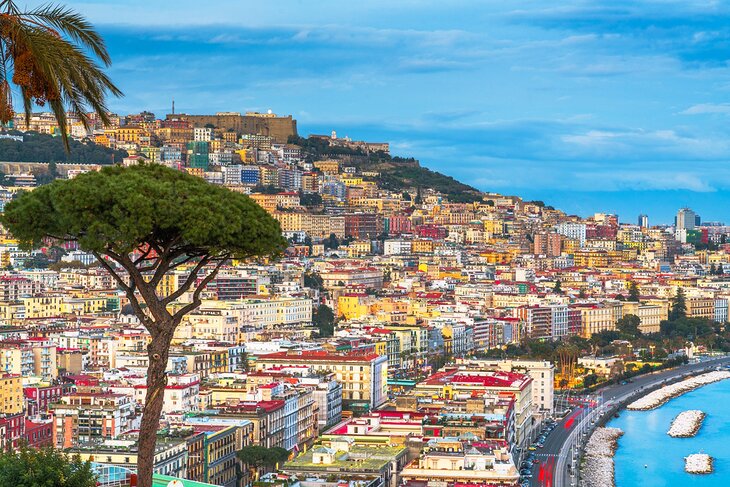 Booking a transfer is one of the most stress-free ways to travel from Rome to Naples. As mentioned earlier, driving in Italy isn't for the faint of heart, especially if you have to navigate the crowded, often crazy streets of Rome.
Leave all tension behind by taking a private transfer between the two cities. A driver will collect you and your traveling partners from your hotel or other chosen pickup location and drive you to Naples in an air-conditioned Mercedes sedan, minivan, or minibus, depending on the size of your party.
Your English-, Italian-, and Spanish-speaking driver will even stop for photo opportunities.