From Rome to Tivoli: 5 Best Ways to Get There
In the Sabine Hills, about 33 kilometers east of central Rome, Tivoli makes a perfect day trip from the city, especially in the summer, when its elevation brings cooling breezes. That's why in the time of the Roman Empire, the emperors and nobility chose Tivoli as a location for their magnificent summer villas. Two of these are the main reason for visiting; today Villa Adriana (Hadrian's Villa) and the gardens of Villa d'Este are both UNESCO World Heritage Sites.
There are several ways of getting from Rome to Tivoli. Taking a tour is one of the simplest options, but you can also use public transport or drive. Plan your visit with our list of the best ways to get from Rome to Tivoli.
1. From Rome to Tivoli by Tour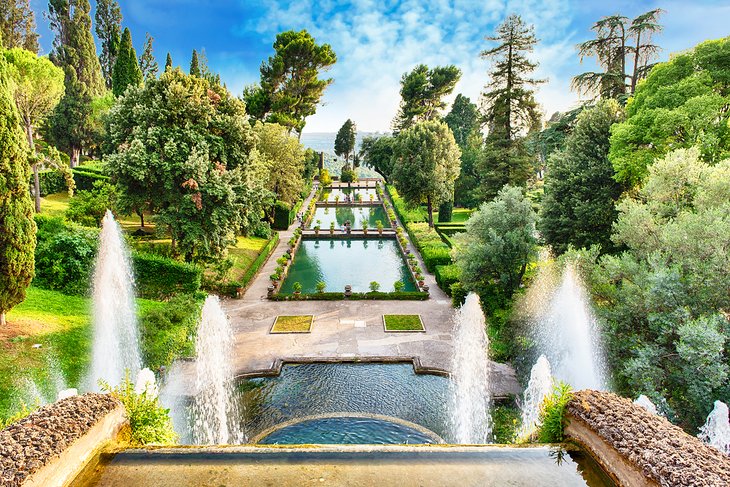 For a completely carefree day with someone else doing the driving and taking you to each of the attractions, a tour can be the best answer. The Tivoli Day Trip from Rome: Hadrian's Villa and Villa d'Este takes you seamlessly from Rome to each of the two UNESCO sites, adding guided walking tours of each to be sure you don't miss the highlights. The group tour lasts about seven hours, during which you will learn about the history of these grand estates as you explore them.
If you prefer to spend more time in Rome, but still see Tivoli's villas, consider the shorter version of that trip, with the four-hour Hadrian's Villa and Villa d'Este Half-Day Trip from Rome. You'll have round-trip transport by air-conditioned coach from Rome and visit each of the two outstanding villas with a guide to learn about the buildings, the gardens, and their owners.
For a more custom-tailored experience, the From Rome to Tivoli Gardens with Guide and Tickets tour includes door-to-door transport for your party by private vehicle. Once in Tivoli, your driver will introduce you to your professional art historian guide, who will accompany you throughout your two-hour visit to each of the villas.
2. From Rome to Tivoli by Train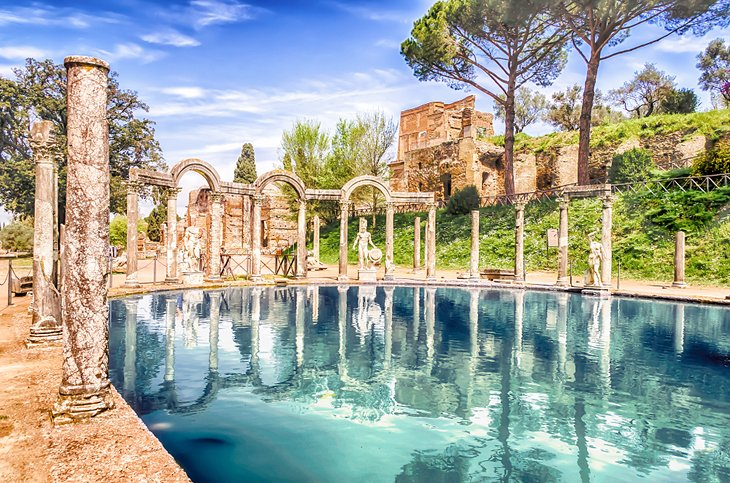 The Roma-Avezzano-Pescara regional (Regionale) line departs from Rome's Tiburtina rail station almost hourly (but with a curious gap between 9am and 11am). Check for trains marked for both Tivoli and Avezzano, as either will take you to Tivoli. You can get to Tiburtina station on Rome's Metro B (blue) line. It's a good idea to buy tickets in advance online. You can also get them in ticket machines or at a ticket counter in the station, but there might be lines at both during busy times.
The train takes between 45 and 75 minutes from Rome to Tivoli's Tiburtina Station, depending on the number of stops. The route by train is a very beautiful one as you climb into the wooded Sabine Hills. Once in Tivoli, you are about a 25-minute walk from the center of town and Villa d'Este, and about five minutes from Villa Gregoriana. The local C.A.T. bus line runs a regular route between the station, Villa D'Este, Villa Adriana, and Villa Gregoriana.
3. From Rome to Tivoli by Bus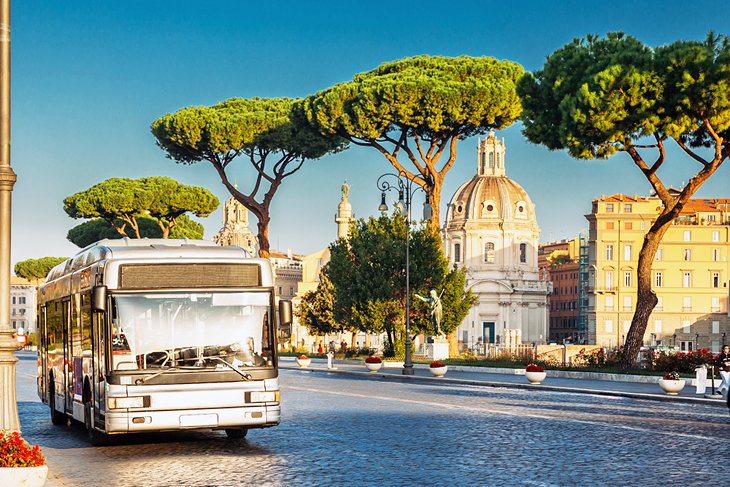 Blue COTRAL buses to Tivoli leave the terminal at Rome's Ponte Mammolo stop on Metro line B. It takes about an hour to get to Tivoli, depending on traffic. Departures are every 10 or 15 minutes, Monday through Saturday, less frequent on Sunday. Bus fares are quite cheap, but so are train fares, and the train makes fewer stops on the way. The bus takes you to the main square, where you can walk to Villa d'Este or catch the local shuttle to visit Villa Adriana.
4. From Rome to Tivoli by Car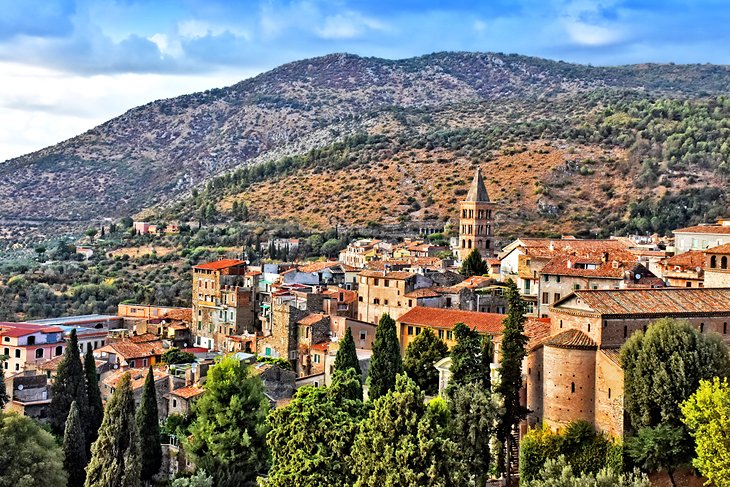 The short drive from Rome to Tivoli takes only about 35 minutes under the best of conditions but can take twice that when the traffic is heavy. The fastest route is on the A24, which you can reach from the Tangenziale Est/Circonvallazione Tiburtina in Rome. Follow A24 to Via Maremmana Inferiore/SP51a in Tivoli, taking the exit toward Tivoli.
There are multi-level public parking garages within a couple of blocks of the entrance to Villa d'Este, but they fill fast in busy seasons, and on-street parking is hard to find. If you are coming from Rome on a day trip, especially at the height of tourist season, it may be easier to take public transportation, especially if you are not accustomed to driving in Italy, which can be nerve-wracking.
Prices of rental cars in Rome vary widely, from mini models like the four-passenger Fiat 500 to larger more luxurious models. But whatever car you choose, be sure to reserve it well ahead of your trip, as availability of rental cars is expected to remain tight. It is also usually a good idea to reserve through a company with offices in your home country, such as AutoEurope in the United States. This way, should there be any problem with the reservation, you have someone who speaks your language to sort it out.
If you are heading north by car from Rome to Orvieto and Perugia, Tivoli is a good side trip on your way. Leave Tivoli heading west on the SR5 and join the E45 autostrada at Tivoli Terme.
5. From Rome to Tivoli by Towncar or Taxi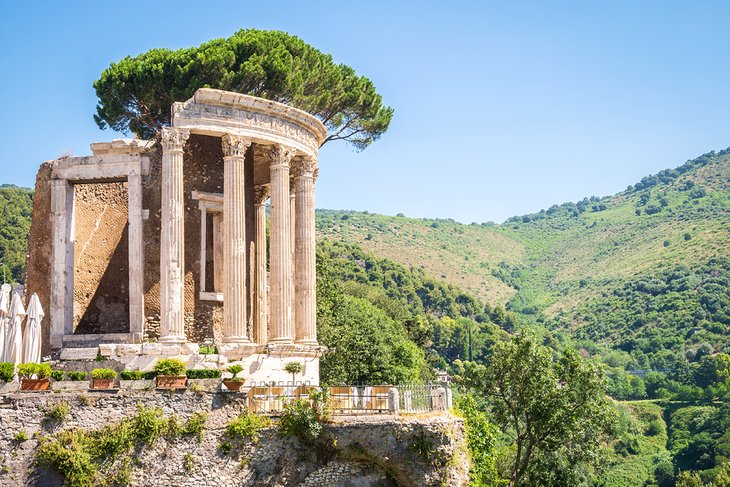 To arrive and return on your own schedule and in the comfort and privacy of a roomy air-conditioned car without the stress of driving–or parking, private transport or taxis may be the best choice. They cost more, but offer considerably more luxury and flexibility, with door-to-door pickup and a professional driver. And for families or groups sharing the cost among several people, the cost per person becomes less. The rates of a private transport service and taxi service are similar, and you can expect to pay about '70 each way for either.
More Related Articles on PlanetWare.com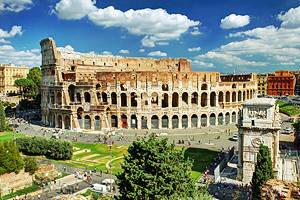 Where to Go in Rome: PlanetWare has several articles to help you explore the tourist attractions of Rome, with guides to the Roman Forum, the Pantheon, the Colosseum, and Vatican City.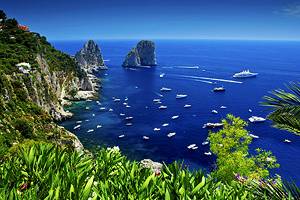 Where to Go from Rome: After visiting Tivoli, you may want to take more day trips from Rome. You can easily visit the tourist attractions in Naples, and the island of Capri is another possibility; our article From Rome to Capri: 5 Best Ways to Get There can help you plan your trip.