From Rome to Capri: 5 Best Ways to Get There
Only 130 miles from Rome as the crow flies, the idyllic Isle of Capri is close enough for a day trip or a relaxing two- or three-day getaway from the city's busy tourist scene. Because it's an island, the only way to reach Capri is by sea or by helicopter; there is no airport. Ferries connect to the island year-round from both Naples and Sorrento.
If you are not interested in doing it yourself, one of the easiest ways of getting from Rome to Capri is on a Capri Day Trip from Rome. These organized tours will take the complexity out of the whole experience. Below are details on a variety of ways of getting from Rome to Capri.
1. From Rome to Capri by Train and Boat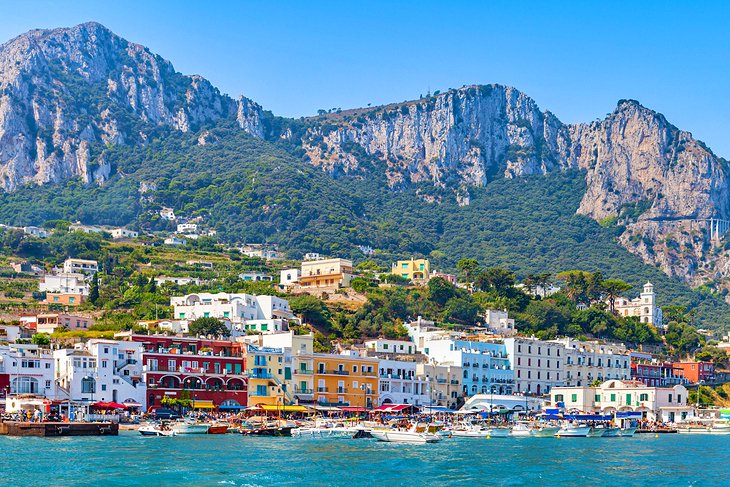 The most popular way to reach Capri from Rome is by train to Naples and then a ferry to the island. Trains for Naples leave from Roma Termini central train station. The fastest is Eurostar Frecciarossa (TAV), just over an hour between Rome and Naples. It is also the most expensive.
For about half the price, you can take the Intercity, which takes about two hours. Most economical is the Interegionali, about half the cost of the Intercity and taking twice as long - nearly four hours. This budget option won't work for a day trip, but is a practical alternative if you plan to spend a night in Naples or on Capri.
If you plan to go directly to Capri on arrival at Rome's Fiumicino Airport, take the Leonardo Express shuttle train to the Roma Termini station and transfer to a train for Naples. Plan a minimum of three hours from arrival time in Rome to Capri if you arrive early in the day and make all the connections. If your flight arrives in the late afternoon, plan to stay over in Rome or Naples.
Ferries leave from two different piers in Naples. High-speed ferries, which take about 40 minutes to get to Capri, depart from Molo Beverello in Piazza Municipio; regular ferries and slow ferries (50 minutes and 80 minutes respectively) leave from Calata di Massa, farther east along the waterfront. As you might expect, high-speed ferries are the most expensive, slow ferries the least. Between the various types of boat, ferry schedules offer frequent and continuous service throughout the day.
To get to the Molo Beverello from Naples Train Station (Napoli Centrale), you can either take a taxi (easier if you have a close connection or a lot of luggage) or Linea 1 of the subway in the "Piscinola" direction. Get off at Piazza Municipio and walk about 100 meters to the ferry.
You can reach both ports by Alibus, which stops in Piazza Garibaldi outside the station (buy tickets on the bus). Ask the driver to stop on Via Marina for Calata Porta di Massa; if you miss the stop, ride on to Piazza Municipio, the stop for Molo Beverello, and take the free shuttle bus between the two ports.
Be sure to check ferry status and schedules the day before you travel - they change often, and in rough sea conditions high-speed ferries don't operate. You can also arrange for a seamless transfer between the train station and your hotel on Capri by taxis and fast ferry.
2. From Rome to Capri on a Tour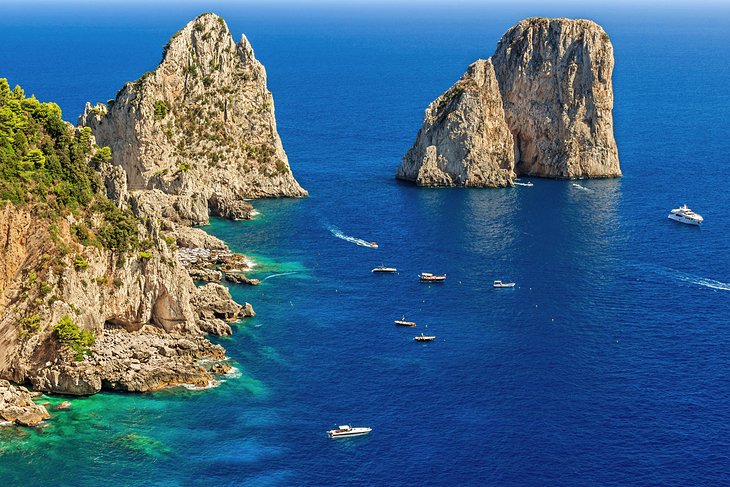 A convenient way to see the island and its attractions without having to make all the connections and arrangements yourself is on a Capri Day Trip from Rome. The 13-hour tour provides transportation to Naples by comfortable coach. From Naples you'll take a 45-minute ride to Capri on a hydrofoil and then catch a bus to Anacapri, Capri's beautiful mountaintop village.
Afterwards, explore the sights of the island with a tour escort and then enjoy some time to wander around on your own and grab lunch. You can also choose to take another boat ride to see the fabled Blue Grotto as an option. The return trip includes the same boat and coach ride back to Rome.
3. From Rome to Capri by Car and Boat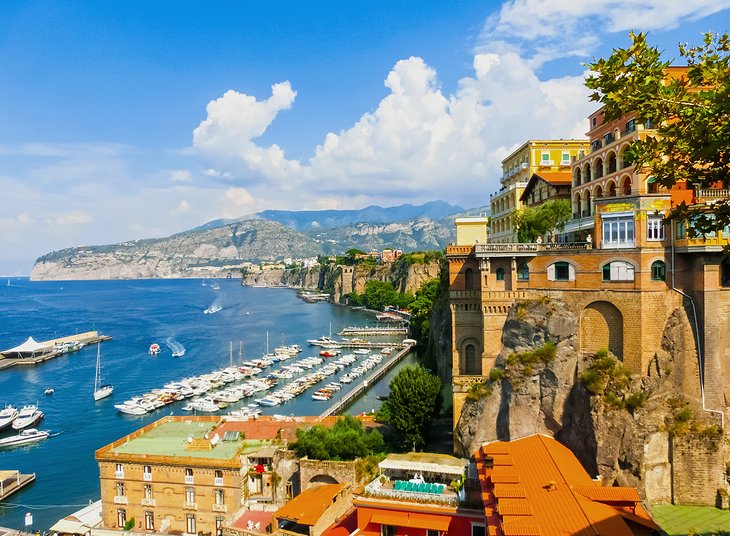 If you plan to drive from Rome, you can get a ferry from Naples (2 hours and 20 minutes via A1/E45) or from Sorrento, on the Bay of Naples. The latter is about 50 minutes farther along the E45 but is a good option if you plan to spend a night or two there en route.
In either case, you will need to leave your car and take a ferry, as for most of the year, motor vehicles are not allowed on Capri -and would be of little use as there is only one road there.
In Naples, leave your car at Parcheggio Buono, at Molo Beverello, or Parcheggio Brin at Via Marina for Calata Porta di Massa (you can use either, as a bus connects the two ports). In Sorrento, ferries for Capri depart from the Marina Piccola, and you can park right there in Garage Marina Piccola or use the Parcheggio Correale, taking a taxi to the port.
Along with a chance to see lovely Sorrento, an advantage of this route is the scenery, as the ferry passes alongside a beautiful stretch of the Amalfi coast. The ferry schedule offers frequent departures daily. A faster, but more expensive option from Sorrento is a private speedboat, which takes about 20 minutes and usually includes a taxi directly to your hotel. The Capri website has links to private boats.
Tips on Renting a Car in Rome
If you are not an EU citizen, you will need an International Driving Permit. You can apply for one through the AAA in the United States or from a post office in Great Britain or Northern Ireland.
Collision damage waiver (CDW) insurance is mandatory in Italy, but most credit card companies don't offer car rental insurance in Italy. It is less expensive to include this prepaid insurance when you book a car in advance rather than adding the option at the pick-up desk.
Car rentals are cheaper for non-EU citizens when booked in advance from your home country, as you will not be subject to taxes - which are quite high - that EU residents must pay. A good way to do this is through an agency such as AutoEurope, which works with all the major rental companies to find you the best price.
If you plan to pick up a rental car at the airport, be prepared for lines and waits of more than an hour.
4. From Rome to Capri by Limo & Water Taxi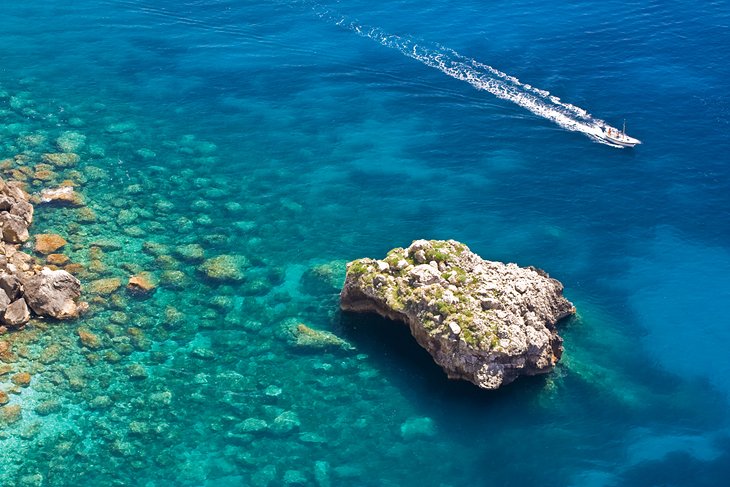 A private transfer is the easiest, a luxury option that saves time and the aggravation of making connections, finding the right train, hustling luggage, asking directions in a foreign language, and getting from the port to your hotel in Capri.
Of course, the deluxe option has a luxury price tag, but the price usually includes up to five people, so for a family it can end up costing only a little more than separate tickets. These stress-free transfers include a private car and driver directly to the ferry port, crossing by private speedboat, and a taxi to your Capri hotel (bypassing the often chaotic funicular/taxi/tickets scene at ferry arrivals).
Porterage for your luggage is included throughout. A less expensive but equally convenient option is transfer by limo and high-speed ferry with luggage service throughout and hotel transfer in Capri.
5. From Rome to Capri by Helicopter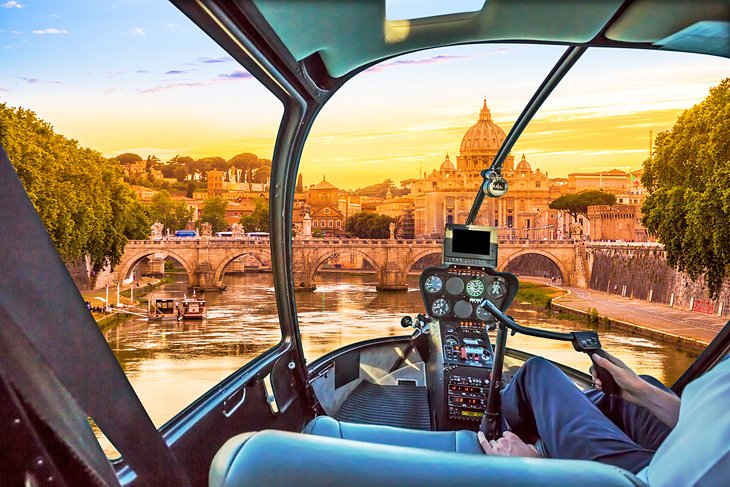 The fastest, and by far the most expensive way to get from Rome to Capri is by helicopter. Point-to-point time is 70 minutes, and the service includes a private minivan to your Capri hotel, as well as pickup from your Rome hotel or Rome's airport.
The transfer includes up to five people, but as the old saying goes, if you need to ask the price, this isn't the option for you.
More Related Articles on PlanetWare.com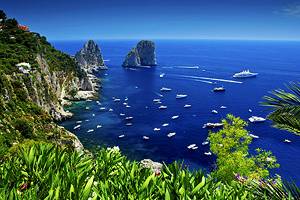 Exploring Capri and Naples: To find the highlights on your visit to the island, see our handy article on the top tourist attractions in Capri. If you plan to stay overnight or longer in Naples, our list of the top tourist attractions in Naples & easy day trips can help you make the most of your time here.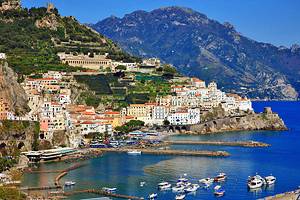 Discovering Sorrento and the Amalfi Coast: If you're heading to Capri via Sorrento, you'll find our list of the top-rated tourist attractions in Sorrento handy. You might also find our Amalfi Coast visitor's guide helpful.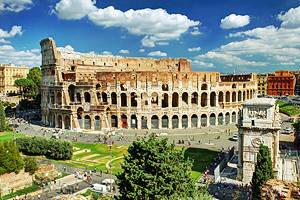 When in Rome: PlanetWare has a number of articles on the attractions of Rome, including guides to the Roman Forum, the Pantheon, the Colosseum, and Vatican City.