From Naples to Pompeii: 3 Best Ways to Get There
We may earn a commission from affiliate links ()
Pompeii is just 26 kilometers or about 30 minutes away from Naples, making it the perfect destination for a day trip. The ruins of Pompeii attract 2.5 million visitors every year – making it one of Italy's most popular tourist destinations.
Buses and trains connect Naples and Pompeii, and visitors who want a more in-depth experience can also join a tour. Because the size of the ruins is so vast – about 44 hectares have been excavated so far – having a tour guide along who can point you towards the most important sights is a great way to see as much as possible in one day.
For those wanting a better understanding of what exactly happened in Pompeii, a visit to nearby Mount Vesuvius is a great addition to the trip. But whether you're visiting for a few hours or a full day, one location or more, here's our list of the best ways to get from Naples to Pompeii.
Note: Some businesses may be temporarily closed due to recent global health and safety issues.
1. From Naples to Pompeii by Tour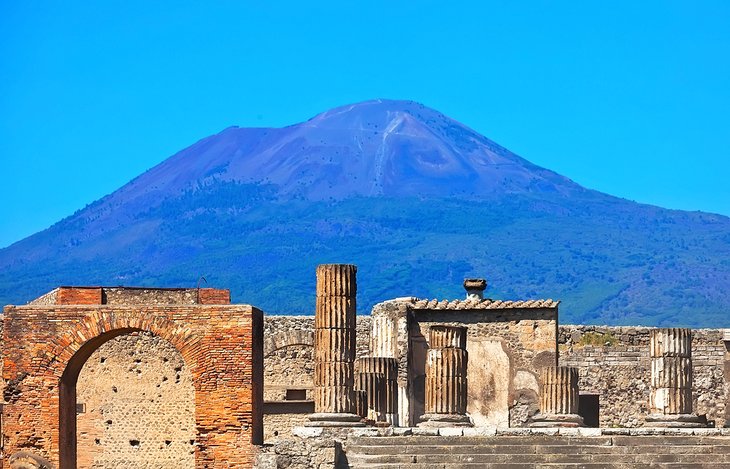 To truly understand the history of Pompeii, you should visit a couple of spots in addition to the main ruins, and the Pompeii, Herculaneum, and Vesuvius - Deluxe Group Tour is the perfect way to do just that. These three major attractions are very close to each other, but public transportation connections between each other are rather poor – which means if you're traveling on your own, it would be impossible to visit all three in one single day.
This eight-hour tour departs from central Rome early, when you are picked up in an air-conditioned vehicle by an English-speaking driver. While listening to information about the sites you'll be visiting, you will make your way to the Pompeii Archaeological Park. Here, you'll have two hours to explore the ruins on your own.
After leaving the park, you'll walk to a coral workshop, where you can have a chance to see artisans producing all kinds of items using Greek-Roman traditional techniques.
Your next stop is the Parco Acheologico di Ercolano, a smaller set of ruins that are actually better preserved than Pompeii. In addition to many other ruins, the Herculeum park also has two completely preserved homes, where the murals and architecture retain all their original features, and where jewelry, decorations, and even food remains could be found after the area was covered in mud and ash.
After two hours exploring here, you'll then head to the Vesuvious National Park, home to the still-active volcano that destroyed Pompeii. Walk up the volcano to see a number of outdoor sculptures created using volcanic material, then catch the stunning view over the Gulf of Naples.
If you only have half a day available to explore Pompeii, the five-hour Private Day Trip to Pompeii & Herculaneum with Tickets might be a better choice. In this one-on-one experience, you'll meet with your guide at the Naples Train Station and find your way to the Pompeii Archaeological Park, where you'll skip the line and step right inside to explore the ruins. After two hours, your guide will show the best spot in town for a lunch break.
After enjoying some food, you'll take the 30-minute train ride to the Herculaneum park, where you'll have two hours to explore the better-preserved ruins and get beautiful panoramic views of the area before heading back to Naples.
2. From Naples to Pompeii by Train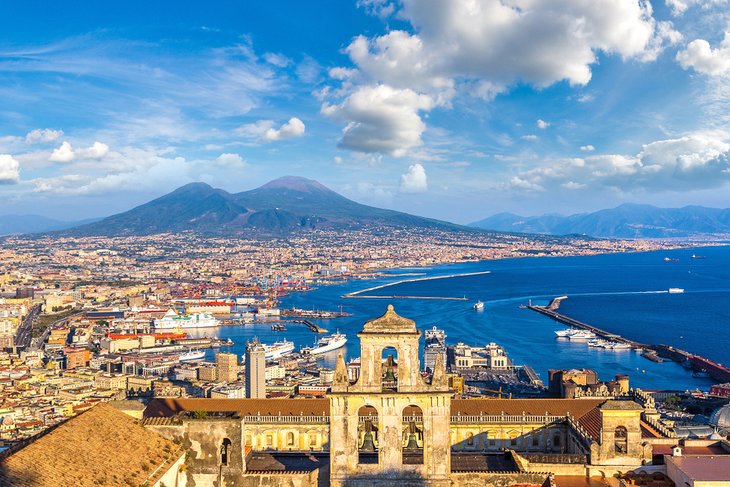 Trains offer a very convenient way to get from Naples to Pompeii. Though the trains are older commute trains – meaning they make several stops, they can get crowded and often don't have air-conditioning – they are also quick and direct, not requiring any transfers along the way.
Trains to Pompeii depart every 30 minutes from the Napoli Piazza Garibaldi Station. You don't need a ticket in advance since seat reservations aren't possible. Just get your ticket when you arrive at the station for the next available train.
You can choose from two direct trains at the Napoli Centrale station. You can either take the Circumvesuviana train, which takes 35 minutes to cover the Napole-Pompeii route, or the Metropolitano train, which takes 38 minutes to reach Pompeii.
The Circumvesuviana train stops right near the entrance to the ruins and is just slightly faster, but it gets very crowded – you might have to travel standing up – and it has no air-conditioning.
The stop for the Metropolitano train is a little farther away – about a 10-minute walk to the archeological park – but trains are slightly more comfortable, and they do have air-conditioning, a must in summer.
For better chances to get a seat, head to the Napoli Porta Nolana Station instead and take the Circumvesuviana – it's right before the popular Garibaldi station, so there are fewer tourists, and the trains will be less crowded if you get on here. The Metropolitano train doesn't stop at this station.
Both trains take you to the modern city of Pompei, built around the ruins of Pompeii (note the different spelling). Get off at Pompei Station if you're taking the Metropolitano train or at the Pompei Scavi/Villa dei Misteri stop if you're on the Circumvesuviana line. From here, you can walk to the ruins in just a few minutes. The Pompei Scavi station offers luggage storage space – a good option if you're carrying large bags, as they won't be allowed into the ruins.
Trains run from 6am to 10pm, but keep in mind that Pompeii doesn't open until 9am -– taking a very early train is probably pointless unless you plan on having breakfast or just walking around for a while once you get to your destination.
3. From Naples to Pompeii by Bus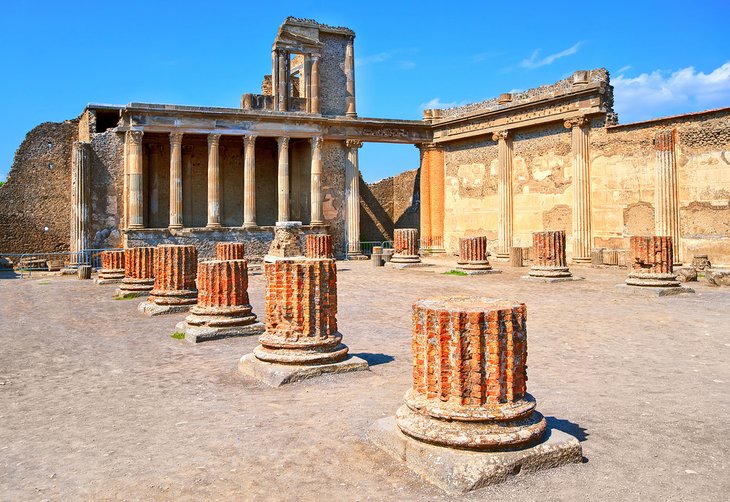 If you're on a budget, it doesn't get any cheaper than the SITA local buses. They take just as long as trains (around 35 to 40 minutes) to reach Pompeii and also depart once or twice per hour, depending on the day of the week.
Long-distance bus companies such as Flixbus also cover this route – and although they cost more, they do offer more comfort, bigger seats, and more legroom, as well as air-conditioned buses.
Buses leave from the SITA bus station, just a few steps away from the Nuova Marina port – and you'll have to stop by the port first to get your bus tickets from the SITA office there.
All buses stop near the ruins at a number of stations. Get off at the Pompeii Scavi Sita Bus Stop if you're traveling on a SITA bus. From here, it's a short walk to the ruins.