Plan Your Trip to Italy: 10 Top Itineraries
Italy may not be a very big country, but it packs plenty of attractions into a small space. Even the most energetic tourist can't expect to see it all at once. You can see the very top highlights in one trip, or you can choose one region to explore in more depth.
When planning your Italy itinerary, remember that time you spend traveling from place to place is time you won't have to explore the fascinating corners of the places you stop. That's where Italy's fast and efficient (and on time) train network will help you.
But trains are not the best way to see and experience one of Italy's greatest charms–its small towns and villages, often perched on hilltops amid rolling landscapes of green fields and poppy-painted meadows. These breathe history, and in their atmospheric streets, you'll have a better chance to meet and interact with the country's greatest treasure–its people.
But there are plenty of options. In these itineraries, you'll find the most famous sights: the Tower of Pisa, the Grand Canal, the Colosseum, and others, but you'll also find suggestions for trips that take you into the very heart of Italy, and to places your friends have never seen. Plan your trip to Italy and discover the best places to visit with these top itineraries.
1. Venice, Florence & Rome by Train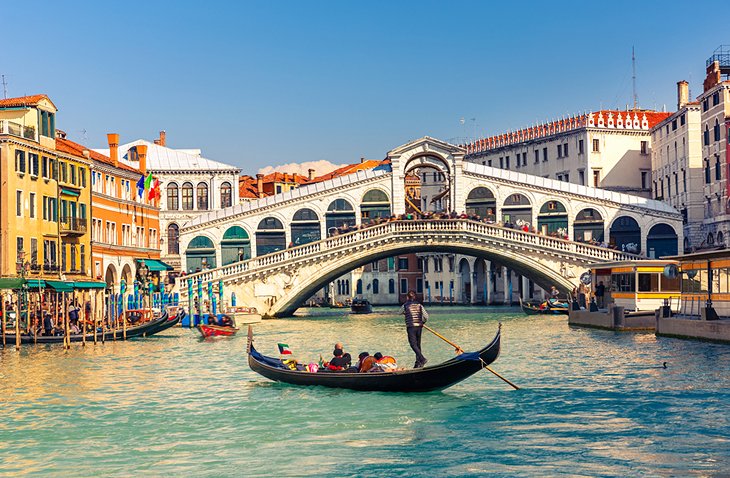 You could easily find enough attractions to spend a week in each of these cities, but you can see the highlights of all three in a well-planned week. The total travel time between Venice and Rome is only three and a half hours, so you can make the maximum use of your time. Of course, you'll want to see the main sights, but do allow some time to stroll through a neighborhood or two and sit in a café to soak up the atmosphere.
For example, after you've ridden the length of the Grand Canal and toured St. Mark's Square and the Doge's Palace, cross Rialto Bridge into the rabbit warren of narrow lanes in San Polo. Here, you'll find mask makers, tiny shops, and artisan studios, as well as churches filled with art and squares where neighborhood children play soccer.
In Rome, after the Colosseum and St. Peter's, explore the streets of the former ghetto of Trastevere, south of the Vatican. In Florence, follow your tours of the Pitti Palace art museums and gardens with a stroll through the Oltrarno neighborhood.
Longer is better, of course, and with a day or two to spare, you can either see more of each of the "Big Three," or you could make a stopover to see Bologna or hilltop Siena. The main train lines between the major cities go right through both. You don't need to stay overnight in either of these, as you can check your luggage at the train station while you tour. To make the most of your time, reserve tickets in advance to big attractions and museums, such as the Uffizi. This itinerary can be followed in either direction.
2. The Hill Towns of Tuscany by Car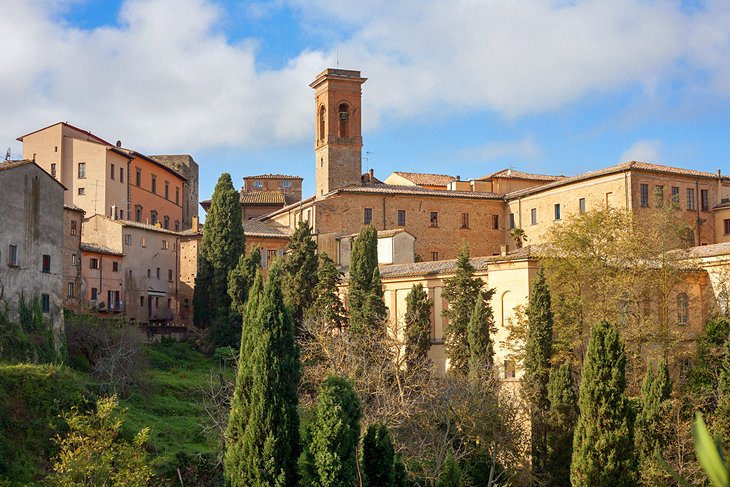 The hilltop towns in Tuscany are legendary for their beauty, their history, and the sheer romance of their settings. Many still retain the walls and castles that were their defense in the Middle Ages and Renaissance, and the art in their churches reflects Tuscany's wealth and power.
A car is the best and sometimes the only way to see many of these towns and the remote abbeys that are also part of Tuscany's heritage. You could easily spend a week exploring the Tuscan countryside and lingering to savor its village life, but you can see a good deal in four or five days.
Begin southwest of Florence in Volterra, whose historic center retains tower houses from the 12th and 13th centuries and which is still famous for its alabaster carving. San Gimignano is a short distance to the north, and one of the best-known of the Tuscan hill towns, mainly for its tall towers and the views across the surrounding countryside.
Colle di Val d'Elsa's old upper town still has some of its 13th-century walls, and the Palazzo Pretorio houses artifacts from a nearby Etruscan cemetery in its Museo Archeológico. Heading south, the little town of Monteriggioni sits inside a complete set of perfectly preserved 13th-century walls with 14 square towers; it's a favorite day trip from Siena.
Siena is worth a day or two stop, filled with medieval and Renaissance buildings and one of Tuscany's finest cathedrals. You'll find more Etruscan artifacts in the Museo Archeologico of Asciano, a fortified hill town south of Siena. The large Olivetan monastery of Monte Oliveto Maggiore was founded in 1313 and remains an active monastic community.
Montalcino is not very big, but it seems to have stepped out of the Middle Ages intact, inside walls built by the Sienese in 1361. Walk the well-preserved walls, visit rooms inside the fortress, and savor views of the Tuscan countryside from the castle.
Just to the south is the Benedictine Abbey of Sant'Ántimo, dating from at least 813, with a Romanesque church. Walled Montepulciano, one of the best known hill towns, shows Renaissance "modernization" to medieval architecture, reflecting the continuing power of its leading families even after other small towns here had declined.
3. Milan to Venice by Train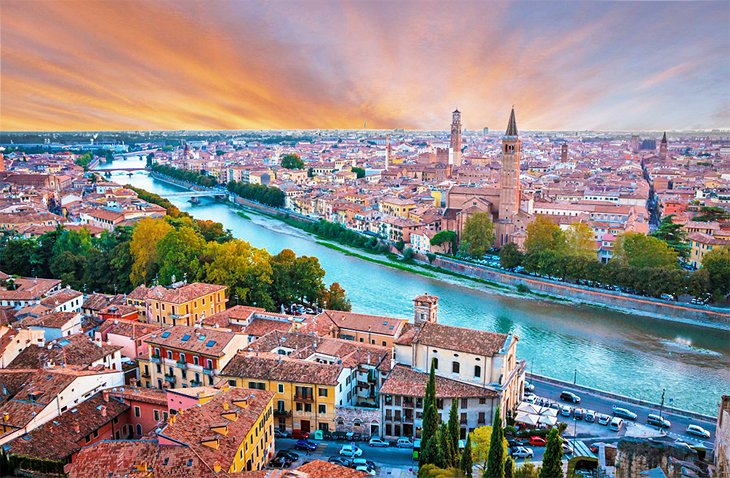 Although you can travel from Milan to Venice by train in two and a half hours, the same train route provides a made-to-order tour of some of northern Italy's most important art and historic attractions. The train line connects major Roman strongholds, centers of medieval and Renaissance culture, religious landmarks, and great centers of learning.
To spend a full day exploring each of these, with time to see the highlights of both Venice and Milan, you should plan at least 10 days, but you can pick from among the stops for a shorter trip. It's easy to see any of these cities without spending the night–you can check baggage at any train station.
Brescia, your first stop, preserves much of its Roman past, with parts of a temple, theater, and its forum still standing, and an exceptionally fine civic museum that includes a Roman villa with mosaic floors. If time allows, a stopover in Desenzano di Garda is a good chance to tour Lake Garda on the boats that leave regularly from the center of town. Highlights on the lake are nearby Sirmione, with a charming little castle and a Roman spa, and Malcesine, with a stone castle and beautiful views of the steep northern shores.
Verona's highlights include one of Italy's finest Roman arenas and a riverside castle–and of course Juliet's house (although the story is pure fiction). Vicenza's claim to fame–and a UNESCO designation–is the architecture of Andrea Palladio. Along with his masterpiece, Basilica Palladiana, are the Teatro Olimpico and the villa La Rotonda.
In Padua (Padova on the station signs), the attractions you shouldn't miss are the Shrine of St. Anthony and Giotto's incomparable frescoes in the Cappella degli Scrovegni (reserve ahead to be sure of admission). If you have time here or in Venice, make a side trip along the Brenta Canal to see the elegant villas and gardens. Leave extra time for Venice if you can, to savor La Dolce Vita at its best.
4. Florence, Prato, Pistoia, Lucca & Pisa by Train or Bus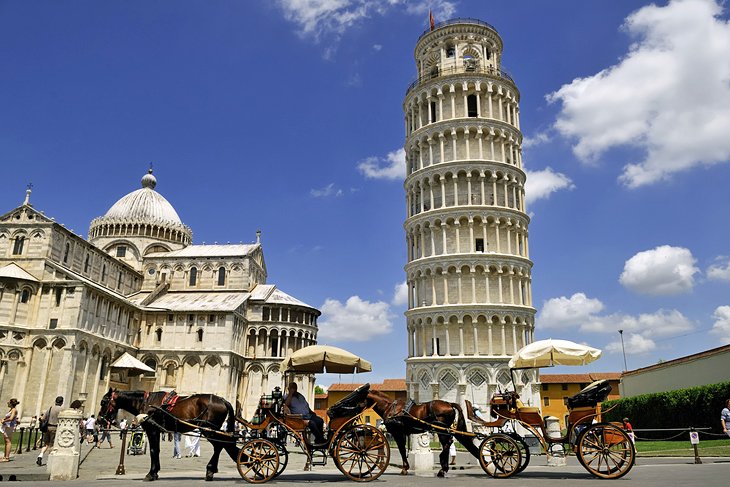 While you could spend a week just seeing all the Renaissance wonders of Florence, you can easily add Pisa and two or three other Tuscan towns in a week's vacation. Handily, they are strung like beads along a route you can follow by train or bus. Because the regional trains don't require seat reservations, you can buy your ticket at the station in Florence and travel any time you wish (be sure to stamp it in the machine on the platform before you board). These towns are only 15 to 45 minutes apart.
After at least two days in Florence, you can see the highlights of Prato and Pistoia easily in the same day. Prato's cathedral is illuminated by two 15th-century fresco cycles that show Filippo Lippi at the height of his artistry.
When you see Pistoia's medieval churches, you may wonder why it's not better known to tourists, but it remains blissfully serene, and you can tour its magnificent 13th-century Cattedrale di San Zeno almost in solitude. Don't miss the silver altar in the adjoining Cappella di San Iácopo or Andrea della Robbia's glazed terra-cotta relief above the central doorway. Across the piazza is a 14th-century baptistery faced with white and green marble.
Lucca, where you will want to stop over for at least a night, will charm you with its medieval towers, beautiful 12th-century church facades, Puccini music (he was born here), and the encircling walls. The tops of these walls are now a city park where locals stroll or ride their bicycles. Climb to the top of the Guinigi Tower for views down into an oval piazza that was once the interior of a Roman amphitheater.
You don't need anyone to tell you what is the main attraction in Pisa, but after you've climbed the Leaning Tower (reserve a timed entrance in advance), be sure to tour the magnificent cathedral and the baptistery, all located in the Campo dei Miracoli (Field of Miracles). The complex is a UNESCO World Heritage site.
5. Driving Tour of Sicily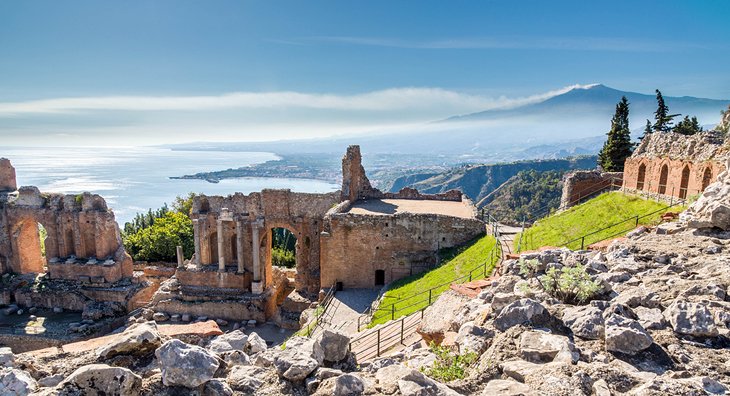 You can see some of the main cities of Sicily–Messina, Taormina, Catania, Syracuse, Trapani, and Palermo–by train, and several others by local bus. But you are tied to schedules more in tune to commuting locals than to tourists, and you'll have trouble getting to the historic sites in the countryside.
A driving tour around the perimeter of the island with stops to tour the major attractions could fill two weeks; you can compress it into a shorter time by skipping some places and seeing just the main features at each.
You'll want a day or two for Palermo and Monreale, where you won't need a car (or want to drive), before heading west to ancient Greek Segesta, with its theater and unfinished temple. Just beyond is the historic port of Trapani on its promontory, and hilltop Erice.
Continuing south along the coast, Marsala and Mazara del Vallo are worth seeing on the way to Selinunte, where you'll find one of the largest of all remaining Greek temples. One of the three most perfect temples in the ancient Greek world is farther along the south coast, at the Valley of the Temples in Agrigento.
From Agrigento, you can either continue along the coast or travel a loop of mountain roads inland to visit the UNESCO World Heritage Site of Villa Romana del Casale in Enna, whose more than 3,500 square meters of mosaics place it high among the best-preserved villas anywhere in the Roman Empire.
Head back south and jump forward more than a millennium to Baroque Ragusa and Modica, before reaching Syracuse. In the archaeological area are one of the world's largest and best preserved Greek theaters, one of Italy's largest Roman amphitheaters, extensive catacombs, and an ancient quarry.
Stop in Catania to see its magnificent Baroque architecture. From pretty Taormina, you can drive up continental Europe's largest active volcano, Mt. Etna. Messina, the closest point to the Italian mainland, is usually overlooked, but it's worth seeing before heading back to Palermo along the scenic north coast, by way of Cefalu.
6. The Italian Riviera by Train and Boat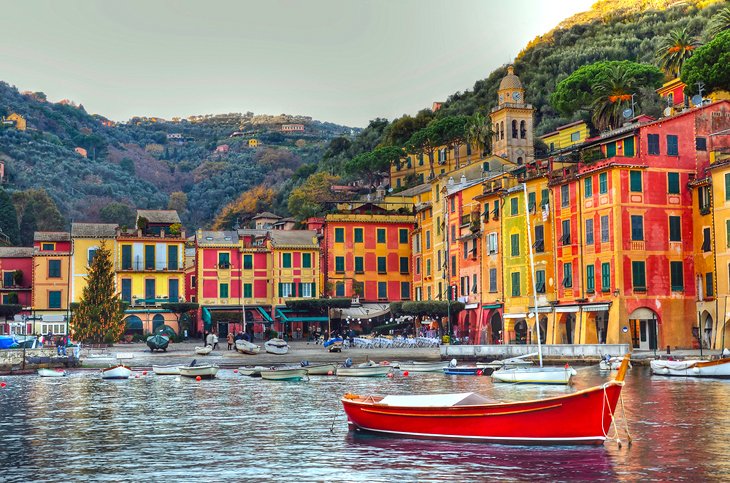 The Mediterranean coast from Sanremo to Portovenere is not just beautiful. It is studded with charming seaside resorts, fishing villages, historic attractions, and artistic treasures, all of them easy to reach by train or boat. If you are traveling with more than a backpack, you may need to choose several bases and backtrack a bit to explore, but that's no problem if you are on a rail pass.
The whole area around Portofino, for example, is easy to reach by boat from a base in Santa Margherita, and the Cinque Terre is easily explored from Portovenere or Sestri Levante. There are no left luggage facilities at any station between Genoa and La Spezia.
Begin near the French border in Sanremo, known as the flower center of the Riviera, where roses, jasmine, carnations, mimosa, and other fragrant flowers bloom on terraces. Rent a bicycle to reach some of the Riviera's best and least crowded beaches between Sanremo and San Lorenzo; most are free.
Genoa is perhaps Italy's most overlooked city, its streets lined with glorious palaces, and its churches and museums filled with priceless art treasures. You can take a ferry from here to the postcard harbor of Portofino and then a local boat to Santa Margherita to stroll its beachside promenade and bask in its gracious old-world atmosphere.
Sestri Levante makes a good base for exploring the Cinque Terre, or choose one of the five towns and hop between them by boat or train. The towns, along with Portovenere, are a UNESCO World Heritage Site. You can move on to Portovenere by train, but by far the most scenic way to arrive is by boat from one of the Cinque Terre towns, traveling beneath the magnificent cliffs and into one of Italy's prettiest harbors. Linger here to climb the narrow lanes, past 12th-century houses, to the citadel high above the town.
7. Lake Garda & the Dolomite Road Driving Tour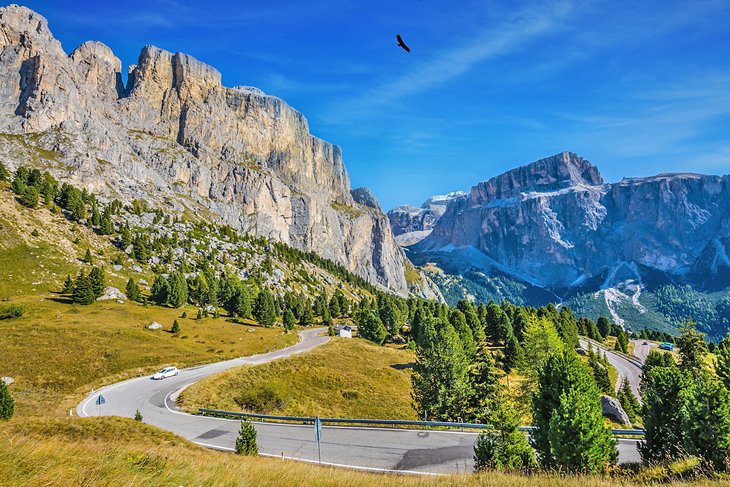 An itinerary for drivers who don't mind winding, steep mountain roads, this is a trip that largely avoids Autostrada traffic, traveling instead through small mountain villages in breathtaking settings. The route combines lovely lake scenery and Garda's holiday atmosphere with the breathtaking mountain views along the UNESCO World Heritage Strada Dolomiti, the Dolomite Road.
Begin in Verona, driving northwest to Peschiera, on the southern shore of Lake Garda, and make a side trip to chic little Sirmione, on a narrow peninsula jutting into the lake. A small but terribly picturesque castle guards its entrance, and at the end of its single street, you can take a tiny train to the ruins of a magnificent Roman villa overlooking the lake.
Return to Peschiera and drive up the east side of Lake Garda, stopping in lively little towns on the way, to Malcecsine. Pause here to climb its medieval streets to the castle and admire the soaring cliffs across the lake. Continue to Riva, worth an overnight stop to savor the lake's holiday vibe. Leave the lake, heading north to Arco, with its hilltop gardens, and continue along the verdant valley to Trento.
Pick up the Autostrada as far as Bolzano, a good stopping point to see the famed Ice Man and tour Castle Roncollo to see some of the finest surviving medieval court frescoes. You'll begin to notice the Germanic influences here, and as you climb through the Alpine villages of the Strada Dolomiti to Cortina d'Ampezzo.
More Alpine villages await on the trip south through the Cadore Valley to Vittorio Veneto, where you'll begin to notice the influence of this region's history as part of the Venetian Republic. Windows and doors around its pretty market square take on the graceful curves seen in the palazzi of Venice.
Conigliano is a charming town with a hilltop castle and excellent restaurants. From Conigliano, continue south past Treviso, where you can either go south to Venice or west through the walled towns of Castelfranco and Citadella to Vicenza. Stop here to tour at least one of Andrea Palladio's magnificent villas before returning to Verona.
8. Driving Tour through Emilia-Romagna from Bologna to Florence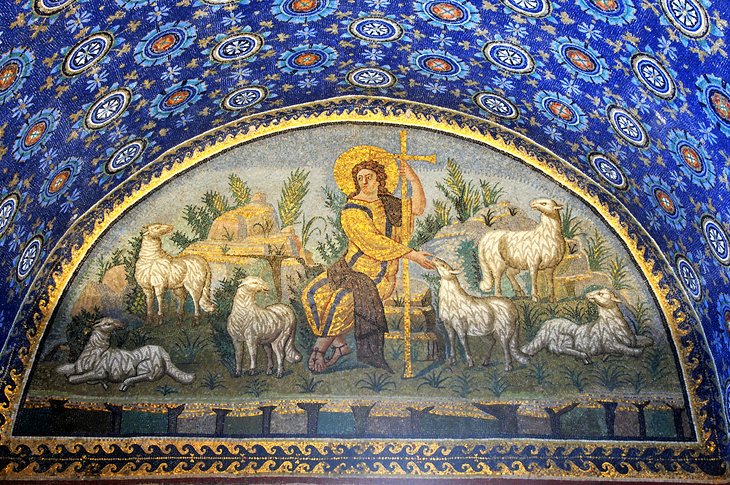 Few driving tours in Italy promise as much variety in a week as the scenic route from Bologna to Florence, along the Adriatic coast and over the Apennine mountains. A week allows a day or two for the medieval towers and beautiful churches of Bologna and time at the end for the Renaissance wonders of Florence. In between these are Roman sites, Europe's finest assemblage of Byzantine mosaics, miles of Adriatic beaches, a fishing village, castles, and the tiny independent republic of San Marino.
Head east from Bologna and stop in Faenza, known for its ceramics. Learn about this craft and see examples by Picasso and Matisse at the Museo delle Ceramiche before moving on to Ravenna. The UNESCO World Heritage Site includes eight churches, each lined with dazzling Byzantine mosaics, so a stopover in Ravenna means you won't have the sensory overload of trying to see them all in the same day.
Farther south along the coast is Cesenatico, whose old fishing harbor, surrounded by seafood restaurants, holds a floating museum of historic boats. Rimini's Roman past is well explained in historic signage as you walk its main street past excavations; the forum; the grand Porta Augusto; and the five-arched bridge, Ponte Tiberini. If the season is right, pause at one of Rimini's famed Adriatic beaches.
Head inland to nearby San Marino, leaving the car to ride the convenient shuttle to its historic center to see the frequent changing of the guard and its three mountaintop castles. Follow the old road, parallel to the Autostrada, through Cesena to Forli, a walled town where the Abbazia di San Mercuriale (Abbey of San Mercuriale) in the main piazza is worth seeing for its stone carving. From here, follow SS67 over the Apennines to Florence.
9. Driving Tour of Sardinia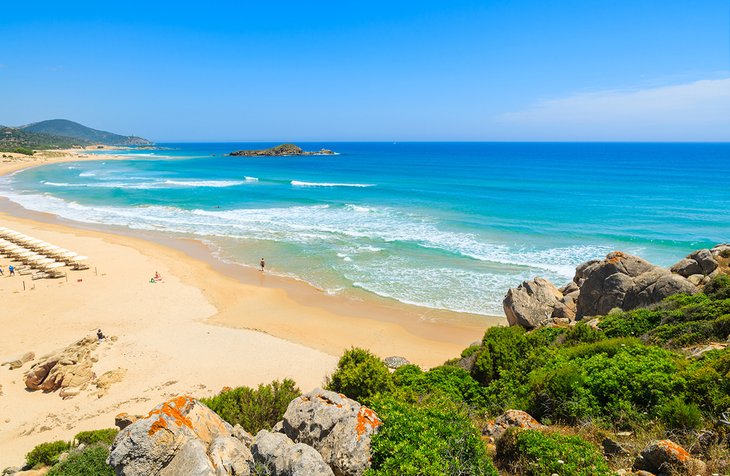 Sardinia may be a part of Italy, but you'll soon feel as though you were in an entirely different country; it even has its own distinct cuisine. Spend at least a day in the capital city of Cagliari for a tour of the main sights, so you'll have some background in Sardinia's unique history and prehistory. To understand the strange nuraghe – the enigmatic stone towers that pepper the entire island–visit the museum in the citadel.
Drive north from Cagliari to see the best of these, Nuraghe su Nuraxi, then head west to Oristano to see the Phoenician/Carthaginian/Roman ruins of Tharros. Continue north to the beautiful town of Bosa, under its castle, and follow the scenic coastal drive to Alghero to walk its walls and stroll its atmospheric stone streets. Take a boat to the impressive sea caves of Grotta di Nettuno before traveling on through Sassari to castle-topped Castelsardo.
Follow the north coast to the fantastic rock formations of Santa Teresa di Gallura and take the ferry to the pink beaches of the Arcipelago di la Maddalena before reaching the Costa Smeralda. Arzachena is a good base here, perhaps at a country inn in the rock-studded mountains above town, as you explore the trendy resort villages and the outstanding prehistoric sites.
A drive south along the east coast brings you to Sardinia's wild and sparsely settled mountains, where a motorway will bring you to Nuoro. This is a good center for a day exploring the precipitous mountain roads to remote towns of the Barbagia. On the way back to Cagliari stop at Nuraghe Losa and the mysterious well of Santa Cristina.
You can do this route in eight days if you leave out some of the prehistoric sites, but 10 gives you more leisure to enjoy Sardinia's unique culture, along with giving you more time to spend in Cagliari with a side trip to the Phoenician city of Nora.
10. Driving Tour of the Aosta Valley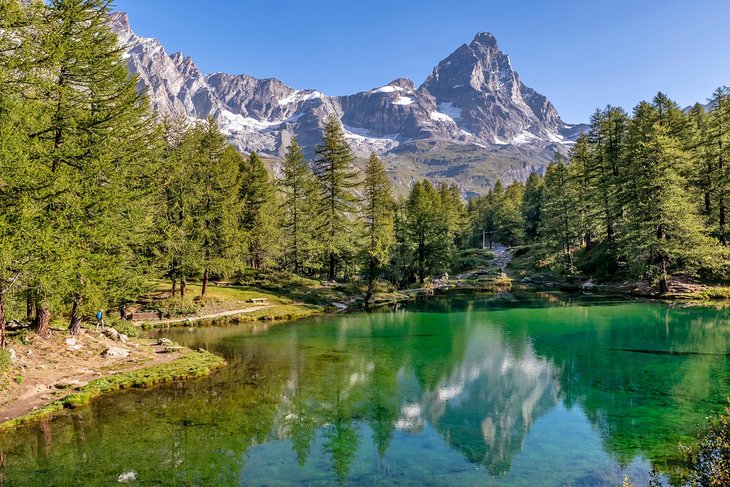 From the royal splendor of Turin, the former Savoy capital, to the natural splendor of Europe's highest peaks, this route follows a valley that has been a major trade route since Roman times. You'll see a Roman theater in Aosta, a string of medieval castles, and the two most famous mountains in the Alps.
Although you could drive from Turin to Mont Blanc (Monte Blanco) in six hours, you should allow three days in addition to your time in Turin. While here, tour the Savoys' Royal Palace, and ride the elevator to the top of the Mole, where you can visit the outstanding cinema museum.
Head north from Turin on the E612 and E25 as far as Chatillion, then drive north to Breuil-Cervinia, at the foot of the Matterhorn. On the way, stop at Lago Blu for one of the best views of the mountain's dramatic south face. A cable car takes you from the village to higher viewpoints.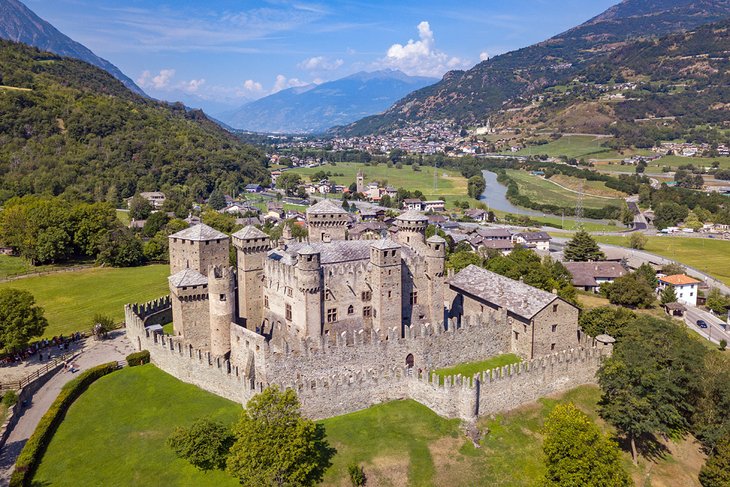 Back in Chatillion, SS 26 follows the river past a succession of villages. Each seems to have its own castle; the first you'll see is the impressive Castello Fénis, a pentagonal fortified manor with towers and battlements, surrounded by crenelated walls. Medieval frescoes decorate the balconies around the courtyard and chapel.
The valley's largest town is Aosta, an ancient Roman post that shows off its past in the well-preserved 1st-century Arch of Augustus, Roman Theater, towers, and catacombs. The monastic complex of Sant'Orso and the cathedral's mosaics are also worth seeing. From Aosta, you can take a cable car to the 1800-meter summit of Pila for views of the valley and the Alps.
For a glimpse of later history, stop at Sarre Royal Castle, built in the early 18th century and later the hunting lodge of King of Italy Vittorio Emanuele II. A side trip into the Gran Paradiso National Park follows a scenic road from Aymavilles through meadows of wildflowers to the village of Cogne. Here, you'll find a botanical garden of Alpine flora, and hiking trails into the park.
Courmayeur is one of Europe's top ski resorts, a chic ensemble of chalets, boutiques, and cafés, with an interesting Alpine Museum and a 14th-century church. Outside of ski season, the main attraction is the Skyway Monte Bianco, a set of 360-degree rotating cableways linking three stations ascending Mont Blanc, the highest at 3,466 meters.
More Related Articles on PlanetWare.com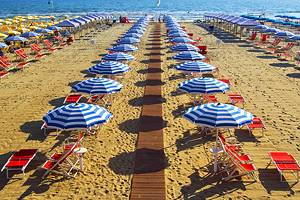 More to See in Italy: While you're touring, you can follow your own special interests with our pages on the Most Beautiful Gardens in Italy and Top-Rated Beach Destinations in Italy. If you are traveling to Italy in winter, see our list of the Top Ski Resorts in Italy.