10 Top-Rated Tourist Attractions around Lake Garda
We may earn a commission from affiliate links ()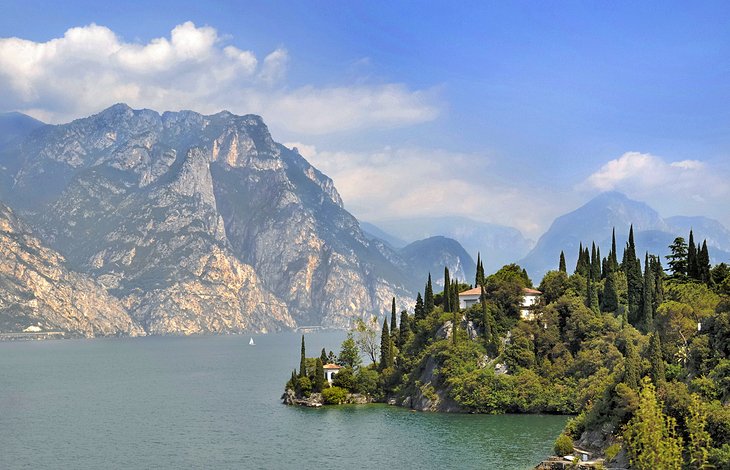 North of Verona, Lake Garda is the most family- and water sports-oriented of Italy's lakes. It's also Italy's largest lake, reaching from the steep alpine foothills to the northern edge of the Po Valley. The southern shore is lined by beaches and backed by low hills, while in the north, mountains and sheer cliffs fringe the lake, especially along the western shore. Its terrain gives the lake a wide variety of attractions for sports-loving tourists, from steady winds for sailing and windsurfing to mountains for climbing, rappelling, and mountain biking, all with lake views.
At the same time, its location gives Lake Garda a year-round temperate climate where olives and lemons grow well north of their usual range, and a somewhat turbulent history that has left several well-fortified castles, Roman remains, and sites of interest to World War II buffs. Add long sandy beaches and a clutch of towns with lakeside promenades and cafés surrounding postcard marinas, whose sole purpose seems to be la dolce vita, and Lake Garda really does have something for everybody. You could easily spend a week here without being even close to running out of things to do. The attractions below are listed geographically from the southern end of the lake, heading up the east shore and down the west. Plan your visit with this list of the top tourist attractions around Lake Garda.
Note: Some businesses may be temporarily closed due to recent global health and safety issues.
1. Sirmione and Castello Scaligeri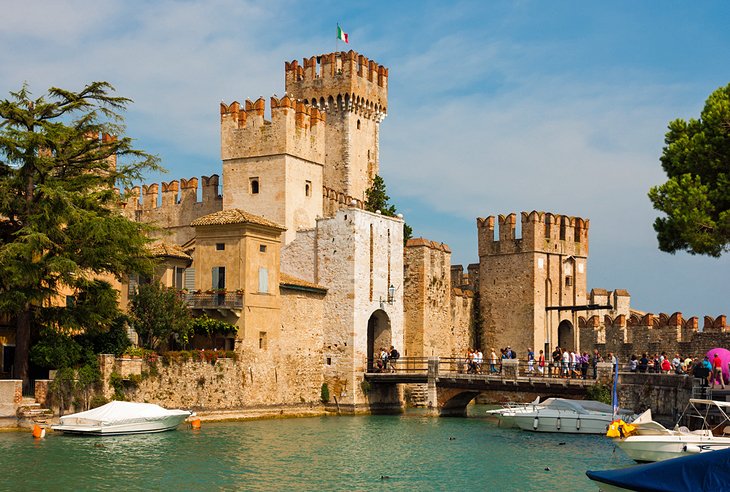 The picturesque little town of Sirmione sits at the end of a long promontory reaching out into the lake from its southern shore. It's hard to find a more charming entrance to a town - across a moat on a drawbridge and into the forecourt of a castle that looks as though it had been built for a movie set. The water-surrounded fortress was constructed in the 12th century by the Scaligeri, Verona's ruling family, as part of their defensive network against Milan and was later maintained by the Venetian empire. Tour its restored interior and climb the tower for panoramic views of the lake and town. Before the Scaligeri, the Romans came here to bathe in the sulphur springs, which are now the basis of a luxury spa. Expect crowds in chic Sirmione on weekends, filling its pricey boutiques and cafés.
Address: Via Guglielmo Marconi, Sirmione, Brescia
Accommodation: Where to Stay in Sirmione
2. Grotte di Catullo: Ruins of a Roman Villa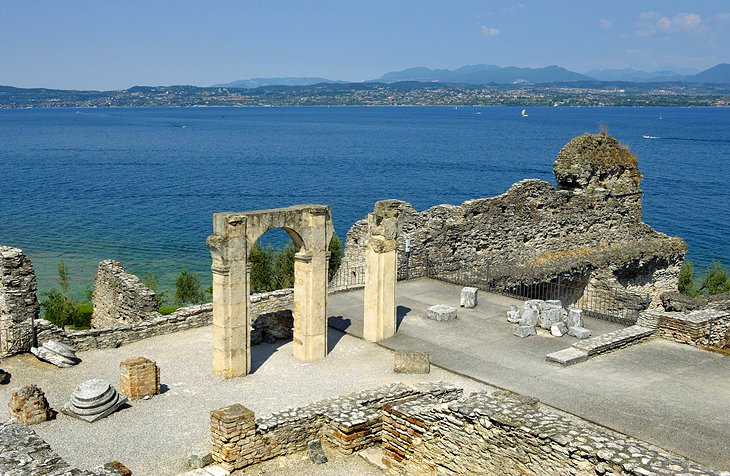 The Roman poet Catullus, who lived from 84 to 54 BC, had a villa at the far end of the peninsula. Its extensive ruins still puzzle historians, whose theories on its exact nature vary from a huge bath complex to an ancient version of a full-service resort. Be sure to see the small, but good, museum at the entrance before touring the ruins and enjoying the lake views in three directions. You can get here by a 15-minute walk from the village of Sirmione, or on an electric tourist trolley from Piazza Piatti.
Address: Piazzale Orti Manara 4, Sirmione, Brescia
3. Desenzano del Garda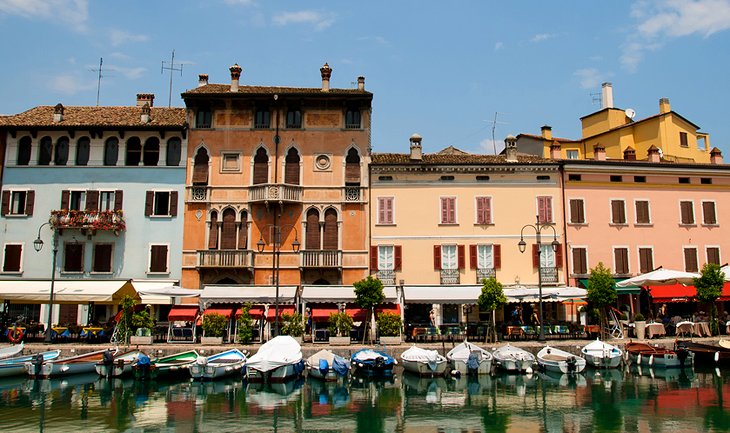 If you're arriving at Lake Garda by train or from the A4 Autostrada, Desenzano del Garda is where you'll probably catch your first sight of Italy's largest lake. Just west of Sirmione, it's a lively little town centered around a marina basin and the piers where lake steamers and hydrofoils leave for towns all around the lake. There's not much left of the castle that once crowned its hilltop, but Villa Romana, a Roman villa, has been excavated near the old town center and has impressive mosaics. The parish church has a painting by Tiepolo. With plenty of cafés and restaurants and convenient boat connections, Desenzano is a great base for exploring the lake. Most of the lake's best beaches are along this southern shore.
Accommodation: Where to Stay in Desenzano del Garda
4. Gardaland and Nearby Theme Parks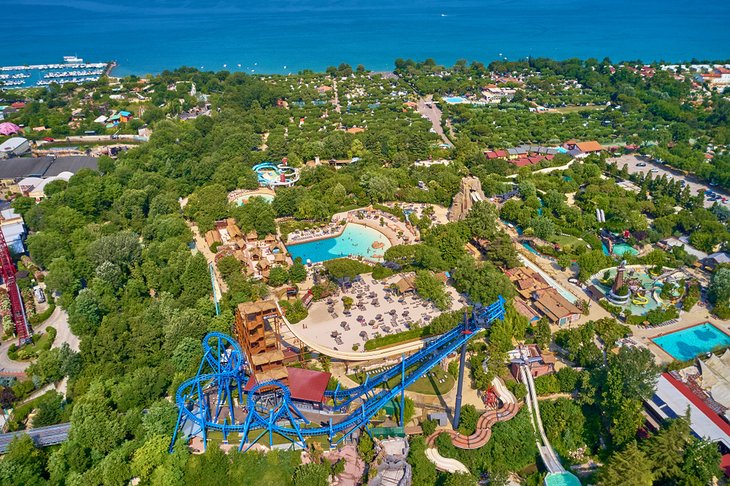 Several entertainment and theme parks cluster on the southeastern corner of Lake Garda, between Peschiera del Garda and Lazise. Best known - in fact one of the best known in all Europe - is Gardaland, a multi-park complex that includes Gardaland Sea-Life, as well as the Gardaland Hotel. The well-designed fun park has all the expected rides, from story-book kiddy rides to adventure and adrenaline thrills. Blue Tornado is a steel, inverted roller coaster guaranteed to please thrill-seekers. New at Gardaland in 2018 was Peppa Pig Land, a fantasy village of kiddy rides.
Nearby Caneva World includes a movie-themed park with shows and features based on popular films, as well as the beautifully landscaped Aqua Paradise Park with palms, white-sand beaches, pools, waterslides, and splashing rides. Farther from the lake shore, you can ride through Parco Naturo Viva to see African wildlife - lions, giraffes, and hippos up close. A dinosaur park has realistic models of prehistoric creatures
Address: Via Derna 4, Castelnuovo del Garda
5. Bardolino and the Southeastern Towns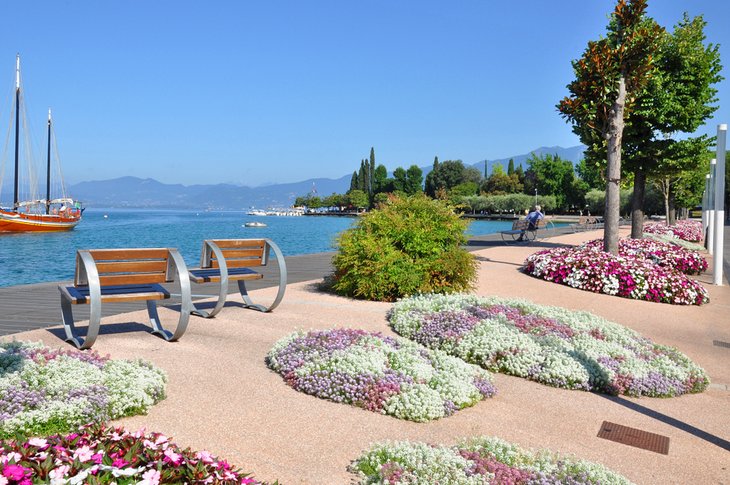 A cluster of four pretty towns line the southeast shore, which rises on the gentle slopes of Monte Baldo in a landscape of olive groves and vine-cloaked fields. Boats bob in their little harbors, cafés sprawl along their lake shores, and frequent festivals line the streets and parks with colorful kiosks. The southernmost is Lazise, with medieval town walls and a castle built by the Scaligeri family from Verona in the 14th century. See olives pressed into oil in neighboring Bardolino, at the Museo dell'Olio d'Oliva, and stop to admire the frescoes inside the church of San Severo, which dates as far back as the eighth century.
From laid-back Garda, a footpath leads up the Rocca, on the site of an earlier castle, which gave its name to the lake. Between Garda and Torri del Benaco is the beautiful cypress-clad promontory of San Vigilio, with a popular (although pebble-covered) beach beneath a 16th-century palace. Torri del Benaco has the medieval Castello Scaligero and is the eastern end of the cross-lake car ferry from Gardone Riviera on the western shore.
Accommodation: Where to Stay in Bardolino
6. Malcesine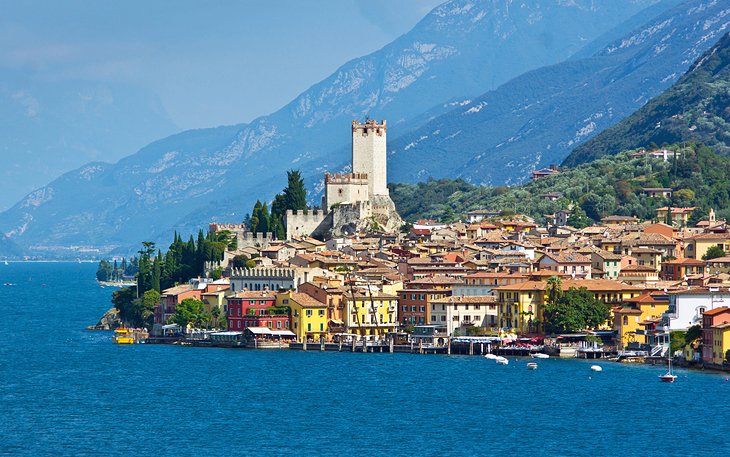 As the long ridge of Monte Baldo stretches northward, it grows steeper, and on a spur beneath it, Malcesine perches above the lake. At its top, a 13th-century castle - another Castello Scaligero - stands on a crag, its ramparts dropping directly to the lake below. The views are, of course, superb, as the opposite shore of the lake is even steeper, and in this northern segment, mountains rise on all sides. You can tour the castle and the museum inside.
Narrow lanes climb to the castle through a jumble of medieval stone buildings and tiny squares. Inevitably, a town this picture perfect will have its share of temptations for tourists, which makes is a pleasant stopping place to wander, dine, and browse among artists' studios. On the uphill side of the main road, where there is also a convenient place to park as you tour Malcesine, a revolving cable car takes you even higher to views and walking trails along Monte Baldo's scenic ridge.
Accommodation: Where to Stay in Malcesine
7. Riva del Garda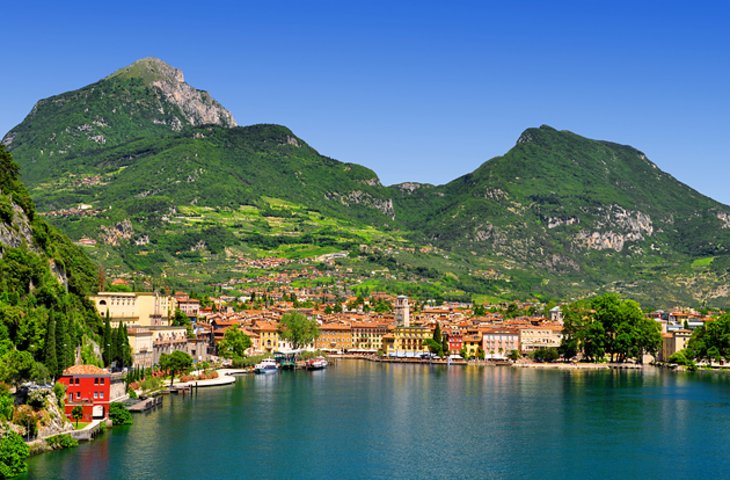 At the northern end of Lake Garda, Riva del Garda sits between the mountains and the water, a pleasant combination of medieval old streets and sunny waterside parks and promenades. Poised above the old center on the precipitous Rocchetta is a Venetian watch-tower, and below, in the arcaded square by the harbor, is a massive old clock-tower. To the east, by the lakeside, stands the old moated Rocca del Riva, yet another castle of the Scaligeri, built between the 12th and 15th centuries. Inside is the excellent Museo Civico, with prehistoric and later artifacts, well displayed and interpreted.
The beach at nearby Torbole is best known as a premier windsurfing spot because of steady winds, which also make the northern part of the lake a favorite for sailing. Lessons and rentals for both sports are available here.
Accommodation: Where to Stay in Riva del Garda
8. Arco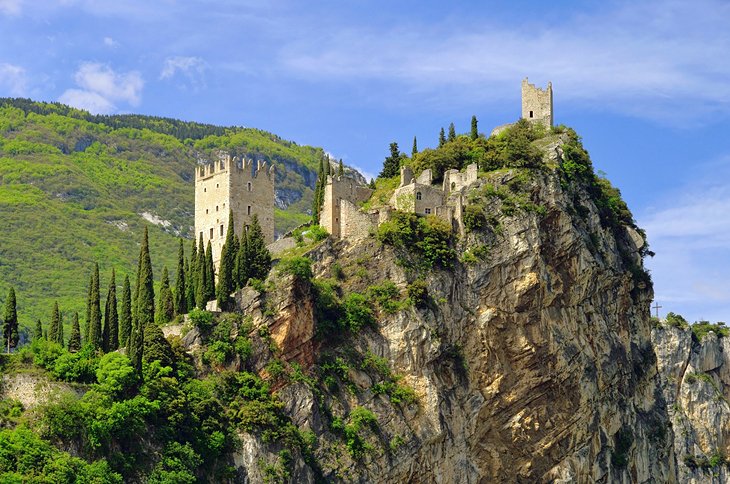 North of Riva, roads rise through magnificent scenery of rugged mountains and small lakes. Follow signs from Riva to the Cascata del Varone, a dramatic waterfall that has carved a corkscrew-shaped vertical gorge as it drops from a glacial lake above. North of Varone, the old town of Arco lies along the bank of the Sarca River, in a valley of unexpectedly luxuriant southern vegetation. In this mild micro-climate, farms and orchards flourish, and two beautiful promenades are planted, respectively, with magnolias and palms. Arboreto di Arco, planted in the 1800s by a Habsburg duke, has trees from around the world. You can climb from the village to the Castello di Arco, on a cliff high above.
9. Gardone Riviera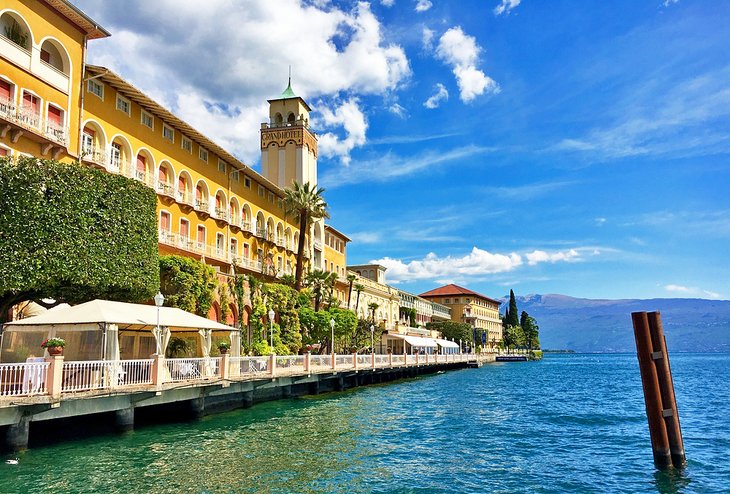 Gardone Riviera is one of several beautiful towns on the western shore, in the Riviera Bresciana, which begins where the steep mountainsides above the northwestern part of the lake begin to leave enough space for towns to cling. The combined effects of the lake below and hillsides above give the towns a climate where luxuriant vegetation thrives, and in Gardone, the magnificent Hruska Botanic Garden takes full advantage of the landscape and climate. Thick, almost tropical foliage shades its winding paths and terraces, where sculptures, pools, waterfalls, and plants mingle. Above Hruska and surrounded by more beautiful gardens is the scenic cluster of Gardone di Sopra.
Each of the Riviera Bresciana towns has an attractive lakefront with views, promenades, and parks; several are marked by hotels and villas in the Art Nouveau and Art Deco styles. In the northernmost town of Gargnano, Villa Feltrinelli, now a posh hotel, was occupied by Mussolini from September 1943 to April 1945. During that time Salò, to the south in a long narrow bay under Monte San Bartolomeo, was the seat of the Fascist puppet government, known as the Republic of Salò. The Gothic parish church of Santa Maria Annunziata in Salo's main piazza, dating from 1453, has a magnificent altar.
10. Vittoriale d'Italia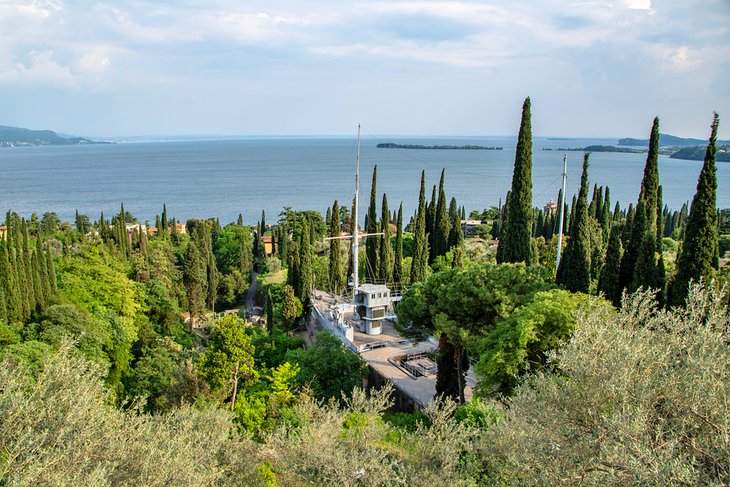 The highly eccentric personality - not to mention ego - of the poet Gabriele d'Annunzio (1863-1938) permeates his equally eccentric Art Deco villa and its extensive grounds. There's much see here, and you can choose from several ticket and tour options. The house is definitely worth touring to get a sense of the man, and to see his decidedly bizarre coffin-shaped bed, indigo bathroom suite, statuary, and other unusual tastes in décor. Touring the house is certainly one of the more unusual things to do around Lake Garda. The basic house tour takes 30 minutes, and a more in-depth one, called Secret d'Annunzio, includes more of his colorful private life. Another, d'Annunzio Eroe (Hero), features his military exploits, which included leading a World War I bombing raid on Vienna.
Be sure to explore the grounds and gardens to tour the ship Puglia, which he commanded, imbedded into the hillside park. D'Annunzio's flamboyant Mausoleum, an amphitheater, and a museum are also in the extensive park and gardens.
Address: Via Vittoriale 12, Gardone Riviera
Where to Stay in Lake Garda for Sightseeing
For beaches and easy access to boat transport, the best towns to stay in are those along the southern part of the lake. We recommend these hotels around the shores of Lake Garda:
Tips and Tours: How to Make the Most of Your Visit to Lake Garda
Touring Lake Garda: See the highlights of Lake Garda on a full-day Lake Garda

Tour

, selecting from a number of different options. Monday tours, for example, include stops of an hour or more in the lakeside towns of Lazise, Malcesine, Riva del Garda, and Limone sul Garda, while on Wednesdays, the tour explores the lake's southern towns of Salò, Sirmione, and Lazise. You'll travel by air-conditioned coach with a guide who will fill in details about the lake and its history; each trip includes a 45-minute boat ride between two of the towns.
Touring nearby Attractions: Lake Garda lies at the foot of the Dolomites, Italy's most beautiful mountain range and a UNESCO World Heritage Site. You can explore these lofty peaks and their charming mountain villages on an 11-hour Dolomites full-day tour from Lake

Garda

, with pickup points in various lakeside towns. Travel with a knowledgeable guide in an air-conditioned coach as you follow the Great Dolomite Road across the 2,240-meter (7,300-foot) Pordoi Pass. Stop to explore villages, including Ortisei, famed for its wood-carvers and beautiful Alpine architecture.
Day Trip to Venice: Make the most of your trip to Northern Italy with a visit to its most famous city, on a Venice full-day tour from Lake

Garda

. The 11-hour day trip begins with a ride through the Italian countryside on an air-conditioned coach, before arriving in Venice. Board a private boat and float through the canals to see the city's most famous sights, including St. Mark's Basilica, the Bridge of Sighs, and the Rialto Bridge. Enjoy free time in the afternoon to explore Venice on your own or take an optional gondola ride.
More Related Articles on PlanetWare.com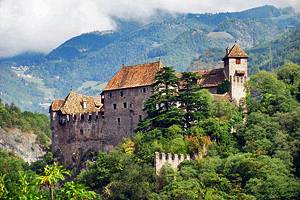 Places to Visit near Lake Garda: Seeing the dramatic mountains around the lake may inspire you to see more of the mighty Dolomites to the north. They are easy to reach on day trips from Bolzano, itself interesting for its blend of Italian and Germanic cultures. While visiting Lake Garda it would be a shame not to see the attractions of historic Verona, with its Roman arena and Renaissance landmarks. Just to the west of the lake, you can visit more Roman sites in Brescia.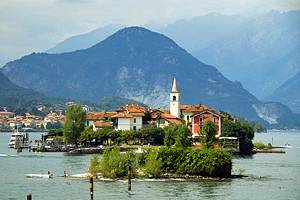 Exploring Northern Italy: Lake Garda is only the beginning of northern Italy's spectacular lakes. For more ideas of things to see and do around the lakes that lie just to the west, check our pages on Visiting Como Town & Lake Como and Lake Maggiore attractions and day trips.