From Milan to Cinque Terre: 4 Best Ways to Get There
Located 227 kilometers south of Milan, Cinque Terre can be explored as a day trip if you plan things well and start your trip very early in the morning. A popular summer destination because of its stunning cliff views and colorful towns, Cinque Terre is actually a great place to visit year-round, as the mild weather means the area is mostly always warm and inviting.
When planning a trip to Cinque Terre, the best transportation option depends on how fast you want to get there, what your budget is, and what time of the year you're traveling - some of the ferry options only run during peak season, so water travel might be limited or just impossible outside that time frame.
Start planning your trip from Milan to Cinque Terre with our list of transportation options. We've found three great ways to get to Cinque Terre, along with some tips to keep in mind when choosing the best one for you.
1. From Milan to Cinque Terre by Tour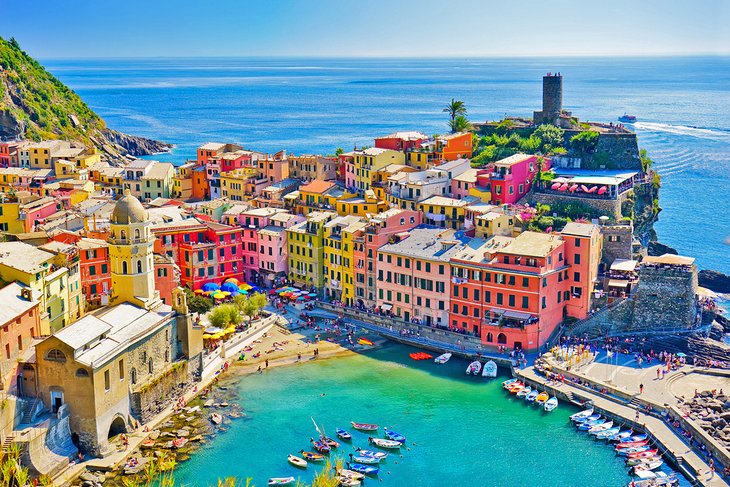 If you only have one day to discover the cliff-side villages of Cinque Terre, an organized Cinque Terre Day Trip from Milan will help you make the most of your day - no need to worry about transportation changes, timetables, or wasting time planning your journey. Just sit back in your comfortable, air-conditioned vehicle and let your English-speaking tour guide show you the way.
This hassle-free, 12-hour tour starts in the early morning in the heart of Milan. Board your coach and prepare to enjoy the scenery while listening to your guide describe the highlights of the day ahead. You'll learn about the five villages that make up Cinque Terre as you drive down the scenic route that leads to Manarola, your first stop.
Once in town, you'll have free time to explore at your own pace, strolling the harbor, exploring the local shops or grabbing a coffee on a terrace overlooking the bay. Right before noon, meet up with your guide again to take the train to Cinque Terre's largest village, Monterosso al Mare.
You'll have additional time to explore Monterosso, stopping by the square; finding a quiet restaurant with a view for some quick lunch; or stepping into the trails at Cinque Terre National Park, which starts steps from town. While you won't have time to take on a long hike, the park offers great little trails and small loops that will give you a completely different outlook of the area without going too far away from the village.
When you return to Monterosso, you'll sail away on a 90-minute ferry tour of the bay. This is the best way to truly appreciate Cinque Terre, looking up from the turquoise waters towards the most iconic highlight of the area: the tangle of pastel buildings high up on the cliffs. The ferry ends the trip at La Spezia, where you'll find your driver waiting to drive you back to Milan.
2. From Milan to Cinque Terre by Train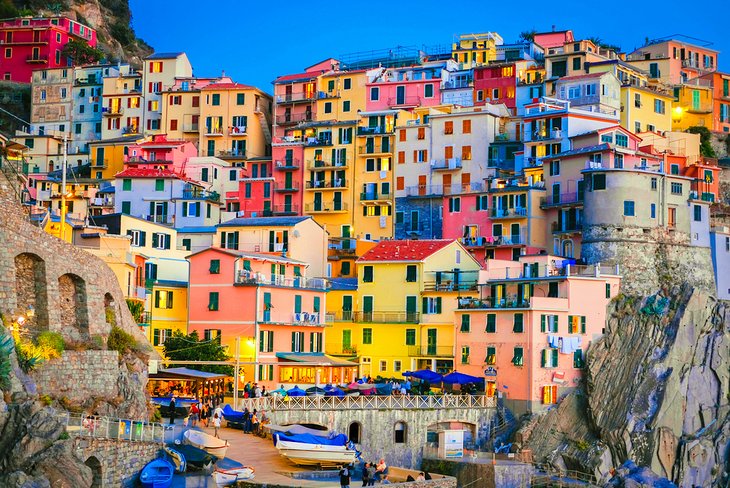 The easiest and most convenient way to reach Cinque Terre on your own is to take the train. All trains depart from Milano Centrale railway station several times per day, and you can pick between two different destinations: Monterosso or La Spezia.
Monterosso is the first of the five villages that make up Cinque Terre, and it's the closest to Milan. Only local commuter trains travel to this station, and you can't reserve a seat, so things can get crowded during high season. You can find direct trains on this route, while others might require a transfer along the way - direct trains are your best choice because of speed, as they'll reach their destination in just under three hours.
Monterosso has a large beach right outside the train station, so you can simply stay here and start exploring. If your final destination is another one of the villages, you can catch the 5 Terre Express train, a connecting local train that runs every 15 minutes throughout the day and reaches the other villages in just a few minutes. You can buy a hop-on-hop-off travel card at the station that will allow you to use the train for an entire day to move between villages.
Your other option is to take a train from Milan to La Spezia, a larger city that sits next to the villages. Because La Spezia is a transfer point for many lines, you'll find more frequent trains to this destination. Once here, you can switch to a regional train that goes to one of the villages.
If you're up for some adventure, it's also possible to hike from one village to the next, as Cinque Terre National Park, which surrounds the villages, offers plenty of picturesque trails that crisscross through the wilderness.
If you've arrived by train to Monterosso, you can hike directly to the next village, Vernazza. The hike is only three kilometers long but it's steep and difficult, as you're walking on winding narrow mountain trails and slippery rocks. You'll have to climb 550 steps along the way as well - but you'll be rewarded with great open views of the bay along the way.
3. From Milan to Cinque Terre by Train and Ferry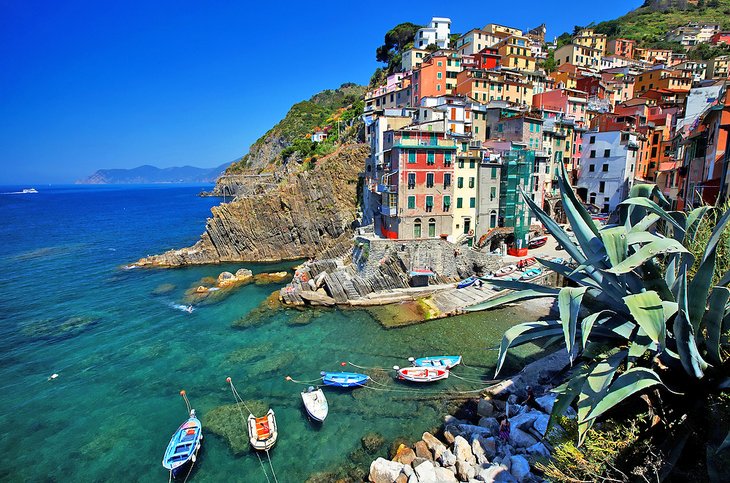 A great option if you're visiting Cinque Terre during spring and summer is to cover the first part of your journey via train and then jump on a ferry. The easiest way to do this is to take a train to La Spezia first. From here, boat trips leave towards Cinque Terre twice a day between April and September, with more frequent boats during the months of July and August.
The ferries take just over two hours to reach their final destination at Monterosso, making stops at Portovenere, Riomaggiore, Manarola, and Vernazza along the way. You can get off at any of the stops and then find your way to the other villages via the connecting train or by hiking through the national park.
Tickets for the ferry cannot be reserved in advance, so arrive early in the day to get yours.
4. From Milan to Cinque Terre by Car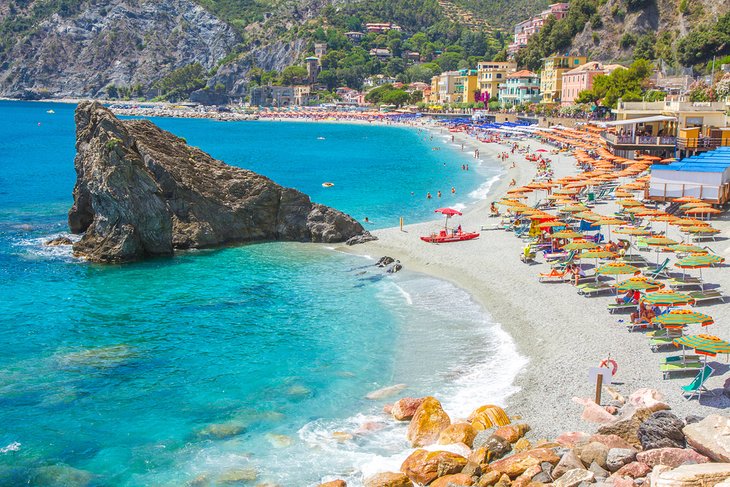 It takes about the same time to take the train than to drive from Milan to Cinque Terre – a three-hour ride that covers about 230 kilometers if you take the shortest route and close to 400 kilometers on a different road. The train has one big advantage, though: you get to your destination easily and don't have to worry about dealing with a car in a place that's not exactly car-friendly.
Cinque Terre is made up of narrow roads with sharp curves that make driving quite challenging. Parking is also very difficult, as the historical centers are off-limits for cars, and you'll have to park outside the city center in one of the designated paid parking areas.
If you decide you still want to drive, make sure you rent a small car to help you maneuver the difficult cliff roads.
From Milan, you can take the A7 (if you're heading to Levanto or Monterosso) or A1 (if you're going to La Spezia or Riomaggiore) highways. Both are toll roads, so have cash or a credit card ready to pay as you exit the road. Cost is based on how long you drive on the highway, but it shouldn't be too expensive unless you take lots of side trips along the way.