9 Top Tourist Attractions in Brescia & Easy Day Trips
A quirk of geography has kept Brescia one of northern Italy's hidden secrets. Brescia's problem is that it's close to so many "must-see" places. With Lake Garda only 24 kilometers away, and Lake Como, Milan, Verona, and Venice all within easy reach, tourists tend to overlook Brescia's many attractions. Take advantage of this chance to mingle with locals as you walk through the forum down a street that was once part of the major Roman route from Bologna through the Alps. And don't miss one of Italy's finest historical museums, encompassing an original Roman villa. A castle and a third-century amphitheater hint of its time under Venice's empire, and some beautiful Renaissance architecture is the frosting on Brescia's delicious cake.
1 Piazza del Foro
Stand in this small square and you can almost picture yourself here in the first centuries AD, when the Romans were building grand classic buildings in their northern city of Brixia. This was the busy forum, and enough impressive remains survive to give an idea of its grandeur. You are standing on part of the Roman main road, the Decumanus Maximus, which is now Via dei Musei; look for the original pavement with shop fronts excavated at one side of the square. Next to the restored Capitolium rising above, you can see the 3rd-century Teatro Romano and remnants of the Roman East Gate. Remains of the first-century basilica are integrated into a wall on adjacent Piazza Labus.
2 Tempio Capitolino
Rising on a hillside above the forum, and originally reached by a pair of stairways, the temple must have made a dramatic background to the hub of Roman activity. Today, only six of the Corinthian columns stand, their original white marble parts contrasting clearly with the 19th-century brick restoration that holds them in place. Built in AD 73, in the reign of Vespasian, and dedicated to Jupiter, Juno, and Minerva, the imposing temple has its three cellae (chambers) intact, where you can see the original altars and floors of colored marble. Hourly tours take 50 minutes and have a multimedia introduction (available in English).
Address: Via Musei 57, Brescia
3 Civici Musei d'Arte e Storia Santa Giulia (Museum of Art and History)
If you have time to see nothing else in Brescia, walk from the center down Via dei Musei through the old Roman Forum and its ancient sights, to this astonishing museum complex housed in a former Benedictine monastery. Beneath the convent and fitted with walkways for viewing, are Roman homes with mosaic floors. Among the ancient artifacts, which include stelli, altars, and architectural fragments from the first century BC to the 5th century AD, is an outstanding two-meter bronze Winged Victory. The jeweled 8th-century gold Cross of Desiderio highlights the jewelry and goldwork in the Treasury. Art and architecture from Brescia's Medieval and Venetian eras complete the picture into the late Gothic and Renaissance periods. Don't miss the Lombard and Romanesque churches and the sumptuously frescoed Nuns' Choir. Few museums have this range, so well displayed, and rarely can a museum give such a complete and compelling picture of two millennia of a city's story.
Address: Via Musei 81, Brescia
4 Duomo Nuovo (New Cathedral) and Rotonda
Side by side, in dramatic contrast, stand the old and new cathedrals, the latter built in the 17th-century, with a central dome added in 1825. Far more interesting is its predecessor, nicknamed the Rotonda for its drum-like shape. Inside this massive 11th-12th-century cathedral, look for a carved red marble sarcophagus, carved wooden choir stalls, and stairways leading down into the crypt, built in the 9th-11th centuries as part of the first basilica. Look for bits of Roman stonework that were recycled to build it.
Address: Piazza Paolo VI, Brescia
5 Broletto
Beside the Duomo Nuovo and contrasting almost as sharply to its 17th-century polish as the Rotonda on the other side, is the 12th-century Broletto, the old Town Hall, with a square tower added about 100 years later. The pillars at its doorway are made from Egyptian granite. They date from the Roman era, and were formerly the entrance to yet another cathedral, the demolished San Pietro de Dom.
Address: Piazza Paolo VI, Brescia
6 Piazza della Loggia
Among the most picturesque squares in northern Italy, Piazza della Loggia hints of Brescia's Venetian history, with 15th-century colonnades by Sansovino and Palladio. The graceful Loggia (Town Hall) at its west end was begun in Early Renaissance style in 1492 and not fully completed until 1674, with windows by Palladio. Opposite, above a long colonnade, is a giant 1581 clock, topped by two 'Macc de le ure' (crazy time keepers) made of wood and covered in metal. The long palazzo on the south side, Monte di Pietà, has a lovely Venetian-style loggia above its entrance.
7 Castello
A paved walkway leads up through gardens to the castle that rises above the historic center. The stronghold of the powerful Visconti family, the castle has been fortified since the 13th century, but the grand entrance and drawbridge were added, along with its massive outer ramparts, during the four centuries of Venetian rule. Today, it houses the Museo delle Armi L. Marzoli (Armament Museum) and Museo del Risorgimento with exhibits on Italy's independence movement of the mid-1800s.
Address: Via Castello 9, Brescia
8 Teatro Grande (Grand Theater)
South of the Duomo, on busy Corso Zanardelli, the 18th-century Teatro Grande has a full schedule of concerts, ballet, opera, drama, and music festivals. It's worth attending a performance just to see the magnificent auditorium with its deep-coffered ceiling, gold embellishments, and tiers of red plush boxes.
Address: Corso Zanardelli 9a, Brescia
9 Santa Maria dei Miracoli
The little church of Santa Maria dei Miracoli was damaged in World War II bombing and significantly restored inside, but its remarkable façade was covered in scaffolding and remained intact. The elegant Early Renaissance portico and façade are covered in intricately carved marble reliefs dating to the 15th century.
Address: Corso Martiri de la Libertá, Brescia
Where to Stay in Brescia for Sightseeing
We recommend these highly-rated hotels and guesthouses in Brescia with easy access to the top sights in town:
Day Trips from Brescia
Lago d'Iseo (Lake Iseo)
This beautiful Alpine lake has several interesting towns around its shore, including the little port of Iseo, where a 12th-century Romanesque church and a small castle are worth a stop. But the lake's most striking feature is the thickly-forested Monte Isola, an island that rises steeply to nearly 609 meters, crowned by the pilgrimage church of the Madonna della Ceriola. Views from the church reach to the Alps. Take the little ferry from Sulzano, on the eastern shore, to the tiny fishing village of Peschiera Maraglio, which clings to the island's steep shore.
Editor's Pick

Parco Nazionale delle Incisioni Rupestri di Naquane (National Park of Rock Art)

North of Lake Iseo, the Val Camonica (Camonica Valley) is littered with prehistoric rock engravings depicting the daily life of the people who lived here in the Paleolithic era (8,000-5,000 BC). Naquane National Park at Capo di Ponte is one of several sites where you can see these carvings, which are grouped as a UNESCO World Heritage Site, and is the best one for interpretive information and easily accessible viewing.
Other Places of Interest in Brescia
Santi Nazaro e Celso
Although completely reworked in the late 18th-century classical style, this church does contain one of Brescia's most important religious paintings behind the high altar: a polyptych of the Resurrection by Titian.
Address: Corso Giacomo Matteotti, Brescia
San Giovanni Evangelista
Northwest of the Piazza della Vittoria is the church of San Giovanni Evangelista with paintings by Moretto and Romanino, Brescia's two most famous artists, both of whom worked in the early 1500s.
Address: Contrada San Giovanni 8, Brescia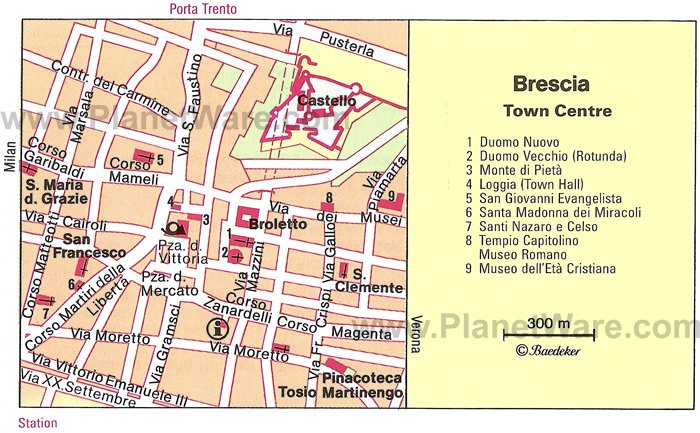 Brescia Map - Attractions
Want to use this map on your web site?
Copy and Paste the code below:
More on Italy