From Milan to Lake Como: 3 Best Ways to Get There
We may earn a commission from affiliate links ()
Italy's third-largest lake is also one of the most beautiful. There are many towns, small and big, surrounding the lake – and the best transportation to visit Lake Como also depends on which town is your final destination. Lake Como's most famous towns are the city of Como itself, as well as the town of Bellagio.
The southern tip of the lake, where the city of Como is located, is just 50 kilometers from Milan, while the town of Bellagio is over 80 kilometers away. We'll cover the two in this article – if you're heading to another town, remember to check timetables to make sure the bus or train you're taking stops there. Como and Bellagio are good connecting points to other destinations around the lake.
All the transportation options for the route from Milan to Lake Como are full of beautiful sights: blue waters, winding roads, and postcard-worthy views. And while there are pros and cons for each option, we have a list of trains, buses, and tours to get you from Milan to Lake Como, so you can choose what works best for you.
Note: Some businesses may be temporarily closed due to recent global health and safety issues.
1. From Milan to Lake Como by Tour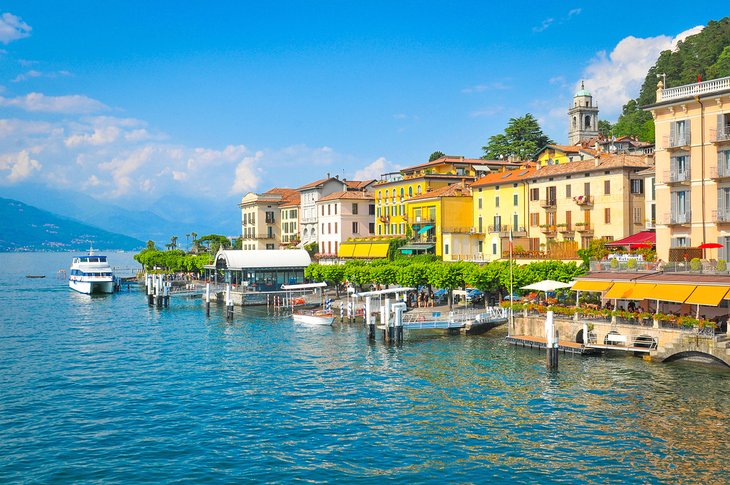 If you only have one day to discover the Lake Como area, and you don't want to waste a lot of that time traveling, a Lake Como and Bellagio Day Trip from Milan is a great choice. Let somebody else take care of the logistics and transportation and just spend the day relaxing and enjoying the view.
This nine-hour tour starts at the Milan Visitors Center in the heart of the city, where a driver and English-speaking guide will pick you up in an air-conditioned vehicle. From here, you'll drive one hour straight to the historical center of the town of Como, where you'll go on a walking tour of the center to see the Cathedral of Como and other grand buildings.
The tour includes a winter and a summer option. During the winter season (November to March), your walking tour ends at the lake, so you can get on the Funicolare Como-Brunate to go visit the nearby village of Brunate –perched upon a hill against the Rhaetian Alps, the village offers some of the best views over the lake.
After returning back down to Como, you'll enjoy a one-hour boat cruise on the lake, followed by some free time for shopping or trying some of the delicious local pastries.
If you're visiting in summer (April to October), you'll start your trip with a visit to the 11th-century Basilica of Sant'Abbondio, followed by free time to explore the city center on your own or go shopping at one of the many little boutiques that dot the historical streets.
When you meet back with your guide, you'll embark on a two-hour scenic boat tour of the lake, followed by a stop at one of Lake Como's most famous towns, Bellagio. You'll have free time to grab lunch and take plenty of photos of the colorful buildings before you continue on to the tiny sheltered town of Cadenabbia, your last stop.
At the end of the day, board your vehicle again to relax on the journey back to Milan.
2. From Milan to Lake Como by Train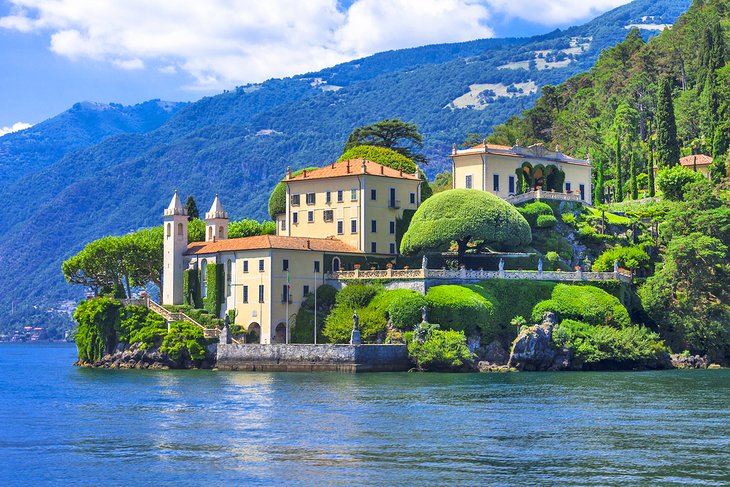 Trains from Milan reach many towns around the Lake Como area. If you're traveling to the city of Como, you can take a train directly from Milan to the Como Lago Station; if your final destination is Bellagio, choose a train that stops at the Varenna Esino Station.
Trains can take anywhere from 30 minutes to over one hour to reach Lake Como, depending on where you're getting off, so plan accordingly if you have set plans once you get to your destination.
All Trenitalia Trenord trains to the Lake Como area depart from either the Milan Centrale or the Milan Cadorna stations. Make sure you check out their online schedule to figure out which station you need and where to get off.
If you're traveling to Bellagio, keep in mind that there's no station in town – you'll have to get off at the Varenna-Esina Station, from where you can catch a ferry to Bellagio or other towns around the lake. Buses are also available for connection, but taking a ferry gets you great views of the lake and the towns perched over it.
3. From Milan to Lake Como by Bus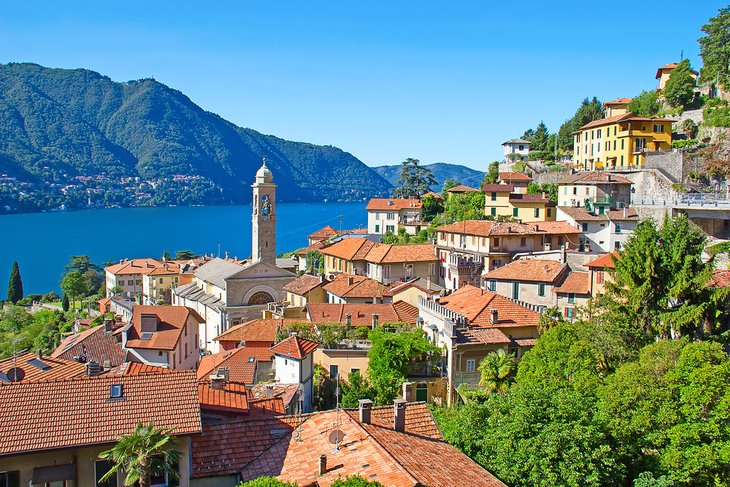 Most buses leaving Milan for Lake Como leave from Milan's Centrale bus station and end at Como's S. Giovanni bus station. From here, you can take a local bus to get you to other lake towns, or, if you're after a great view, you can also catch a ferry to some of the bigger towns.
Long-distance FlixBus bus company makes daily trips from Milan to Lake Como in as little as 90 minutes, though this can change based on traffic conditions. Buses are direct and comfortable, offering air-conditioning, hot drinks on board, and free Wi-Fi.
You can catch the bus from Como to Bellagio just outside the Como S. Giovanni train station. The ride takes one hour and 10 minutes in normal traffic conditions – during peak summer season, it might take slightly longer.
Once you get to the bus station in Como, you can also choose a ferry or a slow boat for the rest of your journey. The direct ferry from Como to Bellagio departs every four hours during daylight and takes just 44 minutes to reach its destination.
If you're not in a rush, however, the slow boat is an even better option – it takes just over two hours to cover the scenic water route and it stops 10-16 times along the way (this varies throughout the day). Visit Navigazione Laghi and then click on Lake Como to check departure times and prices for the slow boat. While a longer trip might seem inconvenient, taking the slow boat is almost like taking a cruise but at a tiny fraction of the price.