12 Top-Rated Day Trips from Milan
Milan's position in Western Lombardy puts it within easy reach of several rewarding day trip destinations. The Alps are so close that you can see them from the roof of the Duomo. Fabled Lake Como is less than an hour by train, and there are several towns near Milan with magnificent churches and cathedrals.
The beautiful cities of Verona and Bergamo are easily accessible, as is Lake Garda. Because Milan is the rail hub of northern Italy, getting to any of these places by train is easy, and high-speed trains make it possible to take a day trip from Milan to Venice or even to the Cinque Terre. Packaged day tours often make it even easier to explore beyond the city.
You can choose the best places to visit by referring to our handy list of the top day trips from Milan.
1. Lake Como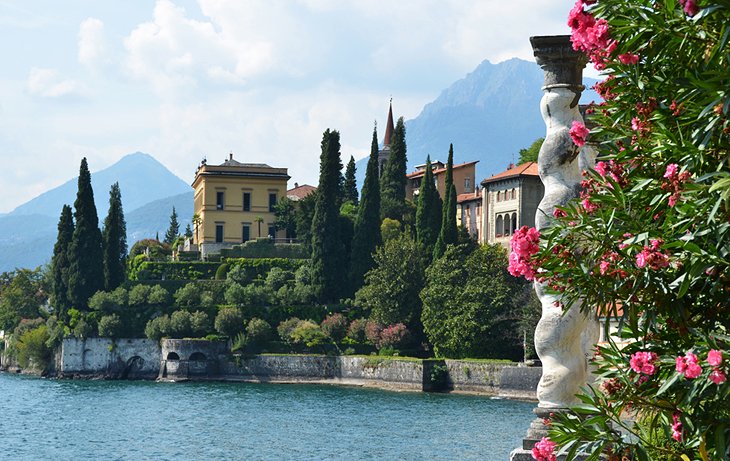 Direct trains from either Milan's Stazione Nord or Stazione Centrale take about 30 minutes to reach the small city of Como, at the southern shore of Lake Como. From here, boats leave regularly, stopping at one after another of the lakeside towns, each prettier than the last and each with its own attractions for tourists.
Within a few minutes' walk of the landings are beautiful gardens and villas, art-filled churches, and narrow lanes of smart shops. One of the prettiest towns on Como is Bellagio, set at the tip of a peninsula that divides southern Lake Como into two long arms.
Como itself is worth some time to see its cathedral; the rare frescoes in the 11th-century Basilica of Sant'Abbondio; and the views from the top of the Brunate funicular, which climbs from the lake shore near the boat landing.
You can easily see Como's Roman origins by the neat grid of streets; one impressive Roman gate survives. The fact that Como was once a major center for silk production makes shopping for silk neckties, scarves, and clothing one of the most popular things to do here.
You can combine a guided walking tour of the town of Como with a scenic lake cruise on the nine-hour Lake Como Day Trip from Milan. The tour varies seasonally, with a stop in lovely Bellagio from April to October and a funicular ride up to Brunate for sweeping lake and mountain views November through March.
2. Verona and Lake Garda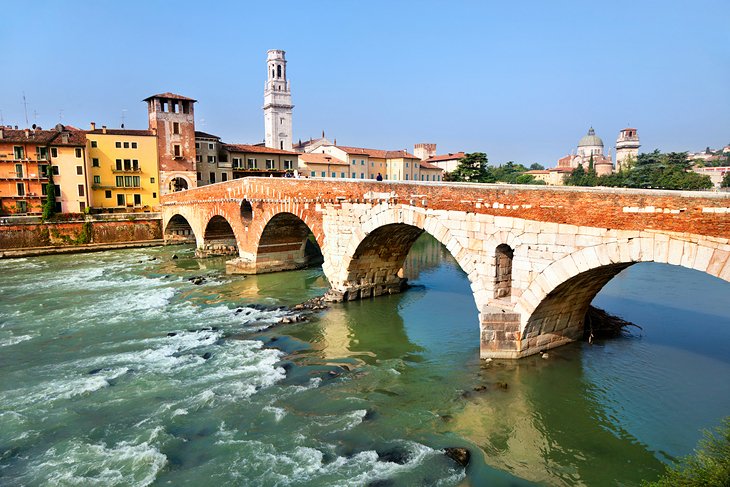 The happy blend of Roman antiquities, medieval streetscapes, and the romance of Shakespeare's tragic (though fictional) heroine Juliet puts Verona near the top of everyone's best places to visit in Italy list. In the center of the historic district stands one of Italy's best-preserved Roman arenas, the site of a major summer opera festival.
A few streets away, the riverside castle has been brilliantly repurposed into an art museum, with fine views of the castellated bridge below. At least four of the city's churches are landmarks of Italian architecture and decorative art. There are several Roman gates and subterranean excavations from the same period to explore, but few of Verona's attractions get as many tourists as Juliet's house and balcony.
The two-hour train ride from Milan to Verona passes along the southern shore of Lake Garda, Italy's largest lake. The well-kept town of Sirmione, at the tip of a peninsula that extends into the lake, is worth a stop for its moated castle and the extensive remains of Grotte di Catullo, a Roman villa and spa.
Or you can combine romantic Verona with a visit to Sirmione on a full-day Verona and Lake Garda Day Trip from Milan. The two-hour guided walking tour of Verona is highlighted by visits to the Roman arena and the house commemorating the story of Romeo and Juliet. There is plenty of time to explore Sirmione and its castle before the coach ride back to Milan.
3. Bernina Express to St. Moritz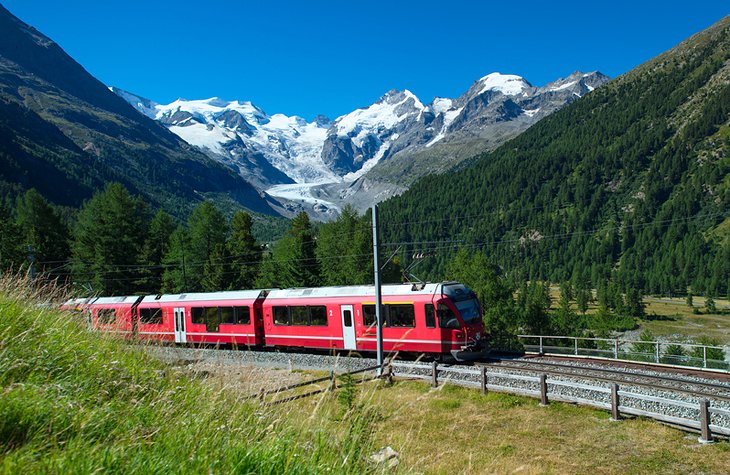 It's a long day, but you can get a taste of the magnificent Alpine scenery north of Milan by making the two-hour train ride to Tirano and boarding the scenic Bernina Express. In two and a half hours, you'll cross 196 bridges, go through 55 tunnels, and cross breathtaking gorges as you climb the Bernina Pass and descend into Switzerland.
The "Little Red Train" has wide vista windows for full views and good photography from every seat. The Bernina Express ends in the legendary Swiss ski resort of St. Moritz, overlooking a lake and the Engadin Alps. The train runs year-round, and the views are equally good in summer or winter.
On the guided Swiss Alps Bernina Express Rail Tour from Milan, you can travel by coach to board the train in Tirano, with time to explore not only that Alpine town but chic St. Moritz as well.
4. Venice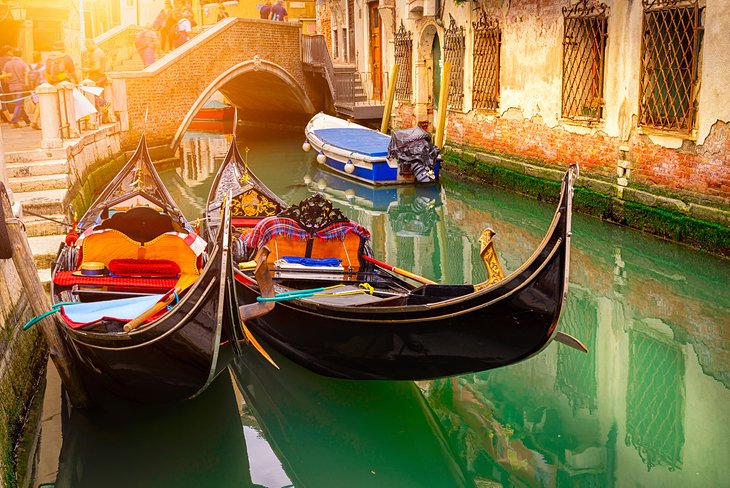 Venice is only 2.5 hours from Milan, and it would be a shame to visit northern Italy without seeing this fabled city, one of the most popular places to go in all Italy. On a day trip, you can easily see the highlights of Venice, including St. Mark's Square, the Basilica of St. Mark, the Grand Canal, the Bridge of Sighs, the Doge's Palace, and Rialto Bridge, and wander in the maze of streets and along the colorful canals.
You can get here by train or travel by coach on a Venice Day Trip from Milan, with a guide who will add historical insights to your visit. The 14-hour trip includes a guided walking tour and a visit to a glass-blowing workshop, along with plenty of free time to sample Venetian restaurants and take an optional gondola ride.
Read More: From Milan to Venice: Best Ways to Get There
5. Florence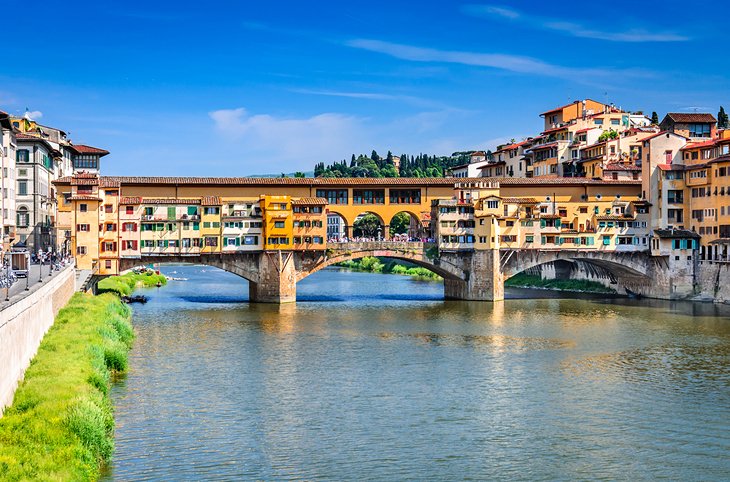 Because of Italy's high-speed train lines, you can whizz from Milan to the Renaissance city of Florence in just two hours, leaving plenty of time for seeing the main tourist attractions.
Several of the top sights are an easy walk from the train station: Piazza del Duomo, with the Cathedral of Santa Maria del Fiore and Baptistery; Santa Maria Novella; Michelangelo's magnificent Medici tombs in San Lorenzo; Piazza della Signoria; and the Palazzo Vecchio.
An easy and time-saving way to get from one attraction to the next is with a hop-on-hop-off bus ticket, included in a Florence Day Trip from Milan by Train tour. This tour not only stops at the attractions in the old Centro Storico (historic center) but will take you across the Arno to the Pitti Palace and Boboli Gardens and up to the scenic overlook of Piazzale Michelangiolo. If art is on your agenda, you can add a skip-the-line admission ticket to the fabled Uffizi Gallery to this tour package.
6. Turin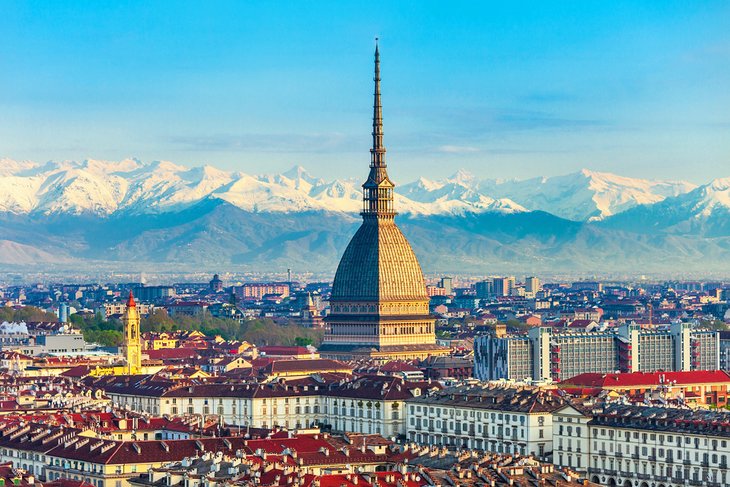 In only 1.25 hours from Milan by train, you can spend a day in the city that the Dukes of Savoy designed as the Paris of the South. This elegant city of broad avenues and piazzas lined by arcades is a pleasure just to stroll around, but the sightseeing opportunities include a sumptuous Royal Palace, a heart-stopping ride in a glass elevator to the top of The Mole for views of the snowcapped Savoy Alps, and one of the world's foremost collections of Egyptian antiquities.
Turin is known for its cafés, where you'll feel as though you'd stepped back into the city's Golden Age as you sip a bicerin - Turin's own signature coffee/chocolate drink - and nibble delectable pastries.
For those who feel they must include something of ancient Rome in their Italy trip, there is an impressive Roman gate within sight of the church that houses the legendary Shroud of Turin (which is not on public display).
7. Cinque Terre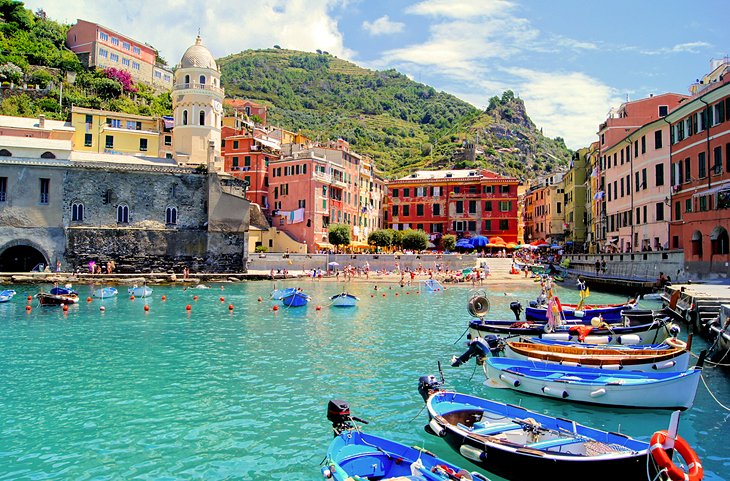 The trip between the five villages known as the Cinque Terre, whether by boat, train, or on foot, is one of the most enjoyable experiences in Italy. The tiny towns are separated by stretches of steep cliffs and connected by a narrow and often precipitous walking trail, and by a train line that tunnels through the rocky headlands between towns.
The colorful villages ooze charm, and although they are clearly not undiscovered, they still look much as they did before they became one of the most popular destinations in Italy.
While exploring the Cinque Terre in one day on your own is more complicated, from April through October you can take a 12-hour Cinque Terre Day Trip from Milan to see the highlights of this beautiful coast. The five villages of this UNESCO-listed region sit on a steep, cliff-lined shore south of Genoa, and after a scenic coach ride along the Mediterranean coast, you'll travel between them by boat and train.
There's free time to explore Monterosso and Manarola, have lunch in your choice of local restaurants, or to take a walk on the coastal path for even more breathtaking views. The trip between the five villages, whether by boat, train or on foot, is one of the top itineraries in Italy.
8. Lake Maggiore and the Borromean Islands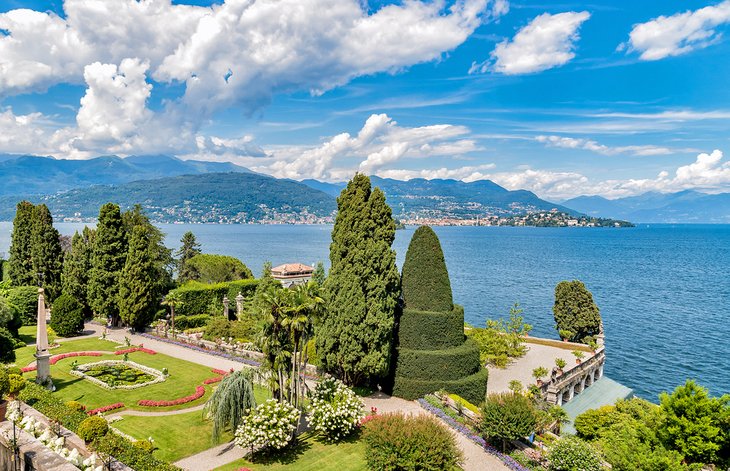 One of the favorite things to do on Lake Maggiore, north of Milan, is island hopping among the three islands near the holiday town of Stresa. After a ride as short as 1.25 hours by fast train, you can take a boat to visit all three islands, their gardens, and palaces - and have time for a lakeside dinner in Stresa before boarding the train back to Milan.
Go first to Isola Bella, entirely filled by the sumptuous 17th-century summer palace of Count Vitaliano Borromeo and his over-the-top terraced gardens. Citrus and cedar trees, cork oaks, and camellias overlook manicured beds of colorful flowers, with the lake and mountains as a backdrop.
More gardens and a less elaborate palace are on Isola Madre, and the small Isola dei Pescatori is a quaint fishing village with - as you might expect - restaurants serving lake fish. A good way to see all three on your own schedule is on a Lake Maggiore Isola Bella Hop-On Hop-Off Ferry Tour from Stresa, spending as much time exploring the palace and gardens as you like.
9. Bergamo's Citta Alta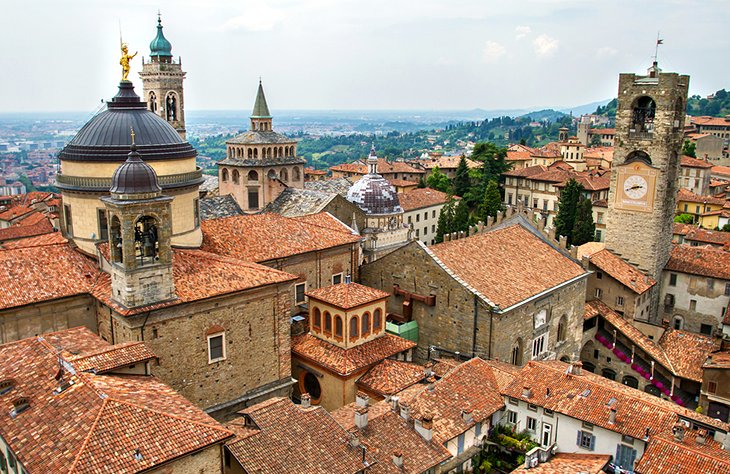 On a steep hill, directly above the tidy street grid of new Bergamo, the old city is a tangle of narrow, stone-paved streets lined by buildings dating to the Middle Ages and the Renaissance. Reach it by a funicular or by streets that wind upwards to the impressive gates in the 16th-century bastions.
Inside this atmospheric walled village lie most of Bergamo's artistic and historic attractions, many of them clustered around the sloping Piazza Vecchia.
The 12th-century Palazzo della Ragione, with its triple-arched loggia and impressive stone staircase, joins with the tall tower, Torre del Comune, to form the upper side of the square, which is bounded on the other sides by noble houses and a Renaissance palazzo.
At the top of the city, just behind the Palazzo della Ragione, are the Duomo and Santa Maria Maggiore, a Romanesque basilica begun in the early 1100s. The latter church is sumptuous inside and out, with Gothic entrance porches, Baroque stucco work, and beautiful Renaissance choir stalls.
Adjoining it is the Cappella Colleoni, an early Renaissance funeral chapel decorated inside and out with multicolored marble inlay, and a ceiling painted by Tiepolo. Opposite the chapel is an unusual octagonal Baptistery dating from 1340. About 40 kilometers from Milan, Bergamo is on a direct train line.
10. Brescia's Roman Treasures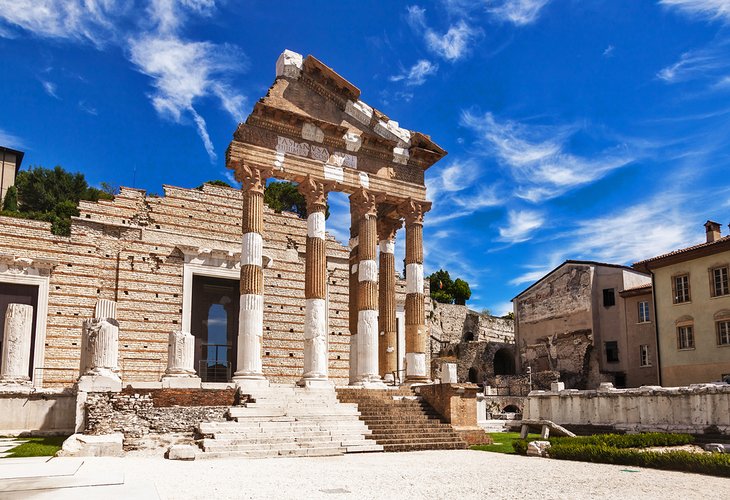 Brescia is in good company – too good, in fact. Surrounded by some of Italy's top places to visit – Lake Como, Lake Garda, Verona, Milan – many tourists seem to hurry past without stopping. That's a shame because Brescia is only an hour from Milan by train (half that on a fast train) and has the finest collection of Roman remains in northern Europe.
You can stand in the forum and look down into the ancient street with its excavated shop fronts; above rise the impressive columns of the first-century Tempio Capitolino, which you can tour to see its remaining chambers and colored marble floors. Next to it is the 3rd-century Teatro Romano.
But the highlight of Brescia's Roman treasures is the Civici Musei d'Arte e Storia Santa Giulia, a complex that includes an original Roman villa and other homes with stunning mosaic floors. Walkways allow you to admire the fine detail at close range, and artifacts of this and later eras are beautifully displayed and interpreted. But this is only part of the museum that contains entire Lombard and Romanesque churches, a frescoed Nuns' Choir, and a treasury filled with gold work.
This is no ordinary museum, and you won't be sharing the experience or the rest of the attractions in Brescia with a lot of other tourists.
11. Pavia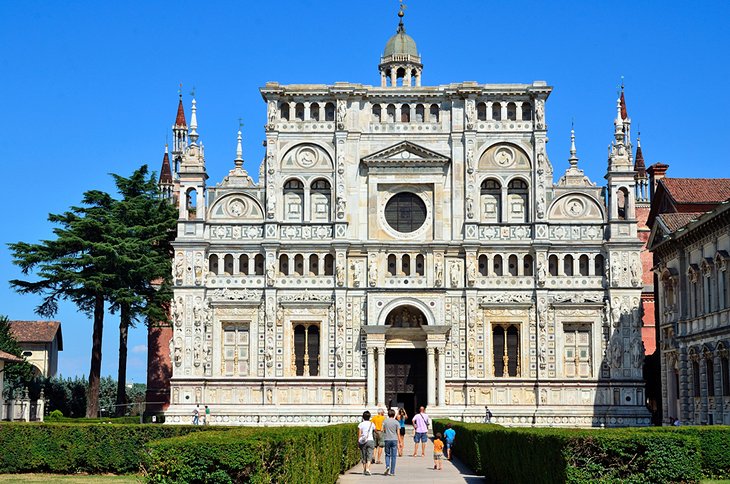 From its prominence as a major Roman capital, Pavia grew into an important university city, known today for its medieval and Renaissance buildings, and for the remaining examples of its original 100 medieval towers.
The impressive 14th-century Castello Visconti retains two of its immense towers and now houses history and art museums. Emperors, including Charlemagne, were crowned in the Romanesque Church of San Michele, and Pavia's cathedral is based on the designs of da Vinci and Bramante.
To see the remaining medieval watch towers, head for Piazza di Leonardo di Vinci, where there are several. The Ponte Coperto is an arched covered bridge over the Ticino River, rebuilt after World War II bombing destroyed the 14th-century bridge. That one was itself a reconstruction of the original Roman bridge.
The crowning attraction of Pavia lies eight kilometers to the north, the Certosa di Pavia, whose monastery is one of the finest Renaissance buildings in all Italy, showing the transition from late Gothic to Renaissance styles. The facade is a riot of marble inlay, friezes, delicate columns, and statues of saints.
Designed as the mausoleum for Milan's ruling Visconti family (you can see the magnificent tomb of the founder, Gian Galeazzo Visconti), it used many of the same artists and architects that created Milan's Duomo. You can tour the church on your own, but to see the exquisite small cloister and the artistic highlights of the monastic buildings, you must join one of the frequent free tours given by the monks.
12. Varese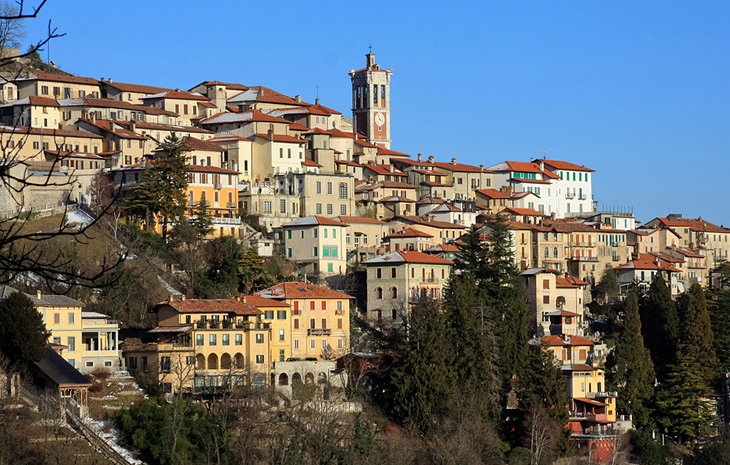 Sitting at the foot of Mount Campo dei Fiori, Varese is best known for the Sacro Monte di Varese, a series of 17th-century chapels with frescoes and larger-than-life figures depicting Biblical scenes. The tradition of the Sacro Monte is unique to Italy's northern Piedmont and Lombardy, and Varese's joins eight other hillside pilgrimage sites on the UNESCO World Heritage list.
Unlike the others, Varese's is surrounded by a village that climbs the steep hillside, surrounding the chapels with tree-shaded streets and villas in the Art Nouveau style - called Liberty style in Italy. In the center of Varese, Palazzo Estense is the richly decorated former villa of the d'Este family, built in the 1700s below a hillside park and terraced formal gardens.
Map of Day Trips from Milan
More Related Articles on PlanetWare.com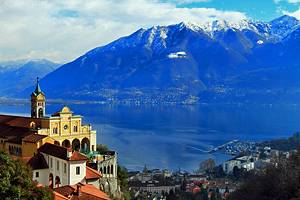 Where to Go from Milan: Italy shares both Lake Maggiore and the smaller Lake Lugano with Switzerland, and this Swiss region known as the Ticino is an appealing blend of Swiss and Italian cultures. Winter sports enthusiasts will find Milan a perfect base for reaching Italy's top ski resorts, as it is close to the Dolomites, the Savoy Alps, and Europe's highest Alpine peaks along the Italian/French border.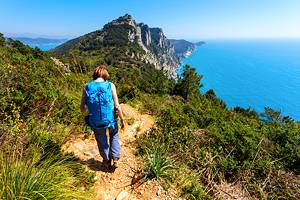 Exploring More of Italy: After seeing the beautiful gardens around northern Italy's three major lakes, you may want to visit more of the most beautiful gardens in Italy. For suggestions of other places to visit, see our page on the top things to do in Italy.