13 Top Things to Do in Italy
We may earn a commission from affiliate links ()
Seeing some of the world's most famous sights certainly tops everyone's list when traveling in Italy. But taking part in an activity or trying something new, especially something you can share with locals, adds a special dimension to a trip.
These experiences can be as active as a day's skiing in the Dolomites or as leisurely as a moonlight ride in a Venetian gondola. So between visiting the tourist attractions in Italy, get active! Hike a trail, take a lesson, hop on a boat, and join the locals for some memorable travel experiences. Plan your trip with our list of the top things to do in Italy.
1. Hike the Cinque Terre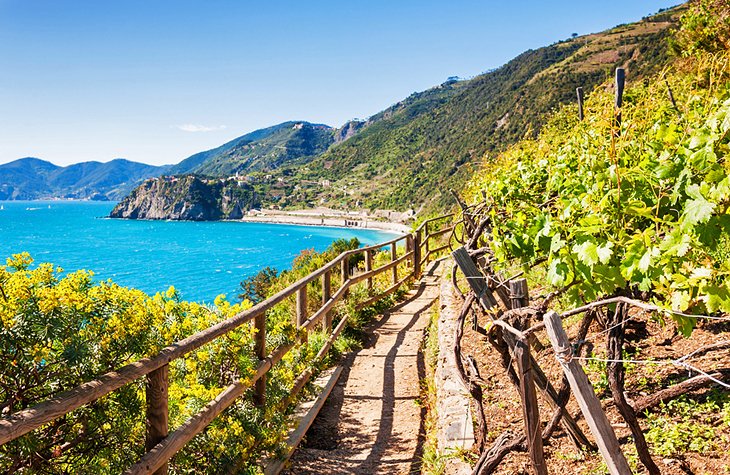 For spectacular views, picturesque villages, wild open landscapes and local experiences, it's hard to beat the five towns of Italy's Cinque Terre and the cliff path that connects them. The 12-kilometer Sentiero Azzurro stretches from Monterosso to Riomaggiore, but it's conveniently broken into segments that you can hike from one town to the next, returning or moving on by train.
Hiking the entire route requires stamina, good boots, and a head for heights, as it is carved in places into nearly vertical cliffs above the sea, with no railings. To experience the Cinque Terre without boots or vertigo, choose the shortest and most popular segment, the two-kilometer Via dell'Amore, between Riomaggiore and Manarola.
Also fairly easy, and less crowded, the section from Manarola to Corniglia is the same distance but takes a little longer to hike. Twice as long, the trail between Corniglia and Vernazza reaches the route's highest point after a stiff climb on often-uneven stone steps, but also includes walks through olive groves and some knock-out views.
Longer, rough, and the most vertigo-inspiring is the often narrow trail between Vernazza and Monterosso. You'll be rewarded with the best views, including a panorama of all five towns, and you'll be sharing the trail with only a hardy few.
Spring and fall are the best times to avoid both crowds and the blazing summer sun (there's little shade along the trails); if you hike in summer, try to get an early morning start. Stop in a park office at rail stations for maps, updates on trail conditions (they are subject to frequent washouts), and to buy a trail pass.
2. Glide through Venice in a Gondola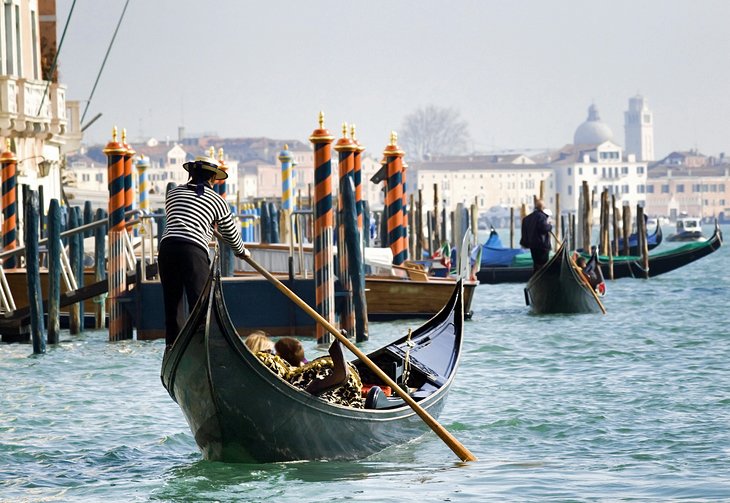 It may be Venice's number one cliché, but drifting along a canal in the graceful curve of a gondola is one of the top things to do in Italy. Finding a gondolier is easy. They gather along the Grand Canal by the Doge's Palace and at Rialto Bridge, and you'll see them in their striped shirts and straw hats on bridges and canals as you explore the city. As he (or occasionally she) will be your guide, converse a bit to see if you're comfortable with their style and command of English.
Prices are set, so be sure you're getting the standard rate (pay at the end, with a tip if you're happy), and agree on a route and length of ride before you board.
The choice of route and time of day depend on your personal preferences and on where your ride begins. After dark, lights from the Grand Canal palaces and canal-side restaurants reflect and glimmer on the water, but the Grand Canal is busy with other boats, so it's a less intimate experience.
The smaller canals of Cannaregio and other areas are quieter, and a circle route will probably include parts of the Grand Canal. But at night these are less picturesque, so they are a good choice for a daylight ride. When dusk descends and the lights come on may be the most romantic time of all, as the Venetian day slides into evening.
Probably the least romantic experience begins at the big gondola "parking lot" by the Doge's palace, as rides there begin with a stretch in the widest and busiest part of the Grand Canal. One piece of advice: put away the camera and phone, and make memories instead of pictures.
Accommodation: Where to Stay in Venice: Best Areas & Hotels
3. Tour Tuscan Hill Towns by Bicycle or Car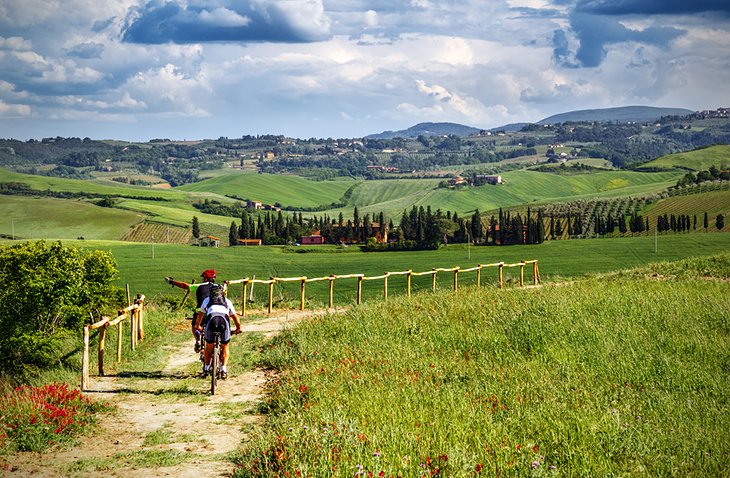 Tuscany's hilly countryside is best enjoyed at leisure, stopping to explore tiny settlements between the tourist attractions of the larger medieval towns that crown the hilltops. While a driving tour can cover more of these towns, a bicycle gets you closer to the land and gives you time to notice more details.
A network of little-traveled and unpaved roads and lanes called Strade Bianche (white roads) wind through the orchards and fields of poppies that cover the hills south and east of San Gimignano, perfect for cycling.
Several tour operators offer guided and independent cycling tours for all experience and endurance levels that include lodging, dining, and luggage transfers, as well as arranged visits at local attractions. For a customized experience you can sign up for a Private Tuscany Cycling Tour and set your own speed.
Drivers may at first be frustrated trying to map a direct route between the star towns such as San Gimignano, Volterra, Montalcino, Cortona, and Montepulciano, but remember that these winding little roads between them are as much the destination as the popular hill towns themselves.
From San Gimignano, for example, SP 1 winds south to SP 36 and picturesque Colle di Val d'Elsa. From here, SP5 continues to Monteriggioni. The distances are not all that great, but in your haste to reach the next landmark town, don't underestimate – or ignore – the many distractions along the way. These villages, ruins, farms, and countryside restaurants will often be the most memorable highlights of your trip.
4. Make Perfect Pasta in Florence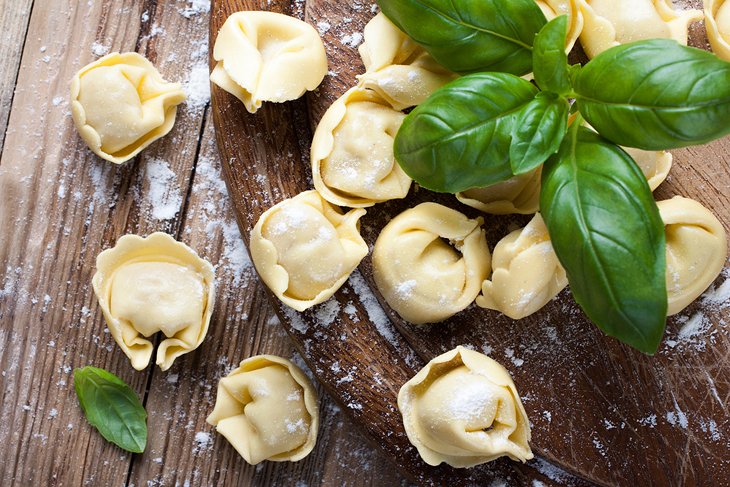 Anyone who loves to cook will relish the chance to learn how to make Italy's most famous culinary specialty: perfect pasta. Pasta and other cooking classes are offered throughout Italy, but Florence has a number of them, often combined with a tour of food markets and shops in the company of a food-wise local.
Some are taught in a local family home, where groups of no more than six cook a full meal and enjoy it together. Others are courses that teach a range of classic Florentine dishes. Pasta is at the heart of all these, and you will return home knowing the secrets of perfect pasta, how to make it, and how to cook it.
There are many variations on the theme. One offers transportation from Florence to a traditional Tuscan farm in the hills of Chianti for a customized cooking experience that can include gluten-free, organic, or vegetarian Italian cooking.
For an easy introduction, try a three-hour Homemade Italian Pasta Cooking Course, located right in Florence. All the courses include hands-on experience with an accomplished chef or cook. Other cooking classes are designed especially for families with younger children, who learn how to make pizza and gelato.
5. See an Opera in Verona's Roman Arena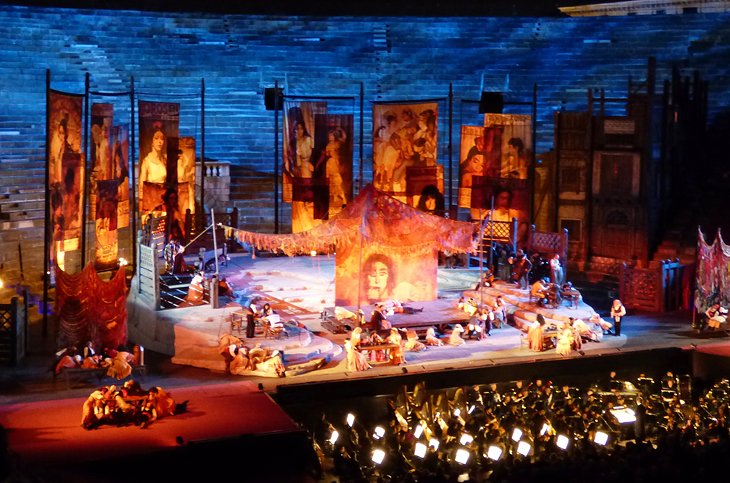 You don't need to be an opera lover, or even like music, to be enthralled by the spectacle of a full-scale production in Verona's third-century Roman arena. And for those who do love opera, it's a thrill of a lifetime, right up there with opening night at La Scala.
The arena itself is one of the largest and best preserved Roman amphitheaters, with all its vaulting and full 44 rows of seating intact to accommodate 22,000 opera-goers. The Verona Opera Festival, held every year in July and August, is one of Europe's most important summer music events, ranked with the Salzburg and Bayreuth festivals.
The combination of the darkened arena, the massive stage sets that are able to recreate entire street scenes and multi-storied buildings at the same time, and some of the world's leading singers and musicians all under a starlit sky is pure magic.
The real blockbuster is Aida, when Radamès has been known to float down a recreated Nile in a boat, and the Triumphal March takes up the entire stage with scenes that in past productions have included live elephants, horses, and camels. Each new production of this biennial favorite brings new surprises. For all its vastness, the arena is surprisingly intimate in its ability to bring the audience into the musical and theatrical moment.
6. Step inside Ancient Rome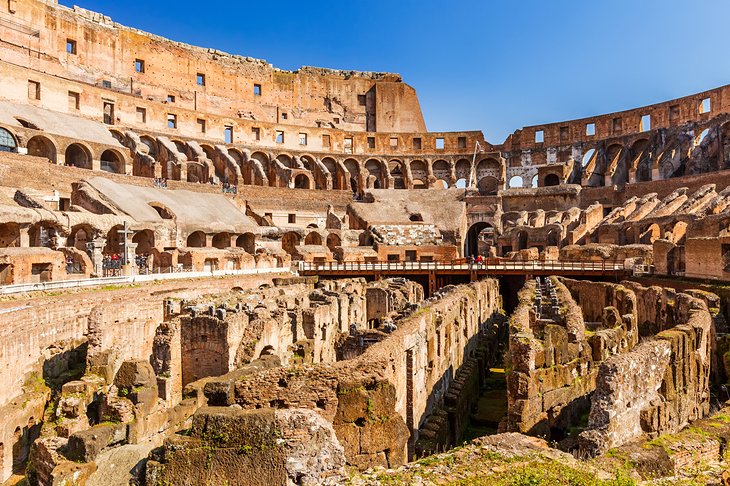 With all the ancient sites to visit in Rome, it's easy just to skim the surface and leave Rome without any real sense of life in the ancient city. An insider tour of one of the landmarks can take you deeper into the history and put the other sites into perspective.
The best place for this is the Colosseum, where newly opened underground areas are accessible by visitors who book in advance and to those on in-depth tours. The latter gives the best introduction to what happened here, as a knowledgeable guide explains the maze of tunnels, passages, and cells deep under the arena floor, where the spectacles delighted Roman audiences.
You'll see where gladiators and wild animals waited before encounters above that would rarely end well for either. Known as the hypogeum, this was where the lions, leopards, bears, and elephants used in battle or circuses were caged before they were lifted on slave-propelled pulleys to the floor of the arena.
Insider tours also include the arena floor for a gladiator view, as well as a spectator view from the upper tiers. More in-depth tours go on to explore the Forum and Palatine Hill for a broad view of ancient Rome.
To get really immersed in ancient Rome, sign on for a two-hour gladiator lesson, where historic reenactors from Historic Group of Rome will teach you the art of wielding authentic weapons used by gladiators in ancient Rome. You'll dress in replicas of the traditional tunic, belt, and leather gloves as you learn the basics of sword fighting. There are classes for kids, too, which you can be sure will be their most memorable Roman experience – and they'll have a diploma to show off when they get home.
Address: Via Appia Antica 18, Rome
Accommodation: Where to Stay in Rome: Best Areas & Hotels
7. Tour Lake Como by Boat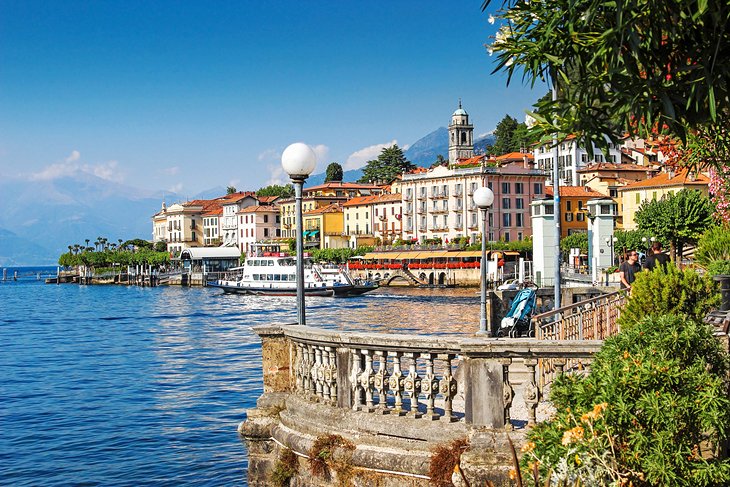 The most beautiful lake in Italy's Lake District, Como is surrounded by steep mountain slopes covered in lush greenery and dotted with compact towns and magnificent villas.
Since Roman times, it has drawn royalty and aristocrats to its lovely shores. A tour of the lake on the lake steamers that act as passenger ferries between towns, as you pass the stunning villas and manicured gardens that surround them, is definitely one of the top things to do in Italy.
Several of the villas and gardens are open to visit, and you can hop off to explore these and the towns, and then board a later boat to continue. The best way is to plan at least two days, stopping for a night in chic Bellagio, at the tip of the peninsula at the center of the Y-shaped lake, where there are two outstanding gardens open. Across the lake on the western shore, known as the Tremezzina, are the gardens of Villa Carlotta, and to the south, on an almost island, is Villa Balbianello.
While the service across the center of the lake between Bellagio and Tremezzo or Menaggio is frequent, it's wise to check schedules before hopping off to visit a town, so you can be sure of a return boat time. Or you can just spend the day on the boat, choosing a route that stops at as many towns as possible, and enjoy the ever-changing panorama of pastel villages, grand villas, gardens, and snow-covered peaks that form the backdrop.
8. Attend a Local Festival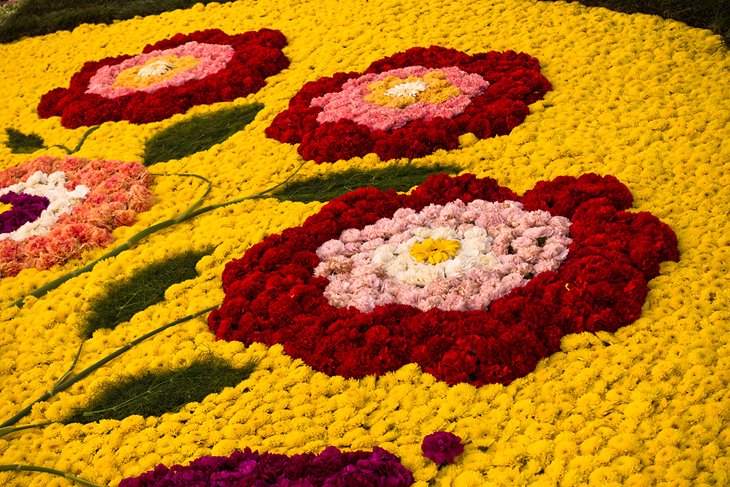 Everybody has heard of Venice's famed carnival, but that's only one of the hundreds of festivals that Italians celebrate each year. In towns and villages from the Alps to the toe of the boot, you'll find local festivals celebrating centuries-old historic events, the changing seasons, holidays, patron saints, local products, and harvests-from asparagus season to truffles in November.
The most fun are celebrations put on by and for local people. There may not be world-famous entertainers, but there will be superb foods, singing, music, hilarious contests, and a few surprises. Nosh on sausages and sample local cheeses at street-side booths, or savor a hearty dinner at long shared tables in a tent, where a few euros will buy heaping plates of local specialties. Best of all, it's a chance to mingle and share a day or evening with residents, who will do their best to make you welcome and make sure you have a good time.
On the shore of Lake Iseo, tiny Sulzano's Cingale Festival brings a festive dinner of wild boar, while on the Ligurian coast, Camogli welcomes May with the Fish Festival of Saint Fortunato, patron saint of fishermen, and free fried fish on the beach.
In Marostica, a giant chessboard on the main square is the scene of a game using live chessmen in medieval costumes. One of the most colorful is in Noto, Sicily, the third weekend of May, when an entire street is "painted" in intricate mosaics of fresh blossoms.
In addition to Alba's prized white truffles, celebrated in an international food event, November harvests include chestnuts and olives, both celebrated in Tuscany's Chianti region. Look for posters and ask locals wherever you go; you're almost certain to find at least one.
9. Explore Mt. Etna on Foot by Cable Car or Train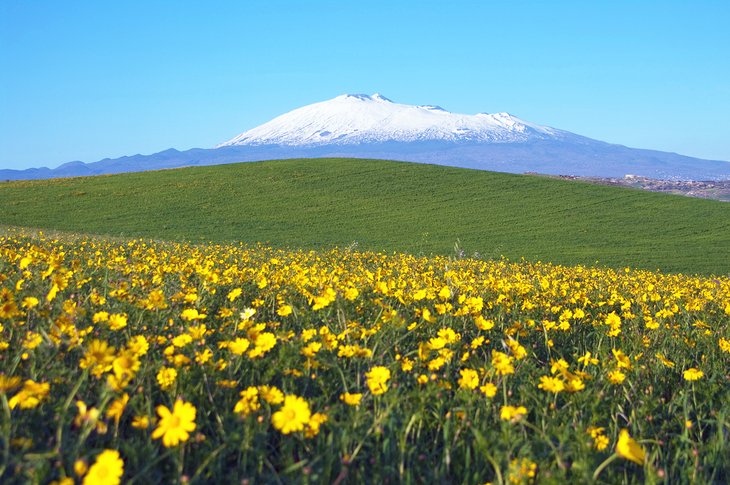 Europe's tallest – and most active – volcano, Mt. Etna dominates the east coast of the island of Sicily. Within the nearly 48,000 acres of Etna National Park are the active crater, volcanic vents, fumaroles, hot springs, lava flows, and an ice cave that remains frozen throughout Sicily's hot summers.
You can visit most of these places on your own or with a tour; others only with a guide. You climb the mountain or ride the Funivia dell'Etna cable car to about 2,500 meters altitude. From here, you can climb or ride a bus or jeep to about 2,900 meters. To climb higher to reach the upper crater, you must have a guide because Etna is never completely inactive.
All the dark and barren terrain you walk on was left here by the violent eruptions that Etna is famous for, so there is always an edge of danger to being close to the crater or lower vents. That's why a volcanologist or other trained guide is essential.
The crater is not the only volcanic attraction of this UNESCO World Heritage Site. On some tours, you can enter a fumarole, a tubular cave left by lava flowing beneath the faster-cooling surface. Experienced and properly equipped climbers can visit the Grotta del Gelo, an ice cave that runs 125 meters inside the mountain. Ice remains here year-round, providing drinking water to villages below as outer portions of it melt in the summer.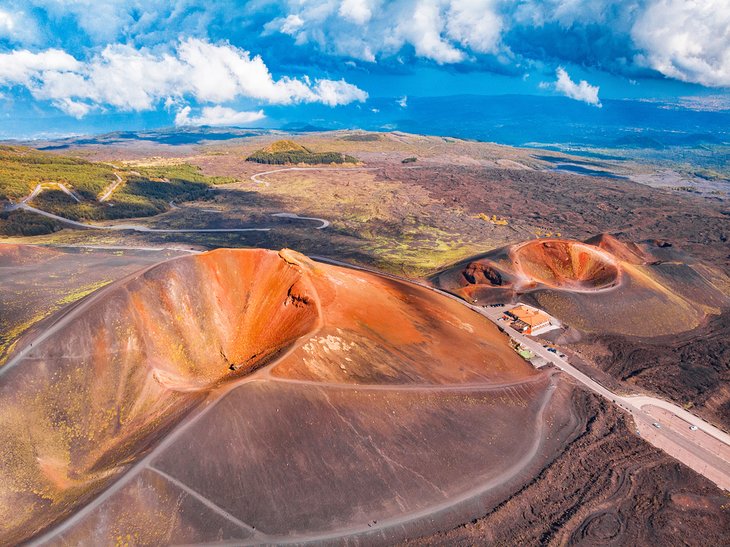 You can appreciate and enjoy Etna from other vantage points by riding the Ferrovia Circumetnea, a narrow-gauge railway that travels almost completely around the mountain. For a more adventurous journey around Mt. Etna, you can drive, on a route that takes you through hill towns and past archeological sites in an everchanging landscape, with the volcano forming the backdrop.
On the northern side, visit the spectacular Gole dell'Alcántara (Alcantara Gorge), carved through a long-ago lava flow by the Alcantara River.
The Etna's Summit Craters: Guided Tour + Cable Car + Jeep for Experienced Hikers tour takes you to an altitude of 3,250 meters at the summit craters with a volcanologist guide, who explains the volcano's history and science. Helmets and trekking poles are provided for safety.
To explore the lower reaches of the volcano, take a five-hour Etna Jeep Tour, which takes you to the lava flows and extinct craters of Caldera del Valle del Bove. Equipped with helmets and headlamps, you will also explore a fumarole to learn how these long tube-like caves are formed by lava flowing beneath the surface.
You can reach Mt. Etna easily from either Taormina or Catania, on Sicily's east coast.
10. Go to the Beach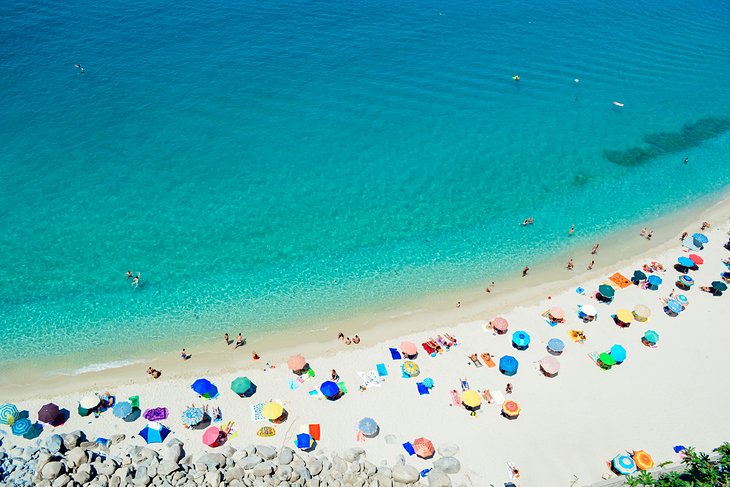 Surrounded by water, Italy has a lot of coastline, and some of the finest beaches in Europe, from miles-long stretches of white sand to tiny secluded coves hidden by spectacular cliffs.
In August, it seems as though everyone in Italy heads to the popular beaches of Viareggio, Sanremo, Rimini and the other resort towns on the Adriatic and Mediterranean. Those long strands are literally umbrella to umbrella, and you'll have to rent one and its patch of sand from the hotel or resort that owns them. It's a slice of Italian life like no other, as much a social scene as it is about the sand and sea.
But not all beaches are like that. In Puglia, in the heel of Italy's boot, idyllic beaches hide in coves, protected by the Parco Naturale Regionale Costa Otranto, and there's always plenty of space on the long beaches in the Baia dei Turchi nature reserve.
On Sardinia's west coast, the miles of white sands on the Costa Verde seem almost deserted, and even in the waters of the famed Costa Smeralda, the Capo Testa and the Maddalena Islands have plenty of secluded spots.
Or head south to the toe of Italy's boot to find the beaches of Calabria, such as those below cliff-top Tropea, overlooking the Tyrrhenian Sea on "La Costa degli Dei-the Coast of the Gods.
11. Ski the Dolomites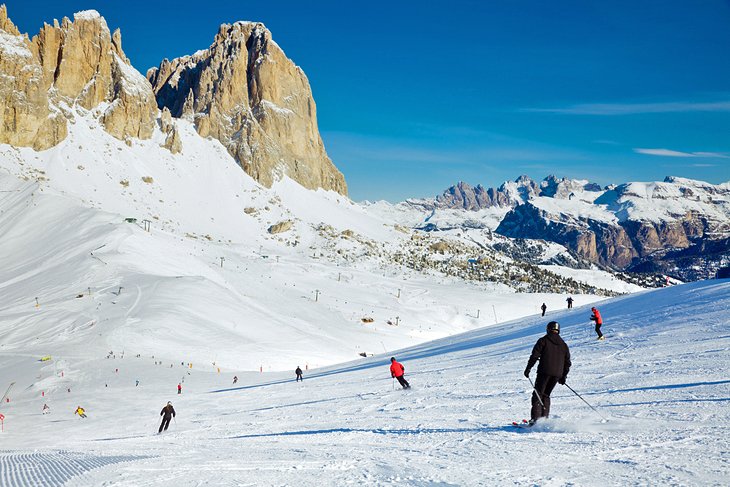 Whether it's a day on the sunny beginner slopes of Cortina d'Ampezzo, Arabba/Marmolada, or Alta Badia or a full-day tour covering 35 kilometers of challenging trails, every ski enthusiast should experience the Dolomites.
Twelve different Italian ski resorts are scattered among these mountains along Italy's Austrian border, where more than a dozen peaks reach above 3,048 meters. Together they add up to more than 1,200 kilometers of ski trails. Many of the areas are connected by trails and lifts, and a single Dolomiti Superski pass allows access to lifts and trails at all 12.
The largest resort town is Cortina d'Ampezzo, site of the 1956 Winter Olympics, whose five peaks are reached by more than three dozen lifts. Cortina is famous for its long runs, from the snowfields near the summits right into the town below.
Smaller more intimate villages like Val Gardena/Alpe di Siusi offer a more authentic Alpine atmosphere and a varied terrain, with about 160 kilometers of trails that combine with three adjacent valleys between the Gruppo del Sella peaks to make more than 480 kilometers of interconnected ski trails. From here, you can also access skiing on the Marmolada Glacier. You'll find terrain here for all skill levels, from learning programs for beginners to ski guides for off-piste adventures suitable for experienced skiers.
12. Experience Siena's Palio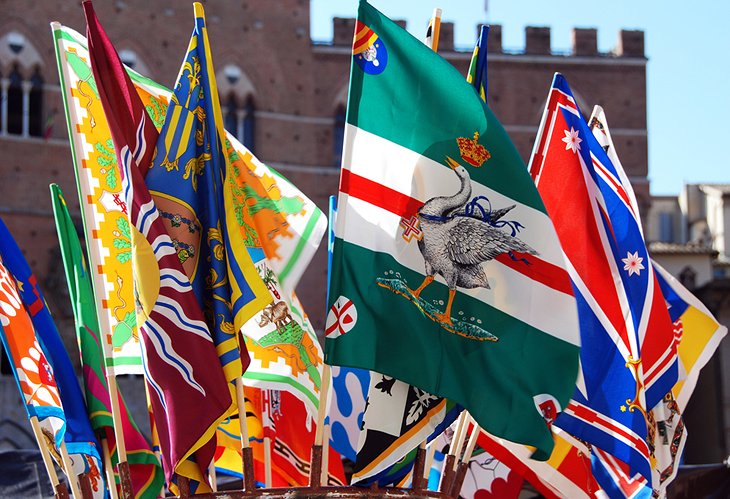 Twice during the summer, on July 2 and August 16, the beautiful medieval city of Siena erupts into a frenzy over the bare-back horserace that has circled its main square since the Middle Ages.
The large, sloping Piazza del Campo is filled to capacity with partisans cheering wildly for one of the 10 horses, each representing a contrada, the rival neighborhood associations that sponsor the contestants. You can identify these by their colorful scarves and banners picturing their mascot-a porcupine, an eagle, a gryphon, even a giraffe.
Besides the race around the square, the day is filled with pageantry and color: parades, flag-throwing demonstrations, knights in full armor, bands, and colorful medieval costumes. If you can score a visit to one of the contrada clubhouses, you'll find revelry and abundant food in the hours leading up to the race. But wherever you are in Siena on Palio day, it will be colorful and lively.
Official site: http://www.ilpalio.org/palioenglish.htm
13. Trek through Sardinia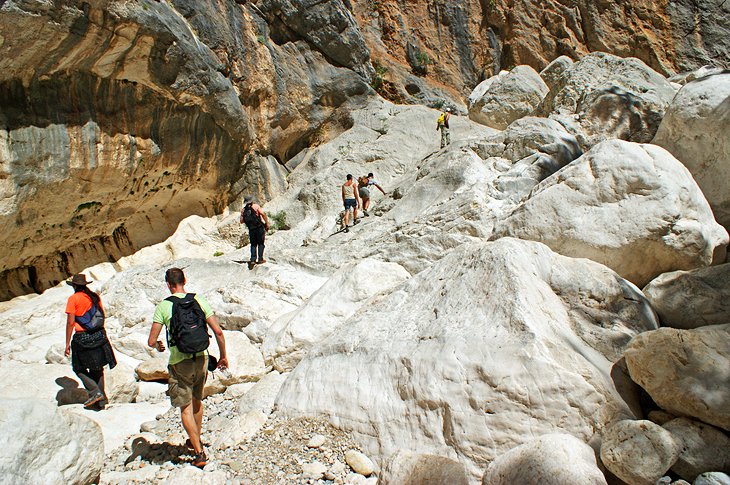 The rugged landscapes and dramatic coastline of Italy's island of Sardinia present some of the most challenging and exciting outdoor adventures in Europe, as well as some of the least known. Many of the best hikes are in the central mountains, in the area known as the Barbagia.
Most dramatic is the trip through Gola Su Gorropu, known as Europe's Grand Canyon. This spectacularly carved gorge is 426 meters deep and eight kilometers long, with the Rio Flumineddu flowing through its floor. Getting there is a demanding all-day hike through a landscape of eroded limestone cliffs above the brilliant blue sea. Cooperativa Gorropu and Cooperativa Goloritzè arrange guided walks to these and other places.
Northern Sardinia has several areas where trails lead through landscapes of huge granite boulders eroded by the wind into fantastic shapes. Hikes on Isola Rossa, Santa Teresa, Costa Smeralda, and Monte Limbara lead to magnificent mountain and coastal scenery, archaeological sites, and these bizarre rock formations.
In the Park of Porto Conte, overlooking the Bay of Porto Conte on the west coast near Alghero, a climb up the 437-meter Monte Doglia reveals a 360-degree panorama that reaches for miles.
More Related Articles on PlanetWare.com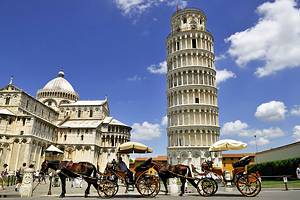 Where to Go in Italy: Planning your trip to Italy will be a lot easier with our pages that guide you to its top-rated tourist attractions and point out the best places to visit in Italy. Once you've determined what you'd like to see, have a look at our Italy itineraries to help layout a routing.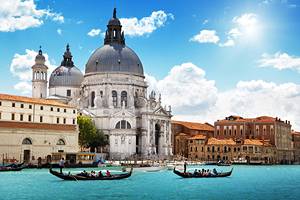 Exploring Italy's Top Cities: Between these adventures, you'll want to see Italy's most famous cities, and our pages describing the top attractions in Rome, the highlights of Florence, and the best places to see in Venice can help you plan your trip.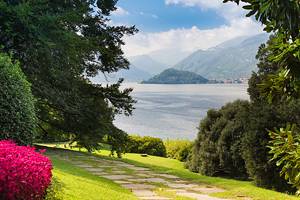 Following Your Special Interests: If you are a skier and planning a winter trip, you'll want to experience the best ski resorts in Italy, and if you're traveling in the spring and summer, be sure to visit some of the most beautiful gardens in Italy.