10 Top Tourist Attractions in San Marino & Easy Day Trips
Only 61 square kilometers in size, the little Republic of San Marino is independent, with its own government and laws even though it is completely surrounded by Italy. The world's oldest sovereign state, it dates from the fourth century AD. Atop the center of this hilly area's highest point, Mount Titano, is the capital city of San Marino. Medieval stone walls enclose the original settlement, built entirely of stone and closed to traffic. A single street leading up to Piazza della Libertà is lined with cafés, restaurants, and shops selling ceramics and duty-free items, one of San Marino's attractions to visiting Italian tourists. The three fortresses at the top of the mountain give San Marino its best-known image and are linked by a path that runs along the entire ridge of the mountain.
1 Fortresses
Three fortresses - Guaita, Cesta, and Montale - crown the long ridge of Mount Titano, each with a tower from which there are splendid views of the Apennines, the coastal plain, Rimini, and the sea as far as the Dalmatian coast. These are linked by a paved path, the lower part of which is lined with kiosks selling snacks, drinks, and souvenirs, giving the mountain top the air of a carnival. The first and earliest of the fortresses is Rocca Guaita, dating from 1253. Rocca Cesta, the highest of them, contains a museum of ancient arms.
2 Palazzo Pubblico and Piazza della Liberta
The Neo-gothic style Government House (Palazzo Pubblico) with its square crenelated tower was designed by the architect Francesco Azzurri in the late 1800s and built of stone quarried on Mount Titano. The facade is decorated with coats-of-arms of the Republic and its four municipalities, and inside, a staircase leads to the Council Hall on the top floor.
Piazza della Liberta is a magnet for tourists because frequently throughout the day, the Guardie di Rocca change guard in a colorful ceremony. Their uniforms - a dark green double-breasted jacket with white braid, red trousers with a green stripe, hats with red pompoms, and white gaiters -- assure that everyone scores great photos of the event.
Address: Piazza della Liberta, San Marino Città
3 Museo di Stato (National Museum)
This excellent museum in the historic Palazzo Pergami Belluzzi shows archaeological collections beginning with Neolithic Age artifacts and later Etruscan and Roman finds, and includes Egyptian antiquities, Byzantine icons, 17th-century paintings, and antique San Marino coins. Many of the nearly 5,000 items in the museum were donated in the 19th century from private collections of Italian intellectuals and political figures who wanted to show their admiration for the little republic.
Address: Piazzetta del Titano 1, San Marino Città
4 Basilica di San Marino
This Neo-classical basilica was built in the early 19th century on the foundations of a fourth-century Romanesque church, also dedicated to San Marino (St. Marinus), which had been abandoned. The interior is classic basilica style, with a long nave and two side aisles lined with altars. The seven altars are worth seeing for their statuary and paintings, and the high altar has a statue of St. Marinus sculptured by Tadolini. An urn there contains the relics of St. Marinus.
Address: Piazza Domus Plebis, San Marino Città
5 Wax Museum
The 100 wax figures in the museum represent significant historical characters, each dressed in the clothing of their day and arranged in scenes, often with other contemporaries. Benito Mussolini and Adolf Hitler are shown meeting, Jacqueline Kennedy is shown in audience with Pope John XXIII, and Giuseppe Garibaldi is at the bedside of his dying wife, Anita. Others are shown with their inventions or tools - Marconi with his telegraph, Galileo with telescope in hand, Da Vinci holding a paintbrush - or at historic moments, such as President Abraham Lincoln's assassination in Ford's Theater. You'll learn a little about San Marino's history here, too.
Address: Via Lapicidi Marini 17, San Marino Città
6 Museum of Curiosities
Certainly one of the quirkiest and most entertaining museums you'll see is this collection of strange objects and peculiar inventions and their stories. In the collection of about 100 objects are 60-centimeter-tall wooden clogs designed to wear during Venice's high waters, the world's longest fingernails, a 1700s German mousetrap, a trap for fleas, a 17th-century hand-pumped shower, a "nose watch" that works by creating smoke of different scents each hour, and silver covers to protect the long fingernails of Chinese Mandarins. There are displays about unusual people, too - the world's tallest recorded man and its shortest woman. Even the free transport offered to take you from the municipal parking to the museum is interesting - a 1913 Ford motor-coach.
Address: Via Salita della Rocca 26, San Marino Città
7 Maranello Rosso Ferrari Museum
The Vintage Car Museum at the foot of Mount Titano houses a collection of automobiles relating to the history, life, and cars of Enzo Ferrari and Carlo Abarth. You'll find sports cars, Formula 1, and cars belonging to famous people, including the first Ferrari Spyder designed by Pininfarina and owned by Marilyn Monroe. Among the 25 Ferrari cars dating from 1951 to the present is the most famous of all, the 250 GTO Red that won three World Championships. There are unpublished photos and mementoes from the history of competitions, races, and the sport successes and life of Carlo Abarth.
Address: Strada dei Censiti 21, Falciano, San Marino
8 Museo delle Armi Moderne (Museum of Modern Weapons)
Displayed in the Palazzo Manzoni Borghese, opposite the Basilica of San Marino, are more than 2,000 examples of firearms, ammunition, and bayonets used in World War I and World War II. Along with Italian and other European arms are those from elsewhere in the world.
Address: Contrada della Pieve 2, San Marino Città
9 Museum of the Agricultural Culture and Traditions
It may seem odd to find a fully restored and furnished farmhouse museum in a tiny principality that clings to a cliff-top, but San Marino is very proud of its long agricultural heritage. The House of Fabrica in Montecchio is one of the oldest patronal houses, dating from the mid-1700s at least. Restored to its original state and furnished to recreate the daily lives of farm families in the villages around Mount Titano, the museum seeks to preserve something of the traditions and customs of rural life. Along with farm tools such as sickles and hoes, there are domestic tools, copper pots, coal-heated flat-irons, a loom, a cradle, and other historic furnishings.
Address: Strada di Montecchio 11, San Marino Città
10 Coin and Stamp Museum
For stamp collectors worldwide, San Marino means beautiful postage stamps, and philatelists can admire a complete collection in this museum housed in the church at Borgo Maggiore. Along with the stamps issued by the republic since the mid-19th century are coins, which San Marino began minting in 1862.
Address: Piazza Grande 24, Borgo Maggiore, San Marino
Day Trips from San Marino
Castle Towns
Throughout the Republic of San Marino are a number of small villages set on peaks and spurs surmounted by castles; most offer excellent views of the countryside and of Mount Titano, and several have interesting histories. Domagnano's fortress of Montelupo was constructed in 1463 and played a part in San Marino's war against the Malatesta of Rimini. In the same year, Faetano, once territory of the Malatesta, was taken over by San Marino, and they also acquired the Malatesta castle in Fiorentino. One of the most beautiful castles is in Montegiardino, a town that dates back at least to the Roman era. Both Borgo Maggiore and Serravalle have grown from villages to become important residential centers of San Marino.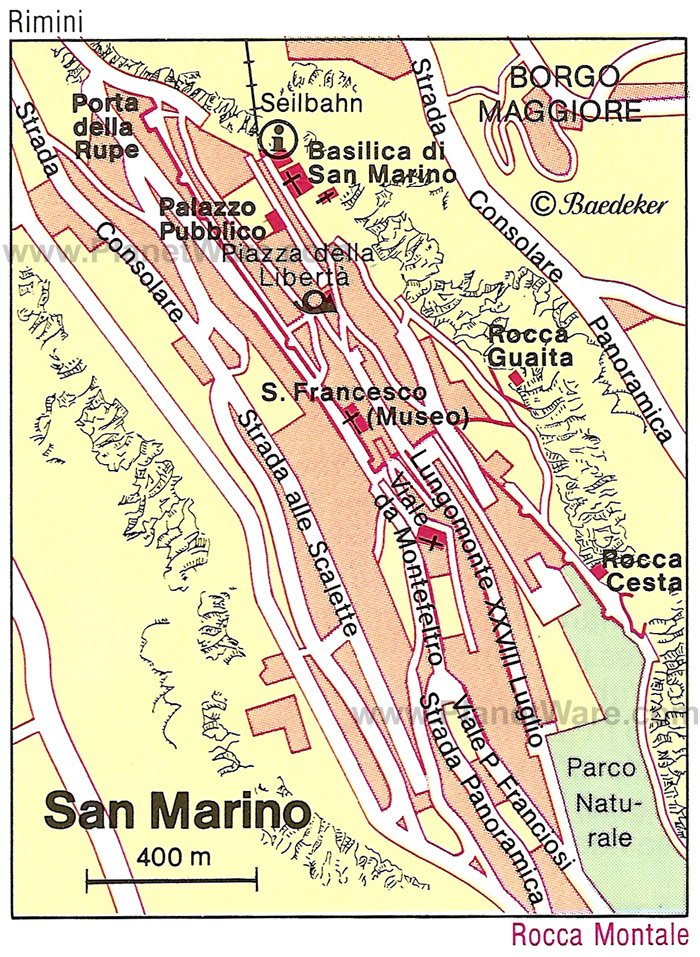 San Marino Map
Want to use this map on your web site?
Copy and Paste the code below:
More on Italy