12 Top-Rated Tourist Attractions in Bologna
We may earn a commission from affiliate links ()
Bologna, for all its size and importance as the capital of its province and of Emilia-Romagna, is an easy city to visit, and many visitors find it one of Italy's most appealing. Those who enjoy good food certainly do; it has the reputation as Italy's gastronomic capital. Among Bologna's main industries are the manufacture of pasta and sausages, so be sure to try some while you're here. Along with visiting Bologna's tourist attractions, spend time absorbing the city's unique character: stroll beneath its long arcades - the famed portici, peek inside its elegant old shops, notice its architectural quirks and interesting brickwork, pause in one of the numerous cafés, and soak up some of the exuberance of its many students. Most of its popular places to visit are within walking distance of Piazza Maggiore, and the arcaded streets make walking in Bologna pleasant in all kinds of weather. Find the best things to do in the city with our list of the top attractions in Bologna.
Note: Some businesses may be temporarily closed due to recent global health and safety issues.
1. Piazza Maggiore and Piazza del Nettuno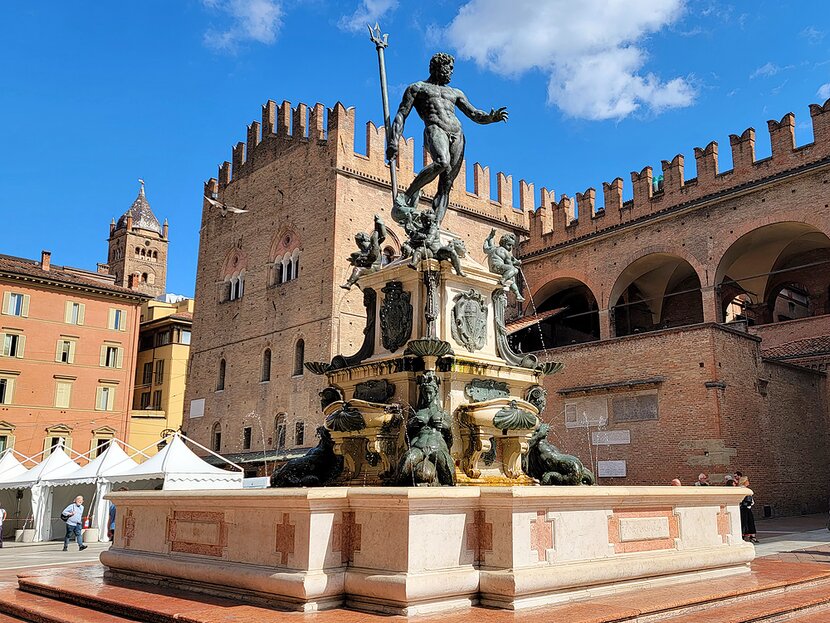 It may seem as though everyone in Bologna were meeting friends at the same time in these two adjoining squares in the heart of the city. Conversation and laughter blend with the sound of water splashing in the magnificent Neptune Fountain, which gives Piazza del Nettuno its name. Created by Giambologna in the 16th century, it is one of the finest fountains of its period. Nearly every major attraction in the city is within a few minutes' walk, as are the most important streets - among them the busy shopping street, Via dell'Indipendenza, and Via Galleria with its many old aristocratic mansions. Elegantly arcaded Via dell'Archiginnasio runs alongside the great Basilica of San Petronius; its still unfinished facade dominates one side of Piazza Maggiore. On the north side is the former Palazzo del Podestà (Governors Palace) with a tower, Torre dell'Arengo, dating from 1259. Under its vaulted dome, people whispering on one side can be heard by those on the opposite corner.
2. San Petronio (Basilica of St. Petronius)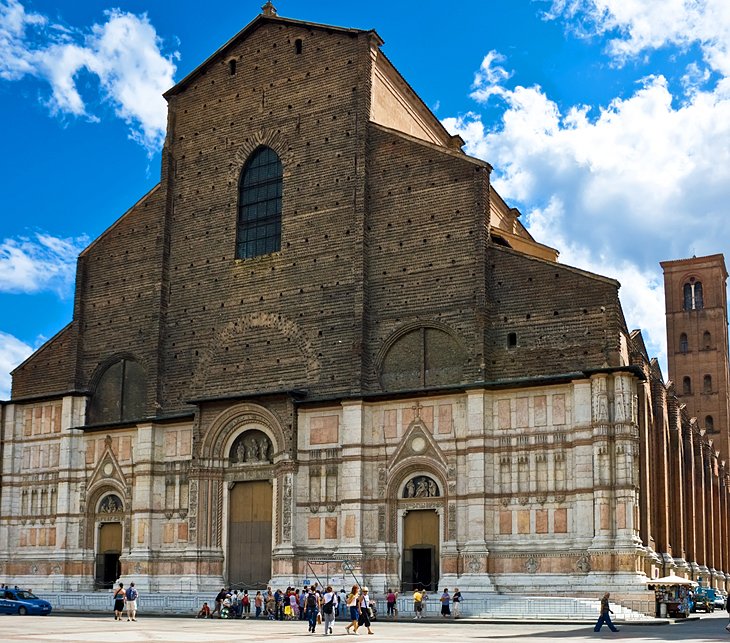 When construction of the massive church that dominates one side of Piazza Maggiore began in 1390, it was designed to be even bigger than St. Peter's in Rome, but never quite made it. In fact, it was never finished, and the facade remains incomplete. In the tiny museum at the back of the church, you can see the designs that were submitted for the facade, including those by the great architect Andrea Palladio. The interior, which was finished, is often referred to as the epitome of Gothic architecture in Italy, and each of the side chapels seems like a small church. Look for the strange line cutting across the floor of the nave; it is a meridian line.
Address: Piazza Maggiore, Bologna
3. Santo Stefano (St. Stephen Basilica)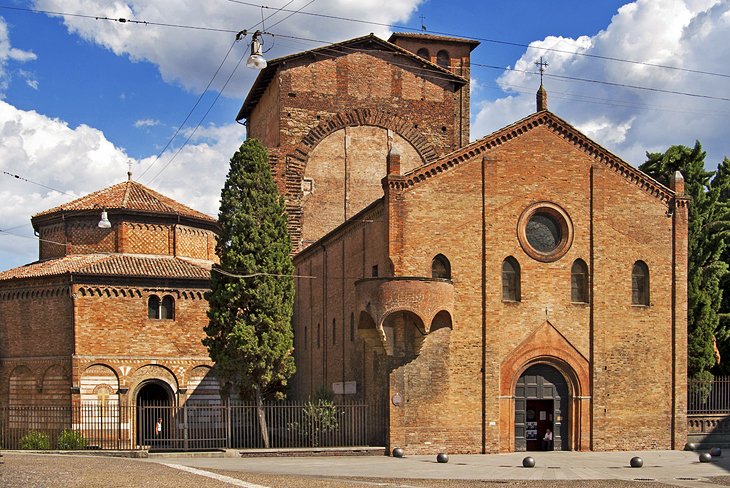 While Bologna has no shortage of interesting and art-filled churches, Santo Stefano is the oldest and the most atmospheric. The complex of eight buildings could be called the cradle of faith in Bologna, built by the Benedictines between the 10th and 13th centuries to house the remains of Bologna's early martyrs, Saints Vitale and Agricola. Chiesa del Crocifisso, the principal church, has a 12th-century external pulpit and a crypt dating to 1019; octagonal Santo Sepolcro opens onto a pillared courtyard adjoining a two-story cloister. In the simple third church, look for the capitals of various styles recycled from previous Roman and Byzantine buildings and for the 6th-century mosaic floors.
Address: Via Santo Stefano 24, Bologna
4. Leaning Towers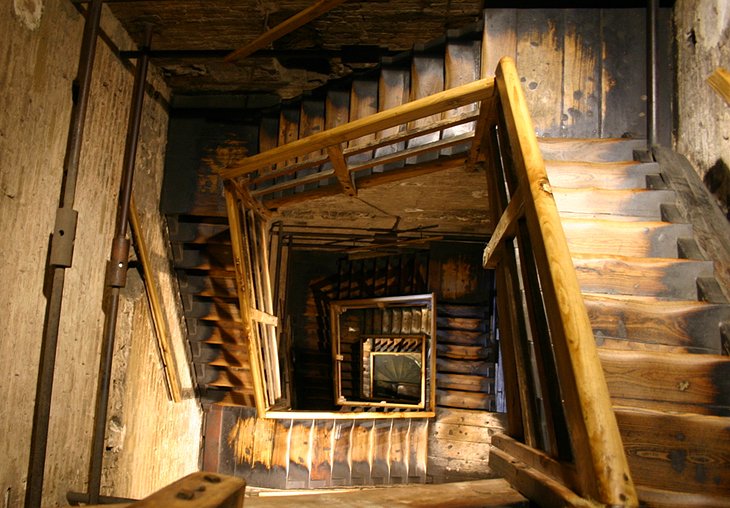 Pisa's may be more famous, but Bologna has a pair of towers that appear to tilt even more alarmingly because of their narrow shape. They are the best-known of the 20 towers that remain of the more than 100 that formed Bologna's 12th-century skyline. Although they were necessary as both watchtowers and places of refuge in case of attack, their height also became status symbols for the noble families that built them. The 48-meter Torre Garisenda leans by more than 13 meters; you can climb the 498 steps inside Torre degli Asinelli for bird's-eye views of Bologna.
Address: Piazza di Porta Ravegnana, Bologna
5. Bolognese Food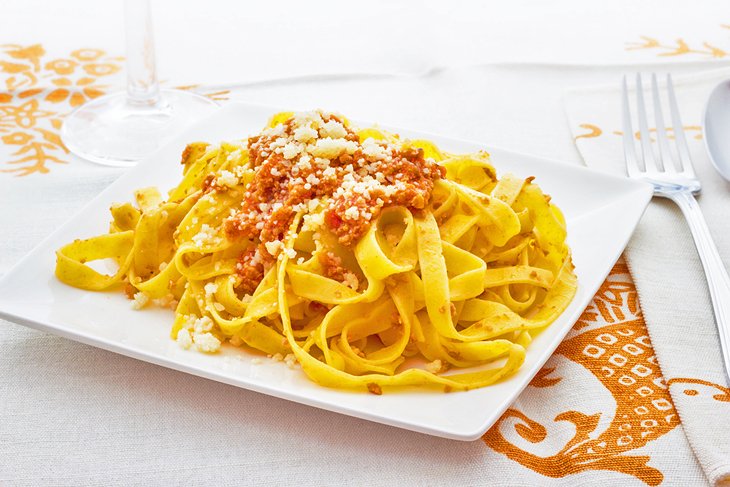 Perhaps Bologna's greatest appeal to tourists, and the source of its fame throughout Italy, is its reputation as a culinary center. It's known for tortellini, tagliatelle, and other pastas, and its classic dish, tagliatelle al ragu, is known elsewhere simply as tagliatelle Bolognese. Cured meats are a local specialty, and this region is the home of the incomparable Parmigiano Reggiano cheese. There are a number of ways to experience and savor Bologna's culinary heritage. A good place to begin is in its markets and food shops. The narrow streets of the Quadrilatero, an area between Piazza Maggiore, via Rizzoli, via Castiglione, and via Farini, has been a market since Roman times, filled with little shops and outdoor stands selling all kinds of food, from garden produce, cheese, and fish to freshly made pastas and baked goods.
Opportunities to learn from Bolognese chefs and home cooks abound, from group classes to individual lessons on forming perfect tortellini. Another fun thing to do is join a specialized tour led by a local foodie. The 3.5-hour Bologna Food Walking Tour visits one of the city's oldest food markets and a number of traditional food shops, including a bakery, chocolatier, salumeria (deli), pasta maker, and gelato shop. All along the way are generous samples of Bologna's specialties.
6. Archiginnasio Anatomical Theater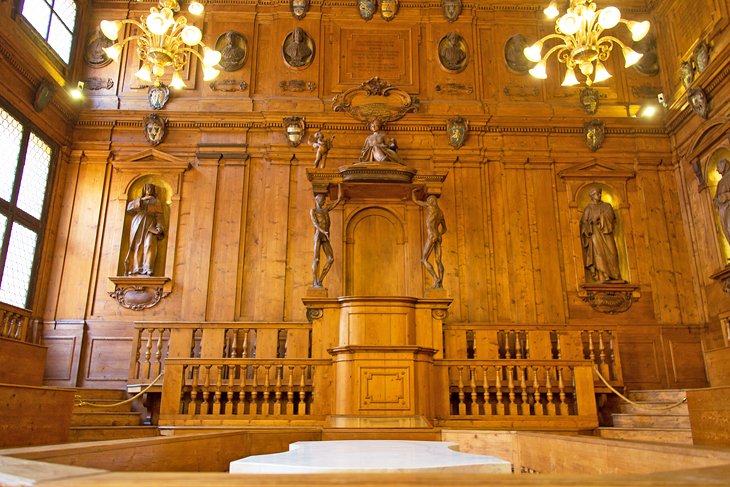 Once the main building of the University of Bologna, the Archiginnasio is now home to one of the most unusual places in Bologna, the classroom where medical students learned anatomy by watching as corpses were dissected. It's not this bizarre aspect that fascinates today so much as the exceptional interior and its unusual wood carving. The highlight is Ercole Lelli's Spellati (Skinless), a life-sized wood sculpture of a man with the musculature and skeletal structure rendered in minute detail. Also in this building is the Stabat Mater lecture hall, its walls decorated with coats of arms. The University of Bologna, founded in the 11th century, is the oldest university of the Western world.
Address: Piazza Galvani 1, Bologna
Official site: http://www.archiginnasio.it/english_index.html
7. Portico di San Luca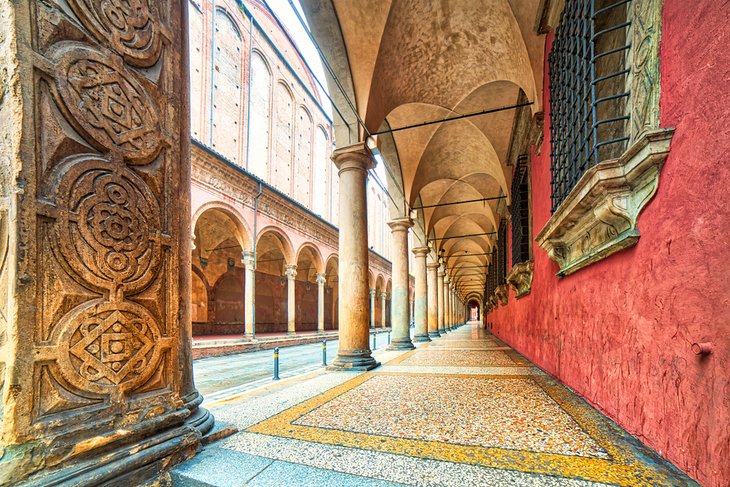 Visitors to Bologna can't help strolling under the portici, the arcades that line so many of its streets. They are a welcome relief from the summer sun and shelter from the rain, as well as providing extra space to shops, which often display goods under them. They began in the 11th century as overhanging upper stories of buildings in the growing city center, adding more living and storage space over the shops and businesses on the street level. As they became larger, they needed support beams and posts, and gradually the arcades grew. In the 13th century, new arcades were required to be tall enough for a rider to pass through on horseback, a rule that led to the elegant arched arcades we see today. In all Bologna has about 40 kilometers of these portici, the longest of which is about 3.5 kilometers and leads from the city to the hilltop Sanctuary of the Madonna di San Luca. This monumental portico has 666 arches and as it rises, it affords views of the surrounding landscapes. This walk is a favorite - and free - thing to do in Bologna on Sundays.
8. San Domenico (St. Dominic Church)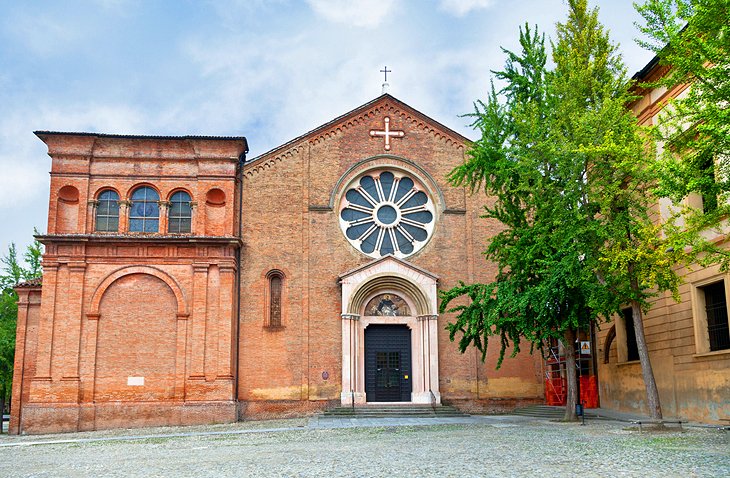 At the death in 1221 of Saint Dominic, in this convent of the order he founded, work began on the church that took several centuries to complete. The marble tomb that enshrines his remains is reason enough to visit, carved in minute details by the greatest artists of the day, including Michelangelo and Nicola Pisano. The church's art treasures don't end here. The outstanding wood inlay by intarsia master fra' Damiano da Bergamo in the choir was hailed by Renaissance contemporaries as the eighth wonder of the world. Each first and second Saturday of the month, at 10.30am and 3.30pm, free guided tours are offered to the chapels, choir, Inquisition rooms, St. Dominic's cell, and other places not usually open to the public.
Address: Piazza di San Domenico 13, Bologna
9. Museo Civico Archeologico (Archeological Museum)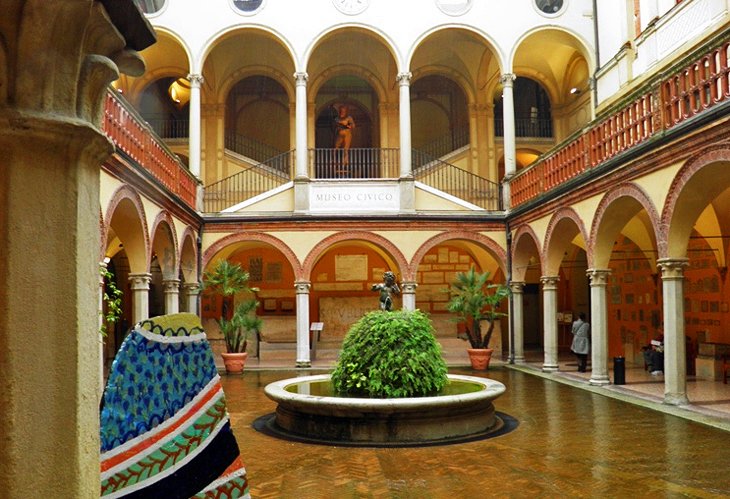 Even those who normally tune out at museums of antiquities will enjoy this remarkably up-to-date display of prehistoric and Etruscan finds from the surrounding area, as well as outstanding treasures from the Celtic, Greek, Egyptian, and Roman civilizations. There are only two other museums in Italy that can match its Egyptian collection. No dry jumble of dusty relics here, but a modern museum of brilliantly displayed artifacts.
Address: Via dell'Archiginnasio 2, Bologna
10. Oratory of Battuti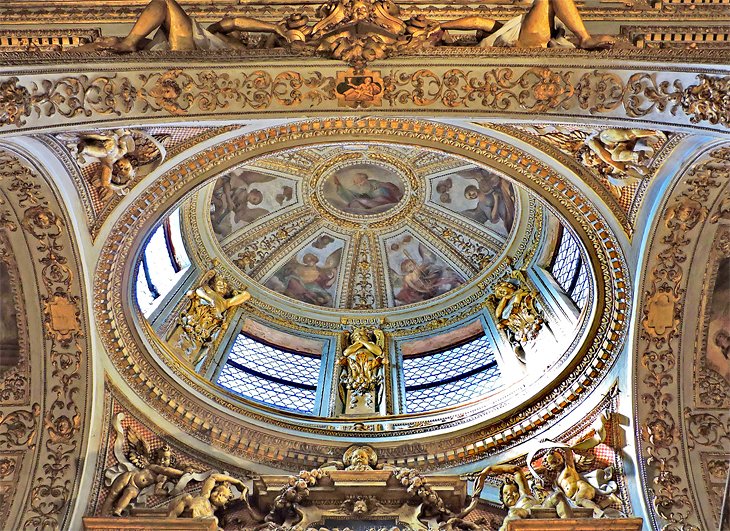 Climb the stairs to the room above the church to find one of Bologna's unsung treasures, a small oratorio decorated in Baroque paintings, frescoes, and gilded carvings. Avoid a stiff neck by taking advantage of one of the benches to stretch out and look up at the perfectly splendid ceiling. Around the room stand a group of 15 terracotta statues, Death of the Virgin, created by Alfonso Lombardi in the early 16th century. Watch for announcements of musical programs, which are held here because of the room's excellent acoustics.
Address: Via Clavature 8, Bologna
11. Basilica di San Pietro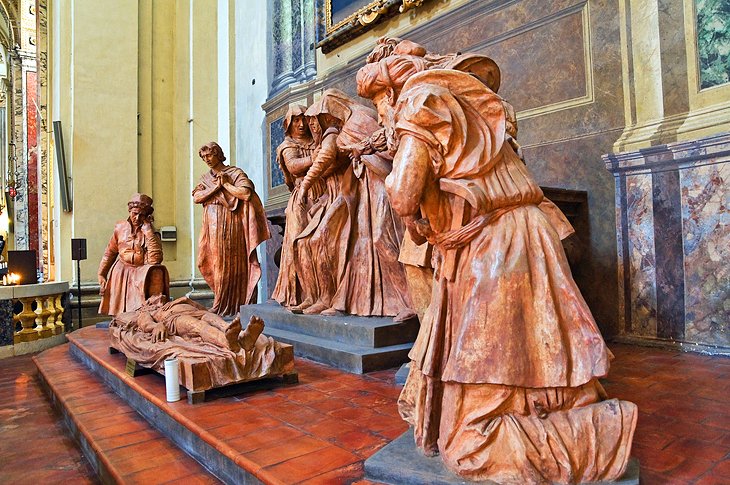 The cathedral of San Pietro has undergone many changes since its founding in 910, adding a choir by Pellegrino Tibaldi in 1575 and a nave, remodeled in 17th-century Baroque style. A door at the end of the side aisle on the left leads to a collection of artistic treasures donated over the centuries to use in religious celebrations. These include items belonging to several popes and a splendid processional cross given as recently as 1996.
Address: Via Indipendenza, Bologna
12. Pinacoteca Nazionale (National Gallery)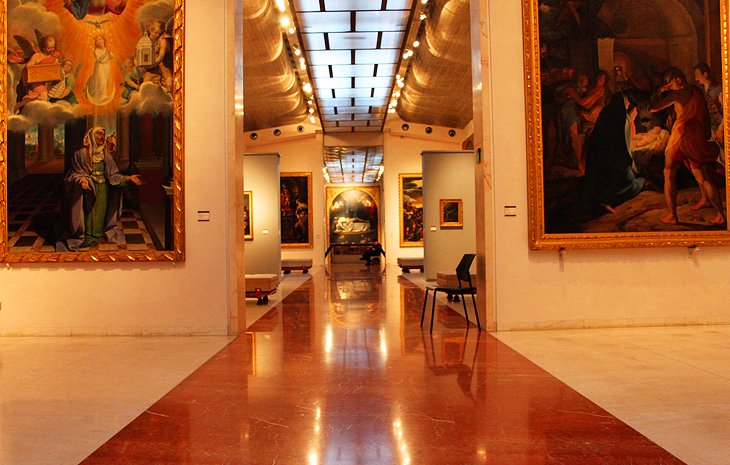 The Pinacoteca has a unique mission: to preserve and display works by artists who have lived and worked in Bologna and the Emilia-Romagna region, especially from the 13th to the early 19th centuries. Some of the works have histories of their own, many have been rescued from churches that were closed or turned to other uses, and others have been returned to Bologna after Napoleon I carried them off to the Louvre in Paris. The museum collections include works by Raphael, Perugino, Tintoretto, and other Renaissance artists.
Address: Strada Maggiore 44, Bologna
Where to Stay in Bologna for Sightseeing
Piazza Maggiore and Piazza del Nettuno, the Basilica, the excellent Archaeological Museum, and the pair of leaning towers that lead Bologna's list of tourist attractions are all clustered within a very short distance. Two major churches, Santo Stefano and San Domenico, are only a few blocks away, making Bologna easy to visit from any central lodging. Here are some highly rated hotels in Bologna:
Luxury Hotels: The gleaming Grand Hotel Majestic Gia

Baglioni

, adjacent to the Basilica and Piazza Maggiore, has generous, well-decorated rooms in a beautifully restored historic building. In the middle of the old town, just under famous medieval towers, the boutique Hotel Corona d'Oro

1890

has rooms with parquet floors, marble baths, and balconies - some with tower views. Just off Piazza Nettuno and handy to shopping and restaurants, Art Hotel

Orologio

has traditional rooms in a converted historic mansion.
Mid-Range Hotels: Cleverly themed rooms at Al Cappello

Rosso

, just off Piazza Maggiore, are all different and stocked with luxuries that include slippers, robes, and a selection of different pillows. With bright, attractive rooms dressed in sleek, modern decor, Metropolitan

Hotel

is less than a five-minute walk from Piazza Maggiore, surrounded by restaurants and shops. On a quiet street in the city center,

Buonhotel

occupies a historic building with no elevators, but help with luggage is offered.
Budget Hotels: Hotel Albergo

Atlantic

sits on an arcaded street between Piazza Maggiore and the rail station, a five-minute walk to either. Rates at Albergo

Centrale

, in an older building only a few steps from Piazza Maggiore, include breakfast. Filling the fourth floor of a classic building just off Piazza Maggiore, Panorama

Hotel

has large rooms with well-maintained shared baths.
Tips and Tours: How to Make the Most of Your Visit to Bologna
Walking Tours: The historic and architectural details of the many attractions in Bologna's historic center are easy to hear on the Bologna City Walking

Tour,

as members of the small group (no more than eight) are provided with headsets. The tour begins at the Neptune Fountain and includes Piazza Maggiore, the Basilica of San Petronio, the food market in Piazza della Mercanzia, and several other sights before ending beneath the two leaning towers.
Touring on Two Wheels: You can see a lot of the top attractions on a two-hour Historic Bike Tour of

Bologna

, which includes all cycling equipment and insurance. Because you spend less time getting between sights, this tour can visit all the places included in the walking tour, plus outlying attractions of the Santo Stefano church complex and the Basilica of San Domenico. You'll also visit the medieval port and learn about the canals that powered its mills.
More Related Articles on PlanetWare.com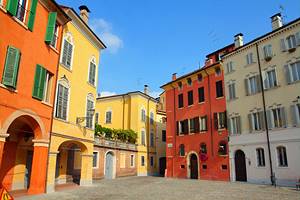 Nearby Food Capitals: After sampling the local delicacies of Bologna, you may want to explore the Reggio-Emilia region's other food capitals. You can visit the home of the world-famous Parmigiano Reggiano cheese, and see the top attractions of Parma and its surrounding towns. On the way (a major highway connects Bologna and Parma) stop in Modena, home of the best balsamic vinegar.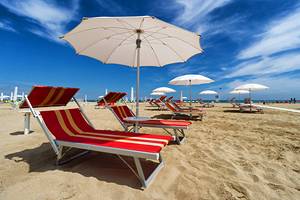 Exploring the Adriatic Coast: When you are in Bologna, you are within easy reach of a city whose art treasures are unique in Italy. Ravenna is filled with magnificent Byzantine mosaics, most of them in eight buildings that have been declared a UNESCO World Heritage Site. Not far south on the Adriatic coast are Rimini's well-preserved Roman sites and beaches. For more general ideas to help plan your trip, see our article on the best places to visit in Italy.