From Florence to Cinque Terre: 4 Best Ways to Get There
About 185 kilometers northwest of Florence, the picturesque coastal area of Cinque Terre makes for a perfect – if long – day trip. Getting to Cinque Terre is tricky, as the mountain roads don't reach all the way into town and require some hiking after the road ends. Fortunately, there are other ways to get to Cinque Terre if you're not up for a hiking adventure, including trains and boats.
Cinque Terre is made up of five villages set over a rugged coastline of cliffs and hills and connected to each other by a system of precarious mountain roads. For those in search of adventure, Cinque Terre offers the perfect hiking landscape; for those looking for a summer destination with incredible views over the coastal landscape, it doesn't get much better than Cinque Terre either.
Regardless of why you're visiting Cinque Terre, here's our list of the best ways to get from Florence to Cinque Terre – and how to move from village to village while you're there.
1. From Florence to Cinque Terre by Tour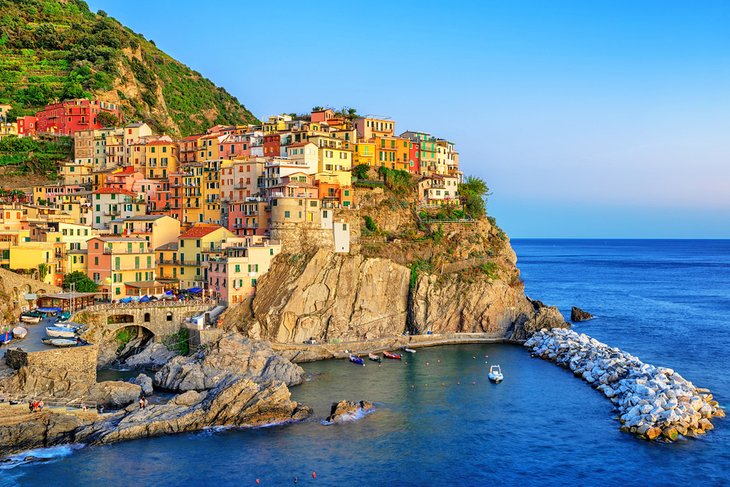 For a completely unique experience, you should consider the Cinque Terre Day Trip from Florence with optional hiking. In this active 13-hour tour, you'll have a chance to hike 5.5 kilometers on the hills around Cinque Terre.
Your journey starts in Florence when you board a coach for the two-hour drive to Cinque Terre. Your professional English-speaking guide will spend some time telling you about the area, the five fishing villages of Cinque Terre, and the national park you're about to visit. Once you arrive at the park, your guide will take you on a hike on the scenic trail leading to Corniglia (one of the fishing villages).
Because this is a wild area, trails are only minimally maintained - you can expect no handrails, narrow paths high on cliffs, and a steep climb of almost 400 stone steps at the end of the hike. If this doesn't sound like something you'd want to do, it's also possible to skip the hiking section of the tour and instead take a train between the villages.
Once you arrive in Corniglia, you'll have some free time to discover the village, enjoy the views, and maybe have a quick lunch or coffee before you start your second hike towards Vernazza.
From here, you'll board the train with your guide to reach Monterosso, where the area's most beautiful beaches and artisan shops are located. If the weather cooperates, you'll be able to take a boat to the last of the fishing villages, Riomaggiore, Cinque Terre's largest village and home to beautiful pastel-colored buildings. After hiking back to Manarola, you'll be able to board your vehicle and relax on the way back to Florence.
If you'd rather have a more relaxed day, the Cinque Terre Day Trip with Transport from Florence allows you to explore the fishing villages using a combination of trains, boats, and your own vehicle, no hiking necessary. This full-day tour starts in the heart of Florence as you board your vehicle and head towards the coast.
Your first stop is in the medieval village of Riomaggiore, where you can enjoy a postcard view over the tiny harbor. Your guide will then take you to Manarola for a stroll of the shoreline and some of the best photos you'll take in the area.
Next, you'll travel by boat to Monterosso, where you'll have free time for lunch, to explore the village, or to jump in the blue waters of the bay. Your last stop is in Vernazza, a world-famous producer of olive oil. Explore the village at your own pace until it's time to return to Florence.
2. From Florence to Cinque Terre by Train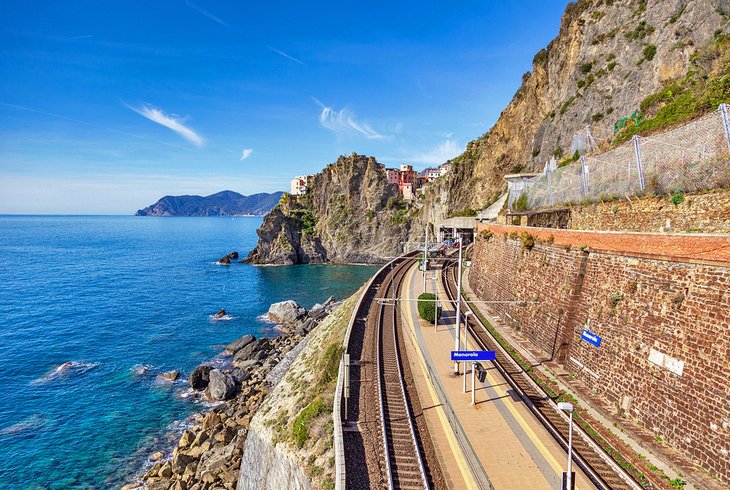 Taking the train to Cinque Terre requires a few changes along the way but it's still the most convenient way to reach the coastal area. Your trip starts at Florence SMN Train Station, where you should look for the direct Regionale train to La Spezia, the second-largest city in the Liguria region.
There are also trains with a connection in Pisa, but this can get confusing and won't save you any money. Trains leave from Florence's station about twice an hour and reach La Spezia train station about two hours later.
Once at La Spezia, you'll have to switch to the 5 Terre Express train, a fast-regional train that runs every 15 minutes and connects all five villages. If you plan on visiting all villages, it's cheaper to buy a Cinque Terre Train Card, which gives you access to unlimited train travel and also allows you to access the hiking trails within the Cinque Terre National Park, which requires an entry fee. Every village has a train station.
3. From Florence to Cinque Terre by Train and Ferry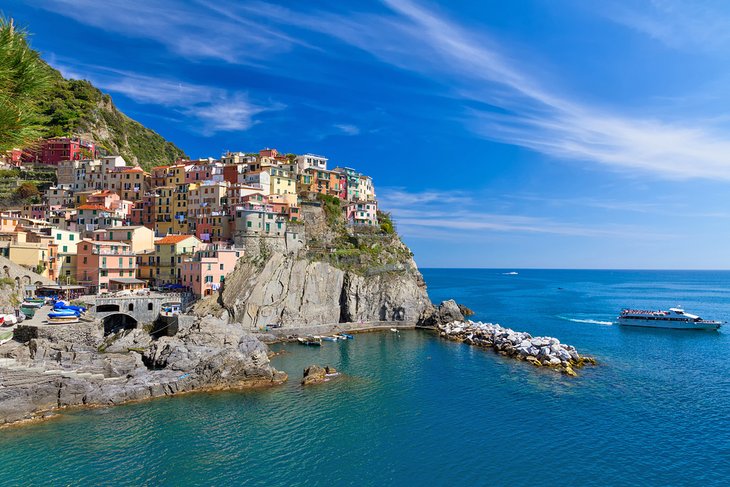 Once you arrive in La Spezia by train, you can also continue on to Cinque Terre by boat. Between April 1st and November 1st, a number of large boats and ferries connect the city of La Spezia with four of the five villages that make up Cinque Terre - the village of Corniglia cannot be reached by boat as it is located up on a hill.
To get to Corniglia, you can hike from Manarola (on a moderate 5.5-kilometer forested trail) or from Vernazza (a 3.2-kilometer easy trail with great views over the water.)
The boat is a much slower option than the train (the trip from La Spezia can take up to two hours) but it also offers the best views. Taking the ferry is almost like taking a cruise - you'll get a chance to truly appreciate the soft colors of the stone buildings rising up on the hills, the blue foamy water hitting the rocky coastline, and the beautiful harbor area as the boats approach the port.
Keep in mind that because ferries take much longer than trains to reach the villages, this might not be the best option if you're only visiting for one day or want to visit all the villages.
4. From Florence to Cinque Terre by Car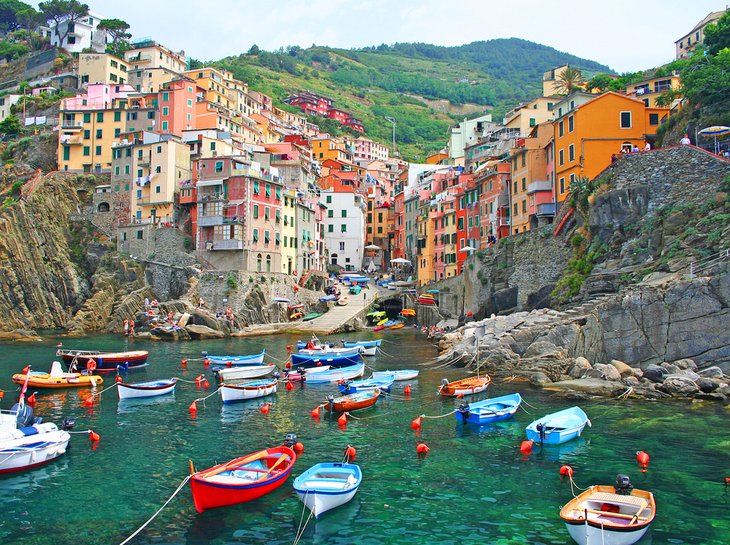 About 190 kilometers separate Florence and Cinque Terre, a pretty 2.5-hour drive that takes you through cities like Lucca and La Spezia (Pisa is just a short detour away, too) on the A11/E76 highway. Anything that starts with an A (autostrada) indicates a toll road, so make sure you have cash or a credit card ready.
Keep in mind that traffic can be difficult during high season, as the roads are more packed and often slower moving. This can make it harder to do Cinque Terre as a day trip from Florence, and it would make more sense to plan for at least a couple of days at your destination.
The Cinque Terre villages are not very car-friendly, and many streets are completely closed to traffic. They're also narrow, with very sharp, difficult turns. If you have a medium to large car and are not used to the tight turns, it won't be fun. Plus, parking within the villages can be a nightmare.
Even if you have a car, it's best to park it at a place like the garage at La Spezia Central train station and then use the train to move between villages. Cinque Terre is best explored on foot anyway, so you won't miss the car.