From Florence to San Gimignano: 3 Best Ways to Get There
San Gimignano is located just under 60 kilometers southeast of Florence and can be easily reached by train, bus, or with an organized tour. Because the two cities are so close, the route can be covered in as little as one hour, making for a perfect day trip.
San Gimignano is most famous for its 14 medieval towers, the only remaining ones from the original 72 ones built by local rich families in the 15th century. The tallest tower, Torre Grossa, is open to visitors and has great views over the walled historical city and the green valleys around from its top. A typical Tuscan town full of charm and history, San Gimignano offers plenty of attractions, walkable streets, and photo opportunities.
Whether you're headed there for a day or a weekend, we've put together a list of the best ways to travel from Florence to San Gimignano to help you organize your trip.
1. From Florence to San Gimignano by Tour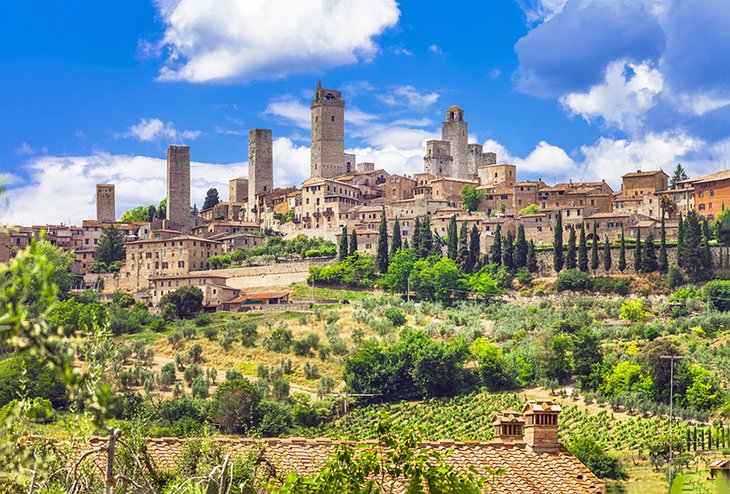 If you only have one day to discover the breathtaking beauty of Tuscany, a Private Tour of Siena, Pisa, and San Gimignano from Florence will give you the chance to plan your own itinerary, so you can discover several cities at once.
This nine-hour tour starts with an early pickup at your own hotel in a very comfortable car with Wi-Fi and cold bottled water for your trip. Sit back and relax as you travel through the Tuscan countryside on your way to Siena, the first stop on your tour. Along the way, your driver will share information about the region, tips on making the most of the day, and what not to miss on your stops.
Once you get to Siena, spend time on a self-guided tour of the historical city, exploring the many tourist attractions. See the masterpieces of Gothic-Romanesque architecture, visit the central Piazza del Campo square, and learn about the many world-renowned artists born here - including the soft, stylized work of Simone Martini and the frescoes of Ambrogio Lorenzetti inside Siena's Palazzo Pubblico.
Your next stop on the tour is San Gimignano, a medieval walled hill town famous for the 14 stone towers that survive from ancient times. Stroll down the historic center to reach the 12th-century Collegiata of Santa Maria Assunta church, then find a shaded spot to look over the green countryside or grab a quick bite while you wait for your driver to meet you again.
The last stop of the day is Pisa, where you'll have a chance to visit not only the famous Leaning Tower, but also the Piazza del Miracoli (an area framed by medieval walls) and a number of other attractions, including churches, palaces, and towers. Pick up a souvenir, try a bite of the traditional local sweet bread with raisins and aniseed (buccellato), and don't forget to take an iconic photo in front of the famous bell tower itself.
When you're ready to head back, meet your driver at a prearranged place and time, sit back, and enjoy the ride back to your hotel.
2. From Florence to San Gimignano by Bus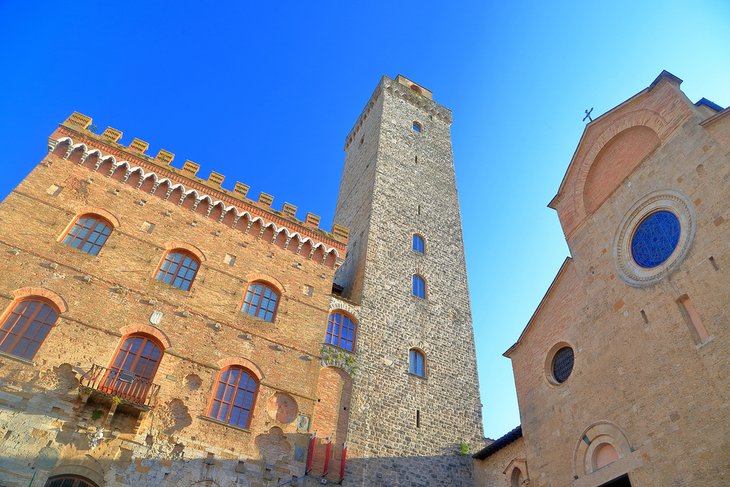 If you're going to use public transportation to travel between Florence and San Gimignano, buses are your best choice. Buses leave once an hour in winter and more frequently in summer, as this is a popular route during peak tourist season.
Buses depart from Via Santa Caterina da Siena, right next to Florence's Santa Maria Novela train station. You can't miss the stop, as there are always buses parked here, waiting to leave.
All buses on this route require a transfer at the small Tuscan hamlet of Poggibonsi. Both buses are local buses, which means you can't reserve a seat, and there's no guarantee you'll even get a seat. To avoid crowded buses, travel early in the morning, before both the tourists and the locals head out.
Actual travel time is around 70 to 80 minutes - 50 minutes for the first bus and about 20 minutes for the second - but this is dependent on traffic and how long you have to wait to catch the second bus. During peak hours or summer, the total travel time could be up to two hours.
Once you get to San Gimignano, get off at the Porta San Giovanni, the main city gate. From here, it's a less than 300-meter walk to Piazza Cisterna in the center of the city.
3. From Florence to San Gimignano by Train and Bus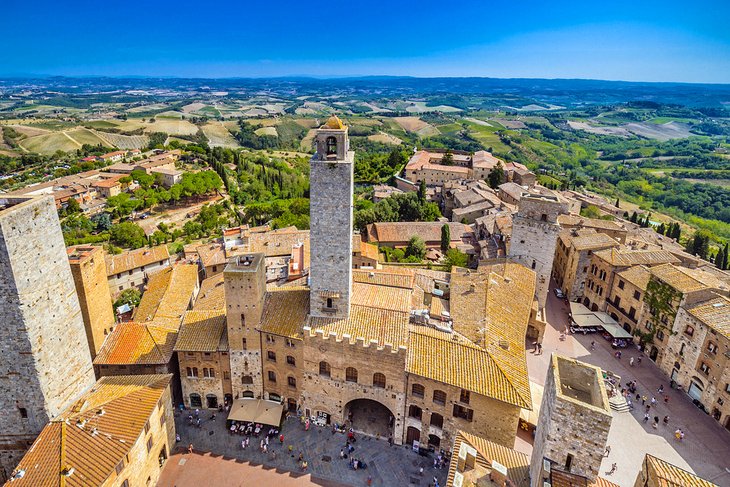 Since there's no train station in San Gimignano, you can't directly travel between Florence and your final destination by train. However, the dreamlike views of the Tuscan countryside from the train are hard to beat - so it's worth combining a train with a short bus ride at the end just to get a peek of the iconic landscapes along the way.
To get to San Gimignano, you'll still have to take a train to Poggibonsi train station. Trains depart regularly from Florence's Santa Maria Novela train station and take just under one hour to reach Poggibonsi. Once here, you'll have to catch the local bus #130, which runs from Siena to San Gimignano.
Buses between Poggibonsi and San Gimignano run regularly - twice an hour before noon and then less often throughout the rest of the day. Except for times when the traffic is very heavy, the journey takes approximately 20 to 25 minutes. Keep in mind that the train schedule and the bus schedule aren't well-coordinated, so the waiting time between arriving at the train station and catching the next bus can sometimes be 15 to 20 minutes or more.
If you have time, consider not rushing to catch the bus right away, and instead spend an hour exploring Poggibonsi. Head to the 15th-century Fortezza Medicea di Poggio Imperiale, which boasts benches, modern art, and lots of green space for a quiet break on a hot summer day. Then visit the 14th-century Fonte delle Fate fountain, made up of six massive stone arches.
Grab a gelato near the train station on your way back, then get on the next bus towards your destination, San Gimignano.