From Florence to Rome: 5 Best Ways to Get There
Rome lies over 272 kilometers southeast of another Italian must-visit destination, Florence. Its plethora of historic landmarks and exciting tourist attractions make this city worthy of a long weekend away, or at least a jam-packed day trip. Luckily, Rome is easily reached from Florence by a variety of transportation methods.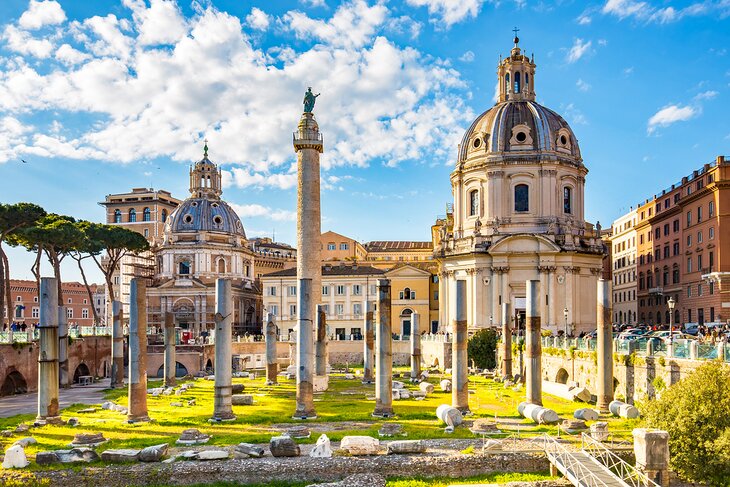 The best way to travel to Rome is by train. Tourists can easily hop on a high-speed Frecciarossa from Florence and arrive in Rome in just over an hour and a half. Prefer to fly? ITA Airways will get you there in under an hour.
Driving is another good bet, especially for those who enjoy veering off-route to explore quaint towns. The bus is another, budget-friendly option, but it can be quite slow.
No matter what way you choose to travel, use our list of the best ways to get from Florence to Rome to help plan your trip.
1. From Florence to Rome by Train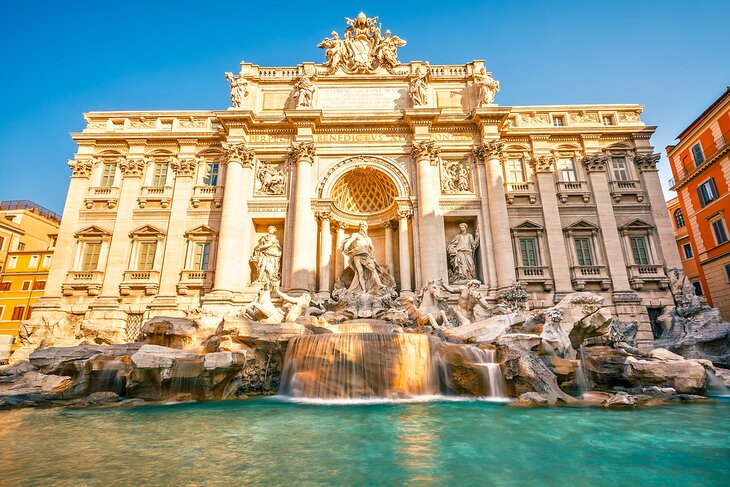 Taking one of Trenitalia's Frecciarossa trains is the fastest way to get from Florence to Rome. These high-speed trains reach a maximum of 300 kilometers per hour, 400 if you take the Frecciarossa 1000. That means you can get from Florence to Rome in as little as one hour and 36 minutes.
Frecciarossa trains run from as early as 6 am and as late as 10:14 pm. They leave from Florence Santa Maria Novella train station and arrive in Rome's Tiburtina or Termini station. Tickets cost as little as $20 or over $130, depending on the level of service, date, and time chosen. Tourists can choose from Standard, Premium, Business, and Executive classes.
Italo Treno is another great and affordable option for those who prefer to watch the scenery zip by the windows of a train. Tickets cost as little as $11 and transport passengers between Florence's Santa Maria Novella station and Rome Termini in just over an hour and a half.
Italo Treno also offers trains that run from Santa Maria Novella to Roma Tiburtina in just under an hour and a half. Again, tickets are as cheap as $11, depending on the class, time, and date chosen.
Trenitalia's Intercity trains are a much slower and only slightly cheaper option. They reach a max speed of up to 200 kilometers an hour and make many more stops along the route between Florence and Rome.
As a result, Intercity trains can take over three hours to make the journey—that's almost double the time of a Frecciarossa train. Tickets can cost as little as $12 up to over $50, depending on which class you choose, as well as which date and time you are traveling.
2. From Florence to Rome by Plane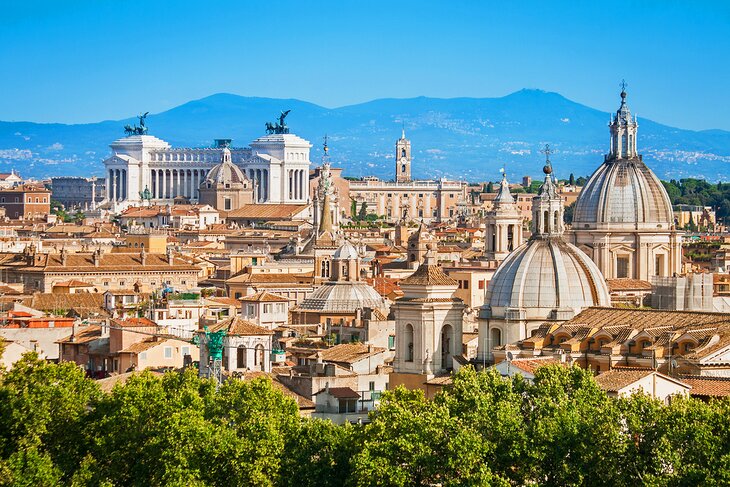 The fastest way to get from Florence to Rome is by plane. A non-stop flight takes under an hour to travel from Florence Airport Peretola to Rome's Fiumicino airport. Flights are operated by ITA Airways and cost about $96 for a return trip in economy.
While this journey is quick, you'll have to factor in the time and fares necessary to reach Florence airport and then arrive at your destination in Rome.
The T2 Vespucci line of Tramvia GEST is a two-minute walk from the arrivals and departures areas of Terminal 2. The tram picks people up from the Santa Maria Novella train station and drops them at the airport in 20 minutes. Tickets cost about $1.70 and can be purchased from nearby vending machines.
At the other end, you can hop on The Leonardo Express, which travels from the airport to Rome Termini train station in just over 30 minutes. One-way tickets cost about $20, and the train leaves about every half hour.
The Terravision Shuttle Bus runs from the airport to Rome Termini train station beginning at 8:30 am. They take about 55 minutes and cost about $6.50 for a one-way ticket.
3. From Florence to Rome by Car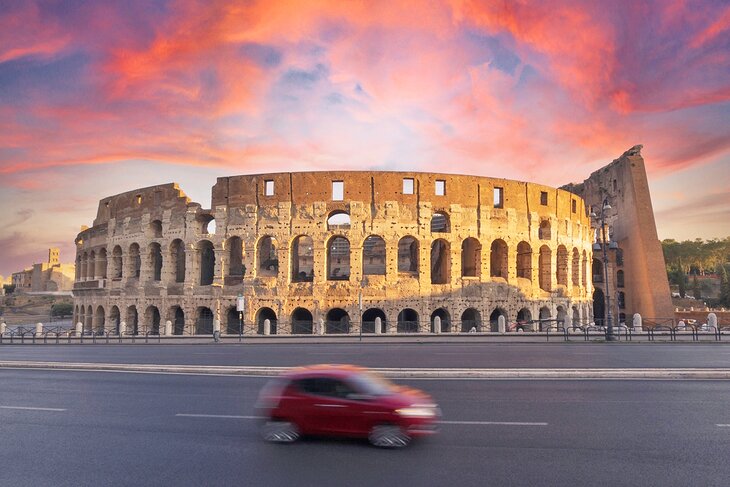 Driving is an easy way to get from Florence to Rome, as long as you're comfortable navigating roads filled with drivers who like to weave in and out of traffic at high speed.
If the conditions are right, and you don't choose to travel on a busy summer weekend, the over 272-kilometer journey could take as little as three hours and 12 minutes by car. The most direct route follows the A1 Autostrada.
Insider's tip: Have cash or a credit/debit card at the ready to pay for the tolls on this route.
Driving offers the perfect opportunity to explore the Italian countryside, stopping in charming towns to enjoy a fresh coffee, baked treat, or delectable lunch. A few must-visits along the route from Florence to Rome include Orvieto and Assisi.
Orvieto lies about 165 kilometers, a two-hour drive, south of Florence and just over 115 kilometers (an hour and a half drive) north of Rome. A delightful place to visit, this Umbrian town boasts a 12th-century Palazzo Comunale, captivating churches, and interesting museums.
Insider's tip: Save time to travel on the funicular from the new town to the Old Town. This is where the most historic attractions can be found, as well as a bevy of fun things to do.
Assisi is a bit out of the way, but worth a few hours for a visit. Located two hours southeast of Florence, this UNESCO World Heritage site is best known as the birthplace of St. Francis. Its stunning tourist attractions are entrancing, including the impressive, 13th-century, Basilica di San Francesco.
Rental cars are readily available and budget-friendly in Florence. Sixt and Hertz have locations near the Firenze Santa Maria Novella train station. They also conveniently rent cars out of Florence Airport Peretola.
4. From Florence to Rome by Bus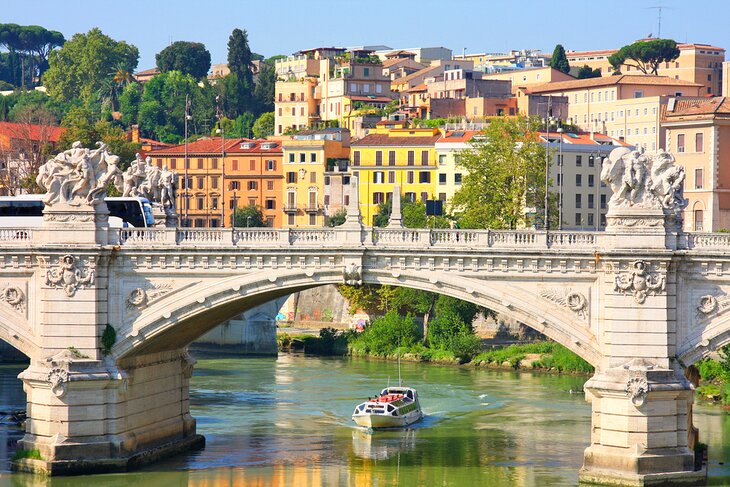 Traveling by bus is the cheapest way to get from Florence to Rome, but it's not the most direct. Most buses leave from Villa Costanza, which lies 30 minutes outside downtown, so you'll have to take a taxi or find another mode of transportation to reach the stop.
Flixbus offers budget-friendly rides starting at $5. Their air-conditioned buses boast free Wi-Fi and power outlets. They also have direct routes from Florenz Villa Costanza to Rome's Tiburtina bus station in anywhere from three hours and 15 minutes to four hours, depending on traffic.
The buses leave about every half an hour, sometimes more often, depending on the time and day.
Note: Florenz Villa Costanza bus station is found just outside the city. It's easiest to hop in a taxi from there, which can take about 30 minutes.
Some buses depart from Florence Piazzale Montelungo station, which is more conveniently located close to the Santa Maria Novella train station. Be warned: these tend to leave in the wee hours—we're talking 2:45 and 3:20 am.
Marino Bus leaves Park Villa Costanza three times daily, at 1:30 am, 9:25 am, and 7:55 pm. The bus arrives in Rome Tiburtina anywhere from three hours and 45 minutes to four hours and 15 minutes later. Tickets cost around $18.
Autoservizi Salemi also offers a bus between Florence Villa Costanza and Rome Tiburtina once daily at 3:30 pm. It takes about four and a half hours and costs about $24.
5. From Florence to Rome by Tour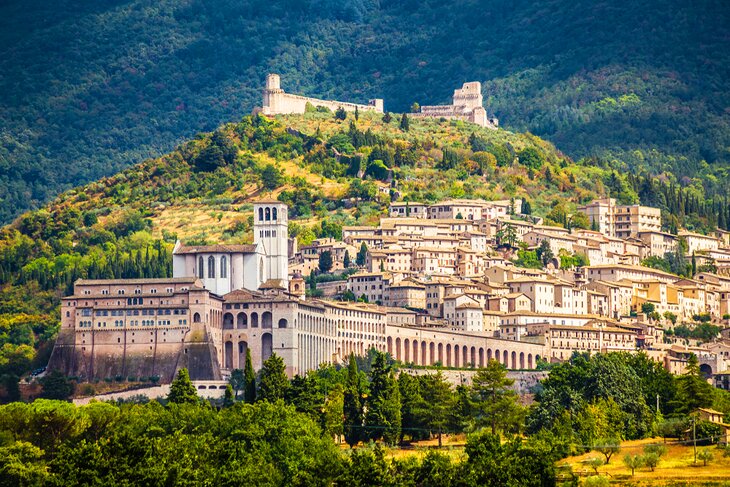 Often, the best way to appreciate a city is by embarking on a guided tour. This way, you can sit back, relax, and leave the navigating to the professionals. Also, you'll get the bonus of insider tips on the best places to visit during your journey.
Booking a Private Luxury Transfer from Florence to Rome with stops in Perugia and Assisi is a fantastic way to see two stunning towns along the route. An English-speaking driver will collect you and your traveling partners from a Florence hotel and transport you to your Rome hotel (or another centrally located spot) in an air-conditioned vehicle.
Along the way, you'll stop in the charming medieval towns of Perugia and Assisi, with plenty of time to explore their captivating points of interest. Perugia's stunning hilltop locale is worthy of at least a dozen photos, and its pretty attractions, like the Galleria Nazionale dell'Umbria, are worthy of a visit.
Assisi is another showstopper you won't want to miss. Luckily, your private driver/guide is well-informed about the must-see places in this sweet town, like Piazza del Comune and the Basilica of St. Francis.
The tour will take about eight hours in all, and you'll want to book a stay in one of Rome's hotels for at least a night or two before returning to Florence if that's your plan.