12 Best Islands in Italy
As a nation largely surrounded by water, it's not surprising that Italy has a number of islands. What does surprise, however, is their variety. Italy's islands range from Sicily and Sardinia, almost nations of their own in the Mediterranean, to tiny Isola Bella in Lake Maggiore, hardly big enough to support the palace and garden that cover it.
Between these two opposites are idyllic Capri, historic Elba of Napoleonic fame, Stromboli with its nightly tectonic fireworks, a clutch of varied islands in the Venetian lagoon, and several others worth visiting.
Whether you are looking for a deserted beach, a lively resort scene, a romantic hideaway, or a chance to explore mysterious prehistoric sites, you'll find the top places to go with this list of the best islands in Italy.
1. Sicily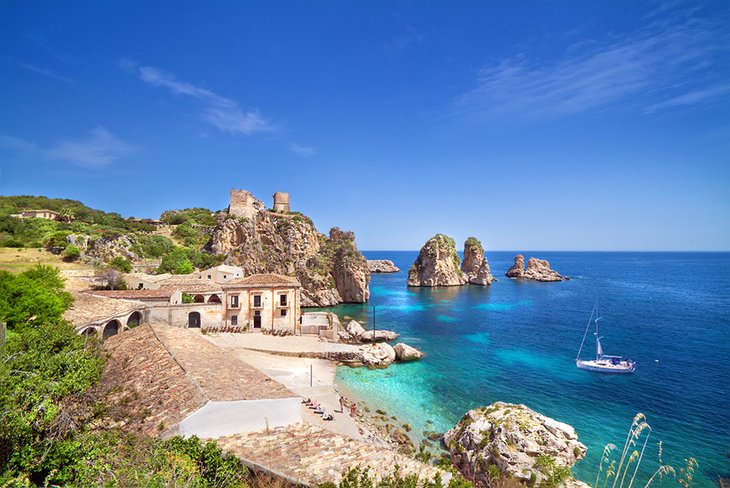 Always listed among the best places to visit in Italy, Sicily may seem more like a separate country. At nearly 10,000 square miles, roughly the same size as Luxembourg, it is the largest island in the Mediterranean.
Sicily certainly has enough tourist attractions to deserve a trip of its own, instead of a quick stop on a grand tour. With seven UNESCO World Heritage Sites - three ancient sites, two natural wonders, and two architectural landmarks - and more than its share of beautiful beaches, Sicily appeals to a variety of travelers.
Temples, amphitheaters, and villas from the ancient Greek and Roman civilizations are the finest ancient structures surviving: at Selinunte is one of the largest Greek temples; at Agrigento, one of the most perfectly preserved. The powdery white sands and crystal blue waters of San Vito Lo Capo rank it as one of Italy's best beaches.
2. Sardinia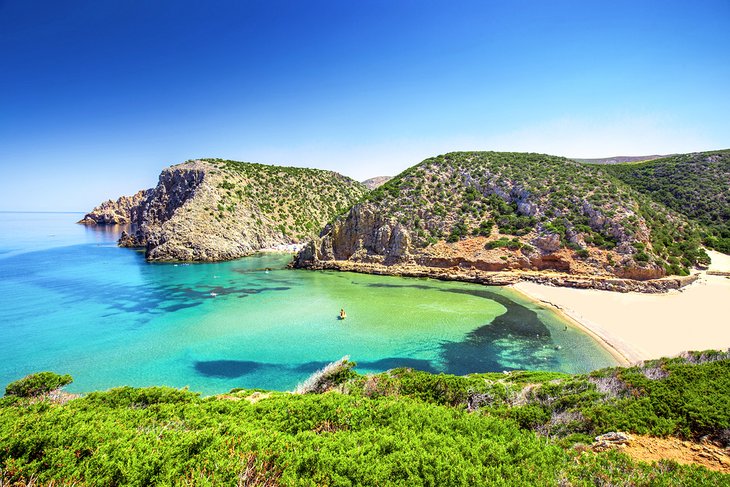 With its own language and cultural traditions, even a unique cuisine, Sardinia seems even more distinct from the mainland than Sicily. If foreign tourists know of it at all, it's for the fabled white beaches and emerald waters of the Costa Smeralda, one of Europe's top summer resort destinations. Much of the island is bordered in golden sands, and the beaches of its southern and western coasts are just as spectacular.
More surprising to many is how quickly Sardinia's inland rises to soaring rugged mountains, hiding villages that seem out of a past century. Also surprising - to the delight of those interested in history's mysteries - are the hundreds of prehistoric sites, especially the round stone towers known as nuraghi that dot the island landscape.
Little is known about their origins, but many are so soundly constructed that you can explore passageways and climb spiral stairs that were built in the Bronze and Iron ages. More enigmatic megaliths and stone engravings add to the island's mysterious past. And you're never far from the beautiful sandy beaches.
Accommodation: Best Hotels & Resorts in Sardinia
3. Capri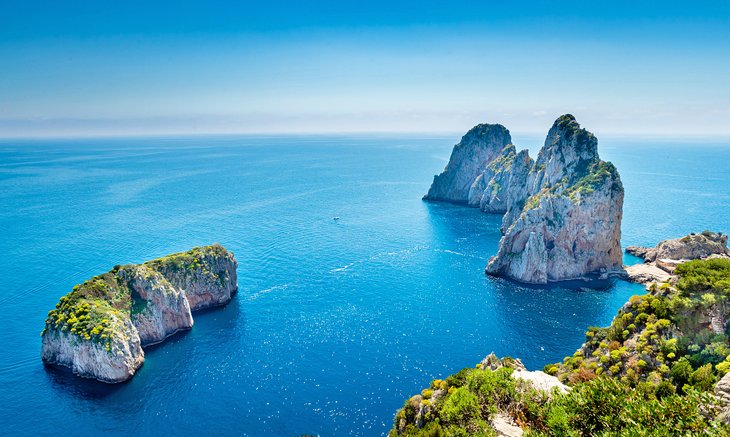 A romantic aura surrounds the very name of this island in the Bay of Naples. Its high cliffs rise almost straight out of the water, with its most famous landmark hidden beneath them. The Blue Grotto is a sea cave that small boats can enter; inside reflected daylight turns the water a luminous blue.
Boat trips around the island reveal more caves, arches, and the signature rock formation of sea stacks on the south coast known as the Faraglioni.
The island's two towns, Capri and the higher Anacapri, have a holiday air, as tourists pour in on ferries from Naples and Sorrento.
Capri highlights, apart from the cafés and fashion boutiques, are the beautiful villa and gardens of San Michele, and the Giardini di Augusto (Gardens of Augustus) high on the cliffs overlooking the Marina Piccola and the Faraglioni.
Trails follow the coastline for spectacular views, or you can ride a chairlift to the summit of the highest peak for bird's-eye views of the entire island.
Read More:
4. The Venetian Islands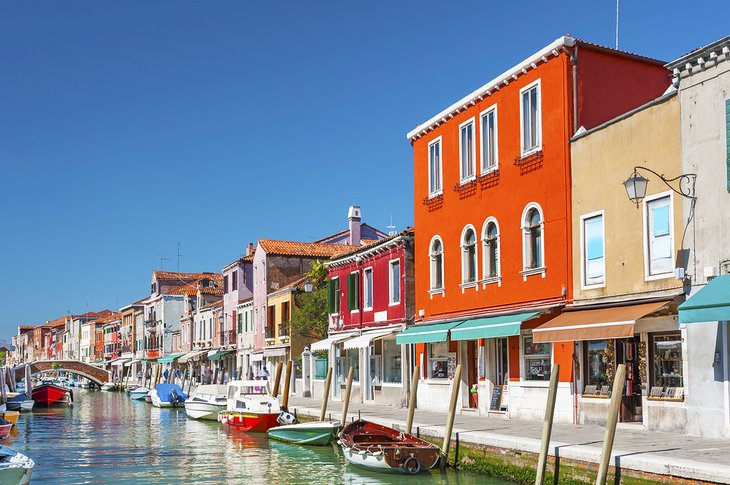 Although the city itself is connected by a causeway, Venice is made up of islands laced together by bridges or scattered throughout the lagoon. Four of the "detached" islands have particular appeal to tourists.
The long beach-lined Lido is Venice's playground and Europe's earliest beach resort, where royalty gathered at the grand hotels that still line its sands. Less glamorous today, it has a cheerful holiday vibe and some lovely Art Nouveau architecture. An afternoon at Lido is a popular thing to do for families visiting Venice with children.
Murano is the center of the famed Venetian glass, and its canal is lined with glassblowers' studios and shops selling their work and less artistic imported glass trinkets. Take the Vaporetto to watch the artists at work and visit the glass museum in the 17th-century Palazzo Giustinian to learn more about the glass blowers and the island's history.
A longer boat ride takes you to Burano, its canals lined by brightly painted houses. Its fame is for lace making, although much of what you see in its shops is imported and not hand made. To see the real thing, stop at the Scuola dei Merletti (lace school) and its small museum.
Close to Burano is Torcello, of interest for its history as the original site of Venice, as early as the seventh century. Little is left of the once flourishing town except its cathedral, dedicated in 639 and considered the best remaining example of Venetian-Byzantine architecture. The excellent mosaics date from as early as the 11th century.
5. Ischia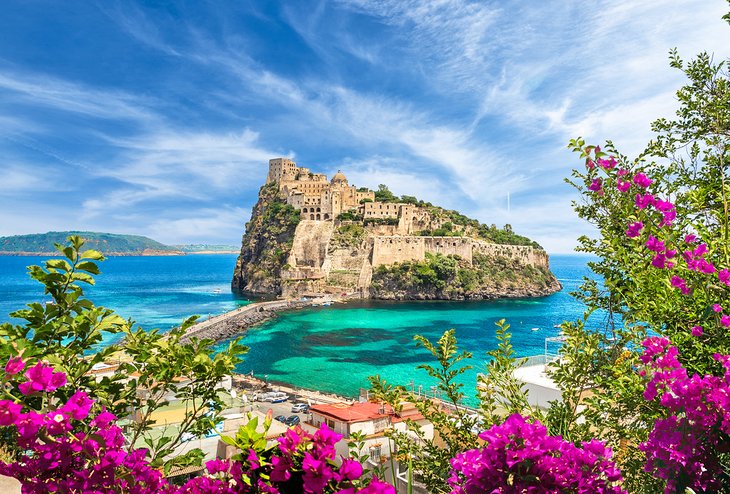 Hot springs drew ancient Greeks and Romans to the island of Ischia, in the Bay of Naples, and tourists have appreciated its beaches and luxuriant gardens ever since. To find all three, head for Spiaggia Citara, where the elegant gardens of a high-end thermal spa overlook the beach. Or from the three-kilometer beach at Spiaggia dei Maronti, near the southern village of Sant'Angelo, you can access three open-air thermal pools.
Be prepared for crowded beaches in the summer, or take a water taxi to one of the secluded coves. From Forio, on the west coast, you can visit Giardini Ravino to see succulents and cacti or the stunning La Mortella, beautiful gardens created by Susana Walton and British composer Sir William Walton.
You can get to Ischia from Naples by ferry, and from either Naples or Ischia you can get a boat to the smaller – and less crowded – island of Procida.
6. Elba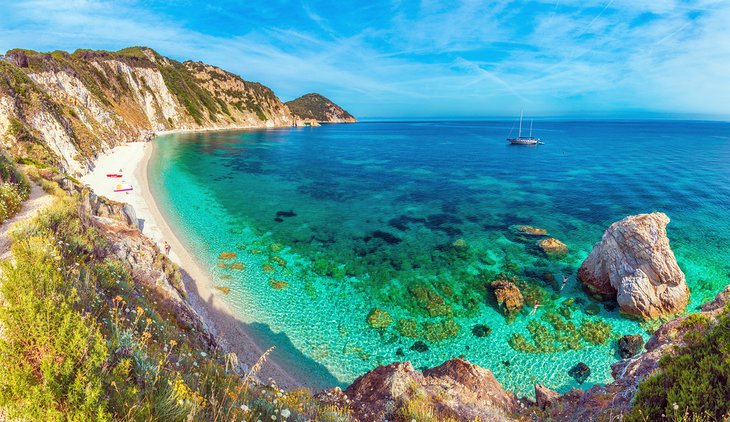 Known to history buffs as the home of exiled Napoleon Bonaparte, Elba is best known to seekers of sun and sand for the miles of beaches that line its jagged shore.
Off the coast of Tuscany and reached by ferry from Piombino, on the Tuscan coast south of Livorno, Elba has more than 150 beaches. They vary from long sandy stretches to tiny pebble-beach coves. Some, such as Sansone, have shallow, gentle slopes that are good places to go for families. The waters off the sea cliffs are favorites for SCUBA diving.
There are things to do here besides the beaches. Hikers love the island's trails, and if you have a head for dizzying rides, you can take the basket-like cable car to the summit of Monte Capanne.
Among the most popular places to visit are Napoleon's Villa dei Molini in Portoferraio, and his summer retreat, Villa Napoleone on Monte San Martino.
7. Borromean Islands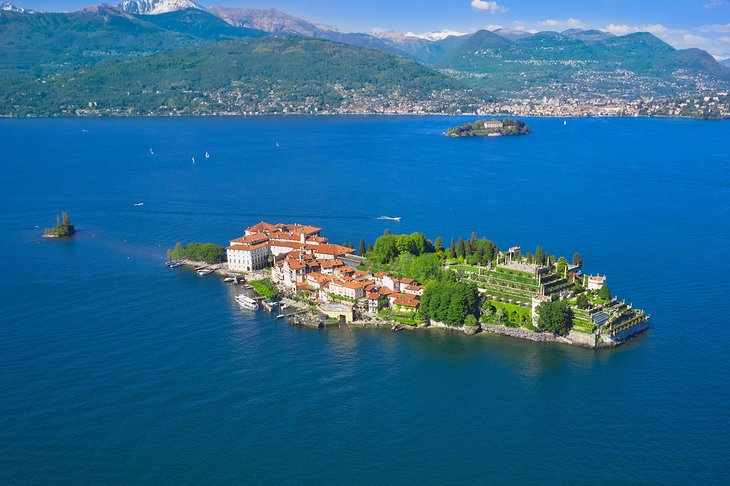 In the mid-1600s, Count Vitaliano Borromeo built terraces on a tiny island of Isola Bella off Stresa on Lake Maggiore, creating a sumptuous summer palace and a terraced garden that tries to combine every feature of Italianate gardens into a very small space. The result of both is a sensual overload of gilded flourishes, grand salons, statuary, trees, flowers, and even a shell-encrusted faux cave.
It's great fun to visit, and after that, you'll relish a peaceful stroll around the spacious gardens and shaded lakeside paths of the neighboring Isola Madre, with its own more modest summer palace.
Stop for a meal of lake fish at the even more tiny Isola Pescatori, a fishing village that completes the trio of Borromean Islands. You can visit all three easily in one day by boat on a Lake Maggiore Isola Bella Hop-On Hop-Off Ferry Tour from Stresa, spending as much time as you like exploring the palaces and gardens.
8. Aeolian Islands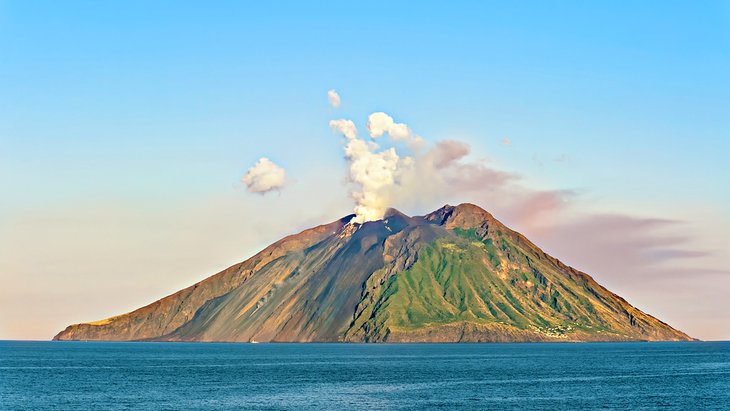 The volcano erupts so regularly that cruise ships time departures from Sicily for evening, so they can sit off Stromboli to watch the fireworks against the night sky. It's quite a sight - and viewing it on a balmy Mediterranean night from the deck chair of a cruise ship is one of Italy's most romantic experiences.
What makes it especially exciting - it is after all a live and very active volcano - is you never know what an uncorked hole in the earth may do. In 2002, Stromboli blew off one whole hillside of the island and sent it careening into the sea.
Stromboli is only one of the Aeolian Islands off Sicily's north coast and reached from Messina or Milazzo by ferry. The archipelago's other six main islands are Vulcano (nearest to the Sicilian coast), Lípari, Salina, Filicudi, Alicudi, and Panarea, all rising out of a 4,000-meter-deep seabed.
The islands' mild climate, volcanic landscapes of fumeroles and thermal springs, and ancient relics (people have lived here since the Neolithic era) plus hiking and water sports make them popular places to visit. You can tour Lipari and visit another of the Aeolian island on the Vulcano and Lipari Aeolian Islands Daily Cruise from Messina.
9. Caprera & the Maddalena Islands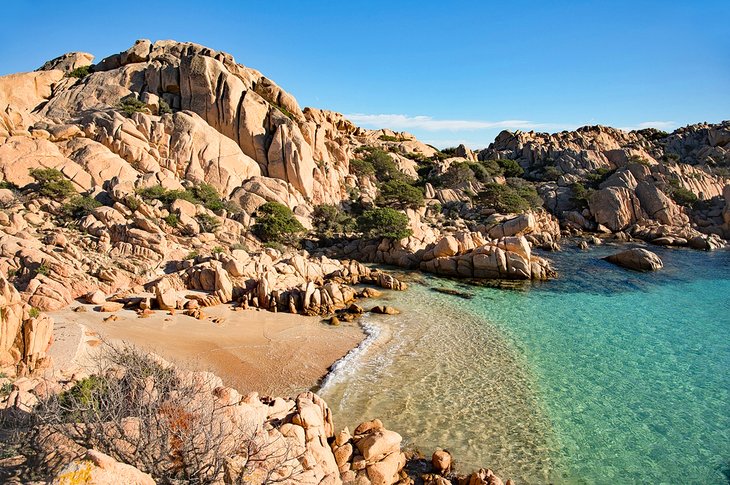 In the Strait of Bonifacio, between Sardinia and Corsica and within sight of both, the Arcipelago della Maddalena seems made solely for sailing or swimming in the emerald water and relaxing on an idyllic little beach of fine white sand. There is one small town, where the ferry deposits visitors after the half-hour trip from Palau, in northern Sardinia.
The main island is connected by a causeway to the lovely smaller island of Caprera, with more beaches and, for the history-minded, the home and farm of Giuseppe Garibaldi, the patriot general who united Italy into a single country. There are several walking paths on Caprera. Spiaggia di Cala Brigantina is an especially beautiful beach, and the smaller Cala Coticcio is surrounded by wind-sculpted rocks.
Once on the islands, you can easily find small boats to take you to beaches that are accessed only from the sea. Or you can take the La Maddalena Archipelago Boat Tour from Palau, which stops at several islands with time to swim.
10. Ponza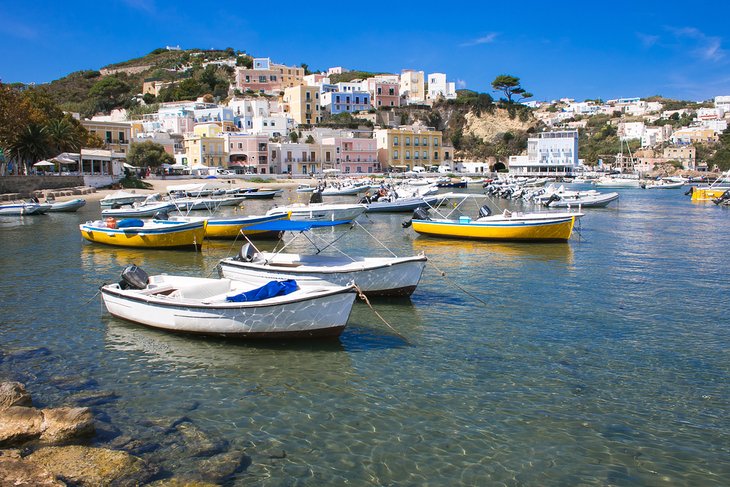 All the Pontine Islands, off the Mediterranean coast between Rome and Naples, are small. Ponza, the largest of them, measures less than eight square kilometers. Steeped in legend – according to Homer's Odyssey, the sorceress Circe summered here – and popular with Romans, Ponza is rarely visited by foreign travelers.
The terrain is precipitous, so don't plan on bringing a bicycle. The best way to see the island is from the sea, which is easy because the harbor is filled with taxi boats and various craft you can hire to explore on your own. Or you can take a round-island cruise with stops at the beaches and top attractions.
These include the sea arch of Arco Naturale, natural pools at Cala Feola, caves excavated by the Romans, luminous white cliffs, and sea caves. Taffy-colored houses climb the lanes above the harbor, where there's a promenade, and high above the town is a botanical garden with Mediterranean and exotic plants. You can reach Ponza by ferry from Naples or from Terracina, south of Rome.
11. Tremiti Islands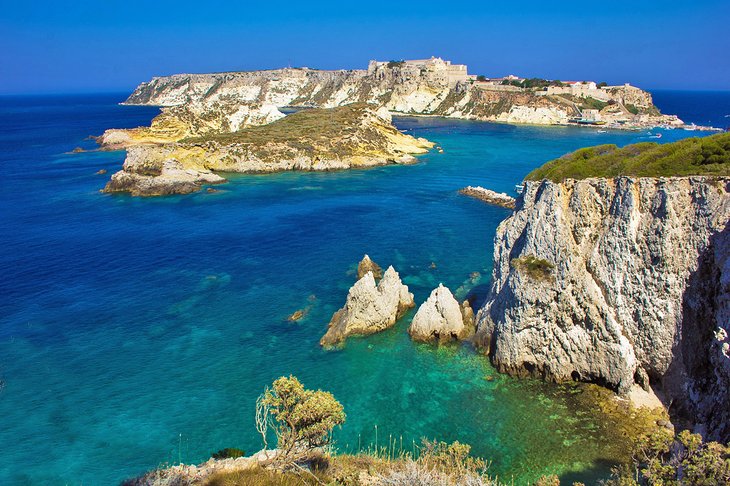 Adrift in the Adriatic, north of the Gargano Peninsula and part of the Gargano National Park, the Tremiti Islands are a little-known archipelago named for their seismic activity (tremiti means earthquakes).
The most populated is San Nicola, but the best developed for tourists is San Domingo, where the only sandy beach, Cala delle Arene, is located. The smaller islands of Capraia, Cretaccio, and Pianosa are uninhabited.
A good way to see the islands is by boat tour, with stops at secluded coves and snorkeling sites. The islands have long been a secret of divers. Under the water are caves; rock formations; black coral; the remains of World War II aircraft; even a statue of Padre Pio, a much-revered 20th-century saint from that region. Some of the marked underwater nature trails are suitable for snorkelers, as well.
Water sports and walking trails provide most of the things to do on the Tremiti Islands, but the towns offer a few places to visit, including the Abbey of Santa Maria al Mare and a formidable castle, both on San Nicola.
12. Giglio Island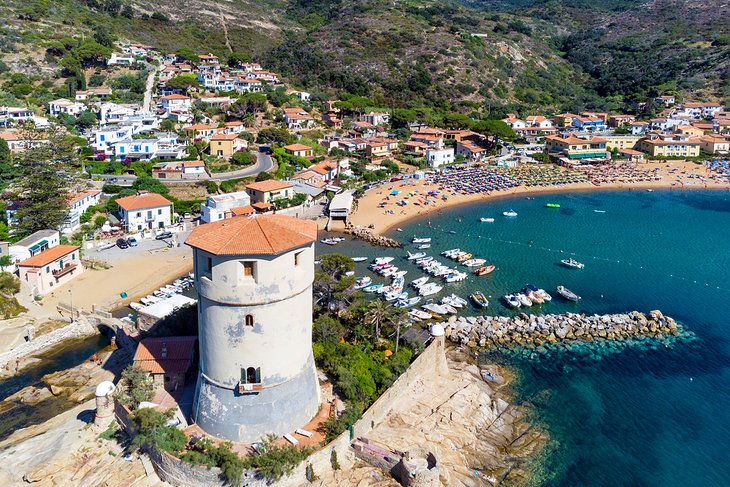 For a change of pace from Tuscany's Renaissance cites and medieval hill towns, hop a boat for the 15-kilometer ride from Porto Santo Stefano to Giglio. The small island rises from the Tyrrhenian Sea in a mountainous terrain that's covered in lush Mediterranean plants, dense pine groves, and terraced fields.
Hiking paths climb the granite peaks for spectacular views, or you can take a bus between the three main coastal towns. The coast is a series of cliffs, rock promontories, and coves with sandy beaches, most of which you can also reach by bus. Taxi boats will take you to others, or on a cruise around the island for views of the cliffs and sea caves. You may see dolphins in the surrounding turquoise waters, also popular for snorkeling.
Although it's a perfect retreat for nature-lovers and walkers, Giglio also has its historic attractions: Nero had a villa here, and in the center of the island is the 12th-century fortress of Giglio Castello, surrounded by high defensive walls and seven original towers.
Map of Islands in Italy
More Related Articles on PlanetWare.com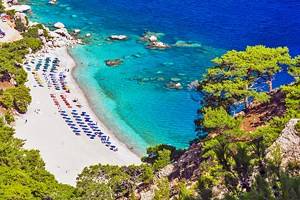 More Islands to Visit in Europe: If you love beaches and island vacations, you will find plenty of ideas for places to go on Mallorca, Minorca, and Ibiza in our page on the top tourist attractions in the Balearic Islands. Or to feel as though you'd stepped onto the film set for Mama Mia refer to our page on the best Greek Islands for beaches.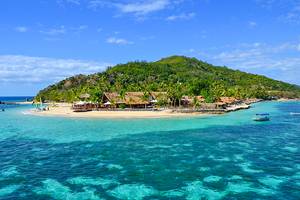 Discovering Pacific Islands: Those who long for even more exotic shores might be interested in visiting the Cook Islands in the South Pacific, often cited as some of the most beautiful islands in the world.