Venice with Kids: 12 Top Things to Do
It would be hard to find a city that is more visually exciting than Venice, so you're starting off with a big advantage if you're visiting with children. Because every turn in the street brings a new series of colorful houses, fanciful architecture, or boat-filled canals, there is always something to grab kids' attention – even for families with children of different ages.
It's hard not to get a sense of place in a city where everything is so different: streets are water, crosswalks are bridges (and sometimes gondolas), cars and buses are boats, windows are rarely square, and the buildings are every color of the rainbow.
The very differentness of Venice asserts itself in every experience, so abandon the notion that travel here is about seeing a certain number of tourist attractions. There's no checklist to fill. Venice is the attraction, and the experience is everything.
Find the best places to visit on your family travels with our list of the top things to do with kids in Venice.
See also: Where to Stay in Venice for Families
1. Tour the Grand Canal on the Vaporetto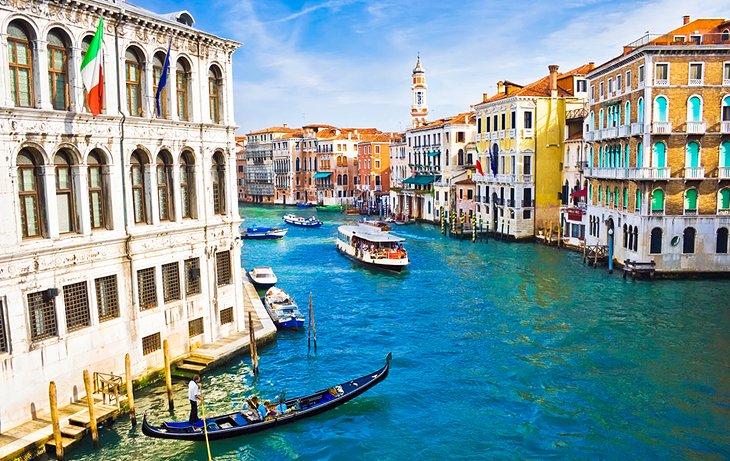 The best way to get a sense of Venice is by riding the length of the great waterway that sweeps through its heart in a giant reverse S. Linea Uno (Line 1) of the Vaporetto, Venice's public transportation system, runs the complete length of the Grand Canal from Piazza Roma to Piazza San Marco.
This is no ordinary city tour: it passes glittering palaces of everyone who was anyone in the Gothic and Early Renaissance eras, when Venice ruled a vast empire and reveled in its riches. While these ornate and colorful buildings glide by on each side, closer to the vaporetto are all kinds of craft that share this watery boulevard: gondolas, water taxis, cargo barges, delivery boats, private launches, police boats with sirens screaming, maybe a kayak or two.
Watching them navigate and avoid collisions is like watching a whole dance troupe tangoing against a colorful stage set. As you ride through the city, you'll also get a sense of how it lies, which of course won't keep you from getting lost. Remind your children that the facades they see are the front doors of these palaces, where everyone arrived by boat.
2. Join the Horses on the Portico of St. Mark's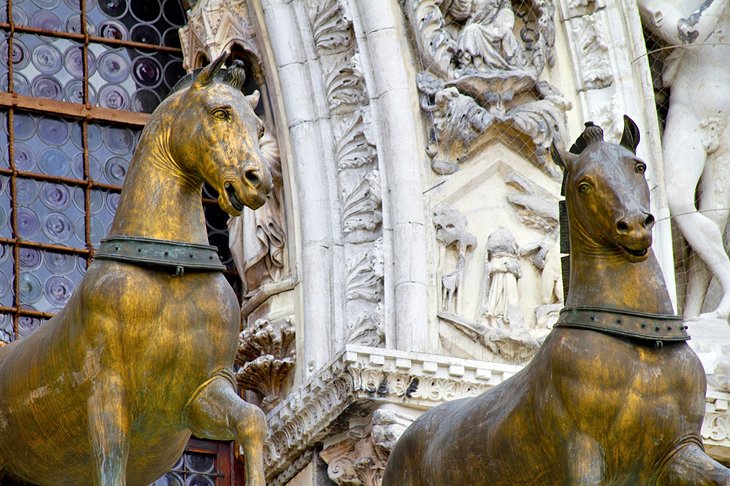 Even kids, who usually don't show much enthusiasm for visiting churches, will find something to like inside St. Mark's. More than 4,240 square meters of gold mosaics line its domes and cover its walls and columns, and the light catches and reflects in each of the tiny pieces of glass to bring the pictures to life.
The great Pala d'Oro, the altarpiece behind the main altar, dazzles with thousands of gems and precious stones set in beautifully worked gold. Everything in or on the basilica has a story, none more fascinating than that of the giant bronze horses that overlook the piazza from the balcony above the main door.
The original horses began life in the third or fourth century in the Hippodrome of Constantinople but were taken as spoils of war by Venice after the fall of Constantinople. They were placed on the portico of St. Mark's, where Napoleon admired them when he took Venice. He shipped them off to Paris.
They were returned after Napoleon's defeat and watched over the square until 1981, when air pollution threatened them, and they were replaced by reproductions. See the originals in the basilica's museum, then climb to the balcony above the main door to join their replacements for a horse's-eye view of Piazza San Marco. It's also a ringside seat for watching the Moors strike the hour on the bell tower across the square.
3. Explore the Spooky Prisons in the Doge's Palace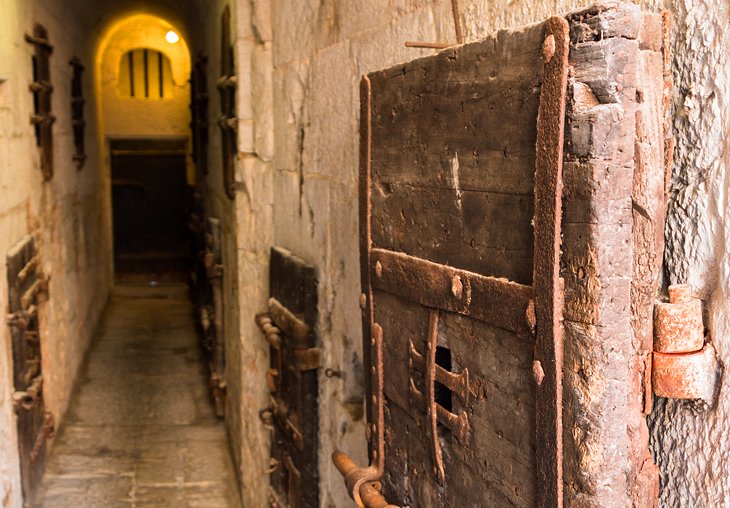 The exterior of the Doge's Palace, which stands alongside St. Mark's, looks a bit like a decorated cake with its stone filigree and candy colors. Inside, it is sumptuous and grandiose, Venice's most splendid palace, where the man who ruled the Venetian Republic lived in luxury.
The public rooms - Scala d'Oro (Stairs of Gold); the 14th-century Hall of the Great Council, with its immense 22-meter painting by Tintoretto; and the exquisite Sala del Collegio - will impress kids, but what they'll really like best are the grim prison cells in the second building, which you reach by crossing the Bridge of Sighs.
On a private tour, you can descend with a small group into the dank dark cells of the pozzi (wells) and enter the even worse piombi, the cramped low cells right under the lead roof. Despite all the lavish gold decoration, younger kids may find this longer tour boring, but older kids will enjoy exploring the prison and the glimpse into the medieval justice system. You can see the main rooms with a standard public admission ticket.
4. Go Lion Hunting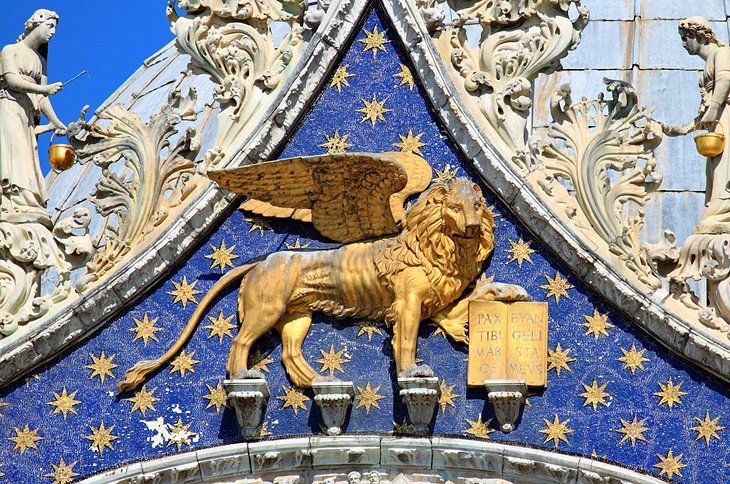 This one is for little kids, although older siblings will find themselves drawn into the fun. And there's a bit of a history lesson disguised in the game. Everywhere you look in Venice, you'll see lions, most often the winged lion that's the symbol of the city's patron and founder, St. Mark. The lion became the city's symbol in AD 828, when the saint's relics were spirited away from Alexandria by two Venetians and brought here.
The Venetians themselves collected lions (along with anything else they fancied in their travels and conquests), which is how many of the older non-winged ones got here. One of the oldest and best loved, the well-worn stone lion in the little piazza beside St. Mark's, is a popular prop for photographing children.
Spotting these lions is a game everyone can take part in and gives kids a reason to look up and look around. While lions appear all over Venice, and in every medium, they divide into two groups: winged and not winged. And the winged lions of St. Mark divide again by whether the book in his paw is open, which indicated that Venice was at peace, or closed, when the republic was at war.
5. Ride in a Gondola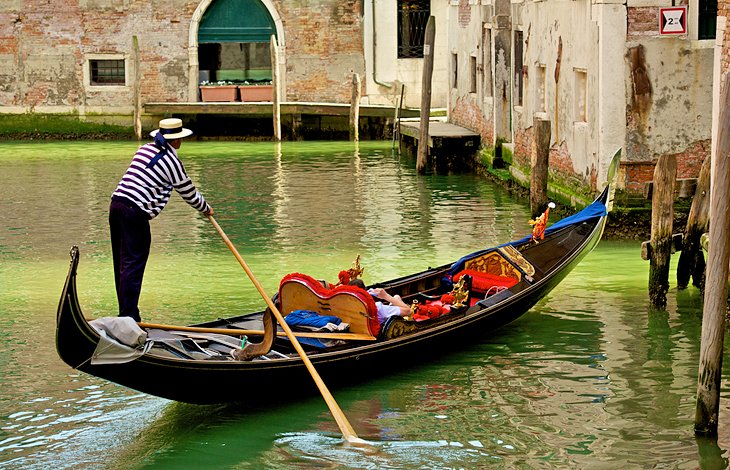 Perhaps the most quintessential of all experiences in Venice is being rowed through narrow, winding canals by a singing gondolier. For couples, it's the height of romance, but it's just as much fun for families. Teenagers may object, seeing it as an invitation for being stared at, but once the gondola is drifting through the "back alleys" and under bridges, they will love it (even if secretly).
If a proper gondola ride is beyond the budget, there is one experience every visitor can afford, and it's one that locals do every day. Only four bridges cross the Grand Canal, and it's a long walk for people who need to cross between these, so a series of gondolas, called traghetti, shuttle passengers back and forth for a euro or two. The cushioned seats have been removed from these, and although there is a bench, Venetians stand for the crossing.
Look for signs pointing to the traghetto landings, which are also marked on some city maps. One of the handiest for tourists connects the San Marco district to Dorsoduro, not far from the Guggenheim museum. The landing on the San Marco side is just off Campo Santa Maria Giglio.
6. Shop for Masks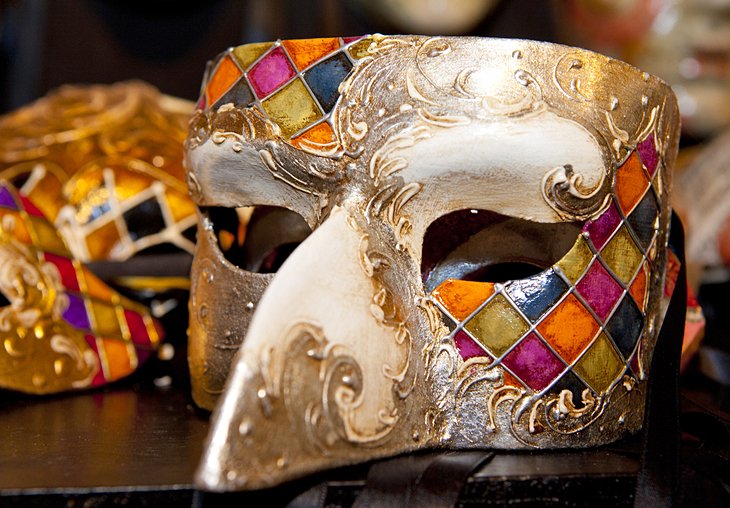 Wherever you go in Venice, you're likely to find carnival masks in shop windows and on the stalls of street vendors. But to find authentic masks that are made in Venice, cross Rialto Bridge and head into the warren of lanes in the San Polo neighborhood.
Look for windows with only masks and carnival costumes, and look inside to see if artisans are working there. If so, you've hit a real mask maker. There are several mask makers in Dorsoduro, as well. Both these neighborhoods have concentrations of traditional craft studios and workshops, where you'll also find artists in paper, fabric, and other crafts.
Calle dei Nomboli, off Campo San Tomà in San Polo, has several, including TragiComica, whose child-friendly staff is happy to have kids watch as they paint the details on harlequin eye masks or elegant and fanciful full-face masks. Closer to Rialto, the tiny and crowded La Bottega dei Mascareri specializes in historic styles, of more interest to older kids.
On the Rio Terà Canal, off Campo Santa Margherita in neighboring Dorsoduro, Mondo Novo brings the craft into contemporary times with more modern designs. At Ca' Macana, on Calle delle Botteghe, off Campo San Barnaba in Dorsoduro, kids can learn how masks are made and even try their hand at decorating one, but you'll need to reserve ahead.
7. Watch Glassblowers on Murano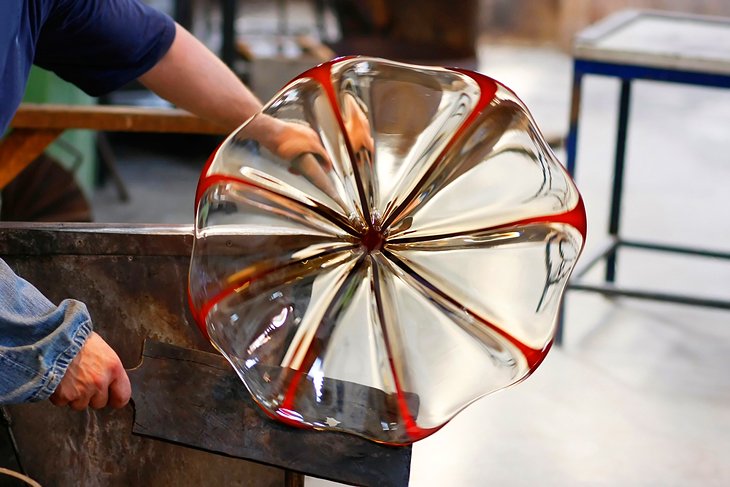 The vaporetto runs frequently to the island of Murano, where all Venice's glassblowers have their workshops. They were quarantined there in the 13th century for two reasons: first to prevent fires spreading from their furnaces in closely packed Venice, and second so they could be prevented from leaving Venice and taking the secrets that made Venetian glass the most highly treasured of Europe's royal courts.
Once on the island, bypass the hawkers and look for signs for free glassblowing demonstrations. Seeing blobs of molten glass become fragile goblets, vases, and works of art is mesmerizing for any age.
You will be funneled into showrooms after the demonstration, but are under no obligation to buy. It's better to look around Murano before shopping, and you are likely to find unique and more creative pieces at far better prices in the shops farther away from the vaporetto landing.
When you are away from the large showrooms, you'll find some shops of individual designers whose works are tasteful and quite reasonable, far better souvenirs than the mass-produced (and too fragile to get home safely) glass gondolas on every street kiosk. To be sure it's made here, look for the seal assuring authenticity on the shop window. Little girls will certainly want necklaces of colorful glass beads.
8. Tour a Palace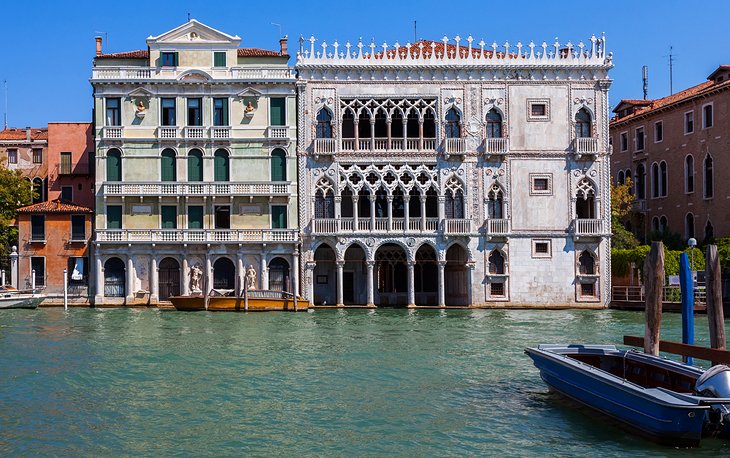 There's no better way to get a picture of what life was like for the upper crust of Venetian society than to tour one of their glorious palaces. Several of the finest have been preserved as museums. Ca' D'oro is now an art museum, but the interior décor and furnishings are as they were in the late Middle Ages. You can see its highly decorative façade of carved stone, overlooking the Grand Canal, from the Vaporetto.
Perhaps more interesting to children is Ca' Rezzonico, whose interior shows what the good life was like in 18th-century Venice. The ballroom stretches the length of the building, and exhibits on women's life and Venetian silk production include over-the-top costumes worn by fashionable ladies.
9. Go on a Treasure Hunt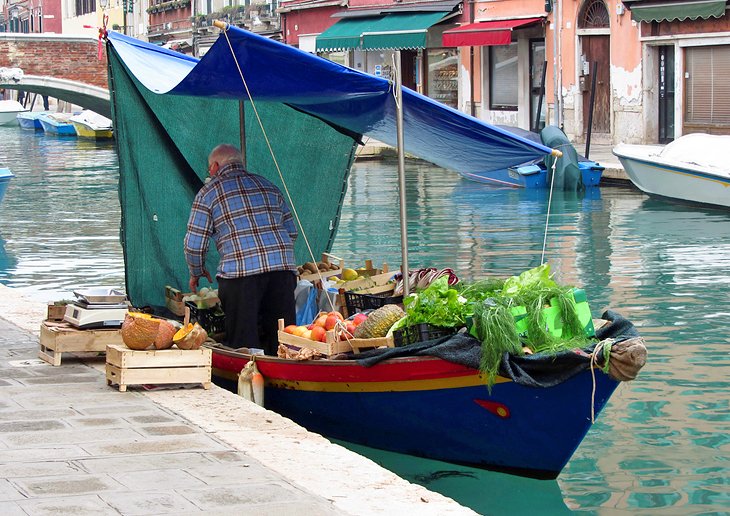 In a city with so many quirks, eccentricities, and treasures to be discovered, it's easy to make a good list for a treasure hunt that can easily involve children of various ages. It encourages them to look around, and some of the places are bound to lead to some hidden historical or cultural insights. Some things on the list can be found in several places, while others, which can be good for extra points, are one-off sights that you may come upon as you are on your way to other attractions.
You'll think of some, but here are a few ideas to get your list started: a lion with a closed book (meaning that Venice was at war), an ambulance, a garden, a pointed window, a golden lion, a well, a door that opens into the water, a horse, a saint, an angel, a dragon, a singing gondolier, a grocery store on a boat (you'll find one just off Campo San Barnaba by the Ponte dei Pugni), a leaning tower (San Stefano, San Giorgio dei Greci, and others), a bride in a gondola, and a gelato stand (everybody will be looking for this one).
10. Picnic in the Giardini Pubblici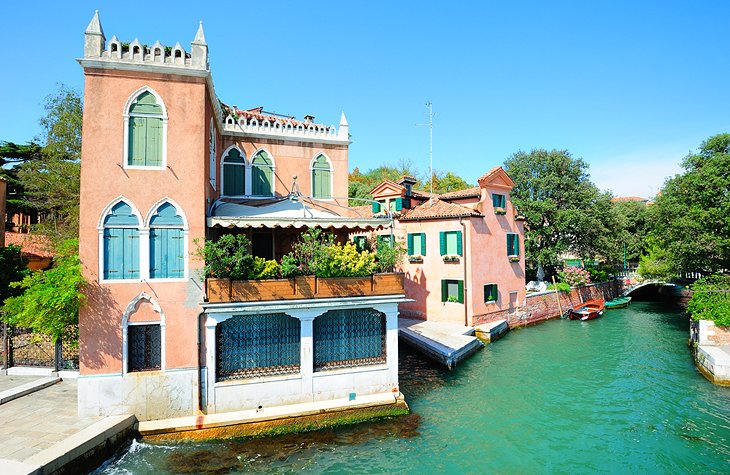 If you follow the Fondamenta left along the Grand Canal from the Doge's palace, you'll pass Arsenale (a good place for hunting lions) and eventually come to the long green swath of the public gardens, Giardini Pubblici. Or you can ride the vaporetto from the San Zaccaria stop near Piazza San Marco right to the entrance.
In this shaded park, along with sculpture and flower beds, you'll find grass for the kids to run on; a playground with slides and swings; and a faux grotto and benches, where you can sit and watch the kids run off steam. On the way, you can buy picnic foods at the daily market on Via Garibaldi, between Arsenale and the public garden. You can access a shady promenade into the garden right from Via Garibaldi.
11. Go Beachcombing at the Lido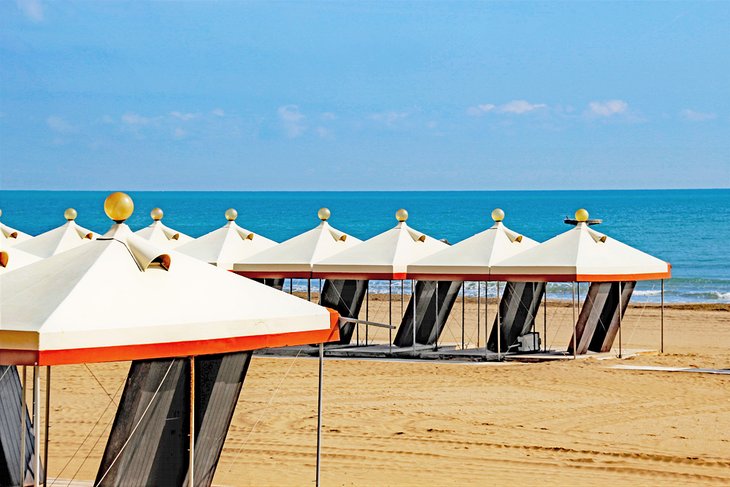 The fact that the Lido was Europe's first beach resort won't impress kids as much as the long stretch of white sand itself, which seems worlds away from Venice. Kings and queens once carefully hid their royal skin from the sun here, when they ventured from the grand hotels that still back the beach.
In season, you can hardly find the sand for the rows of beach umbrellas and lounge chairs laid out in front of all the hotels, but there are public beaches at the northern end, near the church of San Nicolo.
Off-season, the beach is free and peaceful, a place where kids can run in the sand; pick up shells; build castles; and write messages and pictures in the sand for the waves to wash away, as locals do. Rent bicycles near the place where the Motonave or vaporetto from St. Mark's arrives, and explore the back streets to see the fanciful Art Nouveau villas and hotels.

12. Get Lost in a Maze at Villa Pisani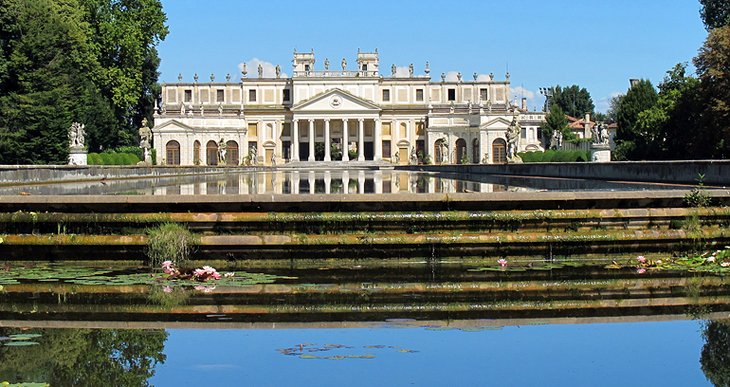 You're sure to get lost at least once daily in Venice's own maze of streets, canals, and passageways, but for a real puzzler, take on the world's most difficult garden maze in nearby Strà, on the Brenta Canal. Built to connect Venice to Padua, the Brenta Canal soon became known as the Venetian Riviera as noble families built extravagant summer palaces there to escape the city's heat.
A boat still takes tourists from Venice to Padua, stopping at Villa Pisani (you can return by train). But the boat also stops at two other villas, and it can be a long day for children, so you might prefer to take the bus from Piazzale Roma.
The villa is grand, and kids will enjoy seeing the trompe l'oeil painting on the ballroom ceiling, trying to tell where the painting leaves off and reality begins. But it's the garden that will fascinate and bewilder them. It's not like the usual tame little hedge mazes, and you will want to stick close to small children, as the hedges are tall and dense, and little people will be hard to locate once out of sight.
The route through almost a dozen concentric rings is not easy, but there is usually someone at the top of the tower in the center, who can call out directions to guide the hopelessly lost. Once at the center, climb the double-spiral staircase to the top of the tower and watch others puzzling their way through.
Address: Via Doge Pisani 7, Strà
Tips and Tours: How to Make the Most of Your Visit to Venice with Kids
Avoid the Crowds at St. Mark's: On a St. Mark's Basilica After-Hours Small Group Tour with Optional Doge's

Palace

, you can visit this highlight without standing in line and being moved through in a crowd. You'll learn about the mosaics and be able to see the famed golden altar. With the optional Doge's palace extension, you'll have access to those grand halls and cross the Bridge of Sighs with only a small group of other tourists.
Getting Around: Although you can travel the longer distances by vaporetto, you should prepare to do a lot of walking, and on uneven surfaces with a lot of steps. Be sure everyone is wearing comfortable shoes with sturdy rubber soles. Venice is not a place for flip-flops (the flop could easily be into a canal!)
Take a Break: Little legs get tired after all that walking, so take advantage of all those cafés with sidewalk tables. Yes, a coffee or a cold drink costs more sitting down, but think of it as renting a spot in prime real estate. Everyone will enjoy the next explorations a lot more after a rest.
Get Creative: Nothing beats a hands-on experience, and kids will love creating their own personal papier-mâché mask in a Venice Carnival Mask-Making

Class

. Younger children can learn to paint and decorate a pre-shaped mask and older ones can begin by creating their own with papier-mâché. Everyone will learn about this tradition and take home the mask they created.
More Related Articles on PlanetWare.com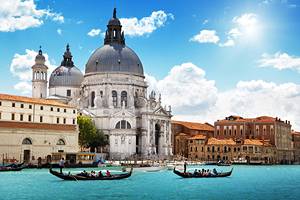 Seeing More of Venice: While you and your family are discovering the attractions of Venice, you may find our Visitors Guide to St. Mark's Basilica and our guide to exploring the Doge's Palace helpful. You may also want to step away from the crowds and take one of the many fascinating day trips from Venice.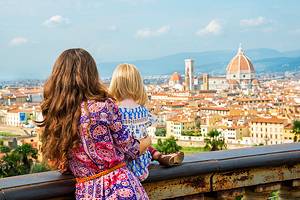 Where Else to Take Your Family in Italy: The two other great tourist cities of Italy are also filled with things to see and do for families. You'll find our guides Florence with Kids and Rome with Kids helpful in finding activities.