From Rome to Tuscany: 6 Best Ways to Get There
Author Shandley McMurray has traveled from Rome to Tuscany multiple times on trains, planes, and automobiles.
While Rome is home to landmark tourist attractions and upscale boutiques, Tuscany offers a more laid-back Italian holiday filled with undulating hills, ancient towns, and fab restaurants. With 275 kilometers between Rome and Tuscany's capital, Florence, it's close enough to warrant a day trip and easy to get to via a variety of methods.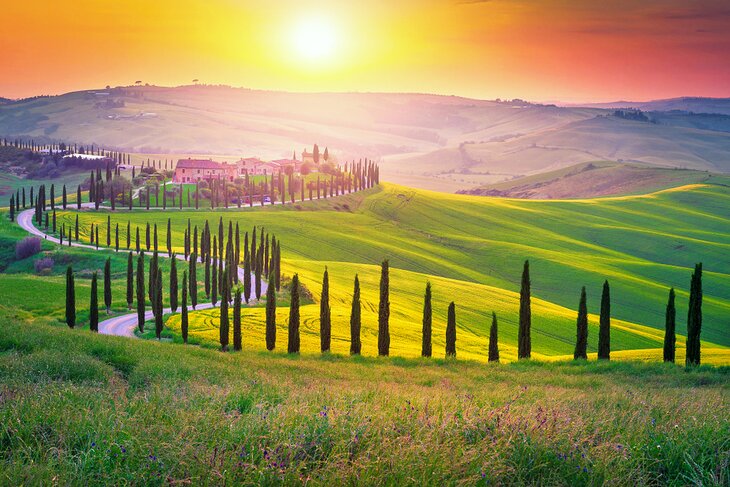 From planes to trains to buses, there are a multitude of ways to get from Rome to Tuscany. Those who feel brave enough to attempt driving the often narrow and twisty roads can rent a car to cover the nearly three-and-a-half-hour journey to Florence. Or leave the driving to someone else and enjoy a private transfer or guided tour.
No matter which method you prefer to take when traveling in Italy, use our list of the best ways to get from Rome to Tuscany to help plan your route.
1. From Rome to Tuscany by Train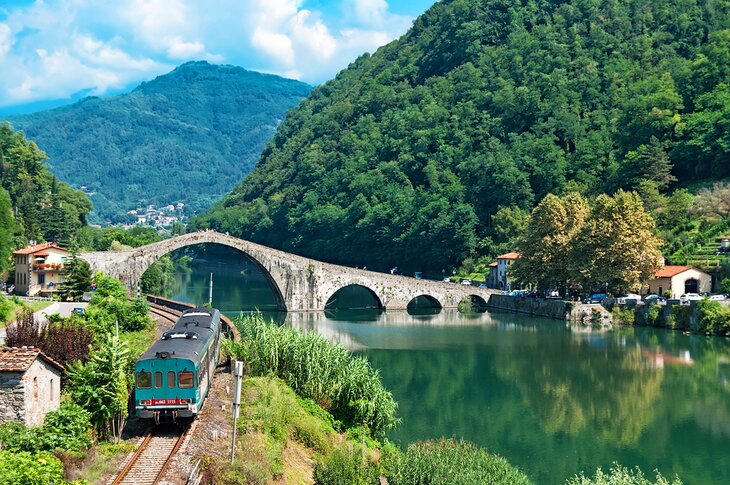 The fastest way to get from Rome to Tuscany is by train. As mentioned earlier, Florence is the main transportation hub of the Tuscany region. No matter which town you're hoping to explore, if you choose to do so by train, you'll likely have to go through Florence. The Florence Santa Maria Novella Train Station (SMN) lies in the center of the city.
ItaliaRail offers multiple direct Frecciarossa high-speed trains daily, and they take about 90 minutes to travel from either Rome's Termini or Tiburtina station to SMN. These bullet ETR 500 and ETR 1000 trains reach a max speed of 300 kilometers per hour, which means the pastoral landscape will appear as a blur as you zip by. Passengers are granted access to free Wi-Fi, air conditioning, power outlets, and a café car.
The trains leave Rome every half hour beginning at 5:20 am, with the last train departing Rome at about 9:20 pm.
Those hoping to go directly from the airport can board a train there. A direct trip from the airport will take just under two hours and 20 minutes to reach SMN. Tickets average about $17 from Termini and $25 from the airport for a standard fare that includes reclining seats and power outlets.
Premium, Business, Business Quiet, Business Salottino, and Executive classes are also available for additional fees. The Executive fare, for instance, will run you about $93 and includes extra legroom; wide, leather single seats on each side of the carriage; free access to stations' Freccia Club lounges; access to onboard meeting space; and extra luggage space.
Tip: Sign up for a rail pass if you're planning to take multiple trains during your visit. It can be much more cost-effective. Rail Europe, for instance, offers passes that allow flexible travel within Italy over three days within one month for $131 per traveler.
2. From Rome to Tuscany by Tour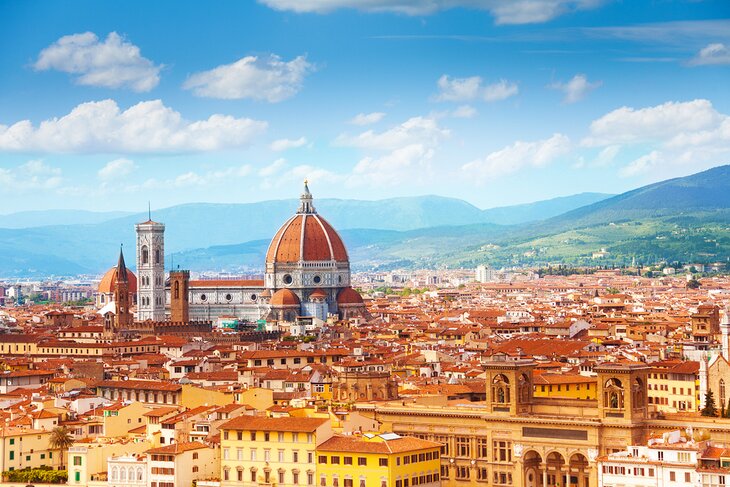 Taking a private, guided tour is one of the most relaxing ways to visit Tuscany, especially on a day trip from Rome. There's no need to figure out train or bus schedules or navigate the narrow, winding roads when part of a tour. Instead, the guide will handle all the niggly details; all you have to do is sit back and enjoy the remarkable scenery.
The Private Rome to Florence and Tuscany Countryside Day Tour is a perfect thing to do for those hoping to check off the most essential sights and attractions. Lasting about 12 hours, this extensive tour picks up tourists from their hotels at about 9 am and transports them to the heart of Tuscany in a private vehicle with an English-speaking driver.
A lunch stop in the Tuscan countryside is included, but the food and drink come at an additional fee. After lunch, guests are driven to Tuscany's main hub, Florence, where they will see the city's most famous landmarks, including the stunning Piazza del Duomo with its most-visited attraction, the Santa Maria del Fiore Cathedral. Other stops on the tour include Palazzo Vecchio and Piazzale Michelangelo.
Two hours are allotted for guests to explore the shops and other attractions, and we suggest carving out at least one hour for a visit to the city's most unmissable point of interest, the Uffizi Gallery. After this time is up, tourists are transported back to their accommodations in Rome.
Tip: Remember to dress appropriately if you plan to enter a church on your tour. Shorts and sleeveless tops are forbidden at these places of worship.
3. From Rome to Tuscany by Plane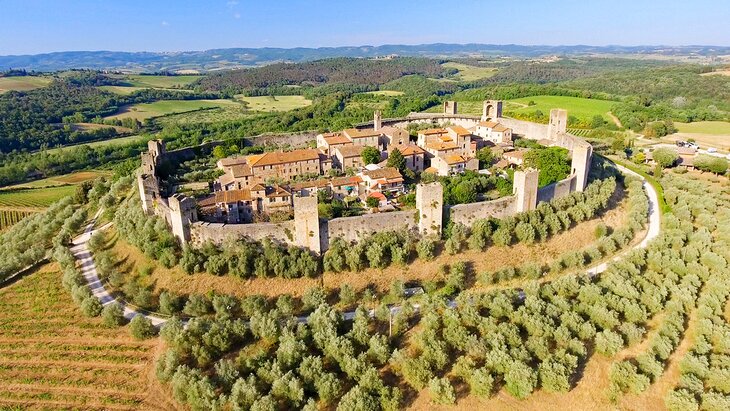 The second fastest way to get from Rome to Tuscany is by plane. A flight to the region's main hub, Florence, takes about 55 minutes in the air, and the price is pretty reasonable when compared with other modes of transportation to cover this distance.
That said, expect to spend over half an hour getting from downtown Rome to the airport. The Leonardo Express train offers an airport shuttle that takes about 32 minutes and leaves from the Roma Termini Station. Or hop in a cab, which could take 45 minutes or more, depending on traffic.
Plus, you'll need to factor in the time it will take to get from the Florence Airport to the city's main sights or other Tuscan towns, which will involve another taxi ride (about 20 minutes) or potentially the GEST tram, which runs from the airport to Unità, a stop near the Florence Santa Maria Novella train station, in just 20 minutes. Tickets cost 1.50 Euros.
ITA Airways, the main Italian airline, offers two flights a day, more during high season. Expect to pay around 200 USD for a return flight. They leave from Rome's Fiumicino airport and fly into Florence Airport in Peretola. They're the only carrier that flies this route, so low-cost airlines like EasyJet and RyanAir won't be of use for cost savings.
4. From Rome to Tuscany by Bus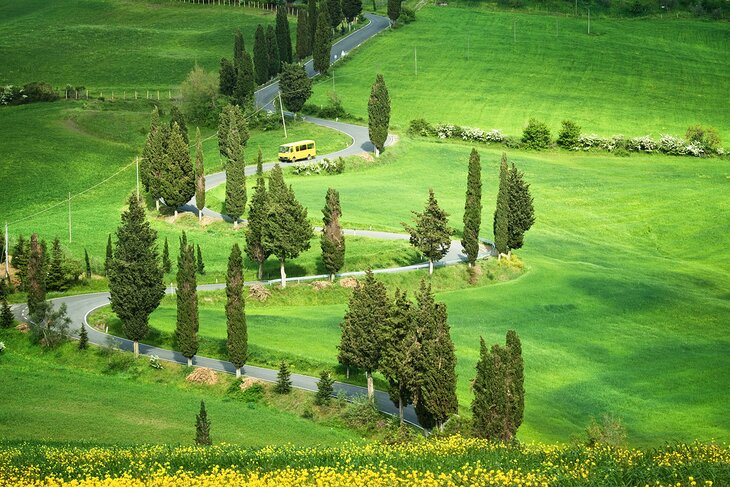 The cheapest way to get from Rome to Tuscany is by bus. For as little as $5, tourists can travel on FlixBus from Rome Tiburtina Bus Station to Florenz Villa Costanza. The journey will take anywhere from three hours and 15 minutes to over four and a half hours, depending on the time of day and traffic, and buses depart nearly every half hour from 7:25 am to 11:30 pm.
There's also one bus that leaves at 1:45 am and arrives at Florenz Villa Costanza bus station on Via della Costituzione at 6:05 am. Guests hoping to explore Florence will need to take a taxi to the city center, which will take about 30 minutes.
Buses also arrive at Florence Piazzale Montelungo station, which lies very close to the Firenze Santa Maria Novella train station.
Marino Bus leaves Rome from Rome Tiburtina and arrives at Park Villa Costanza, outside Florence, about four hours later. There are three buses a day at 5:35 am, 3 pm, and 10:55 pm. Tickets cost around $18.
Autoservizi Salemi is another company offering a bus between Rome Tiburtina and Florence Villa Costanza once daily at 6 am. It takes about three hours and costs about $23.
5. From Rome to Tuscany by Car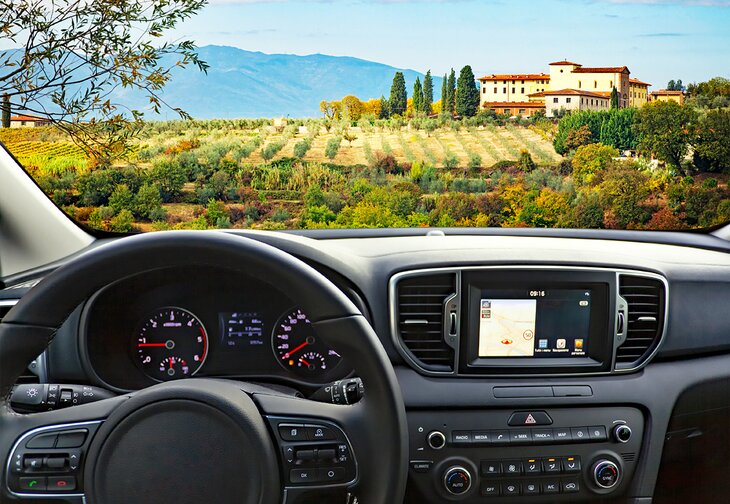 Renting a car is one of the best ways to get from Rome to Tuscany, especially for those who'd like to be in charge of their route. Speaking of the route, there are two main options to get to the heart of Tuscany—one that hugs the remarkable coastline along the E80 and the other, a hilltop version that follows the A1.
The A1 route involves tolls (have cash or a debit/credit card handy) but it is more direct and passes stunning towns like Orvieto, with its pretty funicular, and Montepulciano, with its Piazza Grande. Arezzo is another beautiful place to visit on this route. It lies about 80 kilometers from Florence, just a quick jaunt off the A1.
The A1 is the most popular route to take, so expect traffic. In all, the over 270 kilometers from Rome to Florence could take just over three hours to travel on this route.
The coastal, E80 route is quieter but also involves tolls, so be prepared with cash or a debit/credit card on hand. Make stops in some of the pretty towns like Orbetello, Grosetto, or Livorno, before scheduling at least a few hours to explore the popular attractions in Pisa.
The most obvious next stop would be Florence, the heart of the Tuscany region, which lies just under an hour and a half east of Pisa. This route will take up to two hours longer than the more direct A1 option, but it's a worthy undertaking.
Insider's tip: Map out Florence's public parking lots before your trip to decrease your stress level when it comes time to park. There is street parking available, but it can be hard to nab and is very limited in the center of town. Head to the outskirts to find a cheaper and available spot.
6. From Rome to Tuscany by Private Transfer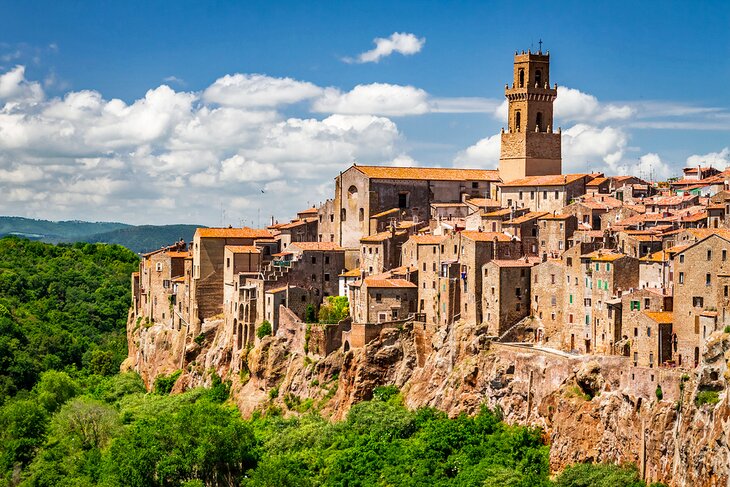 Not up for driving in unfamiliar territory? Book a private transfer from Rome to Florence. Tourists are picked up from the airport, their hotel, or other accommodations and driven in comfort in an air-conditioned Mercedes. In about three hours, their driver will drop them at their Florence location.
There's no need to futz around with buses, train stations, or directions in general. Instead, guests are driven in style by an English-speaking professional who can navigate the traffic with ease. They'll be dropped off at any location within Florence or its nearby surrounding area.