12 Top-Rated Day Trips from Lyon
The area around Lyon abounds with cultural treasures and beautiful nature sites. Fascinating historic towns, picturesque country villages, and elegant châteaux await visitors who take the time to explore the surroundings of Lyon on day trips.
Impressive historic monuments reveal the local heritage, which stretches back millennia. The influence of bygone eras is especially evident in Vienne, which boasts ancient Roman monuments and Romanesque churches, and the medieval town of Pérouges, with its cobblestone alleyways, historic inns, and traditional restaurants.
For a relaxing escape to nature, one of the best places to visit in the Lyon surroundings is the Domaine de Lacroix-Laval. This beautiful estate encompasses a lush wooded parkland with streams and tree-lined paths.
Not far from Lyon, Chazelles-sur-Lyon will appeal to the fashion conscious. Once a center of hat making, the town features a museum on the subject, and custom-made chapeaux are available from its atelier.
Adventure seekers will want to explore the Grottes de Cerdon. These mesmerizing caves were once inhabited by prehistoric humans and are now used to make blue cheese.
Whatever your choice of excursion, you will be delighted by the tourist attractions and things to do around Lyon. For more ideas, see our list of the best day trips from Lyon.
1. Vienne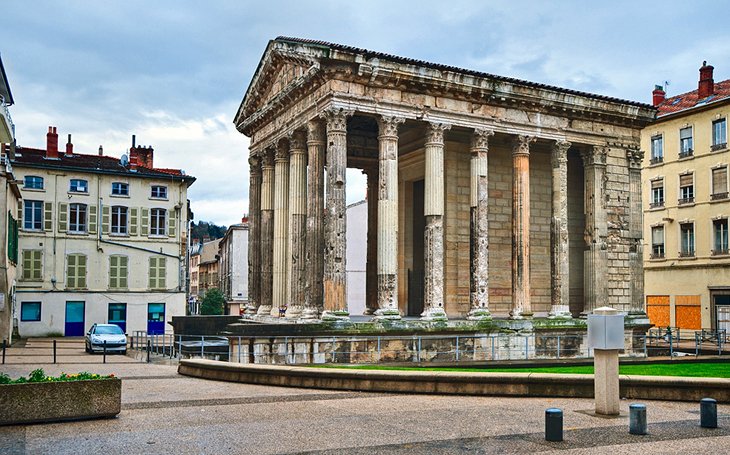 Vienne is well worth a detour from Lyon (just 30 kilometers away). It's one of the best places to visit in France to see ancient Roman monuments. The city also boasts several interesting Romanesque and Early Gothic churches.
The top attraction in Vienne is the Temple d'Auguste et de Livie (Place Charles de Gaulle) built in 25 BCE. During the Middle Ages, the Roman temple was converted into a church, and during the Revolution, it became a "Temple of Reason" and later a courthouse.
Another impressive Roman monument, the 1st-century CE Théâtre Antique originally had seating for around 13,000 spectators, which made it one of the largest in the Roman Empire.
The Théâtre Antique is currently used as an open-air venue for summertime music concerts. The well-attended Jazz à Vienne festival, which presents high-caliber jazz concerts, is held at the Théâtre Antique every year in June and July.
To learn more about the world of antiquity, visit the Musée Archéologique. This fascinating collection of sculptures, mosaics, funerary monuments, inscriptions, and architectural fragments is displayed in the 6th-century Eglise Saint-Pierre, one of France's oldest churches.
Also not-to-be missed are two medieval-era monuments. The Romanesque Cloître Saint-André-le-Bas is noteworthy for its harmonious cloister featuring ornately carved capitals from the 12th century. Three rooms attached to the cloister are used to display temporary exhibitions.
Built between the 12th and 14th centuries, the Cathédrale Saint-Maurice (Place Saint-Paul) beautifully blends Romanesque and Gothic architectural elements. The cathedral contains precious relics from the 8th century.
Accommodation: Where to Stay in Vienne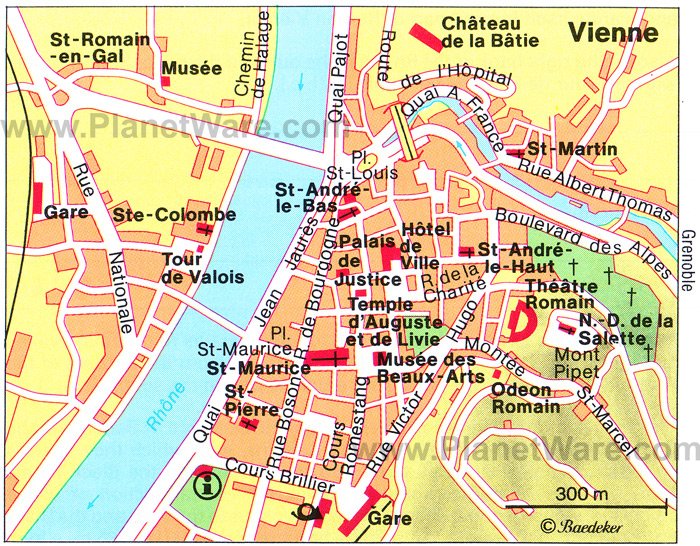 2. Pérouges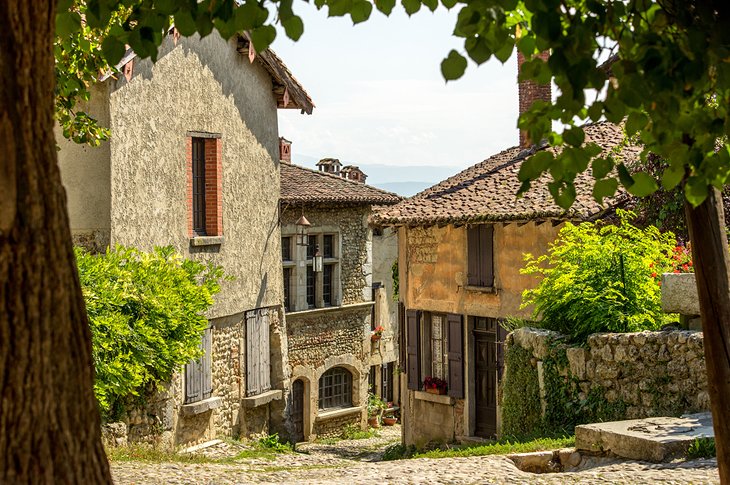 Thanks to its captivating architecture and quaint maze of cobblestone pedestrian streets, the walled medieval city of Pérouges (40 kilometers from Lyon) has earned a place on the list of the "Plus Beaux Villages de France."
This delightful escape from the modern world is found in a pleasant pastoral environment, perched on a hilltop overlooking the Ain River. With its cobblestone streets, atmospheric squares, old stone buildings and artisanal boutiques, the town gives visitors the impression of stepping back in time.
To become truly immersed in the ambience of the Middle Ages, visitors should spend the night at the Hostellerie du Vieux Pérouges. Guests enjoy charming accommodations in a handsome 15th-century building or typical rustic houses of the village. At the restaurant of the Hostellerie de Pérouges, the waiters dress in period costumes and the dining room features white linen tablecloths and old-fashioned décor.
Other ways to soak up the medieval atmosphere of Pérouges include attending parades and shows at the Fête Médiévale (Medieval Festival) during the second weekend of June, and visiting the Musée du Vieux Pérouges.
Housed in a 14th-century manor house that belonged to the Dukes of Savoy, the Museum of Old Pérouges presents an extensive collection of archaeological items and historical objects that reveal the town's heritage. The museum also has a weaving workshop, a medieval garden, and a tower with panoramic views.
In addition to its old-world charm, Pérouges has plenty of cultural and outdoor activities. Favorite things to do while visiting Pérouges include nature walks, hiking, and dining. The countryside outside of Pérouges has many trails (the town's tourist office provides maps for a variety of hikes on marked trails).
After an invigorating hike or a long day of sightseeing, tourists will appreciate an authentic meal at one of the town's traditional restaurants. The local gastronomy is well known for its culinary specialties, such as the prized Bresse chicken served in a creamy morel sauce and Galette Pérougienne (a buttery tart prepared from brioche dough and topped with sprinkles of sugar).
3. Domaine de Lacroix-Laval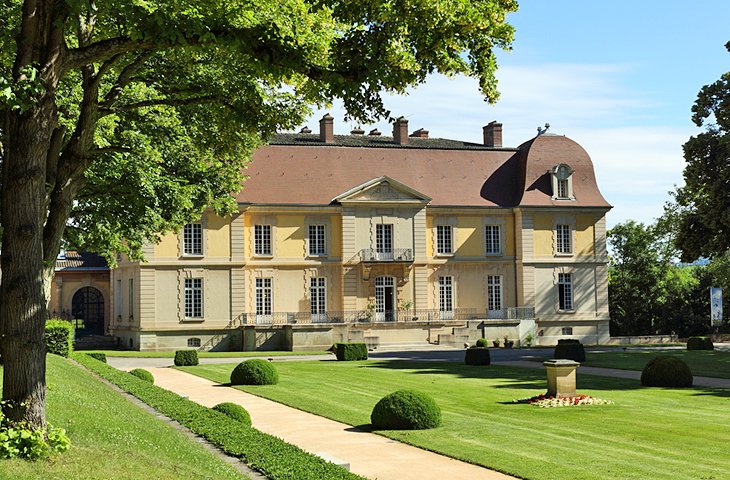 A peaceful retreat just 13 kilometers from Lyon, the Domaine de Lacroix-Laval encompasses 115 hectares of tranquil parklands, gardens, and forests.
This lush estate features large meadows that are used for outdoor sports and children's pony rides. There are also elegant manicured areas with tree-lined paths, woodlands, ponds, and streams.
Distinguished as an EcoJardin (for its ecological gardening practices) and labeled a "Jardin Remarquable" ("Remarkable Garden"), the Domaine de Lacroix-Laval is the perfect day-trip destination for picnics, relaxation, and nature walks.
Visitors enjoy jogging on the property's fitness trails or taking a leisurely stroll through the historic rose garden and the English-style park.
Address: 1171 Avenue de Lacroix-Laval, 69280 Marcy-l'Étoile
4. Chazelles-sur-Lyon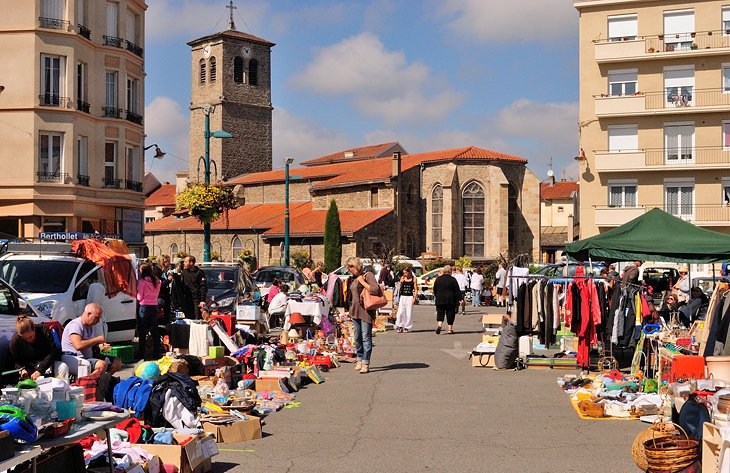 About 50 kilometers from Lyon, the town of Chazelles-sur-Lyon was once famous as a center of hat manufacturing and has a wonderful Atelier-Musée du Chapeau (Hat Museum and Atelier) housed in a historic factory building on Rue Martouret.
This museum presents interesting information about the history of handcrafted hats with their ever-changing fashions. The museum's atelier creates fashionable hats in the latest styles available, which are for sale in the boutique. A talented milliner crafts each of the hats by hand.
Hats can be special-ordered and are often requested by drama professionals for theater performances. Visitors can also order custom-made hats for upcoming events such as weddings and other special occasions.
Accommodation: Where to Stay in Chazelles-sur-Lyon
5. Couvent de la Tourette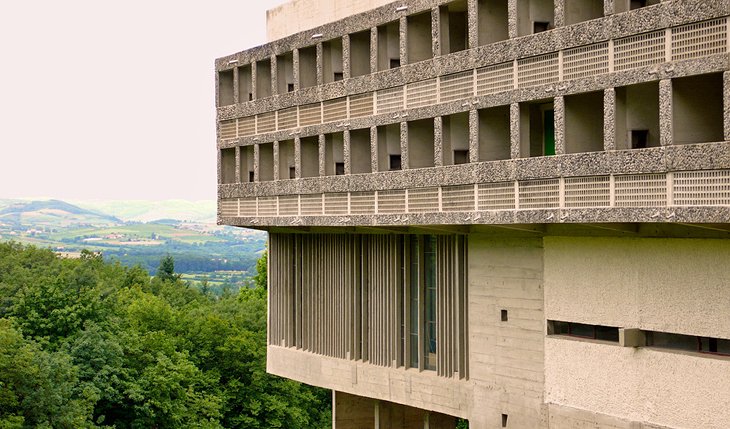 The Convent de la Tourette nestles in a small, idyllic valley at the edge of a forest, an ideal spot for meditation and prayer. Constructed between 1953 and 1960, the stunning modern building was created by the renowned French architect Le Corbusier.
Considered a contemporary architectural masterpiece, the Couvent de la Tourette was built for the Dominican monks of Lyon. Surrounded by an expansive parkland of woodlands and meadows, the property consists of study halls, a library, refectory, church, recreational areas, and dormitory cells.
The different areas and rooms of the convent encircle a courtyard, which acts as a traditional cloister. As in many houses of worship, light is used in symbolic ways. Le Corbusier employed color and light "cannons" to specifically direct sunlight into the airy rooms, creating an effect of brightness for inspiration.
The Couvent de la Tourette continues to fulfill its purpose as a working monastery for the Dominican religious community, including monks, teachers, and students.
Visitors may attend religious services, which take place several times daily: 8am morning prayers, 12 noon mass (11am on Sundays), and 7pm evening prayers (except on Sundays). Otherwise, to see the interior of the convent, visitors must take a guided tour (available on Sunday afternoons).
It is also possible to stay overnight in one of the single-occupancy dormitory rooms, which are quite reasonably priced. Arrive before 5:30pm (arrivals not allowed on Sundays). Meals are available if ordered in advance.
Located in the town of Eveux (a 25-kilometer drive from Lyon), the Convent de la Tourette is only open to the public through guided tours offered on Sunday afternoons.
Address: Route de La Tourette, 69210 Eveux
Official site: http://www.couventdelatourette.fr/home.html
6. Sainte-Croix-en-Jarez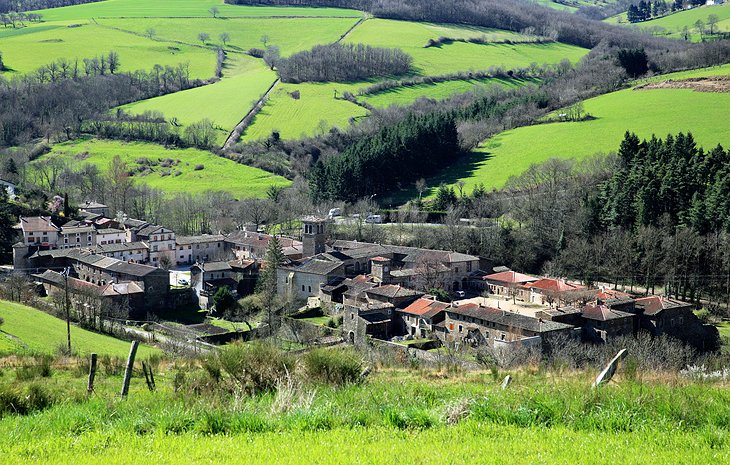 One of France's "Plus Beaux Villages" (Most Beautiful Villages), Sainte-Croix-en-Jarez is 50 kilometers from Lyon, tucked away in the rolling foothills of the Parc Naturel Régional du Pilat, a protected nature reserve centered on the Mont Pilat mountain range.
The village of Sainte-Croix-en-Jarez was originally a Carthusian monastery (La Chartreuse de Sainte-Croix-en-Jarez) in the 13th century. Today, most of the buildings and houses in the town were once part of the monastery property.
Tourists can take a guided tour to visit the monastery's exquisite medieval church, original hermitage rooms, and serene cloister. It's possible to take a self-guided tour, but this doesn't allow as much access as the guided tour. The monastery offers overnight wellness retreats with bed-and-breakfast accommodations in the nearby town of Roisey.
Another feature of the Pilat Regional Natural Park are the hiking trails that weave through pine forests, pastures, and vine-covered hills, including a section (the GR 65) of the medieval Chemin de Saint-Jacques pilgrimage route to Santiago de Compostela in Spain.
Other noteworthy historic villages near Sainte-Croix-en-Jarez include Pélussin, Roisey, and Malleval. The area is also dotted with ancient Carthusian buildings and old hermitages.
Accommodation: Where to Stay in Sainte-Croix-en-Jarez
7. Maison d'Ampère - Musée de l'Electricité (Electricity Museum)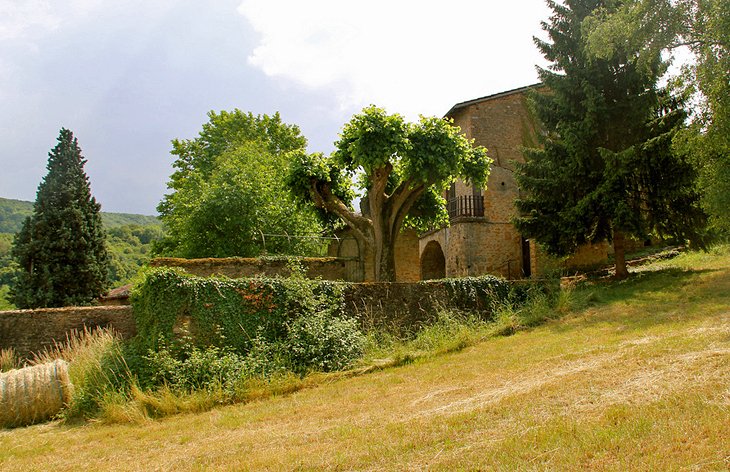 Less than 20 kilometers outside of Lyon, this Maison d'Ampère - Musée de l'Electricité celebrates the life and work of André-Marie Ampère, the brilliant French scientist who founded the science of electrodynamics in the 19th century.
The museum presents interactive exhibits that explain the laws of electromagnetism and highlight the scientific discoveries made by Ampère. Also on display are machines and instruments used for electricity, telegraphy, and radio experiments.
Inaugurated in 1931, the museum occupies the house where André-Marie Ampère lived as a youth.
The museum is open to the public for visits on Saturday afternoons and Sundays.
Address: 300 Route d'Ampère, 69250 Poleymieux-au-Mont-d'Or
8. Bourg-en-Bresse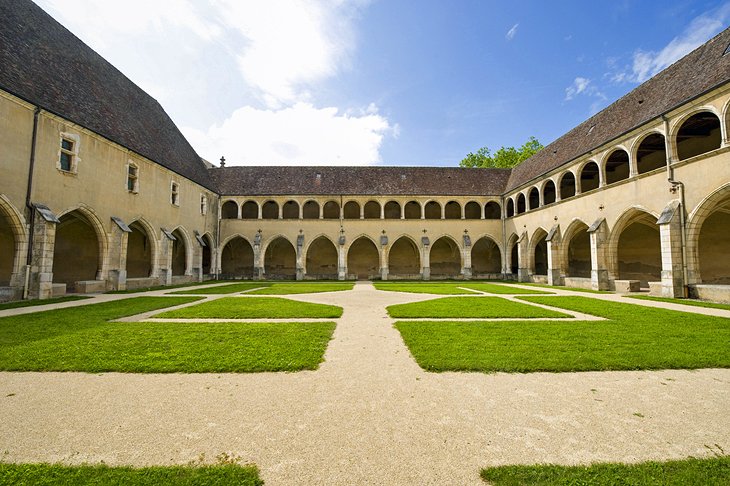 Historically an important market town in the region, Bourg-en-Bresse is famous for its chickens. Poularde de Bresse, the specific type of chicken raised in this region, has the status of an Appellation d'Origine Contrôlée for its quality and exceptional flavor. Bresse chickens are served at some of the finest gastronomic restaurants in France.
Besides its prized poultry and old half-timbered farmhouses, Bresse is noteworthy for its 16th-century monastery. The Monastère Royal de Brou has a remarkable Flamboyant Gothic church built on the orders of Marguerite of Austria (daughter of Emperor Maximilian) in memory of her late husband, the Duke of Savoy. Up until the French Revolution, the monastery was home to Augustinian monks.
In 2014, the Monastère Royal de Brou was voted as the Monument préféré des Français (favorite monument of the French). The monastery is open to the public year-round (except on holidays); the rooms are used as a museum space, displaying works of art from the 17th century to the modern era.
For a gourmet meal in a splendid setting, try L'Auberge Bressane (166 Boulevard de Brou) in Bourg-en-Bresse. This Michelin-rated restaurant features views of the Monastère Royal de Brou from its outdoor terrace. Guests enjoy the refined ambience as well as the classic regional cuisine, with a menu that includes specialties of Bresse such as Poularde de Bresse à la Crème de Bresse (Chicken in Bresse-style Cream Sauce) and Magret de Canette Rôtie (Roasted Duck Breast).
Accommodation: Where to Stay in Bourg-en-Bresse
9. Grottes du Cerdon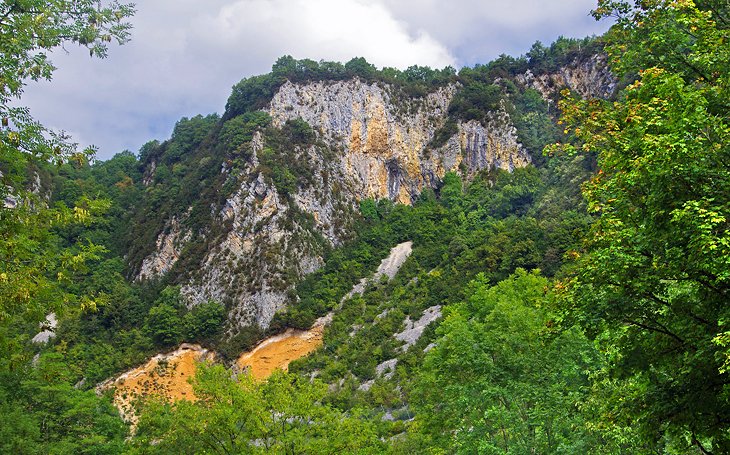 The Grottes du Cerdon (Caves of the Cerdon Valley) is a remarkable nature site in Labalme, about 75 kilometers northeast from Lyon. Formed during the Ice Age, the system of underground caves begins where a subterranean river once flowed.
During prehistoric times, the caves served as shelter, and during the Middle Ages they were turned into a refuge for lepers. More recently, the caves have provided storage for maturing blue cheese.
Today, the Grottes du Cerdon is part of the Parc de Loisirs Prehistoriques, a recreational park designed for visitors to discover the geological wonders of the underground caves. The park also presents fascinating educational exhibits about prehistoric man. Workshops show the techniques of creating fire, throwing spears, and making bracelets and pottery.
The park offers guided tours (self-guided visits are allowed as well) and has facilities, including restrooms, a boutique, and a restaurant. After touring the caves, visitors can take a footpath to the nearby park and spend some time admiring the pristine landscape.
Address: Domaine des grottes du Cerdon, 01450 Labalme
10. Château de Rochetaillée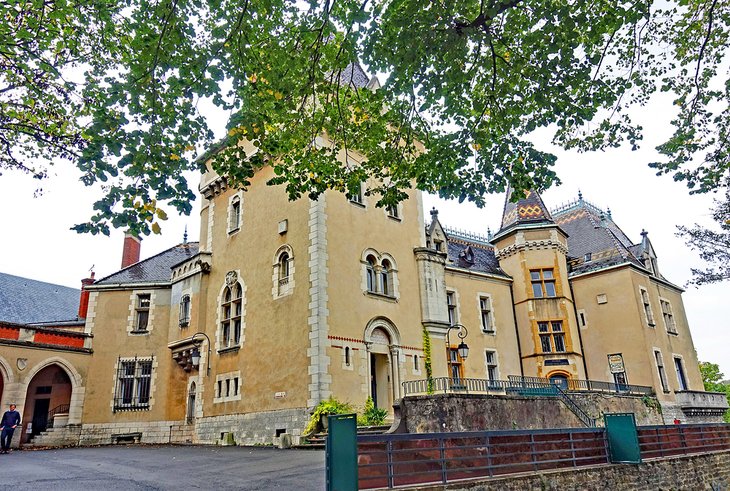 Just 11 kilometers from Lyon, the historic village of Rochetaillée-sur-Saône (on the Saône River) is dominated by the Château de Rochetaillée, which belonged to the Counts of Lyon. Built in the 12th century, the spectacular medieval château houses the Musée de l'Automobile Henri Malartre (Henri Malartre Automobile Museum).
The museum displays a hundred exceptional automobiles, including vintage models dating from 1892, as well as an assortment of old motorcycles and bicycles. A boutique at the museum sells postcards and miniature car models.
Address: 645 Rue du Musée, 69270 Rochetaillée-sur-Saône
11. Château Grillet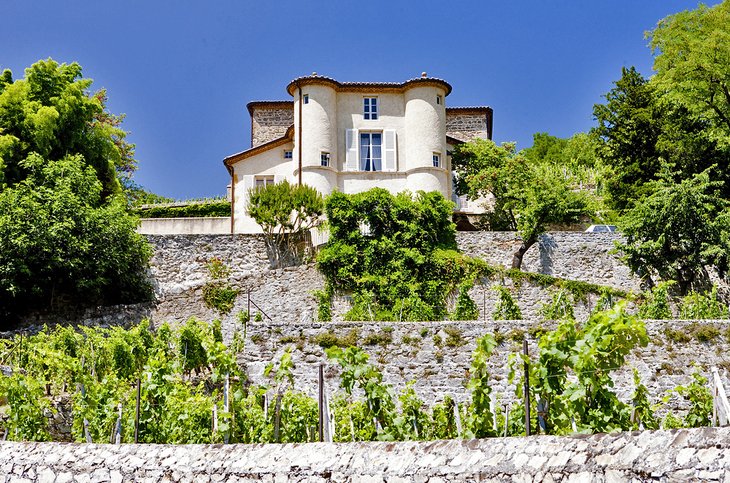 Enveloped by the rolling hills of the Northern Rhône region, the Château Grillet enjoys a charming setting in the village of Vérin, about an hour drive south of Lyon.
The château has an illustrious history. Girard Desargues, who was an architect, mathematician, and the adviser to Cardinal Richelieu, retired at the Château-Grillet in 1648 during France's civil war. One of Desargues' friends was the famous mathematician Blaise Pascal, who visited the château in 1652.
Address: Château Grillet, 42410 Verin
12. Abbaye d'Ambronay
Surrounded by a serene landscape about 60 kilometers from Lyon, the Abbaye d'Ambronay was founded during the reign of Charlemagne (9th century) and built over the course of several centuries.
A splendid example of sacred architecture, the abbey features a high-vaulted Gothic church and an ornate 15th-century Flamboyant Gothic cloister that inspires spiritual meditation.
Tourists may take a guided tour of the abbey on weekends during summertime. Guided tours are available on different themes, such as a children's activities, a musical visit, or a general tour.
The Abbaye d'Ambronay is renowned for its annual Festival d'Ambronay, a prestigious music festival that takes place from mid-September through mid-October. The Ambronay Festival presents classical music performances, with a focus on Baroque chamber music, but also includes other genres such as jazz, opera, and world music. Concerts are held in the abbey's church, which seats an audience of 10,000 and has superb acoustics.
Near the abbey in the quaint village of Ambronay is a Michelin-starred restaurant, the Auberge de l'Abbaye. This inviting, upscale restaurant specializes in modern "cuisine du marché" (seasonal cuisine based on fresh ingredients from the local market).