10 Top-Rated Tourist Attractions in Dijon
We may earn a commission from affiliate links ()
Dijon is famous for its mustard, but the quaint boutiques selling old-fashioned mustard are just the beginning of the tourist attractions. Known as the "City of Dukes," Dijon was the capital of the medieval duchy of Burgundy. The town's UNESCO-listed historic center boasts well-preserved aristocratic palaces and elegant "hôtels particuliers," mansions of the Dukes of Burgundy and other distinguished owners.
Besides admiring the impressive architecture, visitors will enjoy strolling the atmospheric cobblestone streets and savoring gourmet meals at traditional restaurants. Dijon is a place to sample authentic culinary specialties such as escargot and boeuf bourguignon for a taste of classic French gastronomy. For ideas on more things to do, see our list of the top attractions in Dijon.
See also: Where to Stay in Dijon
Note: Some businesses may be temporarily closed due to recent global health and safety issues.
1. Palais des Ducs and the Musée des Beaux-Arts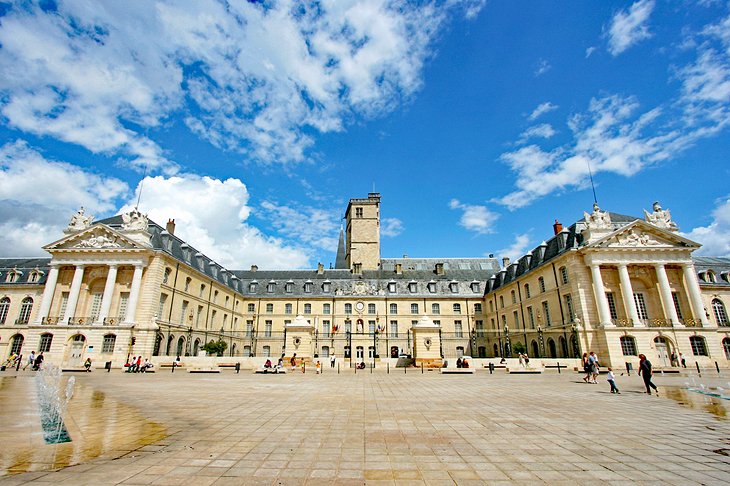 The Palais des Ducs et des États de Bourgogne (Ducal Palace) is a must-see tourist attraction in the UNESCO-listed historic center of Dijon. The palace exemplifies refined Neoclassical style, thanks to renovations in the 17th century by the architect of Versailles, Jules Hardouin-Mansart. The Dijon Office of Tourism organizes tours of the Philippe le Bon tower, which has sensational views from a platform at the top (reached by climbing 316 steps).
The Palais des Ducs houses the Musée des Beaux-Arts, a fine arts museum that displays exhibits within the palace's former kitchen, guard room, and grand reception halls (the East wing of the palace).
The Musée des Beaux-Arts boasts an exceptional collection of around 13,000 pieces, from Egyptian antiquities to contemporary art. Highlights include masterpieces of the Italian Renaissance by Titian, Veronese, and Lorenzo Lotto; 17th-century paintings by Rubens, Phillipe de Champaigne, and Georges de la Tour; 19th-century works by Gustave Moreau and Eugène Delacroix; and Impressionist paintings by Claude Monet, Alfred Sisley, Edouard Manet, and Camille Pissarro.
Not to be missed are Georges de La Tour's Le Souffleur à la Lampe, a painting that reveals an amazingly realistic technique of depicting candlelight; and Adam and Eve in Paradise by Guido Reni, which evokes a sentimental view of paradise.
Address: 1 Place de la Libération, Dijon
2. Cathédrale Saint-Bénigne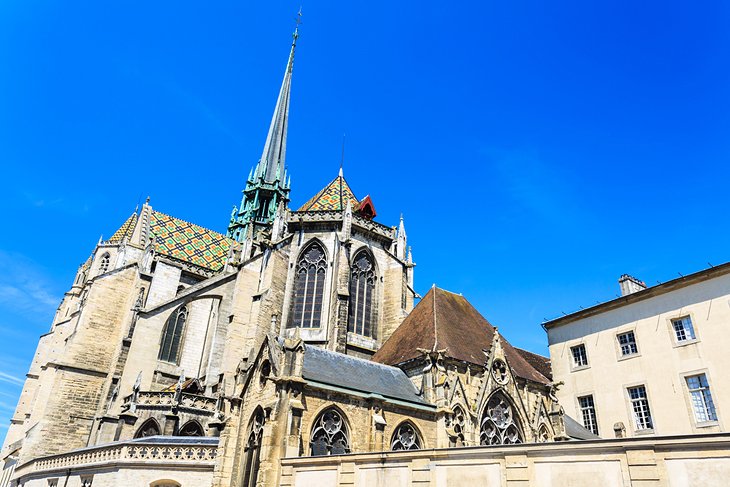 The Cathédrale Saint-Bénigne in the historic center is the city's finest example of Burgundian Gothic architecture, built between 1280 and 1314 on the site of an ancient Benedictine abbey. The cathedral was dedicated to Saint Bénigne, who was martyred in Dijon in the late 2nd century.
The only remaining vestige of the original abbey is the "Rotonde," a remarkable three-story subterranean crypt, which contains the tomb of Saint Benignus. Dating back to the Carolingian era, the Rotonde is a solemn domed space that resembles the classical architecture of the Church of the Holy Sepulcher in Jerusalem.
Today, this emblematic twin-towered monument still provides a place of spiritual worship for the residents of Dijon with daily mass celebrations. One of the most inspiring things to do in Dijon is attend one of the cathedral's organ concerts, performed by renowned musicians throughout the year. The cathedral also houses an Archaeological Museum with an excellent collection of Gallo-Roman artifacts, Romanesque sculptures, and medieval antiquities.
Address: 6 Bis Rue Danton, Dijon
3. Eglise Notre-Dame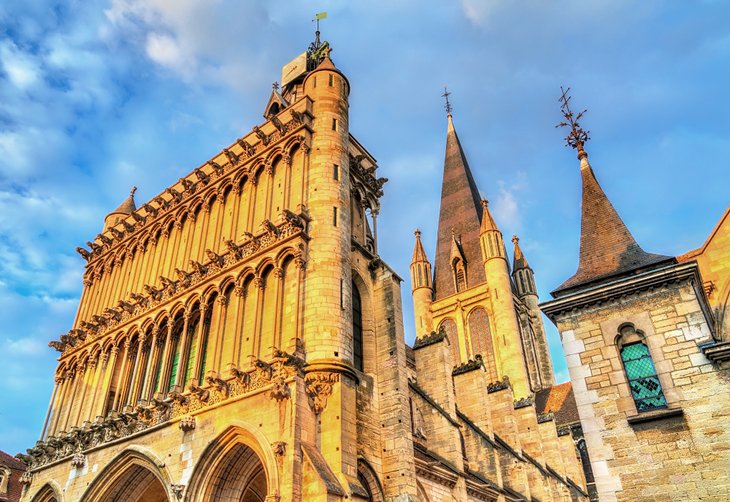 Built between 1230 and 1250, the Eglise Notre-Dame is the "Grande Dame" of Dijon churches. In the historic center (near the Ducal Palace), the building exemplifies Burgundian Gothic architecture, with a striking facade featuring three rows of whimsical gargoyles and a marvelous high-vaulted interior.
The church has a clock tower created in 1382 with a charming family of jacquemarts, mechanical figures that chime the church bells. Inside the chapel on the right is a precious 11th-century Black Virgin, one of the oldest wooden figures in France. An owl sculpture on the exterior is considered a good luck charm. The local tradition is to stroke the owl and then make a wish.
Address: Rue de la Préfecture, Dijon
4. Musée de la Vie Bourguignonne
The Musée de la Vie Bourguignonne (Museum of Burgundian Life) occupies the Cloître des Bernardines, a splendid cloister of a 17th-century monastery in Dijon's historic center. This museum is a great place to learn about the culture of the Burgundy region. Collections focus on the history of Dijon, traditional clothing of the 19th century, and everyday objects from the 19th to 20th century.
An exhibit of Faïence de Dijon reveals the beauty of 17th-century faïence ceramics (plates, dishes, pitchers, mustard jars, etc.) decorated with delicate motifs. The museum also has a library-boutique that sells books, postcards, and vintage-style wooden toys.
Address: Monastère des Bernardines, 17 Rue Sainte-Anne, Dijon
5. Chartreuse de Champmol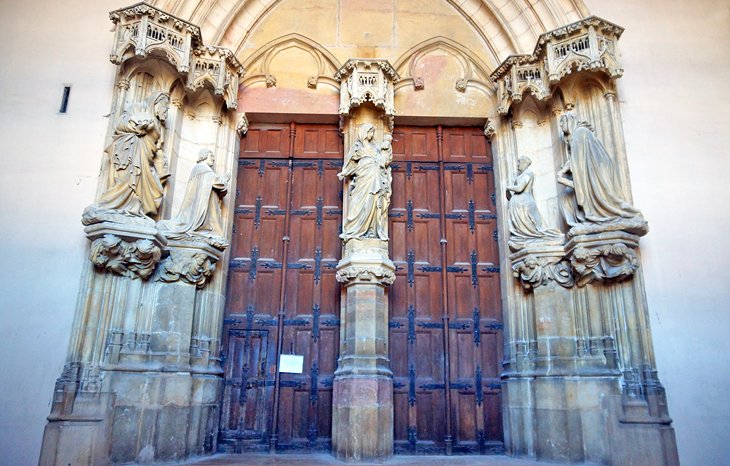 Outside of Dijon's historic center (about a five-minute drive or 30-minute walk), the Chartreuse de Champmol is the former necropolis of the Dukes of Burgundy. However, the monument was converted into a hospital in the 19th century.
Today, the site welcomes tourists and is worth visiting to admire two superb examples of Burgundian sculpture created in 1404: the Puits de Moïse ("Well of Moses") and the Portail de la Chapelle (Doorway of the Chapel). The "Puits de Moïse" features decorative columns topped by angels and Old Testament prophets. The Portail de la Chapelle is the entryway for a chapel that nows serves the hospital community.
Address: Centre Hospitalier Spécialisé de la Chartreuse, 1 Boulevard du Chanoine Kir, Dijon
6. Dijon Mustard Boutiques and Culinary Shops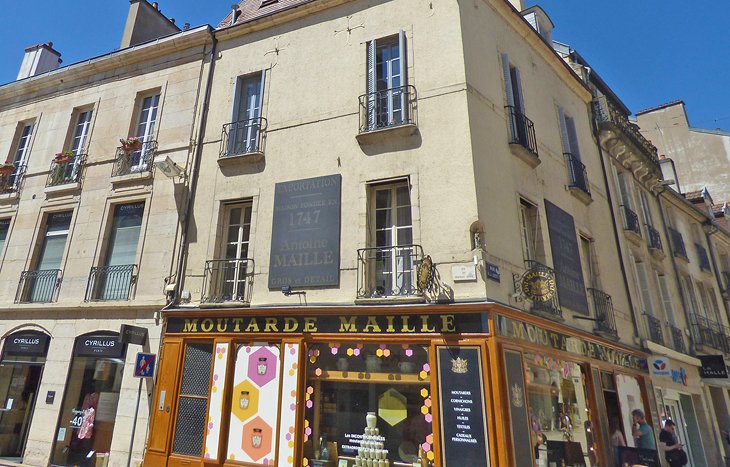 For gourmands around the world, it is a happy coincidence that the woodland terrain around Dijon provides the ideal conditions for cultivating mustard plants with pungent seeds. The Dijon style of mustard is so distinctive that the town's name is synonymous with this gourmet product, created by gently milling the seeds of locally grown mustard plants. In fact, the venerable condiment has been produced here since the 14th century.
Two prestigious mustard boutiques are found in the historic center of town: the Maison Maille (32 Rue de la Liberté) founded in 1747 and the Moutarderie Edmund Fallot (16 Rue de la Chouette), which dates to 1840.
Other gastronomic destinations in Dijon include the culinary marketplace Les Halles (Rue Odebert), built in 1868 and modeled after Paris' market halls. Les Halles contains 246 boutiques that sell fresh fruits, vegetables, cheese, bread, and specialty food products.
La Maison des Pains (7 Rue de la Liberté) near the Maison Maille is the place to indulge in fancy French pastries. Also nearby is the Pains d'épices Mulot & Petitjean boutique (16 Rue de la Liberté), which sells gingerbread cakes, a specialty of Dijon. Founded in 1796, the Mulot & Petitjean company has a historic boutique at 13 Place Bossuet and still follows gingerbread recipes that have been passed down through the generations.
7. Jardin de l'Arquebuse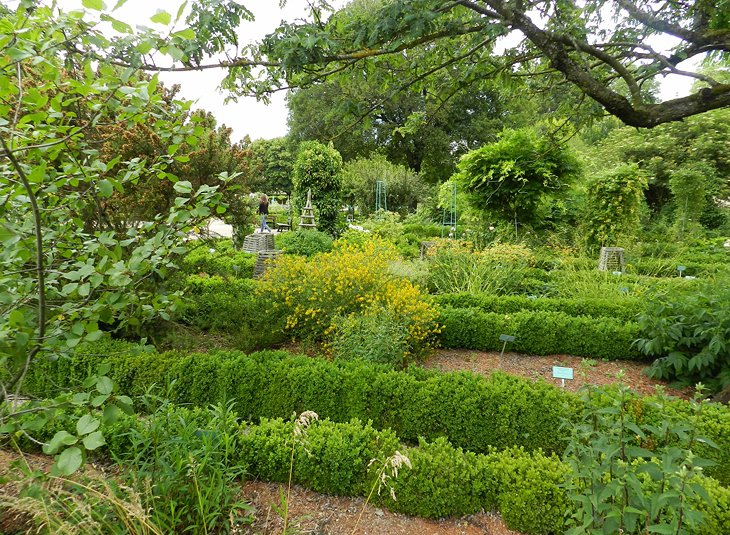 In a more modern area of Dijon outside of the historic center, the Jardin de l'Arquebuse is a delightful botanical garden with an arboretum and playground. The vast grounds offer an oasis of relaxation in nature. The garden is planted with 3,500 species of indigenous and exotic plants, including medicinal plants. Spacious lawns, vibrant flowerbeds, alleyways of shady trees, and a gurgling stream add to the charm, inviting leisurely strolls through the leafy park.
Science lovers will appreciate the garden's natural history museum, the Jardin des Sciences de Dijon. This museum educates visitors about biodiversity with exhibits on zoology, geology, mineralogy, and entomology. The museum features interactive and educational display windows to help visitors understand the natural history. The planetarium will appeal to those who appreciate astronomy and anyone who enjoys star gazing.
Address: 1 Avenue Albert 1er, Dijon
8. Eglise Saint-Michel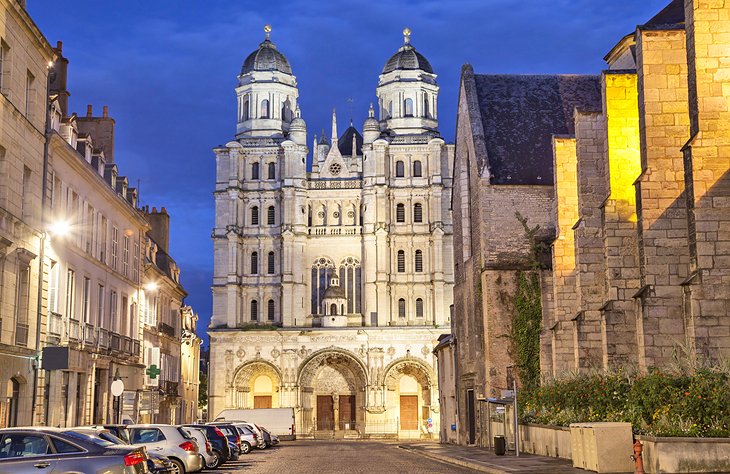 In the historic center of Dijon (near the Ducal Palace), the Eglise Saint-Michel appears to soar towards heaven, with its twin-towered facade that harmoniously blends medieval and Renaissance architectural elements.
Founded in 1497, the church was constructed over two centuries, which explains the unusual mix of styles. Three richly sculpted doorways feature ornate carvings of angels and other figures. An exquisite high-vaulted Gothic nave impresses visitors with its grandeur and brightness. The sanctuary is illuminated by gorgeous 19th-century stained-glass windows that have a dreamy, romantic quality.
Address: Place Saint-Michel, Dijon
9. Hôtel de Vogüé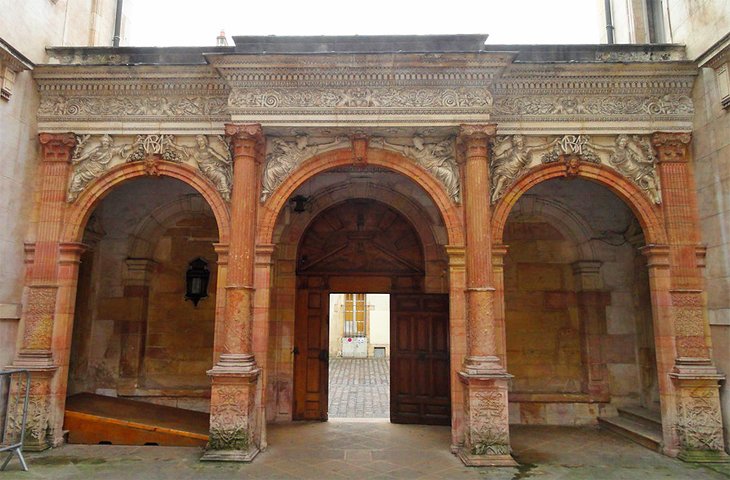 In the heart of the historic center near the Ducal Palace, the Hôtel de Vogüé is a magnificent hôtel particulier (mansion) constructed in 1614 for Etienne Bouhier, an advisor of the Bourgogne Parliament. This exquisite example of classical Italian Renaissance architecture incorporates a grand entrance porch and ornately adorned courtyard. The entire building is characterized by its decorative richness, and the distinctive tiled roof features the colorful geometric patterns that are typical in Burgundy.
Address: 8 Rue de la Chouette, Dijon
10. Musée Magnin
The Musée Magnin occupies the Hôtel Lantin, another elegant 17th-century hôtel particulier in Dijon's historic center. The museum provides a glimpse of a unique private art collection, which belonged to passionate art collectors Jeanne and Maurice Magnin. The collection focuses on French paintings (650 pieces), most of which were created between 1630 and 1650 as well as 18th-century and early 19th-century works.
The lavish Salon Napoléon III is still decorated with original antique furniture and objects of art. Tourists can find souvenirs at the museum's boutique, which sells postcards and reproductions of artworks.
Address: 4 Rue de Bons Enfants, Dijon
Where to Stay in Dijon for Sightseeing
A favorite area for tourists to stay is in Dijon's historic center, which is designated as a UNESCO World Heritage Site. Full of old-world character, the city center delights visitors with its atmospheric cobblestone streets, medieval half-timbered houses, and Renaissance mansions. The historic center is also convenient for visiting many of Dijon's top attractions. However some travelers may prefer a more tranquil setting. The countryside outside of Dijon has plenty of upscale resort-like accommodations and retreats in secluded pastoral surroundings.
Luxury Hotels: In the heart of Dijon's historic center, La Cour

Berbisey

is a short walk from top attractions such as the Ducal Palace, the cathedral, and Notre-Dame Church. Classic yet updated French style is a decor theme throughout the 3-star hotel, which occupies a renovated 17th-century house with a tree-shaded courtyard. Guest rooms feature wood-beamed ceilings, plush bedding, and delightful decor. Accommodations include use of the indoor swimming pool, continental breakfast, and free parking.

The Grand Hotel La Cloche MGallery by

Sofitel

is a luxurious hotel in a stately old building near Dijon's historic center, about a 10-minute walk to the cathedral and a 15-minute walk to the Ducal Palace. Contemporary-style guest rooms are outfitted with modern amenities such as Nespresso coffee machines. The five-star hotel has a restaurant, fitness center, spa, valet parking, and transfer service from the train station.

The Les Deux

Chevres

hotel offers an oasis of luxury in the quiet village of Gevrey Chambertin, about 20 kilometers from Dijon, surrounded by vine-covered rolling hills and woodlands. Housed in a historic property, this small boutique hotel provides charming guest rooms featuring traditional decor and fine Egyptian cotton bed linens. Accommodations include an organic breakfast buffet, served on the outdoor terrace during summertime. For dinner, the hotel's 3-star chef prepares a set menu based on fresh ingredients from the local market.

About a 30-minute drive outside of Dijon, the Abbaye de la

Bussiere

is a Relais & Châteaux hotel on a bucolic seven-hectare property with a pristine lake and botanical garden. The four-star hotel occupies a renovated 12th-century Cistercian abbey, which is adorned with sumptuous silk fabrics and antique furniture. The guest rooms exemplify refined French style and inspire relaxation with window views onto the gardens, parkland, and lake. On-site dining options include a gastronomic restaurant and a casual bistro.
Mid-Range Hotels: The Maison Philippe le

Bon

is great value considering its old-world charm and location in the heart of Dijon's historic center, steps away from the Ducal Palace. This four-star boutique hotel has a gourmet restaurant with a wood-beamed 17th-century dining room and garden terrace dining area. The cozy guest rooms feature flat-screen TVs; sleek, modern bathrooms; and views of the city, garden, or a pleasant courtyard. Amenities include a concierge, room service, laundry service, and cooking classes. A breakfast buffet is available for an additional charge.

The Hotel Oceania le

Jura

is a recently renovated hotel in the more modern area outside of Dijon's historic center, near the TGV train station and just a short walk from the Arquebuse Botanical Garden. This sleek four-star hotel features contemporary-style guest rooms, a fitness center, spa, indoor swimming pool, Jacuzzi, sauna, and a lovely garden filled with flowers. A breakfast buffet is available.

The Hostellerie du Chapeau

Rouge

enjoys a fantastic location in the historic district, overlooking the cathedral. Housed in a handsome 19th-century building, this four-star boutique hotel boasts a gastronomic restaurant (William Frachot) with two Michelin stars, a deluxe spa, and concierge services. The guest rooms are decorated in chic, modern style. A breakfast buffet is available.

Near Dijon's Palais des Congrès exposition center (about a 20-minute walk from the historic center), the Hotel Mercure Dijon Centre

Clémenceau

caters to business clients with its 24-hour front desk and other conveniences. The four-star hotel has two restaurants, a garden, outdoor terrace, and swimming pool. Guest rooms feature cheerful, contemporary decor. A breakfast buffet and free parking are available.
Budget Hotels: Tucked away in the heart of the historic center, the Hôtel des

Ducs

is steps away from many of Dijon's top tourist sights, including the Ducal Palace, the Notre-Dame Church, and the cathedral. Surprisingly affordable, this three-star hotel has minimalistic yet classic guest rooms with updated bathrooms and flat-screen TVs. A continental breakfast buffet is available.

In a quiet residential area about a 15-minute walk from Dijon's historic center, the Hôtel Victor

Hugo

offers basic accommodations that are quite comfortable and stylish considering the affordable price. The two-star hotel provides a traditional French breakfast buffet (for an additional fee) and free parking.

The B&B Hotel Dijon

Centre

is in a wonderful location of the historic center near many shops, restaurants, and cafés, as well as just a short walk from the cathedral and the Ducal Palace. Guest rooms are clean and contemporary in style. A continental breakfast buffet, with a wide selection of choices including hearty options, is available for an additional fee.
More Related Articles on PlanetWare.com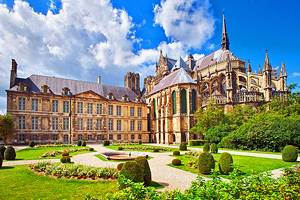 Historic Treasures: Less than two hours from Paris by train, Dijon is a perfect starting point to begin exploring the countryside of Burgundy. Nestled within the region's gentle rolling hills and lush forests are numerous Romanesque churches, medieval towns, and ancient monasteries.The neighboring Champagne region also abounds with cultural treasures: marvelous castles, glorious churches, and quaint villages. A touristic highlight of Champagne is the historic city of Reims, renowned for its UNESCO-listed cathedral.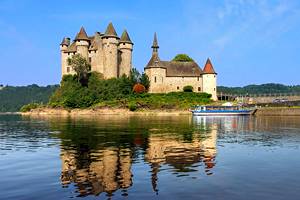 Idyllic Landscapes: The Burgundy region borders two other regions of France that are distinguished by their natural beauty. The Auvergne region is a peaceful countryside with a striking landscape of volcanic mountains. This rugged off-the-beaten-path destination is one of the best places to visit in France to go hiking, mountain biking, horseback riding, and fishing. Also bordering Burgundy, the picturesque French-Jura dazzles visitors with its awe-inspiring nature sites, rejuvenating thermal spas, scenic hiking trails, and ski resorts, as well as fascinating medieval towns and ancient churches.