From Geneva to Mont Blanc: 3 Best Ways to Get There
Chamonix is one of the most appealing winter destinations in Europe, attracting tourists from all over the continent.
Although Chamonix is in France, the closest airport to the town is in Geneva, Switzerland, so it makes sense to arrive there if you're coming from overseas. From Geneva, a number of transportation and tour options can get you to Chamonix.
Chamonix sits right at the foot of Mont Blanc, the highest mountain in the Alps and a popular destination for hiking, climbing, skiing, and snowboarding.
No matter why you're heading to the mighty mountain or when, we have a list of the best ways to travel from Geneva to Mont Blanc.
1. From Geneva to Mont Blanc by Bus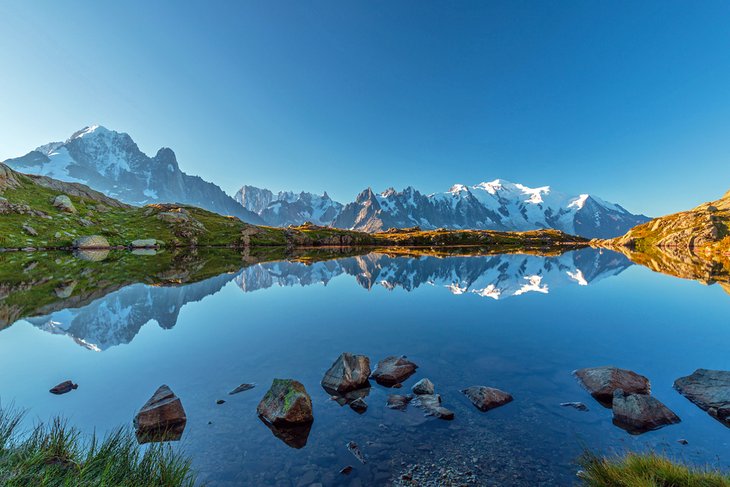 There are a number of buses making the trip between Geneva and Chamonix, with most of them leaving from the airport. Bus journeys aren't as scenic as train rides, but they're cheaper, and you'll find many direct options.
The journey should take about two hours and 10 minutes but can easily take much longer in bad weather or busy traffic conditions — this is especially true during high season and in winter, as snow and ice can create treacherous road conditions and slow down traffic almost to a halt.
Your fastest option is via long-distance bus company FlixBus, which has direct buses that leave from the Geneva Central bus station and arrive in Chamonix one hour and 25 minutes later. Buses run several times a day, with the first one departing around 8:30am. These are comfortable buses with free Wi-Fi, outlets to charge your electronics, and refreshments on board.
Alpybus runs a high-frequency transfer shuttle between the Geneva Airport and Chamonix — it's more convenient than a large coach, but it will cost you close to what you would pay for a train ride, which is a lot more picturesque. You can save more money if you choose a shared shuttle rather than a private one.
On the positive side, the Alpybus shuttles offer door-to-door service to your hotel or a major dropoff point in Chamonix. In winter, they can also drop you off at popular ski resorts in the area.
During high season, it makes sense to get a ticket in advance, especially if you want to depart at a certain time. If not, you can always buy your ticket directly at the airport, but keep in mind that if the bus you want is sold out, you'll have to wait at least an hour for the next one.
2. From Geneva to Mont Blanc by Tour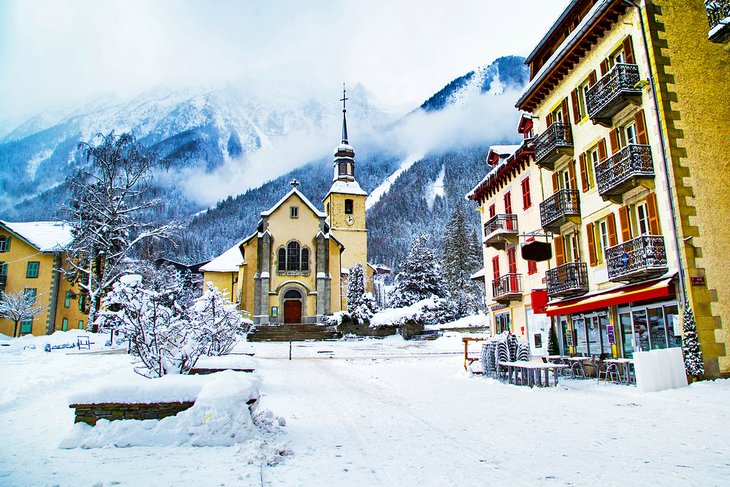 If you are interested in a sightseeing visit to the famous mountain, a Chamonix and Mont Blanc Day Trip from Geneva tour is your best choice. This 10-hour tour gives you a chance to experience the best of the area without having to worry about timetables and transportation — plus you'll have access to skip-the-line tickets, so you don't waste time waiting in line to access the most popular sights.
The tour departs at 8:30am from the Geneva Bus Station, where an air-conditioned vehicle with a professional guide will meet you and give you a quick introduction to the area and its natural wonders while you board and get ready to depart.
You will then drive through picturesque Alpine landscapes on your way to the village of Chamonix, a winter sports resort town. After 90 minutes, you'll arrive at the charming resort town, located right at the foot of Mont Blanc.
Once you arrive, you'll have a direct view over the mighty mountain, towering right behind the town and visible from everywhere. Spend the next hour exploring, discovering the foot of the mountain and the surroundings.
Your tour guide will quickly walk you to see the Statue of Balmat and Saussure, two of the first three people to climb Mont Blanc in the 18th century. Next, you'll stop by the statue of doctor Michel Gabriel Paccard, Mont Blanc's first-ever summiteer.
Next, you'll have the opportunity to join an optional part of the tour and take the Montenvers - Mer de Glace Train. The Montenvers Railway offers one of the most scenic rides in Europe, a mountain cog railway that crosses over viaducts, through rock tunnels, and alongside thick Alpine forests until it reaches Mer de Glace, the largest glacier in France.
Here, you can visit the Grotte de glace (Ice Cave), where a sculpted tunnel takes you right into the heart of the glacier.
Next, you also have the option to ride up the Aiguille du Midi cable car — the world's highest vertical ascent cable car — up the mountain. Once at the top, you can visit the Step into the Void skywalk, where a glass room with a glass floor puts you right over the snow-covered mountains at a vertigo-inducing altitude of 3,842 meters.
At the end of your adventure, the driver will bring you back to Geneva and drop you off at the original departure point.
3. From Geneva to Mont Blanc by Train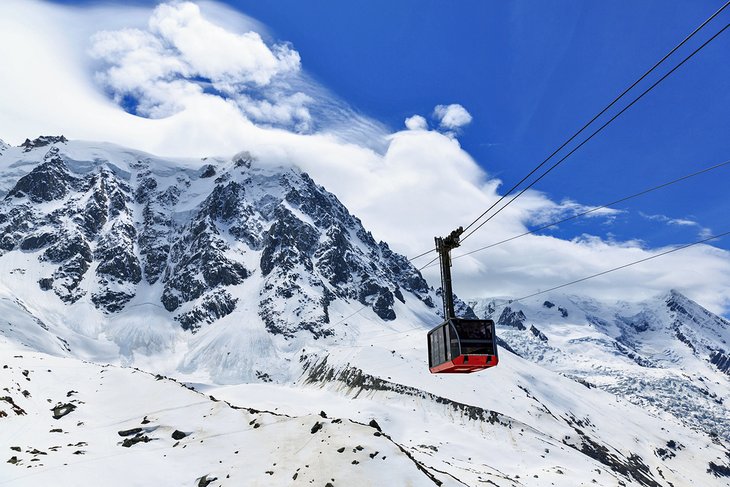 Trains offer a very scenic —though rather slow — journey. There is no direct line between the two points, and since you will be traveling through two countries, you'll have to combine two railway networks: the Swiss Federal Railways (SBB) and the French National Railway Company (SNCF).
Trains depart from the Geneva Cornavin station in the center of town and can take anywhere from two hours and 51 minutes to three hours and 25 minutes, depending on which trains you take and how long the wait is in between.
A more expensive but much more convenient option is the Leman Express commuter rail network, which started operating in late 2019. The train connects Geneva Cornavin station with the town of Saint Gervais-Les-Bains, covering the route in one hour and 45 minutes.
Trains run from very early in the morning, once per hour and cross through the Alpine resorts of Cluses (famous for its watch-making industry) and Combloux (a popular ski resort).
Once at the Saint Gervais-Les-Bains station, switch to the Mont Blanc Express for a 45-minute scenic mountain train journey to Chamonix. Alpine valleys, old stone bridges, and snow-kissed peaks in the background make this a stunning trip.
After arriving at Chamonix, you can take one of the highest cable cars in the world for spectacular views over Mont Blanc, the roof of Europe.