13 Top-Rated Attractions & Things to Do in Grenoble
Enclosed by the majestic mountain peaks of the French Alps, Grenoble has one of the prettiest backdrops of any city in France. The glorious scenery offers a breath of fresh air, both literally and figuratively.
Beautiful gardens are scattered throughout Grenoble, and the town's natural surroundings beckon visitors to get lost in the flowering meadows and densely wooded pine forests, or breeze down powdery ski slopes at a nearby ski resort.
Despite being a modern urban metropolis, Grenoble has a quaint Vielle Ville (Old Town). The city also boasts many superb museums, testimony to a rich heritage as capital of the historic Dauphiné region.
Learn about the best places to visit with our list of the top attractions and things to do in and around Grenoble.
See also: Where to Stay in Grenoble
1. Wander through Vieille Ville (Old Town)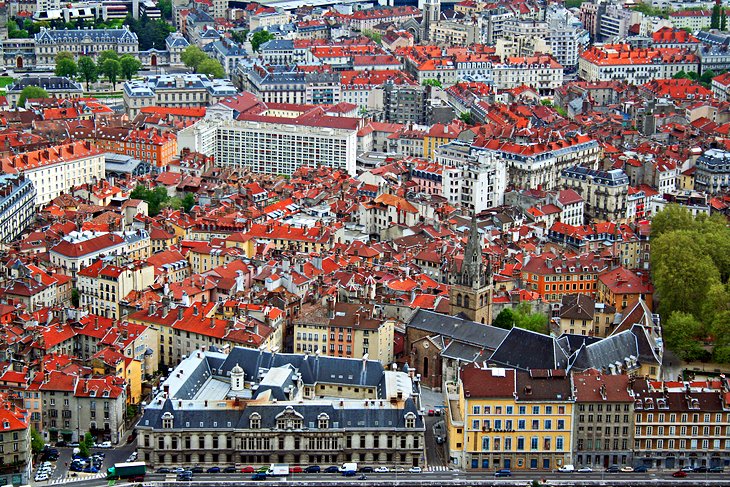 The historic city center, the Vieille Ville is a delightful maze of pedestrian-only streets lined with lovely old houses and narrow cobblestone lanes leading to elegant squares.
At the heart of the Old Town, the Musée de l'Ancien Évêché occupies a 13th-century Episcopal palace, which is classified as a Historic Monument. The museum illustrates Grenoble's history from ancient times through the Middle Ages until the 20th century.
Nearby, the 13th- to 15th-century Cathédrale Notre-Dame surprises visitors with its glorious high-vaulted Gothic interior, a striking contrast to its plain facade.
A few steps from the cathedral is the Place aux Herbes, where a traditional open-air farmers market is held every day (in the morning) except Mondays. Besides its inviting outdoor space and a cute sidewalk café, the square features a covered market hall that dates to the 19th century.
For those interested in French literature, a must-see landmark is the Musée Stendhal in a typical Bourgeois apartment that was the birthplace and childhood home of the French author Stendhal. This small museum displays mementos and gives an insight into Stendhal's early years.
At the nearby Place de Gordes, tourists can soak up the elegant 18th-century ambience while dining at one of the restaurants or cafés with outdoor seating. A short walk from the Place de Gordes, the Jardin de Ville inspires relaxation or picnics under the shady sycamore trees.
Also near the Jardin de Ville, the Ancien Palais de Justice (Palais du Parlement du Dauphiné) was the Parliament House of the Dauphiné Estates for more than 500 years. Stendhal based the character, Julien Sorel, in his novel Le Rouge et le Noir (The Red and the Black) on a historical figure who went to trial at the Palais de Justice.
The building dazzles with its elaborately detailed facade featuring Flamboyant Gothic to Early Renaissance decorative styles. Tourists may take a guided tour to see the sumptuous interior, including the courtrooms.
The Palais du Parlement is found on the Place Saint-André next to France's second-oldest café, the Café de la Table Ronde, which dates to 1739.
2. Musée de Grenoble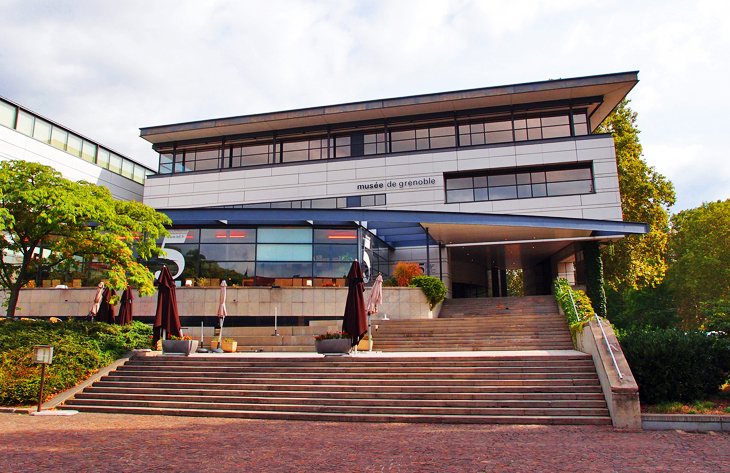 The Musée de Grenoble presents masterpieces of art in a bright, spacious venue. A surprising monument in the Vieille Ville, the sleek contemporary building offers 18,000 square meters of exhibition space surrounded by a park filled with sculptures.
This expansive museum boasts one of the most prestigious art collections in France. The collection includes both fine arts and Egyptian antiquities. The fine arts assortment spans the 13th century to the 21st century. Especially well represented are the works of the Italian Renaissance, the 17th-century Ecole Française, and modern art.
Highlights of the museum's European paintings are Rubens' distinctive Saint Grégoire painting, the ethereal L'Assomption de la Vierge by Philippe de Champaigne, the realistic L'Entrée du Grand Canal by Canaletto, the evocative Tête de la Grande Odalisque by Jean-Auguste Dominique Ingres, and the captivating Portrait de Madeleine Bernard by Paul Gauguin.
Among the Impressionist masterpieces are Vue de Montmartre depuis la Cité des Batignolles by Alfred Sisley and the magnificent L'Etang de Giverny painting by Claude Monet.
Exceptional modern art pieces are Intérieur aux Aubergines by Henri Matisse and Le Songe d'Une Nuit d'Eté by Marc Chagall.
The museum has a boutique and a casual restaurant that serves traditional French cuisine, as well as international dishes. The restaurant features floor-to-ceiling windows that overlook the Place de Lavalette and a monumental sculpture by Alexander Calder.
Address: 5 Place de Lavalette, Grenoble
Official site: http://www.museedegrenoble.fr/962-english.htm
3. See the View from Fort de la Bastille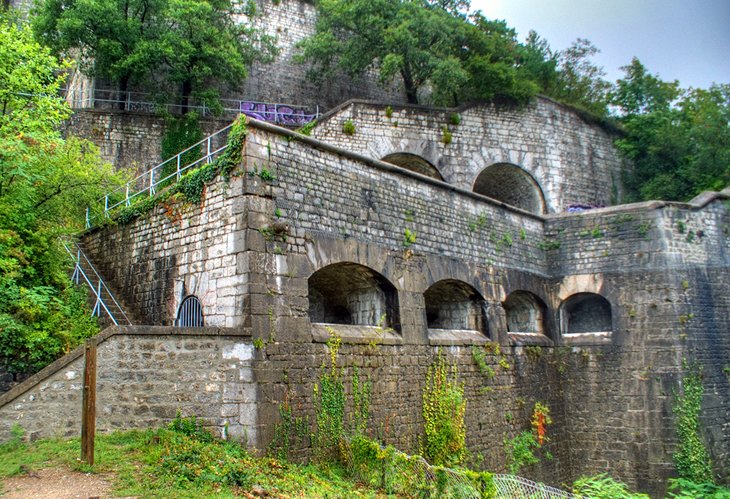 The Fort de la Bastille offers Grenoble's best panoramic views, with glimpses of Mont Blanc and the Massif du Vercors peaks in the distance. Crowning a hilltop, the fort affords stunning panoramas of the alpine landscape.
To arrive here, you can hike up to the top, or for an easier route, hop in one of the bubble-shaped cars of the Téléphérique de Grenoble Bastille cableway. The exhilarating Téléphérique ride begins at Quai Stéphane-Jay at the edge of the Jardin de Ville, and travels through spectacular scenery on the way up to the Fort de la Bastille.
The Fort de la Bastille was formerly a prison; now it houses a contemporary art center (the Centre d'Art Bastille) and a military museum (Musée des Troupes de Montagne).
For adventurous types, the Acrobastille offers a chance to participate in mountaineering and acrobatic sports, such as ziplining, rappelling, and labyrinth courses.
For those who enjoy nature walks, there are many scenic trails around the fort.
The Fort de la Bastille's fine-dining restaurant, Chez le Pèr' Gras, offers traditional Dauphinois cuisine and breathtaking views. The outdoor patio has a romantic ambience under the linden trees.
Another gourmet option is the Restaurant O2 Téléphérique, which specializes in contemporary-style French cooking. This restaurant is more casual and has an outdoor terrace where guests can admire the city and mountain vistas.
4. Musée Archéologique Saint-Laurent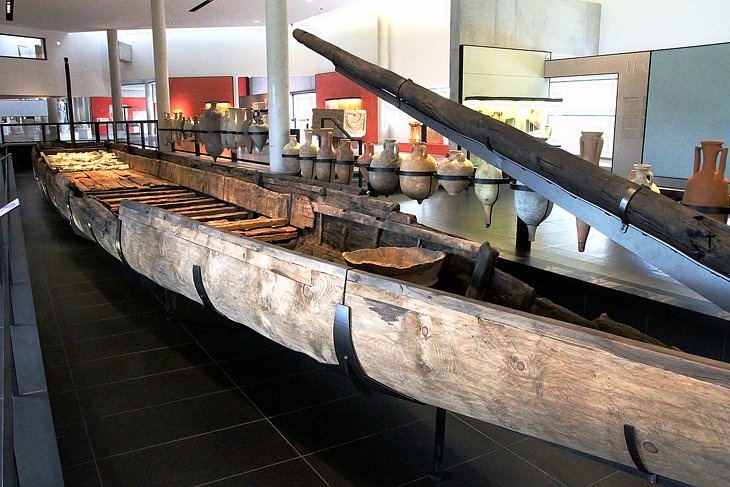 This excellent archaeology museum is found in one of the oldest quarters of Grenoble in a remarkable church, listed as a Historic Monument. The Eglise Saint-Laurent is a splendid 12th-century Romanesque church with ornate Benedictine-style capitals, rare 8th-century Carolingian elements, and a mystical 6th-century Merovingian crypt that contains ancient mausoleums.
This fascinating crypt offers a glimpse of the art and architecture from the earliest period of the Middle Ages. The museum displays a collection of archaeological objects, along with visual presentations that create a vivid picture of the religious history that dates back 1,500 years.
Address: Place Saint-Laurent, Grenoble
5. Stroll around the Jardin des Dauphins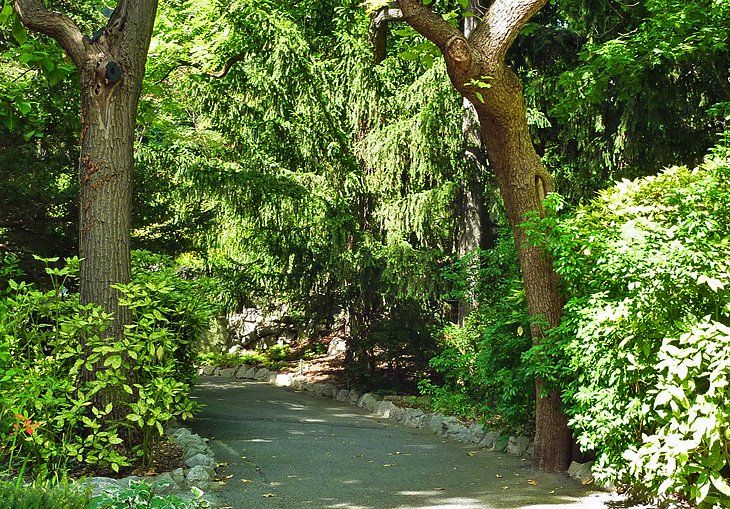 The Jardin des Dauphins is Grenoble's most luscious green space. Set on six landscaped terraces, the 30 hectares of luxuriant grounds are filled with a variety of leafy trees and wild shrubbery.
The garden's southern exposure allows exotic and Mediterranean plants to thrive here, including bananas, loquats, and pomegranates. With its shaded pedestrian paths, picturesque staircases and passageways, the Jardin des Dauphins is the perfect place to ramble on a sunny day.
From the garden, visitors can see Fort Rabot on a rocky crag in the distance. A walking path from the garden leads to the Fort de la Bastille Téléphérique.
Address: Place Aristide Briand, Porte de France, Grenoble
6. Magasin des Horizons (Centre National d'Arts et de Cultures)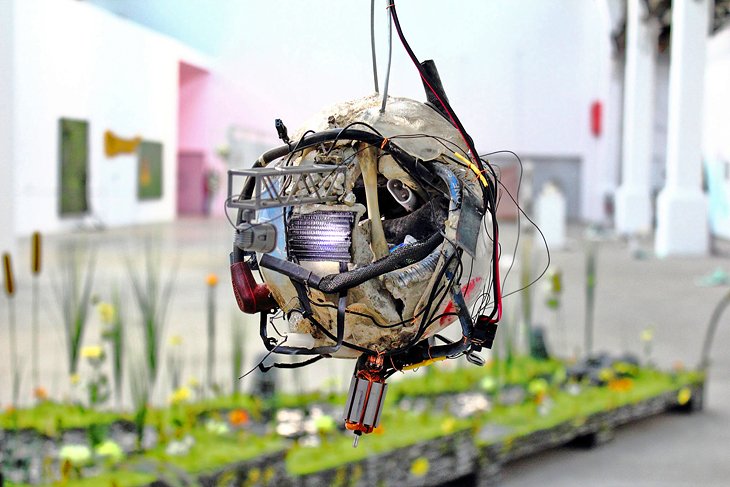 In the gritty industrial section of Grenoble, this edgy National Center of Art and Culture occupies a covered market hall that was designed by Gustave Eiffel in 1900. Opened in 1986, the Magasin des Horizons presents some of the best contemporary art exhibits in France.
Throughout the year in its 3,000-square-meter space, the center hosts temporary exhibits of original work. The center also supports new talent and works closely with artists who display their art here.
Other activities include festivals, film screenings, workshops, and training programs.
Address: Site Bouchayer-Viallet, 8 Esplanade Andry Farcy, Grenoble
Official site: http://www.magasin-cnac.org
7. Enjoy a Picnic at Jardin de Ville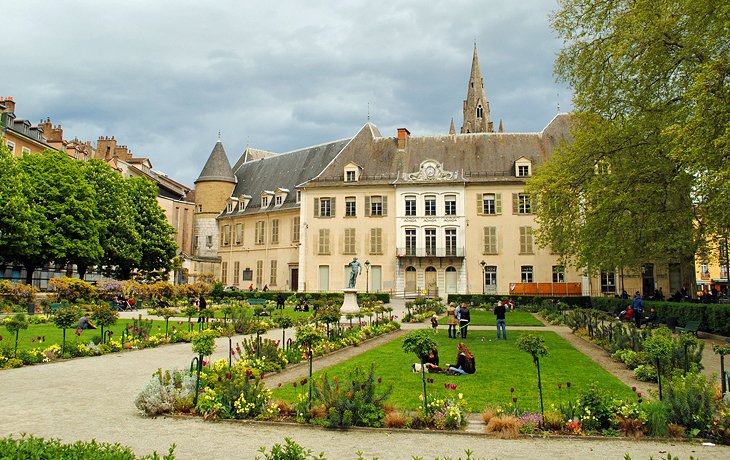 In Grenoble's Vieille Ville, this historic garden was once the private property of the Dukes of Lesdiguières and became a public park in 1719. With its gated entrance, refreshing wooded area, vibrant rose garden, and dainty flowerbeds, the Jardin de Ville has a special charm.
When the weather is pleasant, many locals are found lounging on the lawns and park benches. On warm sunny days, picnics and leisurely strolls are favorite things to do. There is also a children's playground.
Within the garden is the lovely 17th-century Hôtel de Lesdiguière which was formerly the Duke's home and is now Maison de l'International, which welcomes foreigners, promotes cultural exchanges, and provides resources to young people who want to travel abroad.
During the summertime, the Jardin de Ville also hosts many lively events, such as festivals and concerts.
Address: Jardin de Ville, 2 Rue Hector Berlioz, Grenoble
8. Walk through Place Grenette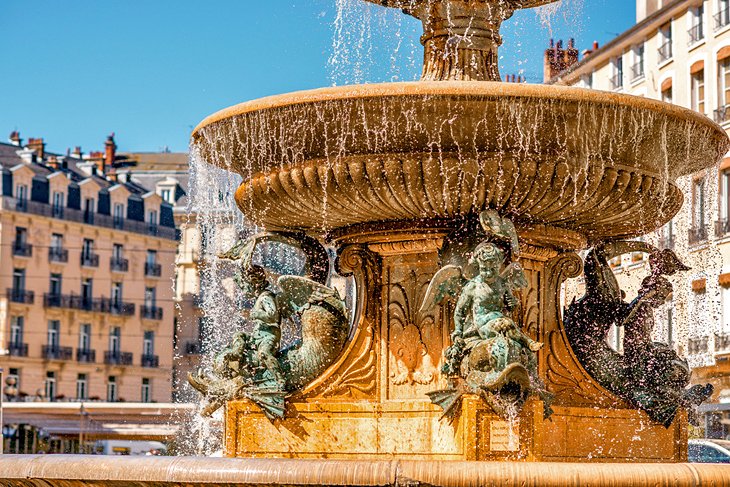 A few steps away from the Jardin de Ville is Grenoble's main town square. Lined with attractive historic houses, the Place Grenette has many bustling cafés and restaurants that feature outdoor seating in the square.
Until the 17th century, the Place Grenette was used for grain and animal markets. At the center of the square is a graceful fountain featuring winged cherubs and dolphins, created by the sculptor Victor Sappey.
9. Musée de la Résistance et de la Déportation de l'Isère
Known as "capital of the Resistance fighters," Grenoble had one of the largest Resistance movements in France during the Second World War (from 1941 until the Liberation) and its history is illustrated at this museum.
Illuminating exhibits pay tribute to Grenoble's valiant Resistance fighters and reveals the violent treatment and deportation of the local Jewish population by the Nazis. A collection of photographs, original drawings, newspapers and other documents help bring the story to life.
The museum approaches the subject with sensitivity, while illuminating the heroism of Resistance fighters. The museum is open to the public free of charge and also doubles as a memorial site.
Address: 14 Rue Hébert, Grenoble
10. Musée Dauphinois
This unique museum focuses on the culture and heritage of the Dauphiné region. Housed in a marvelous 17th-century building (formerly a convent), the museum illustrates all aspects of life in the region through archaeology, history, and ethnology exhibits.
Permanent exhibits focus on the rural life of the region, the people of the French Alps, and the history of skiing. The museum also presents temporary exhibits about foreign cultures.
Address: 30 Rue Maurice-Gignoux, Grenoble
11. Take a Drive to Domaine de Vizille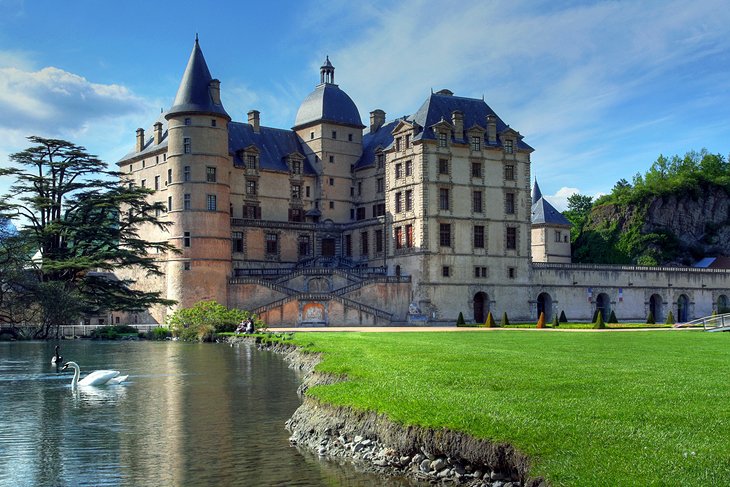 In an idyllic setting about 20 kilometers from Grenoble, this magnificent château in Vizille has an intriguing history. The château was constructed between 1611 and 1627 by a nobleman who was a leading Protestant. However, he renounced his faith in 1662 to gain the title of Connétable.
The château features a flight of steps leading down to the Renaissance-style park. In 1788, the Estates of the Dauphiné held a meeting here, which laid the foundations of the French Revolution, outlining a demand for the personal freedom of all Frenchmen.
The château now houses the Musée de la Révolution Française (Museum of the French Revolution).
Address: Place du Château, 38220 Vizille
12. Go Hiking or Skiing at Parc Naturel Régional de Chartreuse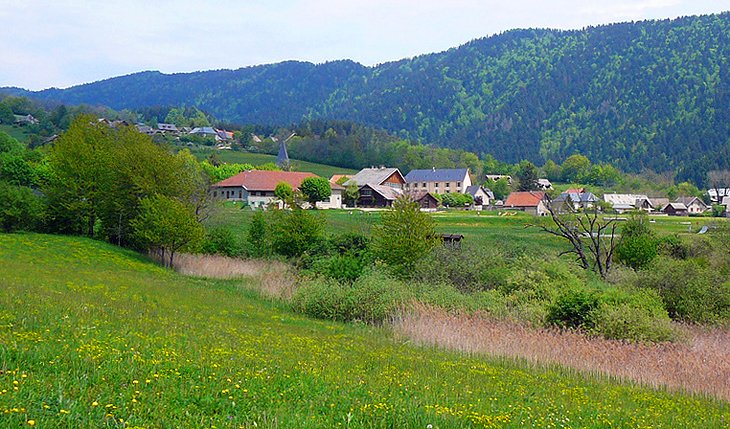 The Parc Naturel Régional de Chartreuse is found in the verdant mountainous landscape about 30 kilometers outside of Grenoble. The location has a remote feel and is only accessible by narrow country roads.
For those who appreciate outdoor activities, this natural park is one of the best places to visit in the area. It's a favorite spot for hiking in the summer and skiing in the winter.
A popular place to stay overnight is in Saint-Pierre-de-Chartreuse, a charming alpine village sheltered by the Chartreuse mountains.
13. See the Dramatic Scenery of Parc Naturel Régional du Vercors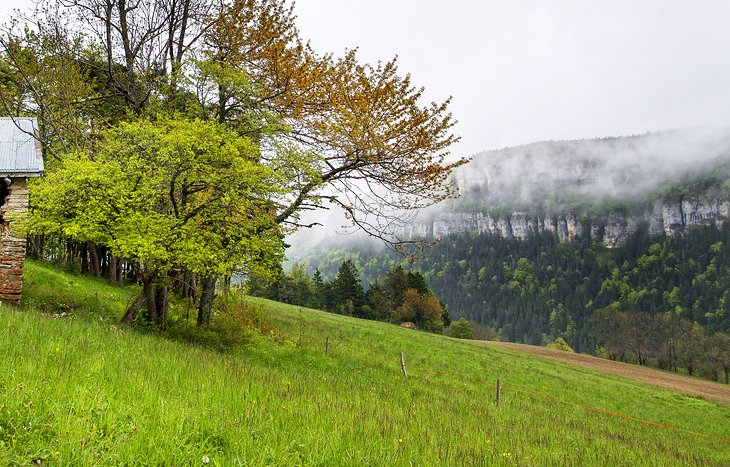 About 27 kilometers southwest of Grenoble, this unspoiled alpine terrain has been a protected reserve since 1985. The area is known for its dramatic scenery and amazing biodiversity. This park makes for a lovely day trip from Grenoble.
Covered with forests, gorges, and many hiking trails, the Regional Park of Vercors is an ideal place to discover pristine nature and participate in outdoor sports such as mountain biking, rock climbing, and spelunking.
In winter, the area's ski resorts cater to skiers of all levels. There are also opportunities for snowshoeing and cross-country skiing.
Where to Stay in Grenoble for Sightseeing
Grenoble has a wide variety of accommodations, from high-end hotels in the historic city center of town to small bed-and-breakfast accommodations on quiet residential streets. There are also luxurious resort-like properties just outside of Grenoble in beautiful pastoral surroundings.
Luxury Hotels:
The Park Hôtel

Grenoble-MGallery

offers 4-star accommodations near the Park Paul Mistral, an expansive green space with lawns and woodlands. The hotel features sleek contemporary decor with Greco-Roman-inspired sculptures. Amenities include a hammam, fitness center, room service, and a café. This hotel is located just outside (within walking distance) of Grenoble's historic city center.
Brimming with old-world elegance, the Hôtel

d'Angleterre

is found on a pleasant tree-lined street in Grenoble's historic city center. The 3-star boutique hotel occupies an attractive Haussmann building overlooking the Place Victor Hugo public square/park. Some of the rooms have private balconies with spectacular mountain views. Amenities include a 24-hour front desk, room service, and laundry service. A breakfast buffet is available.
Guests enjoy the tranquil resort-like ambience of the 3-star Château de la

Commanderie

, which is nestled in a romantic park, 10 kilometers outside Grenoble. Amenities include an outdoor swimming pool, indoor pool, fitness center, hammam, and spa. Rooms are decorated in classic French style and feature views of the park. The hotel's restaurant serves refined French cuisine in a refurbished 18th-century dining room or on the shaded outdoor terrace.
Mid-Range Hotels:
Well situated in the historic center of Grenoble just outside of the Vieille Ville pedestrian-only area, the Grand Hotel Grenoble

Centre

provides comfortable, soundproofed guest rooms with sleek, modern bathrooms. This 4-star boutique hotel offers a 24-hour front desk, concierge, room service, and valet parking. The hotel is located within a short walk from the restaurants, outdoor cafés, and shops of the Place Grenette.
The OKKO HOTELS Grenoble Jardin

Hoche

is a good choice for those seeking a convenient, central location and a trendy ambience. Designed in sleek contemporary style, this 4-star hotel has a relaxing lounge, work spaces, a business center, fitness center, and amenities such as laundry service. A breakfast buffet is available.
Tucked away on a residential street in Grenoble's historic center (about a 10-minute walk to the Vieille Ville), the Villa

Atmosphere

is a small boutique bed-and-breakfast hotel. The house is decorated in Art Deco style. Guest rooms feature private balconies overlooking a garden, and rates include a gourmet breakfast served in a dining room with splendid mountain views.
Budget Hotels:
The Hôtel de l'Europe Grenoble Hyper

Centre

is a great choice in the pedestrian-only Vieille Ville of Grenoble. Housed in a renovated 17th-century building, this 3-star hotel is decorated in cheerful, contemporary style. The soundproofed guest rooms have flat-screen televisions and balconies with mountain or city views. Amenities include a 24-hour front desk, concierge services, and a breakfast buffet (for an additional charge).
Near the train station, the Splendid Hôtel Grenoble Centre

Gare

is just a short walk away from Grenoble's pedestrian-only historic center. This modern 3-star hotel has a 24-hour front desk and friendly, multilingual staff. The guest rooms feature simple but stylish contemporary decor. Guests may opt for the breakfast buffet (for an additional fee), which is prepared from local products and fresh, organic ingredients.
More Related Articles on PlanetWare.com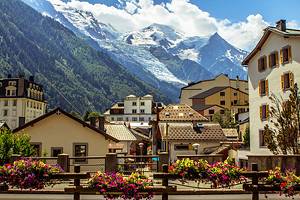 Inspiring Natural Scenery: The soaring mountain peaks that surround Grenoble beckon visitors to go hiking or skiing in the French Alps. Europe's highest mountain, the legendary Mont Blanc (a two-hour drive) near Chamonix offers breathtaking scenery for outdoor adventures. Another spectacular nature site is the Monts d'Ardèche Natural Regional Park (about two hours south). A driving itinerary of the Gorges d'Ardèche leads to discoveries of spectacular gorges, prehistoric caves, and quaint villages.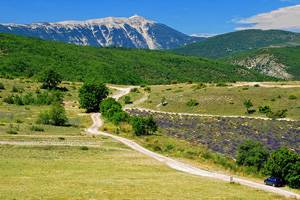 Charming Countryside of Provence: South of the French Alps is the bucolic Provence region, a sun-drenched landscape dotted with medieval hilltop towns. The Haut-Vaucluse area of Provence (about two hours away) consists of quiet countryside with small farms, olive groves, lavender fields, and picturesque villages. The UNESCO-listed Palais des Papes in Avignon is about a two-hour drive from Grenoble. A slightly longer drive leads to the sultry Provençal town of Nîmes, which is full of pleasant tree-lined streets and squares, bustling outdoor cafés, and fascinating ancient Roman monuments.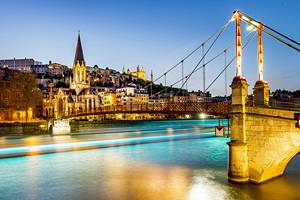 Cultured Cities Within Easy Reach: For those who appreciate art museums, gorgeous gardens, and historic churches, the cities of Lyon and Geneva are rewarding places to visit. Famous for its regional cuisine, the UNESCO-listed city of Lyon is only a one-hour drive away and less than 2 hours by train. Near the French border, Geneva in Switzerland is renowned for its cosmopolitan culture and pristine lakeside scenery. From Grenoble, it takes only about 2 hours by car to arrive at Geneva.