7 Best Lakes in Nevada
Author Michael Law visits Nevada on a regular basis and always makes time to get out on the water.
Being a desert state, Nevada is surprisingly well-supplied with wonderful lakes. Many of these are unique, ranging from lakes set in alpine areas to spectacular desert settings, and others are reservoirs. Most bodies of water in Nevada are easily accessible and, in some cases, have built-up towns surrounding them with great accommodation options.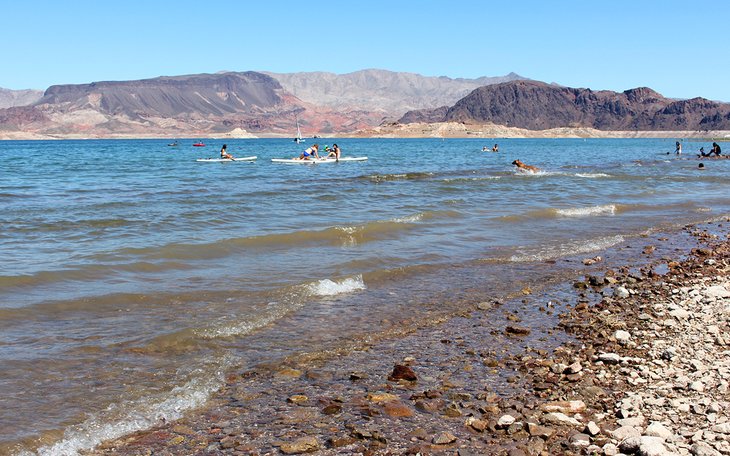 You'll almost be assured of a sunny day when you hit the beach in Nevada. This state is the land of sunny days, and when you mix those with clear, warm waters, it's an irresistible combination. Find out where to go with our list of the best lakes in Nevada.
1. Lake Tahoe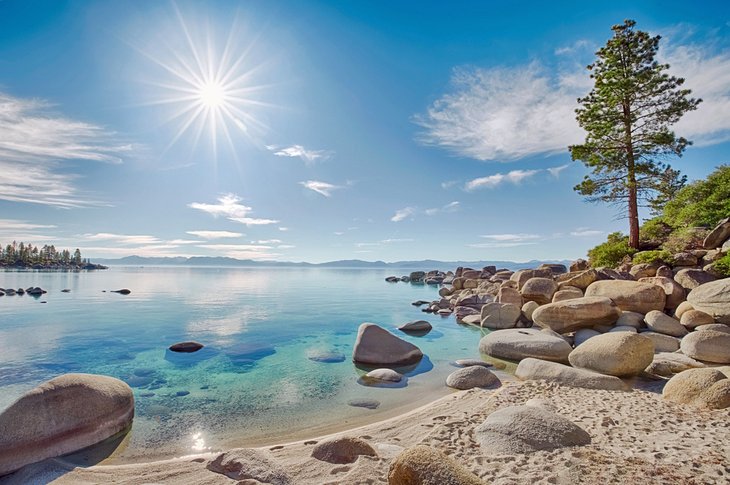 Highlights: Spectacular lake ringed by snow-capped mountains, great boating, beautiful beaches
One of the best-known lakes in Nevada is Lake Tahoe, the 2nd deepest lake in the United States and the 16th deepest in the world. This beautiful lake, with shores in both Nevada and California, is set in a stunning alpine bowl surrounded by mountains that reach over 10,000 feet.
In the summer, you can get out on the water in your own boat, or rent one. The lake is usually calm, so it's a great place to go waterskiing, wakeboarding, or for daredevils, barefoot waterskiing.
No boat, no problem, Lake Tahoe is blessed by a multitude of large sandy beaches where you can swim and splash about in the refreshingly cool water. The lake is also an ideal place for stand-up- paddleboarding, kayaking, and canoeing. Camping is another popular activity, with many pleasant campgrounds on the shorelines of the lake set underneath towering pine trees.
Land-based activities abound around Lake Tahoe. In summer, these involve hiking and biking. Once the snow flies, Lake Tahoe transforms into a winter wonderland. The mountains surrounding the lakes are home to an assortment of great ski resorts. The view from the top of these ski hills out over the lake, which does not freeze in winter, is sublime.
Lake Tahoe is an easy 45-minute drive from the tourist attractions of Reno and a 25-minute drive from Carson City. If you are coming from the California side, the trip from San Francisco is just under three hours.
2. Lake Mead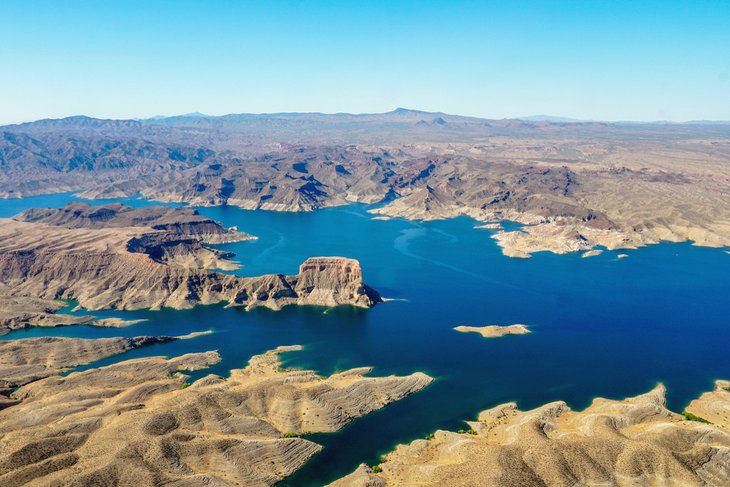 Highlights: A massive lake perfect for fishing, pleasure boating, and swimming, plus the famous Hoover Dam
Just a short drive from Las Vegas is stunning Lake Mead. The waters from the Colorado River are dammed by the towering Hoover Dam, and the lake that has formed behind it stretches upstream for 112 miles.
With miles and miles of navigable waterways, it is the largest reservoir in the United States. The lake level rises and falls depending on the amount of snow and rain in the mountains further upstream, and the deepest point is around 500 feet.
The lake is one of the most unique in the United States for its clear waters lapping up against sandstone rocks. Flooded canyons stretch for miles inland from the main lake and lead to spectacular rock formations including arches, caves, and buttes.
The lake is part of the Lake Mead National Recreation Area, and it's protected by the National Park Service. Four main basin areas within the park hold the largest amount of water and are the most popular with boaters. These four, starting from west to east are Boulder Basin, Virgin Basin, Temple Basin, and Gregg Basin.
The number one thing to do on Lake Mead is pleasure boating. Every weekend, cars and trucks towing all manner of watercraft descend on the launches as people head out on the water. Waterskiing, wakeboarding, and tubing are three of the most popular activities, as boats race around the open water looking for the calmest water (waterskiers) or the largest boat wakes (tubers).
Those looking to launch their boat should consult the National Park's website for launch conditions. With the water levels in Lake Mead dropping, some are operating at reduced capacity or not at all.
Fishing on Lake Mead is excellent, however, knowing where to go is the key to success. Many anglers leave the busy areas and head for places like Overton Arm. It's up in this more remote area that you'll have your best chance of doing battle with a striped bass or hooking into a jumbo largemouth bass. Other species include smallmouth bass, crappie, sunfish, and catfish. If you have downriggers, you'll have a shot at catching a rainbow trout.
A visit to the lake isn't all about boating, though; many land-based activities make a visit well worthwhile. Beaches draw bathers to the lake's shorelines. Beaches at Lake Mead are large and wide open, and the approach to the water is generally rocky. A pair of swimming shoes is a good idea. One popular area is Boulder Beach, where you'll also find a campground.
Three popular hiking trails wind their way along the rocks that surround the lake and take you up to impressive vantage points and in one case through an abandoned railway tunnel.
If you like to get out into nature and have a tent or RV, the lake has multiple campgrounds that you can set up within walking distance of the lake. You'll have decisions to make; the lake is surrounded by 900 sites spread across 15 different areas. Each campground has its own look and feel, some are more about peace and quiet, and others are more about good times and socializing.
If you prefer not to sleep on the ground or in nature, the resorts in Las Vegas provide all the creature comforts you might require.
3. Lake Mohave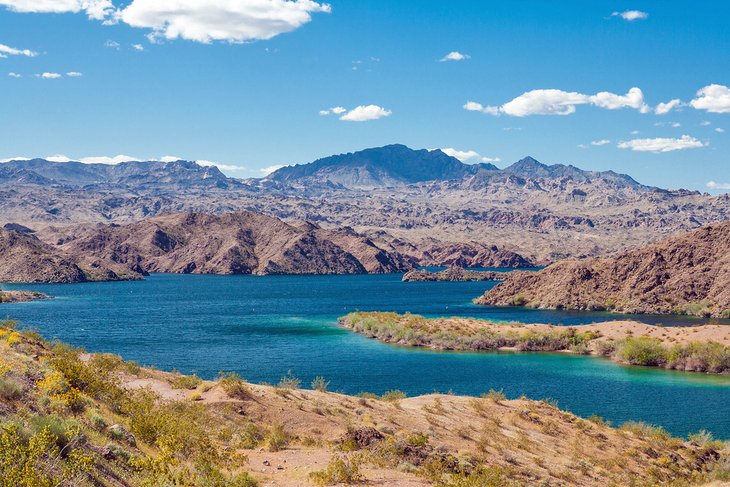 Highlights: Low-key lake with warm water, good fishing, and spectacular desert scenery
Lesser known than Lake Mead, Lake Mohave is downstream of the Hoover Dam, close to the good times in Laughlin. This below-the-radar lake is one of the finest in the state for the sheer number of amazing things to do during a visit. It may take a little work to get here and to access some of the best areas, but it's well worth the effort.
Lake Mohave is 67 miles long, however, the upper 22 miles are narrow river canyons. The western side of the lake is in Nevada, and the eastern side Arizona.
Lake Mohave, formed by the Davis Dam, is a good place to hit the beach. Bring all your water toys; the southern end of Lake Mohave is warm in summer, generally in the low to mid-80s Fahrenheit, so it's ideal for swimming. The northern portion of the lake is influenced by cold water from the depths of Lake Mead and can be in the mid to high 40 degrees Fahrenheit.
One of the best beaches on the Nevada side of Lake Mohave is the beach at Telephone Cove. This wide stretch of sand is ideal for setting up all your beach gear, playing a game of football, or just plain lying out in the warm sun. Be sure to bring an umbrella or some sort of shade structure, there is no shade whatsoever.
Apart from restrooms, this beach area has no other facilities like picnic tables or BBQ grills; bring everything you need for your day at the beach.
The water is shallow and good for wading, swimming, and generally just floating around on water toys. The road down to the lake is gravel and can get rough, however, most passenger cars can make the trip without too much trouble.
If you've brought your boat or personal watercraft, it's easy to moor just off from the beach. A good boat launch nearby makes it easy to get your boat in and out of the water. The winds pick up here in the summer due to the orientation of the lake, so if you need calm water, start your activities early in the day.
The main services for the lake are all on the Arizona side, less than four miles across. A trip across to one of the three marinas for supplies or to grab a bite to eat is an easy and fun way to spend part of your day.
4. Lake Las Vegas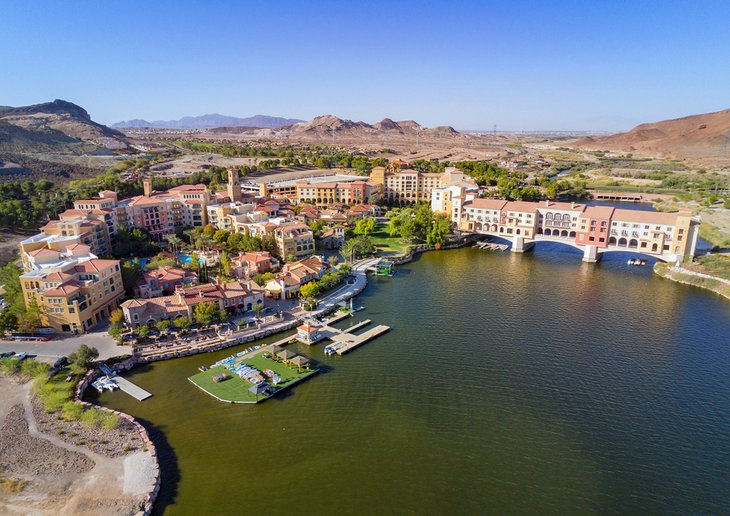 Highlights: Fun water-based family things to do, first-class places to stay
Lake Las Vegas is a 320-acre aquatic playground located a short drive from the attractions of the Las Vegas Strip. The lake has a mix of private homes, golf courses, and resort hotels along its shorelines. The lake is one of the top summer destinations in Las Vegas for locals and tourists alike.
All kinds of things to do on Lake Las Vegas are available. One of the most popular is the Lake Las Vegas Aqua Park. Consisting of floating play structures, waterslides, climbing walls, swings, and floating walkways, it's a veritable adventureland of fun for children and adults. The Aqua Park has lifeguards on duty to keep an eye on all participants.
For adrenaline junkies, flyboards and jetpack rides that boost you up into the air are also available. If you like things a bit more sedate, consider renting a stand up paddleboard, kayak, or paddleboat and go exploring. If you just want to get out on the water and stay dry, electric boat rentals are available as are cruises on La Contessa Yacht.
Luxurious waterfront accommodation is available at the lake at the Hilton Lake Las Vegas Resort & Spa and The Westin Lake Las Vegas Resort & Spa. Both properties are full-scale resorts with pools, recreation areas, top-end dining, and exceptional service.
5. Pyramid Lake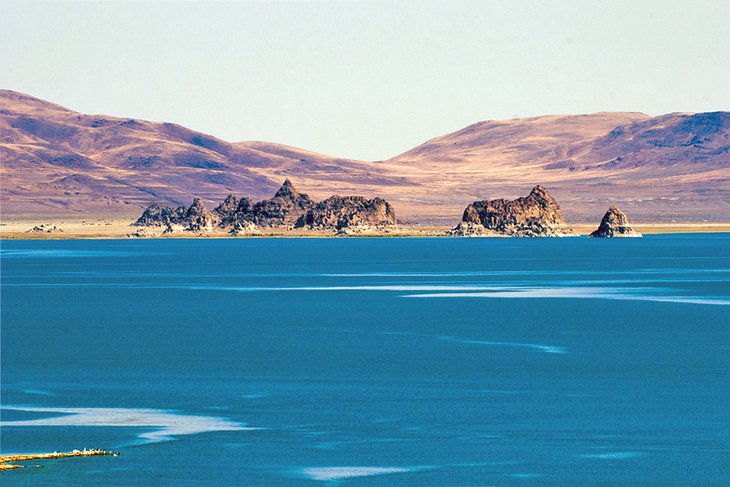 Highlights: The chance to catch a rare cui-ui or trophy trout, paddleboarding, kayaking
Pyramid Lake is one of Nevada's more unusual lakes. In the early 19th century, the lake was much larger than today, but a dam and irrigation program diverted much of the water, and today, it's 80 feet lower. However, even in its much-reduced form, the lake is still one of the largest naturally formed lakes in Nevada, at 15 miles by 11 miles, and is surprisingly deep at 350 feet. The lake is located just over 30 miles north of Reno.
The shrinking lake has exposed unique rock formations, the largest of which is a giant pyramid, which gives the lake its present name. The lake is a pretty blue color and is a good place to go for a paddle either in a kayak or on your stand up paddleboard. Keep an eye out for the strange tufa formations that can be seen in six areas around the lake.
Pyramid Lake draws anglers who come to try their luck at catching a rare fish, the cui-ui. Other fish lurking below include record-sized Lohanton Cutthroat Trout and Sacramento Perch. Fishing is either from shore, sometimes on a ladder in the shallows, or from boats.
The lake is on Paiute Tribal land, and tribal fishing licenses and boat permits are required. They can be purchased at the ranger station or online. If you have your own RV or tenting gear, camping is available just back from the shoreline.
6. Topaz Lake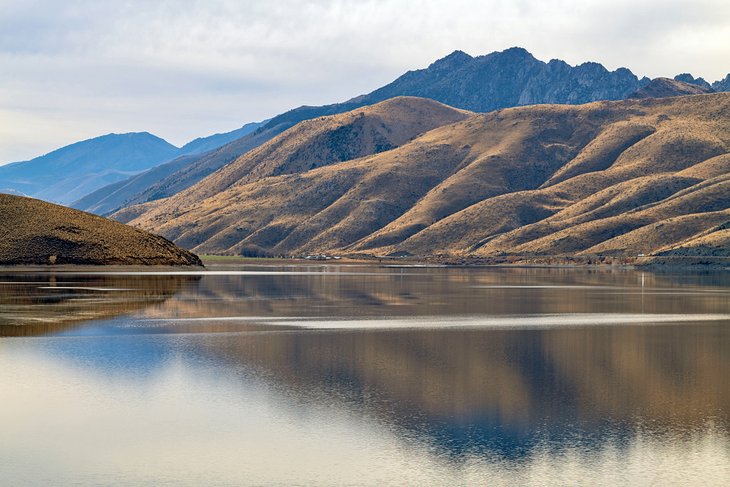 Highlights: Uncrowded, great fishing, warm water for swimming, pleasant campground
Located just over an hour south of Reno along the California/Nevada border is lovely Lake Topaz. Lesser known than many other larger lakes in the state, this low-key reservoir has everything you need for a fun weekend on the water.
The water warms up nicely, and it's rarely crowded with boats. All forms of water sports are easily enjoyed here and include water skiing, tubing, and wakeboarding. The lake is also a very good spot to wet a line. Trophy rainbow and brown trout are frequently caught here along with smallmouth and largemouth bass.
Topaz Lake Park has 69 campsites, 29 of which are serviced and ideal for RVs. The other 40 are more suitable for tenting and small tow-behind trailers. Should you wish to stay in a hotel, the small town has a good assortment of accommodation.
7. Walker Lake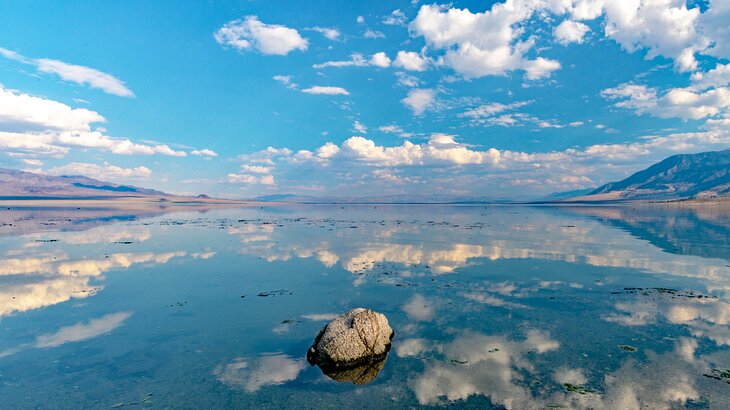 Highlights: Large, deep mountain lake; boating and fishing; campground
Set in the high mountains, but still easily accessible, Walker Lake is a popular boating and fishing destination. Walker Lake is large in size, five miles wide and eleven miles long; it's also deep — recent measurements put it at nearly 500 feet.
The lake's waters are cold, but that doesn't stop the residents of Nevada from launching their boats, breaking out the kayaks, or heading out on stand up paddleboards. The lake has a small campground with basic facilities at Sportsman's Beach.
Map of Lakes in Nevada
Best Time to Visit Nevada's Lakes
In general, the best time to visit Nevada's lakes is in the months of September and October. The fall is ideal because the intense heat of summer will have passed and the waters of the lakes will have warmed somewhat. During this time, camping, swimming, fishing, and any outdoor activity is possible and enjoyable. Daytime highs should range from the low- to mid-80s Fahrenheit most days.
However, that said, it's important to note that elevation plays a significant role in the best time to visit. For places that are high, like Lake Tahoe and Walker Lake, the season is condensed and the best time to visit is the summer months of June, July, August, and early September.
The spring months of March, April, and May are okay, with cooler temperatures, cold water, and changeable conditions. The advantage of coming at this time is that the fishing is at its peak and campground spots are readily available.
The summer months are blazing hot, with daytime temperatures above 100 degrees Fahrenheit most days.