9 Best Campgrounds at Kings Canyon National Park, CA
A land of giant sequoias, rushing rivers, and canyon scenery, Kings Canyon National Park is a magical place for camping. Beautiful campgrounds offer easy access to the towering wonders of both Kings Canyon and adjoining Sequoia National Park. But, if you are looking to escape the crowds or hike remote trails, you'll also find extraordinary camping opportunities in the far reaches of the park.
The park is divided into sections. In the Grant Grove area are three campgrounds well positioned for visiting the sequoias. The elevation here is around 6,500 feet, and the temperatures are much cooler than the surrounding valleys. For sightseeing, this is the best place to camp in Kings Canyon.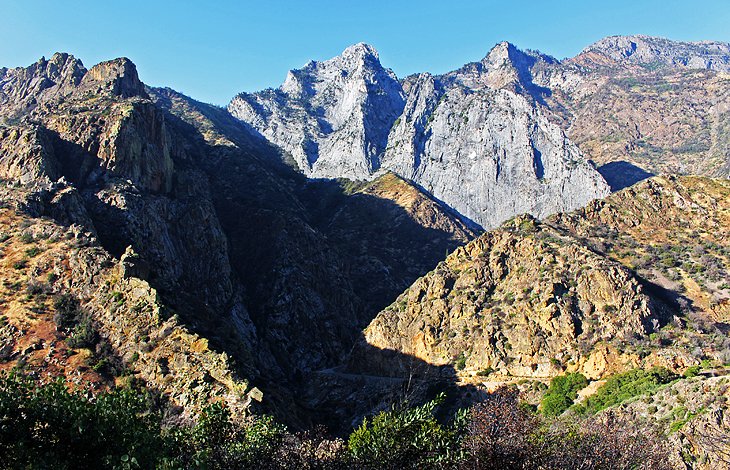 If you head deeper into the park, you'll find three very nice campgrounds towards the end of the 26-mile Kings Canyon Scenic Byway (Highway 180), in the Cedar Grove area.
This road takes some time to drive, so if you are only coming to enjoy the trees, this is not the best option for camping. However, if you are interested in enjoying longer hikes through alpine regions, this is a great alternative. Campgrounds here are covered with pine trees and look out to the mountains.
Cedar Grove is set at an elevation of 4,600 feet, and temperatures are warmer than Grant Grove. It's perfect in the spring, when the higher elevations are still a bit cool. This road closes in winter, so you will have to wait until it opens before you can access these campgrounds.
Between Grant Grove and Cedar Grove, the Kings Canyon Scenic Byway leaves the park for a considerable distance. In this area, outside of the park boundary, are a couple of camping areas that can serve as nice alternatives to camping in the park. Of particular note are Hume Lake and Princess Campgrounds.
Find the right spot to make your base with our list of the best campgrounds at Kings Canyon National Park.
1. Azalea Campground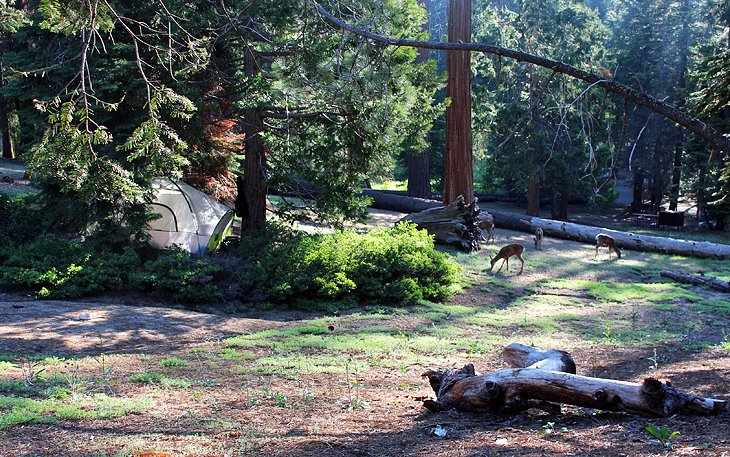 Located in the Grant Grove area, the Azalea Campground is arguably the most beautiful campground in the park and perfectly located for exploring the giant sequoias.
Sites are spread around huge boulders and set at the base of towering pines, including sequoias. Trees are spaced enough to offer plenty of light, and campsites are large enough that you can drag your camp chair into a sunny or shady spot.
The sites are a good distance from each other and generally offer plenty of privacy, particularly given the hilly terrain.
A walking trail from the campground leads to the famous General Grant Tree, the largest sequoia in Kings Canyon.
Azalea Campground, located at 6,500 feet, is open year-round. It operates on a first-come, first-served basis in the off season and by reservation in high season. The campground has 110 campsites, facilities include flush toilets and running water. It can accommodate tents and RVs but does not have hookups or dump stations.
Nearby is Grant Grove Village, where you'll find a store with a modest selection of groceries, a restaurant, coffee, showers, and a few other amenities.
2. Crystal Springs Campground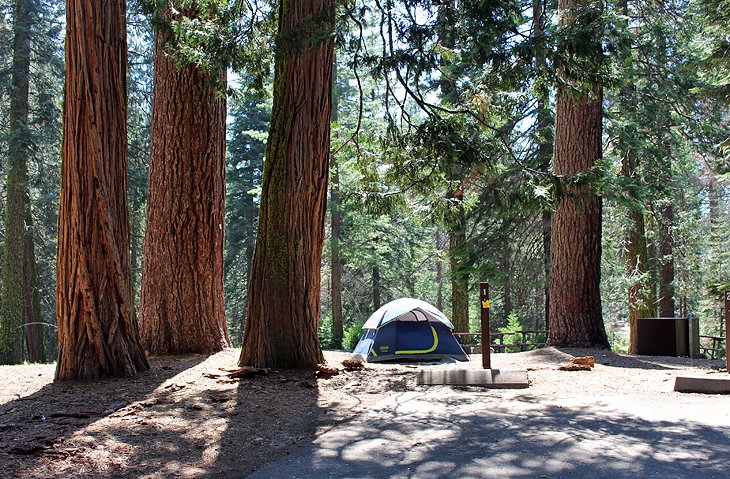 Directly across from the road leading to General Grant Tree and Azalea Campground is the short road to Crystal Springs Campground. This campground also offers a convenient location in the Grant Grove area and is similar in nature to Azalea Campground, with huge pines, rolling hills, and a similar elevation of 6,500 feet.
Trees here are more densely packed in some areas, so, while sites are large, they feel a bit more confined by the forest. This is a smaller campground with only 36 reservable sites, and it's only open during the summer months, generally from July to September. Maximum RV length is 25 feet.
It also has additional mid-size group sites, which are reservable and can accommodate up to 15 people. The campground has flush toilets and water.
3. Sunset Campground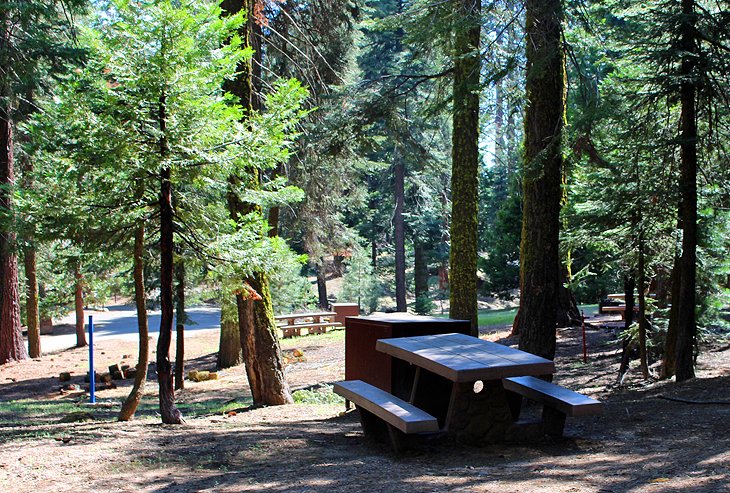 Another great choice for easy access to the sequoias is the Sunset Campground. This is the largest campground in the Grant Grove area, offering 157 reservable campsites and two reservable group sites. Despite the large number of sites, it's well laid out and does not feel like a huge campground. For those with RVs, the maximum length is 30 feet.
As with Azalea and Crystal Springs, this campground is also located at an elevation of 6,500 feet and set below large pines, including sequoias, sugar pines, fir, and cedar. From here you can walk to General Grant Tree, just one mile away.
4. Moraine Campground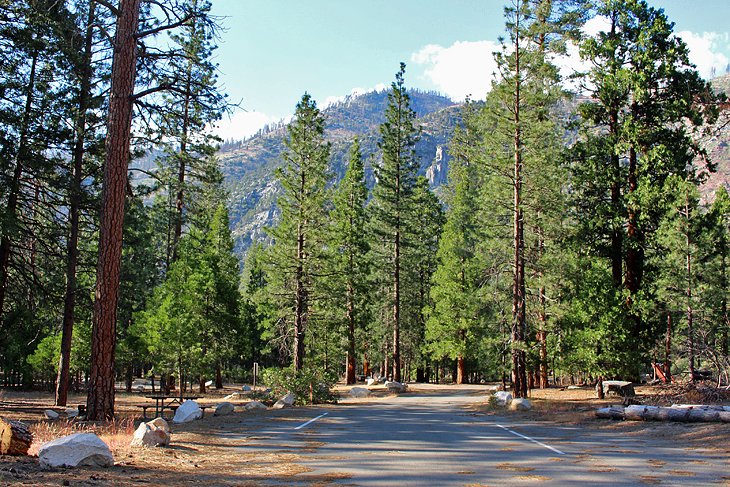 At the end of the Kings Canyon Scenic Byway (highway 180), in the Cedar Grove area, are three beautiful campgrounds, and a fourth that is reserved for groups. The most picturesque of these is Moraine Campground.
From many of the sites, the granite canyon walls can be seen over the tops of the mid-sized pines that dominate the campground. Campsites are well spaced and offer a mix of sun and shade. Pine needles carpet the ground and scent the air on hot and sunny days.
This is the largest campground in the area, offering 120 reservable sites, and is open to tents and RVs. Facilities here include flush toilets only, but showers are available at nearby Cedar Grove Village.
The elevation here is 4,600 feet, much lower than campgrounds in the Grant Grove area, but it is only open when the road is passable, which is generally from mid-April to mid-November.
5. Sheep Creek Campground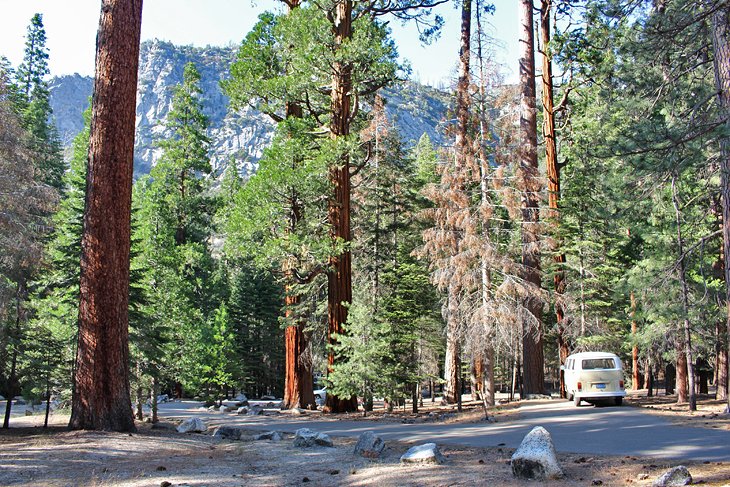 Sheep Creek Campground is the first campground you come to in the Cedar Grove area. Trees here are larger than those at Moraine Campground, so views of the canyon walls are more obstructed, and the amount of light falling on campgrounds is reduced. Nonetheless, this is still a lovely campground with a true forest setting and ample space between sites. The maximum RV length is 30 feet.
The South Fork of the Kings River runs through the campground, and the sound of rushing water gets louder as you move farther down the gently sloping terrain, away from the road.
As with the other campgrounds in the park, this is a reservable campground and features flush toilets. This campground has 111 sites and opens later and closes sooner in the season than Moraine. The campground sits at an elevation of 4,600 feet.
6. Sentinel Campground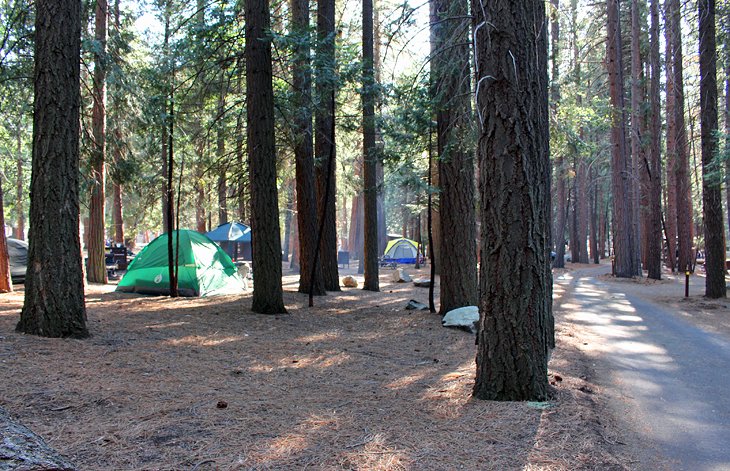 The smallest campground in the Cedar Grove area, Sentinel Campground is located just off the highway, on the road leading over the bridge to the Cedar Grove Visitor Center.
Sites on the periphery of this campground are fairly open and sunny, but the interior sites are dominated by huge and densely packed pine trees that block most of the light, meaning campsites are mostly shaded, with patches of light filtering through here and there.
With a distinct lack of vegetation at ground level, privacy is limited, but the sheer number of large tree trunks do block some of the surroundings. Views are almost non-existent, but the trees, standing like majestic pillars, have their own unique charm.
This campground, set at an elevation of 4,600 feet, has 82 sites, flush toilets, and is generally open from late-April to late-November. Campsites here can be booked one month in advance of your visit.
A note to those with RVs: the campground can accommodate rigs up to 82 feet in length but not every site can handle large units, most are a maximum of 30 feet. It is imperative that you check the size restrictions when you book your site. If your rig does not fit, you will be asked to leave.
7. Hume Lake Campground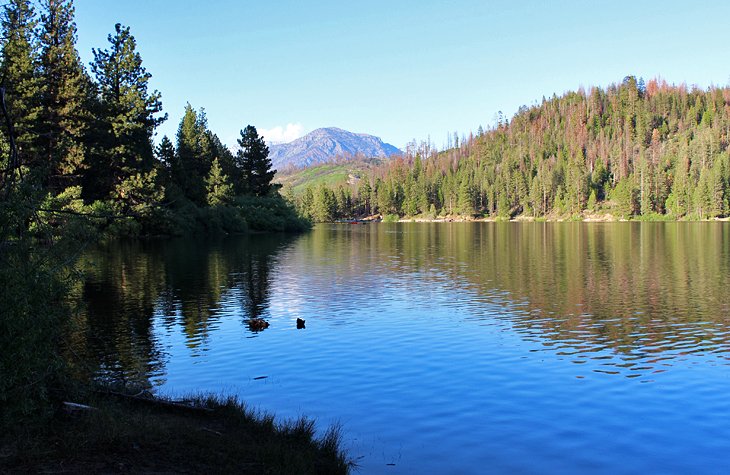 If you are looking to camp near the shores of a peaceful lake, you can't go wrong with Hume Lake Campground in Sequoia National Forest. This lake is a popular spot for fishing, canoeing, and kayaking.
On a hillside just back from the water, this quiet campground offers a nice alternative to the larger and busier national park campgrounds. Hume Lake is located off highway 180, about 3.5 miles down the narrow and twisty Hume Lake Road, and just under 10 miles in total from Grant Grove Village.
The elevation here is just over 5,200 feet, and the surroundings consist largely of pines, including sequoias and Jeffrey pines.
A 2.5-mile hiking trail circles Hume Lake, and opportunities for biking can also be found in the vicinity.
The campground has more than 100 sites, and those closest to the lake offer partial views of the water. Facilities include flush toilets, and each site has a picnic table and fire ring.
Reservations can be made six months in advance of your visit on a rolling basis.
8. Princess Campground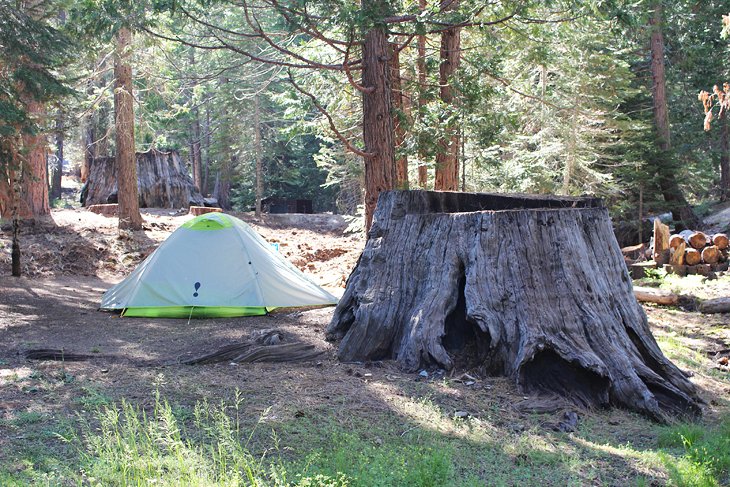 Located on the Kings Canyon Scenic Byway near the Hume Lake Road Junction, six miles from Grant Grove Village, this campground is set off on its own, in Sequoia National Forest. It's a generally quiet area and offers plenty of privacy, with an "away from it all" feel.
The pine trees here are smaller than those at the other campgrounds in Kings Canyon, but the campground is dotted with the stumps of giant sequoias, remnants of the logging days, that dwarf tents and make RVs look like toys.
The campground is set at an elevation of 5,600 feet, and although it is not in a particularly convenient location for exploring the major hiking trails or the sequoias, it's an option for times when the main campgrounds are full or you are just looking for some quiet camping.
The primitive campground features 88 sites, 19 of which are tent-only, and facilities consist of vault toilets. Fire rings are provided at each site. Reservations can be made up on a rolling date basis 6 months in advance.
Hume Lake is only a few miles away from here.
9. Convict Flat Campground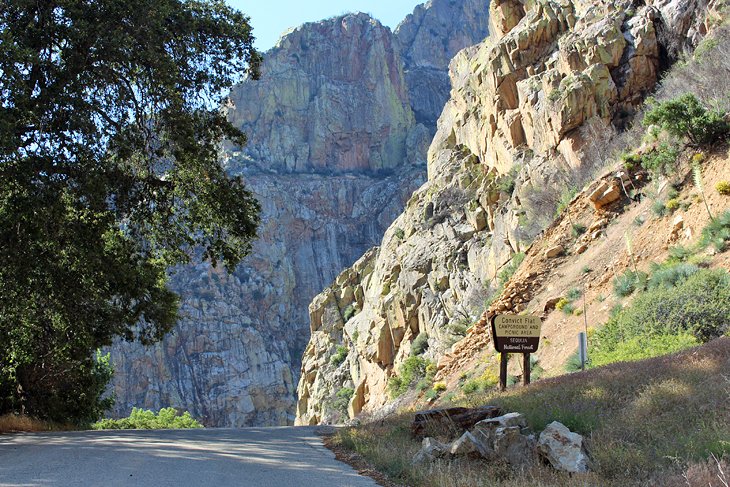 This five-site campground is for those who really want to get away from other campers, are looking for a warm or hot place to camp, and don't mind rustic facilities.
Large, private sites are set among sprawling deciduous trees in a well-shaded cove off highway 180, on the way to Cedar Grove, about 19 miles from Grant Grove.
The elevation here is about 3,000 feet, much lower than other campgrounds in the vicinity. As a result, temperatures here are generally warmer and can be quite pleasant in spring and fall, and hot in summer.
Since this highway is closed in winter, Convict Flat Campground is only accessible during the summer months.
The campground is suitable for tents and small to mid-sized trailers or RVs. Facilities consist of vault toilets. Sites are all first-come, first-served.
Map of Campgrounds at Kings Canyon National Park, CA
Camping Details
Reservations: For 2022 and beyond, a majority of the campgrounds in the national park that used to be first-come, first-served have shifted to a reservation system during peak season. Unlike other national parks that allow you to book well in advance, at Kings Canyon, sites are only reservable 30 days ahead of your intended visit via the government website. In the off season, the few campgrounds that stay open remain available on a first-come, first-served basis.
The fires that swept through areas around the park in the past few years killed many sequoia trees; however, none of the campgrounds in Kings Canyon were affected.
Food Storage: All campgrounds within Kings Canyon National Park provide food storage lockers at individual sites. These are where you are to store your food at all times, unless you are preparing your meal. Bears are a real problem in the park, and these lockers are the solution to this ongoing issue. Proper storage of your food is critical, and rules are diligently enforced. Non compliance will lead to fines.
Frequently Asked Questions
When is the best time to camp at King's Canyon National Park?
As a general rule, the best time to camp in King's Canyon National Park is from June until mid-September. However, it's important to note that the campgrounds listed above are at different elevations, ranging from 3,000 feet to 6,500 feet; the higher you go, the cooler the temperatures.
The campgrounds are always busy when school is out. For a quieter experience with greater availability, come in September or late August.
Is there other camping nearby?
Sequoia National Park is a short drive away and has amazing camping among massive trees. For a detailed overview see our article on the best campgrounds in Sequoia National Park.
Just over three hours away, Yosemite National Park is a must-see. Camping is available both in the park and in nearby areas. For more details on individual campgrounds see our article on the best campgrounds in Yosemite.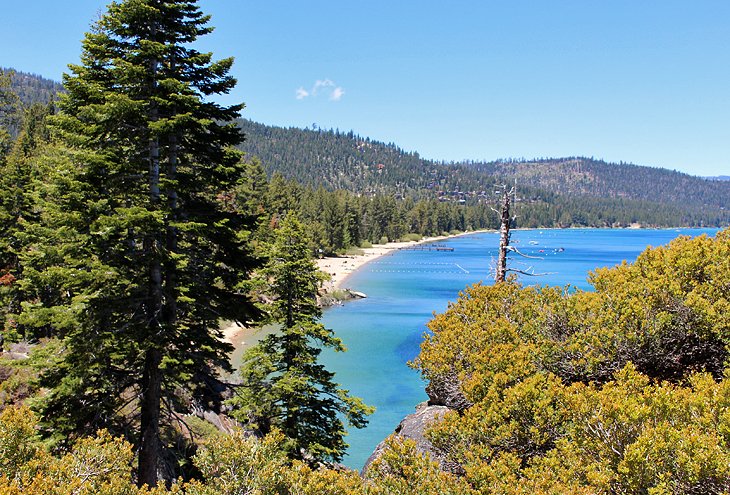 Further afield, you may also want to consider a stop at Lake Tahoe to camp in the lakeside and forest campgrounds around the area. Lake Tahoe is about five hours away. Lake Tahoe is set at 6,200 feet, so camping here is seasonal.
If you have a week or more, consider doing a complete tour of all three parks to get an appreciation of California's mountain areas.