15 Best Cities in California
California may be famous for its sandy beaches and sunny lifestyle, but the Golden State has more to offer than natural beauty and outdoor activities. California's sophisticated cities are brimming with gourmet restaurants, vibrant neighborhoods, and world-class cultural attractions.
With the feel of a compact European city, San Francisco in Northern California blends old-world charm and a happening atmosphere. Los Angeles in Southern California is the largest, most sophisticated city in the state and the second largest metropolitan area in the country.
Typical of SoCal, the laid-back cities of San Diego and Santa Barbara boast balmy weather, spectacular sandy beaches, and handsome Spanish-style architecture. Oakland in Northern California is a real working port city with a diverse, multiethnic population and loads of cultural attractions.
Long Beach is the place to enjoy outdoor activities, seaside scenery, and an unpretentious ambience. The state capitol, Sacramento delights visitors with interesting tourist attractions and a quaint historic district.
Learn about the best things to see and do in the state's top urban destinations, with our guide to the best cities in California.
1. San Francisco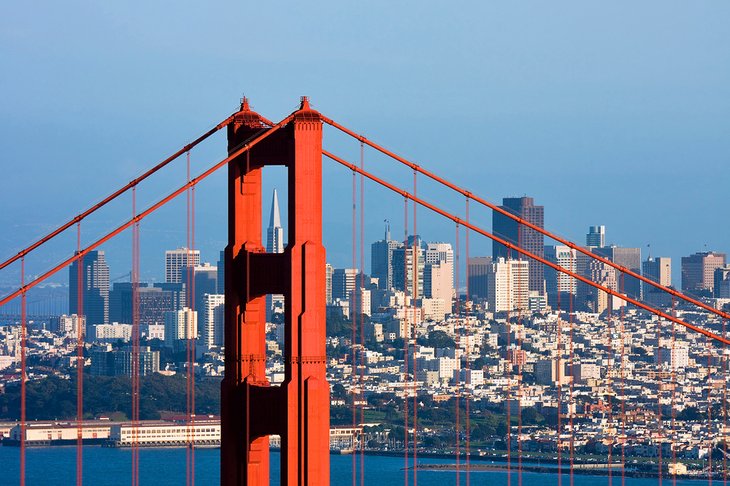 A breathtakingly picturesque setting and charming European-style neighborhoods set San Francisco apart from other cities in the state. For a metropolis with less than a million inhabitants, this cosmopolitan, small-scale city is brimming with attractions. You will find some of the finest restaurants in the country, fabulous boutique shopping, award-winning theater performances, and interesting museums.
On a first impression, San Francisco wows visitors with its stunning scenery. The city packs over 40 hills into its compact space of only 49 square miles, which are nestled alongside the majestic Pacific Ocean coastline and the serene San Francisco Bay in Northern California.
Wandering around by foot (with stops to take cable car rides) is the best way to see the sights of San Francisco. Because the city is compact, it is easily walkable, as long as you don't mind hiking up some steep streets. Along the way, you'll be dazzled by elaborate Victorian houses, a colorful mix of cafés and shops, and luxuriant gardens.
Astounding views abound anywhere you can find a good vantage point, but especially from Telegraph Hill, the fashionable Nob Hill neighborhood, and Russian Hill. There are also fabulous vistas at some of San Francisco's best parks.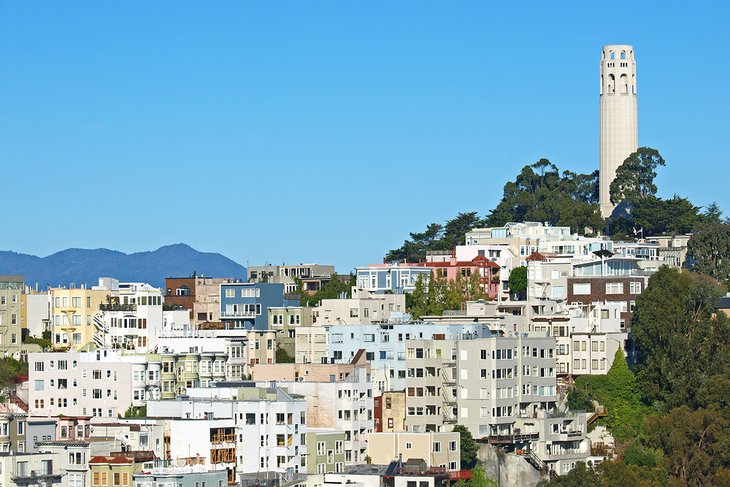 Try a self-guided walking tour of San Francisco, and be sure to visit North Beach for Italian restaurants and cafés; the Mission District for trendy dining on the Valencia Corridor; and the Marina, where you go shopping, enjoy a gourmet meal, and then admire vistas of the Golden Gate Bridge from the Marina Green.
If you're vacationing in San Francisco with young children, be sure to check out the top things to do with kids. Families will love that the kid-friendly attractions like the Aquarium of the Bay are found right next to the city's top attractions such as Fishermen's Wharf and Pier 39.
The gourmet dining scene draws many visitors to San Francisco. The city boasts more restaurants per capita than anywhere else in the United States. Foodies appreciate the quality and choice of the local cuisine, from ethnic restaurants to Michelin-starred dining establishments. You can even find a wide selection of top vegetarian and vegan restaurants.
In addition to upscale dining, San Francisco is known for its luxury hotels and boutique accommodations. You can choose where to stay in San Francisco based on your travel preferences, such as sightseeing or budget considerations.
2. Los Angeles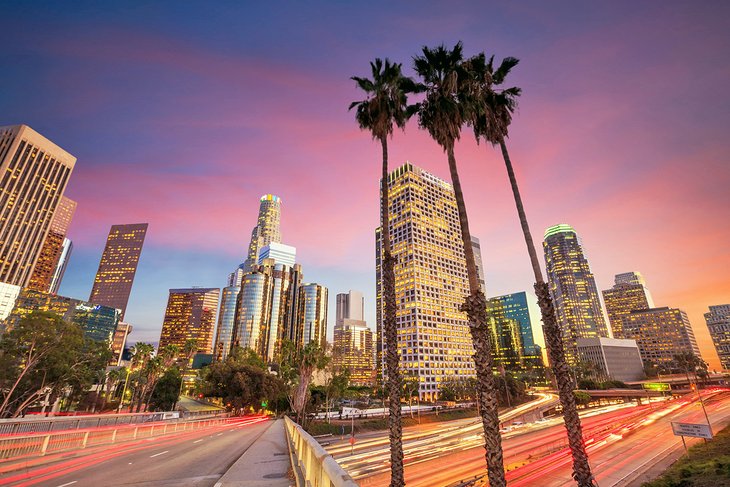 One could argue that Los Angeles is the only real city (that is to say a major metropolitan area) in California, if you consider its size and urban feel. Los Angeles is second only to New York City in terms of population. Over three million people live in the city of Los Angeles. However, the greater Los Angeles metropolitan area is home to more than 10 million inhabitants.
At its core, Los Angeles is an urban jungle of skyscrapers, busy streets, and non-stop traffic. Beyond the downtown, the city has the feel of sprawling suburbia that could be anywhere in the country. However, the palm trees and bright sunshine remind you that you're in SoCal.
Explore a bit further, and you'll find a glittering, glamorous city worthy of its Tinseltown fame. Broad boulevards are lined by swaying palm trees and upscale boutiques. Anyone who loves designer fashion and high-end shopping should be sure to visit Rodeo Drive.
The city's western border features wide swaths of sandy shoreline. Los Angeles' beaches are a top draw for tourists and add to the quality of life for local residents. In fact, Los Angeles is arguably the best city in the country for beaches, which extend for about five miles along the Pacific coastline.
Venice Beach is famous for its fun-loving and artsy vibes, while Santa Monica offers a classic Southern California beach scene complete with an amusement park, oceanfront restaurants, and chic boutiques.
Other must-see sites in Los Angeles include Hollywood, with its star-studded Walk of Fame; the Universal Studios Theme Park; Griffith Park; and Disneyland, if you are visiting with kids.
3. San Diego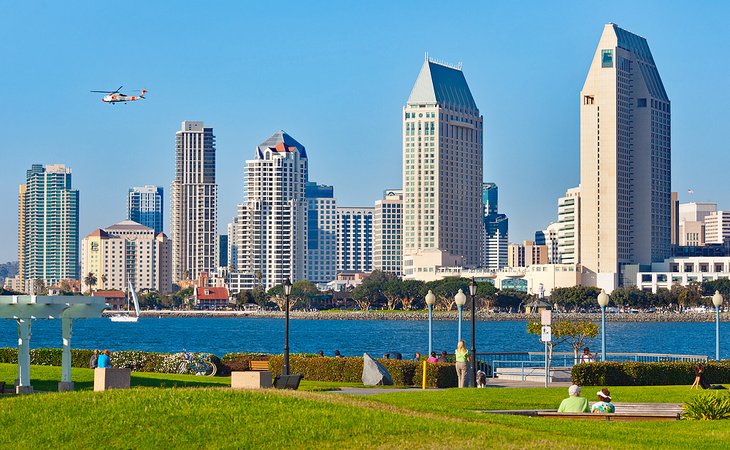 Balmy weather and beautiful beaches provide the perfect setting for San Diego's active outdoorsy lifestyle. This sunny SoCal city is known for its surfing culture and laid-back vibes, but it also has a quaint historic downtown and top-notch cultural attractions.
San Diego is California's oldest city, with the first mission, founded in 1769. After being destroyed in a fire, the Mission San Diego de Alcalá was rebuilt in 1777 and today is a National Historic Landmark with luxuriant gardens and a fascinating museum.
Between the San Diego Bay and Broadway, the Gaslamp Quarter National Historic District dates back to the Victorian era. This area brims with trendy shops, restaurants, and happening nightlife. Locals and tourists alike head here to take a stroll, enjoy a gourmet meal, and watch theater performances.
Families with young kids will find plenty of things to do in San Diego. Ranking high on the list of children's attractions are the San Diego Zoo, the 1,400-acre Balboa Park, and the Birch Aquarium at the Scripps Institution of Oceanography.
Outdoor activities are another main draw of San Diego. Some of the top outdoor adventures include kayaking in sea coves, cycling along the coast, and sailing in the San Diego Bay.
Accommodation: Top-Rated Resorts in the San Diego Area
4. Santa Barbara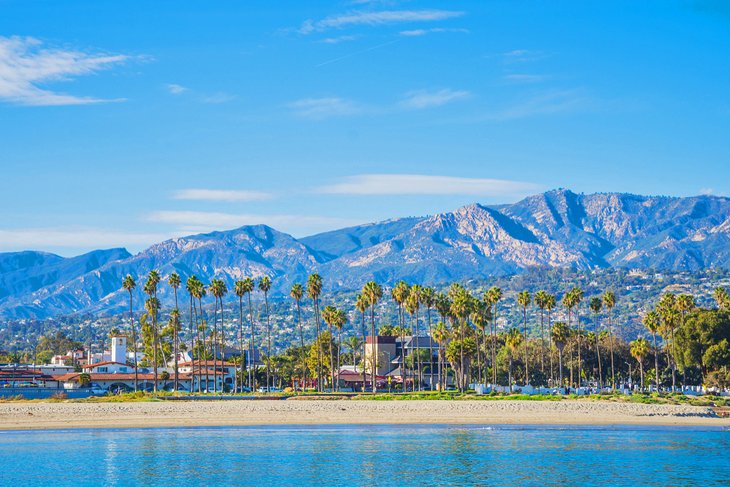 Tucked away on a spectacular crescent of Central California's coast, Santa Barbara is a delightful place to visit. This chic seaside town has it all: gorgeous waterfront scenery, fantastic hiking trails, an enchanting downtown, and a gourmet dining scene focused on farm-to-table cuisine.
The city boasts 25 expansive sandy beaches that extend along the Pacific Ocean for over 100 miles. With the Santa Ynez Mountains as a backdrop, Santa Barbara's coastline has justly been called "the American Riviera." Lined by swaying palm trees, glamorous oceanfront restaurants, and superb amenities, Santa Barbara's best beaches radiate glamour and natural splendor.
Santa Barbara is more of a beach resort town than a big city, but it gets a mention on this list because of its extensive cultural attractions and the charm of its downtown area. For those planning a beach vacation or a relaxing getaway, Santa Barbara is the perfect place to visit. The city offers plenty of amenities such as beach resorts and top-notch restaurants.
Other highlights of Santa Barbara include the harbor where you can dine at restaurants with splendid sea views, the historic Mission Santa Barbara that is known as "Queen of the Missions," and the Santa Barbara County Courthouse, a jewel of Spanish Revival architecture.
5. Oakland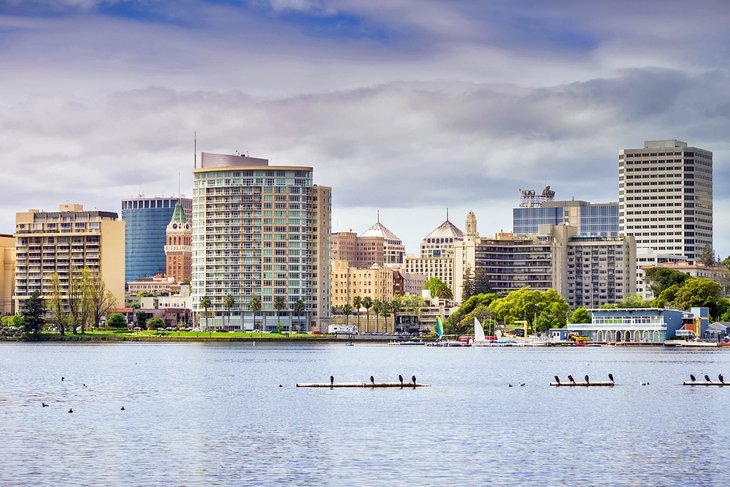 The cityscape of Oakland sprouts up alongside an urban waterfront and working port. From many spots in San Francisco across the bay, views of Oakland's downtown appear beyond the graceful five-mile-long Bay Bridge (which is listed on the National Register of Historic Places).
Oakland is a suburb of San Francisco and is just 12 miles away (about a 20-minute drive across the Bay Bridge), but it's also a city in its own right. Recently Oakland has become an up-and-coming place to live, with trendy restaurants that appeal to hipsters and young professionals.
In the past decade, the high cost of living in San Francisco has forced many people to relocate to Oakland. Now the city is becoming just as happening as San Francisco.
A diverse population and multicultural ambience make Oakland stand out among the cities of California. Among the many things to do in Oakland, visitors will enjoy the colorful neighborhoods and abundance of ethnic eateries. The choice of cuisine includes everything from Thai and Burmese to Ethiopian and Indian food. The local African-American community has a rich cultural heritage and boasts several excellent soul food restaurants.
Summer festivals, street fairs, and year-round cultural events draw many visitors to Oakland. Not to be missed is the monthly Oakland Art Murmur event, which features musical entertainment, gourmet street food, and art gallery receptions. Popular summertime festivals include Art + Soul Oakland, the Temescal Street Fair, and the Eat Real Festival at Jack London Square.
6. Long Beach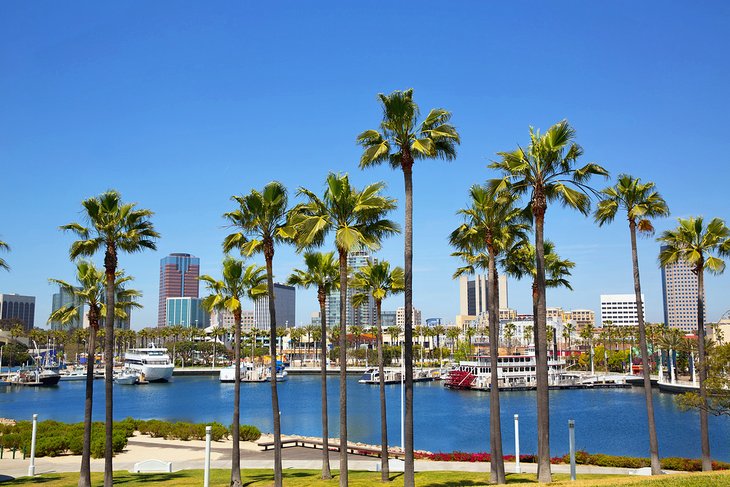 A fun-loving SoCal lifestyle, gorgeous oceanfront scenery, and a wide range of cultural attractions make Long Beach a favorite city in California. This working port city (one of the busiest in the world) is only 30 miles south of Los Angeles, and its population is often considered part of the Los Angeles metropolitan area.
Long Beach has a lively downtown Waterfront District, brimming with cultural attractions and restaurants with harbor views. At the waterfront, the Aquarium of the Pacific overlooks Rainbow Harbor and presents sea life found in the Pacific Ocean. Rainbow Harbor is also the place to embark on a harbor dinner cruise, a whale-watching tour, or a charter-boat fishing trip.
Another top tourist attraction in Long Beach is the Queen Mary, the historic British ocean liner designed for transatlantic journeys, which is now retired and permanently moored in Long Beach. The Queen Mary has been converted into a maritime museum, an event venue for conferences and dinners, and a 3-star hotel decorated in nautical Art Deco style.
7. Sacramento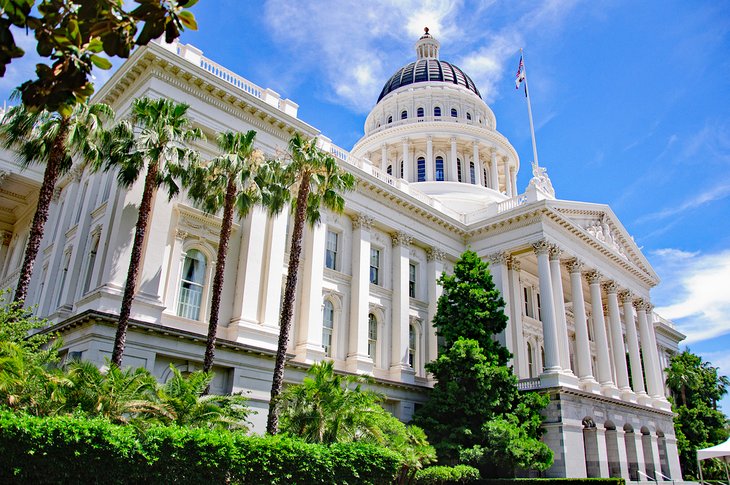 A lovely small city and the capital of California, Sacramento merits a detour when visiting Northern California. It's a great place to stop on the way from San Francisco (about 93 miles away) to Lake Tahoe, which is just over 100 miles farther north. Without traffic, it takes less than two hours to get from Sacramento to Tahoe City.
Sacramento has a quaint historic area, Old Sacramento, that dates back to the Gold Rush era of the 1850s. Old Sacramento graces the riverside waterfront and is classified as a National Historic Landmark (some buildings are also part of the Old Sacramento State Historic Park). Visitors will enjoy taking a stroll through this lively area to browse the shops, visit the museums, and dine at one of the many restaurants.
Other things to do in Sacramento include touring the California State Railroad Museum, which displays a collection of restored steam locomotives that date from 1862 to 1944. It has eight full-size steam locomotives built before 1880 (out of less than 50 still in existence in the U.S.).
Fun for kids as well as adults, the California State Railroad Museum offers rides aboard historic railroad cars. The Sacramento Southern Railroad takes passengers on a 50-minute ride along the Sacramento River. Several first-class railway cars offer a unique experience, including the Audubon Dining Car.
Not to be missed while visiting Sacramento is the State Capitol building, which houses the Capitol Museum. Tourists may visit the Capitol Museum by taking a guided tour. Surrounding the Capitol building are luxuriant Victorian-era manicured grounds featuring tall leafy trees, a rose garden, camellias, shaded walking paths, a pond, and several memorial monuments.
8. San Luis Obispo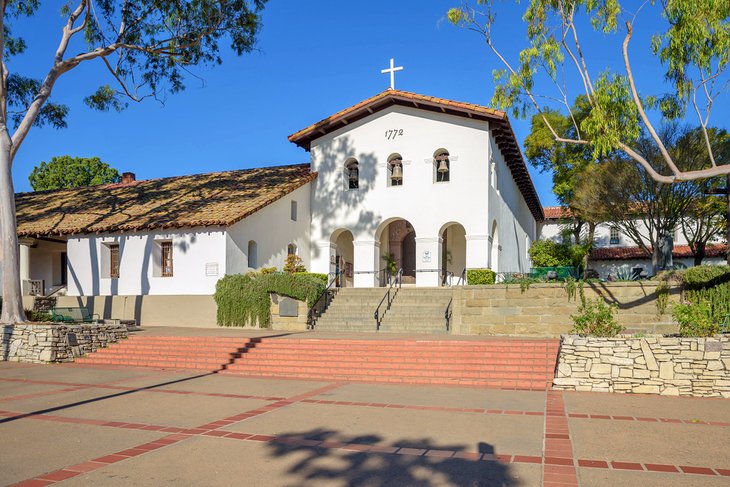 Pleasant weather and friendly small-town vibes make San Luis Obispo one of the state's most appealing cities. You can expect sunshine and bright blue skies much of the year, along with a warm welcome from locals.
Nestled along California's Central Coast, San Luis Obispo is known as the "Happiest City in America," and it's easy to understand why residents are so content. The city has a walkable downtown with quiet tree-lined streets featuring Spanish-style architecture and historic buildings dating to the 19th century. The downtown buildings house locally owned eateries and shops, as well as inviting riverfront restaurants on Higuera Street.
Other things to see and do in San Luis Obispo include an old mission (founded in 1772) with an exquisitely decorated church, flower-filled grounds, and a museum; a well-attended weekly farmers market that presents live music; and an alleyway plastered with colorful bubblegum.
Not far from the city are beautiful beaches with sandy shores lapped up by the deep blue Pacific waters. Some of the best day trips from San Luis Obispo, such as Avila Beach and Pismo Beach, are less than a 30-minute drive away from the city.
9. Berkeley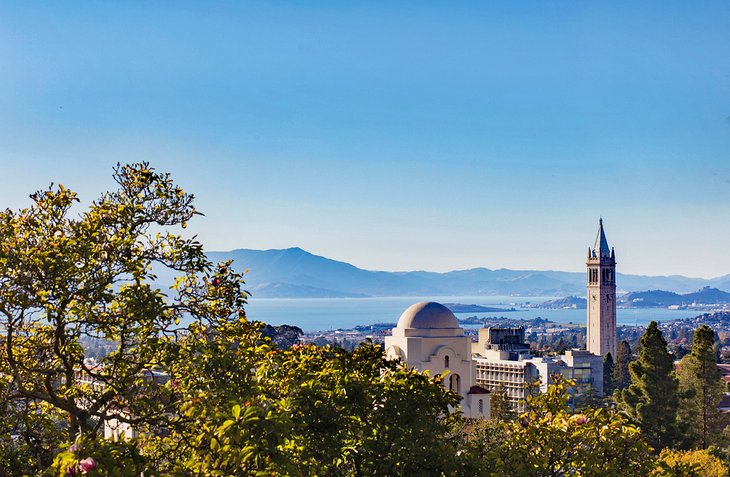 With a history of activism and a progressive intellectual bent, Berkeley is a university town at its core. This vibrant city across the bay from San Francisco (one of the top day trips from the city) is home to U.C. Berkeley, known for its demanding coursework. The university attracts some of the state's best students and professors.
The U.C. Berkeley campus dazzles visitors with impressive Neoclassical architecture, lush redwood groves, and interesting cultural landmarks. Tourists can visit Sproul Plaza, a hub for the Free Speech Movement in the 1960s; Sather Tower for breathtaking panoramic bay views; and College Avenue, where today's students hang out at casual restaurants and busy cafés.
Tourists will find plenty of things to do at Berkeley's outdoor spaces, such as the 34-acre University of California Botanical Garden; the picturesque Berkeley Marina, a wonderful spot for bird-watching and taking walks; and Tilden Park, which has an old-fashioned steam train and antique Herschell-Spillman Merry-Go-Round.
In an amazing hillside setting overlooking the bay and the Golden Gate Bridge, the Berkeley Rose Garden displays 250 different varieties of blooms.
Berkeley is also a foodie destination, with exceptional restaurants and gourmet markets. California's farm-to-table cuisine movement began here at Chez Panisse, the French-inspired bistro that Alice Waters opened in 1971. The area around Chez Panisse is known as the Gourmet Ghetto, and this neighborhood brims with enticing eateries.
10. Monterey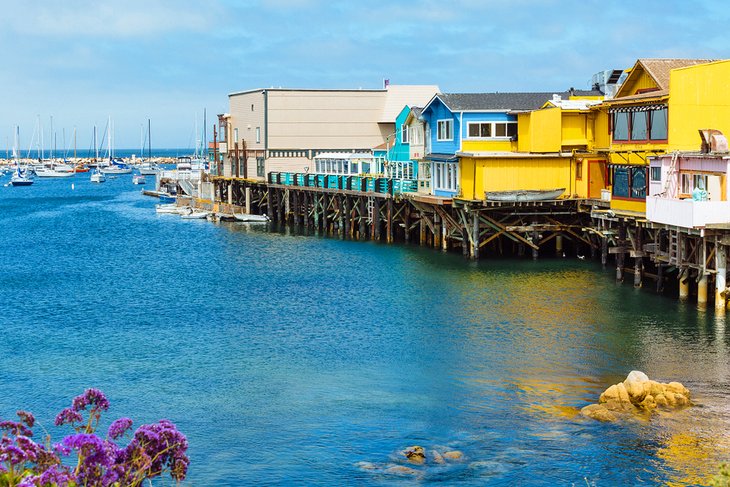 Monterey nestles along a pristine bay, which is designated as a marine protected area, the Monterey Bay National Marine Sanctuary. This historic port town on the Central Coast delights visitors with its array of attractions and things to do, including a fabulous aquarium and an atmospheric waterfront area.
Families with young children flock to the Monterey Bay Aquarium, but anyone will appreciate the amazing marine life on display. Visitors will have a chance to see colorful tropical fish, an octopus that changes colors in its surroundings, African penguins, jellies, sharks, shore birds, and adorable frolicking sea otters.
The city's waterfront district is famous for Cannery Row, which houses the old fish-packing facilities that were described in John Steinbeck's novel Cannery Row. Today the area is packed with touristy shops and restaurants.
A short walk from Cannery Row is Fisherman's Wharf, which is a great place to admire the bay views, and dine at a seafood restaurant. Whale-watching tours, charter boat trips, and glass-bottom boat tours depart from Fisherman's Wharf.
Many travelers visit Monterey on weekend getaways in the Bay Area. This popular seaside destination has many accommodation options. Tourists can decide where to stay in Monterey based on their vacation preferences, such as budget versus luxury.
11. Palm Springs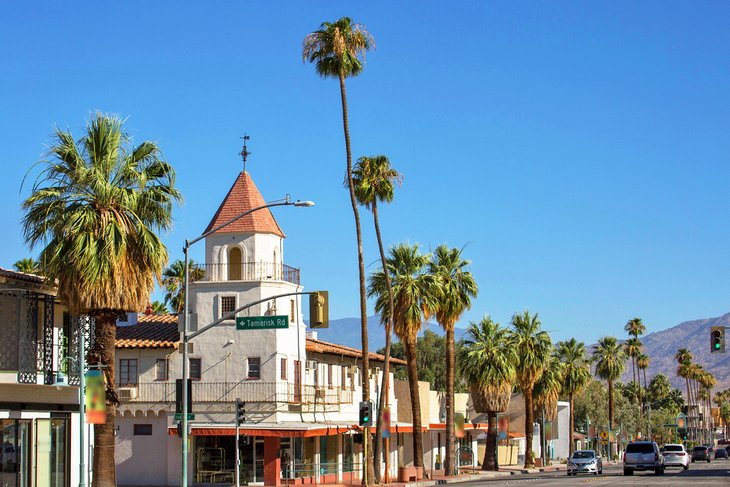 Poolside relaxation, sunny weather, and spectacular scenery define this unique city in the Sonoran Desert. An oasis of stylish living and recreation, Palm Springs has been a fashionable wintertime resort destination since the 1920s and is still one of the best places to visit in California. Vacationers arrive here in search of a blissful getaway, great hiking, or a few rounds of golf.
Palm Springs has a bustling downtown with many designer clothing boutiques, home decor shops, and trendy restaurants. The dining options range from authentic Mexican cooking to the finest French cuisine.
Despite the small-town feel and scale, Palm Springs offers the cultural attractions of a large city. The Palm Springs Art Museum displays an exceptional art collection (focused on modern and contemporary works) and features two sculpture gardens.
The renowned Modernism Week festival takes place in February. The city also hosts a weekly street fair called VillageFest on Thursday evenings.
Accommodation: Top-Rated Resorts in the Palm Springs Area
12. Eureka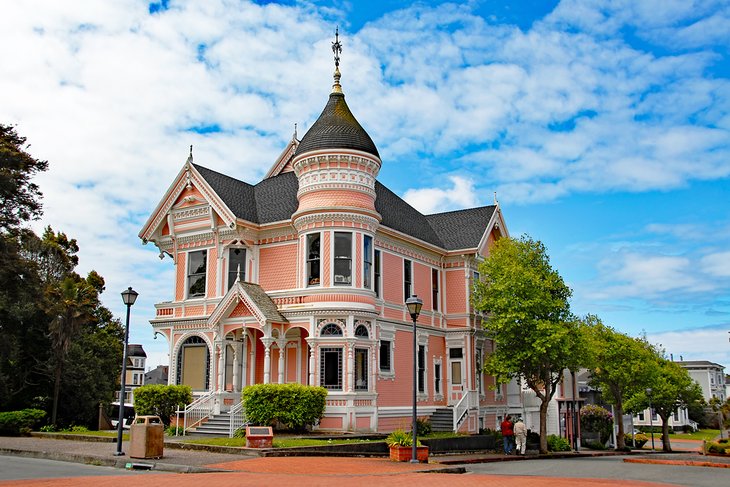 Eureka stands alongside the broad Humboldt Bay in California's Humboldt County near the border with Oregon. Humboldt County is rugged and remote, full of redwood forests, and secluded sandy beaches.
Surrounded by idyllic rural landscapes, Eureka gives a taste of the big city, albeit on a small scale. Eureka is known for its performing arts, street art, cultural attractions, bohemian vibes.
The Old Town of Eureka, listed on the National Register of Historic Places, features beautifully preserved 19th-century buildings. The ornate facades conceal an eclectic mix of shops, cafés, restaurants, antique stores, and art galleries.
Dating back to the 1850s, Eureka was formerly an important seaport and logging town. Ornately adorned Victorian mansions grace several streets of Eureka's historic district (Old Town) and reveal the wealth of lumber magnates and other prominent citizens over a century ago.
Not to be missed are the Carson House, the Pink Lady Mansion, Abigail's Elegant Victorian Mansion (bed and breakfast hotel), and the Carter House Inns (a 3-star hotel). The Eureka Heritage Society provides maps that indicate the landmarks, designed for self-guided walking tours.
Visitors will enjoy taking a stroll through the Old Town to soak up the ambience, browse the shops, and stop for a good meal. From the Old Town, it's a short walk to the Waterfront, which has a working wharf, marina, and a seaside boardwalk.
13. Healdsburg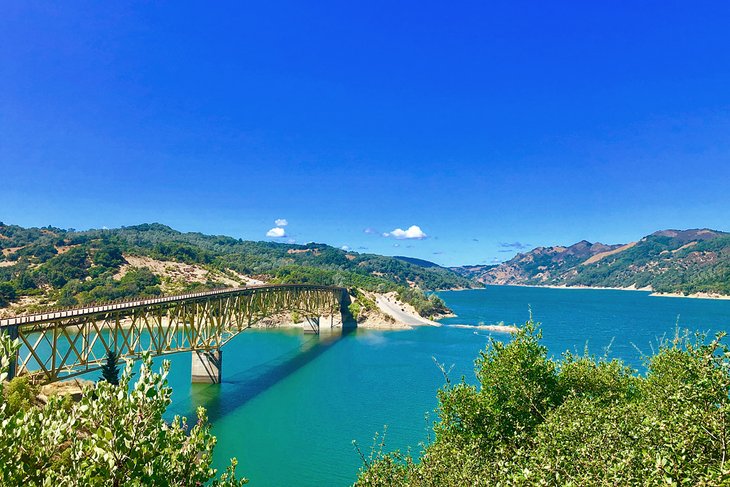 The most fashionable city in Sonoma County, Healdsburg offers plenty of charm and tourist appeal. Surrounded by rolling vine-covered hills, this lovely small city is a center of shopping and gourmet food. The downtown has a noteworthy restaurant scene.
Foodies will enjoy sampling the cuisine at Healdsburg's finest restaurants. Favorite places to eat include the award-winning Valette restaurant; Campo Fina, a convivial family-style Italian restaurant; and PizZando, which specializes in pizzas prepared in a wood-fired oven and handmade pasta crafted from farm-fresh organic eggs.
Healdsburg is an easy weekend getaway destination from San Francisco. Visitors are delighted by the wide selection of places to stay. There are upscale bed and breakfast hotels like the Belle de Jour Inn and the Camellia Inn, as well as luxury accommodations like the four-star Hotel Healdsburg and the Hotel Les Mars, a Relais & Châteaux property with lavishly decorated guest rooms and an excellent farm-to-table restaurant.
14. Palo Alto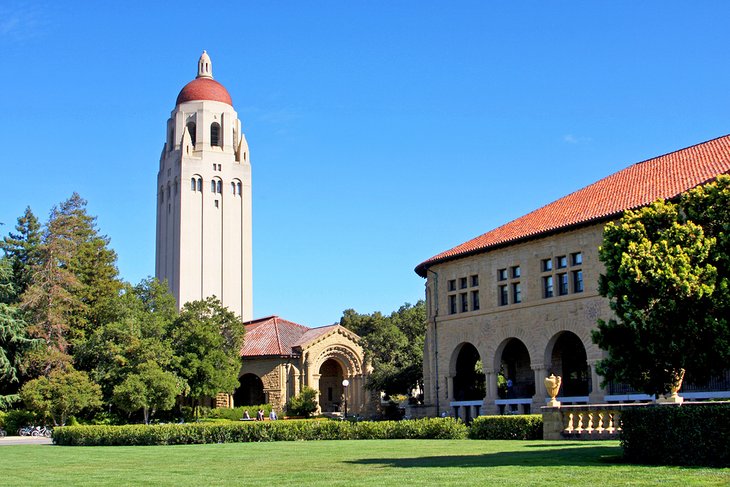 Home to one of the country's most prestigious universities and a hub for the computing industry, Palo Alto is a cutting-edge city. Movers and shakers in the high-tech world congregate here to attend conferences and to work at innovative companies.
Palo Alto nurtures entrepreneurs with start-up incubators, in addition to being an important location for venture capital and Fortune 500 companies. Anybody who's anyone in the technology sector most likely spends some time in this sunny Northern California city.
Tourists should be sure to visit Stanford University, which is set on beautifully landscaped, leafy grounds covering over 8,000 acres. Lovely Spanish Revival buildings give the campus a special old-world quality. Highlights are the Stanford Memorial Church and the Cantor Arts Center museum, as well as the program of live performances held at Bing Concert Hall.
University Avenue, a busy tree-lined street, caters to tourists, students, and professionals with an extensive choice of cafés, restaurants, and shops.
Read More: Top-Rated Attractions & Things to do in Palo Alto
15. Los Gatos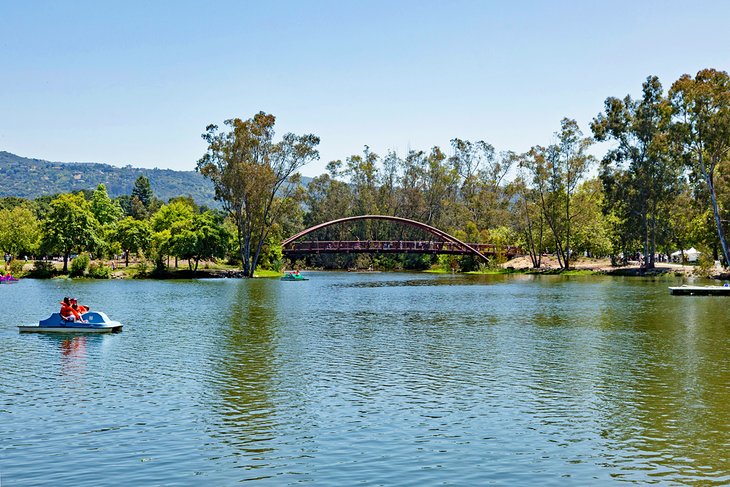 Tourists traveling from San Francisco to Santa Cruz would make a good choice by stopping in Los Gatos along the way. This pleasant small city has a charming historic downtown with tree-shaded streets and views of the Santa Cruz Mountains. Designed for pedestrians, the downtown area has enough fancy shops, cafés, bakeries, and restaurants to keep visitors busy for a while.
Visitors will enjoy browsing the boutiques. Many shops are independently owned and offer a unique selection of products, from stylish clothes and home decor to toys and books.
The area around Los Gatos is full of wonderful hiking trails. Some of the best places to hike include Los Gatos Creek Trail, the Bear Creek Redwoods Open Space Preserve, and Castle Rock State Park.
Map of Cities in California