13 Best Things to Do in Krakow
Effortlessly beautiful and steeped in history, Krakow often doesn't get the glory it deserves on tourists' European vacations. But the Polish city rewards those who visit with unrivaled sightseeing opportunities, a vibrant live music scene, pretty parks, and impeccably preserved medieval attractions. It's one of the best places to visit in Poland.
Krakow's Old Town is one of the first ever UNESCO World Heritage Sites and remains the top place to visit in the city today. It's conveniently located at the base of Wawel Royal Castle, where you can see lovely gardens and private apartments once used by royal guests. You'll want to leave room on your itinerary to visit Kazimierz, the former Jewish district, and explore Jewish history. You can also see Schindler's Factory, a World War II museum housed in the former factory that was previously owned by Oskar Schindler, who saved more than 1,000 Jews from death.
Krakow's efficient public transportation system and park-lined streets make it a pleasant place for many hours of sightseeing. Whenever you need a break, you'll easily be able to relax and refuel at one of the city's abundant pierogi joints or trendy cafés. Krakow also makes a convenient home base for exploring other important tourist attractions around Poland, including the Auschwitz-Birkenau Memorial camps and the Wieliczka Salt Mine.
Make the most of your Poland travel itinerary with our list of the best things to do in Krakow.
1. Tour Krakow's Old Town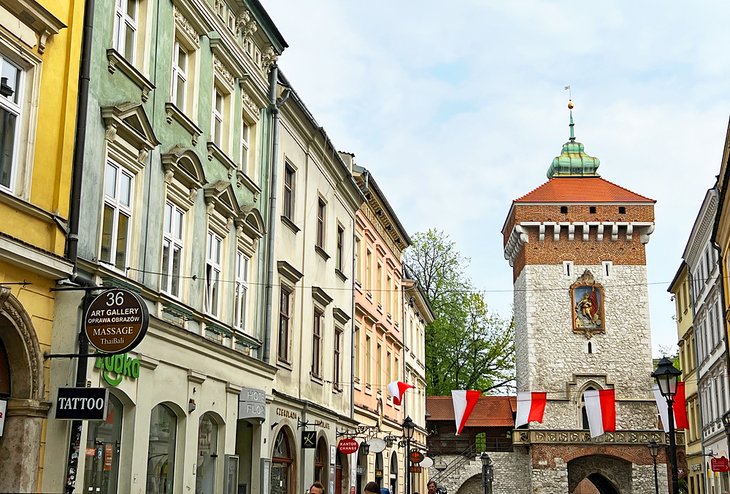 If you only have time for one thing to do in Krakow, seeing the city's Old Town should be top of your list. A UNESCO World Heritage Site since 1978, this attraction has been a thriving commercial center for roughly 1,000 years.
While Krakow's Old Town has a maze of cobblestone streets, it's always easy to find your way back to its center: Rynek Glowny (Market Square), Europe's largest medieval town square. Check out the Cloth Hall, an iconic Renaissance-style structure that brims with souvenir shops–a throwback to its golden age some 600 year ago, when the building bustled with international traders swapping exotic imports with Polish salt from the Wieliczka Salt Mine.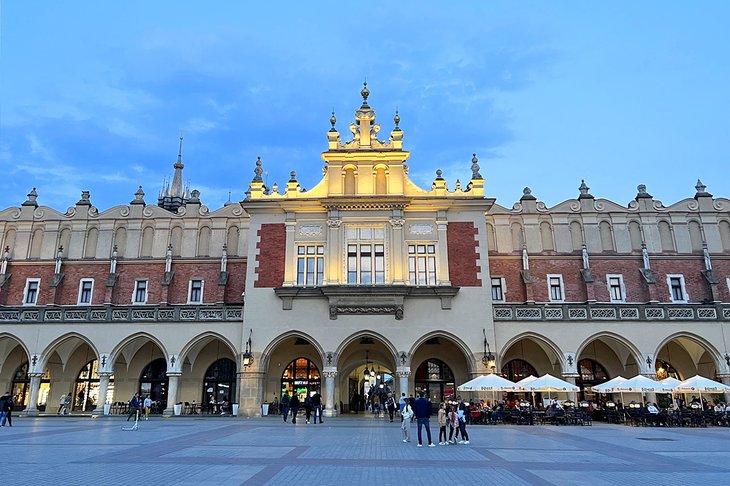 Situated just outside the Cloth Hall, the Town Hall Tower offers panoramic views of Krakow from its highest floor. You can also see the mechanism behind the structure's antique clock, which relies on radio waves from Mainflingen, Germany to stay accurate.
Other Old Town highlights include Royal Road (a thoroughfare flanked by historic sites that starts at St. Florian's Gate), St. Mary's Basilica, the Pharmacy Museum, and the Church of St. Anne. But beyond offering hours of touring, the Old Town is simply a great place to relax with some coffee and cake at one of the many outdoor cafés in the area.
2. Marvel at St. Mary's Basilica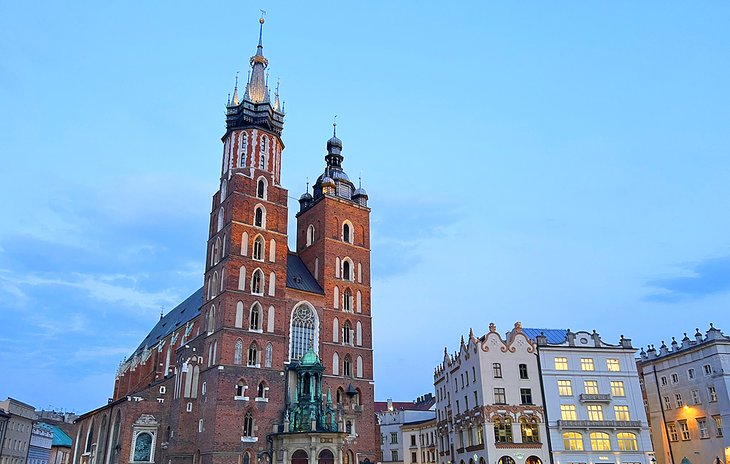 Situated on the eastern corner of Rynek Glowny is one of the most iconic symbols of Krakow: St. Mary's Basilica. The attraction has had a presence in Krakow since the 1220s, although the structure you see today has been rebuilt and renovated over the centuries.
The Gothic-style brick church features two bell towers, one of which is topped by a gilded crown that dates back to 1666. Historically, the taller of the bell towers would ring at the opening and closing of the city, and to alert residents of a fire or attack from a foreign invader.
Tourists can appreciate the bell today when it plays "Hejnal Mariacki" ("St. Mary's Trumpet Call") every hour on the hour. Listen for the five-note bugle call to stop abruptly–it's a tribute to a trumpeter who was killed after attempting to warn city dwellers of a siege.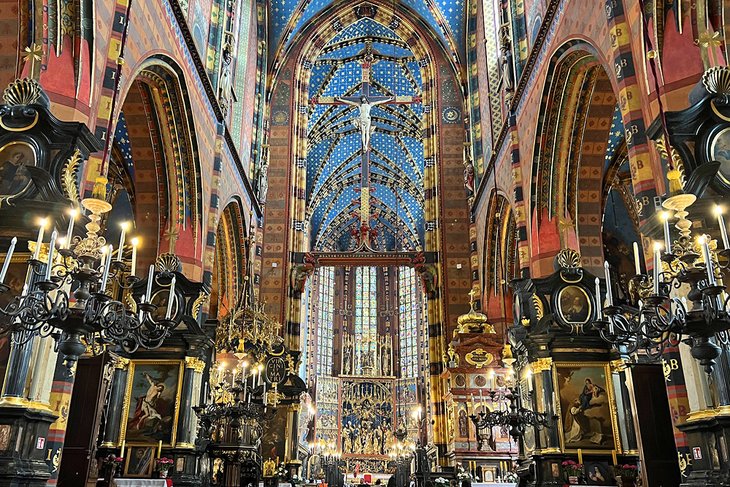 It's definitely worth touring the interiors of the church, which feature exquisite stained-glass windows and a nave decked out in gold stars. There's also a massive, intricately carved altarpiece that's considered to be one of the most important pieces of medieval art in Poland. You can learn more about its restoration at the Rynek Underground Museum.
Address: Plac Mariacki 5, 31-042 Kraków
Official site: https://mariacki.com/en/
3. Wander Wawel Royal Castle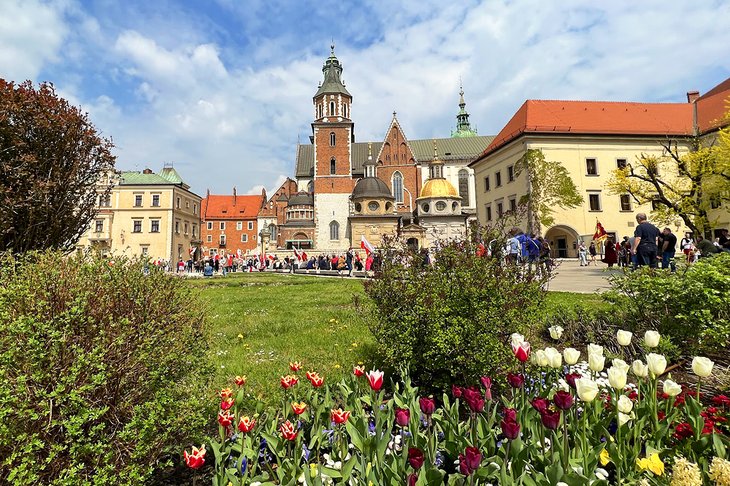 Reserve at least half a day in your Krakow itinerary to explore Wawel Royal Castle–a historical and cultural treasure for Poland. The 16th-century castle has been converted into a museum with a series of permanent exhibitions, each of which has their own entrance fee. The most impressive exhibits include the State Rooms and the Royal Private Apartments, where you can see magnificent antique tapestries and lavish furniture.
The castle grounds are home to the Wawel Cathedral, as well, although it's operated as a separate institution. The Gothic cathedral brims with art and contains the crypts of national heroes, royal figures, and revolutionaries.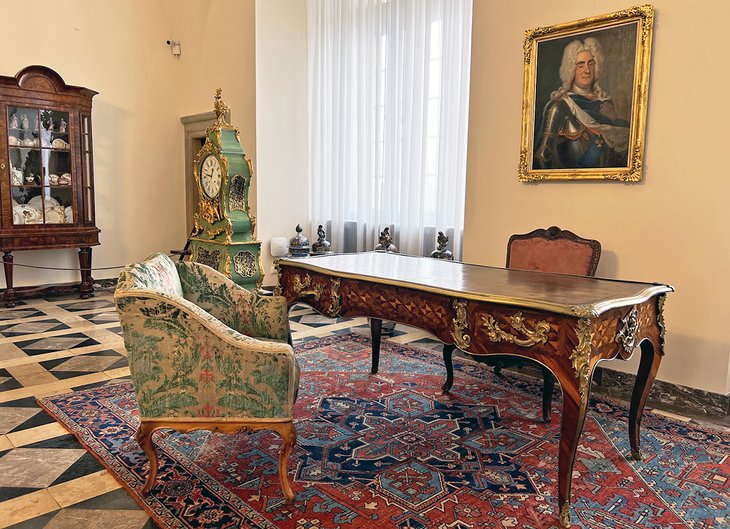 It's also worth climbing the wooden stairs to the top of the Sandomierska Tower for incredible views across the Vistula River. Don't miss the Dragon's Den nearby. Legend has it that this murky cave below Wawel Hill once held a mean dragon who ate maidens. Once you exit the underground chambers, you'll be met with a 50-year-old statue of a dragon that breathes real fire.
Address: Wawel 5, 31-001 Kraków
Official site: https://wawel.krakow.pl/en
4. Descend into the Rynek Underground Museum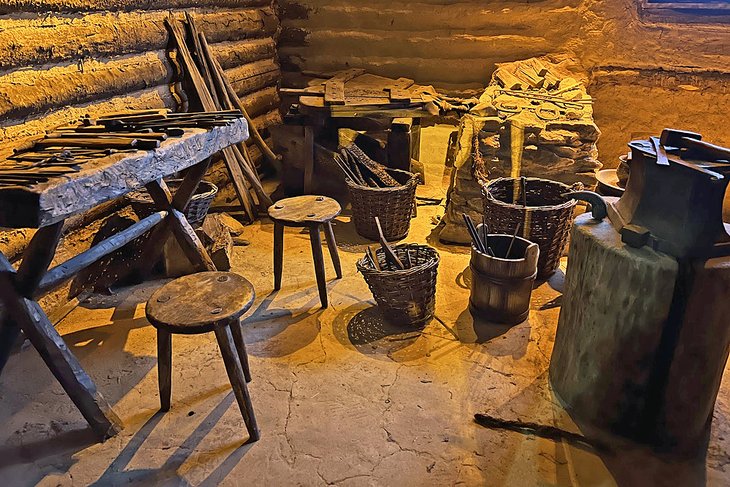 The highlights of Rynek Glowny aren't solely at ground level. Descend the stairs from the Cloth Hall to enter the Rynek Underground Museum, a popular attraction dedicated to preserving and teaching the history of Krakow. The museum is filled with high-tech novelties, including a film projected on a plume of smoke, touchscreen monitors that provide insight on centuries-old artifacts (including coins and jewelry), and even a children's show narrated by an animatronic crow.
But perhaps the most fascinating displays are the remains of the medieval city, including merchants' stalls excavated around 20 years ago and an 11th-century grave of a supposed vampire. Consider spending some extra time at the end of your journey through the museum watching its short documentaries, which take you through various stages of Krakow's history.
Address: Rynek Główny 1, 31-042 Kraków
Official site: https://muzeumkrakowa.pl/en/branches/rynek-underground
5. Play at the Krakow Pinball Museum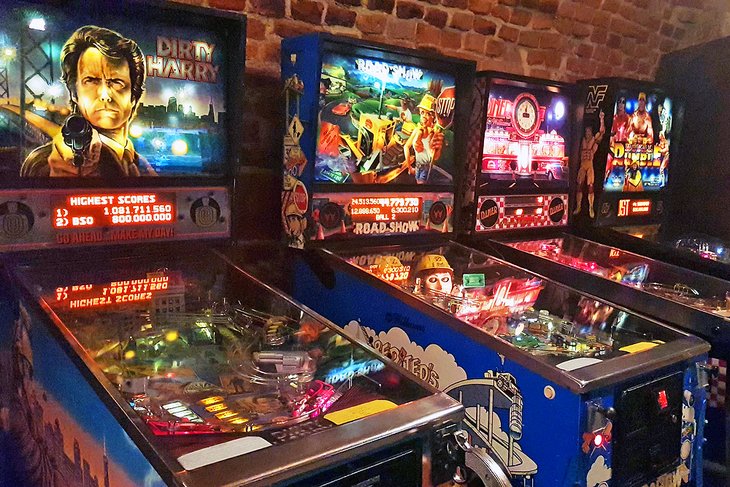 Around 90 pinball machines and arcade games wait for players to achieve new high scores at the Krakow Pinball Museum. Located next to the Atlantic Squash Club, the arcade museum contains some of the world's most popular pinball machines, including Indiana Jones, the Addams Family, and Cactus Canyon, some of which date back to the 1950s. The entry fee includes unlimited free plays on all games, so you can keep playing until your thumbs get tired.
Address: Stradomska 15, 31-068 Kraków,
6. Visit Oskar Schindler's Enamel Factory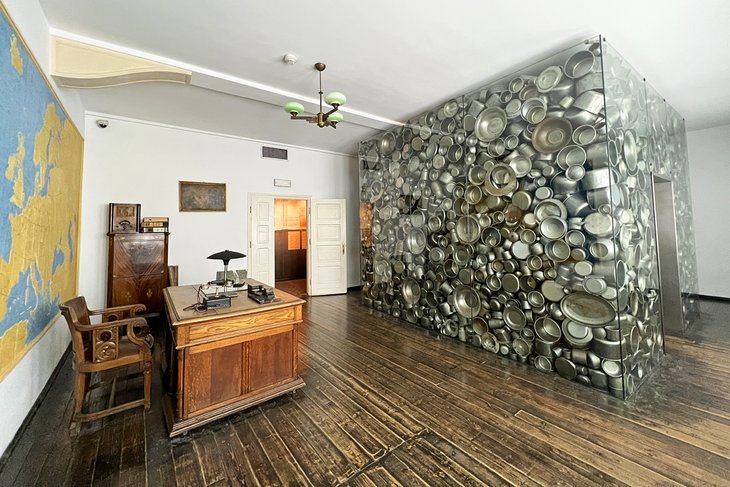 More than 1,200 Jews were spared from concentration camps during the Holocaust when their employer, Oskar Schindler, insisted they were essential workers at his enamelware factory. That site now houses a museum that explores the tumultuous history of World War II and the German occupation of Krakow.
The museum contains dozens of rooms that aim to recreate different aspects of life at that point in history, including narrow alleyways of the ghetto with the sounds of dogs barking and Nazi officers yelling, basements where Jews hid from the Nazis, a railway station lobby flanked by troop mobilization posters, and prison cells that held members of the resistance and academics. Tourists can also see the desk used on the set of Steven Spielberg's 1993 film Schindler's List, along with a giant cube filled with enamelware produced at the factory.
Address: Lipowa 4, 30-702 Kraków,
Official site: https://muzeumkrakowa.pl/en/branches/oskar-schindlers-enamel-factory
7. Stroll through Planty Park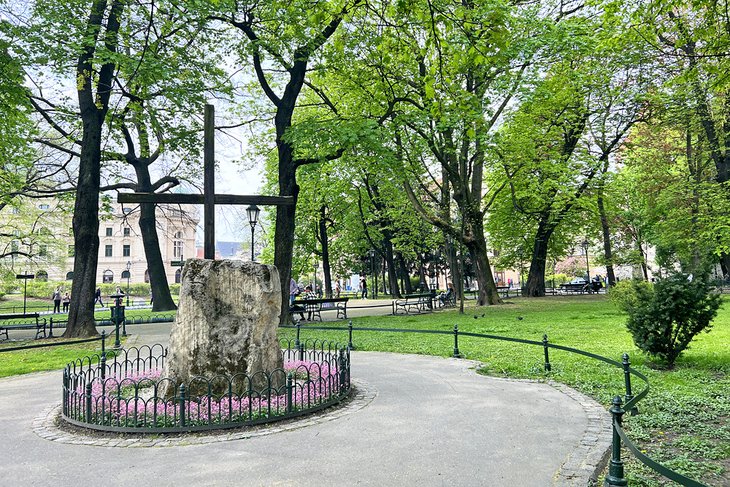 Planty Park, one of Krakow's largest city parks, encircles its Old City. It contained the city's defensive fortifications many centuries ago, but in the mid-19th century, its walls were razed and moats were filled to make way for the green belt you see today.
The park's lush array of trees and flowers make it one of the best places to take a stroll in the city and watch everyday life unfold. Keep your eyes peeled for the many monuments dedicated to Polish authors, intellectuals, and scientists, including Nicolaus Copernicus.
8. Immerse Yourself in the Eagle Pharmacy Museum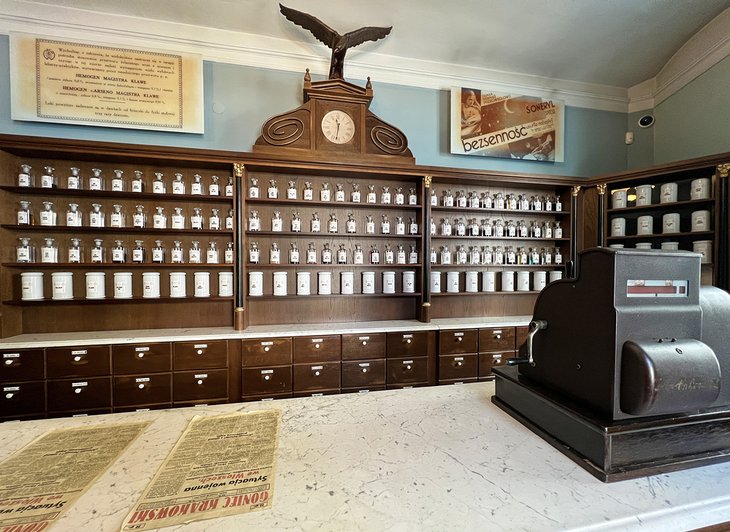 Of the four pharmacies that stood in Krakow's Podgórze district, Eagle Pharmacy was the only one to remain open when the Germans converted the area into a ghetto for Jews in March 1941. With the help of his loyal staff, pharmacy owner Tadeusz Pankiewicz dedicated himself to helping the ghetto inhabitants. The pharmacy offered medications, shelter, food, and news from the outside world, despite the risk of severe consequences from the Nazis for doing so.
The pharmacy has since been converted into a remarkable museum that welcomes visitors to dig through its drawers, open up its cabinets, and watch recorded interviews with those who lived in the ghetto.
The museum's atmosphere of exploration helps enlighten the hidden history of this pharmacy and deepen your understanding of what life was like for the Jewish community at this time.
Address: Plac Bohaterów Getta 18, 30-547 Kraków
Official site: https://muzeumkrakowa.pl/en/branches/eagle-pharmacy
9. See the Ghetto Heroes Square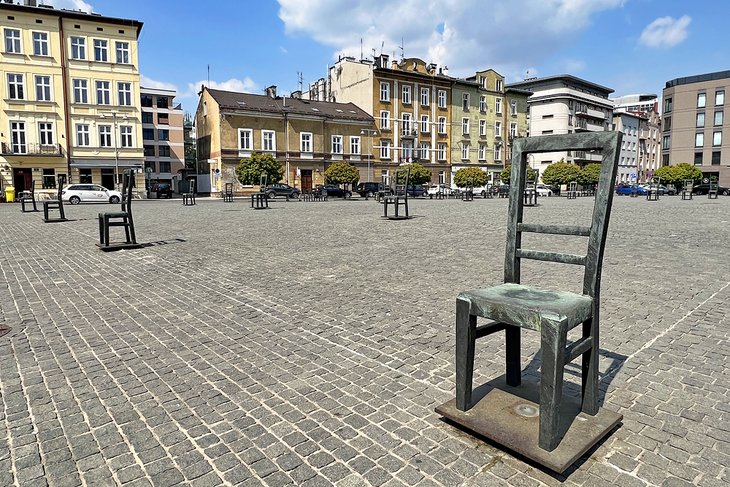 You'll notice a series of empty bronze chairs standing in the square outside the Eagle Pharmacy Museum. The installation, known as Ghetto Heroes Square, serves as a memorial to the victims of the Krakow ghetto whose furniture would get piled up in this area when they were forcibly relocated.
The empty chairs are a symbol of the devastation of Krakow's Jewish community, whose population dropped from around 70,000 before World War II to somewhere between 100 and 2,000 today.
Address: Plac Bohaterów Getta, 30-547 Kraków
10. See a Fragment of the Ghetto Wall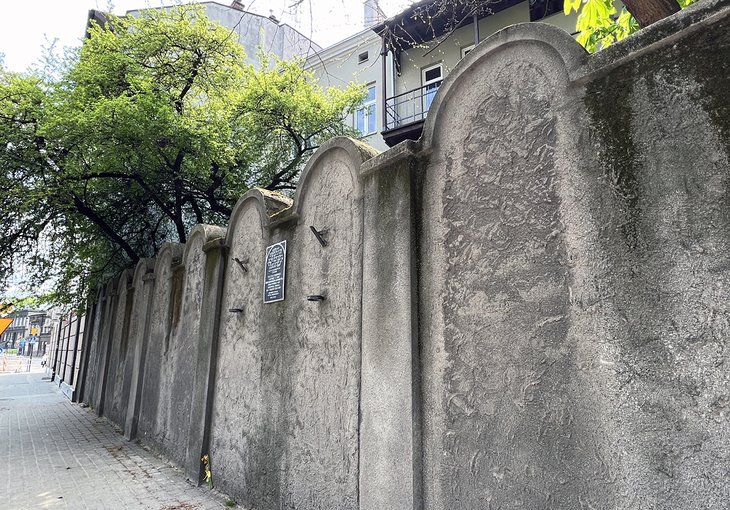 When the Nazis turned the Podgórze district into a ghetto, they surrounded it with a stone wall to contain some 20,000 Jews and separate them from the rest of the city. The ominous wall, which was described by one victim as having the shape of the tombstones Jews would eventually occupy, has largely been torn down, but you can still see a fragment that remains on Lwowska Street. It has a plaque that memorializes the victims who endured immense suffering and death at the hands of the Nazis.
Address: Lwowska 29, 30-548 Kraków
11. Watch a Performance at the Juliusz Slowacki Theatre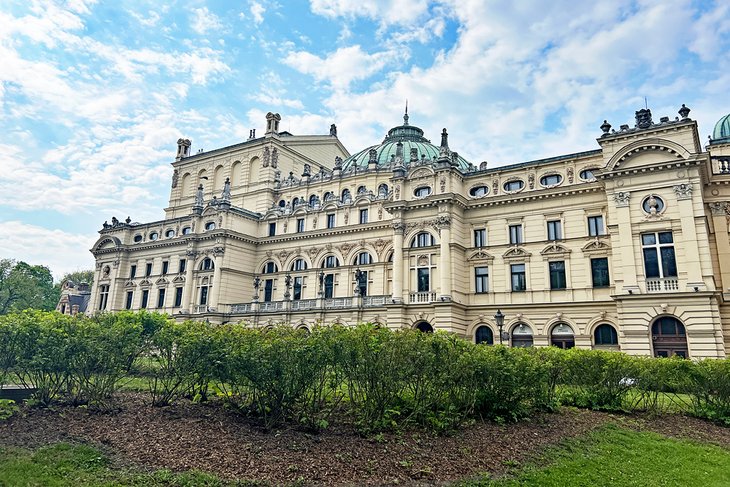 Considered to be the place where modern Polish theater was born, the Juliusz Slowacki Theatre has staged plays regularly since it debuted in the late 19th century. The Baroque-style theater features an elegant entry hall and four lavishly decorated stages, which nearly always have theatrical and operatic performances–check the website for the most up-to-date listings.
But even if you can't get inside to see a show, you can still appreciate the theater from the outside on a walk through Planty Park. Plan to go late in the day to see its facade glimmer in the golden sun, then light up beautifully after dark.
Address: Plac Świętego Ducha 1, 31-023 Kraków
Official site: https://teatrwkrakowie.pl/en
12. Head to the Auschwitz-Birkenau Memorial and Museum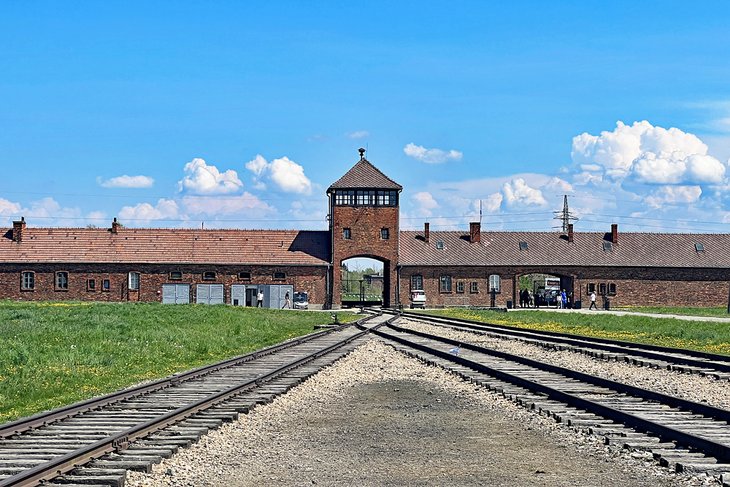 While emotionally demanding, taking a day trip to the Auschwitz-Birkenau Memorial and Museum is one of the most important things to do while in Krakow.
The former concentration camp is about 90 minutes away by bus and offers guided tours in English and several other languages throughout the week. The tours, which take around four hours, include stops at both Auschwitz I and the sprawling Birkenau (also known as Auschwitz II) camps. You'll see the decrepit conditions where the camp's 1.3 million residents were kept and, for the vast majority, murdered.
Exhibits of victims' belongings, including shoes, pots and pans, and a room full of hair that was cut from victims' heads and intended to be sold, help deepen visitors' understanding of the human toll at this horrific place.
Visiting this memorial is a heartbreaking experience, but one that's an essential part of remembering the victims and making sure that history doesn't repeat itself.
Official site: https://www.auschwitz.org/en/visiting/
13. Take a Day Trip to the Wieliczka Salt Mine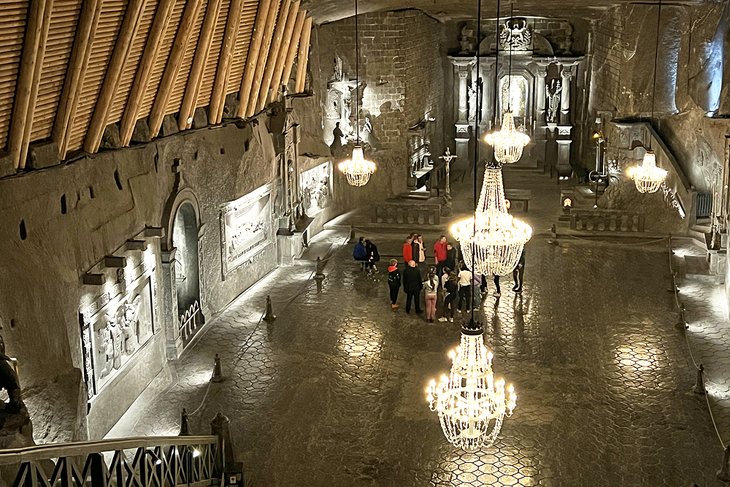 Less than an hour away by bus, the Wieliczka Salt Mine makes a fun day trip on the outskirts of Krakow. Both a UNESCO World Heritage Site and an official Polish Historic Monument, this is one of Poland's top attractions. It has produced salt since the Neolithic times (although commercial salt mining ceased in 1996).
Tourists can make their way down some 800 stairs to explore the mine's maze-like passageways, many of which contain quirky rock salt statues carved by miners, and an underground lake.
The crown jewel of the attraction, however, is the underground Chapel of St. Kinga. The chapel, including its chandeliers, tiled floor, and walls, are sculpted entirely in salt. Be sure to look out for a salt mural of da Vinci's The Last Supper on the left wall.
Address: Daniłowicza 10, 32-020 Wieliczka
Official site: https://www.wieliczka-saltmine.com/
Map of Things to Do in Krakow
Krakow, Poland - Climate Chart
Average minimum and maximum temperatures for Krakow, Poland in °C
J
F
M
A
M
J
J
A
S
O
N
D

0

-7

2

-5

7

-1

14

3

19

8

22

11

23

12

23

12

19

9

14

4

7

0

2

-4

PlanetWare.com
Average monthly precipitation totals for Krakow, Poland in mm.

33

33

33

48

84

97

86

86

53

46

46

41