From Krakow to Wieliczka Salt Mines: 4 Best Ways to Get There
Located just 16 kilometers outside Krakow, the Wieliczka salt mines are a UNESCO World Heritage Site that can be explored in just half a day. They are easy to get to from Krakow on tours or by bus, train, or car.
A working mine since the 13th century, Wieliczka produced salt continuously until it was closed in 2007 to be converted into a tourist attraction.
It's made up of several chambers, passageways, and even underground lakes. St. Kinga's church – dedicated to the patroness of Poland – is the mine's most stunning room. Located 101 meters underground and with a height of almost 12 meters, the room – including the altars, chandelier, and bas-reliefs on the cavern walls – are made of salt.
Whether you're planning on visiting on your own or joining a tour for a more immersive experience, here are the best ways to get from Krakow to Wieliczka.
1. From Krakow to Wieliczka by Tour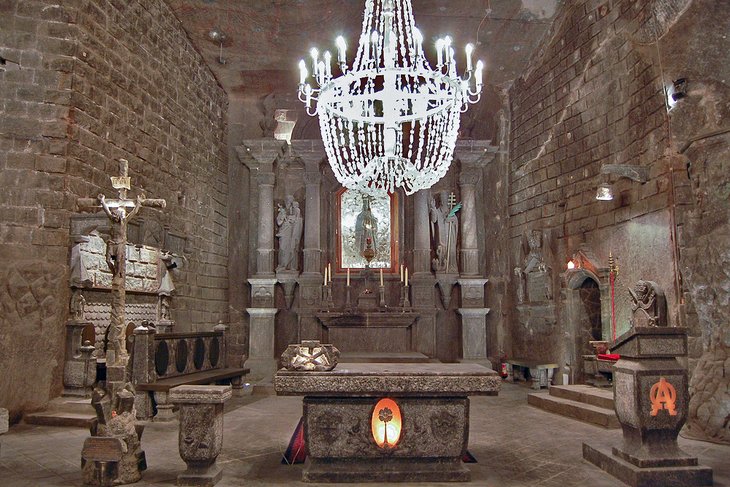 If you're looking to skip the line and get right into the underground world, a Wieliczka Salt Mine Guided Tour from Krakow is a great option. This half-day guided tour can be done in the morning or the afternoon and starts at a central point in the city. Here, you'll board an air-conditioned van for a 45-minute ride to the mine.
Before you enter, you'll get a quick intro from your guide about the history of the mine and the conditions to expect inside: a pleasant 14 degrees Celsius year-round and a microclimate that makes breathing inside a welcome relief for anybody suffering from allergies or breathing difficulties.
Once you reach the cave, you will access the entrance without waiting in line and descend 65 meters down into the earth via seemingly never-ending stairs. From here, your tour guide will take you through galleries, tunnels, and chambers covered in stunning salt sculptures, shrines, and statues showcasing the history of the salt mine and mining culture in Poland.
Along the way, you'll see mining equipment and displays explaining mining techniques from as far back as the Middle Ages
Keep descending deep below the surface to find Erazm Baracz Chamber's salt lake, whose water is denser than the Dead Sea, followed by the breathtaking 36-meters-tall Stanislaw Staszic Chamber.
The Kraków Saltworks Museum and a restaurant await before you take on the last tunnel, at a depth of 135 meters deep into the earth. The tour ends when you take the elevator back to the surface and jump into your van to return to Krakow's city center.
2. From Krakow to Wieliczka by Bus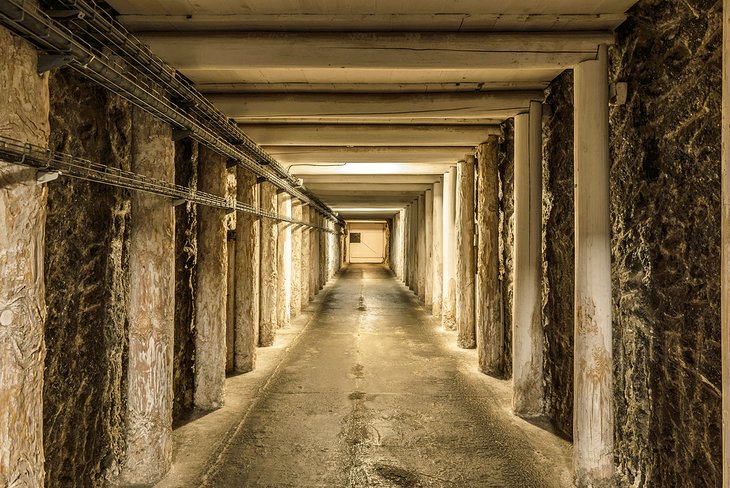 The easiest line connection between Krakow and the mines is bus 304, which you can catch near Galeria Krakowska in Old Town Krakow. The bus runs every 10 minutes on weekdays (less often before 6am and after 6pm) and three times per hour on weekends.
You will need a Strefa I (Zone I) or a II Aglomeracja transport ticket for this bus - you can get your ticket from newsstands, from ticket machines available at many stops, or directly at the main Railway Station in Old Town. Tickets have to be validated once you get on the bus - just look for the machine onboard the bus.
After a 33-minute ride, you'll have to get off at the Wieliczka Kopalnia Soli stop and take Danilowicza street straight to the mine entrance. It's a nice, relaxed walk that won't take more than 10 minutes.
Once at the mine, you can choose between two types of tickets: Tourist Route or Miners' Route. The tourist route is the best option for first-time visitors, as it takes you through the main chambers, three kilometers of winding corridors, the Krakow Saltworks Museum, and the most impressive subterranean lakes – where you'll see a light show played to the rhythm of Chopin's music.
The miner's route is a better option for return travelers or for those wanting a more in-depth look at the wonders of the mine and a chance to become novice miners themselves. On this tour, visitors can don a mining lamp and get a taste of miners' work – from checking methane concentration to handling equipment to digging for salt.
3. From Krakow to Wieliczka by Train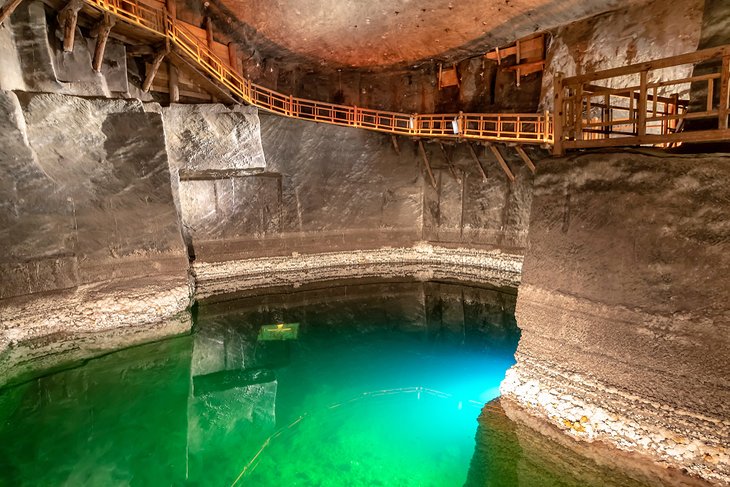 Trains cover the route between Krakow and Wieliczka faster than buses – just over 20 minutes instead of 33 minutes – but cost the same. If you want to experience a different view out the window and try train travel in Poland, this is a great chance for a quick experience.
To make the trip, find the Koleje Malopolskie train line at the Krakow Main Railway Station. You need a train that stops at the Wieliczka Rynek-Kopalnia station, so check timetables to see if that particular station is a scheduled stop.
Trains leave every half an hour, and you don't need to reserve a ticket in advance – just get one at the window for the next available train. Keep in mind that these are simple local trains, without air-conditioning or special services on board.
Once you get off at the Wieliczka Rynek-Kopalnia station, you can walk directly to the mine's entrance. The 500-meter-walk should not take more than 10 minutes and it's very straightforward – if you get lost, look for the street signs pointing the way.
4. From Krakow to Wieliczka by Car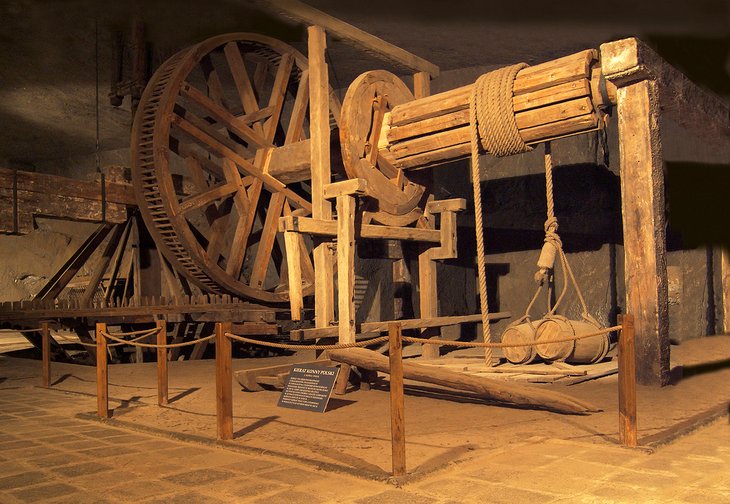 It's only about 15 kilometers between Krakow's city center and the Wieliczka Salt Mine if you take the route via Wieliczka. With regular traffic, that's just half an hour away, though traffic can be heavy in the mornings.
Another option is to take the road via II obwodnica, which is about four kilometers longer but often takes only a few minutes more because traffic conditions are better here during weekdays. If you're driving on the A4 motorway, make sure you exit at the Kraków Wieliczka junction.
Since you'll be driving through smaller roads as well as major highways, twists and turns can be confusing on both routes. Make sure you rent a car with a GPS to avoid getting lost and driving in circles for hours. Once at the mines, look for the car park at the Graduation Tower on street Dembowskiego.
Though the drive is short, having a rental car allows you to explore a different side of Poland. After visiting the mines, find a place to park and walk to the Wieliczka Upper Square to see some beautiful architecture, including the Przychocki Palace.
In winter, you can also drive to Podstolice SKI, a small ski resort with about 1.3 kilometers of slopes available (mostly easy slopes but also some intermediate ones). Located just 15 minutes away from Krakow and even closer to Wieliczka, it offers spaces for both skiing and snowboarding, as well as some gentle slopes for snow tubing.
Tips for Visiting the Mines
Dress appropriately. Temperatures inside the mine stay between 14 and 18 degrees Celsius depending on the area.
The tour includes stairs – 860 steps, to be exact – so make sure you wear comfortable shoes and are ok with climbing and descending staircases.
While the chambers are very large, some of the tunnels can feel a little claustrophobic. If you have severe issues with being underground or in confined spaces, this might not be an ideal place for you to visit.
Smoking, animals, and large bags or luggage are not allowed on the tour. There are secure lockers to leave your bags.
Baby carriages and wheelchairs are not suitable for large sections of the Tourist Route, as this includes lots of stairs. People with mobility issues should contact the visitor center in advance to ask about optional routes and what areas can still be visited (such as the graduation tower area outdoors and the museum).