15 Top-Rated Things to Do in Slovakia
Once part of Czechoslovakia, this mountainous, somewhat sparsely populated country has much to offer visitors. Known for its national parks, scenic hiking trails, and hundreds of caves – some of which are UNESCO-protected sites – Slovakia is a dream destination for outdoor lovers. History buffs and foodies will be equally pleased to visit, however, as there's a wealth of opportunities to jump right into exploring and tasting delicacies.
Slovakia's open-air museums offer a unique chance to discover the folk traditions of the country, while a visit to Bratislava will give you a chance to experience a vibrant city touched by a dark history.
Whether you're almost ready to go or just trying to get inspired, here's a list of the top things to see and do in Slovakia.
1. Get Your Fill of Fairy-Tale Castles and Palaces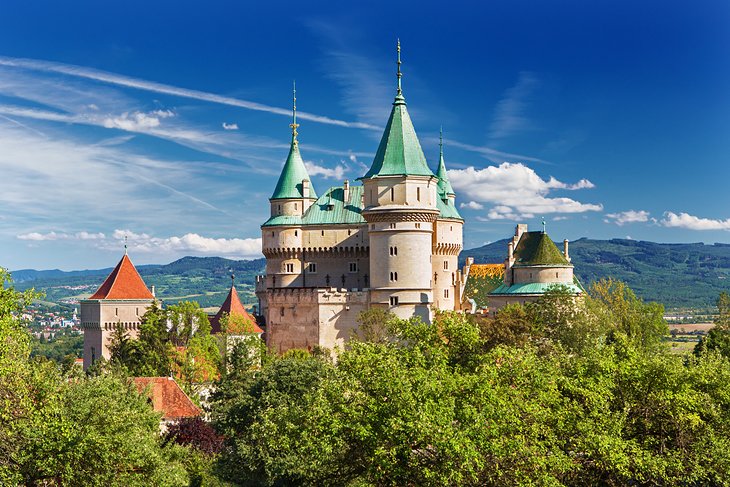 Slovakia is home to more than 100 castles – some still standing in all their glory, some in ruins, and many somewhere in between.
A popular filming stage for historical and fairy-tale movies, the 12th-century Bojnice Castle started life as a fortress, and over the centuries became a stunning Romanesque royal residence with Gothic and Renaissance touches. Bojnice stands on a hill that overlooks the town and is one of the most visited castles in Europe.
Another stunning example is the neo-Gothic Orava Castle, considered one of the most beautiful castles in the country and famous for being the location used in the 1922 silent vampire film, Nosferatu.
Devin Castle, just outside Bratislava and near the border with Austria, has been partially reconstructed and now houses exhibitions of the Bratislava City Museum. The ruins of Strecno Castle, Blatnický Castle, and Brekov Castle are popular sights along limestone cliffs and hiking routes in Slovakia.
Many castles, palaces, and manor houses in Slovakia allow overnight stays for an experience you will never forget and a chance to feel like royalty for a night.
2. Try Alpine Skiing with a Twist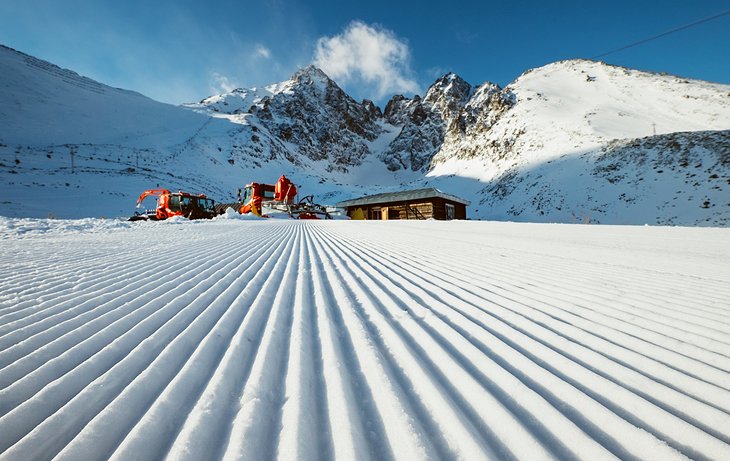 With so many snow-covered peaks around, it's no surprise that Alpine skiing is very popular in Slovakia. In many ski resorts around the country, however, sports aficionados are combining their love for sliding down slopes with climbing up. Known as uphill skiing, the practice requires people to walk up the snow-covered slopes before they slide back down at full speed. This requires special bindings added to the skis to avoid sliding, more or less transforming the skis into long snowshoes.
Both the Low Tatras and the High Tatras mountain ranges are popular skiing destinations. The largest ski resort in the country, with 49 kilometers of marked trails, Jasná is located in the Low Tatras. Tatranská Lomnica, in the High Tatras, has the steepest slopes in the country and separate, higher trails for advanced skiers.
Also in the High Tatras, Štrbské Pleso is a popular destination for its night skiing and cross-country trails.
3. Visit Open-Air Museums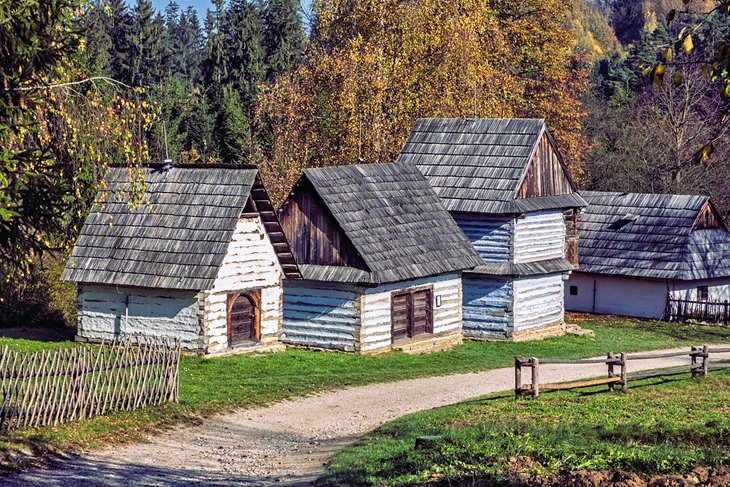 There's no better way to learn about the cultures that shaped a nation than through living museums, where history truly comes alive, and you get a chance to step back in time.
The largest ethnographic open-air exposition in the country, the Museum of the Slovak Village is a stunning example of traditional folk architecture. Home to 129 buildings – including everything from a firehouse and a church to a village store and a pub – and technical objects, the museum helps visitors understand what life was like in rural Slovakia in the 19th century. Agricultural exhibitions, whole-day events, and live shows are held here year-round.
Surrounded by mountains and lush green meadows, the Cicmany Village is famous for its hand-painted log houses, while the rock dwellings of the Brhlovce village date back to the 16th-century Turkish raids and were originally used as hiding places.
4. Indulge Your Taste Buds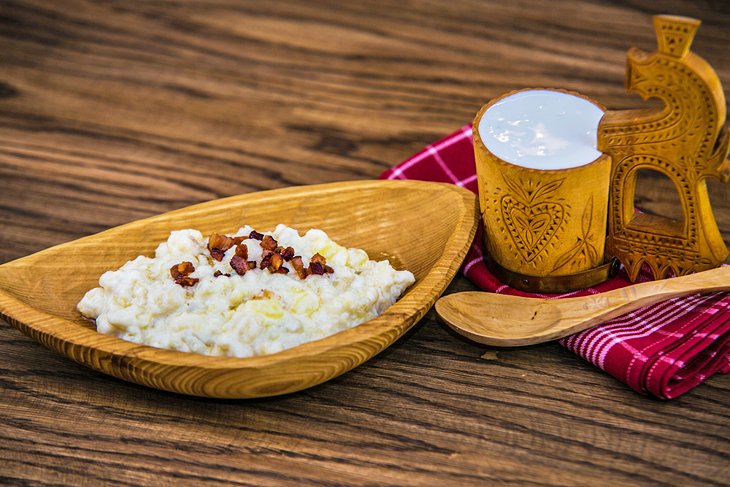 Like its closest neighbors (Austria, Hungary, and the Czech Republic), Slovak cuisine relies heavily on just a few staples: potatoes, lots of cheese and dairy products, wild mushrooms, and sauerkraut. Luckily for foodies, Slovaks have figured out a way to combine these few ingredients into some mouthwatering dishes. So if potatoes sound boring, don't worry – here, you'll get a chance to taste Bryndzové halušky (potato dumplings with sheep cheese) and Lokše (potato pancakes).
Potatoes are often also added to stews and goulashes, and there are so many types of mushroom soups available, it would take you weeks to try them all. Of all Slovak traditional sweets, perhaps the most famous is Trdelník, a type of grilled dough topped with a walnut and sugar mix.
5. Discover Nature at Slovak Paradise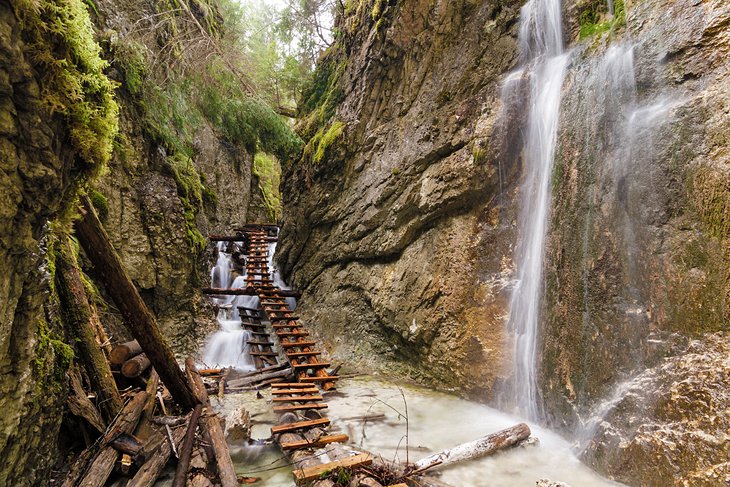 The Slovak Paradise National Park might not be the largest park in Slovakia, but it's certainly one of the most famous and should be at the top of the places to visit while in the country. A whopping 19 nature reserves, over 350 caves, and hundreds of canyons and gorges are located within the park.
Most visitors arrive here for the 300 kilometers of hiking trails, famous for their difficulty and their rugged paths that often include hanging bridges, ladders, and plank walkways. The 15-kilometer-long Prielom Hornádu route is particularly popular, partly because of its uneven terrain, which must be navigated by holding on to chains, climbing precarious ladders, and crossing footbridges; in winter, the creek beds freeze and can be crossed using snowshoes rather than using the bridges.
Another famous trail is the one leading to the 75-meter-tall Zavojovy waterfall, which can only be reached after navigating a not-for-the-faint-of-heart vertical metal ladder and bridge suspended in mid-air.
6. Walk the Streets of Bratislava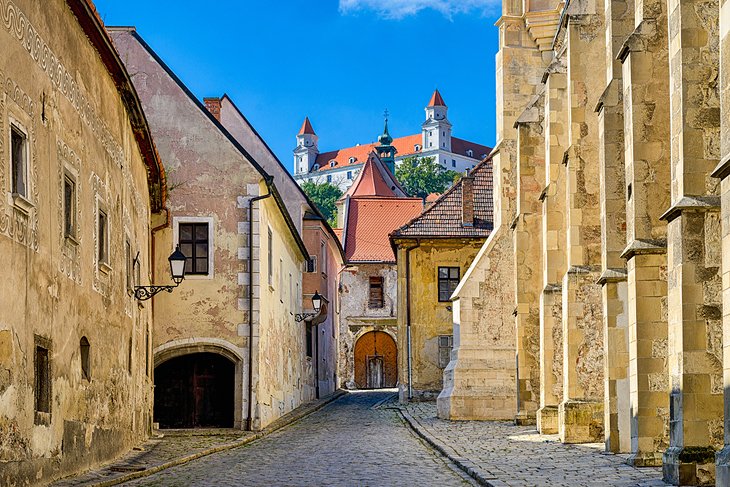 Slovakia's capital is a small city of just half a million residents, but that doesn't mean there isn't a lot to see and do here. In fact, Bratislava is well known as a great destination for art and history lovers, a great place for foodies to visit, and a photographer's dream.
The city is home to two palaces (the Rococo Presidential Palace and the Primate's Palace and its famous Hall of Mirrors), the ruins of Devin Castle, a bridge topped by a flying saucer-shaped observation deck, and a number of quirky statues that pop out of sewers or top their hats at passersby.
Sitting at the top of an isolated rocky hill, the Bratislava Castle is the city's most prominent sight and one of the most visited tourist attractions. Visitors can tour the gardens and discover the collections at the Slovak National Museum branch housed inside the castle.
Other main photo destinations in the city include the aptly named Blue Church; the 14th-century complex of buildings that make up the Old Town Hall; and the 1,000-year-old Hviezdoslavovo Square, surrounded by prominent buildings and structures.
7. Hike the High Tatras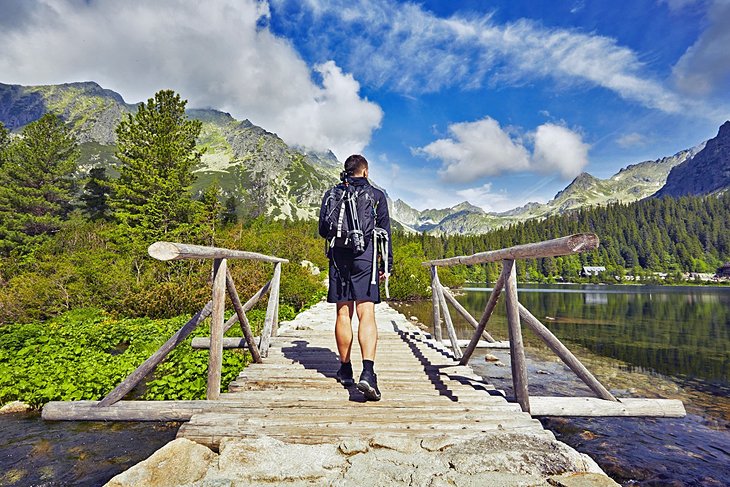 The High Tatras are a massive mountain range and the tallest range in the Carpathian Mountains in northern Slovakia – a chain that's home to tall cliffs, alpine habitats, and over a hundred mountain lakes.
With an elevation of 2,655 meters, Gerlachovský štít is the highest peak and a favorite among hikers and climbers because it's relatively easy to climb with a certified mountain guide, and hikers don't seem to experience altitude sickness as they normally would at this elevation. Lomnicky Stit, at a close 2,634 meters high, is a more popular destination because it can be partially ascended via cable car.
Above all, the High Tatras are famous for their rugged hiking trails surrounded by limestone mountains and pristine alpine lakes. Most trails close in either September or October, as the mountains receive a lot of snow and become impassable after that. The Kriván trail is one of the most picturesque – it takes you up through mountain paths for stunning views over the park, and it's one of the few long climbs (about 7.5 kilometers) that doesn't require a guide.
In winter, the Tatras are a prime destination for Alpine skiing.
8. Climb Up to the Largest Fortified Castle in Europe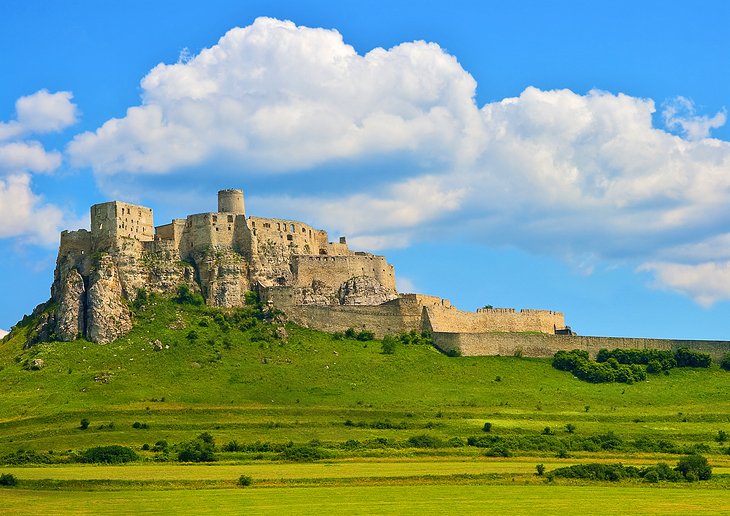 The ruins of 12th-century Spiš Castle sit upon a soft, rolling hill and cover an area of over 41,000 square meters, making it the largest castle complex in Europe. Spiš is a UNESCO World Heritage site that started as a simple Romanesque stone castle and kept growing and expanding over the centuries.
By the 14th century, a two-story palace and a basilica had been added, and an expansive wall built around the land, doubling the size of the complex. The castle was partially destroyed by a fire in 1790 and never inhabited again after that, although certain sections have been restored, and more are under reconstruction.
Today, the castle houses an exhibit of torture devices once used at the castle, as well as artifacts from the Spiš Museum, which include archaeological and ethnographic displays. The kitchen washroom and armory of the castle have also been restored, offering a unique peek into the life of 18th-century royalty.
9. Visit an Old Mining Town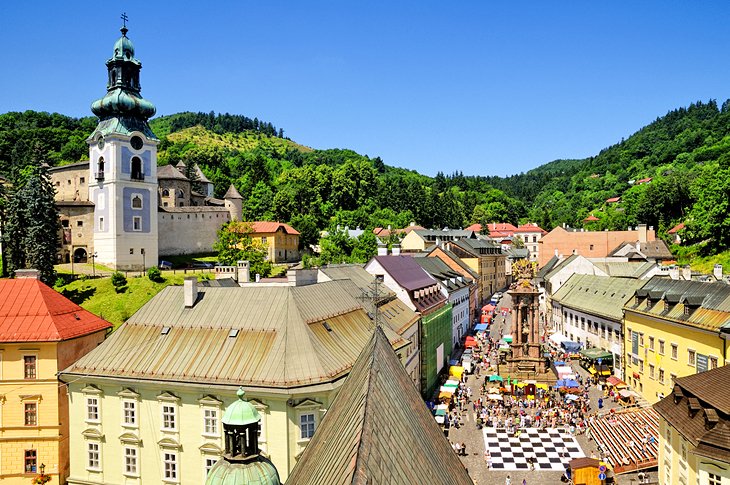 UNESCO-protected Banská Štiavnica is a preserved medieval town that sits on an ancient volcano. The Celts were already mining for silver ore in the area as far back as the 3rd century BC, and the town's popularity as a producer of silver and gold only grew from there. By the 15th century, the town was building fortifications to protect its mines, and by the mid-1600s, they were using the newly discovered gunpowder in the mines.
To help with mining and prevent flooding, a complex system of artificial water reservoirs and over 100 kilometers of interconnected channels and tunnels were set up – today, many of them have been transformed into recreational areas perfect for swimming. And while mining has long been abandoned in Banská Štiavnica, visitors can don helmets and headlamps to head down into the Earth at the open-air mining museum to explore a 17th-century mine.
While in town, make sure you don't miss the Old Town Square, home to a number of medieval buildings, as well as a plague column, a mineralogical museum, and a town hall dating back to the 14th century.
10. Go Deep into the Dobšinská Ice Cave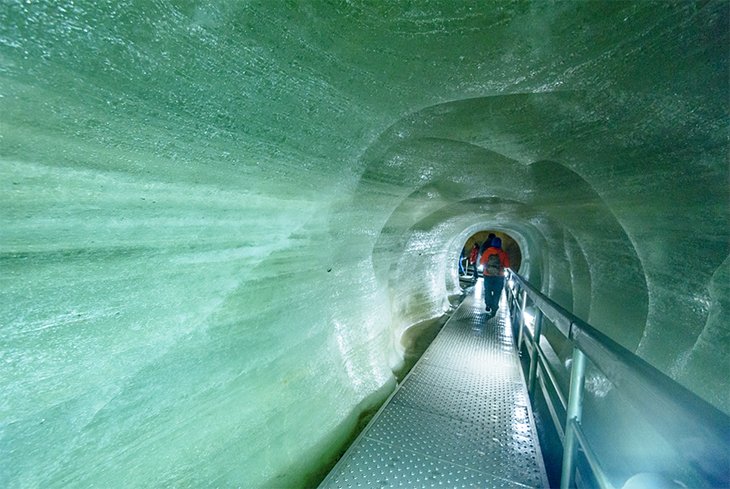 Located near a mining town inside the Slovak Paradise area, the Dobšinská Ice Cave is a UNESCO Heritage site. Reaching the cave requires a hike up a hill to an altitude of over 900 meters, then a slow descent into the mountain itself. Only the first 500 meters of the cave (out of the almost 1,500 meters in total length) are open to the public between May and September, and visitors must stick to designated pathways and stairs at all times.
If you're looking for things to do on a hot summer afternoon, this is it. Inside, the cave stays at a temperature of around 0 degrees Celsius all year long, with ice covering walls, ceilings, and floors. In some areas, the thickness of the ice is estimated to be over 26 meters.
Because the cave can only be visited as part of a guided tour, you're guaranteed to catch sight of the most stunning natural formations here, including ice stalagmites, semi-frozen waterfalls, and colorful swirls of light on the icy walls.
11. Discover Communist-Time Slovakia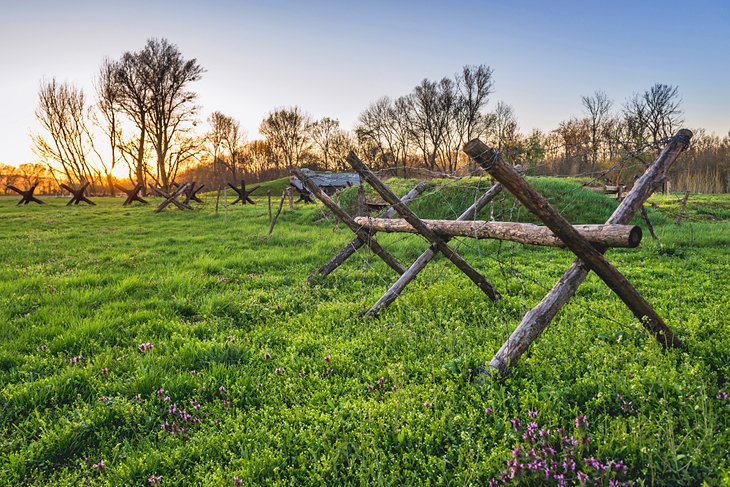 Czechoslovakia was under the rule of the Communist Party from 1948 to 1989 – a time where there was no freedom of the press, homes were regularly bugged in the search for traitors, religion was abolished, and common items like toilet paper and sugar were often hard to come by. Slovakia and the Czech Republic split and became separate countries in 1993, just a few years after the fall of the Iron Curtain and the return of democracy.
Communism shaped and changed the two nations forever, and visitors can get a glimpse of what life was like "back then" by searching for communist-era architecture in Bratislava; visiting an underground bunker; stopping by former concentration camp Sered (today a museum of the Holocaust); and visiting the Museum of Slovak National Uprising in the town of Banska Bystrica, which played a key role in the resistance against Nazis.
In recent years, the Iron Curtain border zone (which starts in the Nordic countries and ends in Turkey) has become a popular trail and cycling route, and a number of companies offer tours (or bike rentals) for those who want to see part of it up close and personal.
12. Explore Little-Known Špania Dolina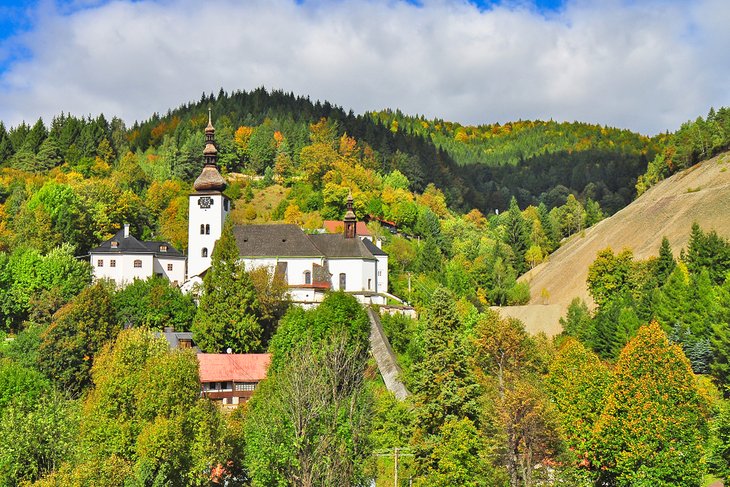 A well-kept secret mainly enjoyed by the locals, tiny Špania Dolina (which has only 200 permanent residents) is a former mining town filled with Renaissance buildings and well-preserved 17th-century wooden houses that once belonged to the miners that called the town home. The town's stunning white church rules over the view as you approach Špania Dolina.
Surrounded by the Staré Hory and Veľká Fatra mountains in central Slovakia, Špania Dolina offers plenty of options for outdoor pursuits, including hiking trails, cross-country skiing, and mountain biking.
A trail that starts right next to the town square takes visitors to the educational Mine Trail, which offers information about the history of the town and great panoramic views of the surrounding mountains. There's also a Copper Museum in town if you want to learn more about the history of mining in Špania Dolina.
13. Discover Forgotten and Hidden Bunkers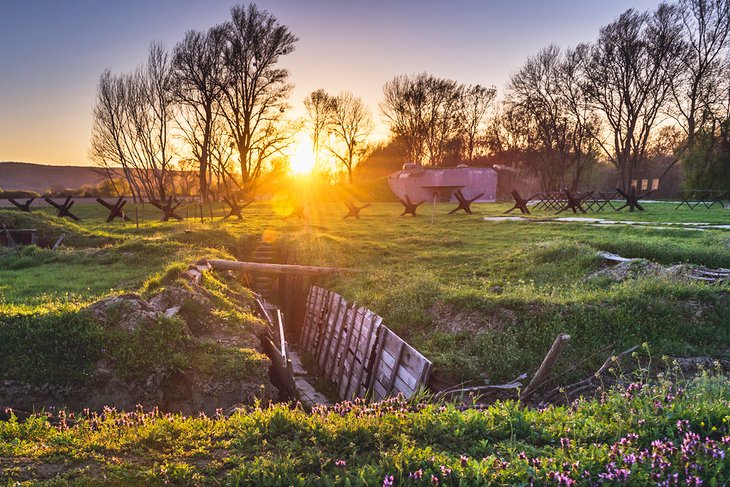 Eastern European countries have a long and complicated military history that includes Nazi invasions, Soviet takeovers, and bloody conflicts that extended for well over a century – and Slovakia is no exception.
An unusual result of this is a massive number of now-abandoned concrete bunkers scattered across fields or hidden in cities. In Slovakia, the largest conglomeration of bunkers is right in Bratislava, spread on a large field on the right bank of the river Danube.
Built in the 1930s to defend the country against Nazi Germany, the bunkers were never actually used. The largest of the bunkers, known as B-S 4, is now a museum showcasing original machine guns and firearms, an engine room, and plenty of photographs and documentation. Volunteers conduct tours on Saturdays during the warmer months.
Nearby bunkers B-S 6 (that originally house a soldier crew) and B-S 8 (the most heavily armed in the back defense line) can also be visited. B-S 8 is located near a military cemetery, where memorial services and special celebrations are held to honor those fallen defending their country.
14. Lose Yourself in the Slovak Karst National Park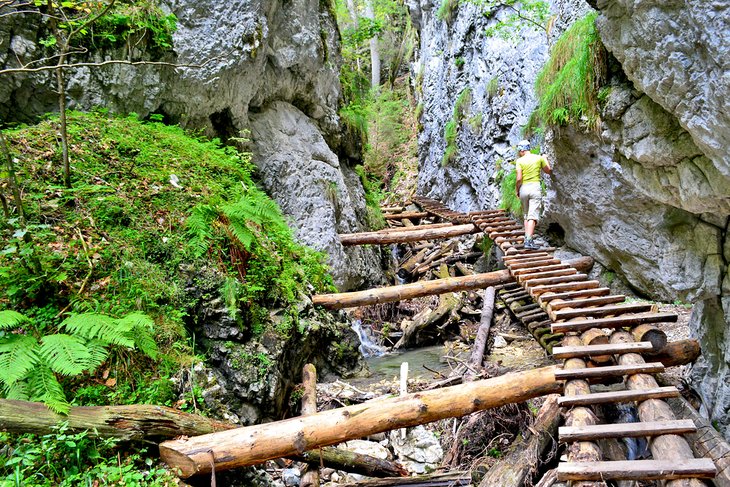 The Slovak Karst is one of Slovakia's most unique national parks. Listed as a UNESCO World Heritage Site, it is famous for its caves (over 700 of them are spread throughout the park's massive karst plains and plateaus). Stunning Domica cave is part of a large complex of caves that extends across the border into Hungary, and can be explored through guided sightseeing tours.
The park also attracts adventurers that want to hike unique trails that feature wooden paths and bridges, castle ruins, small waterfalls, and amazing gorges. There are a total of over 500 kilometers of cycling trails and hiking trails within the park.
15. Marvel at the Traces Left by Old Aristocracy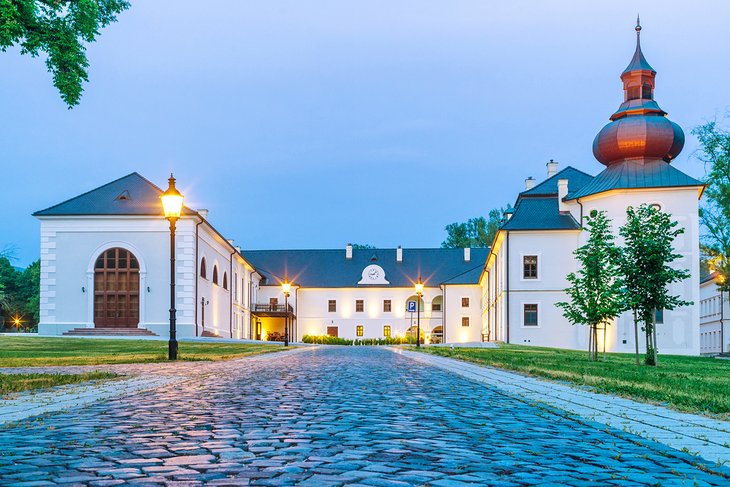 Slovakia was once part of the Austro-Hungarian Monarchy empire – and reminders of this are present everywhere today in the form of magnificent chateaus and palaces. A good example of this is the historic manor-house chateau Appony in the village Oponice. Originally built in the 16th century as a fortified chateau, it has gone through significant changes over the years, including a major reconstruction in the 1840s.
The towns of Topoľčianky, Mojmírovce, and Belá also have plenty to offer in this regard. For example, the Baroque-classical Manor-house Mojmírovce dates back to the 18th century and once belonged to Hungary's house of Hunyadi,
More Related Articles on PlanetWare.com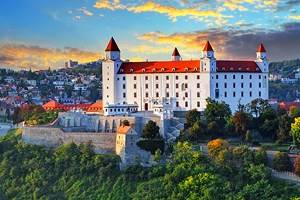 Discovering Slovakia: The historical capital city of Bratislava is a great starting point to discover the country. Before you make any plans, take a look at the must-see attractions and things to do in Bratislava for some tips.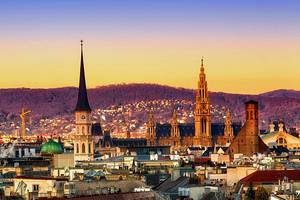 Across the Borders: Bratislava's close foreign neighbor, Vienna, is just one hour away and filled with lots of things to see and do. Check out our article on the Attractions & Things to Do in Vienna for ideas and tips to plan a visit. Heading to the Czech Republic instead? Prague is just a few hours away, and traveling between the two cities is quick and easy, as you'll find out in our Prague to Bratislava: Best Ways to Get There article.