15 Top-Rated Tourist Attractions in Hungary
From Hungary's magnificent capital city of Budapest - appropriately called "the city of lights" - to its many quaint villages and fantastic scenery, this Eastern European country evokes a strong sense of history and tradition at every turn. Budapest is justifiably compared to cities such as Prague and even Paris, and as a result has become the country's biggest tourist draw.
But not all the best places to visit and things to do in Hungary are in the capital. Picturesque cities and towns of all sizes in Hungary have preserved their classic old historical attractions. Many of them clearly exhibit influences from a variety of different regional cultures, including everything from Turkish invaders to Italian Renaissance designers.
Hungary's countryside includes some of the most beautiful scenery to be found anywhere in Europe. In fact, wherever you are in Hungary, you're never far from spectacular mountains and lakes, beautiful river scenes (the Danube runs right through the country), and lush valleys. All of these stunning backdrops also provide many great opportunities for adventure sports enthusiasts, including hiking, biking, climbing, camping, and other outdoor activities.
To help you make the most of your sightseeing in this remarkable European country, be sure to refer often to our list of the top attractions and things to do in Hungary.
1. Buda Castle, Budapest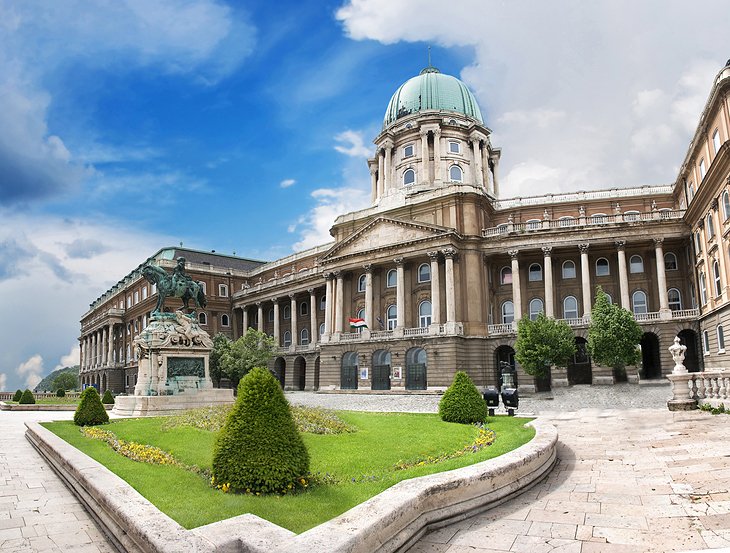 When you first set eyes on spectacular Buda Castle (Budavári Palota) in the Hungarian capital of Budapest, you'll appreciate why so many people consider the city the "Paris of the East." This spectacular historic landmark - now a UNESCO World Heritage Site - ranks right up there with Versailles in France in terms of its majestic proportions and wonderful design.
Built on the site of a palace destroyed during the Ottoman Empire's Siege of 1686, this newer structure was rebuilt in the 18th century for the Habsburg monarchy and includes more than 200 rooms. Its symmetrical layout focuses on the lovely 61-meter-high central dome facing the Danube, where you can get stunning views of the castle and the other buildings on Castle Hill.
Parts of the original medieval building have been carefully reconstructed, including the Buzogány Tower and the impressive 15th-century South Tower.
Address: 1014 Budapest, Szent György tér 2, Hungary
Official site: http://budacastlebudapest.com
2. The Danube River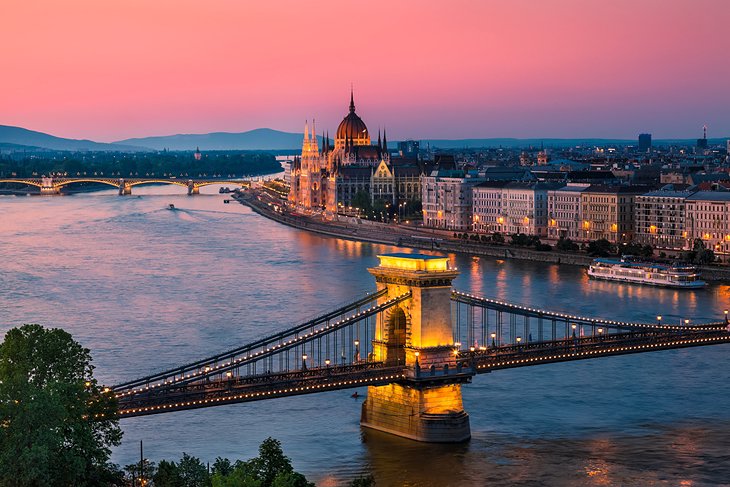 The beautiful Danube River flows through Hungary from north to south, and as it passes through Budapest, it splits the city in two. One of the best sunset views of the river and of both Buda and Pest is from the Freedom Bridge, a favorite spot for locals who can often be seen watching the spectacle, along with passing boat traffic, from the bridge's huge cables (though at street level).
Other great places from which to view this majestic river are at the Danube Bend, one of the country's most popular recreational and excursion spots. This is where the river winds its way through the heavily wooded Visegrád Mountains before turning sharply south (the river's "knee") towards Budapest. The area is popular with hikers and nature lovers and is included in the many excellent river cruises that travel the Danube from as far as neighboring Austria.
The Danube Cycle Path is a popular way for active travelers to see the river as it winds through the hills between Budapest and Vienna. Stretching all the way from Germany to Budapest, along with constantly-changing river scenery, you'll pass elegant Esztergom, the Roman fort of Kelemantia, and traditional Hungarian villages like Szigetmonostor.
Official site: www.danube-cycle-path.com
3. Historic Spa Towns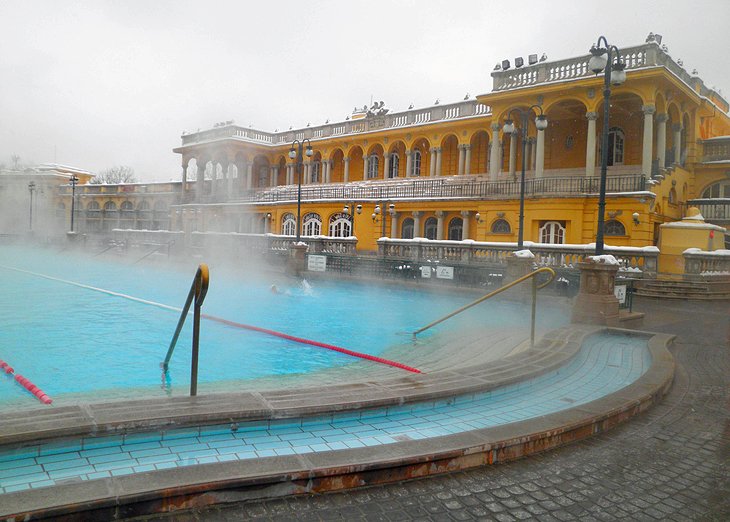 If you're looking for a vacation that combines some down time with a rich cultural experience, Hungary certainly delivers. There are many historic spa towns and facilities throughout the country that offer everything from simple bathing in regenerative waters to longer stays in lovely spa resorts.
Hungary's reputation for its hot springs and baths dates back more than 2,000 years to the time of the Romans, who highly valued the healing effects of Hungarian thermal waters. Then, in the 16th century, it was the turn of the Turks who built the many Turkish Baths still in use today.
All told, more than 1,000 springs provide medicinal and thermal water to natural and medical spas. One of the most popular is Lake Hévíz with its 25 degrees Celsius yearly average water temperature. This stunning spot is in fact the largest biologically active thermal lake in Europe.
For those staying in Budapest, excellent spa packages are available at the lovely Szechenyi Thermal Bath (Széchenyi gyógyfürdo), built in 1913, and numerous other locations across the city. It's extremely easy to spend a day in Szechenyi and on its charming grounds.
Official site: http://szechenyispabaths.com/
4. Esztergom Basilica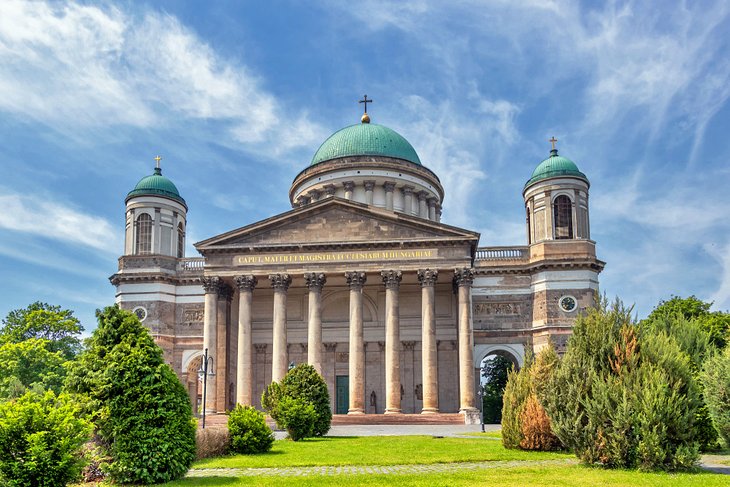 Dominating the attractive skyline of one of the oldest of Hungarian towns, the spectacular edifice that is Esztergom Basilica (Esztergomi bazilika) is well worth the 46-kilometer journey from Budapest.
Set overlooking the Danube River on Castle Hill, this impressive Catholic church - officially called the Primatial Basilica of the Blessed Virgin Mary Assumed Into Heaven and St. Adalbert - was built in 1507. Not only is it the country's biggest religious structure, it's also the tallest, with its huge dome stretching 100 meters into the air.
Notable features include its epic altarpiece, a nearly 14-meter-long artwork of the Assumption of the Blessed Virgin Mary that holds the record as the world's largest painting. Other notable artworks include Hungary's most important collection of Renaissance-era paintings.
Also worth noting is the massive crypt, added in 1831 and constructed in Old Egyptian style. A visit here will reveal a fascinating underworld of tombs and memorials.
The church is also home to Hungary's largest organ. Built in 1856, this impressive instrument boasts pipes as long as 11 meters. English language guided tours of the church and its impressive Treasury are available and come highly recommended.
Address: Esztergom, Szent István tér 1, 2500 Hungary
Official site: www.bazilika-esztergom.hu/en/
5. Hungarian Parliament Building, Budapest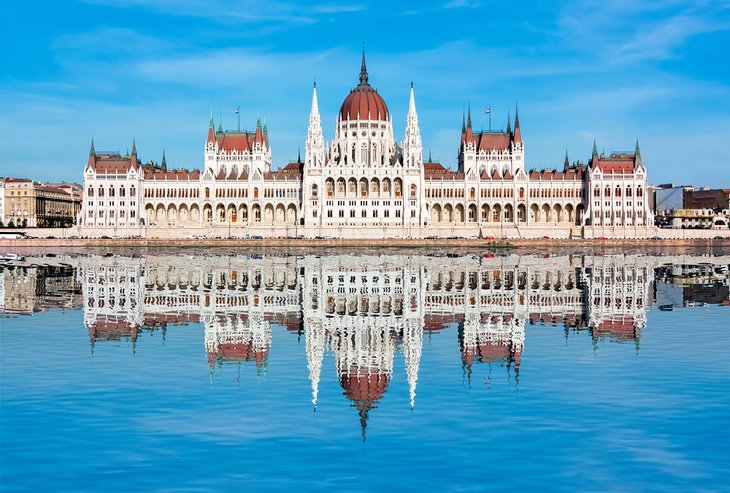 It's hard to miss the spectacularly proportioned Hungarian Parliament Building (Országház) when exploring Budapest. Whether you're taking a tour boat ride along the Danube (highly recommended) or viewing this huge structure from Castle Hill on the opposite bank, you won't fail to be impressed by its palatial appearance and dimensions, a particular treat at night when it's lit up beautifully.
The building is flanked by the no less impressive Ministry of Agriculture building and the Museum of Ethnography. Even if you can't linger here too long, it's fun just spending time wandering around the exterior as you take in the details of one of the largest parliament buildings in all of Europe.
If you have time in your schedule - and assuming parliament isn't sitting - head to the visitor center to check the availability of a guided tour. Available in English, they're well worth it. In less than an hour, you'll be whisked around a handful of the more than 690 rooms the building houses, along with the main entrance hall and its main lobby areas. You'll also get a peek at the nation's crown jewels.
Address: Budapest, Kossuth Lajos tér 1-3, 1055, Hungary
Official site: www.parlament.hu/en/web/house-of-the-national-assembly
6. Tihany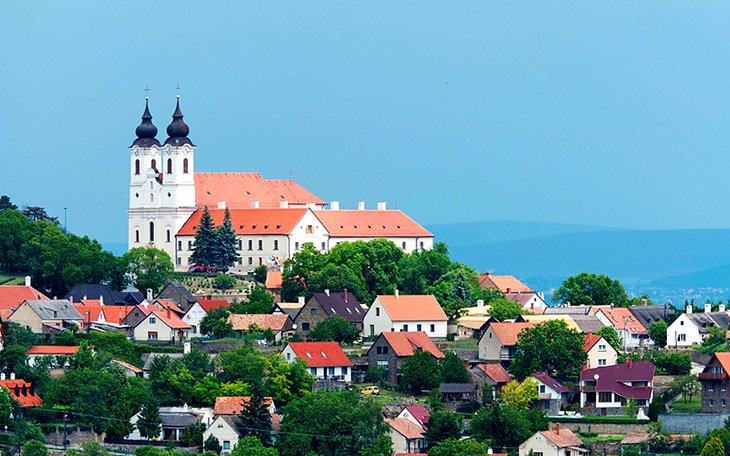 Tihany is one of the most popular holiday resorts on Lake Balaton. Originally an island, this tiny peninsula covers just eight square kilometers yet boasts some of Hungary's most extraordinary scenery. Designated a nature reserve, the southwestern section is closed to traffic and is wonderful to explore on foot along the well-marked trail network.
A must-visit landmark in the town itself is the beautiful 17th-century Benedictine Abbey (Tihanyi Bencés Apátság) with its spectacular views of the lake and the surrounding area. It's a particular treat in early spring, when the region's almond trees are in bloom, and in June, when the fragrance of lavender fills the air.
From the abbey, be sure to walk to the lovely old Inner Harbor. Here, you'll find numerous moorings for passenger ships and a pleasant lakeside promenade.
7. The Caves of Lillafüred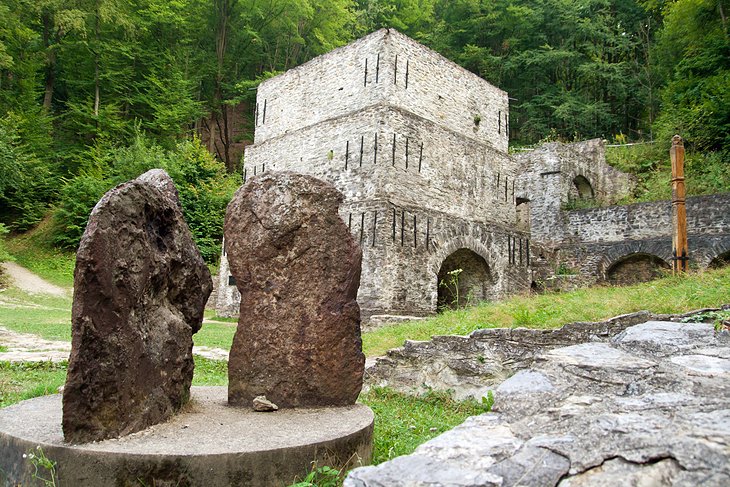 Lillafüred in the Bükk Mountains is another very popular spa destination in Hungary. It's also famous for its many spectacular caves, all within an easy walk of the town. Some of the most interesting to explore are the István Cave with its fantastic stalactite formations, and the Petofi Cave, famous the world over for the impressions of extinct plant species left in its limestone walls.
For a more adventurous hike, take the trail to the Szeleta Cave. Here, you'll see a fascinating collection of relics dating from the Ice Age, including skillfully made arrows and spears. When you're done with all that exploring, take a ride on the old narrow-gauge railway through one of the most rugged part of the mountains.
8. Hortobágy National Park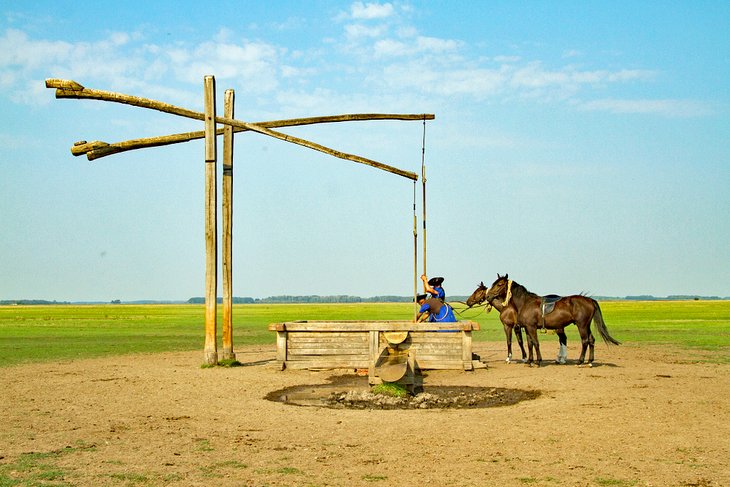 Located in the eastern corner of the country, Hortobágy National Park (Hortobágyi Nemzeti Park) is what you might call quintessential Hungary. Here, you can explore a variety of superb attractions and fun things to do, all while soaking up the rich culture of the country's people and their traditions.
Established in 1973, the park is part of Hungary's Great Plain, an area that's protected as Europe's biggest natural grassland. Highlights of a visit include catching glimpses of its diverse animal life, including everything from an abundance of birdlife to herds of horses can be seen here. Also fun is spending an evening in its dark sky preserve, which offers incredible stargazing opportunities without the distraction of city lights.
In addition to its informative visitor center and its collection of native fauna to view up close, there are plenty of other things to see. Fun things to do include exploring the area's many hiking and biking trails, or even getting in a little horse riding adventure.
Speaking of horses, a visit to the Herdsman Museum is a must-do. This fascinating tourist attraction provides a fascinating glimpse into the lives of the locals. There's also a Country House worth visiting, which offers a look at domestic life over the centuries.
Official site: www.hnp.hu/en
9. The Hungarian Open Air Museum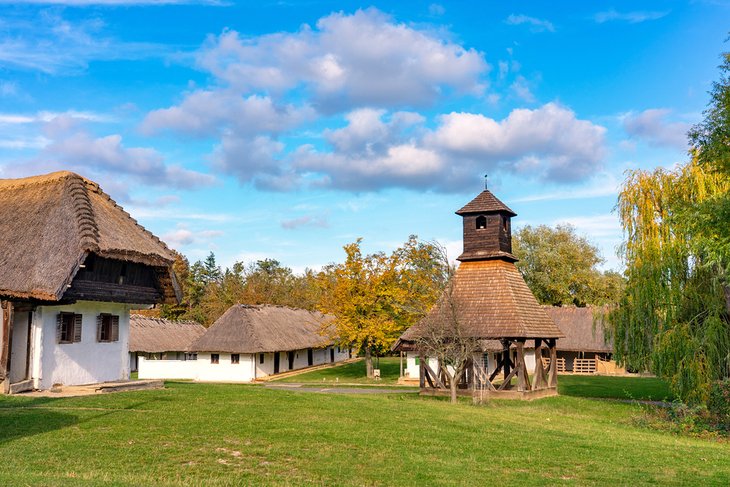 Another great way to get a taste for traditional Hungarian cultural activities is paying a visit to the world-class Hungarian Open Air Museum (Szentendrei Szabadtéri Néprajzi Múzeum). Established over 50 years ago and only 23 kilometers from downtown Budapest, it has since grown into one of the country's most significant tourist attractions.
Offering visitors a glimpse into traditional life over the ages, this first-rate museum is divided into eight sections, approximating different regions and time periods. Each of these is connected by many pleasant walking trails (expect to do plenty of walking!).
Highlights include the chance to explore working stables and barns, and workshops, including a working blacksmith's shop. For kids, there's also an authentic old steam train that offers fun rides.
Address: Szentendre, Sztaravodai út 75, 2000, Hungary
Official site: https://skanzen.hu/en
10. Sopron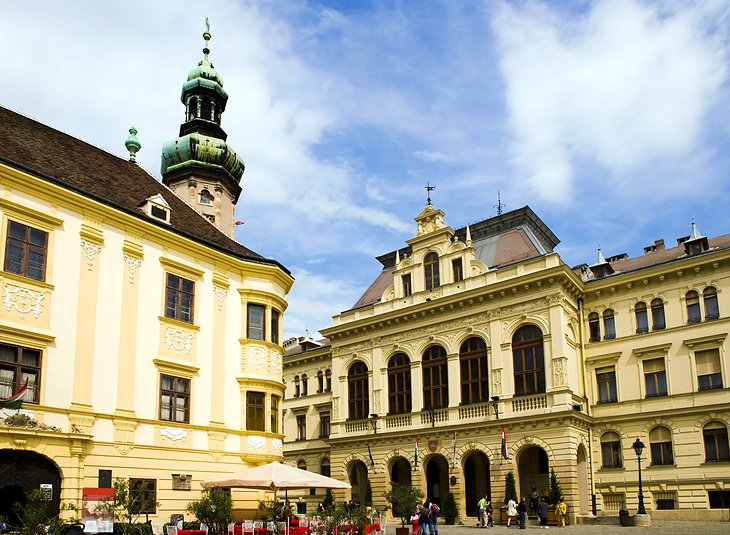 The historic city of Sopron is well worth a visit. Located just 64 kilometers south of Vienna and eight kilometers from the Austrian border, it's location near the eastern foothills of the Alps makes it a popular destination for day-trippers.
Its allure stems as much from its attractive surroundings as from its many well-preserved medieval and Baroque buildings. Sopron boasts an impressive 240 protected buildings, 115 of which are officially listed monuments, making it one of the largest such collections in Europe.
All the buildings in the Old Town are found within the confines of the medieval town wall built on Roman ruins. Many of these buildings contain features added from other historical periods, so you'll never know quite what to expect as you explore.
11. Eger Castle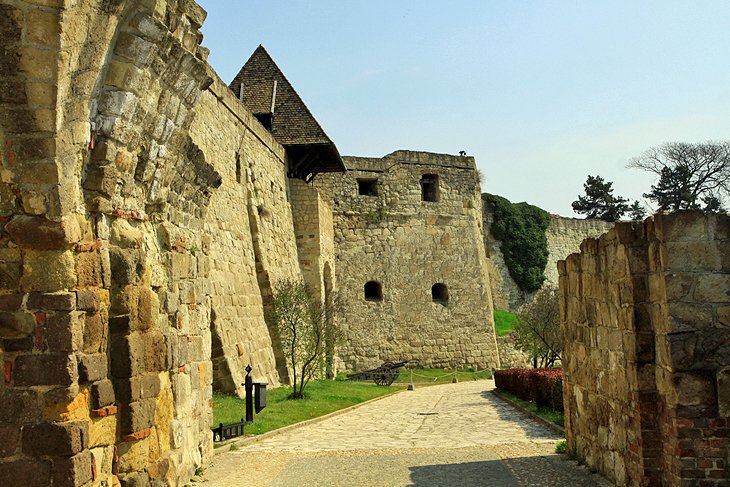 Hungary has many delightful historic forts, castles, and palaces, each steeped in history. One of the best known is Eger Castle (Egri vár). Located in the lovely spa town of Eger on the southern slopes of the Bükk Mountains, Eger Castle once protected the gateway into northern Hungary.
Extended in the 16th century, the "new" design was based on contemporary Italian fortresses, and was again added to after the Turks took over in 1596. Visitors today can explore the remaining towers high above the town, as well as many ruins, all of them providing a sense of the size and strength of this once great fortress.
This spectacular fortress also serves as a convenient place from which to explore the old medieval and Baroque architecture in the lower town, with its excellent restaurants and cafés.
Address: Eger, Vár 1, 3300 Hungary
Official site: www.egrivar.hu/en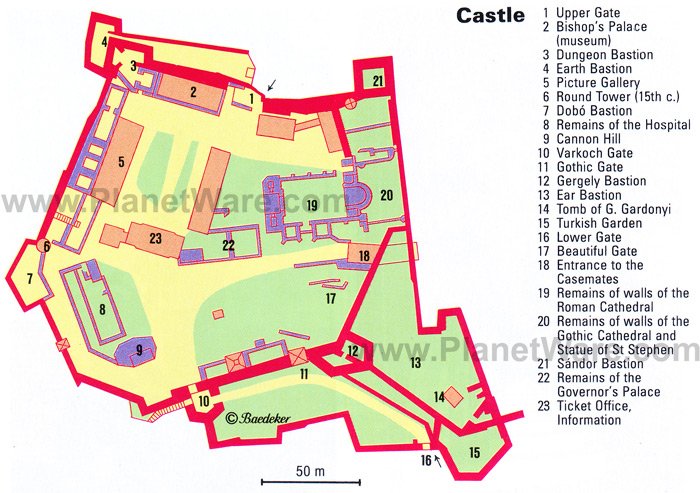 12. Pecs Cathedral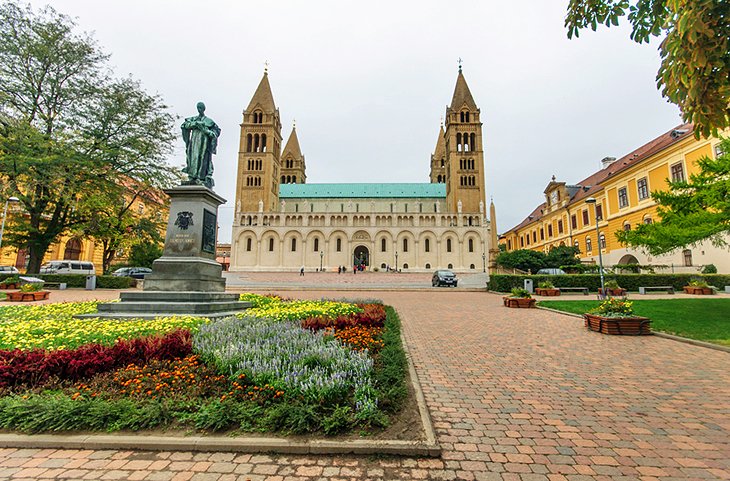 Dominating the northwest corner of the fortified Old Town of Pecs stands the picturesque Sts. Peter and Paul's Cathedral Basilica (Szent Péter és Szent Pál székesegyház). Most often referred to simply as Pecs Cathedral, it was built on the site of an ancient Roman burial chapel, the cathedral, like so many historic attractions in Hungary, shows influences from many different cultures.
Founded in 1009, the original church lasted well into the 12th century, was rebuilt, and then suffered even more damage due to Mongol attacks. After years of neglect - including a spell as a mosque and an arms store - the church was completely rebuilt in 1891, creating the splendid structure you see today.
And it's well worth taking the time to explore. Inside, many unique religious artifacts from throughout Hungarian history have been collected and are on display, as are a number of graves from the Early Christian cemetery.
Afterwards, take a walk over to the nearby Mosque of Yakovali Hassan Pasha, with its 22-meter-high minaret and museum. In the center of the Old Town, look for Szénchenyi tér, a lovely medieval marketplace.
Address: Pécs, Dóm tér 2, 7621 Hungary
Official site: https://pecsiegyhazmegye.hu/en/
13. Visegrád Royal Palace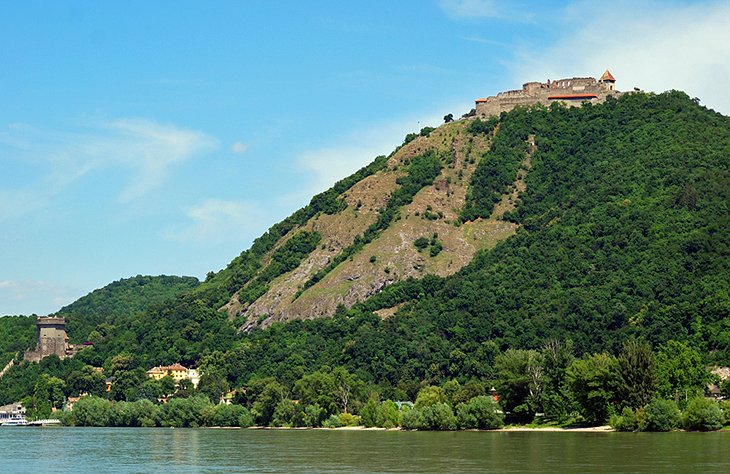 Located above the beautiful old town of Visegrád in the Danube Bend, just 40 kilometers north of Budapest, and the ruins of Visegrád Royal Palace, this beautiful old citadel is an easy day trip from Hungary's capital. It's well worth including in your Hungary travel itinerary.
The first Royal Palace was built under Charles I after he and his court moved to Visegrád in 1316, and was extended a hundred years later with many Italian flourishes. It soon after gained a reputation as one of the finest palaces in all of Europe.
While now largely ruins - the legendary palace was only "rediscovered" in the 1930s - the palace impresses with its dimensions and incredible views over the Danube and the surrounding area. It's extremely fun to explore as you try to recall what it must have looked like in its heyday. A word of caution, though: Be prepared for plenty of walking.
Address: Visegrád, Fő u. 31, 2025 Hungary
Official site: https://visitvisegrad.hu/en/sights/citadel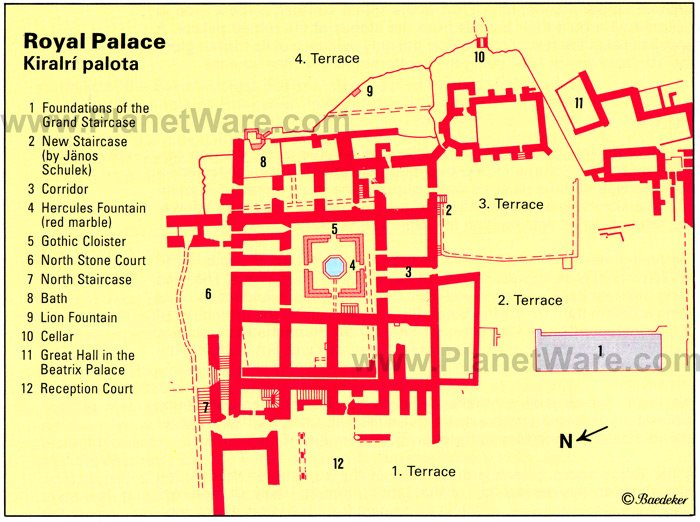 14. The Buda Hills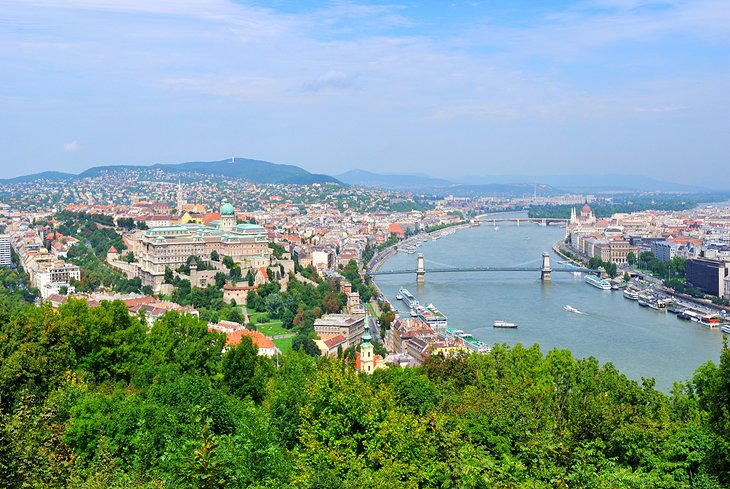 The Buda Hills, on the western outskirts of Budapest, rise to heights of more than 518 meters and are crisscrossed by an extensive network of trails, perfect for walking or biking. Numerous bike rental companies can be found throughout the city.
Alternatively, you can take the tram to the terminus of the Cog Railway that climbs to the lovely residential neighborhood Széchenyi-hegy. From here, the narrow-gauge Children's Railway follows a scenic route to Huvösvölgy.
There are also plenty of walking trails from any stop, or you can get off at the highest stop, János-hegy, and ride the Budapest Chairlift down for some of the finest views over the city.
15. Aggtelek National Park & Caves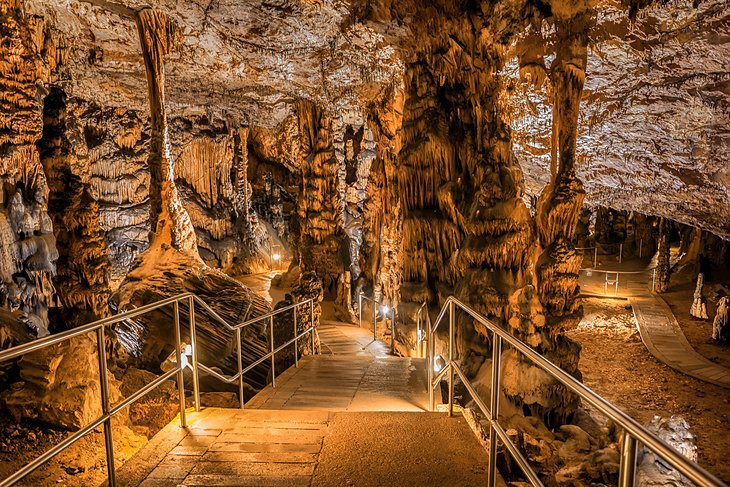 One of the largest and most impressive stalactite caves anywhere in Europe - and the largest in Hungary - Baradla Cave is protected by Aggtelek National Park (Aggteleki Nemzeti Park) in north Hungary on the Slovak border about 2.5 hours by car from Budapest.
The park covers almost 200 square kilometers, much of it also protected as a UNESCO World Heritage Site. The Baradla Cave stretches for more than 25 kilometers, with a seven-kilometer-long main tunnel. Its passages were formed over thousands of years as rain and melting snow eroded away the limestone, with dripping mineral-rich water forming giant stalactites and stalagmites in fantastic shapes and bizarre colors.
Excavations show that the cave was used as a shelter for humans for more than 7,000 years. Three other caves have recently been opened to visitors: the Imre Vass Cave, the Béke Cave, and the Rákóczi Cave.
The park is popular with hikers and walkers from all over Europe. These adventurers follow its network of well-marked trails, and along with guided cave tours, the park offers ecology, zoology, and botanical tours. Guided walks also explore the natural and cultural environment of the village of Jósvafo, where festivals mark the harvest and religious holidays.
Address: Aggtelek National Park Directorate, H-3758 Jósvafo, Tengerszem oldal. 1, Hungary
Official site: http://anp.nemzetipark.gov.hu
Best Places to Visit near Hungary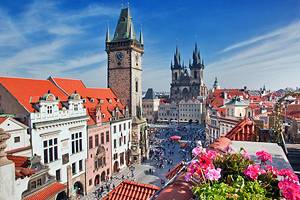 After you've seen the top attractions in Budapest and the many other destinations you can reach on fun day trips from Budapest, you may want to tour some of the other major capitals of Eastern Europe, many of them within easy reach by train or car. Our favorites include Bucharest in Romania, as well as the historic (and incredibly beautiful) city of Prague in the Czech Republic.
On the way to Prague, be sure to stop in the Czech city of Brno to admire its landmark modernist architecture. Another great option to consider is to follow the mighty Danube River by boat, bike, or car into beautiful Austria and its capital city of Vienna.