From Krakow to Auschwitz: 5 Best Ways to Get There
The Auschwitz-Birkenau Memorial camps are a somber reminder of the darkest part of WWII. Built as extermination camps and partially destroyed by the Nazis at the end of the war to hide their "Final Solution" plans, the camps have been converted into museums and receive over two million visitors every year. They are easy to get to from Auschwitz by bus, train, or car or, even better, on an organized tour.
Although entry to the camps is free, anybody visiting between 10am and 4pm will be required to pay for and join a guided tour. Solo visitors can arrive outside those times and walk around the camps on their own, but groups of visitors (as in the case of a family or a group of friends) will be required to join a tour regardless of what time they arrive. The park opens at 8am throughout the year and closes as late as 7pm during the summer months.
Whether you're planning on visiting the camps on your own using public transportation or you prefer the comfort and convenience of a guided tour, here are the best ways to get from Krakow to Auschwitz.
1. From Krakow to Auschwitz by Organized Small Group Tour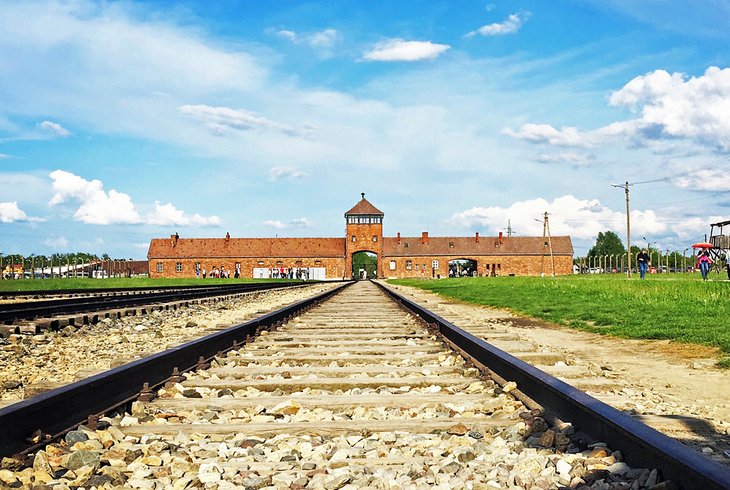 If you are considering whether to take a Krakow to Auschwitz guided tour or not, consider this: over one million people visit Auschwitz every year. The lines to get in are always long, no matter the season – during particularly busy times, you can easily wait two to three hours just to get in.
One of the benefits of joining a tour is that there's no waiting time. Tours enter through a side entrance without any wait - plus you don't have to worry about transportation, moving from one camp to the next, or finding the right English-language tour once you get there.
A good option is the Auschwitz-Birkenau Museum and Memorial Guided Tour from Krakow, led by an English-speaking, professional guide.
On the day of the tour, an air-conditioned vehicle and an English-speaking tour guide will pick you up from your hotel or a central city point in Krakow. During the one-hour drive, you'll be able to watch a documentary about the camps, so you can have a better understanding of WWII's Holocaust and what happened at the camps.
Once you arrive, your guide will take you to the main buildings at the UNESCO-listed former Nazi concentration camp complex, including the gas chambers and crematoriums, old prison blocks and dormitories, and a number of exhibitions documenting the life of prisoners.
After touring the two camps, your driver will bring you back to your departure point in Krakow.
2. From Krakow to Auschwitz by Private Tour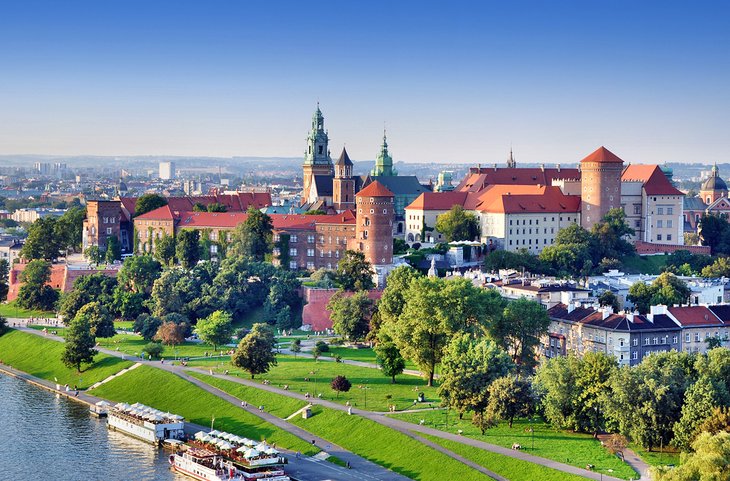 If you're looking to get a deeper understanding of the WWII events that led to the construction of the camps, the seven-hour Auschwitz-Birkenau Guided Tour by Private Transport from Krakow will give you just that.
This half-day tour starts right at your hotel, where a driver will pick you up in an air-conditioned vehicle anywhere between 7:30am and 11am, based on your preferences. From there, it's a one-hour trip to the main camp and museum, where you will join an English-speaking guided tour for a two-hour tour of Auschwitz I, followed by a one-hour tour of Auschwitz II-Birkenau.
The tours include both indoor and outdoor spaces. You will see the permanent exhibitions and main buildings at Auschwitz I before you move on to Camp II, where you'll see the unloading platform (ramp) and a train carriage, the ruins of crematoria and gas chambers, and the barracks where prisoners lived.
You will be provided with headsets, so you can hear your guide clearly, as the museum requests that people keep their voices down while walking through Auschwitz.
On your way back to the hotel, you can ask your driver to stop for a quick lunch somewhere. You will be dropped off at your hotel no later than 4pm.
3. From Krakow to Auschwitz by Bus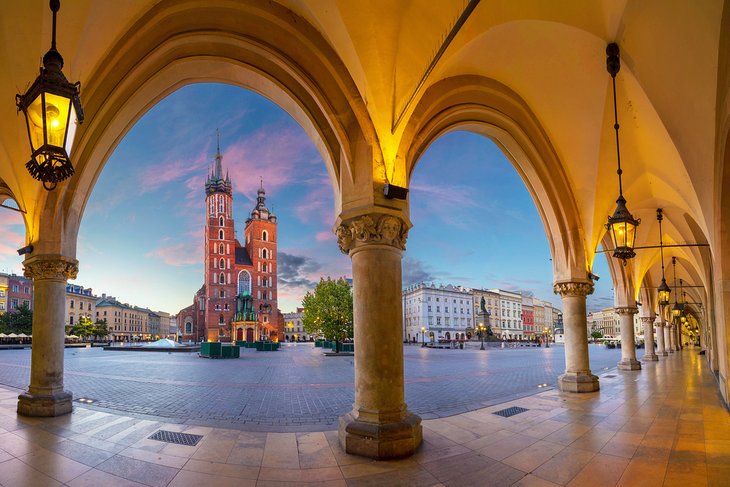 If you are planning on using public transportation, buses are the cheapest and easiest way to get to the camps. From the Kraków MDA main bus station, you can catch a local bus in the direction of Oswiecim and get off at the stop called "Oswiecim Muzeum." This is right at the entrance of the Auschwitz Museum.
Make sure you check the bus schedules in advance on the official MDA Bus Transportation website, as not all buses traveling in that direction stop at Auschwitz.
Your other option is the Lajkonik buses. Choose the bus covering the route - Kraków - Chrzanów - Libiaz - Oswiecim, and get off at the last stop, right at the museum. You can book a seat online - a particularly good idea in summer, as the number of visitors increases, and you might not get a space otherwise. The first bus leaves for Auschwitz at 6:20, and the last one back to Krakow departs from the museum at 7:45pm, so plan accordingly.
Keep in mind that these buses take you only to Auschwitz-Camp I. To reach the second camp, Birkenau, you can walk the three kilometers that separate the camps or look for the museum shuttles that run back and forth between the two camps.
4. From Krakow to Auschwitz by Train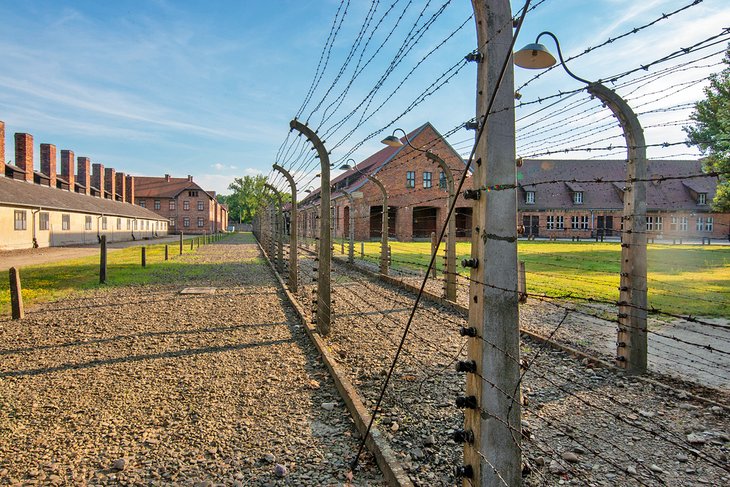 Kraków Glówny, the main train station near Krakow Old Town, has a number of trains that can get you close to the camps. You can check schedules on the Polish railway website to pick the best option.
Most trains have an average travel time of just under two hours and can get crowded on weekends, so pick an early morning one if you don't have tickets in advance and want to make sure you get a seat.
Trains leave every hour starting just after midnight. For the camps, taking the 6:14am train is the best option, as you'll arrive in Oświęcim around 8am.
All trains drop you off at Oswiecim's central station, two kilometers away from Auschwitz. There are no connecting buses from here to the camps, so your only options are to walk (about 25 minutes) or jump in a taxi.
5. From Krakow to Auschwitz by Car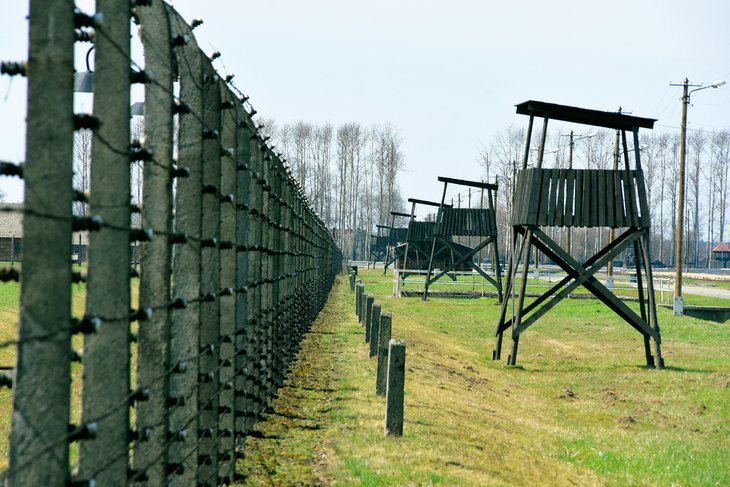 The Auschwitz-Birkenau camp and museum is located in the city of Oświęcim, about 70 kilometers from the center of Krakow. The trip takes about an hour and 15 minutes in normal travel conditions if you take the A4 motorway in the direction of Oświęcim.
Take the exit onto Stanisławy Leszczyńskiej to get to the museum. As signs aren't in English here, having a GPS is essential, or you might find yourself taking the wrong turn here or there.
The A4 is a toll road, and you will need to pay for it in advance (this can be done electronically). If you're renting a car, it's possible the toll has already been covered in advance, so make sure you confirm this with the rental agency to avoid a fine when driving.
There are paid parking areas at the camps. Both Auschwitz I and Auschwitz II-Birkenau camps have their own parking, but keep in mind that you should start your visit at Auschwitz I, so if you park at the other camp, you will need to walk back to Birkenau. The camps are 3.5 kilometers away from each other.