Prague to Bratislava: 4 Best Ways to Get There
The capital of Slovakia is a relatively small city at just under half a million residents. Located on the banks of the Danube River, the city of Bratislava makes for a great weekend trip from Prague. At about four hours away, it's too far away for a quick day trip, but that's perfectly fine – there's enough things to see and do in the city to justify a night or two here.
Buses, trains, and planes all connect Prague and Bratislava several times per day, and you can even choose to join a tour if you want to explore other towns along the way. Regardless of your choice of transportation, here are the best ways to travel from Prague to Bratislava:
On This Page:
1. From Bratislava to Prague by Sightseeing Tour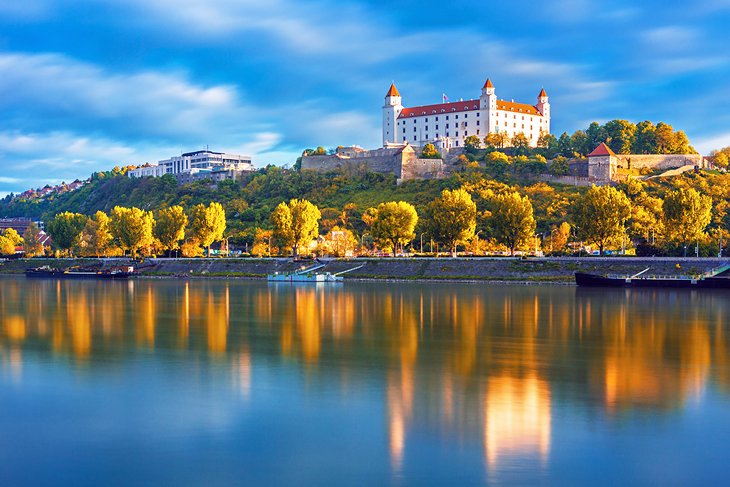 If you're heading back to Prague after visiting Bratislava, you might want to consider using a one-way sightseeing day tour. This gives you a chance to play tourist for the day rather than just look out the window at the highway for several hours. The tour takes 10 hours and takes you through the historic towns of Telc, Mikulov, and Znojmo, where you'll have a chance to visit two UNESCO World Heritage palaces and the hilltop ruins of a medieval castle. The town of Telc – famous for its colorful Renaissance houses in the Old Town center – is the last stop before heading to Prague.
Lunch is not included, but you'll have a chance to pick up some food at one of the stops. The tour does include bottled water; an English-speaking, knowledgeable guide; and transfer in an air-conditioned vehicle from and to a central location near public transportation.
2. From Prague to Bratislava by Train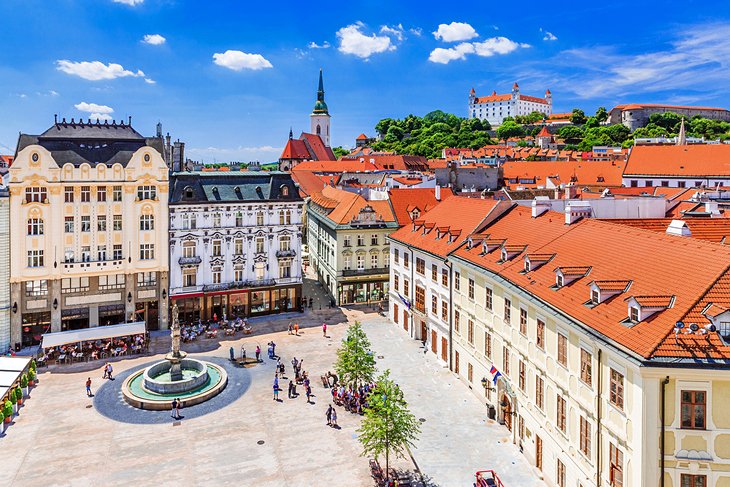 The two main rail lines serving the Prague to Bratislava route are Ceske Drahy (the national railway) and the private company RegioJet. Both trains are mostly modern and comfortable, and take just under four hours to reach their destination – with RegioJet prices being just slightly higher.
RegioJet, however, offers special Astra train cars in their Relax class, with spacious, adjustable leather seats; built-in LCD screens with movies and music; and a number of free extras, including bottled water, coffee, or tea, and newspapers or magazines. For those who want a cheaper trip, there are also Standard and Low-Cost classes, which are either in six-person compartments or in an open-space carriage.
Although trains are slightly more expensive than buses (but not by much), they offer more space, a chance to get up and stretch your legs, better onboard food and drinks, and a much nicer window view over green fields and countryside. Unless you plan on sleeping most of the way, this is definitely a prettier ride.
Trains leave from the Hlavni Nadrazi (main train station) in Prague about eight times per day starting as early as 5:30am. Although the train station in Bratislava is conveniently located near the center of town, keep in mind that if you take the late-night trains, you might need to catch a taxi once you get there, as public transportation runs on a much slower schedule after 10pm.
3. From Prague to Bratislava by Bus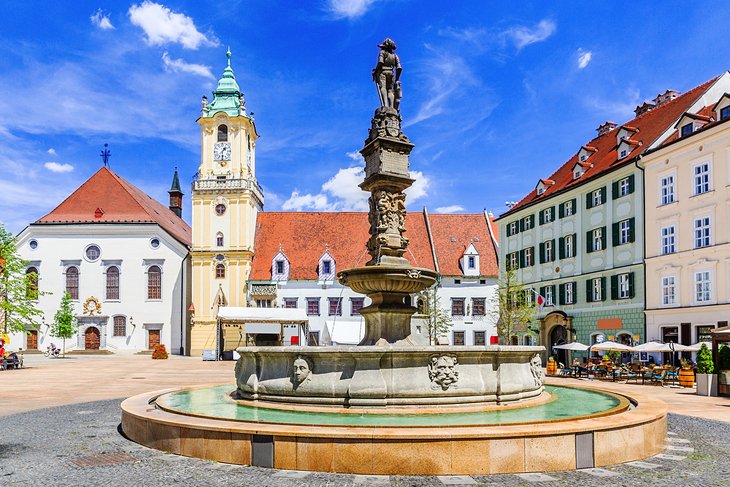 There are three major bus companies covering the route between Prague and Bratislava: RegioJet, Eurolines, and Flixbus. They offer several connections per day, take about four hours to reach their destinations, and have a few stops along the way. Flixbus is slightly cheaper, but RegioJet offers a series of extras, including free Wi-Fi, touch screens with free movies, and free hot drinks. Both companies offer the chance to buy snacks or cold drinks on board.
Buses are cheap and very easy to use, and while there isn't much of a chance to move around in a bus, the trip is short enough that you can just read or watch a movie to pass the time. Buses leave from the Prague Main Railway Station or the main bus station at Florenc and are usually direct.
The downside of bus riding is that there's not much to see between the two cities. Most of the ride is done via highways D1 (the country's oldest and busiest highway) and E65. Both are famous for traffic jams and never-ending construction – which means that in addition to potential delays, you also won't see much of anything along the way but cement and cars.
4. From Prague to Bratislava by Plane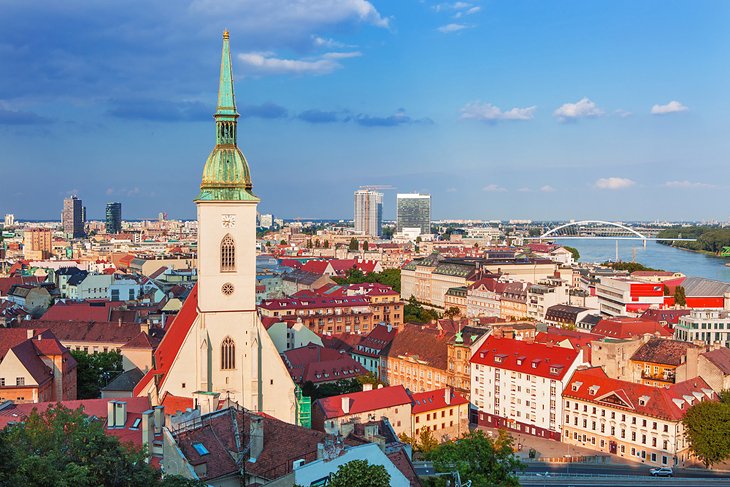 First the bad news: there are no direct flights between Prague and Bratislava since Czech Airlines (the only airline that used to offer direct flights) scrapped the route in 2019. If you want to fly between the two cities, you now need to change planes somewhere – depending on the airline you're choosing, that could be Bulgaria, Belgium, or even London.
While it makes very little sense to take a nine-hour flight to reach a city that's technically only a one-hour flight away, there are some ways to take advantage of the stopover if this is the way you want to go. For example, budget airline Wizz Air offers a flight to Bratislava with a stopover in Sofia, Bulgaria. The stopover is 5.5 hours long – enough to take a quick trip into the city and walk the center. RyanAir (another budget airline) offers a flight with an 8.5-hour-long stopover in Brussels, Belgium – more than enough time to do a little exploring and maybe stop by the Royal Palace for some quick photos.
Once at the airport in Bratislava, you can easily get to the city with bus 61, which departs every few minutes.
More Related Articles on PlanetWare.com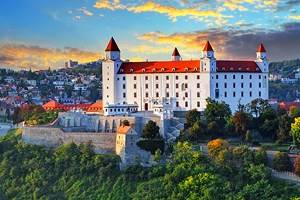 Bratislava and Slovakia: Slovakia's capital is an affordable destination no matter what your interests are as you can see on our list of top-rated cheap places to visit in Europe. Discover the highlights of the city with our article on the top attractions and things to do in Bratislava. If this is just your first stop in the country and you're interested in seeing more, have a read through our list of things to do in Slovakia.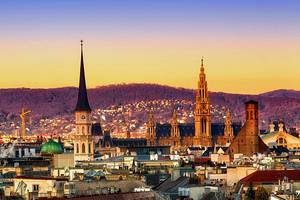 Exploring Neighboring Countries: Bratislava is close to two major European destinations: the city of Brno in the Czech Republic and Austria's capital city, Vienna. If you have some free time and want to explore, you should board one of the many ferries that depart Bratislava towards Vienna and visit some of the top-rated tourist attractions and things to do in Vienna. Heading to Brno instead? Take a look at what the CR's second-largest city has to offer in our piece, Top-Rated Attractions in Brno & Easy Day Trips.