14 Top-Rated Outdoor Adventures in Australia
We may earn a commission from affiliate links ()
Few places on the planet rival Australia for its spirit of adventure. Blessed with a mosaic of rugged and ravishing landscapes, this sun-soaked country offers the perfect settings for exhilarating outdoor adventures on land and sea.
Along the coast, you can zoom on a jet boat through a horizontal waterfall, snorkel with whale sharks, sail around the tropical Whitsunday Islands, or dive along the Great Barrier Reef.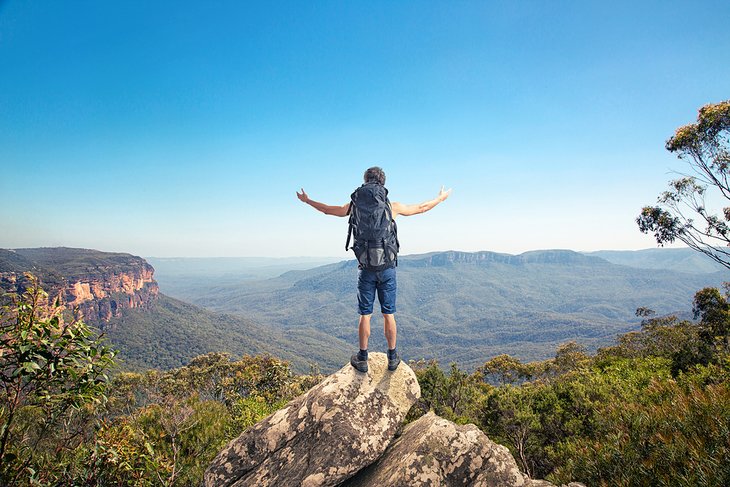 In the red-earthed deserts of the country's arid interior, more rugged adventures beckon. Australia's famous outback tracks offer the ultimate 4WD journeys, or you can hop in a kayak and paddle through towering red-walled gorges.
Many Aussie adventures take place in beautiful World Heritage-listed wilderness areas that showcase the best of Australia. You can raft the pristine Franklin River in Tasmania and drive along the beach on Queensland's K'Gari (Fraser Island), the largest sand island in the world.
Looking for adventures in the city? In Sydney, you can climb to the summit of the iconic Sydney Harbour Bridge, and less than an hour's drive away, rappel (abseil) down sheer limestone cliffs in the Blue Mountains.
Whether you want to soar over the spectacular coastline, abseil, zipline, or raft white water rapids, plan your fun with our list of the top outdoor adventures in Australia.
1. Climb the Sydney Harbour Bridge, New South Wales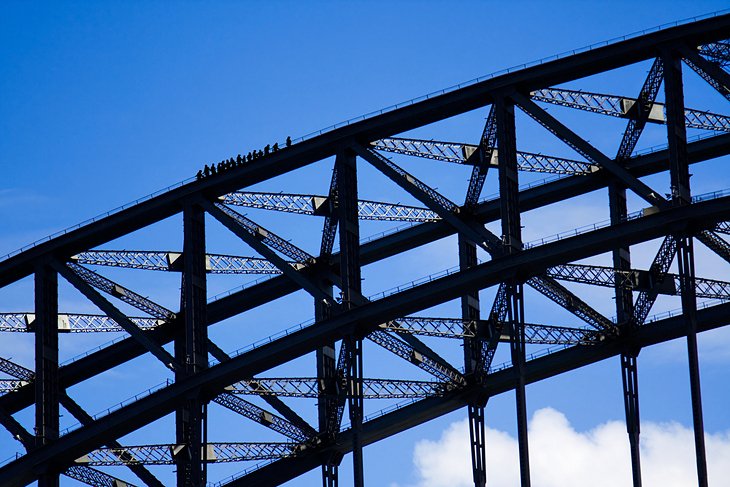 Standing atop the Sydney Harbour Bridge, one of Australia's most iconic tourist attractions, sparks the senses. Far below, the glittering harbor wriggles and coils along the coast, salty sea air bristles your skin, and you can actually feel the splendor of this stunning city.
Guided ascents of the bridge include a pre-climb prep talk, all the safety gear, a photo on the 134-meter-high summit, and entertaining stories about the history of the bridge along the way. (Did you know Paul Hogan, aka Crocodile Dundee, worked on the bridge before rocketing to international stardom?)
In addition to day climbs, you can choose from dawn, twilight, and night ascents for a different perspective of this glamorous harbor city. Plus you can learn about Indigenous history and storytelling on the Burrawa tour.
2. Four-Wheel Drive on K'Gari (Fraser Island), Queensland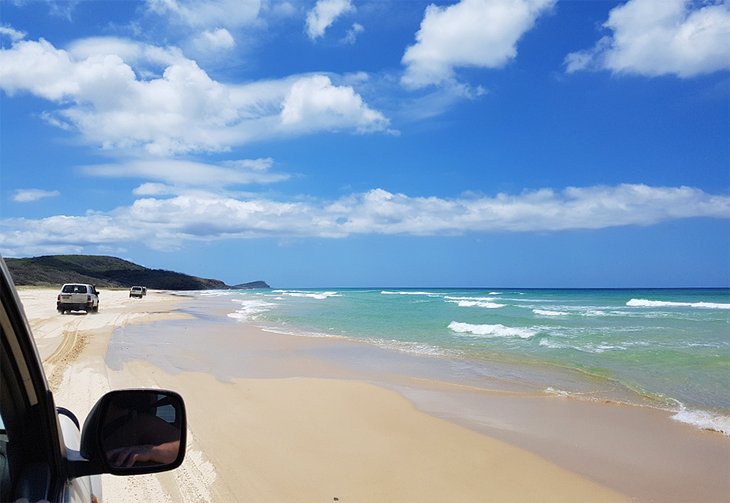 World Heritage-listed Fraser Island, off the coast of Southeast Queensland, offers one of the most unique 4WD adventures in Australia. Cruising down 75 Mile Beach, a seemingly endless stretch of wave-thrashed shore on the planet's largest sand island, is an exhilarating experience and one of the top things to do on K'Gari (Fraser Island). This is also a fun family adventure holiday.
Along the way, stop by the rusted hulls of the Maheno shipwreck, dodge dingos on the beach, and explore the red-streaked cliffs of the Cathedrals. Inland, you can jolt through subtropical rainforest to clear streams and aquamarine lakes.
Fishing, mountain biking, birding, hiking, and swimming are all popular things to do here. Want to stay a little longer? Accommodations range from the plush Kingfisher Bay Resort to apartments and bush-fringed campsites.
Since the island lacks paved roads, 4WD vehicles are essential, and high-clearance low-range capacity is a must for the soft sands of the interior.
If you don't have your own 4WD vehicle, you can join an organized tour with an expert guide. Tours range from Fraser Island day trips from Hervey Bay to two-day Fraser Island tours. You can also rent vehicles and access Fraser Island by ferry and boat services at Rainbow Beach, Hervey Bay, and River Heads. Be sure to check tide times before you leave.
3. Dive or Snorkel the Great Barrier Reef, Queensland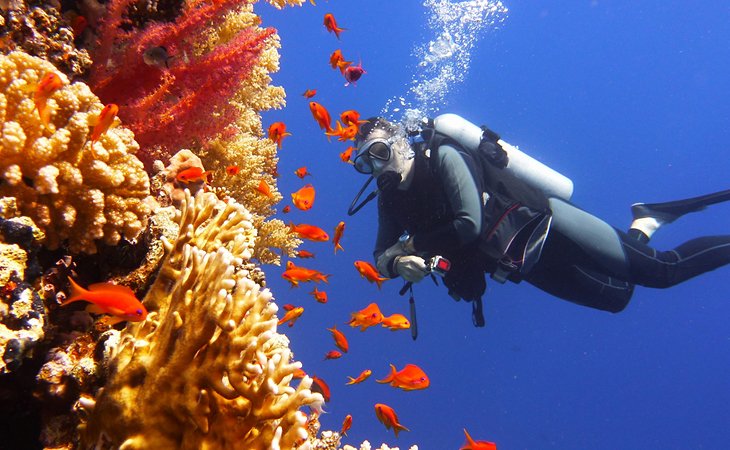 Australia is not only packed with exhilarating adventures on land, you can also explore the largest coral reef system on the planet. More than 2,900 separate reefs make up this World Heritage-listed jewel, and diving or snorkeling through these coral gardens is one of the top things to do in Queensland.
Swimming off the edge of the reef feels like flying over an aquatic jungle. Whether you're diving or snorkeling, you can see colorful hard and soft corals, dazzling tropical fish, giant clams, whales, schools of sharks, giant cod, and even shipwrecks.
Liveaboard day trips are a great way to explore many different areas of the reef. But if you're short on time, you can also take snorkeling and diving day trips from Airlie Beach, Port Douglas, and Cairns.
If you're staying in Cairns, a great option to explore this natural wonder is the Great Barrier Reef Diving and Snorkeling Cruise from Cairns. The tour includes a full-day snorkeling and diving trip, all equipment and instruction, a barbecue lunch, and an optional sightseeing helicopter flight over the reef.
The Great Barrier Reef has undergone unprecedented bleaching over the past few years, so visiting the Great Barrier Reef is a bucket-list adventure you should do sooner rather than later.
4. Ride a Jet Boat to the Horizontal Falls, Western Australia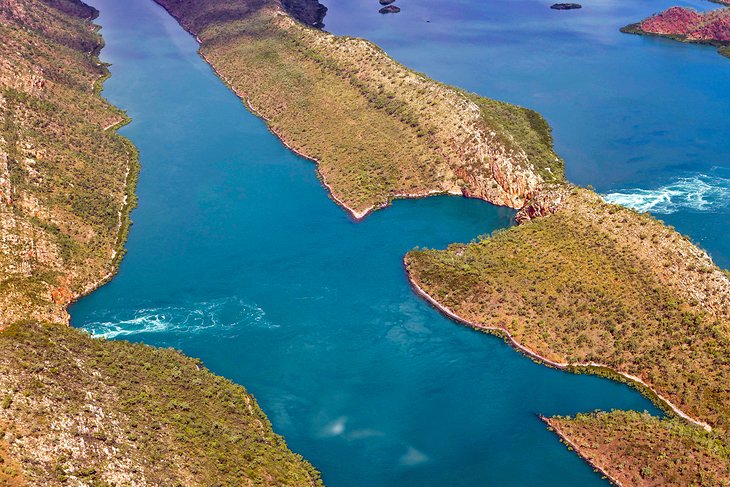 Horizontal Falls, deep in the rugged Kimberley region, offers an adrenaline-soaked adventure by seaplane and jet boat. A day trip here is one of the top things to do from Broome.
Sign up for an organized tour, and you'll enjoy a full day of fun. Tours typically begin with a low-level seaplane flight over the spectacular scenery of the Buccaneer Archipelago, where red cliffs rise along the coast, and 800 islands dot the striking turquoise sea.
After a water landing on calm Talbot Bay and a delicious lunch, hop aboard a jet boat and skid across the glassy waters to the seething horizontal falls. This freak of nature is actually created by powerful tides of up to 11 meters that gush through two narrow gorges.
When it comes to extreme adventures in Australia, this one packs in the thrills. After the cruise, the tour usually offers shark swims in the safety of a shark-proof (and saltwater croc-proof) cage.
Seaplane flights depart from Broome or Derby, and overnight stays are also available in a houseboat.
5. Sail the Whitsundays, Queensland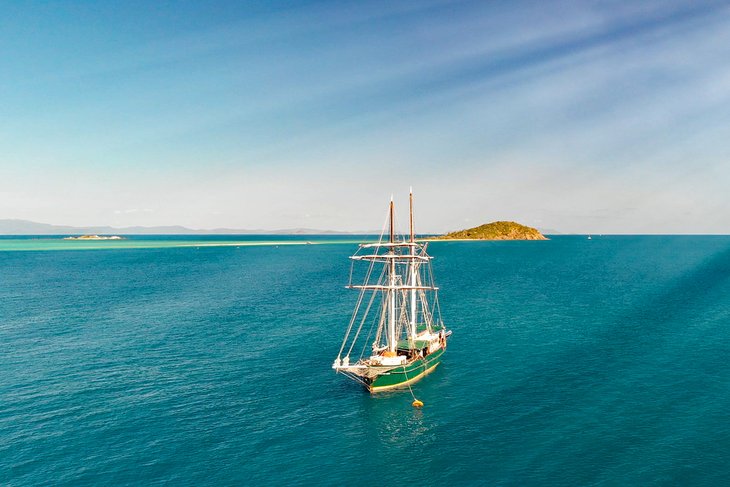 The 74 idyllic Whitsunday Islands are the perfect playground for sailing adventures. Strung along the World-Heritage listed Great Barrier Reef, the islands lie in the turquoise Coral Sea off the coast of central Queensland. Most are uninhabited and protected by six national parks, and eight are home to resorts, including the luxurious InterContinental Hayman Island Resort and Qualia Resort on Hamilton Island.
Thanks to the protective embrace of the reef, the waters are typically calm and ideal for sailing. Other top things to do in the Whitsundays include snorkeling, scuba diving, and swimming.
While you're sailing around these dreamy islands, save time to bask on the silica sands of Whitehaven Beach, one of Australia's best beaches. Visit the appropriately-shaped Heart Reef, and stop to snorkel in the underwater wonderland, teeming with tropical fish and gardens of coral. Keep an eye out for giant clams, too. Butterfly, Blue Pearl, and Hook Island Bays provide protected anchorages.
The main launching point for sailing trips is Airlie Beach on the mainland. Here, you can book classic sailing boats, catamarans, and tall ships. Both crewed and bareboat charters are available.
6. Hover in a Helicopter over the 12 Apostles, Victoria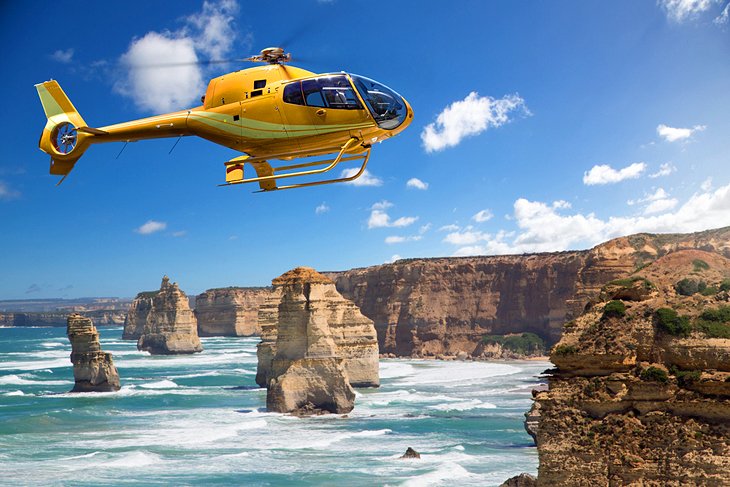 Rising from the wild sea like giant jigsaw pieces adrift from the deeply scalloped coast, the 12 Apostles in Port Campbell National Park will take your breath away. You can explore the Great Ocean Road and admire its spectacular scenery on a scenic drive, but it's even more awe-inspiring from the air.
Hop aboard a helicopter to really appreciate how the pounding surf and blasting winds sculpted this rugged coastline. In addition to the 12 Apostles, you can also see other giant rock formations, including London Bridge, Loch Ard Gorge, the Sentinel, and the Arch. This area is called the Shipwreck Coast, and a glimpse at the treacherous sea and sheer cliffs from the air reveals why.
Flights depart from various locations around the 12 Apostles. They typically take about 15 minutes and include a commentary on the history and geology of the area. You can also tour the coast in a seaplane or Tiger Moth.
7. Snorkel with Whale Sharks at Ningaloo Reef, Western Australia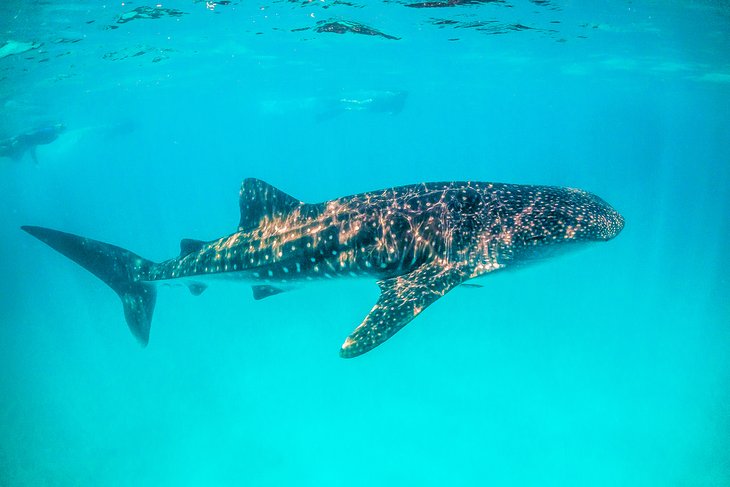 Imagine gliding effortlessly alongside a gentle 10-meter-long whale shark, the largest fish on the planet. Off Western Australia's north coast, you can make this dream come true on a Ningaloo Reef Whale Shark Snorkeling Adventure from Exmouth.
Often overshadowed by the famous Great Barrier Reef, the World Heritage-listed Ningaloo Coast encompasses the world's longest fringing reef, with 200 species of hard coral, 50 species of soft coral, and a dazzling array of tropical fish. Dugongs, dolphins, turtles, manta rays, and whales are also found in the park, but the highlight are the graceful whale sharks that swim these waters, typically between April and August. No wonder this is one of the top places to visit in Western Australia.
Once the whale sharks are spotted from a plane, a boat zips you to the perfect location, where you can don your snorkel or dive gear, plunge into the clear blue depths, and swim through a fizz of bubbles within meters of these graceful animals.
The fastest way to access Ningaloo is via a two-hour flight from Perth to Learmonth Airport. Both nearby Exmouth and the little beach town of Coral Bay make great bases for visiting the park.
8. Kayak Katherine Gorge (Nitmiluk National Park), Northern Territory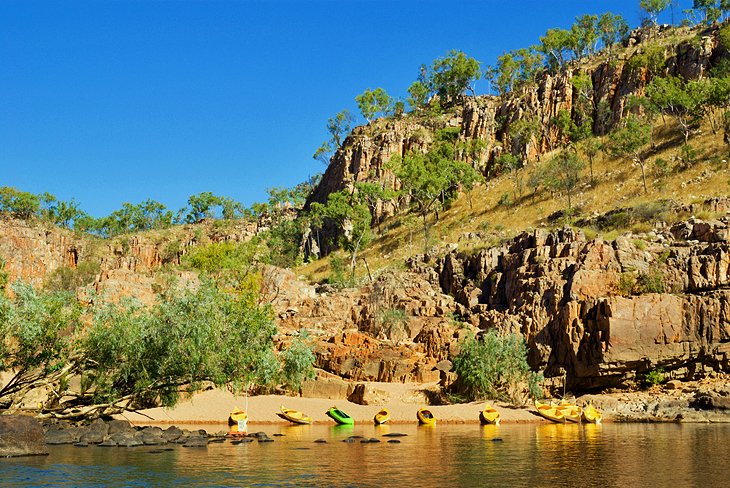 Flowing through a series of steep-walled, red rock gorges, the Katherine River in Nitmiluk National Park (Katherine Gorge) offers the ultimate outback kayaking adventure.
Cliffs rise up to 100 meters on either side of the river as you paddle through pandanus-fringed pools, past paperbark forests, and over gentle rapids. Kayaking the river allows you to go beyond the first few gorges, which can be crowded with tourists, and see even more scenic gorges deep in the park.
The safest time to kayak the gorge is during the dry season, from May through November, as the river can rise rapidly during the rainy season.
Freshwater crocodiles lurk in some of the pools, and the screech of cockatoos echoes through the steamy air. In between paddling, you can cool off in one of the tranquil lagoons.
Organized tours, some led by Aboriginal guides, typically include picnics on the sandy riverbank near peaceful waterfalls and stories about the ecology, history, and sacred sites of the area. Multi-day trips offer the chance to sleep under the stars.
You can also rent a kayak or canoe and take a self-guided Nitmiluk (Katherine Gorge) Canoe Adventure. And if you'd rather forego the paddling and just sit back and relax, opt for a Nitmiluk (Katherine) Gorge cruise.
9. Surf the Sand Dunes on Moreton Island, Queensland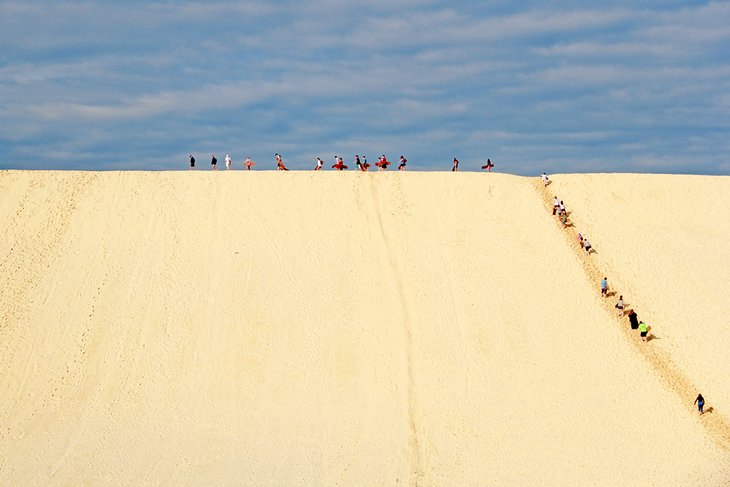 Surfing is big in Australia, but not just in the water. Beautiful Moreton Island, just off Brisbane, is home to some of the world's tallest sand dunes – up to 280 meters high – and you can zoom down them on a sandboarding adventure.
As the world's third largest sand island, Moreton Island is one of the best places in Australia to try sandboarding. Never slid down sand dunes before? No worries. You can choose a style to suit your skill level. If you're a beginner, the best option is to hop on a waxed sand toboggan and slide down the slopes on your belly.
Feeling a little more confident? Strap into a sand board, which looks a little like a snowboard, and surf the dunes standing up. You can reach speeds of up to 40 kilometers an hour.
Moreton Island is an easy day trip from Brisbane, but you can also extend your adventure and stay overnight. Tangalooma Island Resort runs regular 4WD Desert Safari Tours, as well as other adventures, including hand-feeding wild dolphins, whale watching cruises (June through October), snorkeling the Tangalooma wrecks, quad biking, kayaking tours, and more.
10. Drive the Gibb River Road, Western Australia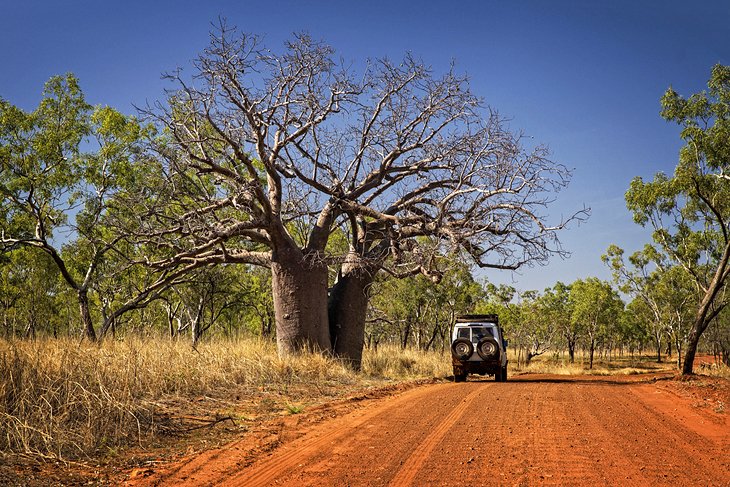 The Gibb River Road is one of Australia's legendary 4WD adventures. Deep in the remote Kimberley region, this 660-kilometer dirt track bumps and grinds past red rock gorges, rugged mountains, and rock pools fed by multi-tiered cascades.
The "Gibb," as it's called, runs from Broome or Derby on Australia's west coast to Kununurra/Wyndham on Western Australia's eastern border. You can drive the route on your own (4WD vehicles are essential) or join a multi-day guided tour.
Along the way, you can explore Windjana Gorge National Park, see freshwater crocodiles, and take a scenic flight over stunning Mitchell Falls or the bizarrely shaped rock formations of the Bungle Bungles in Purnululu National Park. Note that the road is usually closed from November through March due to flooding.
Other Gibb River Road highlights include wilderness hikes, swimming in the cool waters of steep-walled gorges, barramundi fishing, sunset safaris, and therapeutic soaks in natural hot springs.
11. Abseil (Rappel) in the Blue Mountains, NSW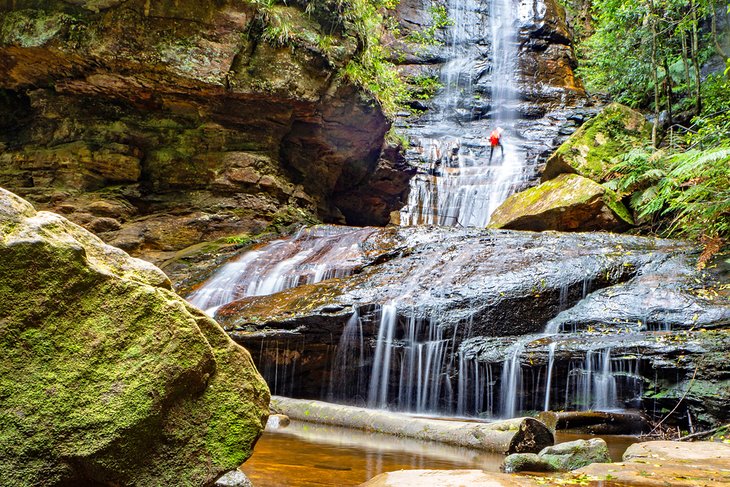 Looking for a heart-pumping adventure on a day trip from Sydney? How about abseiling (rappelling) down the sheer face of a limestone cliff in the spectacular Blue Mountains? Sliding into the misty blue haze of this World Heritage wilderness area is an unforgettable experience and an exciting way to experience the park.
Organized tours are the best way to tackle this adventure. The full-day Blue Mountains Empress Canyon and Abseiling Experience combines both abseiling and canyoning. Lessons, safety briefings, and all the necessary equipment is included, but you should bring a waterproof camera and layers of clothing, as the weather can change quickly.
While you're exploring this scenic region, don't miss some of the other rewarding things to do in the Blue Mountains. See the iconic Three Sisters rock pinnacles, hike into plunging valleys, photograph the waterfalls, and breathe in the beauty of eucalyptus-scented forests stretching as far as your eyes can see. Canyoning, rock climbing, and mountain biking tours are also available.
12. Raft the Franklin River, Tasmania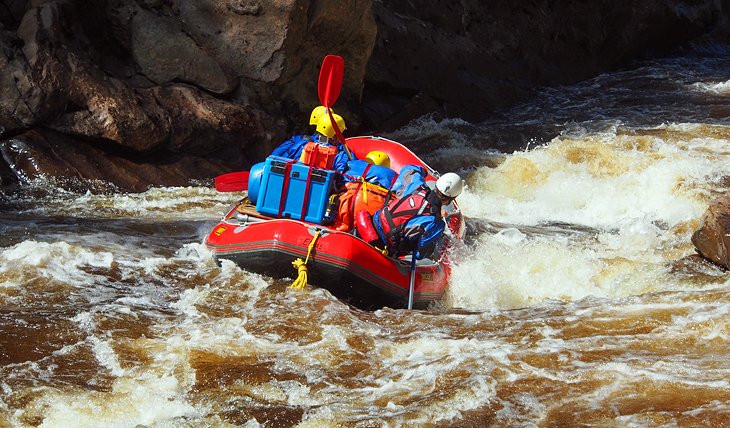 The mighty Franklin River is the setting for one of the world's great rafting adventures. Slicing through Tasmania's ravishing Word Heritage Area, this wild and beautiful river remains a triumph of the environmental movement.
In the 1980s, passionate activists led a successful campaign to protect the Franklin River from being dammed. Today, thanks to their efforts, you can enjoy the primeval beauty here on a multi-day rafting adventure.
Trips typically range from 5-10 days and run the entire 125-kilometer length of the Franklin River to the Gordon River through a pristine wilderness of eucalyptus forests, tranquil pools, and roiling rapids. Wildlife in the region includes wallabies, platypus, and black cockatoos.
No previous rafting experience is necessary, although rafters should be physically fit in order to help portage at the wilder sections of the river, some of which are Class VI rapids. Trips include equipment, meals (usually prepared with fresh local produce), and experienced guides.
13. Travel the Oodnadatta Track, South Australia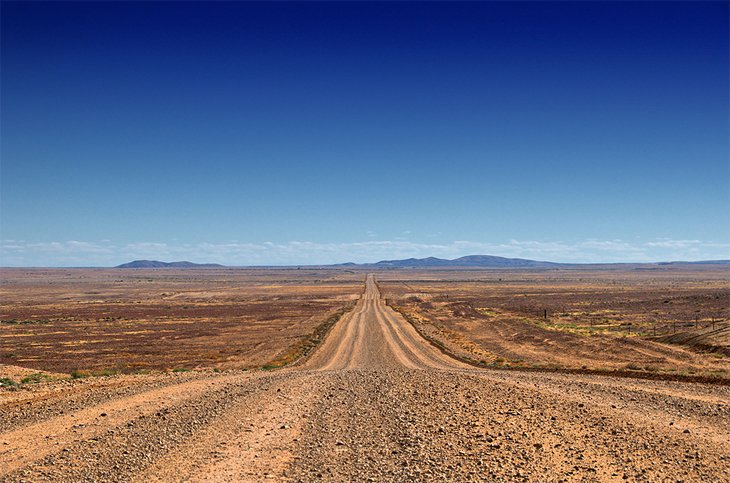 Few adventures could be more quintessentially Australian than traveling the Oodnadatta Track. Cutting through the red hot heart of South Australia, this famous 620-kilometer unsealed road takes you away from the tourist throngs and deep into the Aussie outback.
Follow ancient Aboriginal trade routes, drive through an inland seabed, and pass the remnants of the Old Ghan railway. Along the way, you can meet an affable cast of genuine Aussie characters, and admire the stark beauty of the red-earthed desert.
Mingle with the locals at the tiny outpost of William Creek (population 10), which seems straight out of a movie set from Crocodile Dundee. Drive through Anna Creek, the largest cattle station in the world – it's the size of Belgium.
Want to extend your outback adventure? Linger in the opal-mining town of Coober Pedy, where you can dig for the iridescent gems and stay in a subterranean hotel.
One of the top places to visit in South Australia, this rugged route is suitable for a two-wheel drive, though 4WD is recommended. Better still, join the Coober Pedy to Oodnadatta One Day Mail Run and let someone else do the driving. On this classic Aussie journey, you can help deliver mail to remote outback cattle stations while learning about the area's history and ecology.
14. Horseback Ride along Cape Tribulation, Queensland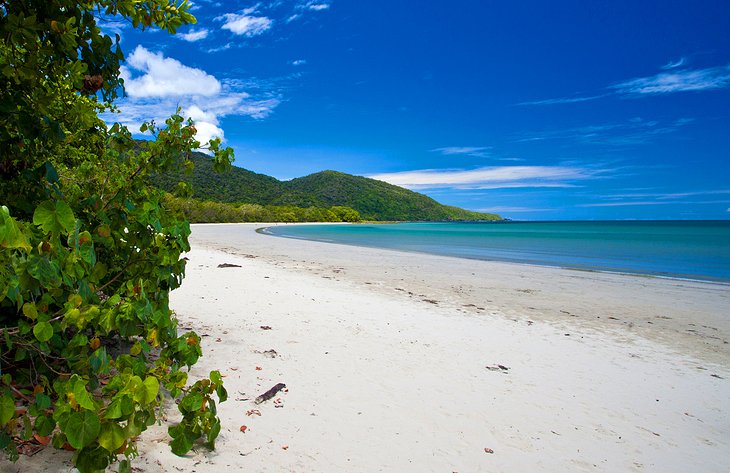 Cape Tribulation is one of the few places in the world where two of the planet's richest ecosystems – coral reef and rainforest – meet along dazzling white-sand beaches. A fun way to explore this rich beauty is on a guided Beach Horse Ride in Cape Tribulation. This 90-minute afternoon tour takes you through the lush Daintree Rainforest, eventually emerging onto picture-perfect Myall Beach.
Along the way, you'll learn all about the diverse rainforest plants and animals from your expert guide, and you can plod along the soft-sand shore. If the water is clear enough, you can even walk your horse into the shallows for a cool dip and a photo op.
Everything you need is included – helmets, saddle bags, and rain jackets. Plus, this family-friendly Aussie adventure is suitable for all ability levels.
More Related Articles on PlanetWare.com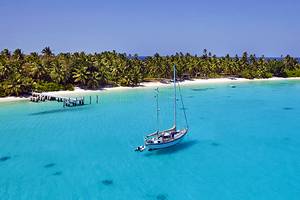 More Aussie Adventures: If you're looking for other Australian adventures, take a look at our article on the Top-Rated Hikes in Australia, from the Kings Canyon Rim Walk to the summit hike up Mount Kosciuszko, Australia's highest mountain. If water-based fun is more your style, check out the Top-Rated Beaches in Australia and best fishing destinations from coast to coast. Still trying to figure out the best places to visit? Our article on planning your trip to Australia will help you create an itinerary to suit your travel timeframe and interests.