13 Top-Rated Attractions & Things to Do on Fraser Island (K'Gari)
Welcome to one of the most unique 4WD nature safaris in the world. Called K'Gari, meaning "Paradise," by the local Butchulla people, this wildlife-rich World Heritage-listed island, off the coast of South East Queensland, is the largest sand island on the planet. Drive along its seemingly endless dune-backed beaches in the salty sea breeze, and you'll feel an intoxicating spirit of adventure.
K'Gari (Fraser Island) certainly lives up to its name. Most of the island belongs to Great Sandy National Park, a protected area of diverse habitats and dazzling beauty. Subtropical rainforest, wild beaches, towering sand dunes, and turquoise lakes are just some of the natural attractions you can explore here.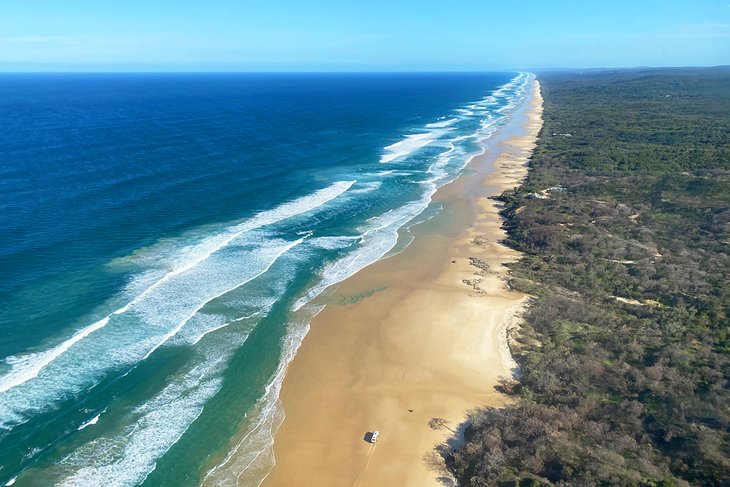 Wildlife is another highlight. Dingoes, kangaroos, sugar gliders, and brushtail possums are among the many unique creatures who call the island home, and humpback whales, dugongs, and dolphins swim in its waters.
Looking for adventure? You'll find it here. Besides off-road driving on miles of wave-thrashed shoreline, top things to do on K'Gari (Fraser Island) include hiking along the beautiful beaches and rainforest trails, fishing off the eastern beach, swimming, birding, mountain biking, and camping.
Subtropical K'Gari (Fraser Island) is popular year-round thanks to its hot summers and mild winters. Note, though, that if you're driving on the island, a high-clearance 4WD vehicle with low range capability is essential. Check current conditions and safety information before you head out.
So what are you waiting for? Start planning the trip of a lifetime with our list of the top things to do on K'Gari (Fraser Island).
1. Drive along 75 Mile Beach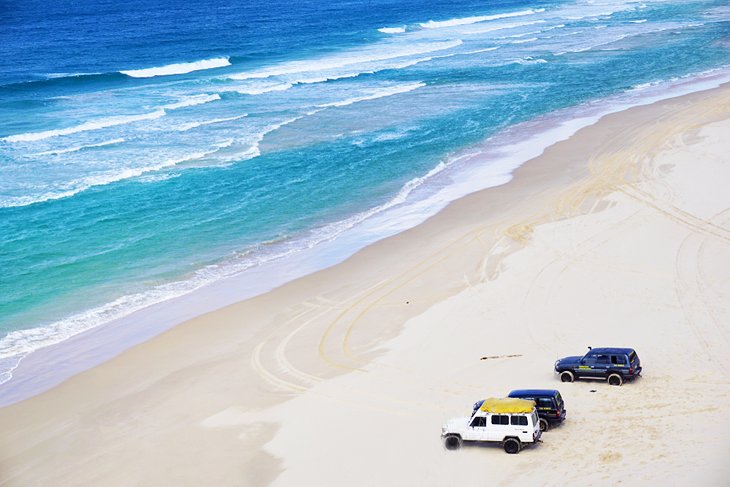 Driving along 75 Mile Beach (also called Seventy-Five Mile Beach) ranks as one of the top outdoor adventures in Australia. Skirting the east coast of K'Gari (Fraser Island), the road is a National Highway and also serves as a landing strip for light aircraft.
The second your car descends from the ferry and hits the sand, with miles of untamed shoreline stretching as far as the eye can see, you'll feel an overwhelming sense of freedom wash over you.
Sightseeing is also rewarding along this wide-open beach. The rusted hull of the Maheno shipwreck is a popular stop, as well as the multicolored cliffs of the Pinnacles and the bubbly rock pools, called Champagne Pools.
While you're driving, keep an eye out for wildlife. Dingoes often pad along the shore or in the dunes, and humpback whales swim these waters during their annual migration (August through October). You might also see the occasional shark fin slicing through the sea - a warning to unsuspecting swimmers that tiger sharks prowl these waters. Dangerous surf and strong riptides are a further deterrent in case you're thinking about a relaxing dip.
The speed limit is 80 kilometers per hour in good conditions, and it's important to heed the tides. Stories of rental vehicles swept away in rising seas are a somber warning for drivers, but for many tourists, this merely adds to the excitement.
From the mainland, the fastest and easiest way to access 75 Mile Beach is on vehicle and passenger barges, which depart from Inskip Point, a 15-minute drive from Rainbow Beach.
If you're worried about driving on the island or don't have an all-wheel-drive vehicle, the best option is a 4WD Tour of Fraser Island from Hervey Bay. This full-day tour visits all the island's highlights accompanied by the entertaining commentary of an expert guide.
2. Swim in Lake McKenzie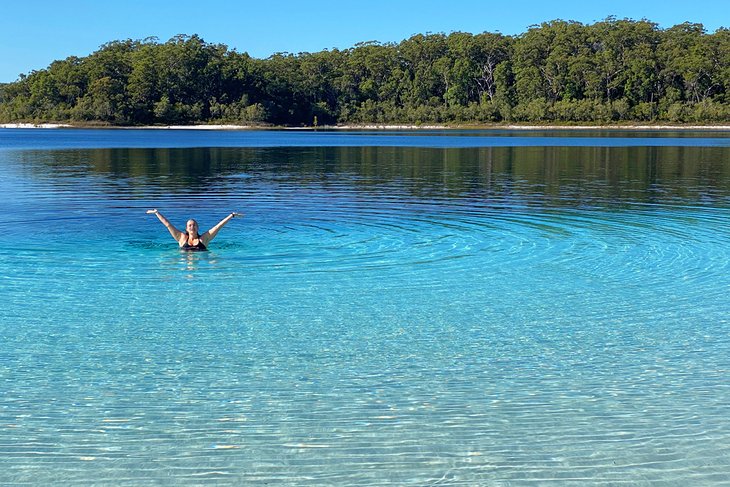 Lake McKenzie (Boorangoora) is one of Fraser Island's most-visited attractions - and for good reason. One of more than 200 freshwater lakes and creeks on Fraser Island, the lake offers a striking combination of sublime white sand and clear waters in vivid shades of blue. It's the perfect place for a refreshing dip.
The sand here is actually silky-soft silica. It filters the rainwater of this perched lake, making it so pure that it supports little aquatic life. Many visitors come here to sprawl on the satiny shores and swan about in the crystal-clear water.
The best time to visit Lake McKenzie is early in the morning before the tour groups arrive. Camping near the lake is another great way to avoid the crowds and experience its beauty at different times of the day.
Another waterhole worth visiting is Lake Birrabeen. One of the Fraser Island hidden gems, this perched lake in the center of the island rivals the beauty of Lake McKenzie but lies off the main tourist bus circuit, meaning it's typically less crowded.
3. Look for Wildlife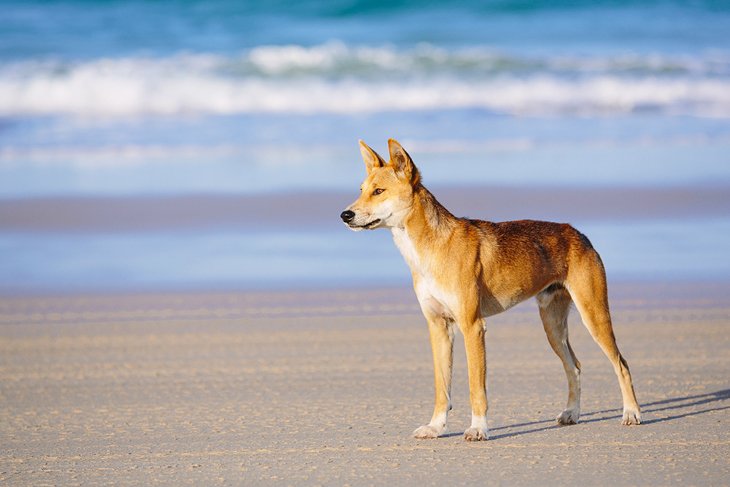 Spotting wildlife is a highlight of any visit to K'Gari. The rich variety of fauna here reflects the island's diverse habitats. On land, you might spot dingoes, reputedly Australia's purest strain; sugar gliders; brushtail possums; flying foxes; snakes; and sand monitors; among other species.
Birding is also superb. More than 354 species have been spotted on the island, including pied oystercatchers, white-bellied sea-eagles, brahminy kites, yellow-tailed black-cockatoos, and king parrots.
Under the water, the animal life is just as rich. Dolphins, dugongs, stingrays, turtles, and sharks (particularly tiger sharks) swim these waters, and humpback whales migrate past the island from August through October.
Whale-watching trips depart from Hervey Bay on the mainland and cruise along the Fraser Island coast - it's one of the top things to do in Hervey Bay. If you're feeling super adventurous, you can also book a package that includes a swim with the whales.
4. Explore the Maheno Shipwreck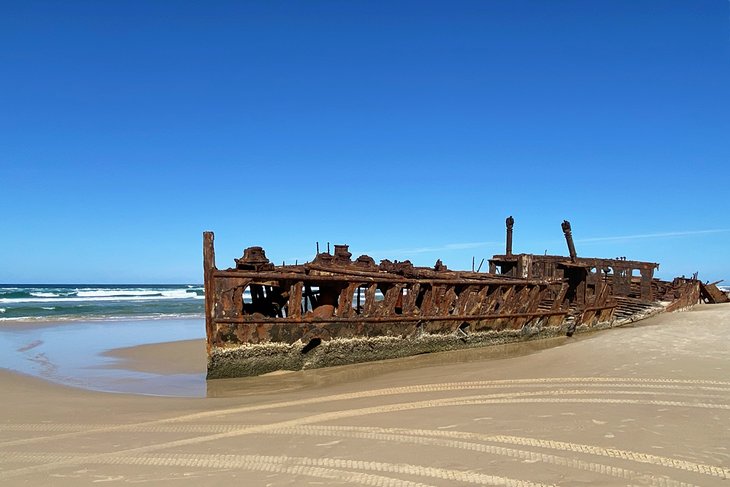 You can't miss the Maheno. About 10 kilometers north of the tiny settlement of Happy Valley, this rusty shipwreck looms along the shores of 75 Mile Beach and is usually surrounded by tourists clicking away with their cameras.
The boat was once a trans-Tasman liner. In 1935, a cyclone swept it ashore while it was being towed from Sydney to Osaka. The eight crew on board camped on the beach for a couple of days until help arrived, but the ship could not be refloated, and attempts to sell the vessel were unsuccessful.
Today, its rusted skeleton is a haunting landmark along this wind-whipped stretch of coast. Sand is slowly engulfing the remains, but it's still an impressive sight and a worthwhile stop for a photo op as you're driving along the beach.
5. Stroll the Rainforest Trails near Central Station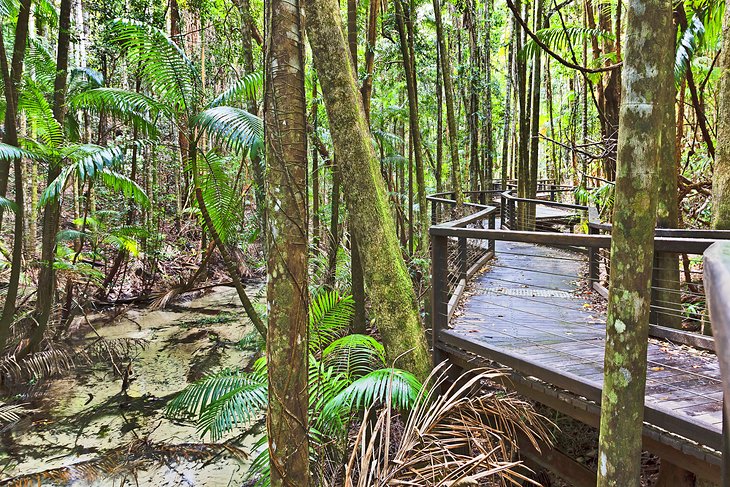 Cool and sheltered, the rainforest trails at Central Station provide the perfect complement to the wide-open, windswept beach. Central Station was once the center of logging operations. Now it marks the starting point of some of the island's most picturesque hikes.
One of the most popular hiking trails is the easy .7 kilometer Wanggoolba Creek trail, which weaves through subtropical rainforest. A boardwalk follows the fern-fringed creek through picabeen palms, vines, and strangler figs. This area is also home to the impressive king fern, which grows and sprouts the largest fronds in the world.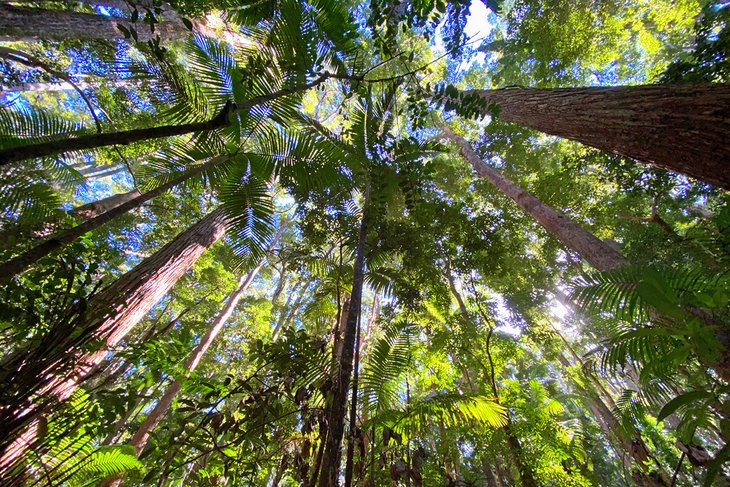 Below the boardwalk, the creek's water is so clear, it looks almost invisible as it flows silently over the soft, white sand. From here, you can continue on a trail through forests of tall eucalyptus and satinay trees to the shores of beautiful Basin Lake on a four-kilometer (approximately two-hour) circuit trail.
Before or after your rain forest hike, be sure to browse the exhibits on the island's history and ecology. Central Station is also a great place for a picnic.
6. Float along Eli Creek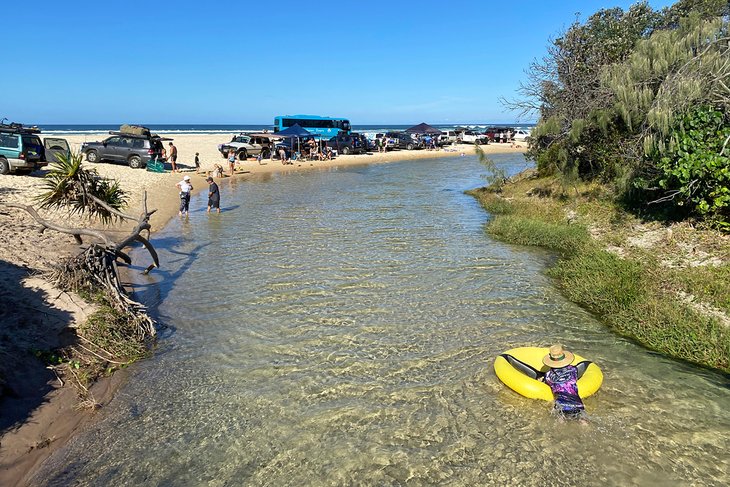 Eli Creek is a popular picnic and swimming spot along 75 Mile Beach. Deceptively powerful, the creek pours about four million liters of fresh water into the sea every hour. A pandanus-fringed boardwalk along the creek leads to a bridge. It's a lovely spot to soak up the view and capture a photo of the creek running out towards the beach.
Under the bridge, you can usually see visitors, kids in particular, splashing around and floating down the creek's fast-flowing waters on inflatables, one of the top free things to do on Fraser Island. Change rooms and restrooms are nearby. While you're here, keep an eye out for jungle perch, eels, and frogs.
Note that drivers should take care when crossing the creek in a vehicle as it often carves deep channels along the beach.
7. See the View from Indian Head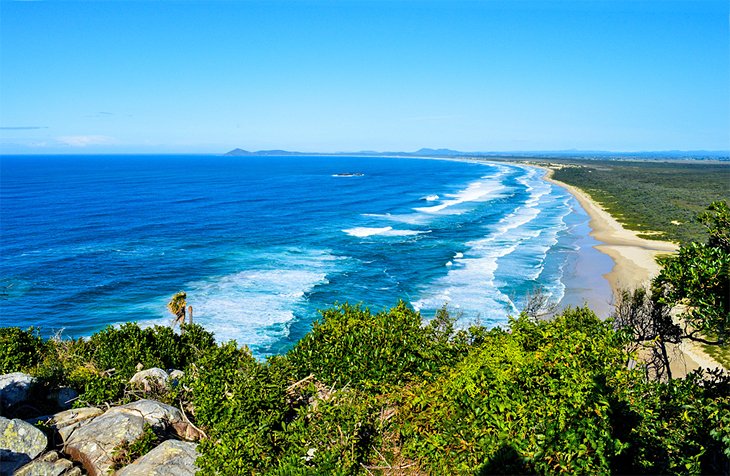 At the far northern end of 75 Mile Beach, Indian Head is the island's most easterly point. From here, you can enjoy breathtaking, panoramic views along the wave-washed shores, as well as the rolling dunes and scrub beyond. It's about a 15- to 20-minute climb over soft, dry sand to the top of point, but the hike is well worth the trouble.
This is also a fantastic spot to look for wildlife along the shore - especially during winter, when tailor, also known as bluefish, gather to spawn. Depending on the time of year, you might also see manta rays, sharks, whales, dolphins, and turtles. Not surprisingly, this is also a top spot for fishing.
8. Stay at Kingfisher Bay Resort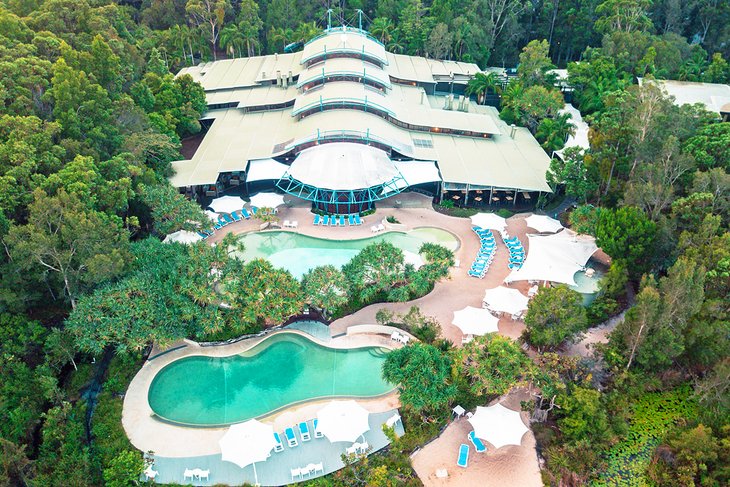 Just because you're on a nature adventure doesn't mean you have to rough it. If you're the type of traveler who wants to be immersed in nature but with all the comforts of home, Kingfisher Bay Resort is the best place to stay on K'Gari (Fraser Island). Hop on the Kingfisher Bay ferry from River Heads, and you can be at this 4-star eco-resort in around 50 minutes.
Accommodations are varied and suit every type of traveler. Choose from hotel rooms, newly renovated king rooms, one- or two-bedroom villas, or holiday homes. All have beautiful views of the surrounding forest.
Dining is also decadent. Four dining venues cater to every whim, from share platters at Sand & Wood to poolside dining and sunset views at the beachside snack bar. You can even sign up for a Bushtucker Talk and Taste and sample the island's native foods.
Wondering what to do on Fraser Island (K'Gari) without a car? This four-star eco-resort makes the ideal base for car-free adventures. Once you're here, you can sign up for adventure-packed Fraser Island tours. Favorites include The Beauty Spots Tour, which takes you to all the islands' highlights, and Sea Explorer cruises.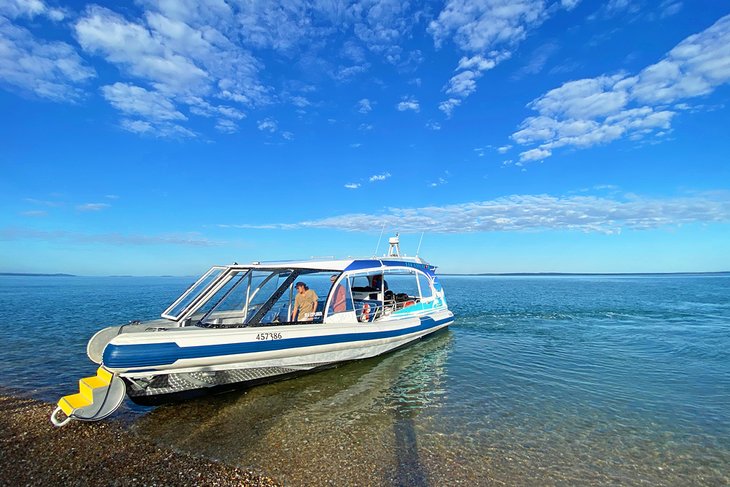 Better still, book the K'Gari Getaway coast-to-coast itinerary, which also includes a stay at Kingfisher's sister resort, Eurong Beach Resort. On this tour, you can explore both sides of the island, including some of the more remote tourist attractions like Lake Wabby.
Even if you're not staying at the resort, you can learn all about the island's unique ecosystems at the new K'gari World Heritage Discovery Centre. Plus you can plan the best places to visit with help from the friendly staff and a Fraser Island attractions map.
Official site: https://www.kingfisherbay.com/
9. Hike the Fraser Island Great Walk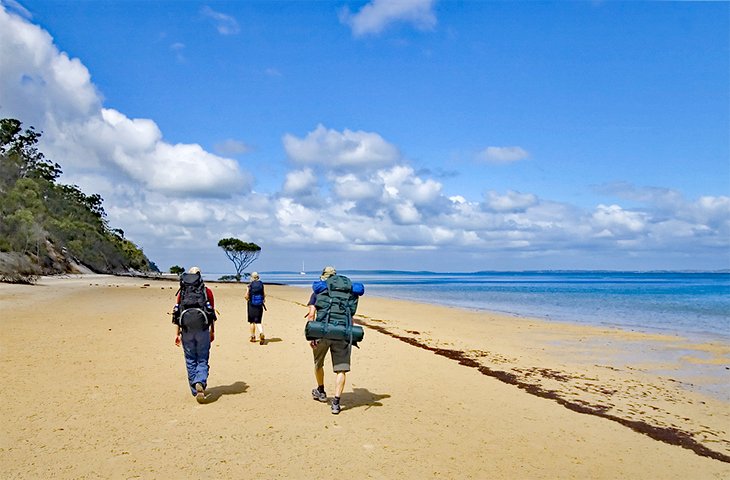 The Fraser Island Great Walk is one of the best things to do on Fraser Island without a car. This 90-kilometer trek traces the tracks of old logging routes and the island's first human inhabitants, the Butchulla people.
Wandering along the wild windswept beaches of Fraser Island is a highlight. The trail also passes some of Fraser's most popular tourist attractions, including crystal-clear Lake McKenzie, the subtropical rainforest and historic exhibits of Central Station, Wanggoolba Creek, and dune-backed Lake Wabby. You'll also pass the small settlements of Dilli Village and Happy Valley, where you can stock up on supplies.
This walk is relatively easy and takes about six to eight days, with walkers' camps along route. You can also break the trek up into smaller sections if you're short on time.
Those seeking a little luxury after the hike can rest up at Kingfisher Bay Resort, on the island's western side, and soothe their weary muscles at the resort's Island Day Spa.
10. Climb the Dunes at Lake Wabby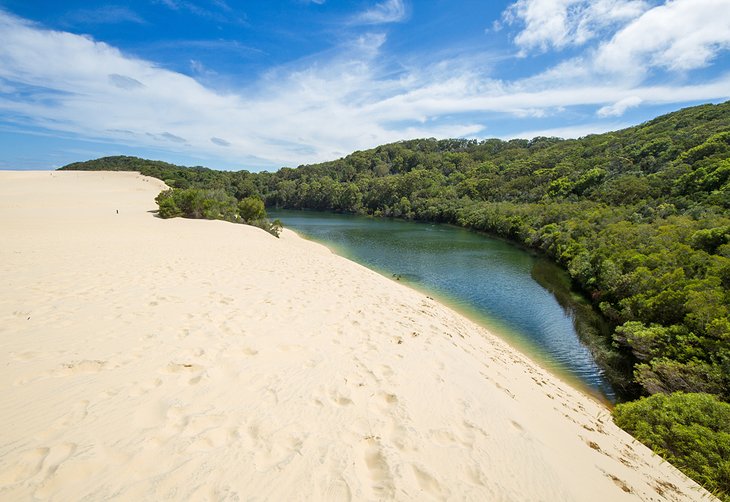 K'Gari's deepest lake, Lake Wabby is a great place to see nature in action. It's both a window lake and the only barrage lake on Fraser, meaning the natural spring is blocked by a giant sand bank. Bordering its blue-green waters, the towering Hammerstone Sandblow engulfs the lake by about a meter per year, a testament to the constantly evolving landscape.
From the lake parking lot, it takes about 40 minutes to hike to the lake, but the journey is mostly uphill on soft sand, so it's best to start early before the strong heat of the day.
If you're feeling less energetic, you can climb to a lookout with superb views of the wind-sculpted landscape, the sand blow, and the water it is quickly smothering. From the lookout parking lot, it's only 450 meters to the viewpoint, and then another 1.5 kilometers to the lake.
Once you arrive, at the lake, you can cool off with a refreshing dip. Don't be surprised if you feel something nibbling your toes; this is the only lake on the island that supports fish, and they like to help exfoliate your feet.
11. Soar Over the Island on a Scenic Flight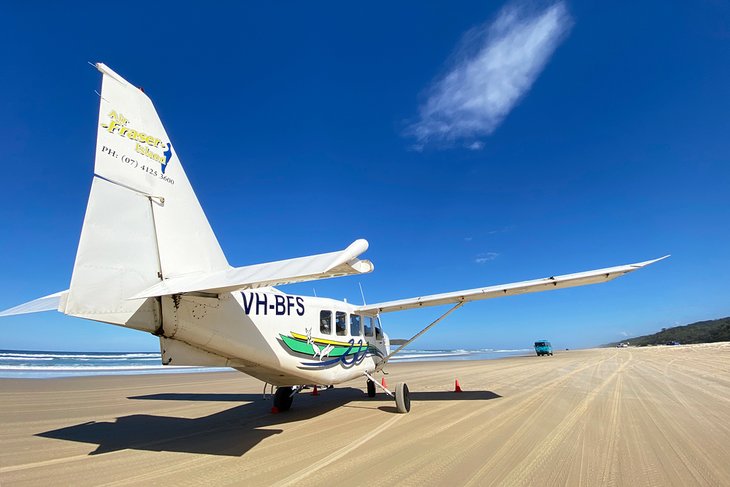 Scenic flights provide a unique perspective of K'Gari's raw beauty. Soar over golden-sand beaches that seem to stretch on forever, washed by the crashing blue surf. See sand dunes rippling through the island's heart, fringed by emerald rainforests, and swoop over Butterfly Lake.
Short on time? This is the best way to catch a glimpse of all the top attractions on the island in a quick 15-minute tour.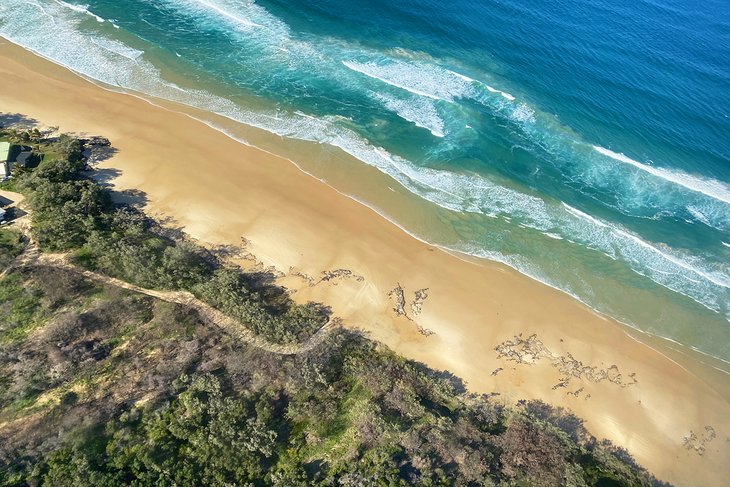 Air Fraser Island is the only tour company operating these flights. Take-off and landings are along 75 Mile Beach.
Official site: https://airfraserisland.com.au/
12. Camp in the Rainforest or on the Beach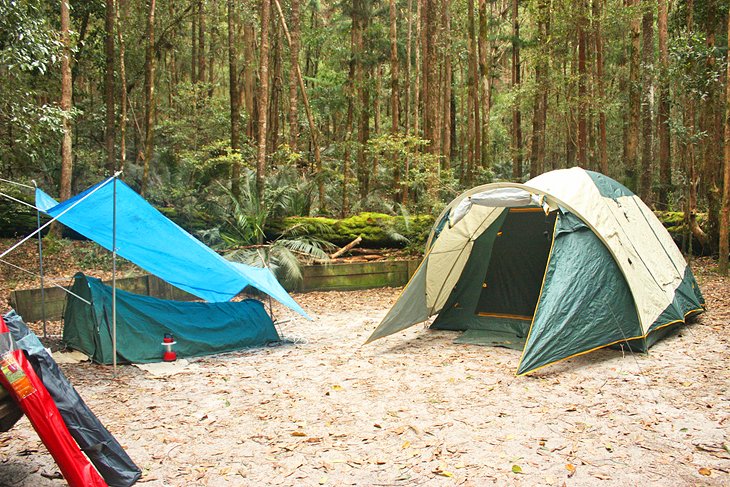 Sleeping in the rainforest or snoozing to the sounds of waves crashing along the shore, makes a Fraser Island adventure even more fun. The island has more than 45 campsites strung along its beautiful beaches and tucked in the rainforest. Most of the sites are run by the Queensland Parks & Wildlife Service and offer easy access to the island's top attractions.
If you want to avoid the crowds and don't need facilities, opt for one of the more remote sites, like Caree and Diray along the Sandy Cape, on the far northern tip of the island. You can also camp along the more secluded western beach.
For more facilities and creature comforts, Cathedrals on Fraser is a private site. Here, you can pitch your own tent or snuggle into permanent tents. You'll also find a well-stocked shop, which serves hot food.
Families with children under 14 years of age should choose a camp with a dingo-safe fence. You can book up to six months in advance, and this is highly recommended during peak periods, when many sites fill to capacity.
Official site: https://qpws.usedirect.com/qpws/
13. Fish Off the Beach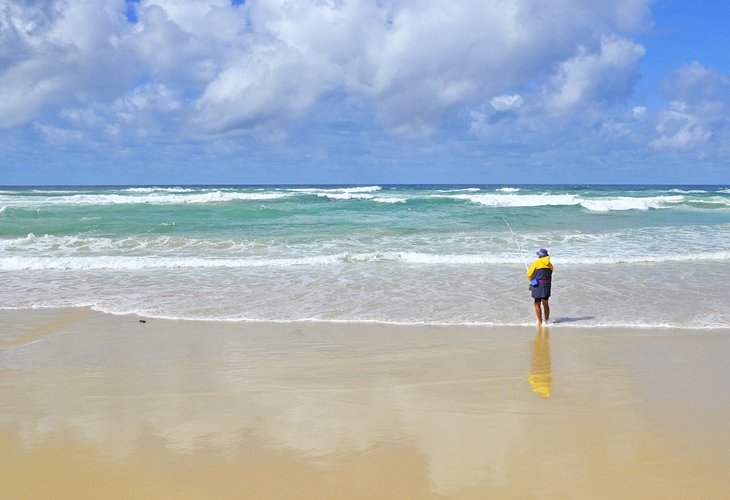 Fraser Island is a top spot for beach fishing. If you're willing to brave the 4WD traffic, casting along 75 Mile Beach can be exhilarating and rewarding, especially from July through November, when tailor spawn along the coast. Other popular catches include bream, whiting, flathead, mackerel, tuna, trevally, and sharks, among other species.
Fishing the gutters along the beach can be productive, especially near Waddy Point or north of the Maheno. Other prime casting spots include Sandy Cape, the island's northernmost point; Indian Head; and Middle Rocks.
Major bonus: The island has plenty of fresh bait, including worms, pippis, and yabbies (a type of shrimp), and you can harvest it yourself. Note that fishing in the island's freshwater lakes and streams is prohibited.
Tips and Tours: How to Make the Most of Your Visit to Fraser Island
Renting a 4WD vehicle can be expensive, and it can be difficult to navigate your way around the island's soft sand tracks, but a tour will handle all these details so you can relax and explore the stunning scenery. Most include meals; national park fees; hotel pickup and drop-off; and all transportation, including the Fraser Island ferry.
Two-Day Trip from Hervey Bay: Spending two days on the island gives you a chance to explore more of the island's unique ecosystems. The 2-Day Fraser Island tour from Harvey

Bay

gives you time to see all the top sights, as well as hike some of the trails near Central Station, swim in Lake McKenzie, hike to the viewpoint at Indian Head, soak in the Champagne rock pools, and visit Lake Wabby. This tour also includes an optional scenic flight.
How to Get to Fraser Island: You can access the island by car ferry and boat services from Rainbow Beach, Hervey Bay, and River Heads.
Map of Attractions & Things to Do on Fraser Island (K'Gari)
More Related Articles on PlanetWare.com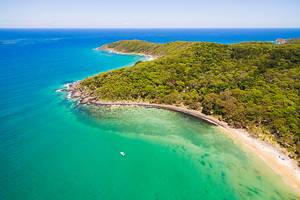 Other Queensland Adventures: If you're looking for things to do near Fraser Island, Hervey Bay is the whale watching capital of Australia and one of the country's best fishing destinations. Anglers come here to hook golden trevally on the crystal-clear flats, and you can also cast for tuna, giant trevally, and cobia, among other species. About a two-hour drive south of here, Noosa Heads is a chic resort town with sparkling beaches, fantastic surf breaks, and a wildlife-rich Noosa National Park.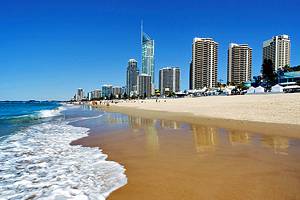 Brisbane and Beyond: For urban adventures, drive a couple of hours south from the Sunshine Coast to Brisbane, the state capital. Museums, botanic gardens, and the lovable koalas at Lone Pine Sanctuary are some of the highlights here, and you'll find plenty of appealing day trip ideas, from idyllic islands to lush national parks. This is also a fun family-friendly destination. See our article on top things to do with kids for ideas.