17 Top-Rated Tourist Attractions on the Gold Coast, Australia
The Gold Coast is one of Australia's most famous vacation destinations. Surfers Paradise is the tourist hub of this glamorous coastal strip, which stretches along the South East Queensland coast from Coolangatta to Southport, and it's a bit like an Aussie version of Miami Beach. Skyscrapers back a beautiful stretch of blond beach, and designer shops and lively entertainment venues sit a short stroll from the soft sands. Not far from the city, the famous Gold Coast theme parks add to all the exciting things to do.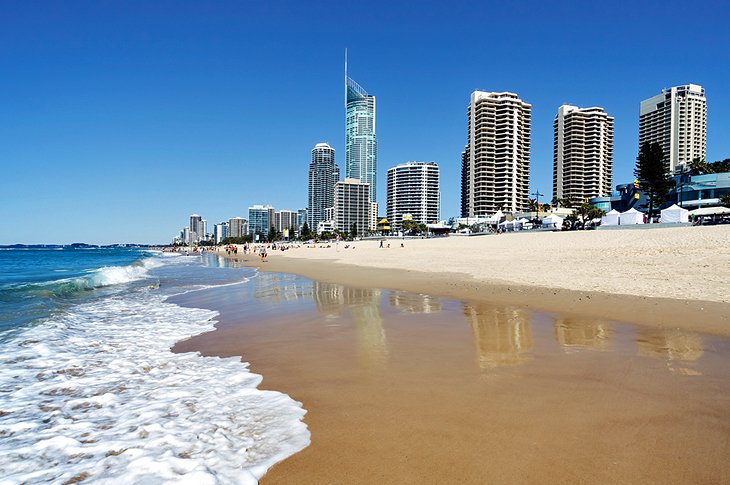 Beyond the buzz of this holiday hot spot, you'll find plenty of peaceful escapes. Golden beaches stretch for miles south to Coolangatta, and wildlife parks top the list of popular family attractions. In the hinterland, nature lovers can relax amid rolling green valleys, lushly cloaked peaks, and World Heritage-listed rainforests. Best of all, the sun shines on the subtropical Gold Coast more than 300 days a year.
Find the best places to visit on this sun-soaked coast with our list of the top attractions on the Gold Coast.
1. Surfers Paradise Beach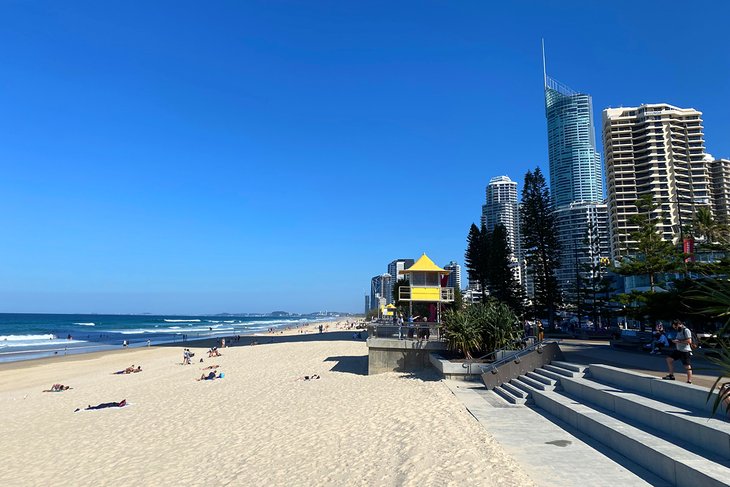 Sun, sand, and sea – the Gold Coast's alliterative assets – are on impressive display at this iconic three-kilometer-long beach. Despite all the skyscrapers rising behind the beach and the many bronzed bodies basking along its shore, it remains a surprisingly clean and picturesque stretch.
Kids can splash around in the shallows or build sandcastles in the soft white sand. Surfers can ride the typically gentle swells, and if you want a break from the sun, you can seek shelter in one of the many nearby shops, cafés, and restaurants. For all these reasons, it's often considered one of the best beaches in Australia for those who like plenty of amenities on tap.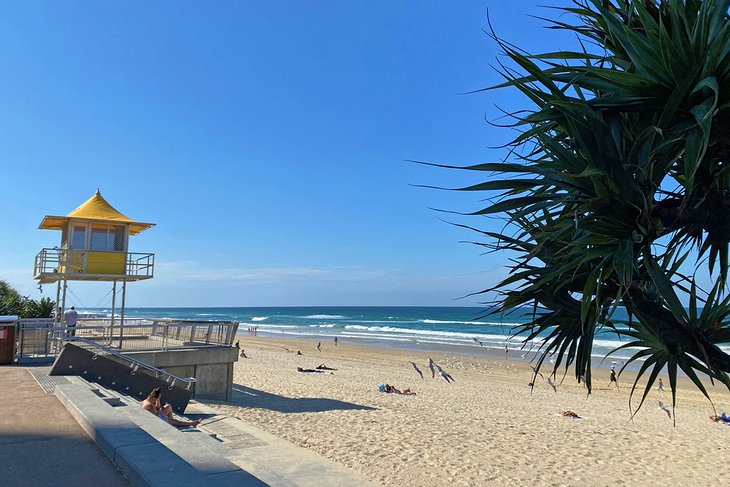 Lifeguards patrol 365 days a year, but swimmers should stay between the red and yellow flags at all times. At night, the beach is illuminated for evening strolls.
Bargain hunters flock here Wednesday, Friday, and Sunday nights from 4 to 9pm to the Surfers Paradise Beachfront Markets with more than a hundred stalls, selling everything from fashion, photographs, and art to souvenirs and jewelry.
Location: The Esplanade, Surfer's Paradise
2. SkyPoint, Surfer's Paradise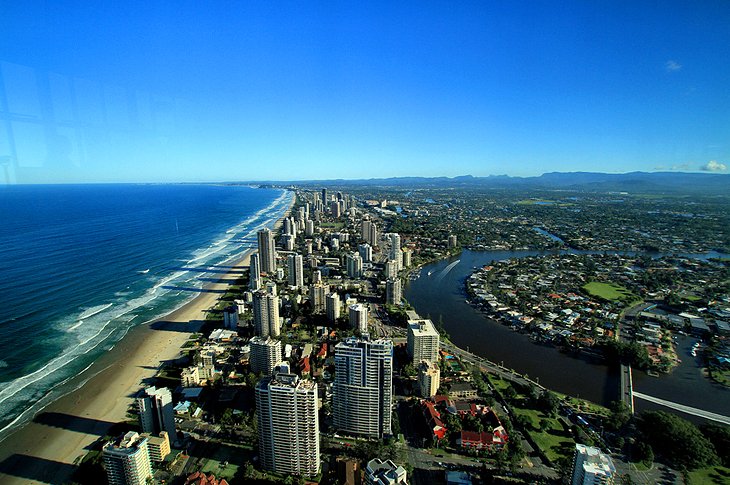 SkyPoint, in the contemporary Q1 Resort and Spa, is Australia's tallest residential tower and offers giddy views of the entire Gold Coast. You can choose from two sightseeing attractions here. The SkyPoint Observation Deck on level 77 affords 360-degree panoramas of the Gold Coast, the sea, and the distant green hinterland.
Those seeking a little more adventure can opt for the SkyPoint Climb, where thrill seekers clamber upon a 270-meter-high platform perched above the city. It's an exciting way to appreciate the lay of the land. The pricier SkyPoint Climb includes entry to the observation deck, where you can relax at the café and browse the informative exhibits to help plan your stay. Morning, day, and twilight climbs are available.
Looking for fun things to do on the Gold Coast at night? Take the night climb and see the city ignite with a dazzling display of lights.
Official site: https://www.skypoint.com.au/
3. Currumbin Wildlife Sanctuary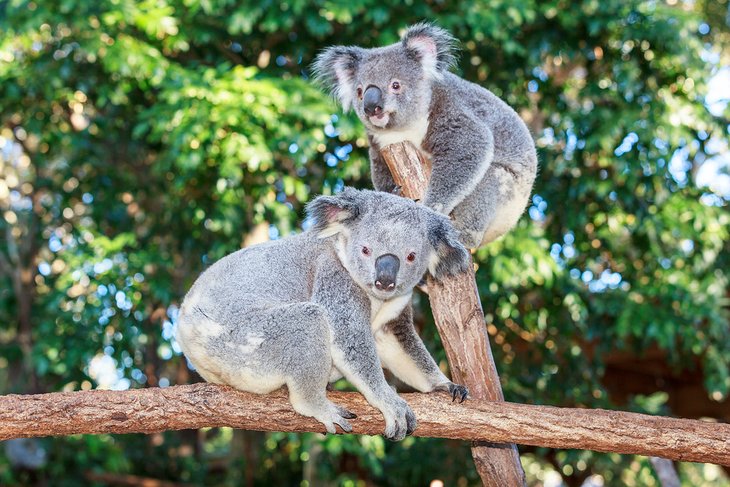 Currumbin Wildlife Sanctuary is one of the top Gold Coast activities for families. The non-profit National Trust of Australia Queensland owns this well-known wildlife park, and you'll find plenty of things to love here.
Bird lovers are in for a treat. Hundreds of brightly colored rainbow lorikeets eat from visitors' hands and even perch on their heads.
Other highlights include the free-flight bird show, a Tarzan-worthy Adventure Park High Ropes Course, Segway tours, and a little train that will delight toddlers. Special animal encounters enhance a visit – book a breakfast with the koalas or get up close with an echidna, red panda, or cotton-top tamarin.
Any budding vets in your group? Sign up for a viewing experience at the Wildlife Hospital, and if you're up for an adrenaline rush, take the TreeTop Challenge, with ziplines and suspended canopy walks.
In addition to all the feathered residents, you can commune with kangaroos, cuddle koalas, and keep your distance from the resident crocodiles.
All proceeds support the animals.
Address: 28 Tomewin Street, Currumbin, Queensland
Official site: http://www.cws.org.au/
4. Coolangatta Beach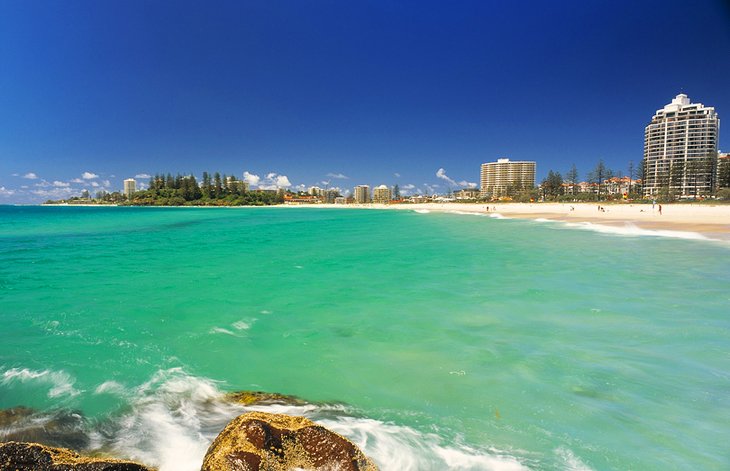 Near the New South Wales state border, Coolangatta Beach provides a much more peaceful alternative to the tourist-packed Surfer's Paradise beaches. It's only a 30-minute drive south from Main Beach in Surfers. Spending a day on the soft sun-soaked sands here is one of the best things to do on the Gold Coast for free. The town of Coolangatta is also the site of the Gold Coast airport, so you'll be right near this coastal beauty if you're arriving by air.
If you look at a Gold Coast tourist map, you'll see that this stretch of coast faces north, which means the water is typically calmer, with great conditions for swimming. Parents bring their children here to play and splash along the gleaming shores, and lifeguards patrol year-round. When you want a break from the sun, sand, and sea, you'll find plenty of shops and cafés across the road from the beach.
Skirting Coolangatta beach is a lovely waterfront park, dotted with Norfolk pines. During the winter months, this is a popular spot to stroll along the paths and look for whales and dolphins.
If you're looking to ride some waves, favorite surfing spots near here include Greenmount Point and Snapper Rocks at the eastern end of the beach; Duranbah ("D-bah") just around the corner from Snapper Rocks; and Kirra Beach, known for its fantastic sand-breaking right-hand point.
5. Tamborine Mountain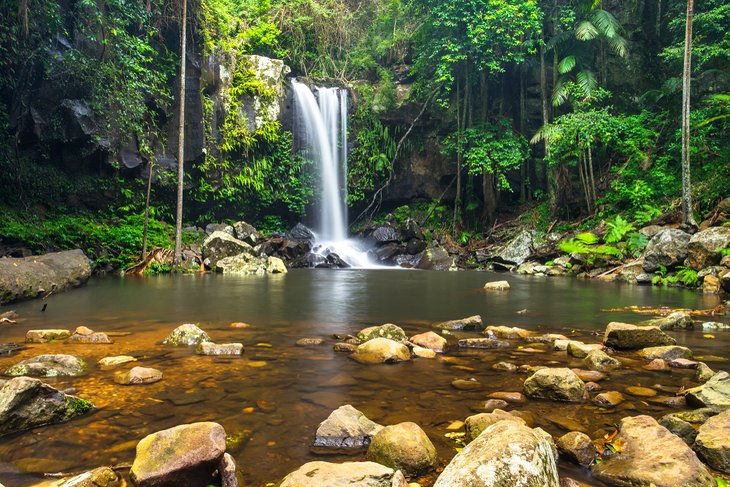 Culture and nature combine in beautiful Tamborine Mountain. This peaceful escape sits in the Gold Coast Hinterland in Queensland's Scenic Rim region.
For a green fix, head to Tamborine National Park. In this subtropical wilderness, you can hike through tranquil rainforests and eucalyptus forests, see waterfalls, and walk through a dense canopy of trees on the 45-minute Rainforest SkyWalk guided canopy tour. Listen out for lyrebirds as you wander through the treetops.
Save time to take the short hike to Curtis Falls, where you can relax to the soothing sounds of gushing water.
After soaking up all this natural beauty, you can refuel at the little town of Mount Tamborine. Craft shops, cafés, boutiques, and art galleries line the streets, and you can also sign up for a pampering spa treatment or cooking class.
Another top attraction in Queensland's Scenic Rim is the Tamborine Mountain Botanic Gardens, and if you're looking for truly unique things to do on the Gold Coast, save time for a visit to the Mount Tamborine glow worm caves.
6. Sea World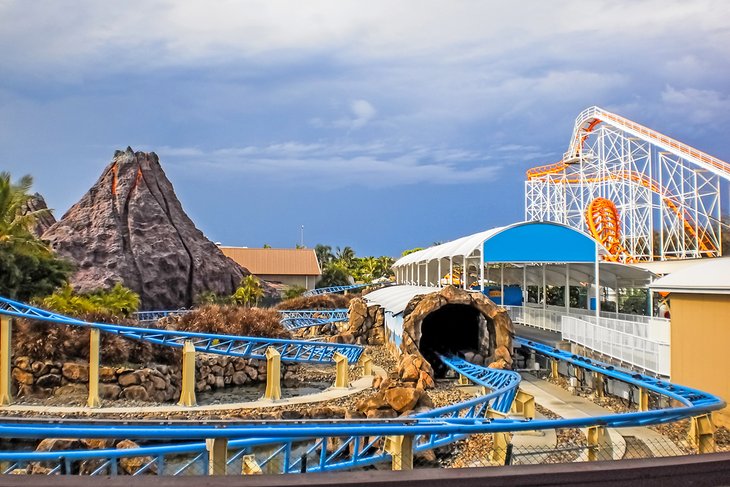 Sea World on the Gold Coast is the largest marine park in Australia. Young and old alike will enjoy the exhibits and busy agenda of shows here – favorites include the performing dolphins, sea lions, and Jet-Ski stunts.
Other Sea World highlights include the polar bears, penguin feeding presentation, as well as the tropical fish, shark, and ray exhibits. The park even offers sea-themed rides like roller coasters at The New Atlantis theme park. For a great overview of the park, hop aboard the monorail.
If you're wondering about things to do in the Gold Coast for couples, sign up for the Dolphin Couple Adventure. Learn all about these curious mammals and interact with them in the water at this private experience for two.
After viewing all the marine creatures, the small water park is a great spot to cool off with the kids. Check the website for discounted multi-park combination tickets.
Address: Seaworld Drive, Main Beach, Queensland
Official site: http://seaworld.com.au/
7. Point Danger Lookout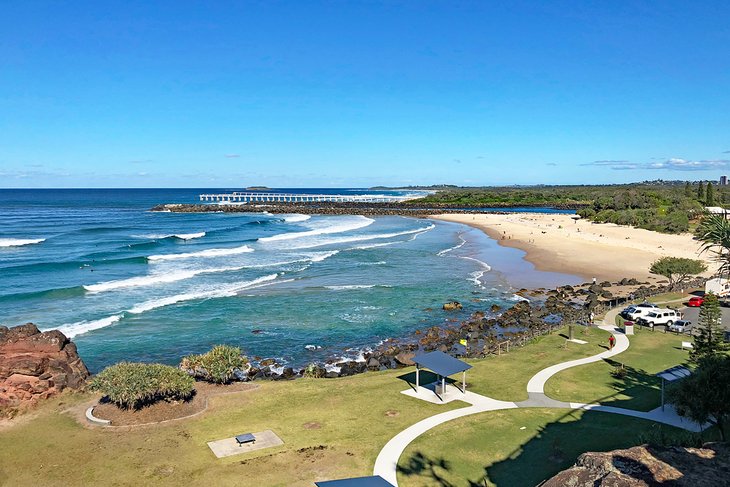 Point Danger is one of the best places to visit on the Gold Coast for panoramic ocean views. This pine-topped headland sits at the Southern end of the Gold Coast in the border town of Coolangatta. It's the perfect place to snap some photos and enjoy a picnic with ocean views.
Captain James Cook named Point Danger on his 1770 expedition up the east coast of Australia to warn other sailors about the treacherous coral reefs.
You can learn more about the area's maritime history at the memorials dotting the headland. Take the "Centaur Remembrance Walk" to read about those lost at sea, and visit the Captain Cook Memorial, created from cast iron recovered from Cook's ship, the HMS Endeavour. The adjacent lighthouse was the first to use laser light.
The views are spectacular. Gaze out across Duranbah Beach and soak up dazzling vistas up and down the coast – on a clear day, you can see all the way to Byron Bay. Keep an eye out for whales and dolphins splashing and diving in the water. Pack some snacks and set up a spot at one of the picnic tables, or enjoy a barbecue here.
Access is easy. You can walk up the headland or drive if you're short on time. And if looking at the waves makes you feel like a surf, the famous surf spot, Snapper Rocks, is a short walk down some stairs below.
8. Burleigh Heads Beach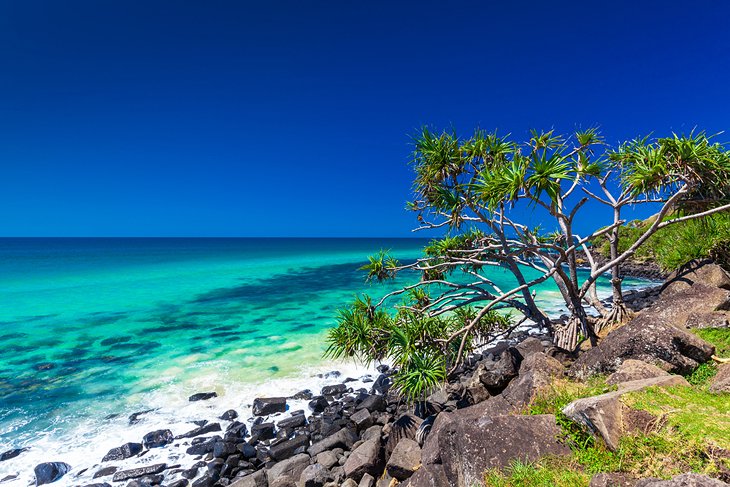 Swimming and surfing are two of the most popular things to do at beautiful Burleigh Heads Beach. Fringed with Norfolk pines and pandanus trees, this enticing slice of soft, white sand sits about halfway between Surfers Paradise and Coolangatta.
Surfers usually make a beeline to the famous point break on the northern side of the headland, but you can also surf the beach breaks along the outer bar. Swimming is best in the two areas patrolled by lifeguards at Burleigh and North Burleigh.
This is also an ideal beach for families. The park adjacent to the beach offers barbecues and plenty of picnic nooks, and you'll find an array of cafés and shops a short stroll from the beach.
On the last Sunday of every month, shoppers can browse the markets in Justin Park, where more than 150 stalls sell everything from baked treats and fresh produce to locally made crafts.
Another bonus of "Burleigh," as it's called by the locals is Burleigh Head National Park. This peaceful pocket of bushland blankets the headland, and you can explore the park on scenic hiking trails with elevated beach views – keep an eye out for migrating whales in the spring.
9. Dreamworld & WhiteWater World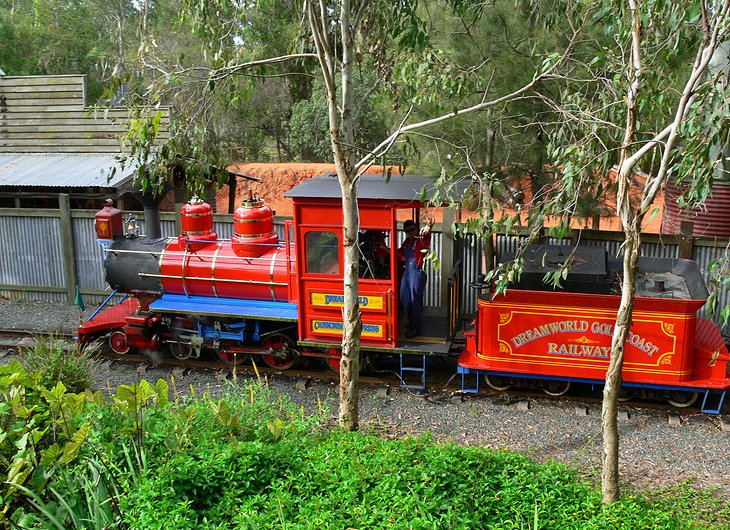 Dreamworld is one of the Gold Coast's favorite theme parks – with an Aussie twist. In addition to a thrilling lineup of roller coasters, live shows, and movie characters, the park hosts many native Australian animals, and offers close-up experiences with crocodiles, tree kangaroos, and dingos at Dreamworld Corroboree. You can even sign up for a sunset safari and come face to face with endangered big cats at Tiger Island.
Other highlights at this popular park for little ones include the Bananas in Pyjamas Fun Maze, plus every toddler's favorite – Wiggles World.
Don't miss Steel Taipan, the new stomach churning roller coaster, complete with a 1.2-kilometer track, twisted half pipe, and spinning gondolas. You can also fly over iconic Aussie landscapes in Sky Voyager.
If time permits, you can bring your swimsuits and pop next door to WhiteWater World, an extravaganza of waterslides and splash pools. Check the website for special offers and combination tickets.
Address: Dreamworld Parkway, Coomera, Queensland
Official site: https://www.dreamworld.com.au/
10. South Stradbroke Island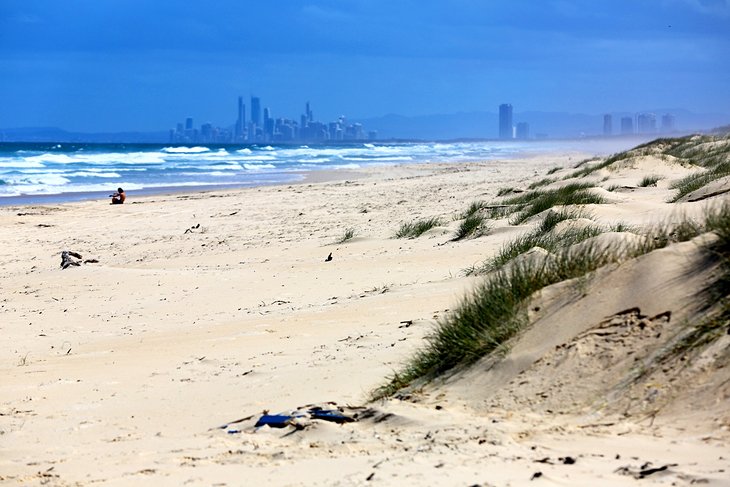 If you want to escape the Gold Coast buzz and play Robinson Crusoe for a day, South Stradbroke Island is the ideal getaway. Affectionately called "South Straddie" by the locals, this 21-kilometer-long island is only 200 meters from the Spit at the northern end of Main Beach. But it seems like a world away.
It's less developed than its larger neighbor, North Stradbroke Island, to which it was once connected, but you'll still find plenty of things to keep you busy.
When it comes to outdoor activities on the Gold Coast, South Stradbroke offers plenty of choice. Besides basking on the beautiful and refreshingly uncrowded beaches, popular things to do include swimming, surfing, snorkeling, sea kayaking, fishing, and hiking through the island's conservation park. Keep your eyes peeled for resident wildlife. Wallabies, bandicoots, sugar-gliders, blue-tongued lizards, snakes, and many species of birds call the island home.
You can visit the island on a day trip from the Gold Coast (it's also a popular day trip from Brisbane), and if you're looking for things to do in the Gold Coast on a budget, you can stay overnight at one of three campsites on the island. Other accommodation options include vacation rentals and apartments.
Charter boats, ferries, and water taxis will whisk you here from several departure points on the Gold Coast, including Hope Harbour Marina and Runaway Bay Marina.
11. Federation Walk Coastal Reserve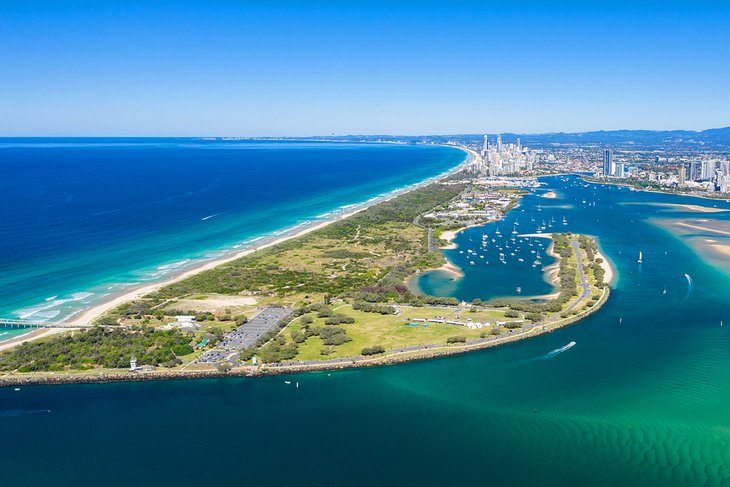 Seeking a little slice of nature amid the Gold Coast's glitz and glamour? You'll find it on the 3.5-kilometer Federation Coastal Walk. Stretching from a fig tree in the carpark opposite Sea World to the Gold Coast Seaway along The Spit, this popular walking track threads through 93 hectares of coastal land by the bush and beach.
Federation Walk Coastal Reserve is one of the few areas on the Gold Coast with a dune system, which provides important habitat for native animals. In particular, the reserve is known for its rich birdlife. Parrots like pale-headed rosellas, galahs, and rainbow lorikeets are frequently spotted here, and kingfishers, bee-eaters, pittas, and fairy wrens are other favorites.
Don't feel like walking? Biking and jogging are other ways to enjoy this park. Or you can pick a shady spot by the beach and enjoy a picnic here to the sounds of sloshing surf.
Leashed dogs are welcome on the path, and you can let them off-leash in a designated park.
Official site: https://federationwalk.org/
12. Lamington National Park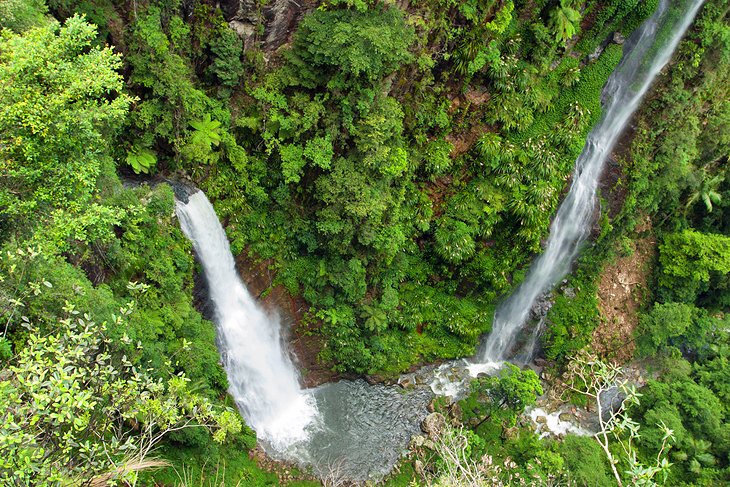 World Heritage-listed Lamington National Park is renowned for its beautiful rainforest scenery, many waterfalls, and quirky wildlife. About an hour's drive from Surfers Paradise, the park lies in the lush hills of the Border Ranges. These are remnants of an ancient volcano, where the Lamington Plateau plunges into dramatic cliffs and gorges.
Birders will be in heaven. More than 190 species are found within the park, including brilliantly colored parrots and the elusive bowerbird, named for the elaborate arches they build and decorate to impress possible mates. Other wildlife includes red-necked pademelons and long-nosed bandicoots.
A twisty hilltop road leads to O'Reilly's Rainforest Retreat, a guesthouse and spa where you can also enjoy a meal at the café. Staying overnight at this romantic retreat is one of the favorite things to do in the Gold Coast for couples. From here, nature buffs can explore the park on the O'Reilly's Tree Top Walk, a 180-meter series of suspension bridges strung through the rainforest canopy.
Official site: http://www.nprsr.qld.gov.au/parks/lamington/index.html
13. Springbrook National Park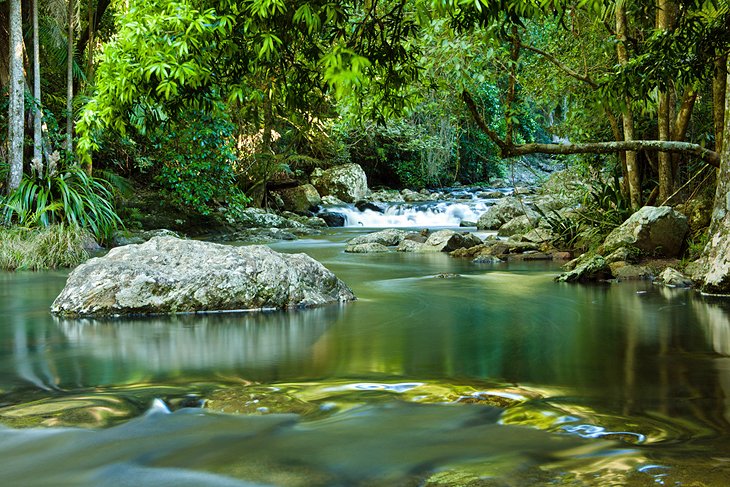 Not far from the busy beach strip, Springbrook National Park offers a tranquil escape in World Heritage-listed wilderness. Soaring rock faces, rainforests, waterfalls, and the gorges of the McPherson Range dominate the park. A popular attraction is Natural Arch Bridge, where a waterfall plunges into a cave (home to a colony of glow worms) and through a natural basalt arch.
Rainforest-fringed trails lead from the picnic area to the river and a lookout. From here, you can see Mount Warning, the remnant of a large shield volcano. Pretty Purling Brook Falls, in the central section of the park, is another highlight.
The park is also a haven for birds, with several threatened species.
Official site: http://www.nprsr.qld.gov.au/parks/springbrook/
14. Pacific Fair Shopping Centre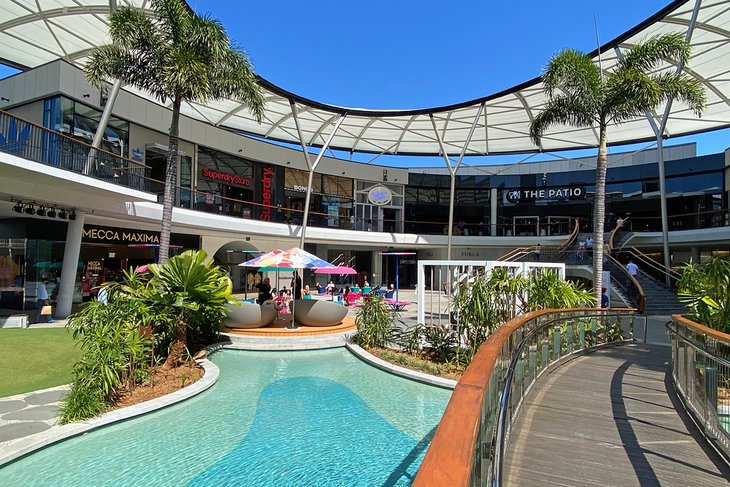 Need to glam up your wardrobe or indulge in a little retail therapy? You can flex your wallet at Pacific Fair Shopping Centre. Punctuated with palms, peaceful waterways, and bridges, this gleaming indoor/outdoor mall in Broadbeach hosts more than 400 retailers, including large chains like Myer and Target.
If you're looking for luxury, you can splurge at Gucci, Prada, Tiffany and Co, or Louis Vuitton, and budget-conscious fashionistas can pick up the latest styles at shops like Zara and H&M. Need a little help? Book a personal stylist to do the legwork.
If all that shopping wears you out, you can refuel at one of the restaurants, or head to the food court for a quick bite. A parents' room, toddler play areas, and free school holiday events elevate the shopping experience and make sure mom and dad have more time to browse.
Ready for more shopping? Marina Mirage in Main Beach hosts mostly high-end waterfront shops and restaurants in a salt-tinged setting.
Address: Hooker Blvd, Broadbeach, Queensland
Official site: https://www.pacificfair.com.au/
15. Warner Bros Movie World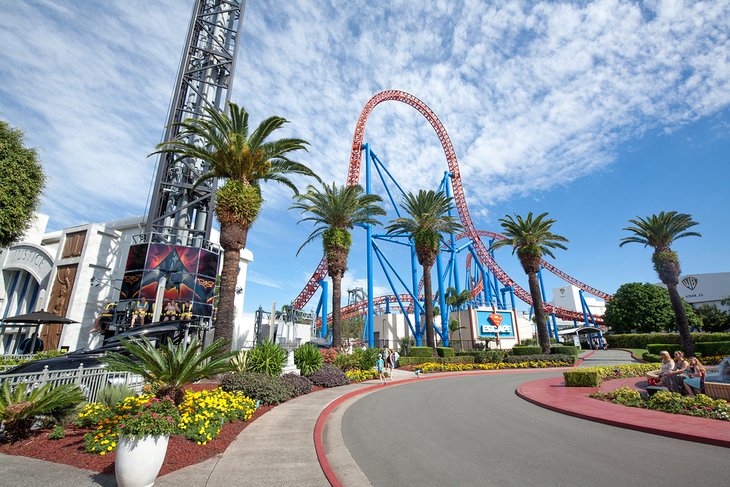 Traveling with teens and wriggly kids? Plan a day at Warner Bros Movie World. Here, kids can come face to face with superheroes, ride roller coasters, see stunt shows, and immerse themselves in fantasylands on 3D interactive rides.
Many of the rides here are for older kids and have strict height restrictions. But little ones will love the kids' Fun Zone, with colorful rides and Looney Tunes characters. The parades on "Main Street" are also a hit.
Favorite rides for older kids include the hair-raising DC Rivals Hypercoaster, the Doomsday Destroyer, and the Green Lantern Coaster. The Scooby Doo Spooky Coaster Next Generation keeps you on the edge of your seat with high-tech special effects and surprises.
Insider's Tip: If you are planning a theme park tour of the Gold Coast consider purchasing a combination pass, which allows access to multiple parks at a discount.
Address: Pacific Motorway, Gold Coast, Queensland
Official site: http://movieworld.com.au/
16. Kirra Beach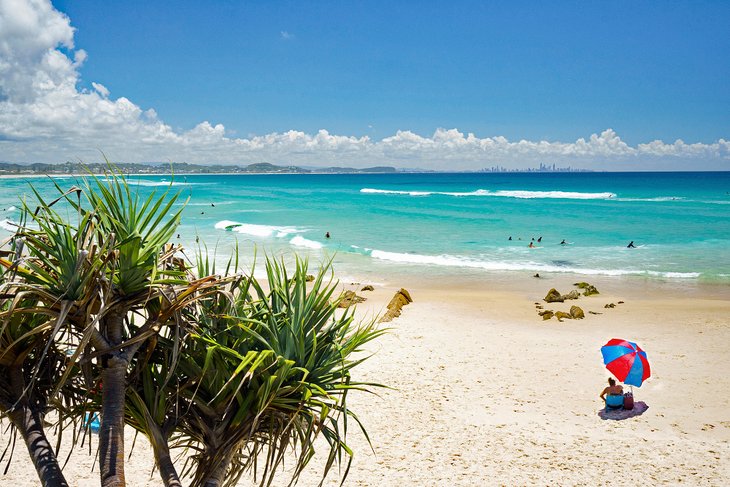 Kirra Beach is one of the best beaches on the Gold Coast. Sitting just around the point from Coolangatta beach, it's a favorite spot for families. Swimming, sunbathing, sandcastle building, and stand up paddleboarding are popular activities here, and plenty of cafés are nearby when you need some sustenance for your day by the sea.
Kirra was once one of the top surf spots on the Gold Coast, but beach erosion has sucked life from the formerly famous right-hand point break. A big storm swell still lures avid surfers, though.
Kirra Reef, a popular dive site, sits right near the beach. Divers can see moray eels, nudibranchs, and octopuses among the many creatures living amid the kelp-cloaked rocks.
17. Cavill Avenue, Surfer's Paradise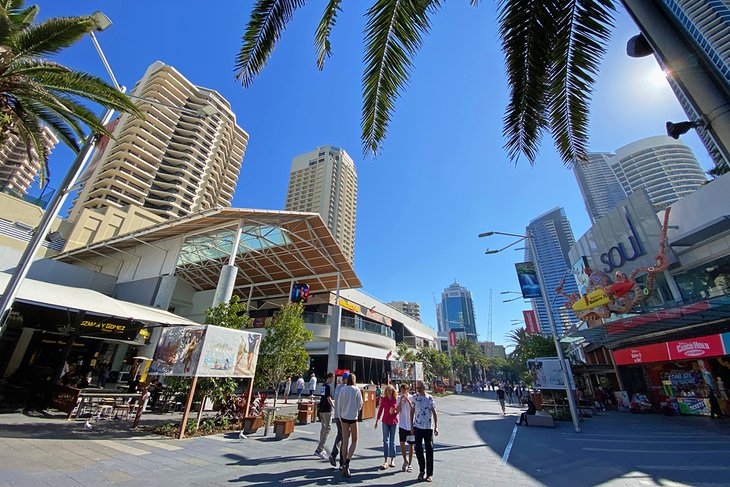 Cavill Avenue is the shopping and entertainment heart of Surfer's Paradise. The street stretches from the city center through Cavill Mall to the sun-splashed beaches along the Esplanade. Dotted with date palms and Norfolk pines, the pedestrian-only Cavill Mall is a focal point. Here, you'll find plenty of alfresco eateries, restaurants, boutiques, and abundant entertainment venues. At night, it tends to be a little rough around the edges, but during the day, it's a fun spot for people watching.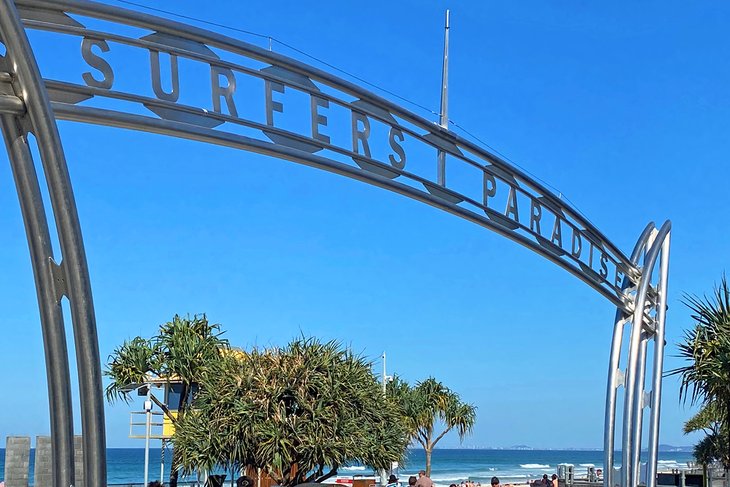 Also along the avenue, the Centro Surfers Paradise is a large shopping complex with more eateries and fashion stores. Other top tourist spots are Ripley's Believe it or Not and the Hard Rock Café. You can catch the G:Link, the Gold Coast's light rail system, directly to Cavill Avenue.
More Related Articles on PlanetWare.com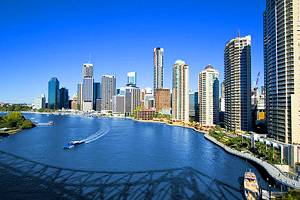 Brisbane & Beyond: About an hour north of all the Gold Coast attractions, the Queensland state capital of Brisbane offers a host of exhilarating big city sights, as well as plenty of things to do with kids, including botanical gardens, lush parks, and family-friendly museums. You can also explore the surrounding region on rewarding day trips from Brisbane. Relax on idyllic islands, hike through pristine national parks, and soak up the café culture at cute country towns.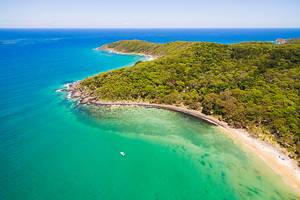 The Sunshine Coast: Only a two-hour drive north of the Gold Coast, the Sunshine Coast is a favorite vacation destination for Aussies. Here, you can bask on beautiful beaches; explore all the highlights of Noosa Heads; and organize a safari to nearby Fraser Island, the largest sand island in the world. Just opposite Fraser Island, on the mainland, Hervey Bay is the whale-watching capital of Australia.