12 Top-Rated Things to Do in Coolum Beach
Coolum Beach, on Queensland's beautiful Sunshine Coast, is a down-to-earth little Aussie beach town and a surfing hot spot. Mount Coolum is a major landmark in the area. As you cruise along the main coastal road south of Noosa Heads and north of Mooloolaba, look for this distinctive round-topped volcanic peak looming behind the cluster of surf shops and cafés lining the coast.
Water sports are one of the top things to do here. And no wonder. Coolum Beach and the Surf Life Saving Club are at the heart of this bubbly little beach community, where white-sand stretches to a wind-shipped sapphire sea, and the famous Aussie red and yellow flags flap in the sea breeze 365 days a year. Whether you want to frolic in the waves, walk for miles down the hard-packed shore, surf the breaks, bask on the sand, or flick a fishing line, Coolum Beach makes a beautiful backdrop.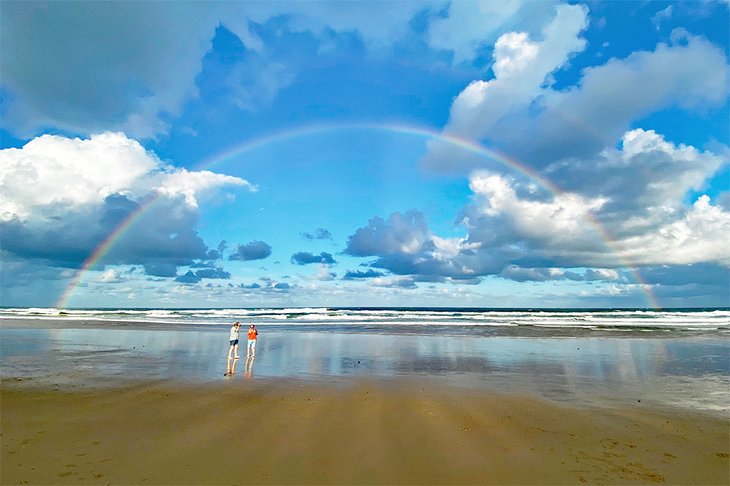 Continuing south along the coast, the Pacific Ocean carved a series of picturesque bays into Coolum's pandanus-fringed coastline. Here, you can swim, fish, or bask the day away on relatively secluded shores. Conveniently, a scenic coastal trail connects all these surf-washed beauties. You can walk all the way from Coolum Beach to Yaroomba, stopping off to soak up the views at lookouts, or enjoy a cool dip along the way.
Feel like getting back to nature? Plan a hike up Mount Coolum for spectacular 360-degree views, or stroll up the gentle slopes of Mount Emu. And if you're up for an adrenaline-infused adventure, you can learn how to waterski or tackle an inflatable aquatic obstacle course with the kids.
Whether it's surfing, swimming, shopping, or hiking, discover the hidden gems and best places to visit in this Sunshine Coast hot spot with our list of the top things to do in Coolum Beach.
1. Surf at Coolum Beach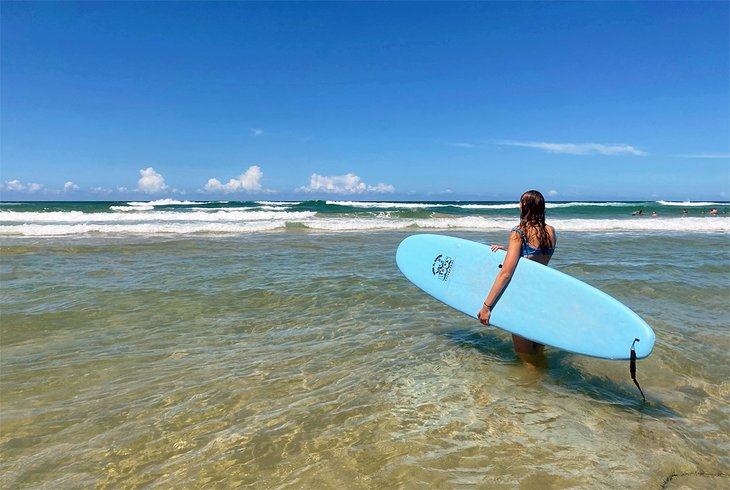 Surfing is one of the top things to do in the Sunshine Coast, and Coolum Beach is one of the best spots to try it for the first time. Warm waters, multiple surf breaks, and expert instructors make it easy to learn the basics. Thanks to the Sunshine Coast's mild climate and toasty ocean temps, you can surf all year-round.
Family-owned and operated Coolum Surfing School offers two-hour lessons every day from 10am to 12pm and 1 to 3pm. Meet them at Tickle Park along the beachfront. They supply wetsuits and surfboards. All you need to do is show up with a smile. When conditions are right, even first-timers might be up and standing after their first lesson. Tuition accommodates all abilities, from beginners to advanced surfers, and private lessons are also available for those who prefer one-on-one attention.
Already know how to surf? You can rent soft and hard surfboards and body boards here, too, at the Coolum Boardroom on Park Street.
Prefer to stay on land? Coolum Beach's broad hard-packed sandy shore is perfect for a long beach stroll. You can walk all the way to Stumers Creek where dog owners make a beeline to the creek for off-leash doggie fun, and beyond to neighboring Peregian Beach.
Feeling peckish? Coolum Surf Life Saving Club sits right on the sand. You can also hop across the road to cafés and takeout joints — the fresh-cooked fish and chips here make a quintessential Aussie beach picnic.
Bordering the beach, Tickle Park is a popular picnic spot, with plenty of space for the kids to run wild, and a colorful children's playground.
2. Climb Mount Coolum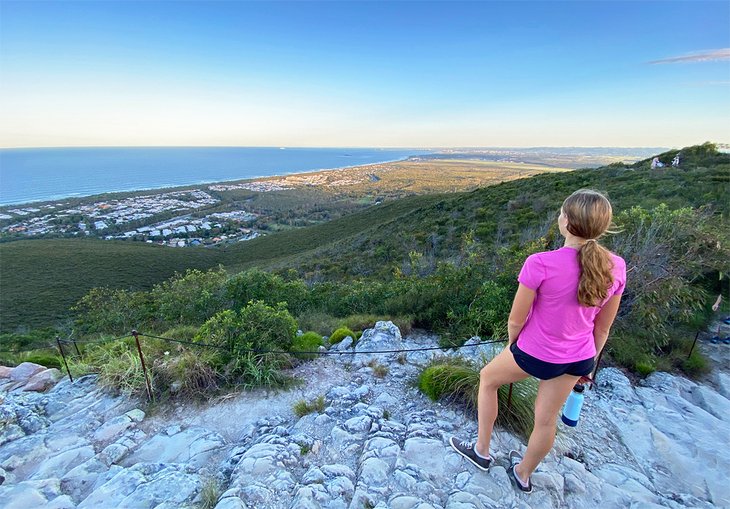 You can't miss it. Looming like a gentle giant over the coastal plains of Coolum Beach, Mount Coolum is one of the region's iconic landmarks. And hiking to the summit of this 25-million-year-old volcanic dome is one of the top things to do on the Sunshine Coast.
Standing on its summit is also a great way to appreciate the area's beauty, and get your bearings. Spectacular 360-degree views stretch in all directions — over the salt-laced coastal heath and the beachside bungalows jostling along the shore, and up and down the sweeping white-sand coast from Double Island Point to Caloundra. To the south and west, you can see the lush river valleys and rolling hills of the Sunshine Coast Hinterland.
The hike will take you around 90 minutes return, depending on your energy level. It's a great thigh-busting workout. The trail involves climbing up hundreds of stone steps. Along the way, keep your eye out for wildlife, including peregrine falcons, echidnas, grey-headed flying foxes, and northern brown bandicoots.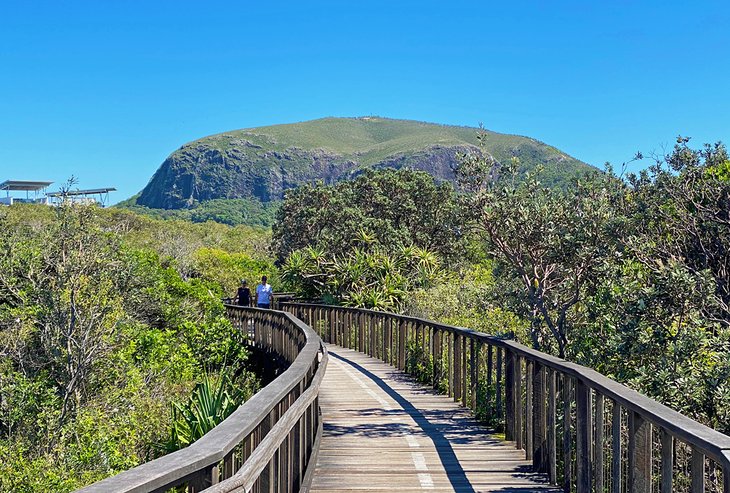 You can access the trailhead at Tanah Street West (off David Low Way) about 3.5 km south of Coolum Beach. Look for a parking spot on the corner of Jarnahill Drive and Tanan Street West. Once you've nabbed a spot, follow the National Parks and Wildlife signs to the trailhead.
Insider's tips: The best time to hike Mount Coolum is on a weekday, when the trail is less crowded. If you can, try to pick a sunny day for crystal-clear views along the coast — early morning or late afternoon is best to avoid the midday heat. It's also a good idea to wear close-toed shoes, and, of course, take plenty of water.
3. Stroll along the Point Arkwright Trail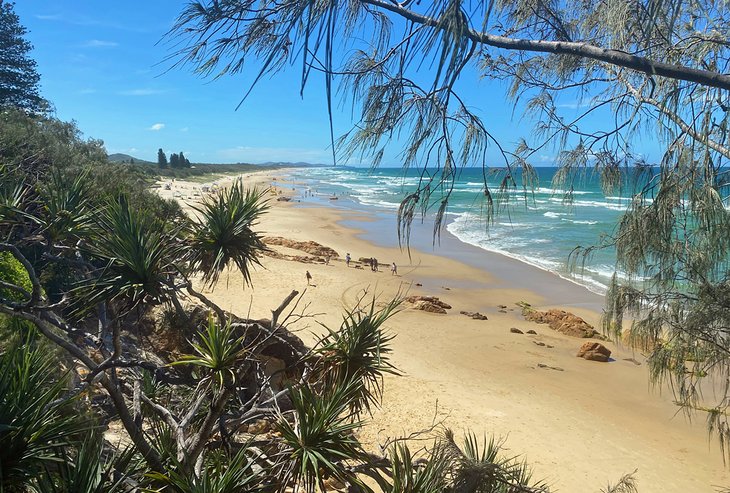 Bays, beaches, and bushland are the highlights along the picturesque Point Arkwright Trail. Stretching for one kilometer, this oceanside pathway follows the contours of Coolum's spectacular coastline, and it's a great place to start a sightseeing tour. You'll see all kinds of people walking this path: surfers seeking the perfect waves, families with young children, retirees stretching their legs, and couples strolling hand in hand. Plus the path is wheelchair and stroller friendly.
Photo ops are plenty along here. The path meanders along the Coolum boardwalk overlooking the beach, juts out on the rocky head of Point Perry, passes pandanus-fringed bays, dips in and out of coastal forests, and eventually ends up at Point Arkwright.
Point Arkwright is a great spot to pause for a picnic and to soak up the views. On a clear day, you can see all the way north to Noosa Headland and south to Moreton Island. Picnic tables and public restrooms make it easy to stay here to rest and relax for a while.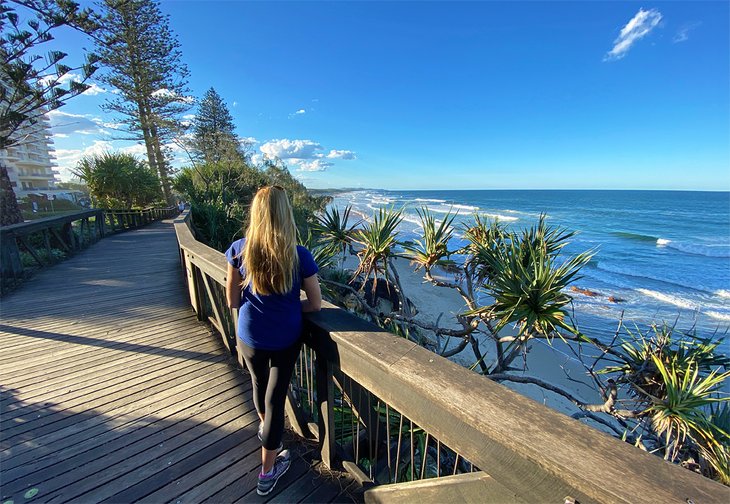 Top things to do along the Point Arkwright Trail include watching surfers ride the waves at Point Perry when the surf is pumping, taking a dip in a secluded bay, pottering among the rockpools at Arkwright Beach, and spotting whales or dolphins from Point Perry or Point Arkwright — whales migrate along here in the spring. You'll also find public toilets, picnic shelters, and expansive views up the coast to the Noosa Headland and down the coast to Moreton Island.
Want to keep going? You can continue south from Point Arkwright all the way along Yaroomba's sweeping white-sand beach.
Officially, the trail starts about 1.2 kilometers south of the Coolum Surf Club, but you can join it anywhere along the way.
4. Bask in Coolum's Beautiful Bays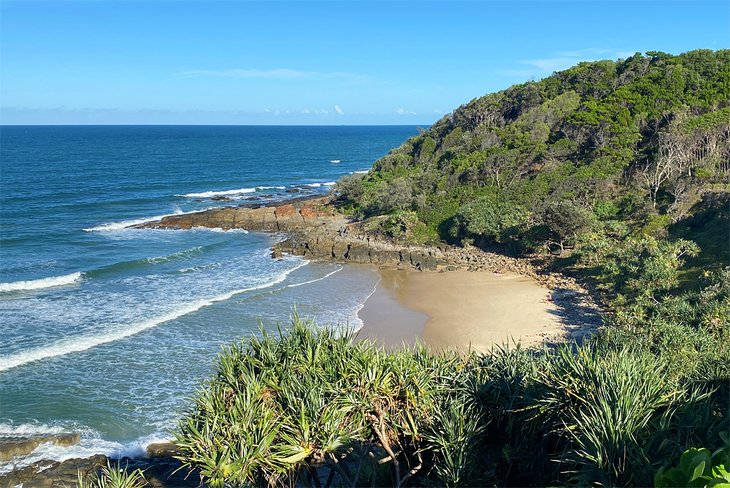 Pretty pandanus-fringed bays are Coolum's hidden gems. These tranquil little pockets of sand and sea are ideal for a picnic, pottering among the rock pools, playing with your pooch, or casting a fishing line.
You can visit all the picturesque bays on the scenic Point Arkwright Trail. As you head south along the trail, the bays become less crowded, so you can pick the level of solitude you are seeking. Swimming is also enjoyable. But none of these bays are patrolled, so take care when you're taking a dip.
Walking south from Coolum Beach, you'll encounter the appropriately, if not imaginatively, named First Bay — a popular surf spot. It's usually less crowded than Coolum Beach, and you'll find some lovely little rock pools at each end. After riding the waves or paddling here, you can wash off at the shower by the top of the stairs.
Second Bay is next on the itinerary. This little beauty offers a bit more tranquility than its more popular neighbors to the north.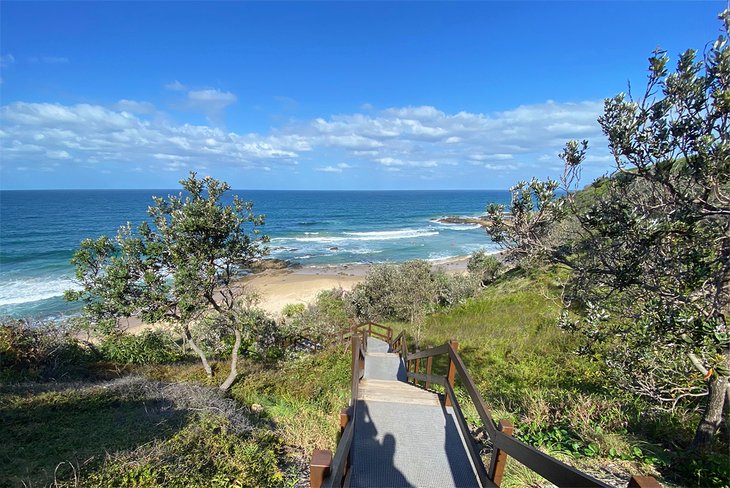 Bordered by huge sea-worn pebbles, Third Bay lies down a steep staircase. It's perfect for a peaceful meditation, solitary sunbathing, or delving into a good book. Depending on when you visit, you might even have the entire bay to yourself.
Arkwright Beach is the final bay along this trail. This is the ultimate spot for a secluded sunbathe.
5. Conquer the Course at BLAST Aqua Park Coolum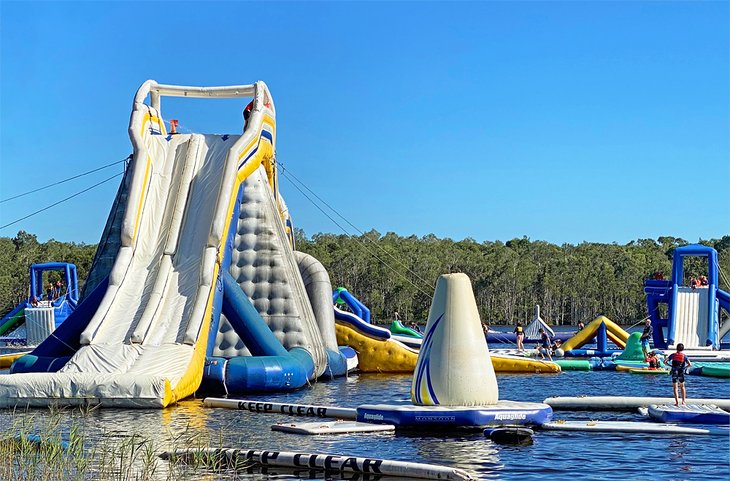 If you have a gaggle of restless kids in tow, BLAST Aqua Park is the perfect place for water fun. Billed as the "world's largest aqua park" this giant inflatable obstacle course on a man-made freshwater lake is one of the top family tourist attractions here. It will keep the kids — and the young at heart — busy for hours. Plus, they can keep cool at the same time.
Clamber, jump, roll, swing, and slide around the colorful course, which includes everything from giant slides, wobble pads, and trampolines to "blast bags" and balance beams.
Kids aged seven and up are welcome to join in the fun; four- to six-year-olds can tackle the course but they must be accompanied by a parent. Life jackets and safety briefings are provided before everyone hits the water.
Prefer to stay dry? Parents and landlubbers can bring a picnic or cook up a barbecue here while the kids work up an appetite on the water. Shaded picnic tables and sun lounges provide perfect spots to watch all the action. You can also purchase snacks and refreshments at the little on-site café and kiosk.
Address: 60 Junction Drive, Coolum Beach, Queensland
Official site: https://aquaparkcoolum.com.au/
6. Hike Up Emu Mountain Summit (Mt. Peregian)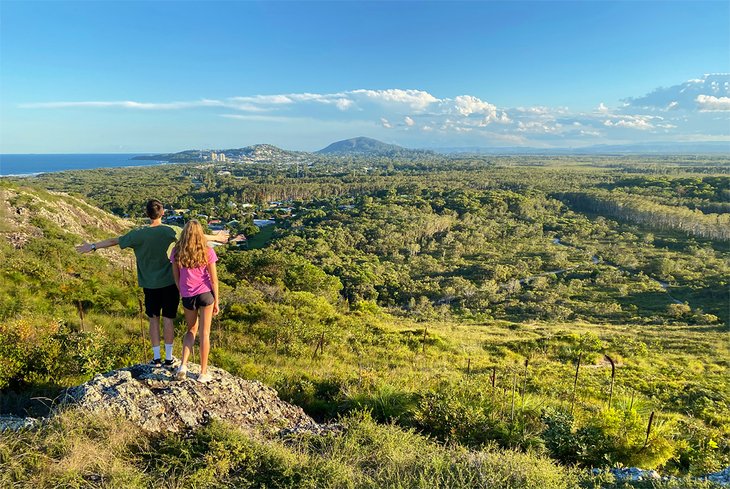 Feel like a gentle hike with inspirational views? The Emu Mountain Summit Hike in Noosa National Park is the perfect early morning or end-of-day jaunt. This 1.1-kilometer track is easy enough for the whole family to tackle — even the kids. Mount Emu, also called Mt. Peregian, is more of a hill than a mountain, and hiking at a leisurely pace will take you up the gentle slopes to the summit and back in about 45 minutes.
Since you're hiking mainly through low coastal heath, you'll enjoy views all the way along this trail, with small stands of scribbly gums framing the vistas. In the spring, you might see tiny wildflowers. Despite the mountain's name, emus aren't really found here these days. Instead, keep an eye out for other wildlife — rainbow lorikeets, black cockatoos, and even kangaroos might make an appearance.
Start your hike off Havana Road East in Coolum Beach. You can park right near Coolum High School. A paved path skirts the edge of the bush, and from here, you'll find the trail meandering through the eucalyptus and she-oaks. Just look for the Noosa National Park sign. The Hakea Walk also joins this trail.
Once at the top, the trail loops around the summit for different vantage points of the 360-degree views. Look southwest for views over the sweeping scrubland to the Glass House Mountains. Gaze east out towards the Pacific Ocean for views from Noosa all the way to Maroochydore, and from June through October, keep your eyes peeled for pods of migrating humpback whales.
Official site: https://parks.des.qld.gov.au/parks/noosa/journeys/emu-mountain-summit-walk
7. Hunt for Treasures at Coolum's Markets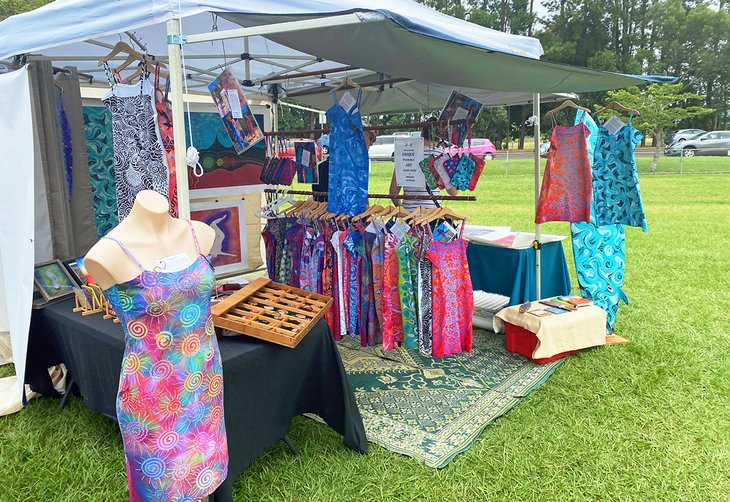 Coolum Beach and the surrounding area hosts several popular markets that are perfect for browsing or buying.
Craving an arts and crafts fix? Coolum's Sunshine Coast Collective Markets provide plenty of inspiration. These popular Coolum markets are a fantastic place to shop for one-of-a-kind souvenirs and gifts.
You won't find any mass-produced items at these markets. Instead, you'll find more than 100 Sunshine Coast designers showcasing their unique creations. Beachy decor, crystals, handmade clothing, candles, jewelry, and tie-dyed T-shirts are just some of the goodies you can buy here, and you can even purchase treats for your four-legged friends, from fancy collars to homemade dog biscuits.
Food is another highlight. Fill up on French crepes (try the Tim Tam crepes) or scrumptious buttermilk pancakes, or sample some falafels, smoked meats, or Vietnamese food. Live music adds a little more pep to your morning, and a coffee truck dispenses fresh brews. You can visit the markets on the 4th Sunday of the month at Coolum State Primary School from 8.00am to 12.00pm.
Each summer, from the end of November through the end of January, the Coolum Twilight Markets draw throngs of shoppers in Tickle Park. More than 65 stallholders sell all kinds of goodies, from jewelry and clothing to woodwork, arts and crafts, fresh fruit and veggies and other tasty treats.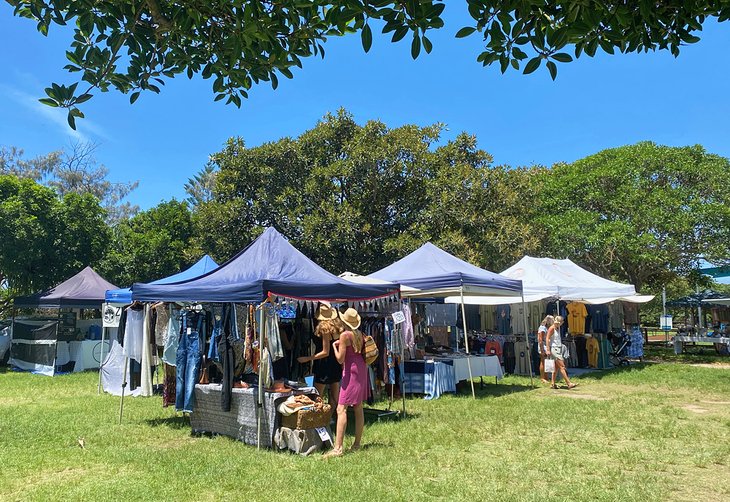 For more unique gifts, head to Peregian Markets about 10 minutes north of Coolum. These are held the first and third Sundays of every month, as well as the fifth Sunday in December and January.
And If you're on a hunt for the freshest fruit and veggies, as well as flowers and plants, Yandina Markets are the place to go. They're held every Saturday morning from 8am to 12pm. But arrive early before the best stuff sells out.
8. Take Your Pooch to Stumers Creek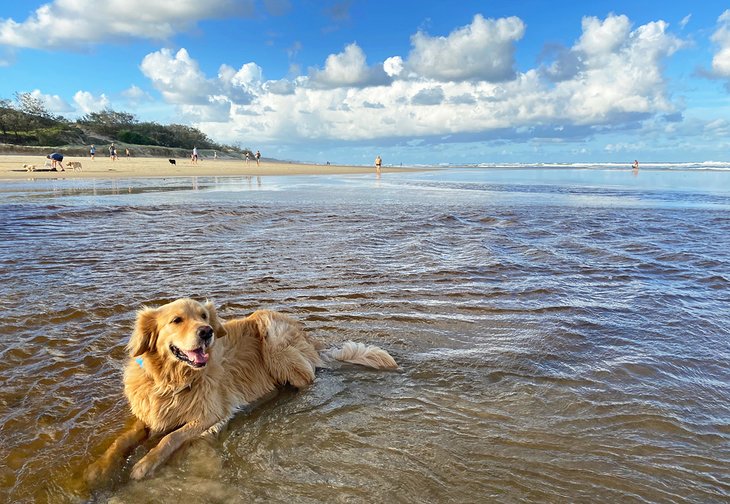 Stumers Creek is doggie heaven! Just opposite Emu Mountain on the beachside, this tea-tree-lined creek flows onto a wide-open stretch of beach to the sea. It was named after Fred Stumer, one of Coolum's first pioneers, and it makes a great stop for an off-leash frolic on the beach. Here, the shallow lagoon waters create the perfect playground for paddling pooches.
You'll find everything you need here for a fun doggie day out, including a free dog wash station, poop bags, and a dog bowl for post-beach romps. Behind the creek are covered picnic tables, restrooms, and a children's playground for that perfect pooch- and kid-friendly picnic.
To access Stumers Creek, take the signed turnoff from David Low Way, just north of Coolum Beach, and follow the road down to a hidden carpark.
9. Shop and Dine along the Esplanade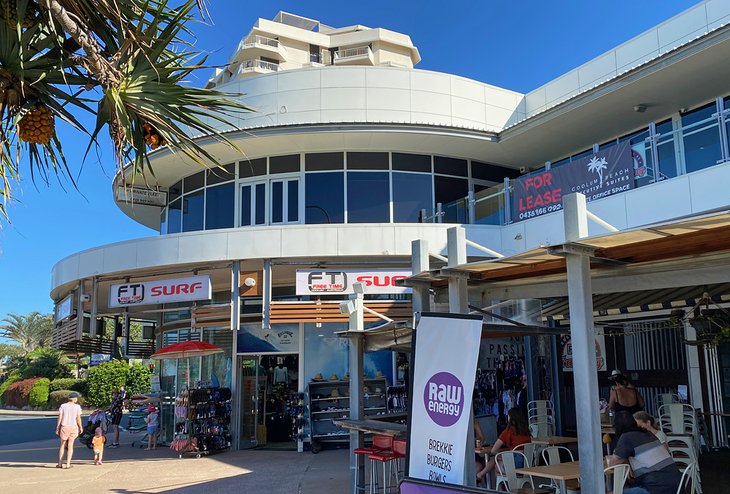 Coolum Beach's cluster of shops along the Esplanade opposite the beach has a friendly village feel. It's a great place to grab a bite to eat, sip a cool drink, or pick up some beach gear. Shopping and dining along here is also one of the top things to do in Coolum when it's raining.
Surf shops top the line-up here. Fronting the esplanade, you'll find Freetime Surf and Rip Curl Coolum with all the gear you need to get out on the water. Round the corner to the Boardroom on Park Street, where you can buy more surf gear, rent surfboards, or book a lesson. Looking for the perfect sun hat? LiveLife Pharmacy Coolum Beach has got you covered.
For a beachy outfit, Sea Elements sells swimsuits and coverups, or you can head to Ghanda, Red Zoo, or AURA Fashion for a hip new dress.
You'll also find a few funky gems up the side streets. Compound is a locals' favorite café selling its own brand of surfwear. The T-shirts, caps, and sweatshirts make great souvenirs, and you can even pick up some preloved clothing at the back of the store.
And if all that shopping makes you hungry, you'll find some popular Coolum restaurants along here. Mouthwatering mezze plates at Santorini Greek Taverna, tasty Thai food, and good ol' fish and chips are among the top picks. Raw Energy offers healthy "brekkie, burgers, and bowls," and Ma Boulange specializes in tempting French pastries. It's also a popular breakfast spot. For an icy treat, Gelato Mio hits the spot.
10. Plan a Picnic in Tickle Park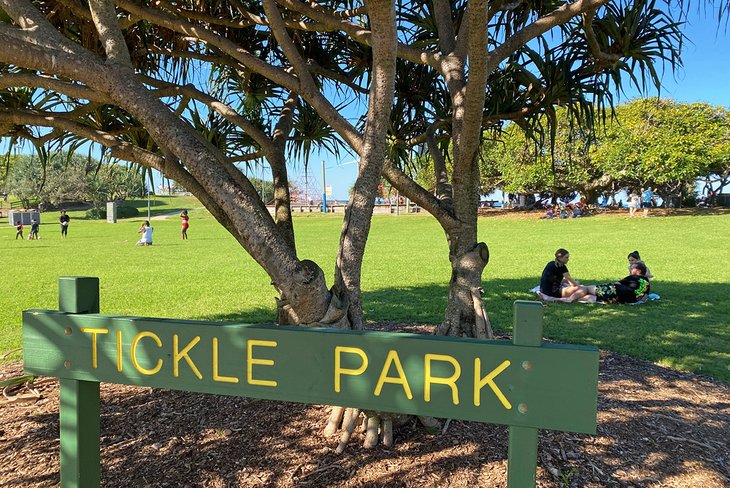 Coolum Beach has no shortage of picturesque picnic spots. Fringing the beach in the heart of Coolum, Tickle Park is one of the most popular. Families flock here to spread a blanket under the pandanus trees and enjoy sand-free food with the sound of the waves sloshing in the background.
You can bring your own packed picnic basket or pick up some takeout from the cafés and Coolum Beach restaurants across the road. Plus, you'll find barbecues if you want to cook up a feast of your own.
Kids will have a blast here. They can kick a ball, clamber on all the equipment at the kids' playground, or run wild on the beach.
If you're looking for things to do in Coolum at night, Coolum Beach Outdoor Cinema screens free "Flicks in the Park" on Saturday nights here throughout the year. Bring the kids, lay down a blanket, and watch family-friendly movies under the stars.
Tickle Park also hosts several popular community events, including the Coolum Twilight Markets.
Fun fact: Wondering what the shrill shrieking is at sunset? Huge flocks of rainbow lorikeets roost in the Norfolk pine trees lining the street.
Address: David Low Way, Coolum Beach, Queensland
11. Snap a Photo at Lows Lookout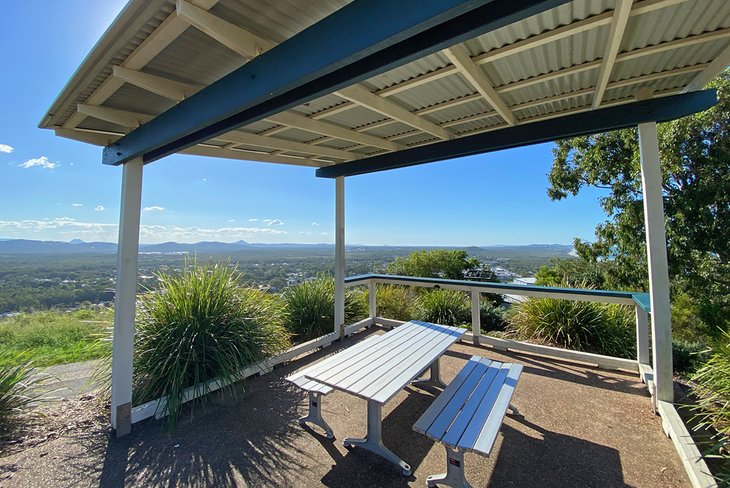 Lows Lookout is a tiny treasure in the hills behind Coolum Beach. Tucked down a dead-end street in a residential area, this small lookout offers beautiful views east over the coast and southwest towards the Glass House Mountains.
This is a great place to visit if you're short on time and want to capture some Coolum Beach views without the strenuous hike up Mount Coolum. You can drive right up here and park at the end of the road to snap a photo.
If you want to stay a while, you'll find a little pavilion here with a picnic table, where you can sit and enjoy a romantic moment at sunset. You can access the lookout on Grandview Drive.
Address: 8 Grandview Drive, Coolum Beach, Queensland
12. Get Your Heart Pumping at OZ Ski Resort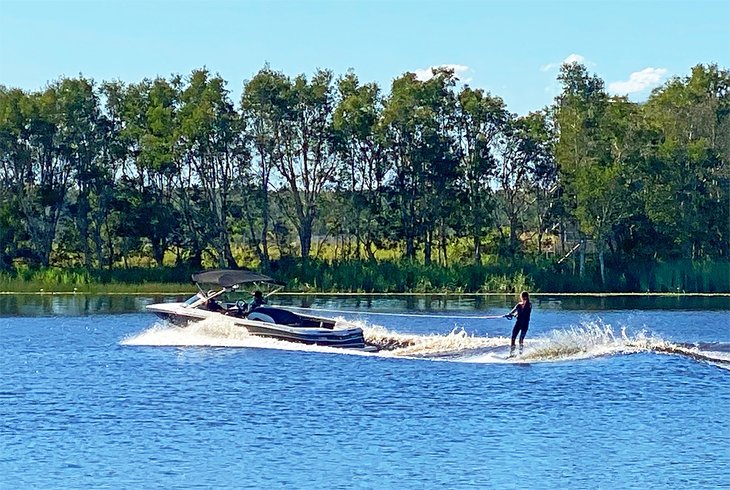 No, it doesn't snow in Coolum. Oz Ski Resort is all about skiing on the water. If you've ever wanted to learn this action-packed sport, this is the place for you.
In addition to water skiing, you can also learn the basics of wakeboarding, and try other activities such as knee boarding and tubing, all in a safe environment with expert instructors. Lessons include the boat, captain, instructor, all the latest equipment, and plenty of time to perfect your new skills on the water.
If you'd rather just go along for the ride without thinking about technique, sign up for a banana boat ride. This is a great day out for adrenaline addicts and water ski wannabes, from first-timers to pros.
Oz Ski Resort shares the same location as Blast Aqua Park, so you can sign up for a double dose of water fun in one visit. A café and shaded places for non-skiers to sit enhance your visit here.
Address: 60 Junction Drive Coolum Beach, Queensland
Official site: https://ozskiresort.com
Map of Things to Do in Coolum Beach