17 Top-Rated Tourist Attractions on the Sunshine Coast, Australia
The Sunshine Coast, in South East Queensland, is certainly true to its name. Sunny skies and an idyllic subtropical climate lure tourists here year-round. Add to this a string of squeaky-clean beaches, world-class surf breaks, wildlife-rich national parks, and countless tourist attractions, and it's no wonder this is one of Queensland's most popular tourist destinations.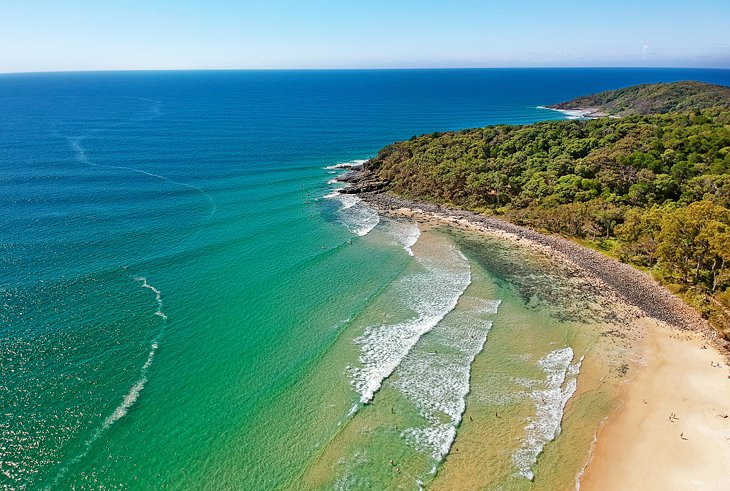 The "Sunny Coast," as it's affectionately called by locals, is a much quieter alternative to the glitzy Gold Coast just to the south. It stretches north from the popular beaches of Caloundra to the sweeping sands of Noosa North Shore, where 4WD vehicles plow a wild stretch of dune-backed beach.
Sunshine Coast destinations are packed with things to do. You can feast on fresh-caught seafood at buzzing Mooloolaba Beach, look for wildlife in the national parks, hike to the summit of Mount Coolum, soak up the salty air on scenic coastal walks, or shop for designer clothes on Noosa's chic Hastings Street or at Sunshine Plaza.
Traveling with kids? You'll find plenty of fun Sunshine Coast attractions for families, including SEA Life Sunshine Coast Aquarium, the Ginger Factory, and the famous Australia Zoo.
Not far from the Sunshine Coast's beautiful beaches, the emerald-hued hinterland offers its own sleepy charm. Top things to do in the Sunshine Coast hinterland include exploring quaint mountain villages, tasting artisan foods, shopping at colorful markets, and rainforest hikes.
Wondering how to get here? The Sunshine Coast Airport in Marcoola has frequent flights from destinations around Australia.
Discover the best places to visit in this sun-soaked holiday hot spot with our list of the top tourist attractions on the Sunshine Coast, Australia.
1. Noosa National Park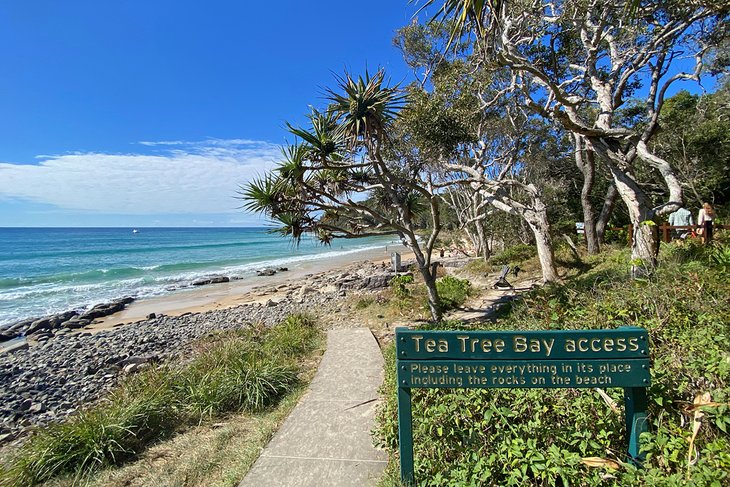 Noosa National Park is one of the Sunshine Coast's natural jewels. The park encompasses more than 9,800 acres of paperbark forests, pristine beaches, dunes, heathlands, and rainforest.
The most popular section of the park is the Noosa Headland section. Exploring the 15 kilometers of hiking trails here is one of the top things to do in Noosa Heads.
If you're visiting the park for the first-time, the scenic coastal track offers a great introduction. As you wander along the trail, you'll see gorgeous views of the blue-green sea peeking through the pandanus trees. Look up every now and then, and you might spot a glossy black cockatoo or, if you're really lucky, a koala snoozing in the crook of a eucalyptus tree.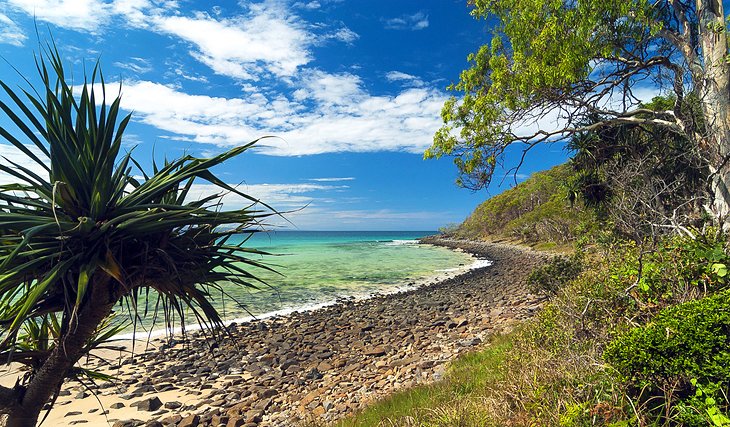 After about a kilometer, a lookout at Dolphin Point offers panoramic coastal views and sometimes even glimpses of whales and dolphins. Tea Tree Bay and Granite Bay are the perfect spots for a picnic or a paddle in the rock pools. Continuing even farther, Hell's Gates offers breathtaking views of pounding surf and Alexandria Bay. Conveniently, the coastal track is accessible for wheelchairs and strollers all the way to Dolphin Point.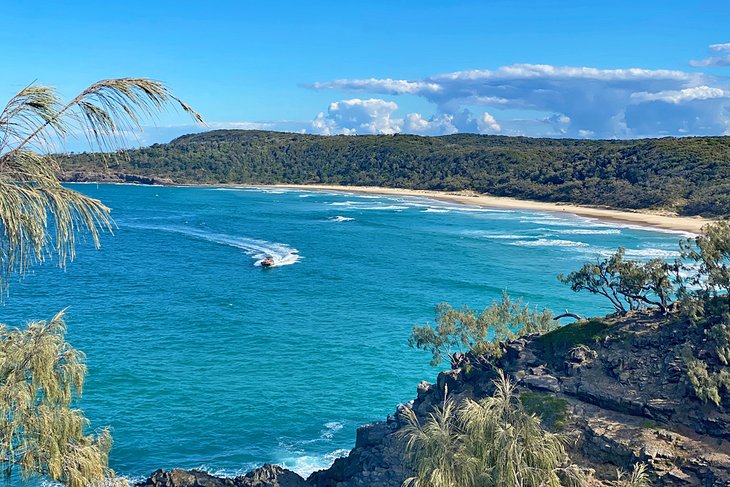 Parking spaces are available at the park entrance, although it can be tough to nab one at peak times. If you're feeling energetic, you can also hike to the park entrance from Noosa Main Beach. However you get here, exploring this ocean-view national park is one of the best things to do on the Sunshine Coast for free.
Official site: http://www.nprsr.qld.gov.au/parks/noosa/index.html
2. Australia Zoo, Beerwah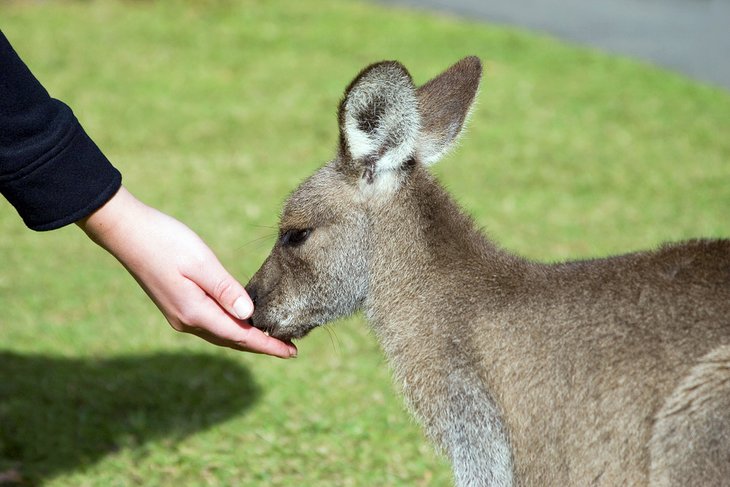 About 22 kilometers west of Caloundra, Australia Zoo is one of the most popular tourist attractions in Queensland. Steve Irwin, the late croc-loving Aussie conservationist, and his wife Terri helped the park grow into a world-class attraction, with a strong emphasis on conservation and education.
The zoo provides plenty of fun encounters with Aussie animals, including kangaroos, koalas, snakes, and lizards. You'll also see a striking lineup of exotic species, such as elephants, rhinos, cheetahs, and the crowd favorite: Sumatran tigers.
While you're here, try to attend one of the popular live animal shows in the Crocoseum. Depending on the schedule, you can see everything from croc-feeding demonstrations and birds of prey to otters and koalas.
Kids will love hand-feeding kangaroos and giraffes, petting koalas, and riding camels. For an additional fee, you can also visit the animal hospital and support their healing work.
A visit to Australia Zoo is usually a full-day adventure. Wear your walking shoes, and be sure to bring sun protection, a refillable water bottle, and a rain jacket – sudden downpours can strike at any time.
Address: 1638 Steve Irwin Way, Beerwah, Queensland
Official site: http://www.australiazoo.com.au/
3. Noosa Main Beach and Hastings Street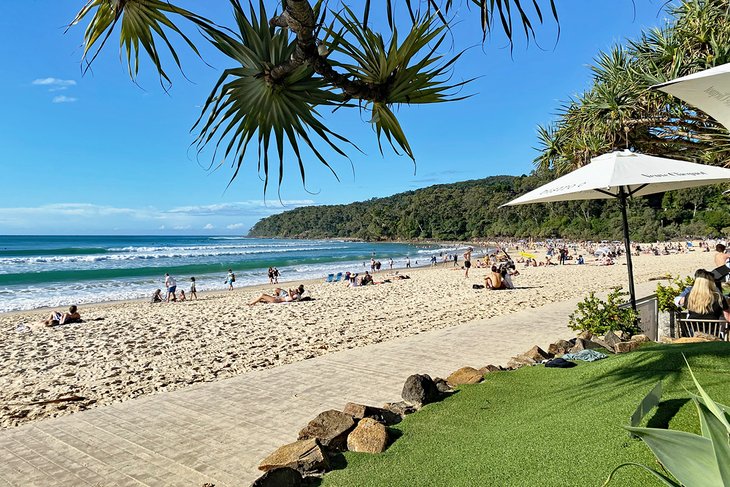 Squeaky-clean sands and glistening surf breaks make Noosa Main Beach a tourist magnet. Families and beginner surfers in particular love the gentle surf at this glorious stretch of north-facing beach, and it's a lovely spot for a swim. While you're paddling in the clear water, you can see beautiful views of Noosa National Park cloaking the headland at the eastern end of the beach. It's also a relatively safe beach; lifeguards patrol here every day of the year.
In the summer and peak periods, throngs of tourists flock here, and a sea of colorful cabanas pops up along the shore. If you want to escape the crowds, wander around the headland to Little Cove.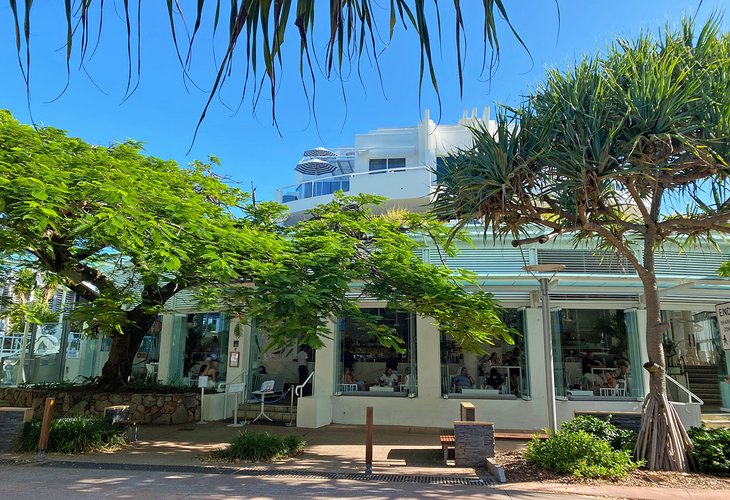 Need a break from the scorching Aussie sun? Hastings Street, Noosa's main drag, is only a short stroll away, with chic designer shops, art galleries, restaurants, and cafés. Order a cool drink and a snack, sit back, relax, and dine alfresco watching the parade of people passing by, or stroll along the street with a gelato in hand and see what takes your fancy. Hastings Street is also home to some of the Sunshine Coast's best resorts.
4. Mooloolaba Beach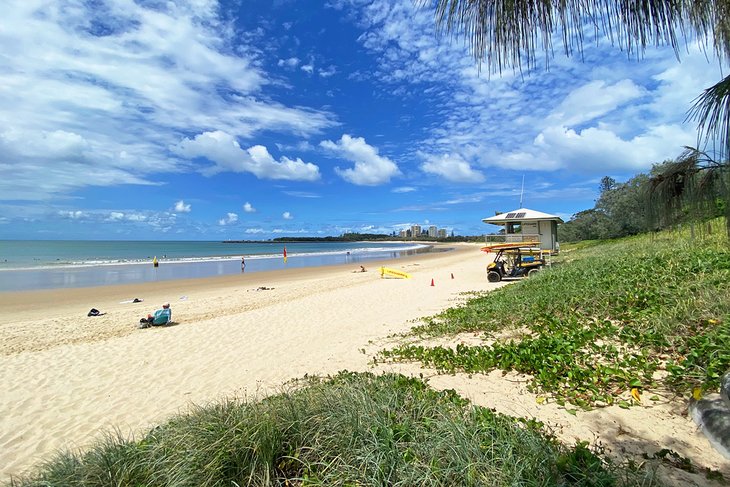 Mooloolaba Beach hums with life at any time of day. Backed by high-rise apartments, this sun-drenched north-facing stretch of sand and sea is more developed than other Sunshine Coast beaches, but that's a big part of its appeal.
There's something for everyone here. Surf squads practice their drills in the clear waters, fitness enthusiasts jog along the beachfront path, beginner surfers brave the swells with their boards, families picnic on the grassy knoll overlooking the shore, and volleyballers spike and set on the sand.
Looking for a place to stay near here on a budget? You can pitch your tent or park your caravan steps from the sand at one of the best campgrounds in the Mooloolaba area.
When hunger pangs strike, hop across the road and grab a snack from one of the sea-view cafés. You can even squeeze in a little shopping along the Esplanade here.
Wondering about other things to do in Mooloolaba? If you're feeling energetic take a stroll to Mooloolaba Spit, about a 40-minute hike along the waterfront. Here, calmer waters lap the shores, and fishing boats bring in their catches. You can even dive one of Australia's best wrecks, the HMAS Brisbane, off the coast. Steps from Mooloolaba Beach is SEA Life Sunshine Coast Aquarium, one of the top things to do on the Sunshine Coast with a family.
Just north of Mooloolaba is Alexandra Headland, with a patrolled beach, great point break, and popular skatepark.
5. The Original Eumundi Markets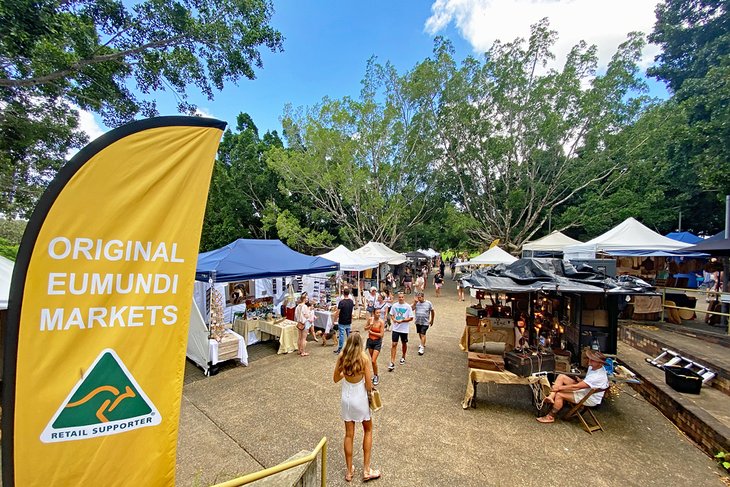 About 20 kilometers southwest of Noosa, the Original Eumundi Markets are the perfect place to soak up some local color. The markets are held every Wednesday morning and Saturday in the cute hinterland town of Eumundi.
"Make it. Bake it. Sew It. Grow it." is the slogan for these vibrant markets, so you know you'll find something unique here. Artisan foods, organic produce, designer clothes, home goods, plants, jewelry, skincare, natural therapies, and toys are just some of the items on offer. This is a fantastic place to buy Sunshine Coast souvenirs or enjoy lunch from one of the food stalls – you can taste everything from Thai food and Tibetan momos to Turkish kebabs.
Fun kids' activities, such as camel rides, complement the fabulous shopping. Roving performers keep everyone entertained, and the kids can burn off steam at the playground adjacent to the market.
Address: 80 Memorial Drive, Eumundi, Queensland
Official site: http://www.eumundimarkets.com.au/
6. The Charming Mountain Villages of Montville and Maleny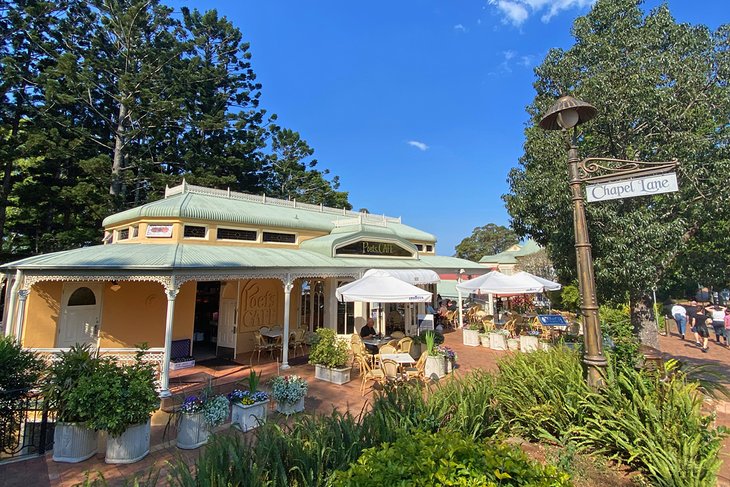 For a change in scenery from the coast's sun-splashed beaches, take a scenic drive to the Sunshine Coast Hinterland. Climb the Blackall Range, through the picturesque hinterland, and you'll reach the cute mountain villages of Montville and Maleny. The drive is part of the Blackall Range Tourist Drive, with spectacular views of the plunging valleys below.
Montville and Maleny lie a little more than 10 minutes' drive away from each other, but most tourists visit them both on a day trip from the coast. Temperatures are sometimes a little cooler here, thanks to the higher elevations.
In Montville, art galleries, gift shops, boutiques, and cozy cafés huddle along the tree-lined streets. You'll also notice some European-inspired architecture.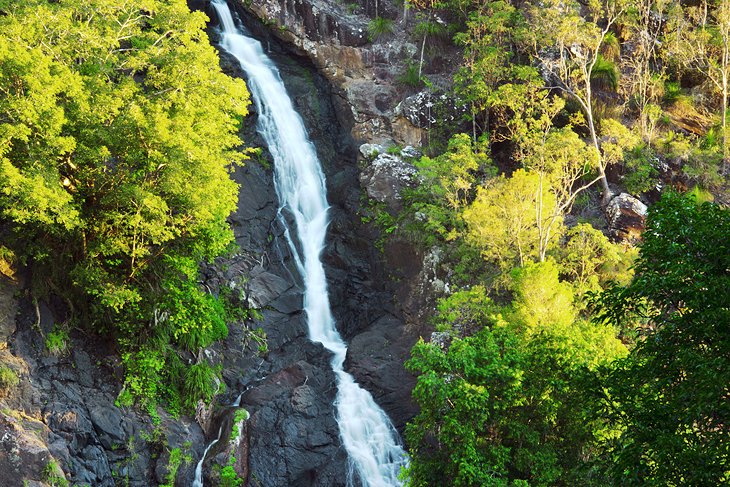 Maleny is also an artsy town, with many galleries, studios, and workshops. Top things to do in Maleny include touring Maleny Botanic Gardens & Bird World, with a miniature animal enclosure, aviary, and Devonshire tea; and visiting Maleny Dairies, where you can milk a cow, pet farm animals, and taste some creamy yogurts and cheeses after the tour.
You can also get back to nature in the Sunshine Coast Hinterland. Hike to beautiful Kondalilla Falls near Montville, enjoy a picnic at Baroon Pocket Dam, or look for pademelons on the rainforest trails in the Mary Cairncross Scenic Reserve – you can also see gorgeous views of the Glass House Mountains from here.
7. Noosa North Shore and Rainbow Beach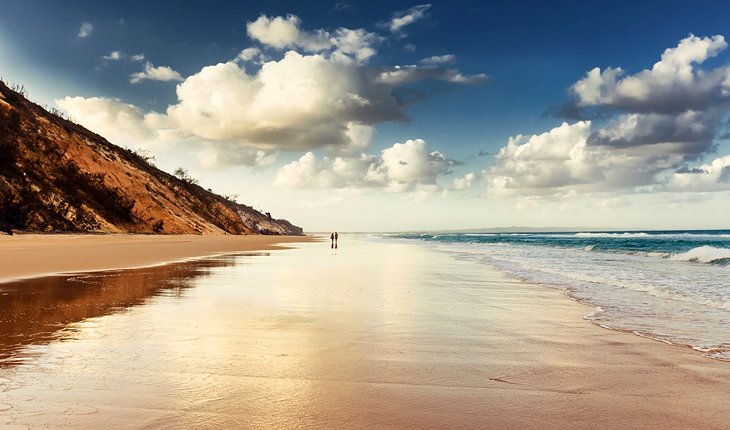 Nothing says freedom like driving along a salty stretch of seemingly endless beach with the wind in your hair. You can do this at Noosa North Shore. Located just across the river from Noosa Heads and Noosaville, this 80-kilometer stretch of golden sand and gently rolling dunes is the gateway to the World Heritage-listed splendor of K'Gari (Fraser Island). It's especially popular with 4WD enthusiasts, anglers, and beachfront campers, who come here for the stunning sea vistas and typically uncrowded stretches of sand.
Wildlife is prolific around the camping areas. Kangaroos and goannas are frequent visitors, and you can also see a diversity of birds.
When the tides are low along Noosa North Shore, you can drive all the way along the beach, past Teewah and the Colored Sands (ochre-hued cliffs), until you reach Rainbow Beach and Double Island Point, where the car ferry departs for K'Gari (Fraser Island).
You can access Noosa North Shore on the daily car ferry from the end of Moorindil Street in Tewantin. Note that vehicle permits are required to drive along the beach and on some of the inland tracks.
8. Coolum Beach and its Hidden Bays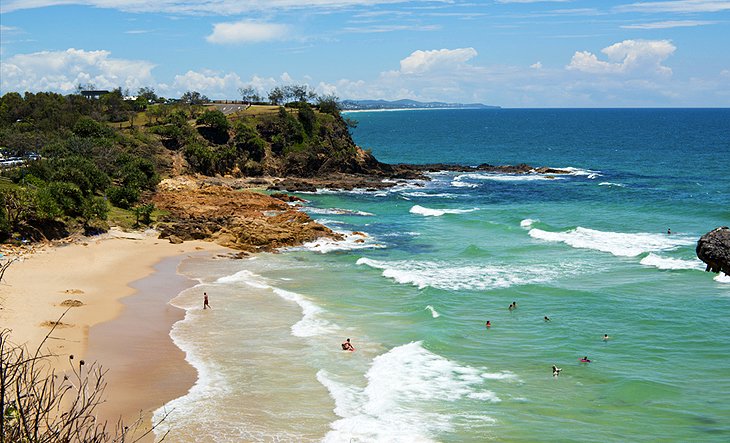 Coolum Beach is a popular base for Sunshine Coast tourists thanks, in large part, to its namesake attraction. This long and lovely stretch of hard-packed sand and blue-green sea is a surfing hot spot. In fact, it's one of the best places on the Sunshine Coast to learn how to surf.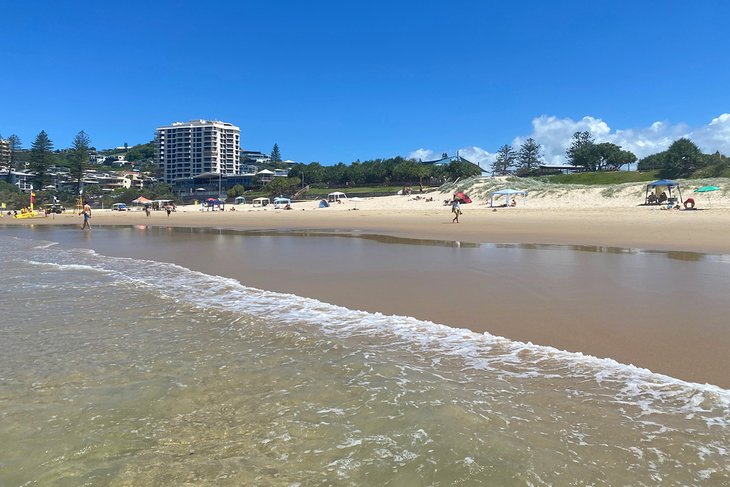 Feel like a snack? Across the street from the beach, you can grab a bite at one of the laid-back little cafés, or pick up some fresh-cooked fish and chips. You can also book surf lessons here, or rent a board.
Planning to stay awhile? You'll find plenty of high-rise holiday apartments in the area, and if you're on a budget, one of the Sunshine Coast's top campgrounds and caravan parks sits just behind the dunes at Coolum Beach.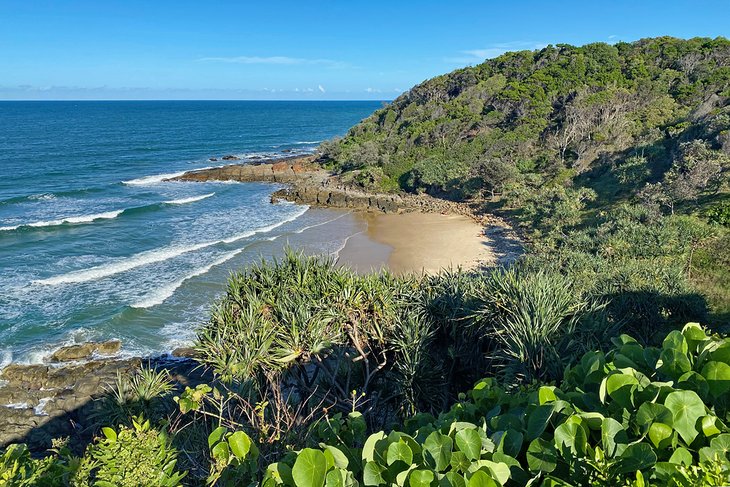 Wander south along the Point Arkwright Trail from here, and you're in for a treat. Bush tracks lead down to pretty pandanus-fringed bays: First Bay, Second Bay, Third Bay, and Arkwright Beach. As you head south, the bays become less crowded, and on a weekday, you might even have one all to yourself. These hidden gems of the Sunshine Coast are the perfect place to enjoy a romantic picnic, potter in the rock pools, frolic with your four-legged friend, or cast a fishing line.
9. Noosaville & The Noosa River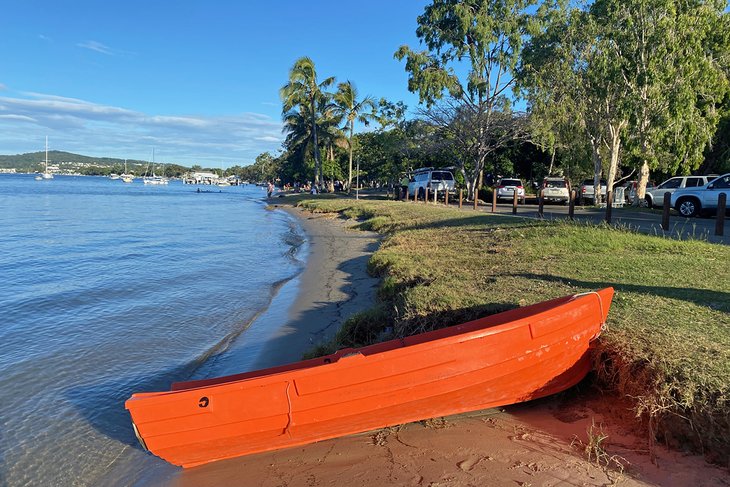 Fishing, swimming, kayaking, paddleboarding, boating, and picnicking – you can do all this and more along the beautiful Noosa River.
If you're looking for Sunshine Coast things to do for families, this is the perfect place to visit. Kids love paddling in the calm waters, casting a fishing line, clambering all over the children's playground, and posing for a photo in front of the giant pelican statue.
Gympie Terrace in Noosaville is one of the best places to access the Noosa River. This palm-lined riverfront precinct buzzes with tourists in peak season, who come here to feast at the cafés and restaurants, enjoy a picnic under the shady trees on the riverfront, and stroll along the palm-lined paths.
Want to zip along the glittering waters on a boat? You can rent pontoon boats and dinghies at boat rental outlets along the river, and if you feel the need for speed, sign up for a jet boat or Jet Ski ride. Another great way to explore the river is aboard the Noosa Ferry. Hop aboard and pick your stop – you can catch a ride to Hastings Street from here.
Planning to stay awhile? You'll also find one of Noosa's top campgrounds and caravan parks right on the river.
10. Kings Beach, Caloundra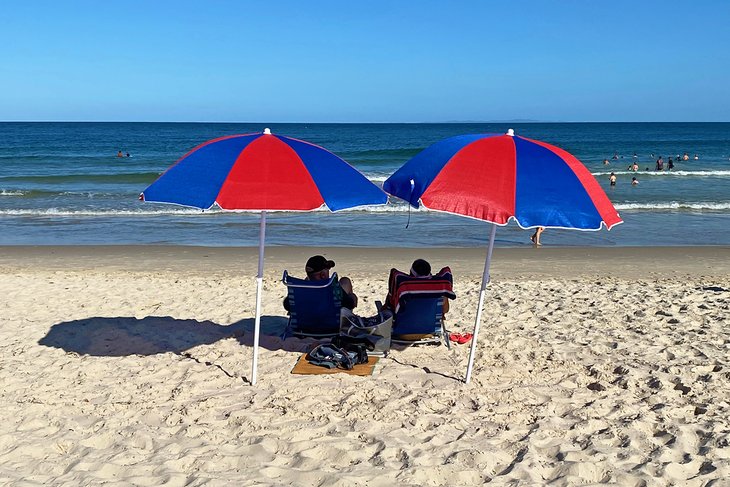 Caloundra is crammed with beautiful beaches, but Kings Beach really is king. This lovely slice of powdery shoreline has something to keep every member of the family happy.
Kids can paddle in the gentle beach break, craft the perfect sandcastle, peer into the rock pools, and run wild in the water park. Parents will be happy here, too. They can enjoy a picnic, take a cool dip, clock some laps in the oceanfront pool, or bask in the sun. Lifesavers patrol the beach and pool area.
Is surfing your chosen sport? This is a great spot to ride the waves. Book a lesson if you're a beginner. And when you need a break from all your activities, an array of excellent restaurants and cafés await just steps from the sand.
Read More: Top Things to Do in Caloundra
11. Mount Coolum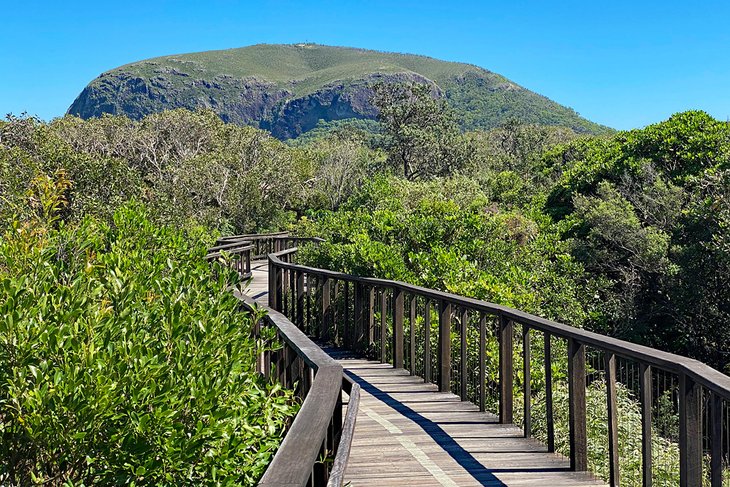 Mount Coolum is one of the most distinctive landmarks on the Sunshine Coast. This dome-shaped volcanic rock rises 208 meters above the coastal plains of Coolum Beach and makes a picturesque backdrop to Coolum's golden beaches.
Hiking to the summit of this 25-million-year-old volcanic dome is one of the top things to do in Coolum Beach. The 800-meter track to the peak takes about 90 minutes return, depending on your fitness level, and involves climbing up hundreds of stone steps.
What's your reward? Apart from a workout for your thighs and calf muscles, you can enjoy 360-degree views from Double Island Point to Caloundra, on a clear day. Also keep an eye out for wildlife – peregrine falcons, echidnas, grey-headed flying foxes, and northern brown bandicoots are some of the critters you might spot on your hike.
Insider's Tip: The hike is best tackled in dry weather, as the steep rocks at the top become slippery after rain. Early morning and late afternoon are the best times to try this hike – especially on hot summer days. Weekdays are the least crowded.
The trailhead is at Tanah Street West (off David Low Way) about 3.5 kilometers south of Coolum Beach.
12. Caloundra Coastal Walk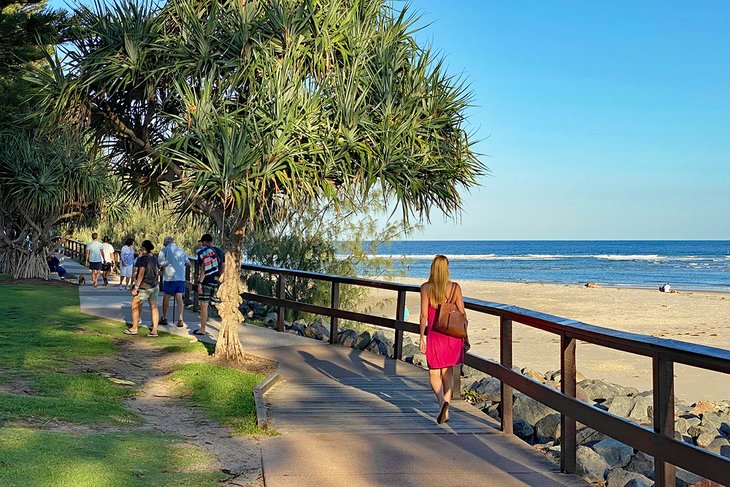 The Caloundra Coastal Walk is one of the best ways to sightsee on the Sunshine Coast. Who doesn't love strolling in the sunshine, past countless beautiful Caloundra beaches, with a gelato in hand? Stop for a cool dip if you work up a sweat, or pop into one of the buzzy little cafés for a coffee break along the way.
You can walk for miles along here. The trail stretches for 25 kilometers, all the way from Golden Beach in the south to Mooloolaba in the north. Along the way, must-see Caloundra attractions include action-packed Kings Beach, with a water park and oceanfront pool; the cafés and calm waters of Bulcock Beach; and Caloundra Headland Memorial Walkway, which honors those who lost their lives during World War II.
Prefer to bike the track? You can do that, too, and sculpt your calves pedaling up and down the hills.
13. Glass House Mountains National Park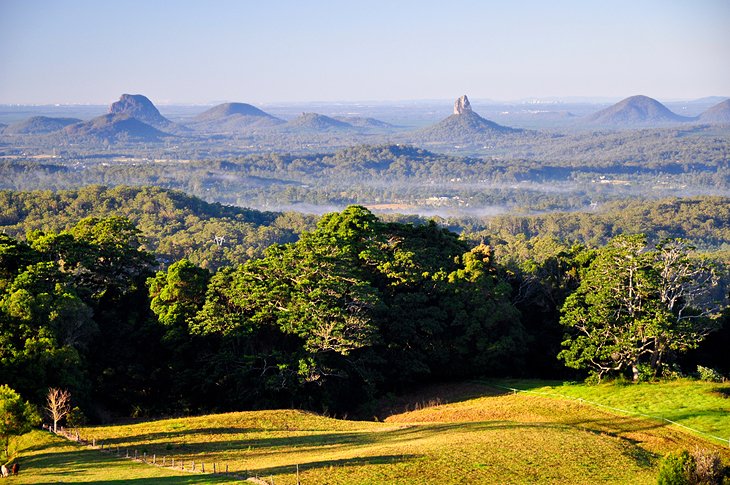 Popular with nature lovers and hikers, the distinctive peaks of Glass House Mountains National Park are listed on the Queensland and National Heritage Register. The area is also one of the spiritual places on the Sunshine Coast for the Gubbi Gubbi people, who used this site for sacred ceremonies, as well as trading.
According to Aboriginal legend, Mount Beerwah, the highest peak, is the mother that gave birth to the smaller surrounding peaks, and Mount Tibrogargan is the father peak. Rising like giant witch's hats and rounded anthills, the peaks are volcanic plugs, the center of extinct volcanoes.
Mount Ngungun and Mount Tibrogargan are the only two peaks open to the public for hiking. They offer trails catering to all abilities, from easy base trails to more challenging summit hikes with spectacular coastal views.
Abseiling, mountain biking, horseback riding, and rock climbing are other popular things to do in Glass House Mountains National Park, and the park is home to a rich diversity of plant and animal life, including koalas, echidnas, and grey kangaroos.
Before exploring the area, stop by the Glass House Mountains Visitor and Interpretative Centre. The popular Lookout Cafe, near the Glass House Mountains lookout, is a lovely spot to start or end a gentle hike with Devonshire tea and delightful views. Keep an eye out for kangaroos under the mango trees here.
Address: Glass House Interpretative Centre, Settler's Rotary Park, Reed Street, Glass House Mountains
Official site: http://www.nprsr.qld.gov.au/parks/glass-house-mountains/
14. SEA Life Sunshine Coast Aquarium, Mooloolaba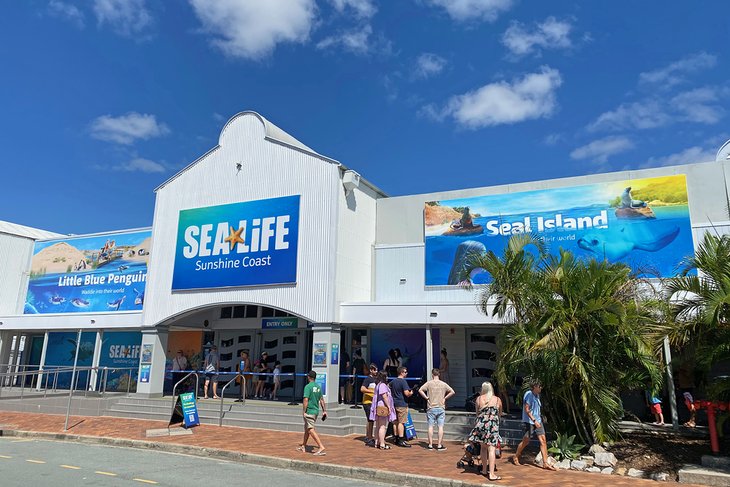 SEA Life Sunshine Coast Aquarium offers a fascinating glimpse at life under the sea and in Australian freshwater habitats. It's organized around themed zones with related exhibits, which include a tidal touchpool, where little ones can feel the bumpy skin of sea stars and learn about stingrays; a jellyfish kingdom; freshwater streams; billabongs; a seahorse sanctuary; and an ocean tunnel, where the rays and sharks glide all around you.
Shark dives, educational presentations, children's play areas, and live shows add to all the fun; the seal show is a particular favorite.
This is a great rainy day attraction, although the exhibits will wow pint-sized animal lovers at any time. After a fun morning touring the exhibits, you can take the kids to nearby Mooloolaba Beach for a picnic.
Address: Parkyn Parade, Mooloolaba, Queensland
Official site: https://www.underwaterworld.com.au/
15. Sunshine Plaza, Maroochydore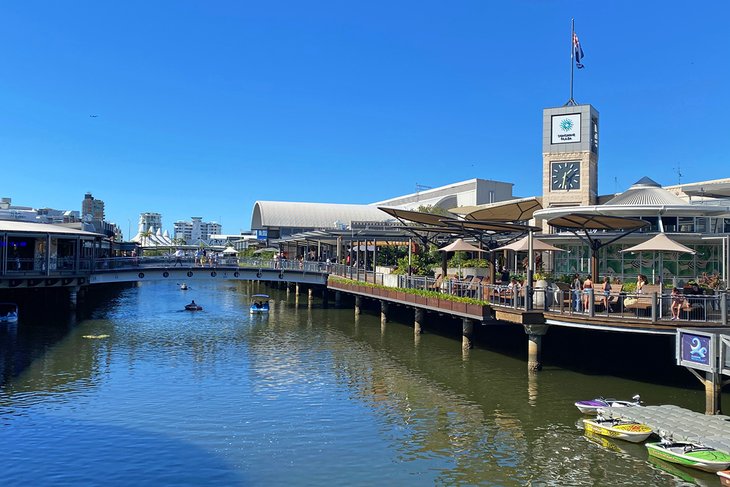 Shopping at Sunshine Plaza feels like shopping at a resort. Potted palms and lush plants line the walkways, and bridges cross a sparkling waterway that runs through its heart. Set around a natural creek, this sun-splashed indoor/outdoor mall is the largest shopping center on the Sunshine Coast. This is definitely the place to find a bargain, or splurge on a new outfit.
You'll find more than 320 specialty stores here, as well as big-name stores like David Jones, Myer, Kmart, Target, and Big W. Craving a sweet treat? Pick up a snack at Noosa Chocolate. Need a new look? Head into Calvin Klein or Country Road.
Food is another highlight. You can grab a bite to eat from the food hall and dine overlooking the water, or relax at one of the cafés or restaurants serving everything from burgers to noodles.
Need a break from shopping? Rent a paddleboat with the kids or head to the 12-screen cinema and enjoy a movie. Whether you're shopping, watching a movie, or dining at one of the restaurants here, a visit to Sunshine Plaza is one of the best things to do on the Sunshine Coast when it's raining.
Address: 154/164 Horton Parade, Maroochydore, Queensland
Official site: https://www.sunshineplaza.com/
16. The Ginger Factory, Yandina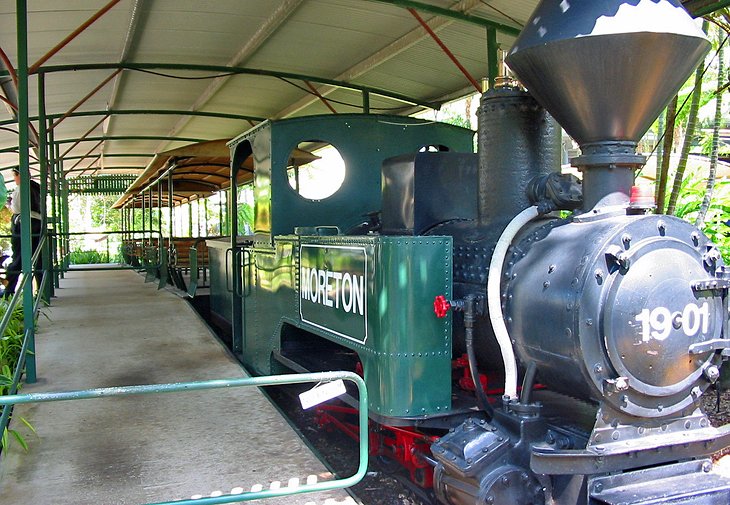 If you're looking for a few hours of fun with the children, the Ginger Factory in Yandina fits the bill. Young kids will love riding the little train through the tropical gardens, and they can learn all about bees at a special beekeeper presentation, topped off with a honey tasting.
But where's the gingerbread man? It's the burning question on a cute indoor boat trip. Hop aboard, travel around the world, and see if you can spot him among the interactive puppets – it's one of the more unusual things to do on the Sunshine Coast with kids.
Most of the attractions are geared towards younger kids, but parents will enjoy the ginger factory tour and tastings and a stroll through the beautiful gardens, which brim with ginger plants, orchids, and bromeliads.
Is all that ginger making you hungry? A café and ice-creamery are on hand for hungry visitors, and the large gift shop sells all sorts of ginger-related items, as well as local treats and souvenirs,
Address: 50 Pioneer Road, Yandina, Queensland
Official site: http://www.gingerfactory.com.au/
17. Spirit House Restaurant and Cooking School, Yandina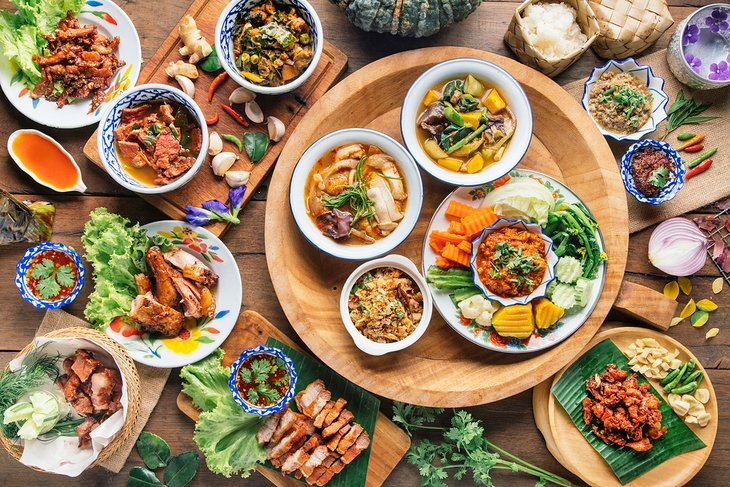 For a taste of Thailand in the Queensland tropics, you can't beat Spirit House Restaurant and Cooking School. Step onto the lush grounds, and you'll feel as though you're at a temple deep in a Thai rain forest. Fragrant incense wafts around you, frogs sing in the palm-lined pond, and wind chimes jangle in the breeze.
Sign up for a cooking class here, and you can learn how to prepare an authentic Thai meal, then sit down with your new cooking buddies and feast on your creation. If you'd rather skip the cooking lesson and dine here instead, this is one of the most romantic places to dine on the Sunshine Coast.
Address: 20 Ninderry Road, Yandina, Queensland
Official site: https://www.spirithouse.com.au/
More Related Articles on PlanetWare.com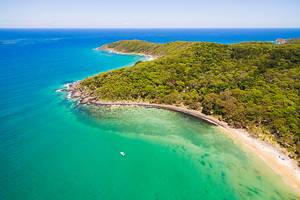 Exploring South East Queensland: Sunshine Coast destinations make ideal places to visit for a sun-and-sea vacation. For more things to do on the coast of South East Queensland, read our article on the top attractions in Noosa Heads, from hiking in Noosa National Park to basking on Main Beach. If islands are more your style, K'Gari (Fraser Island) offers a unique 4WD experience just off the coast of Hervey Bay. You can also hike rain forest trails and swim in crystal-clear lakes. Seeking a livelier beach destination? Head south from the Sunshine Coast to the glitzy Gold Coast for high-end shopping and a buzzing nightlife.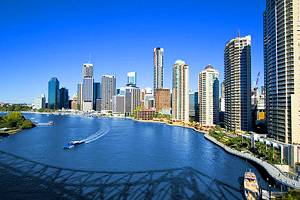 Brisbane & Beyond: For a city fix, the state capital of Brisbane is about a 90-minute drive from the Sunshine Coast Airport. Browsing the excellent art galleries and museums, strolling around botanic gardens, and scenic river cruises are some of the top things to do in Brisbane. And if you have more time on your travel itinerary, check out our article on the top-rated day trips from Brisbane for other adventures in the region. Traveling with the kids? You'll find plenty of family-friendly attractions in our article: Brisbane with Kids: Top Things to Do, from playgrounds and parks to a planetarium and wildlife park.