14 Top-Rated Things to Do in Hervey Bay
Nature rules in Hervey Bay. Sitting in the center of the UNESCO-recognized Great Sandy Biosphere Reserve, about a 3.5-hour drive north of Brisbane, this friendly Fraser Coast town is one of Queensland's best places to visit for exhilarating wildlife adventures.
Ever wanted to swim with a whale, or come eye to eye with one from a boat? You can tick it off your bucket list in Hervey Bay — it's the whale watching capital of Australia. Swimming with manta rays? You can do that, too, on a day trip to ravishing Lady Elliott Island. Craving a 4WD safari adventure? Hervey Bay is the gateway to World Heritage-listed Fraser Island (K'Gari), the largest sand island in the world, home to crystal-clear lakes, lush forests, and fascinating wildlife.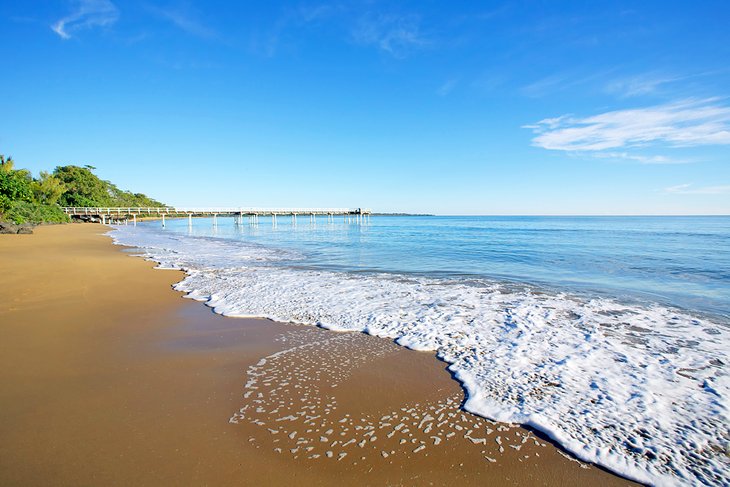 Aquatic activities are another highlight in Hervey Bay. Thanks to its calm waters and sunny, subtropical climate, the area is a wonderland for water sports year-round. Sailing, diving, paddleboarding, kayaking, jet skiing, and swimming are all top things to do in Hervey Bay, and the placid, fish-rich waters make it one of the best fishing destinations in Australia.
Traveling with children? Hervey Bay's family-friendly beaches are perfect for paddling with the kids. Plus the region's top places to visit are refreshingly uncrowded compared to other coastal hot spots, so you'll find plenty of space to spread out and enjoy life by the sea. Plan a picnic in the botanical gardens, bike along the waterfront paths, and cool off in the bay-view water park.
If you're interested in history, you won't be disappointed. Hervey Bay Historical Village & Museum provides plenty of hands-on activities for the whole family. Also try to save time for a day trip to charming Maryborough, one of Queensland's oldest towns. Here, you can learn about the region's coal, sugar, and timber industries; visit the house where Mary Poppins creator P. L. Travers once lived; and pay your respects at one of the country's most important war memorials.
Whether you're planning a family vacation, eco-adventure, or romantic escape, find inspiration with our list of the top things to do in Hervey Bay, Queensland.
1. Come Eye to Eye with Humpback Whales on a Whale Watching Cruise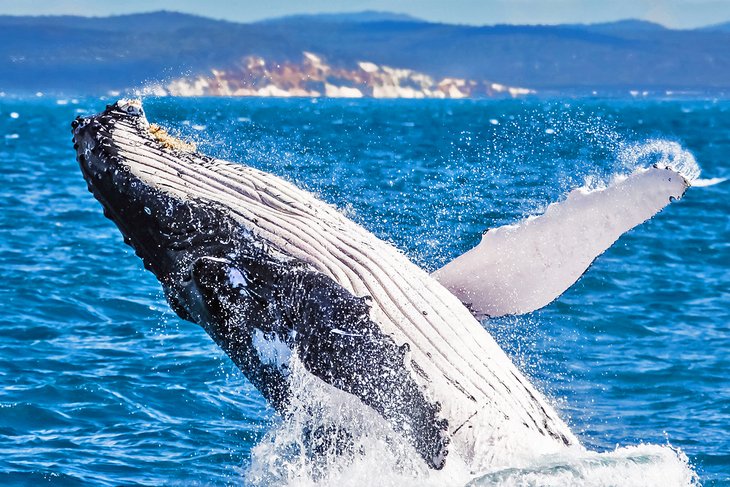 In 2019, Hervey Bay became the first place in the world to earn a World Cetacean Alliance designation as a Whale Heritage Site. Once you visit here during whale season, you'll see why.
Sheltered by K'Gari (Fraser Island), the calm, shallow waters off Hervey Bay provide a sanctuary for humpback whales. Instead of just swimming by the area, the whales stop here during their long migration to rest, mingle, and teach their calves, using the bay as a humpback nursery. And lucky visitors get a front row seat to all the action.
Curious and gentle, the whales sometimes approach within inches of the boats, breaching, spy hopping, and "mugging" the vessels (staying near the boats for extended periods of time), thrilling wildlife watchers with their acrobatics and up-close encounters.
Wondering when to go? The best time for whale watching in Hervey Bay is from late July through early November, and the prime months to see the mothers and calves lingering in the bay are August through October.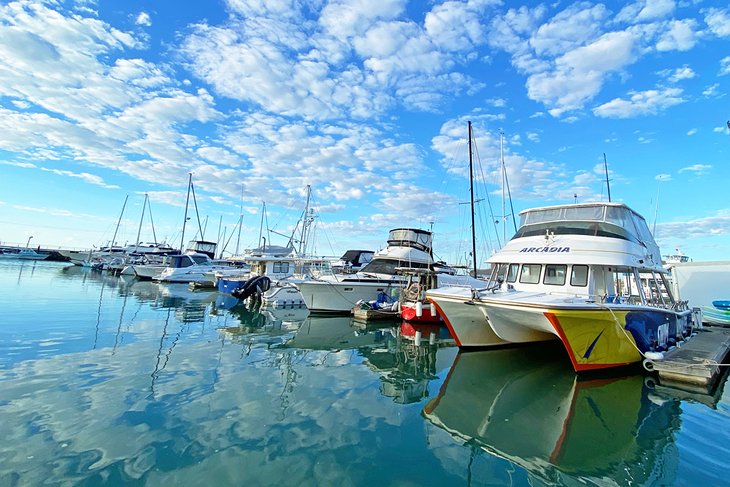 Around 11 tour operators offer whale watching cruises from Hervey Bay, ranging from three-hour tours to full-day adventures. Most of these are equipped with hydrophones, so you can hear the whales communicating underwater, and some, like Blue Dolphin Marine Tours, offer an in-water platform for close-up experiences.
On the Spirit of Hervey Bay Whale Watching Cruise, you can choose from a four-hour or 5.5-hour catamaran cruise around the calm waters of Platypus Bay, accompanied by an expert commentary. During your tour, you'll look for humpback whales and other marine life, and glide past the beaches of K'Gari (Fraser Island).
Ever wanted to swim with a whale? Hervey Bay Dive Centre and Hervey Bay Whale Watch & Charters offer this exhilarating adventure, usually from mid-July through early September.
If you're not visiting during whale season, no worries. You can take an eco-cruise or sunset cruise to see other marine species. Dugongs, loggerhead and green turtles, orcas, Australian humpback dolphins, bottlenose dolphins, and seabirds are other residents you can spot year-round.
2. Get Back to Nature on K'Gari (Fraser Island)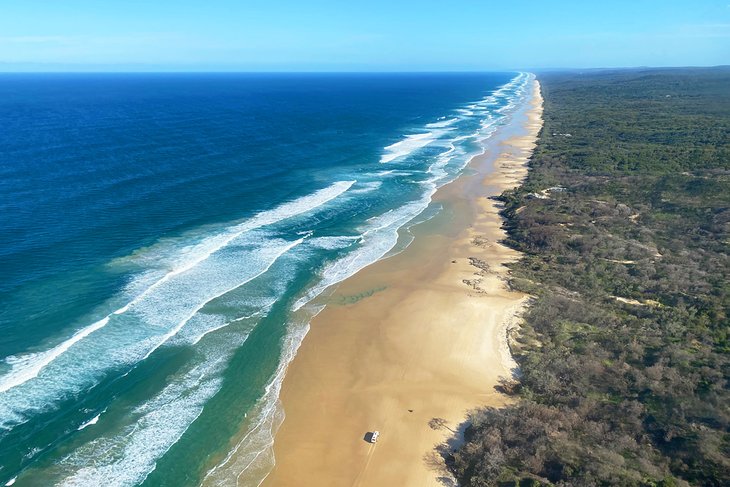 Visiting World Heritage-listed K'Gari (Fraser Island) is one of Australia's top outdoor adventures, and it's less than a 50-minute boat ride from Hervey Bay.
What makes this island so special? First of all, it's the largest sand island in the world, stretching for more than 123 kilometers in length.
Second, you can drive for days along the wild, windswept beaches — 75 Mile Beach is like a sandy highway, and it's one of the few places in the world where you can land a plane on the beach. The island's unique landscapes range from striking blue lakes with bleached white shores to giant sand blows, crystal-clear streams, and lush forests.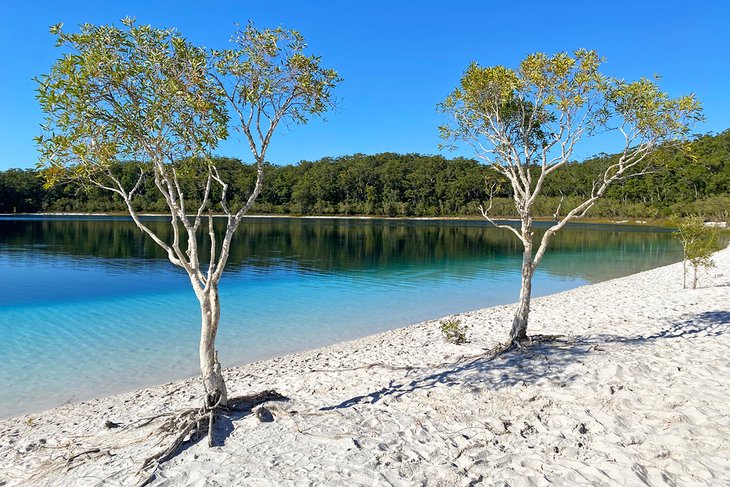 Adding to all this beauty is a fascinating cast of wildlife. On land, you might spot dingos, wallabies, echidnas, kangaroos, snakes, and a dazzling diversity of birds. Aquatic life is equally diverse — dolphins, dugongs, turtles, whales, stingrays, and sharks all swim these waters.
Outdoor lovers will be in heaven. Besides four-wheel-driving on the beach and looking for wildlife, popular things to do on Fraser Island include fishing and swimming in the lakes and creeks. Plus, you can hike for days through rainforests and along the windswept beaches on the Fraser Island Great Walk.
If you only have time to visit Fraser Island on a day trip, the All-inclusive Fraser Island Day Tour is a great option. It includes a stop at the top attractions: a swim in Lake McKenzie, a float down Eli Creek, driving on 75 Mile Beach, a walk through the rainforest, an optional scenic flight, and more.
But once you spend time on K'Gari, you'll want to stay much longer. Kingfisher Bay Resort and Eurong Beach Resort are the island's two most popular places to stay. Alternatively, you can book a vacation rental or pitch a tent at one of the island's picturesque campsites.
3. Stroll or Bike along the Hervey Bay Esplanade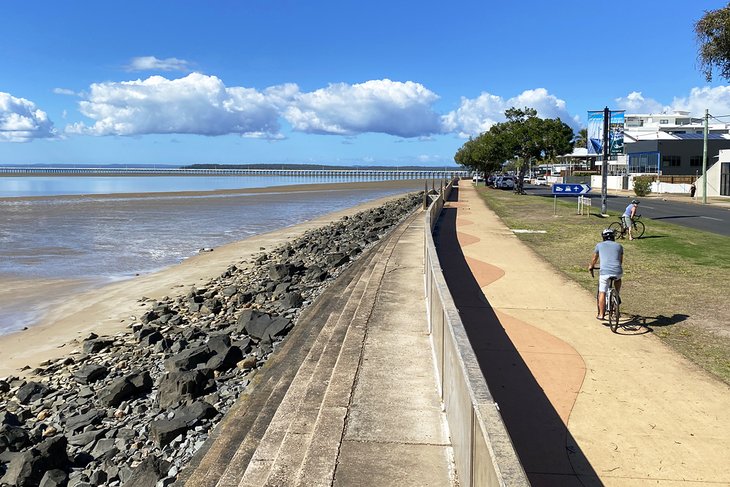 Hervey Bay is full of simple pleasures, and strolling along the Hervey Bay Esplanade is one of them. It's a great way to soak up the friendly vibe and gorgeous sea views of this unpretentious little town.
Stretching for 16 kilometers, the waterfront walking path is a favorite with locals and tourists alike. You can bike, jog, skate, or cruise along here, and stop wherever your heart desires.
To the east, nature puts on a show: white sand stretches to the sparkling blue sea, and lush parks make the perfect picnic spots. Stop at the beach for a refreshing dip. Tone up on the free exercise equipment peppered along the path, or linger and absorb the beauty on one of the strategically placed benches.
On the other side of the esplanade, shops, cafés, and Hervey Bay accommodations make the most of the waterfront views. Feeling peckish? Grab a bite to eat or a coffee at a local café. Enzo's on the Beach offers dreamy bay views, and other favorites include Eat@Dan and Steph's and the funky Cody's Coffee Shack. If you're looking for lunch or dinner, The Bear on the Esplanade serves up hearty Canadian-inspired food.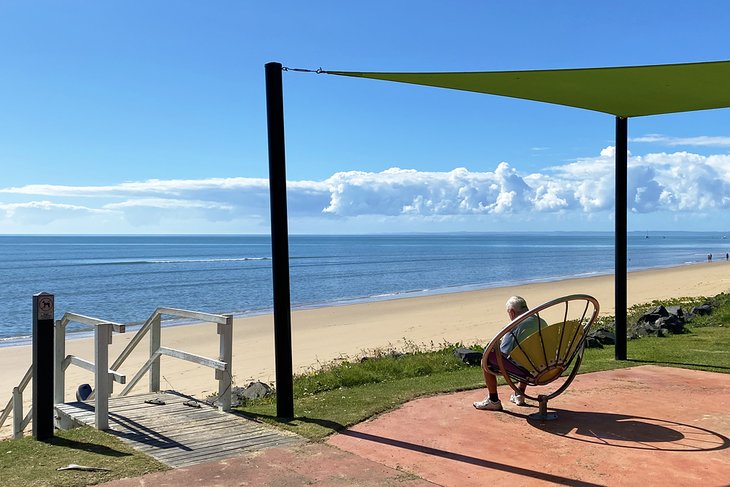 You can also pop across the road to some of the local shops and galleries. Browse some vibrant local art at Ashleigh Manley Studio Gallery, including original watercolors and hand-pulled silk-screen prints. They make perfect gifts.
And if you're walking around later in the day, make time for a sunset drink at the marina, or pick up some take-away fish and chips from Maddigans Seafood and enjoy a classic Aussie picnic on the beach. If you're looking for things to do in Hervey Bay at night, the esplanade is home to some of the area's top restaurants, though life wraps up fairly early in these parts.
Traveling with bouncy kids? Stop at one of the children's playgrounds in the waterfront parks. Better still, pack their swimmers and make a beeline for the Wetside Water Park.
4. Sail into the Sunset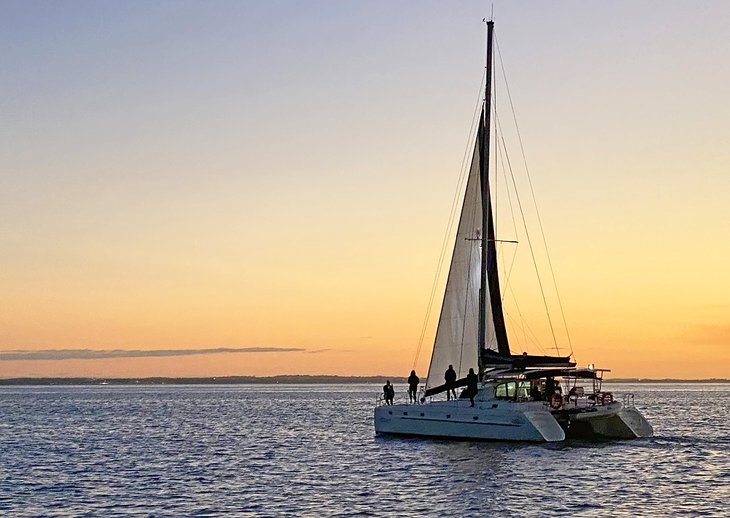 Calm waters, year-round sunshine, and offshore islands: Hervey Bay offers all the ideal ingredients for cruising bliss. Better still, you don't need to cross a bar here, so you can cruise right out into the ocean safely and easily.
Choose from a variety of vessels, ranging from sailing catamarans to multi-deck cruisers. Most cruises also include refreshments and nibbles, and some include a stop for a swim at Pelican Bank, a sand island surrounded by crystal-clear turquoise waters.
While you're cruising along with the wind in your hair and a smile on your face, keep a lookout for marine life. Whales, dolphins, dugongs, and seabirds are among the many animals you might spot while you're out on the water.
If you're traveling with that special someone, this is one of the most romantic things to do in Hervey Bay. Cruises depart from the Great Sandy Straits Marina.
5. Swim, Stroll, and Paddle along Hervey Bay's Beaches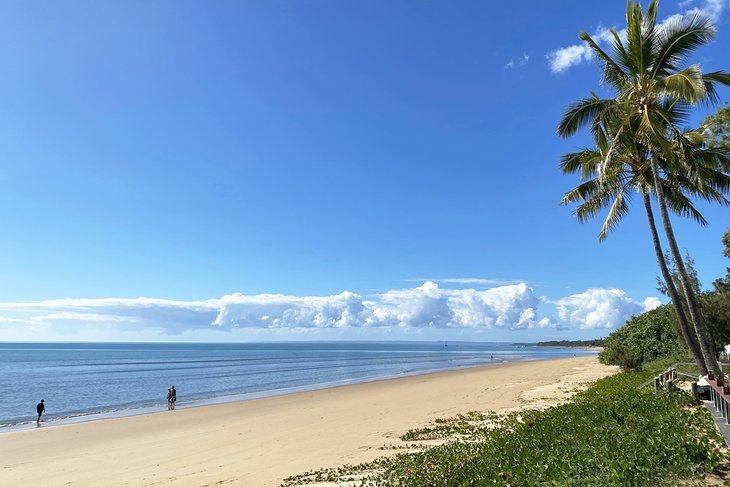 Hervey Bay's beaches are perfect for families and nature lovers. Protected by World Heritage listed (K'Gari) Fraser Island, the waters are typically calm, safe, and great for kids to splash around. You can kayak on the calm waters, build sandcastles along the shore, hunt for crabs at low tide, and paddle in the shallows.
Pialba is the first beach you'll probably see when you arrive. Wetside Water Park is located along this stretch, and you'll find plenty of cafés nearby, as well as a lovely waterfront park and playground. Dog owners can also walk their dogs here in designated areas.
Scarness Beach skirts the central area along the Esplanade, steps from popular cafés, shops, and hotels. The popular restaurant, Enzo's on the Beach, sits right on the edge of the sand here.
Urangan beach is home to the iconic pier. The waters here are ideal for windsurfing and kitesurfing. Locals also come here to cast a line, and tourists love to browse the market stalls back from the beach. If you're looking for somewhere to stay nearby, one of Hervey Bay's best hotels, Oaks Hervey Bay Resort and Spa, is just across the road.
Dundowran beach offers a little more solitude. Located just outside Hervey Bay, this long stretch of sand and sea is perfect for crab hunting, fishing, kayaking, beach strolling, and off-leash doggie fun. Nature also rules at Point Vernon Beach. Here, you can potter in the rock pools, look for birds, and snorkel the rocky reefs. Dogs are also allowed off-leash here.
Feel like a refreshing swim? Torquay Beach is a favorite thanks to the lifeguards who patrol here from September through April. You'll also find a boat ramp and beachfront caravan park, as well as plenty of shops and cafés if you want to grab a bite to eat. Shelly Beach is another popular swimming spot, and its shoreline is peppered with thousands of — you guessed it — tiny shells.
6. Wander along the Urangan Pier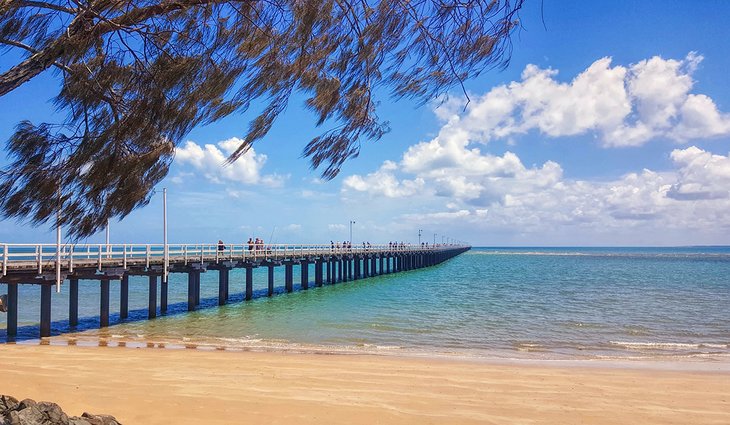 Walk out into the ocean without getting wet on the famous Urangan Pier. At almost a kilometer-long, this iconic pier is one of Australia's longest and oldest — it celebrated its centenary in 2017.
Once the departure point for exporting timber, coal, and sugar, Urangan Pier is now a favorite spot to cast a line, go for a stroll, and soak up stunning views of the bay. While you're walking here, keep a lookout for pods of dolphins, stingrays, and schools of fish. You can also capture great photos of Hervey Bay from the end of the pier.
If you time it right, you can visit the Urangan Pier Park Community Markets. Held every Wednesday through Saturday from 7am to 1pm, these little Hervey Bay markets are a great spot to pick up a souvenir. You'll find everything here from local produce, flowers, and fresh-caught fish to arts and crafts, clothing, toys, and jewelry. Live entertainment and children's activities add to all the fun.
7. Book an Eco Tour with an Indigenous Butchulla Guide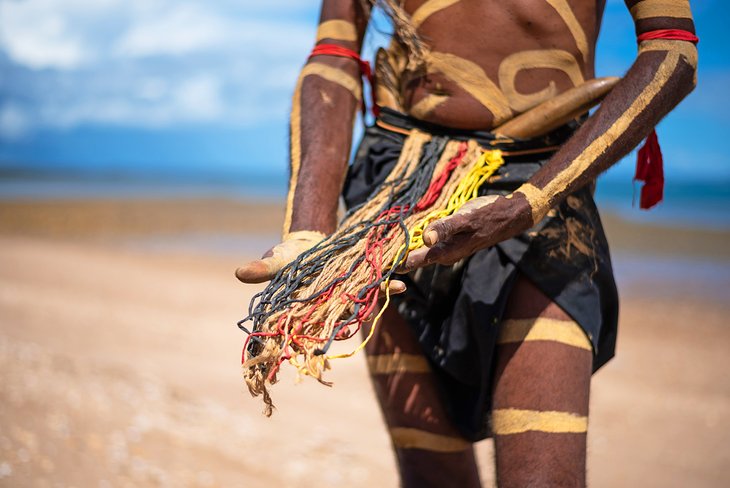 Few people are more equipped to guide visitors through this region than the Indigenous Butchulla people who have lived on this land for thousands of years. You can learn all about their way of life and their intimate relationship with the land on a Hervey Bay Eco Marine Tour.
Choose from three different Indigenous tours: The Turtle Discovery Tour takes you on a glass-bottomed boat to spot these gentle creatures swimming in the local waters, and you'll keep a lookout for other animals such as dolphins and dugongs. During the tours, you'll hear Dreamtime stories from your Butchulla guide about the land and the animals, providing a whole new dimension to your wildlife watching.
The Milbi Sunset Cruise adds the thrum of the didgeridoo to the Dreamtime stories, wildlife spotting, and nature experience. And if you prefer to stay on land, the Djinang Cultural Walking Tour takes you on a 90-minute stroll with a Butchulla guide, where you'll learn about sacred and significant sites around town, sample local bush tucker, and hear a creation story shared by your Butchulla guide.
Official site: https://www.herveybayecomarinetours.com.au/
8. Plan a Picnic at Hervey Bay Botanical Gardens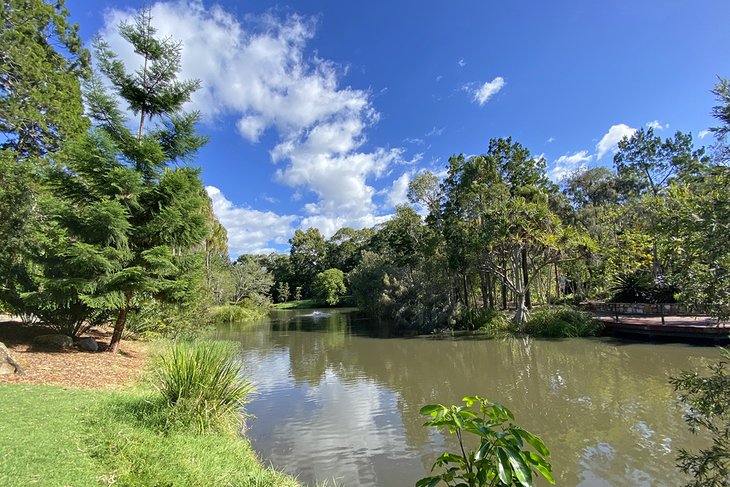 Right in the heart of town, the 26-hectare Hervey Bay Botanical Gardens is a peaceful oasis of lily-topped ponds and lush gardens. It's the perfect place for a picnic.
The garden features plants of the Wide Bay and Sandy Straits regions, with bridges and paths linking wetlands, bushland, rainforest, and formal gardens.
Green thumbs will love exploring the themed gardens. Chill out in the Chinese garden, ogle colorful blooms in the Orchid House, learn about the food sources of the Indigenous Butchulla people at the Bush Tucker garden, or enjoy a walking meditation in the labyrinth.
Kids will love exploring the Nature Garden and looking for turtles in the ponds. Best of all, admission is free.
Address: 62-105 Elizabeth Street, Urangan, Queensland
9. Cool Down at Wetside Water Park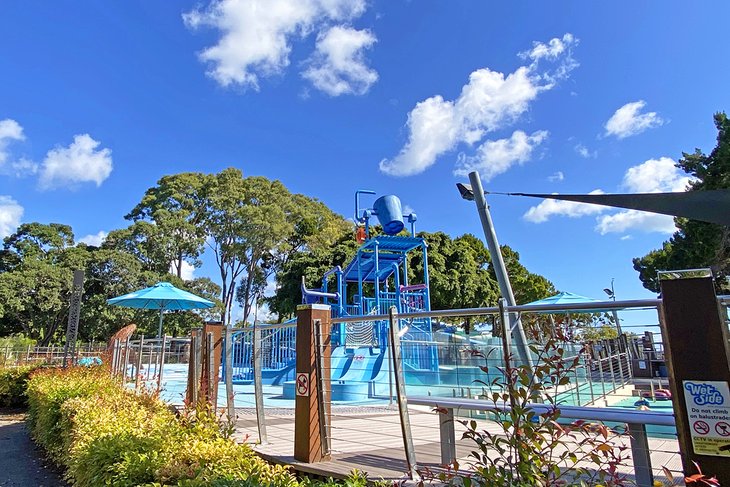 Fizzing fountains, waterslides, wave machines, whale sculptures, tipping buckets, and splash pads — Wetside has kids covered when it comes to water thrills.
Sitting right on the Esplanade, steps from the beach, this waterfront attraction is the perfect place to take the kids on a hot day. Tiny tots can splash around in the dedicated area for kids under five. Older kids can zoom down the slides. Parents can sit in peace and soak up the beach and bay views while the kids run wild. Friendly lifeguards are on hand to help.
Looking for things to do in Hervey Bay at night with the kids? Check the times for the "Light Show Spectacular" when colored lights illuminate the water fountains, all set to a musical soundtrack.
After all the water thrills, you can enjoy a picnic in the adjacent park or pop into one of the nearby cafés.
This popular tourist attraction is one of the best free things to do with kids in Hervey Bay, although there is a small fee for the two large waterslides. Note, though, that the water park is closed during the colder months (May through September). Check the website before you visit for details.
If you're looking for something to do with the kids on a rainy day or when the water park is closed, Reefworld Aquarium is also worth a visit. Green sea turtles, reef fish, sharks, and crabs are just some of the underwater critters you can see here.
Address: 267 Esplanade, Pialba, Queensland
Official site: https://www.frasercoast.qld.gov.au/wetside-water-park
10. Step Back in Time at Hervey Bay Historical Village & Museum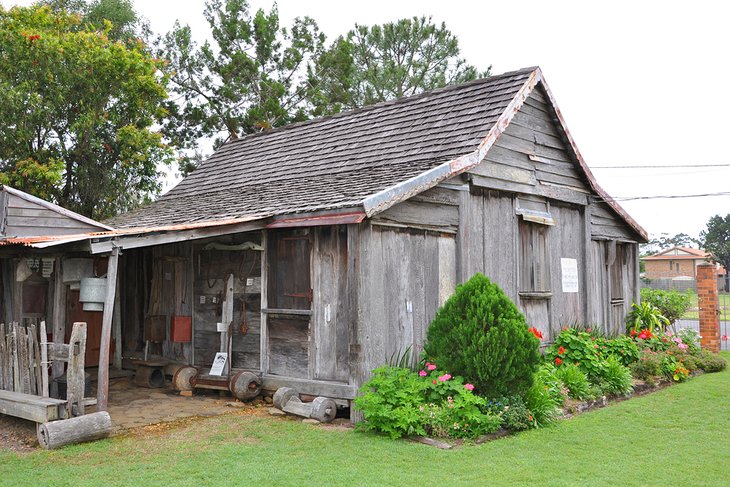 Are you curious about the history of Hervey Bay? Take a stroll back through time and discover Hervey Bay's humble beginnings at this fascinating historical village.
One of Hervey Bay's hidden gems, this is a wonderful place to visit with the kids. Spread across 1.2 hectares, the 21 buildings host demonstrations on valuable skills from the region's early days. See the sparks fly as a blacksmith makes horseshoes. Learn interesting facts about corn products, and help shell and grind the corn during your visit, or try your hand at rope-making or wood turning and make your own miniature goblet or spinning top.
To make the most of your visit, try to time your day around these interactive demonstrations (usually Sundays from 1-3pm) — especially if you have kids in tow.
After exploring all the exhibits, you can cook up a barbecue on the grounds and purchase a souvenir from the gift shop. The museum is open on the weekends and Queensland school holidays, but check the website before you visit for specific times.
Address: 13 Zephyr Street, Scarness, Queensland
Official site: https://herveybaymuseum.com.au/
11. Visit Lady Elliot Island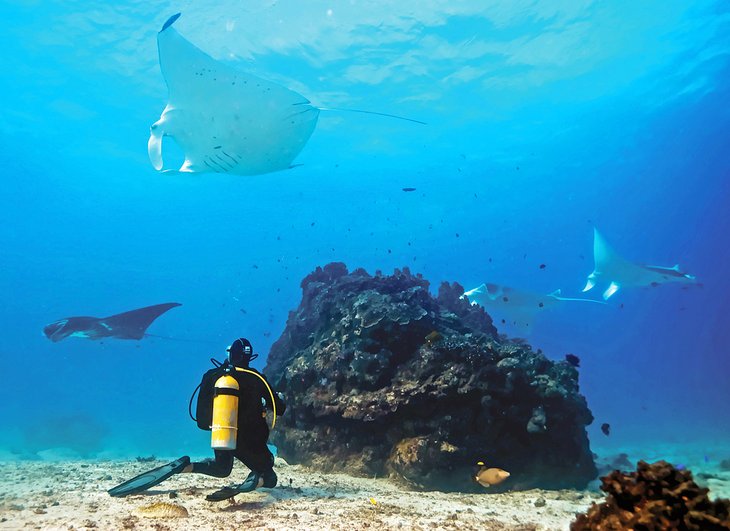 Hervey Bay is also a gateway to one of the most unspoiled islands on the Great Barrier Reef: Lady Elliot Island. Short on time? Luckily, Lady Elliot Island Eco Resort runs day trips to the island.
Enjoy the island from multiple perspectives on these activity-packed excursions. Scenic flights from Hervey Bay allow you to soak up the beauty of this pristine coral cay from the air. Then, after a tour of the island on arrival, hop aboard the glass-bottomed boat for a snorkeling trip. The fish-filled coral reefs at this southern end of the Great Barrier Reef are among the healthiest on the entire reef. Keep an eye out for turtles and dolphins, and if you time it right (May and June), you can even swim with manta rays.
After your snorkeling adventure, enjoy a buffet lunch at the resort's restaurant. Then the rest of the afternoon is at your pleasure: from basking on the beach to exploring the island's rich birdlife, before hopping aboard your 40-minute return flight to Hervey Bay.
Official site: https://ladyelliot.com.au/day-trip-ex-hervey-bay/
12. Go Fishing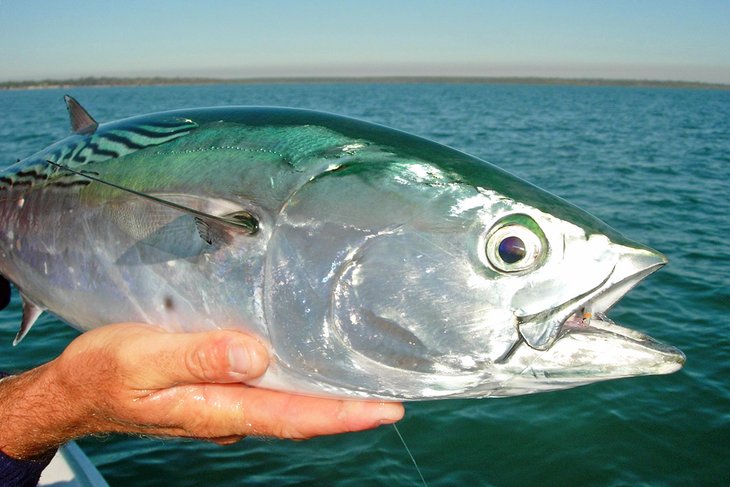 Hervey Bay forms part of the Great Sandy Biosphere, one of the best fishing nurseries in Australia. Species diversity is a major bonus of fishing in Hervey Bay — you'll find both northern and southern species here, as well as a range of habitats, from ocean flats to sheltered bays and fertile rivers. Protection from Fraser Island also means the waters are typically calm, creating fantastic conditions to cast a line.
Sportfishing is a highlight. Target species include blue and black marlin, barramundi, mangrove jacks, longtail tuna, sailfish, snapper, and golden trevally.
Beach fishing is also fantastic. You can head to the eastern shores of K'Gari (Fraser Island) for the annual tailor run from August through October, and the summer months bring dart, whiting, and flathead.
Prefer river fishing? Head to the banks of the beautiful Mary River for barramundi, threadfin salmon, and Australian bass, among other species.
Land-based fishing is also easy. Cast a line off Urangan Pier for flathead, garfish, or whiting, and if you're lucky, you might even hook tuna, trevally, or queenfish.
Choose from a range of charter options. Hervey Bay Fly and Sportfishing offers half-day, full-day and week-long charters, as well as camping trips on Fraser Island. And if you need to buy fishing gear and tackle, or just want to chat with the friendly locals about the hot fishing spots, head into Fisho's Tackle World Hervey Bay.
13. Take a Day Trip to Maryborough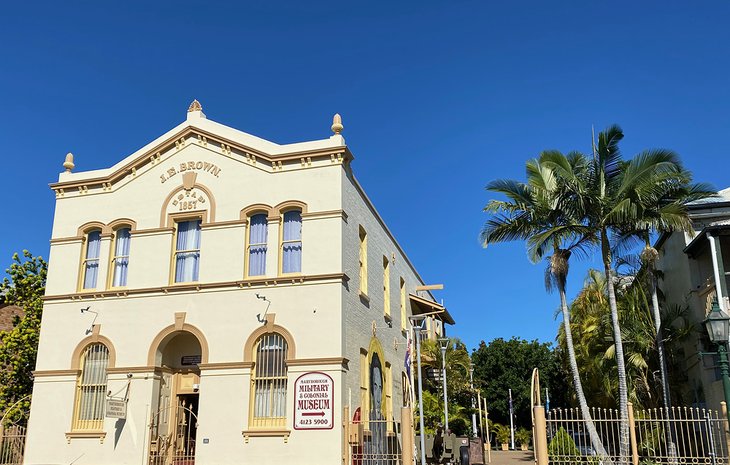 Maryborough makes the perfect complement to a Hervey Bay holiday. This picturesque historic town on the banks of the Mary River is one of Queensland's oldest towns. It was a major industrial center at the turn of the 20th century, building railway rolling stock and naval ships. Today, its rich history seeps from the handsome heritage buildings and the poignant memorials and museums peppered throughout town.
When you arrive, stop by the Maryborough Visitor Information Centre. Housed in the 1908 heritage-listed City Hall, the center dispenses helpful information on the area's top tourist attractions, as well as maps for the walking tour and driving trail.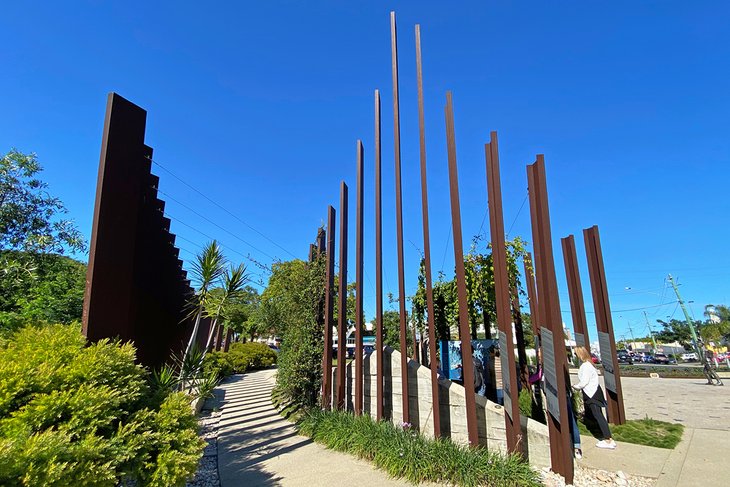 A must-see Maryborough attraction is the Walk with the ANZACS Gallipoli to Armistice Memorial in Queen's Park, one of the most important war memorials in the country. Maryborough's son, Lieutenant Duncan Chapman, the first ANZAC to come ashore at Gallipoli, is among the many soldiers honored here, and you can learn some of their stories through the moving audio-guide — the sounds of marching boots echo along the trail.
Next, head to the Military Museum. Here, more than 10,000 artifacts tell personal stories of those who fought and died in battles, from the Boer War to Afghanistan. Highlights include the original Victoria Cross medal group for Gallipoli and some of the heart-wrenching letters these heroes wrote home — some of them represent their final words.
Fans of the popular children's book, Mary Poppins will be pleased to learn that Maryborough is the birthplace of the creator, P. L. Travers. Save time to tour the home where she was born, The Story Bank, which has been carefully recreated in the style of that period and transformed into a creative, exhibit-packed museum. All the hands-on activities here keep little hands busy and delight visitors young and old.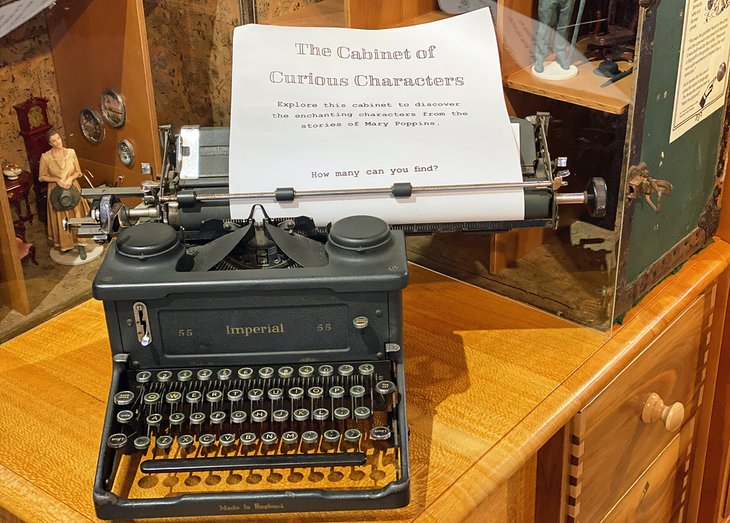 While you're wandering around Maryborough, keep an eye out for the 37 colorful art installations on the Maryborough Mural Trail. These bold pops of art tell the story of the town's fascinating history and make great Instagram shots as you tour.
Insider's tip: Free guided walking tours depart at 9am Monday through Saturday from City Hall.
14. Dive the Ex-HMAS Tobruk and the Roy Rufus Artificial Reef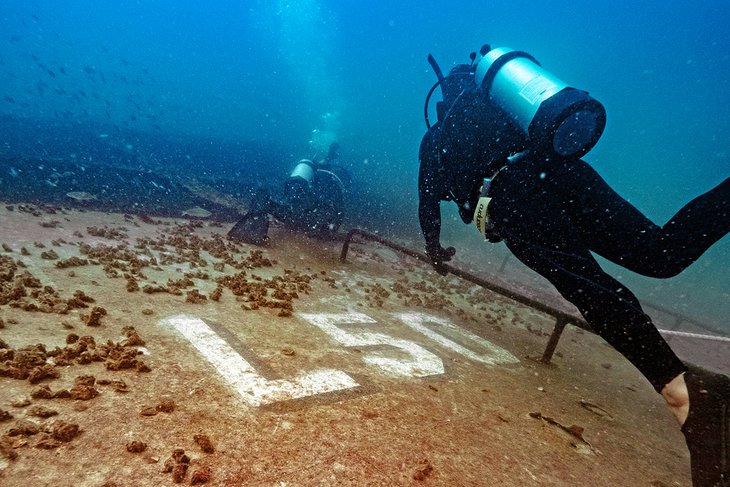 Wreck divers take note: In 2018, the 127-meter former Naval Ship was scuttled, and began its new life as a top Queensland dive site. After just a few years, the wreck already brims with life. Sharks, giant barracudas, turtles, manta rays, Spanish mackerel, gropers, and cod are among the many species you can spot here, and if you're lucky, you might even catch a glimpse of "Larry" the octopus.
Cruise time to the wreck is about 75 minutes from Hervey Bay. The wreck sits between 10 and 30 meters deep, and dives take place in two 45-minute sessions on the slack tide. Visibility is excellent — around 15 to 25 meters.
Best of all, this dive is suitable for all skill levels. Certified open water divers can access the shallowest part of the wreck, and more advanced divers can explore the whole wreck. Access areas are wider than most battle class military wrecks due to its former purpose as a transport vessel for armored vehicles and tanks.
Divers can also explore the underwater life on nearby Roy Rufus Artificial Reef. Established in 1968, this area offers five wrecks to explore, a quick 10- to 30-minute boat ride from Urangan marina. A highlight here is K'Gari. This 43-meter-long logging shipwreck makes a rewarding night dive, with the chance to spot roosting green and loggerhead turtles, hawksbills, and eagle rays.
Even more wreck dives await at Simpson and Hardie reefs, also easily accessible from Hervey Bay.
Map of Things to Do in Hervey Bay