10 Top-Rated Tourist Attractions & Things to Do in Noosa Heads
Noosa Heads, on the Sunshine Coast in Southeast Queensland, is a cut above the average Aussie beach town. For a start, Noosa's beautiful bush-fringed beaches remain blissfully free of high-rise development. Instead, nature takes priority.
Noosa's Main Beach is the most popular stretch of sand and sea. To the east, Noosa National Park cloaks the headland, where hiking trails weave along the cliffs, revealing gorgeous views of the glistening sea.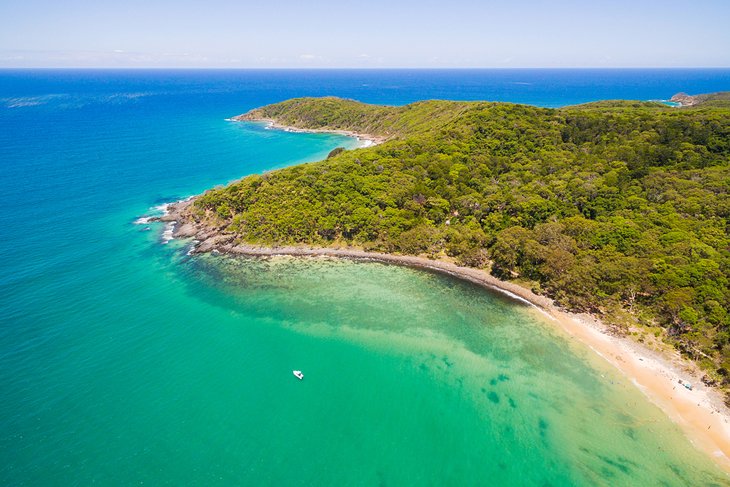 With all the beautiful beaches, it's not surprising that water sports are among the top things to do in Noosa Heads. A cool swim in the crystal-clear waters is a great way to start your day. Stand up paddleboarding, fishing, and boating along the Noosa River are other popular activities. Surfers won't be disappointed, either. World-class breaks beckon in the blue-green bays.
Noosa also exudes its own distinctive brand of beach chic. Stroll down famous Hastings Street and browse the stylish boutiques or stop for a sip at an alfresco café. Dining is a highlight, too. Make sure you save time for a gourmet meal - Noosa restaurants are renowned for their innovative cuisine and stunning waterfront settings, and you can buy artisan foods and fresh local produce at one of the many local farmers markets.
For a change of scene, plan a day trip to the Sunshine Coast Hinterland for bucolic vistas and rainforest walks. No matter where you choose to wander, discover the best places to visit in this much-loved Aussie getaway with our list of the top attractions and things to do in Noosa Heads.
1. Bask on Noosa's Beaches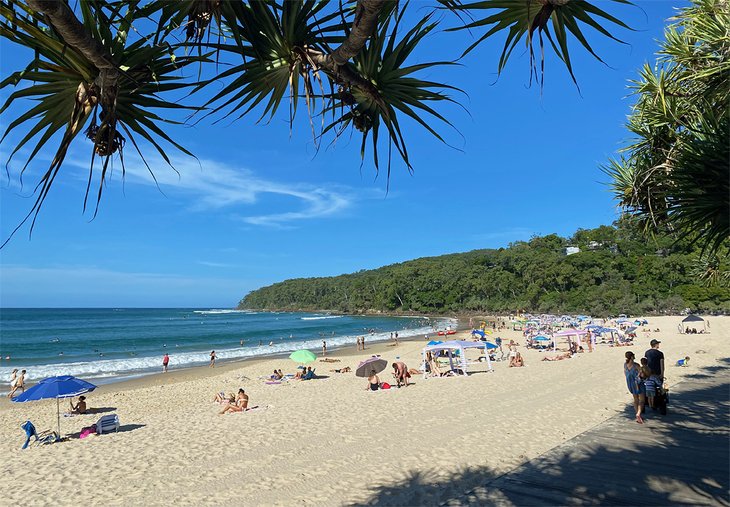 Noosa's beautiful stretches of bush-backed shores are among the best beaches on the Sunshine Coast.
Sparkling clean and soaked in sunshine, the north-facing strip of blond sand at Main Beach is the pride of Noosa Heads. Pandanus, pines, and palm trees fringe the boardwalk, where locals and tourists love to stroll - especially at sunset. Noosa National Park beckons on the headland at the eastern end of the beach, with forests of fragrant gum trees and scenic hiking trails.
The surf tends to be gentle at Main Beach, making it a perfect spot for children, as well as beginner surfers. More experienced surfers love to ride the waves at First Point, which parallels the headland. In March, the Noosa Festival of Surfing takes place here.
Right on the beach, Sails Restaurant Noosa, next to the luxury Netanya Noosa resort, offers gorgeous pandanus-framed views of the beach. When you've had your fill of sun, sand, and surf, you can browse the boutiques and shops along Hastings Street or grab a snack at one of the alfresco cafés.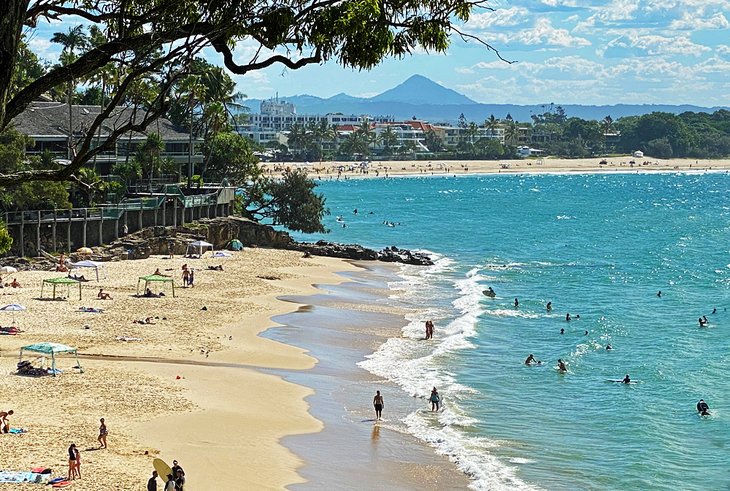 Adjacent to Noosa Main Beach sits the tranquil slice of shore at Little Cove Beach. With its calm waves, this is a great place to chill out with the kids. From here, it's only a five-minute stroll along the Park Road Boardwalk to Noosa National Park.
A little farther out of town, the long powdery shores of Sunshine Beach and Sunrise Beach are more exposed to the elements. These are great options if you want a little more space to stretch out, away from the tourist crowds.
2. Hike the Trails in Noosa National Park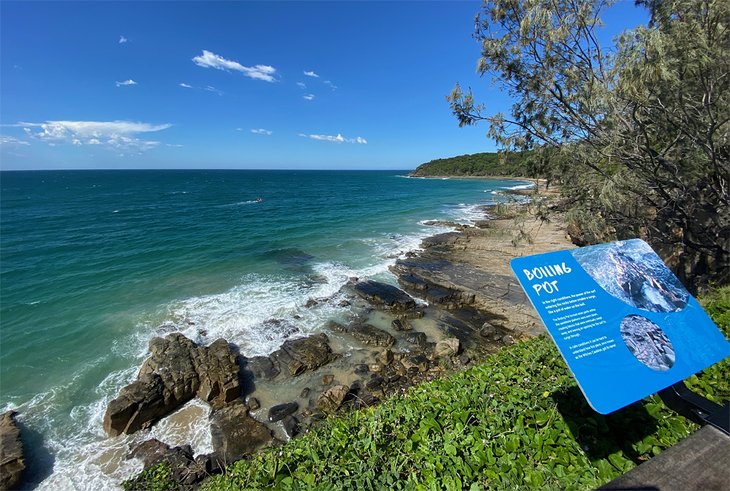 Stretching from Noosa Heads south to Coolum Beach, Noosa National Park is one of the Sunshine Coast's top treasures. The park covers more than 9,800 acres of paperbark forests, rainforest, coastal dunes, and heathlands, and serves as a spectacular setting for a range of outdoor adventures.
Apart from its natural beauty, one of the park's best features is its accessibility. You can walk up the hill from Noosa Main Beach and Hastings Street to the Noosa Headland section, where 15 kilometers of hiking trails thread through the wilderness.
Fringed by pandanus, banksia, and eucalyptus trees, the coastal track here is a great way for first-timers to experience the park. It's also a favorite with locals and tourists, who love to walk and jog along the edge of the sea cliffs and admire the spectacular views. You'll also see many surfers wandering along here, looking for the best swells in the beautiful blue bays that scallop the coast here.
As you hike through the park, keep an eye out for wildlife, including the ubiquitous brush turkeys, glossy black-cockatoos, and hawks. Koalas used to cling to the trees here, but, sadly, their numbers have dwindled, and they are more commonly sighted in other areas of the park.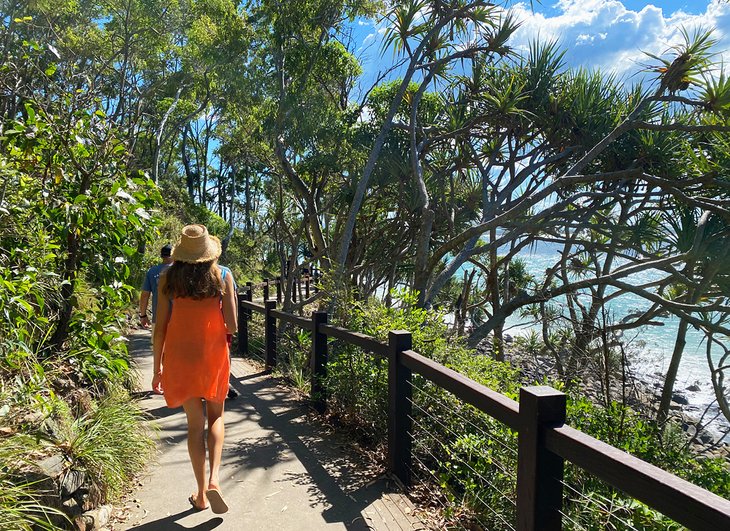 You can also enjoy a picnic, paddle in the rock pools at Tea Tree Bay and Granite Bay, or stop by the Boiling Pot lookout or Dolphin Point for panoramic coastal views and possible glimpses of dolphins and whales.
Farther along the track is Hell's Gates (5.2 kilometers round-trip), with breathtaking views of the thrashing surf and Alexandria Bay beyond.
Before you enter the park, stop by the information center near the entrance for more information on the wildlife and walking tracks.
Besides bushwalking, outdoor activities here include surfing, fishing, and swimming. Note that the track offers access for strollers and wheelchairs right up to Dolphin Point.
Official site: https://www.npsr.qld.gov.au/parks/noosa/index.html
3. Soak up the Scene on Hastings Street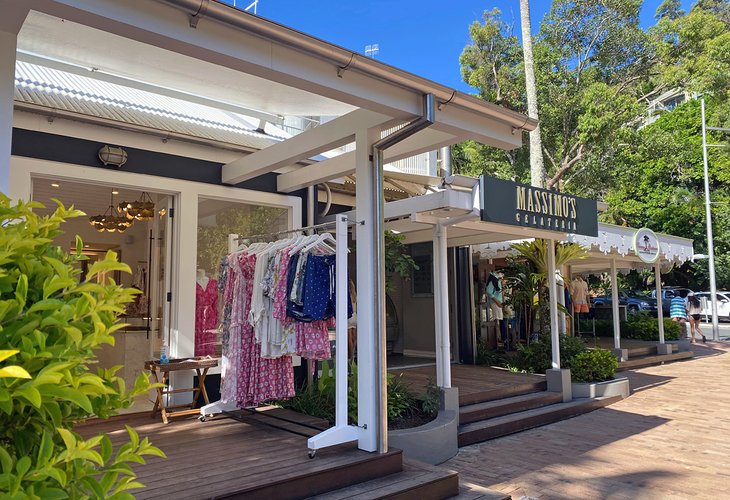 Hastings Street is the heart of Noosa Heads. Skirting beautiful Noosa Main Beach, this hip and happening street is home to chic designer stores, cute boutiques, art galleries, and gourmet restaurants and cafés.
This is the best place to visit for shopping in Noosa Heads or to relax with a coffee at one of the cafés and watch the parade of people strolling past. On a hot day, save time for a stop at Massimo's Gelateria - on sunny afternoons there's usually a line of families out the front.
The Noosa Heads Surf Life Saving Club anchors one end of the street, and Noosa Spit Recreation Reserve anchors the other, with beautiful picnic spots and beach access. Due to this area's popularity, parking can be a problem, but you can find plenty of paid spaces at Bay Village.
At night, the trees lining the street glitter with fairy lights, adding a magical feel to the area. Dining out at one of Noosa's top restaurants and stopping to enjoy some live music here is one of the top things to do in Noosa at night.
If you want to stay in a convenient location to explore this famous street, both The Sebel Noosa and Sofitel Noosa Pacific Resort sit smack dab in the middle of Hastings Street.
4. Stroll along the Noosa River in Noosaville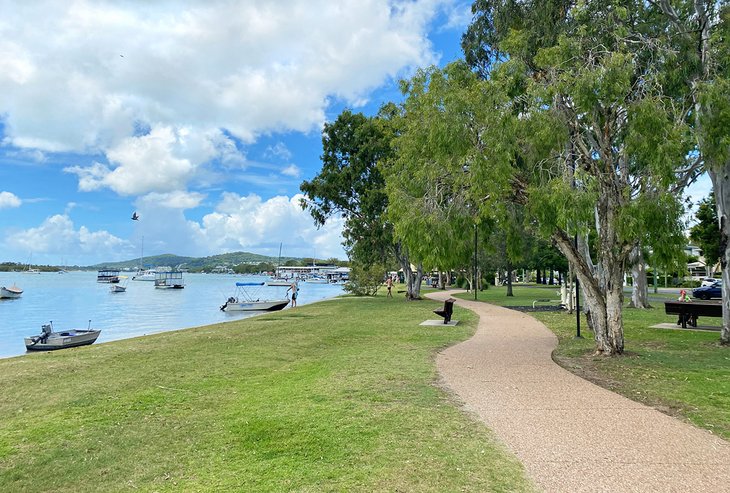 About a five-minute drive from Hastings Street, Noosaville is a fun place for families and a great way to experience the beautiful Noosa River. Locals and visitors love to stroll, bike, and jog along the riverfront walking paths here with views of boats plowing the calm waters. Fitness enthusiasts can make frequent stops to tone on the outdoor exercise equipment.
A day along the river is a popular thing to do with kids. They love to burn off steam at the children's playground, paddle along the sandy shores, cast a fishing line off the beaches, or pose for a photo in front of the giant pelican statue.
The Noosa River is also a great spot for stand up paddleboarding, kayaking, and boating. You can rent pontoon boats and dinghies at boat rental outlets along the river or sign up for a jet boat or Jet Ski ride.
Prefer something a little more relaxing? Plenty of picnic areas beckon under shady trees. And when you want a break from all the water-based fun, you can stroll across the street to the cafés, restaurants, and small boutiques along Gympie Terrace and Thomas Street.
Another great way to explore the river is to hop aboard the Noosa Ferry, with several stops along the river.
5. Chill Out at Sunshine Beach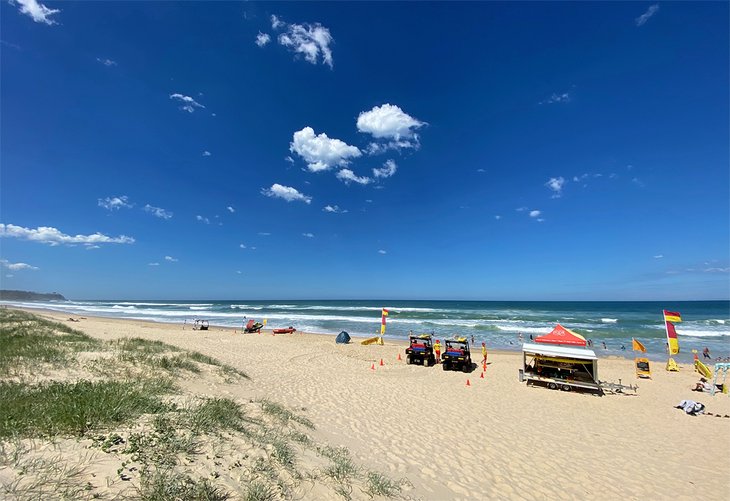 The laid-back little enclave of Sunshine Beach, about a five-minute drive from Hastings Street, is home to some of Noosa's priciest beachfront real estate. Big bucks beach houses overlook the eponymous stretch of blond sand and azure sea, which is a more peaceful, and usually less touristy, alternative to the buzz of Noosa's Main Beach.
People-watching is a favorite past-time here. Sunshine Beach has a small village with a sprinkling of cute boutiques, a bakery, and trendy cafés and restaurants with large outdoor decks. It's a beautiful spot to sit back and relax with a coffee or dine on fresh seafood.
Sunshine Beach itself is a beauty. Backed by thick bush, the wide stretch of powder-soft sand and clear sea is fairly exposed, with typically strong waves, but the area in front of the surf club is patrolled year-round. When the conditions are right, surfers ride the beach breaks.
Insider's Tip: For spectacular sea views, grab a bite to eat on the sun-soaked deck overlooking the beach at Sunshine Beach Surf Life Saving Club.
6. Explore Noosa North Shore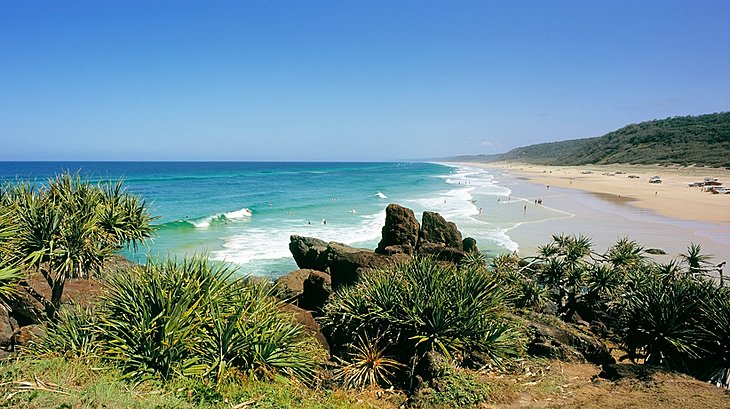 Wild and windswept, Noosa North Shore is an 80-kilometer stretch of white-sand beach just across the river from Noosa Heads and Noosaville. This is the gateway to the World Heritage-listed wonderland of Fraser Island and all its popular natural attractions.
When the tide is low, you can drive along the beach to Rainbow Beach and Double Island Point, where the car ferry departs for Fraser Island. Along the way, you'll pass the multi-hued cliffs of Teewah Coloured Sands.
Due to its easy access for vehicles, Noosa North Shore is popular with 4WD enthusiasts; anglers; and beachfront campers, who often see kangaroos around the camping areas.
To access Noosa North Shore, head to Moorindil Street in Tewantin, where a daily car ferry travels across the river. Be sure to obtain a vehicle permit before you drive along the beach.
7. Shop at the Farmers Markets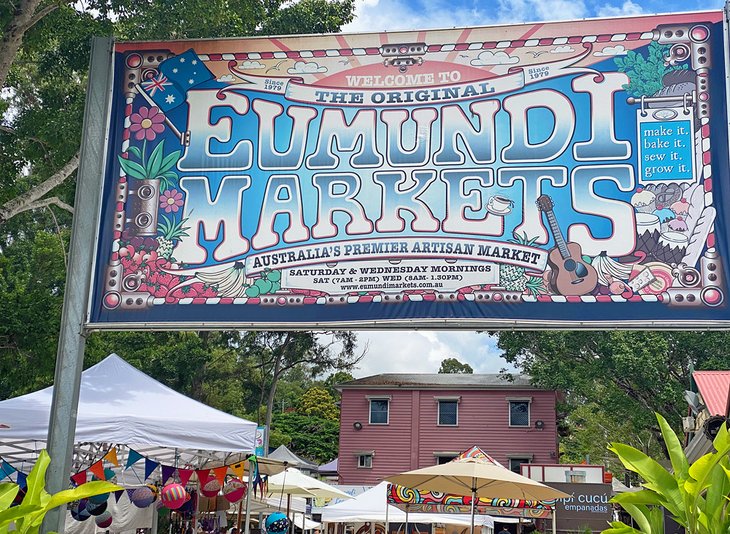 Stock up on goodies and soak up the buzzing local scene at the Noosa Farmers Market (155 Weyba Road, Noosaville). Locals and visitors alike flock to the brimming stalls every Sunday morning from 7am to 12pm. Fresh local produce and artisan foods, including jams, dips, marinades, and sauces, are the most popular items here, and you'll also find plenty of native plants; fresh-cut flowers; natural skin-care products; fresh-caught seafood; and home-baked goods such as pies, breads, and cakes. Live music adds to the fun atmosphere.
If you miss the morning markets, the Noosa Marina markets run a little later (8am until 1:30pm) and are set along the deck overlooking the Noosa River.
Besides the Noosa Markets, you'll find plenty of other opportunities to buy fresh local produce and artisan crafts and gifts. About a 20-minute drive from Noosa, the Original Eumundi Markets are the biggest markets on the Sunshine Coast. They're a Wednesday- and Saturday-morning institution for Sunshine Coast locals and visitors, with hundreds of stalls featuring arts and crafts, jewelry, clothing, fresh produce, natural healthcare, and artisan foods.
To purchase fresh produce from local farms, as well as potted plants, head to Yandina Country Markets (North Street, Yandina), every Saturday from 6am to 12pm. Try to arrive early before the top picks sells out.
For crafts, home decor, vintage clothing, and more, head to Peregian Beach Markets, 7am to 12:30pm on the first and third Sunday of every month and the fifth in December and January.
8. Cruise the Noosa Everglades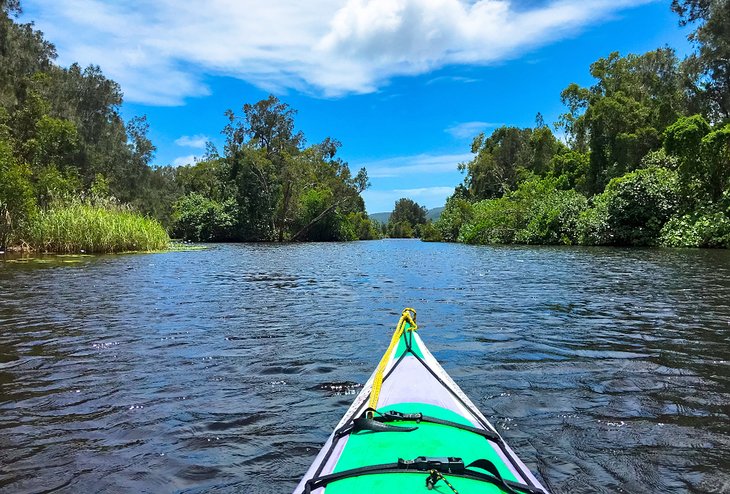 The Noosa Everglades are the only everglades in Australia. Gliding through the peaceful wetlands and waterways in a sea kayak or canoe is a serene experience and a great way to see some of the region's prolific plant and bird life - more than 44 percent of all Australia's bird species live in this area.
This pristine wilderness in the Cooloola section of Great Sandy National Park is part of the UNESCO Noosa Biosphere Reserve, and it is the only river system in Australia with its entire upper catchment preserved within a national park.
Half-day, full-day, and multi-day guided kayak and canoe tours explore areas such as Lake Cootharaba, the Upper Noosa River, Fig Tree Point (an aboriginal meeting point), and Kinaba. You can also cruise across Lake Cooroibah and Lake Cootharaba in a boat, with either lunch or afternoon tea included. Many tours also include a stop at Harry's Hut, a historic loggers' camp.
Everglades Eco Safaris offers guided canoe tours, as well as a Serenity Tour in their purpose built eco boats. Some tours include beverages and lunch.
9. Soak Up the View at Laguna Lookout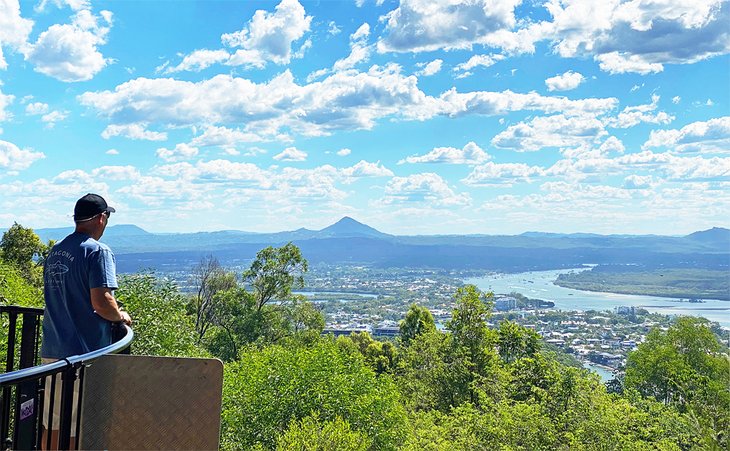 At the end of Viewland Drive atop Noosa Hill, Laguna Lookout offers a great overview of the area. If your mobility is challenged, you can drive right up to the lookout. From here, you can enjoy panoramic views across Noosa National Park, Noosa Heads, the beautiful blue bay, and the distant Glass House Mountains, all framed by eucalyptus trees.
An interpretative sign helps you identify the different landforms. This is also a wonderful spot to watch the sunset.
10. Take a Day Trip to Maleny & Montville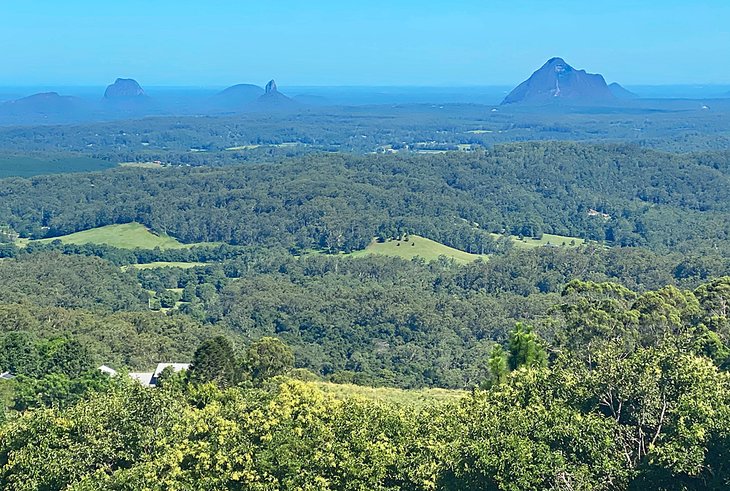 Need a break from the sun, sand, and sea? Take a day trip to the cute mountain villages of Maleny & Montville in the Sunshine Coast Hinterland. These pretty little sister towns lie about 10 minutes' drive from each other in the Blackall Ranges. Temperatures are typically cooler at these higher elevations, making this a refreshing respite on a hot day.
Part of the Blackall Range Tourist Drive, the journey here is just as enjoyable as the destination. It's about an hour's drive from Noosa Heads, but be careful. It's hard not to take your eyes off the road as you twist and turn along the windy roads with spectacular views of the plunging green valleys below.
This is dairy country, and one of the top things to do in Maleny is sample some of the creamy local cheeses and yogurts. Traveling with the kids? You can visit Maleny Dairies to pet some farm animals and see how milk is produced, from the cow to the table. If you're lucky, you might even get to bottle-feed a calf. Families will also enjoy seeing the gardens and colorful parrots at Maleny Botanic Gardens & Bird World and looking for platypuses along the Obi Obi Boardwalk.
About a 10-minute drive from Maleny, Montville feels like a quaint European village. Art enthusiasts will also find plenty to love here. Galleries, studios, and workshops line the streets, and you can wander and chat to the artisans about their crafts. After a few hours gallery gazing, enjoy some local produce at Montville's charming cafés, or linger over Devonshire tea.
If nature is more your calling, you'll find some excellent hikes in the surrounding wilderness. Hike through the rainforest trails at Mary Cairncross Scenic Reserve, ogle Kondalilla Falls, or plan a picnic at Baroon Pocket Dam.
Map of Tourist Attractions & Things to Do in Noosa Heads