9 Best Campgrounds & Caravan Parks in Noosa
Noosa Shire, on the beautiful Sunshine Coast, offers some of the best campgrounds and caravan parks in Queensland. From the tranquil banks of the Noosa River to miles of surf-washed beaches around Noosa Heads and Noosa North Shore, and lovely Noosa Hinterland lakes, you'll find plenty of scenic spots to pitch a tent or park your caravan or RV.
Many Noosa caravan parks come with family-friendly amenities. Swimming pools, camp kitchens, and games rooms are common features, and one park even comes with a BMX track.
Caravan parks and campsites in Noosaville and Tewantin are closest to Noosa's top attractions, and sites in the Noosa Hinterland or along the wild Cooloola Coast give you more of a back-to-nature feel.
If you're wondering about free camping in Noosa, you won't find any official sites, but if you head out into the hinterland, camping is generally more affordable. Note that camping is not allowed in Noosa National Park. Instead, you can stay nearby and take day trips to the park.
Camping in Noosa is extremely popular year-round. Even winter temperatures are typically mild, and tourists flock here from the southern states during the colder months to escape the chill. Because of this, Noosa camping spots are best booked as far in advance as possible - especially during peak holiday periods and long weekends.
Whether you're camping with a tent, caravan, RV, or camper trailer, find the perfect base for your next vacation with our list of the best campgrounds and caravan parks in Noosa.
1. Noosa River Holiday Park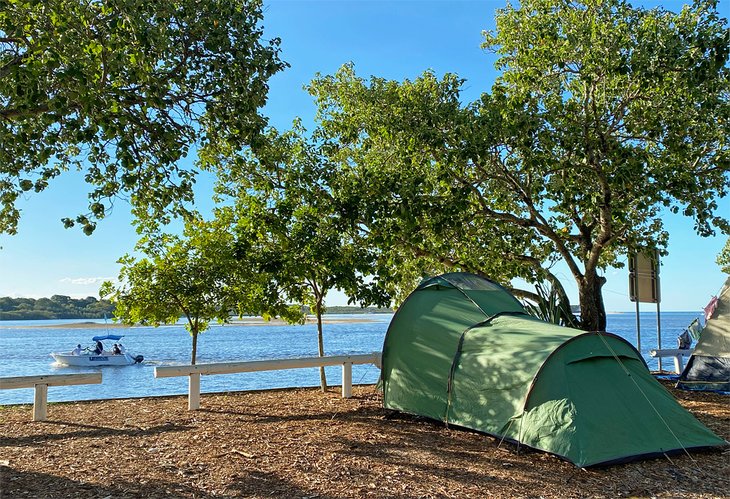 You can't beat the location. Noosa River Holiday Park sits in a prime position on the banks of the beautiful Noosa River. Here, you're steps from the excellent cafés and restaurants along Gympie Terrace, as well as the riverfront bike path and promenade. You're also just a five-minute drive from Hastings Street and Noosa Main Beach. No wonder this is one of the best campsites and caravan parks on the Sunshine Coast.
Noosa River Holiday Park also has a rich history. This same site has been used for camping since the 1920s, and is now on the State Heritage Register.
Despite its proximity to top Noosa attractions, this is still a peaceful little spot to set up camp. The park accommodates caravans, camper trailers, motorhomes, and tents. To find the best site, take a peek at the Noosa River Holiday Park map. Prime sites front the river, but these are unpowered sites for tents and camper vans. Most of the other sites are powered slabs scattered among the trees.
You'll find all the amenities you need here for a comfortable stay. Perks include a camp kitchen with gas barbecues and cooking appliances, a coin-operated laundry, free Wi-Fi, a kiosk, and security service. Restrooms are squeaky clean and include a family bathroom. Note that pets are not permitted here.
Planning to bring your boat? You can launch it right from the boat ramp here and spend a relaxing day cruising or fishing along the Noosa River.
After you've pitched your tent or set up your RV or caravan, join the other visitors for a sunset drink under the palms and giant fig tree in the riverfront picnic area, and watch boats glide along the glassy waters as the sun slips in the sky.
Getting around is also easy. You can rent a bike on-site, drive to nearby attractions, catch a local bus, or even hop aboard a ferry and cruise along the river.
Insider's tip: You need to book well in advance to secure a spot at this popular park.
Address: 4 Russell Street Noosaville, Queensland
Official site: https://www.noosaholidayparks.com.au/noosa-river
2. Noosa North Shore Beach Campground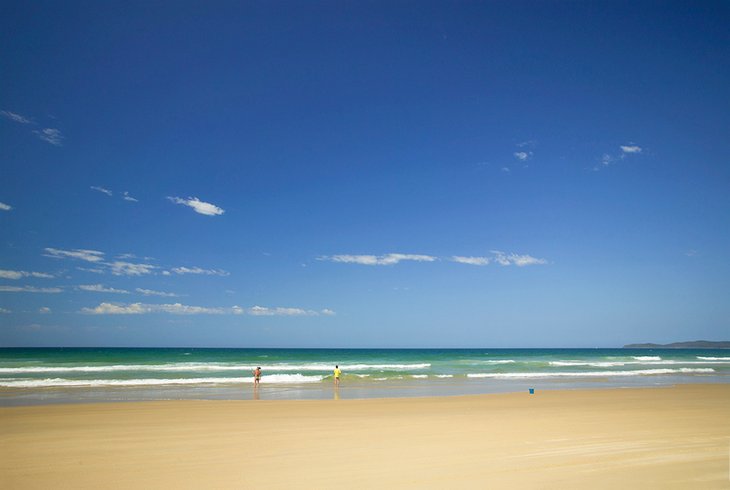 Looking for a true back-to-nature beach getaway? Noosa North Shore Beach Campground on the wild and beautiful Cooloola Coast is a prime pick.
This remote beachfront campsite requires a trip across the Noosa River from Tewantin on a ferry, but it's worth it for the solitude and seclusion. And if you want a dose of the outside world, you can always hop back on the ferry and be back in civilization in no time.
It's all about the beach here. This wild stretch of sand and sea extends from the mouth of the Noosa River all the way to Double Island Point and Fraser Island. Fishing, surfing, swimming, 4WD driving, and beachcombing are popular things to do. But the beach is unpatrolled, so you need to take care if you're planning to take a dip.
Wildlife is another highlight. During your stay you might be treated to an entertaining cast of kangaroos, goannas, kookaburras, cockatoos, and flocks of rainbow lorikeets in the campground. For this reason, pets are not allowed here.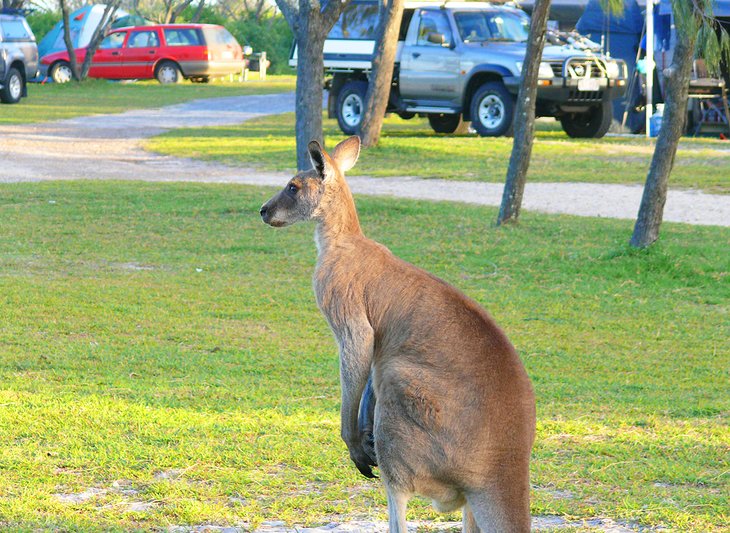 Bookings are essential. Campsites include 45 unpowered sites and 40 unpowered. Nestled in natural bushland, the sites are spacious and private. Beachfront sites are a little less so, but the sounds of crashing surf drown out some of the noise from fellow campers. Some sites are a fair distance from the facilities, which adds to the wilderness feel.
The amenities here are basic but newly refurbished. You can cook up your meals in the large, shared kitchen complete with a fridge and eating areas. Food items are available at the office kiosk. Restrooms are clean, with coin-operated showers that can get busy at peak times, and basic laundry facilities are also available.
Note that access to the beach is via 4-wheel drive, and lies less than one kilometer north of the park entrance. The campground itself is accessible by 2-wheel drive vehicles.
Access to Noosa North Shore is by vehicle barge departing from Moorindil Street, Tewantin. The ferry operates daily from 5.20am to 10.20pm.
Insider's tip: Bring enough clean water for your stay - most of the water sources here are bore water, and water connections are not provided.
Address: 240 Wilderness Track, Noosa North Shore, Queensland
Official site: https://www.noosaholidayparks.com.au/noosa-north-shore
3. Ingenia Holidays Noosa North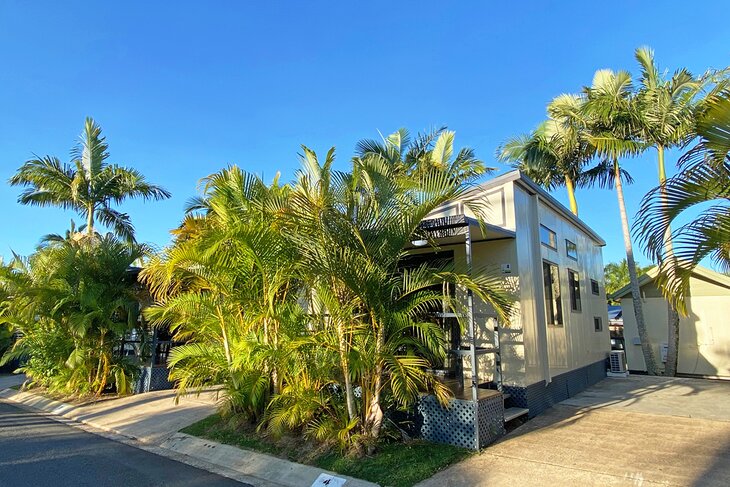 Tucked amid tropical gardens in the low-key town of Tewantin, Ingenia Holidays Noosa North (formerly Noosa Caravan Park) is a friendly place to stay. It lies about a 15-minute drive from Hastings Street in Noosa Heads, but you can walk or bike to Tewantin's shops and restaurants.
A major perk here: pets are welcome at the powered sites and in a Pet Friendly Cabin. Conditions apply, though, so ask before you bring your four-legged friend along.
Unlike Noosa River Holiday Park, this park adds self-contained villas into its mix of powered tent and caravan sites. Peeking out from behind clusters of palms, the air-conditioned one- and two-bedroom villas come with fully-equipped kitchens, bathrooms, ceiling fans, and furnished verandahs. Those away from the main road side of the park are the pick of the bunch.
Wondering where to set up camp? You can choose between powered caravan sites on concrete slabs or grassy sites for tents and camper trailers — check the map on their website for the layout and location of facilities.
The amenities here are well-maintained. Highlights include the lovely palm-lined heated pool; a games room; TV lounge; barbecues; and a well-equipped kitchen, which even comes with a pizza oven. Laundry facilities sit at the park's center, and a boat ramp is available only 800 meters from the park. Forget some essentials? Stock up at the small convenience store on-site.
Children will find plenty to keep them entertained. Little kids can burn off steam on the colorful playground complete with two slides, or in the children's wading pool. Older kids (and the young at heart) can challenge each other to a few games of table tennis or pool. Wi-Fi is free throughout the park.
Address: 143 Moorindil Street Tewantin, Queensland
Official site: https://www.ingeniaholidays.com.au/our-parks/queensland/sunshine-coast/noosa-north/
4. Big 4 Ingenia Holidays Noosa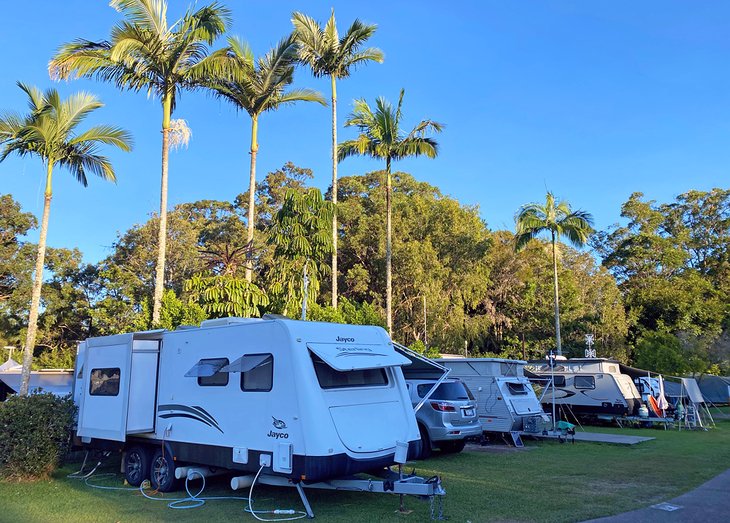 Close to Tewantin, and a 15-minute drive to Hastings Street in Noosa Heads, Big 4 Ingenia Holidays Noosa makes a great family base camp. Highlights here include the shady grounds with plenty of birdlife, excellent facilities, and large variety of accommodations. Best of all, this is a pet-friendly park - pets are welcome in the caravan and camping sites.
Accommodation here suits all kinds of travelers. Options range from studios to three-bedroom self-contained villas, or you can set up camp in one of the powered sites with or without an ensuite.
You'll find plenty of amenities here, too. Cook up a meal in the camp kitchen or at one of the barbecues, swim in the inviting palm-lined pool, or watch a movie at the outdoor cinema (during school holidays). Kids will also love the jumping cushion and games room, and bird lovers will enjoy watching the parade of species, including rainbow lorikeets, kookaburras, and galahs.
Tewantin Noosa Golf Course is just across the road if you fancy playing a few holes, and a gas station sits at the park entrance with great coffee.
Insider's tip: Sites near the main road tend to be noisier. For a more peaceful stay, choose one at the back near the bushland.
Address: 141 Cooroy-Noosa Road, Tewantin, Queensland
Official site: www.ingeniaholidays.com.au/noosa
5. Boreen Point Campground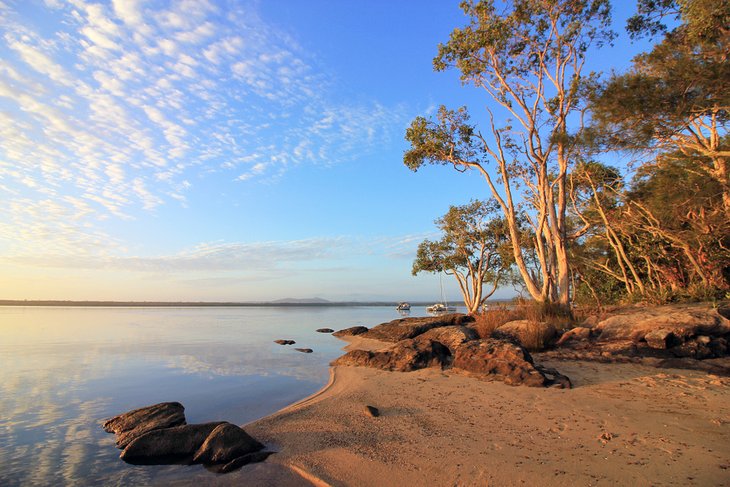 If you prefer lakeshores to ocean beach, Boreen Point Campground on Lake Cootharaba is a great choice. You're a little farther from Noosa Heads here (about a 30-minute drive), but you'll be tucked away in the bush, and spoilt for choice when it comes to water sports.
Sailing, stand up paddleboarding, swimming, kayaking, canoeing, and fishing are all top things to do on this shallow lake, the largest in the Noosa River system, and you can rent kayaks and SUPs from the office. You can also paddle the nearby Noosa Everglades, one of the area's top attractions.
If you prefer land activities, you can bask on the soft, sandy shore, or go bushwalking or birdwatching.
Facilities are excellent at this bush and lake campsite. Restrooms and showers have been recently refurbished, with family rooms now offered.
Dining is also easy. Connect with other travelers at the camp kitchen, which comes with gas barbecues, or if you don't feel like cooking, the historic Apollonian Hotel serves up delicious meals, including a weekend smokehouse menu, just steps away from the campground. Forget some groceries? A general store is just a short stroll away,
When they're not out on the water, kids can go wild on the colorful playground, or bike the BMX track around the campground.
Sheltered under large shady trees, sites here are a mix of powered and unpowered. Tent sites front the lake, and other camping spots snuggle in the bushland. The powered sites accommodate tents, caravans, camper vans, and RVs.
Bonus points: dogs are welcome in caravans and RVs.
Address: Boreen Point 1 Esplanade, Boreen Point QLD
Official site: https://www.noosaholidayparks.com.au/boreen-point
6. Upper Noosa River Camping Area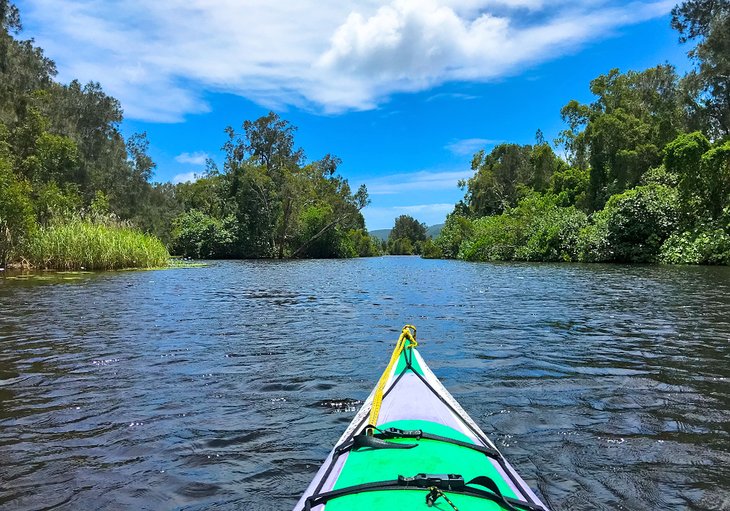 Only accessible via boat, canoe, or kayak, the Upper Noosa River offers the ultimate back-to-nature camping experience. The sites lie in Cooloola Recreation Area in Great Sandy National Park and require a peaceful paddle along the wildlife-rich waterways to access.
Operated by Queensland Parks & Wildlife, these remote sites are the perfect place for a peaceful escape. All you'll hear is the slosh of your paddle in the water, the calls of whip birds echoing in the stillness, and the nighttime chime of frogs. Once you're here, you can explore the area by kayak, try your luck at fishing, or hike one of the scenic trails - the Cooloola Sandpatch walk is a favorite.
Nine campsites fringe the Upper Noosa River. Campsites 1 through 3 lie in shady forest and offer non-flush toilets. Campsites 1 and 3 have jetties, perfect for watching the sunset, and campsite 3 is closest to the popular Cooloola Sandpatch walk, which takes you to a towering sandblow and makes a great backdrop for photos. Campsite 3 is also a favorite spot for day-tripping boaters. Campsite 2 comes with a custom-built canoe landing.
Campsites 4 and above are remote bush camps with no facilities, and you can only access these sites on non-motorized vessels.
Elanda Point, Boreen Point and Harry's Hut are the main access points to the Upper Noosa River; the latter is closest to the campsites (about a 45-minute paddle to Campsite 1).
Insider's tip: Spring and autumn are the best times to camp in this area. Winter nighttime temps might be a little chilly, and summer brings hot days and a higher chance of storms. Whenever you decide to visit, make sure you bring bug spray.
Booking is essential, and you can do this on the Queensland National Parks website.
Official site: https://parks.des.qld.gov.au/parks/cooloola/camping/upper-noosa-river-4
7. Habitat Noosa Everglades Eco Camp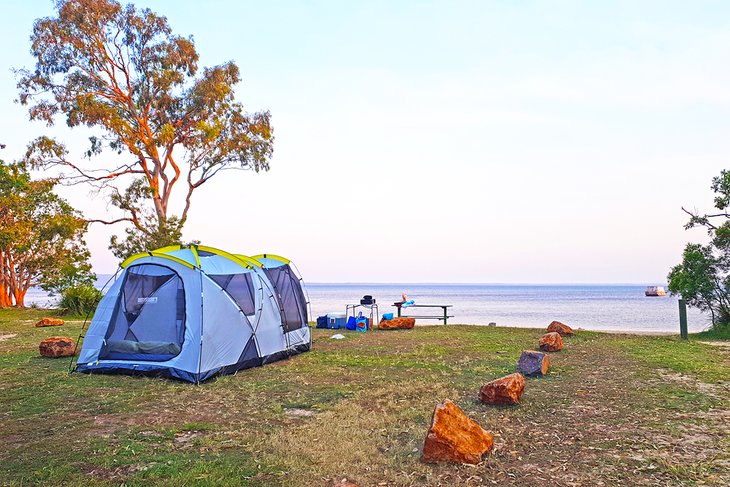 Spread across 65 acres of lakefront bushland, Habitat Noosa Everglades Eco Camp is a beautiful location for glamping. You're about 25 minutes north of Noosa here, but you'll feel a million miles away. Kangaroos hop along the lakeshore, eucalyptus trees tower over the grounds, and you can book a tour from here to paddle up the tranquil Noosa Everglades.
If you like your creature comforts, don't worry. You'll be happy to know that a bistro serves up delicious local specialties and the kiosk prepares breakfast and snacks, as well as excellent coffee.
Accommodation ranges from powered and unpowered sites to glamping tents and air-conditioned cabins. Love camping but cringe at the thought of setting up camp? Opt for the Wilderness tents with cot-style beds and bunks, or splash out on a Paperbark Tent with water views, an ensuite, and private deck. Air-conditioned cabins sleep four people on two bunk beds.
Prefer to camp? Solar-powered sites sit back from the lake under shady trees, and unpowered sites front the lake and benefit from lovely views and a refreshing breeze.
To protect the local wildlife, pets are not permitted.
Official site: https://www.habitatnoosa.com.au/
8. Pomona Caravan Park
Located in the Noosa Hinterland, about a 30-minute drive from Noosa Heads, Pomona Caravan Park is an affordable base in this charming country town. You're in the heart of small-town Pomona here. Sites fringe the Noosa AH&I Society's Showgrounds, steps from shops and restaurants. It also makes a great base to explore the surrounding area.
You'll find everything you need here for a comfortable stay. Prepare your meals in the camp kitchen, cook up a meal on the barbecues, or enjoy a hot shower. Laundry facilities are also available, and you can rent out the tennis and squash courts.
Accommodation includes a mix of powered and unpowered sites. Choose from powered caravan sites with cement pads or grassy showground sites. RVs and 5th Wheeler sites are also available, and make sure you ask about long-term rates if you plan to stay awhile.
Like to travel with your four-legged family members? You're in luck! Pets are welcome here.
Note that the showgrounds host the Noosa Country Show each September, so book early if you're planning to visit at that time.
Address: Cnr Exhibition & Pavilion Streets, Pomona, Queensland
Official site: www.noosashowsociety.org.au
9. Cooroy RV Stopover
A five-minute stroll from Cooroy's main street, this no-frills campsite makes an affordable base if you are fully self-contained.
You won't find any facilities here, meaning showers, toilets, or power are not provided. But if you just want a safe, good-value place to park your caravan or RV close to town for a couple of nights, this is a convenient option.
Sites sit on a grassy field adjacent to a commercial district. Noosa Council provides a dump point onsite, which is also for public use, and fires and generators are not permitted.
Note, too, that there is a maximum 4-night stay.
Happily, you can bring your dog here, but make sure you keep them on a leash when they are outside the vehicle.
Address: 17 Mary River Road, Cooroy, Queensland
Official site: https://www.cooroy.com.au/community/cooroy/product-group/GwfPqhfeX7ToaBGfJ
Map of Campgrounds & Caravan Parks in Noosa