10 Top-Rated Things to Do in Maleny
Perched high in the Blackall Ranges of Queensland's Sunshine Coast Hinterland, Maleny is the quintessential country escape. Imagine rolling green valleys, cute colonial cottages framed by clouds of pink and purple blossoms, and a delightfully quaint country town where neighbors still stop and chat on the streets. Add luxuriant rainforests and spectacular vistas of the Glass House Mountains' misty peaks, and you'll see why visiting Maleny features high on the list of things to do on the Sunshine Coast.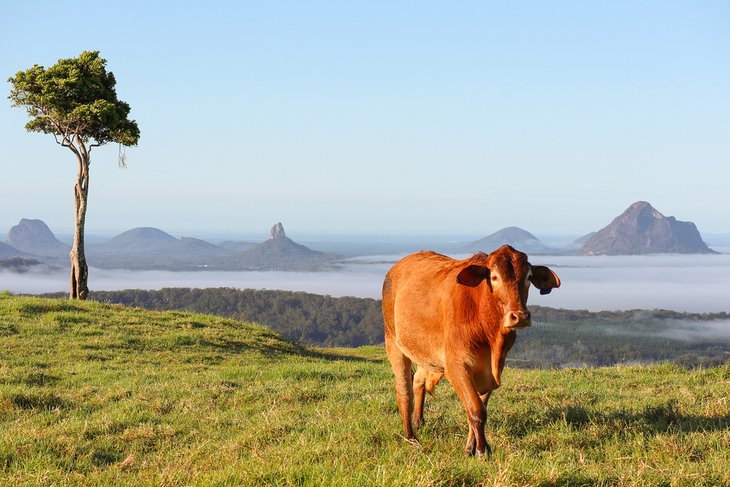 Most of the top tourist attractions in Maleny lie in the lush rainforests and farms surrounding town. Stroll the scenic trails at the botanic gardens, look for platypuses and pademelons in the rainforest, cool off at a waterfall, and explore the region's vibrant arts and culture scene.
Maleny is also dairy country, and you'll see more than a few fat, happy cows grazing on impossibly green fields. And yes, dairy country means milk, cream, cheese, and yogurt - save time to sample some in local tasting rooms, at the Sunday farmers market, or at Maleny restaurants.
About a 10-minute drive from Maleny lies the charming village of Montville. While Maleny is more about the attractions surrounding the town, Montville is a tourist attraction in itself. Exuding a distinctly European feel, this little tourist haven is cute as pie. Browse the boutiques and art galleries then linger at an alfresco café for a "cuppa."
Want to stay a while? Maleny accommodation reflects the area's rich beauty and history. Choose from colonial-style guesthouses, rainforest cottages, farm stays, eco-lodges, and quaint B&Bs.
Discover more places to visit in the beautiful Sunshine Coast Hinterland with our list of the top things to do in and around Maleny.
1. Hike through the Rainforest at Mary Cairncross Scenic Reserve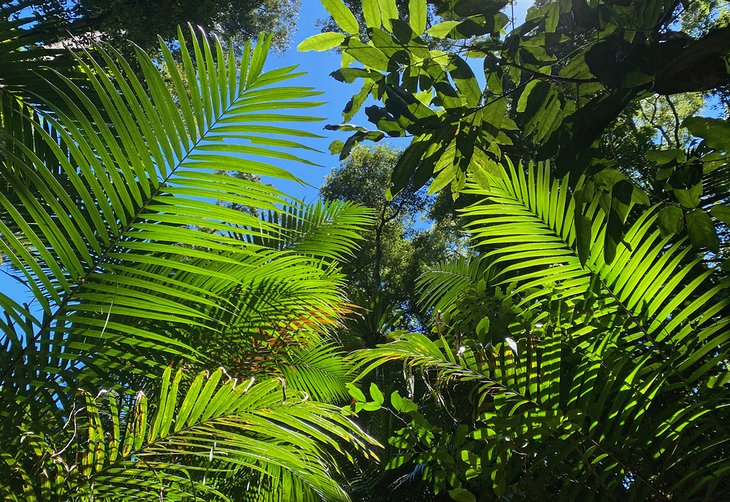 Birdsong - and silence. That's the soundtrack you'll hear as you stroll through the tranquil rainforest trails at Mary Cairncross Scenic Reserve. This 55-hectare rainforest preserve provides a glimpse of what most of the Blackall Ranges once looked like.
Start your visit at the Rainforest Discovery Center. Here, you can learn more about this diverse ecosystem, and chat to the friendly volunteers about recent wildlife sightings. Then head out on one of the walking tracks. The most popular is the 1.7-kilometer Rainforest Loop. The Pademelon and Picabeen Loops are 1.3 kilometers.
No matter which track you choose, walking through here is like a meditation. As you descend into the cool dark forest, palm leaves quiver overhead, shrill bird calls pierce the damp air, and centuries-old trees loom overhead.
Among the botanical treasures here are some evocatively named trees: bumpy silver ash, bolly gum, blush walnut, and white booyong, as well as an amazing array of plants used by the native Jinibara people as medicine and food. Roseleaf raspberry, native tamarind, red lilly pilly, blue quandong and black apple are just a few.
Life is everywhere. Epiphytes sprout from thick trunks, and the trees and their roots and vines twist and coil, straining for sunlight like huge mounds of snakes. Speaking of which, you might find those here, too: carpet pythons are the most commonly spotted. Keep your eyes peeled.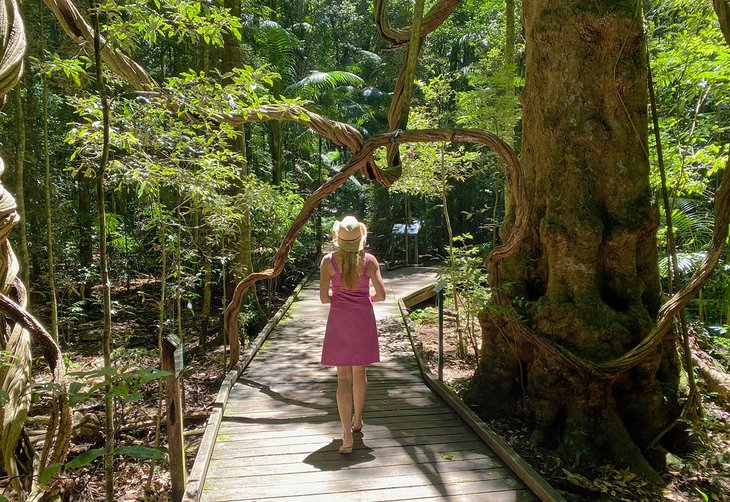 If you prefer the cute, furry type of wildlife, look for red-legged pademelons. These sweet little marsupials look like mini wallabies, and you'll most likely see them hopping around in the undergrowth. Flying foxes and squirrel gliders live here, too.
Birds are also a highlight. More than 141 different species have been spotted here, including the noisy pitta, regent bowerbird, and the magnificent turquoise-feathered paradise rifle bird.
You can also take the Birdwing Butterfly Path and Glider Gallery Walk. Both are wheelchair accessible.
Feeling a little hot and hungry after your hike? You can relax with a snack and refreshment at the café here with gorgeous views of the Glass House Mountains.
Note that gold coin donations to hike the trails are much appreciated.
Official site: https://mary-cairncross.sunshinecoast.qld.gov.au/
2. Visit Maleny Botanic Gardens & Bird World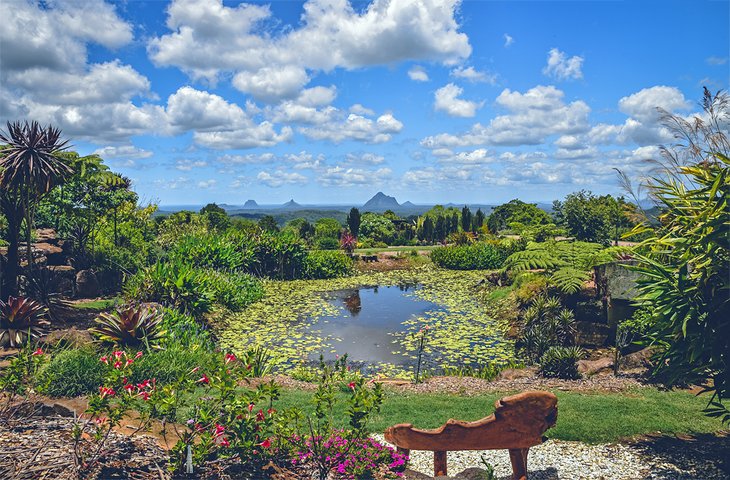 Maleny Botanic Gardens and Bird World offers a dose of colorful flora and fauna. Sitting high on an escarpment and ringed by rainforest, these terraced 18-acre gardens burst with life all year-round. They are also home to colorful parrots from around the globe.
You can wander along the six kilometers of walking paths, past gardens brimming with azaleas, orchids, palms, ferns, and rare cycads. Waterfalls and ponds punctuate the property, providing picturesque picnic spots, and a treehouse offers panoramic views across the patchwork of colorful gardens and the mountains beyond.
Bird fans can purchase a ticket that includes admission to the aviary. Here, you can get up close with exotic parrots, as well as a few local species. Bring your camera. You can snap photos with macaws, crimson breasted rosellas, cockatoos, finches, and many other species.
As a special treat, enjoy a Devonshire tea in a gazebo overlooking the gardens before you leave.
If you have mobility issues, you can rent a golf buggy to tour the gardens.
Address: 233 Maleny Stanley River Road, Maleny, Queensland
Official site: https://www.malenybotanicgardens.com.au
3. Browse the Shops and Galleries in Montville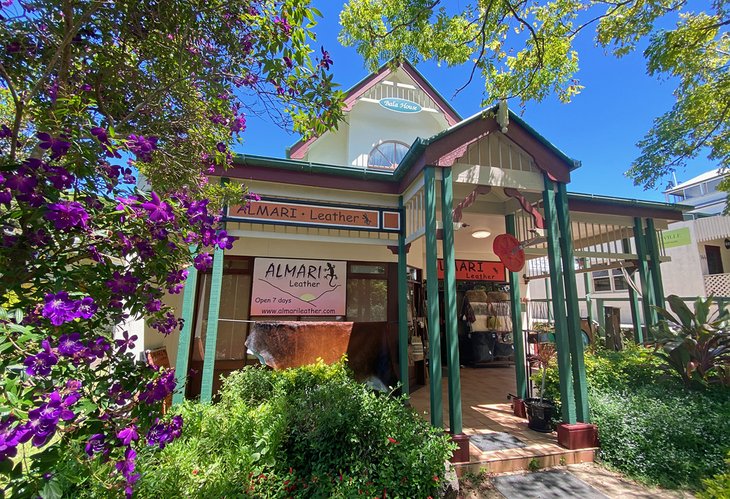 Montville is made for strolling. Galleries, gift shops, boutiques, and alfresco cafés crowd the cobbled streets here, and cute cottages and craft stores peek out from behind billowing blossoms.
If gallery gazing is top on your priority list, head to Montville Art Gallery. Here, you'll find colorful Aussie art including vibrant paintings of wildlife and landscapes. See more iconic Aussie landscapes at Ben Messina Landscapes Gallery, and purchase some fine art photography to take home.
Some of the shop names are just as cute as the town itself. Looking to purchase some bamboo clothing? Stop by the Chic and Sassy Boutique. Craving some cocoa? Fudgyboombahs sells, you guessed it, handmade Montville fudge, and the Waffle-On café sells German bratwurst, Dutch croquettes, and hot chips (French fries).
Ever wanted to watch a potter in action? If you time it right, you can do that at Artworks in Clay by Anne Gentry-Smith, about one-kilometer north of Montville. Opening times vary, so it's best to check before you visit. Pottery classes are available, too.
If you're looking for more relaxing things to do in Montville, after pounding the pavement, linger over Devonshire Tea at one of Montville's charming eateries, like the Poets Cafe.
4. Photograph Kondalilla Falls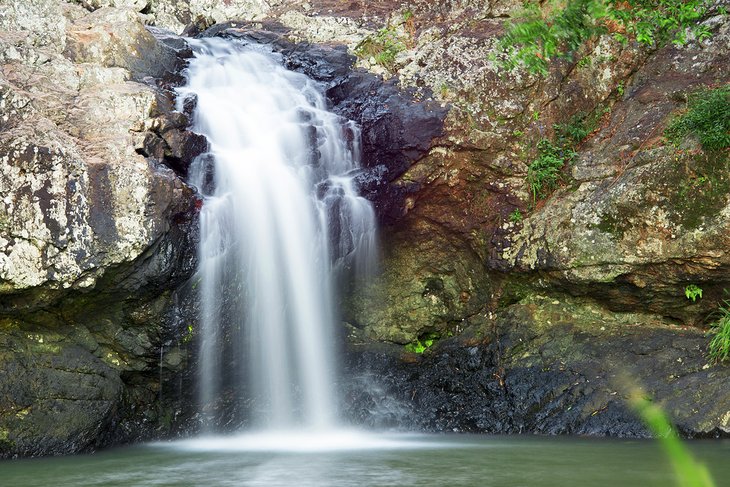 Kondalilla Falls, the centerpiece attraction of Kondalilla National Park, is among the most beautiful waterfalls on the Sunshine Coast.
Kondalilla is an aboriginal word meaning "rushing water," and it's an apt description for the 80-meter postcard-perfect veil of water spilling into a lush rainforest pool.
The shortest - and least strenuous - way to see the falls is by hiking the 2.4-kilometer Picnic Creek Circuit to the top of the falls. It takes about 45 minutes and involves climbing some steep stairs, but you can cool off with a swim in the cool, palm-lined pool.
For the best view of the falls, hike the Kondalilla Falls Circuit. This four-kilometer hike starts near the parking area at the falls and descends into the lush valley and back up the ridge. But note that you need a reasonable level of fitness to tackle this steep track - it entails climbing 300-plus stairs out of the valley. This circuit trail takes approximately 1.5 to 2 hours.
Whichever trail you choose, keep an eye out for some of the more than 107 species of birds that live here. You'll also see stands of picabeen palms, strangler figs, and bunya pines.
The turnoff for Kondalilla Falls lies about two kilometers north of Montville on the Mapleton Montville Road. It's part of the Sunshine Coast Hinterland Great Walk, and is the end point of a popular section of this hike from Baroon Pocket Dam.
5. Picnic at Baroon Pocket Dam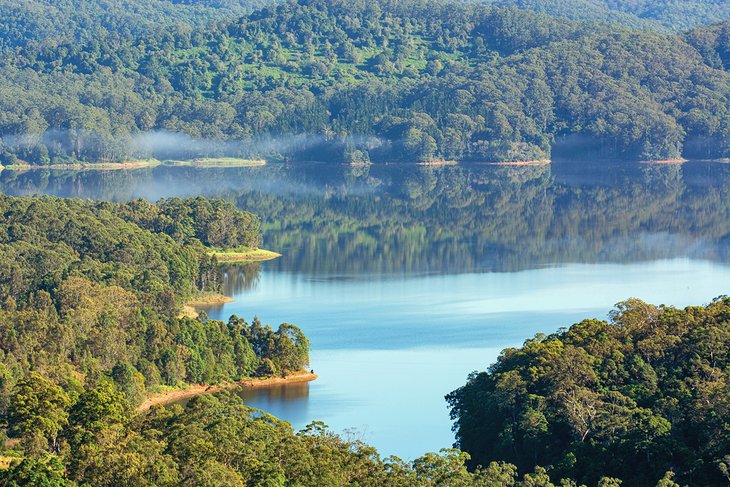 Tucked between Maleny and Montville, Baroon Pocket Dam offers a welcome slice of nature's serenity. Surrounded by palm and eucalyptus forests, this pretty lake is a lovely spot to hike the trails, cast a line, or enjoy a picnic. You can also drive over the dam wall to see the water gushing over the dam spillway.
Looking for a place to soak up some nature with the kids? You'll find covered picnic tables, free barbecues, playgrounds, and plenty of wildlife to keep them entertained. Kangaroos, koalas, and prehistoric-looking lace monitors are commonly spotted along the banks of the dam, and you'll also see plenty of birds, including egrets and kookaburras.
Fishing is another popular thing to do here. The lake hosts a stocked population of Australian bass and Mary River cod, though the latter is a no-take species from the dam. Many visitors also bring their kayaks or canoes for a relaxing paddle.
If you have time, take the 4.4-kilometer trail to Baroon Lookout. This is the start of the Sunshine Coast Hinterland Great Walk, one of the best hikes on the Sunshine Coast. It takes approximately two hours out and back, but you'll be treated to breathtaking views of Obi Obi Gorge and Baroon Pocket Dam along the way.
6. Shop & Dine in Downtown Maleny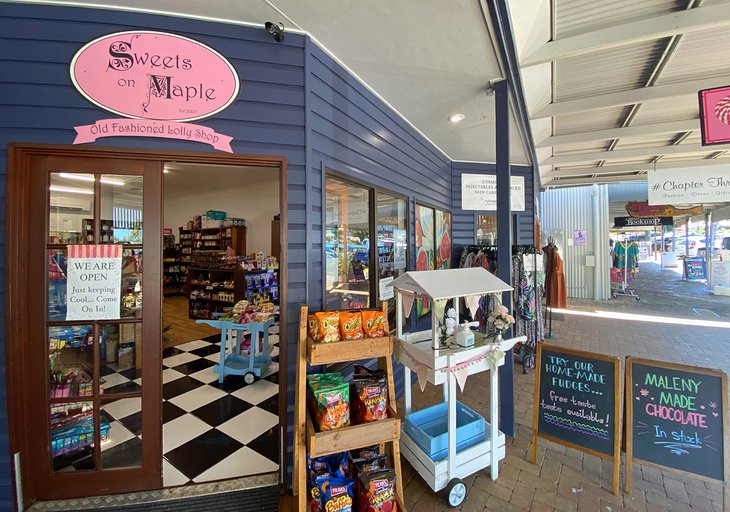 Maleny feels more like an authentic locals' town than its cutesy cousin, Montville. But you'll still find plenty of galleries and gift shops to explore, as well as some treats to tickle your palate.
Start your sightseeing tour at Art on Cairncross. The eclectic artwork here covers a range of mediums from local, regional, and national artists.
Looking for a unique gift? Giddy and Grace is where you'll find it, from jewelry and clothing to children's toys and affirmation cards.
Sweet tooth's won't be disappointed either. At Sweets on Maple, you can rediscover your inner child as you sample candy from around the world. Taste Turkish delight, licorice, and classic Aussie lollies (candy) like Jaffas. Don't miss the creme brûlée fudge. And you can't leave without stopping by Maleny Chocolate Factory, tucked away down a tiny alley. Tasting the handmade treats at this hidden gem is a highlight.
And then there's the cheese! Make a beeline for Maleny Cheese, a shop and café, where you can sample an array of award-winning cheeses. Brie, feta, and cheddar made from fresh local milk are all on the menu here, as well as creamy yogurts.
If you happen to be visiting on a Sunday morning, save time to stroll the stalls at the Maleny Sunday Market in the RSL Hall on Bunya Street. Fresh local produce, arts and crafts, collectibles, soaps, and an organic fair trade café lure market lovers from near and far.
7. Taste Fresh Milk at Maleny Dairies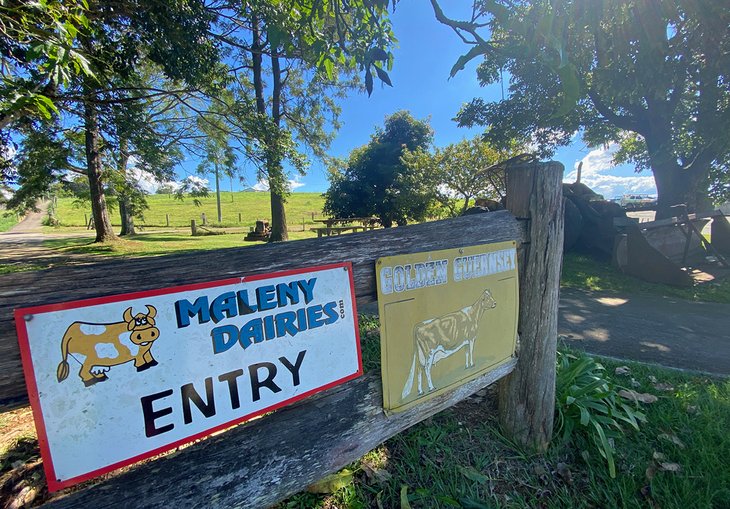 Ever wanted to bottle feed a calf? This is your chance! At Maleny Dairies, you can take a farm and factory tour with the kids and find out how a small family-owned dairy farm operates, getting the milk, from the teet to the table.
Tours start with a short movie about the dairy's history, then you'll see the factory, a milking demonstration, and maybe even get to bottle feed a calf. And yes, you'll get to sample some of the products along the way, including milk, yogurt, cream, and custard.
You can also bring a picnic with you to enjoy on the grounds, or cook up a feast on one of the barbecues.
Insider's Tip: Make sure you bring a cooler with you. After visiting the Milkbar, it's hard not to leave without taking some tasty goodies home.
Address: 70 McCarthy Road, Maleny, Queensland
Official site: https://www.malenydairies.com/
8. Look for Platypus on the Obi Obi Boardwalk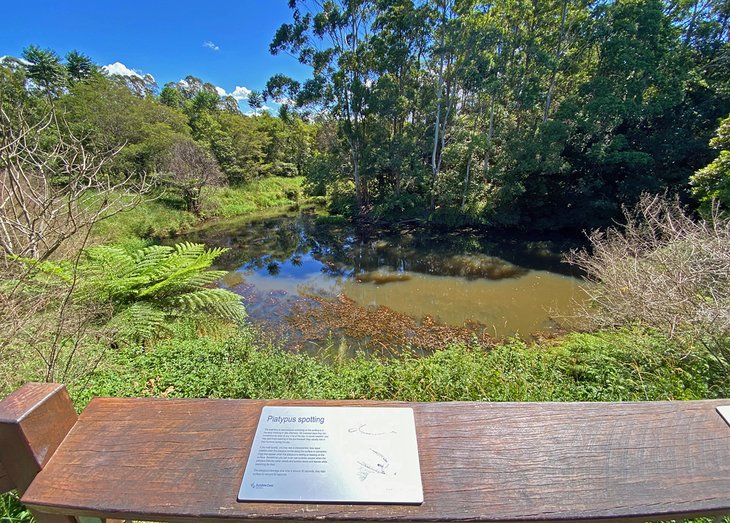 Few people can say they've captured a glimpse of a platypus in the wild. But if you're visiting Maleny, you have an excellent chance to see one of these elusive monotremes right near downtown on the Obi Obi Boardwalk.
Part of the Maleny Trail system's 6.7-kilometer loop trail, the Obi Obi Boardwalk section is only 900 meters out and back.
Start your adventure at the Maleny Showgrounds - or at Maple Street for a shorter walk. From here, the Obi Obi Boardwalk threads along the edge of Obi Obi Creek, with several platypus viewing platforms along the way. It's really part boardwalk, part paved trail, and part dirt trail, but it's flat and easy to navigate.
Along the way, keep a lookout for the Peace in the Trees Sculptures. These locally carved stone sculptures peek out from the undergrowth along the trail.
More than 18,000 species of trees and native plants also line the path, and possible wildlife sightings include water dragons, flying foxes, butterflies, and water birds. A few benches along the way provide scenic spots to sit and linger.
Insider's tip: Your best chance of spotting the elusive platypus is at dawn and dusk - look for bow waves or bubbles on the surface of the water. Before you go, you can also download a map at the website below.
Official site: http://malenytrails.com.au/
9. Soak in the Rock Pools at Gardners Falls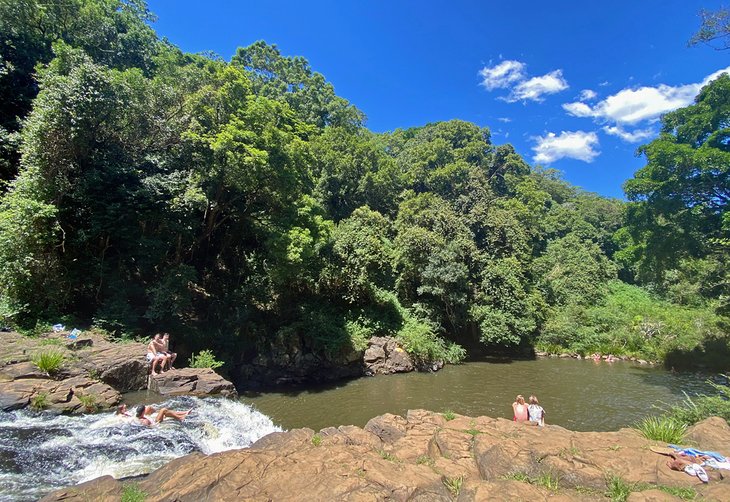 Craving a cool dip on a hot day? You can't beat Gardners Falls. The falls lie down a paved, flat creekside trail about 300 meters from the parking lot.
Along the way, you'll see visitors soaking in the rocky rapids of Obi Obi Creek. Plonk yourself in a rock pool as the cool, clear water rushes by, and you'll feel like you're in heaven on a hot, muggy day.
The mini rapids and rock pools culminate in the main falls at the end of the trail. Though not particularly high, they score points for their picturesque setting - and their accessibility. You can sit right up near the lip of the falls while the cool water rushes all around you before spilling over into a pool below.
You can also swim in the pool below the falls, and if you want to play Tarzan, a rope swing is ready and waiting for you. Resist the urge to get too close to the edge or jump from above the falls into the river below - submerged rocks make this extremely dangerous.
Insider's Tip: This is the perfect picnic spot on a sunny day. You can set up a blanket on the grassy knoll by the river. Note that weekends and holidays can be busy, and the parking lot fills up quickly.
10. Enjoy the View at McCarthy's Lookout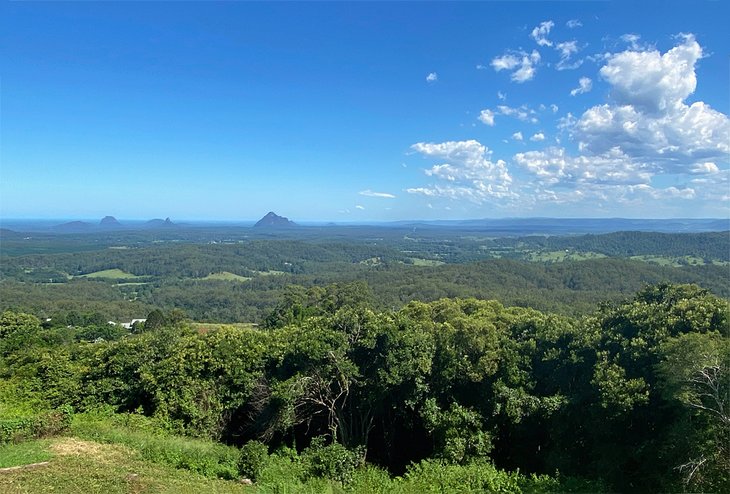 In a place full of breathtaking vistas wherever you look, it's hard to pick the perfect lookout. But McCarthy's is worth a quick stop. This is a great place to visit for uninterrupted views of the Glass House Mountains. These bizarre-shaped peaks are actually volcanic plugs popping out of the lush valley, and they are listed on the Queensland and National Historic Register as a landscape of National Significance.
An interpretative sign helps you identify each peak. Also called "Crookneck," Mount Coonowrin is one of the most distinctive peaks, with a rocky knob protruding out the top, making it look like the silhouette of a witch's hat. On a clear day, you can see the Brisbane CBD in the distance.
Looking for a quick and easy-to-access picnic spot? McCarthy's Lookout is a great option. The rotunda here has a couple of benches where you can sit in the shade and gaze out at the view.
For a different vantage point, Gerrard's Lookout, on Maleny-Montville Road, offers another bucolic view across the valley.
Address: 563 Mountain View Road, Maleny, Queensland
Map of Things to Do in Maleny