16 Top-Rated Tourist Attractions & Things to Do in Queensland
We may earn a commission from affiliate links ()
Queensland, "the Sunshine State," is Australia's most popular vacation destination. Golden beaches, idyllic tropical islands, fantastic surf breaks, World Heritage-listed rainforests, rivers, reefs, and waterfalls are just some of the state's natural jewels.
All Queensland's sun-soaked settings offer exhilarating outdoor adventures. The dazzling Whitsunday Islands and the Great Barrier Reef offer superb diving and snorkeling. K'Gari (Fraser Island) is a favorite four-wheel-driving adventure, and the wilderness areas along the Queensland coast are excellent for hiking, biking, boating, and fishing.
For a change of pace, Queensland's capital, Brisbane, delivers big-city attractions with a small-town feel. South of Brisbane lies the glitzy Gold Coast with its hedonism and high rises. Traveling north along the coast from the capital, you can explore a string of holiday resorts, from sleepy beach towns and rainforest villages, to picturesque Port Douglas, and the tropical tourist-magnet of Cairns. Learn more about the best places to visit in this sunny state with our list of the top attractions and things to do in Queensland.
1. Dive or Snorkel on the Great Barrier Reef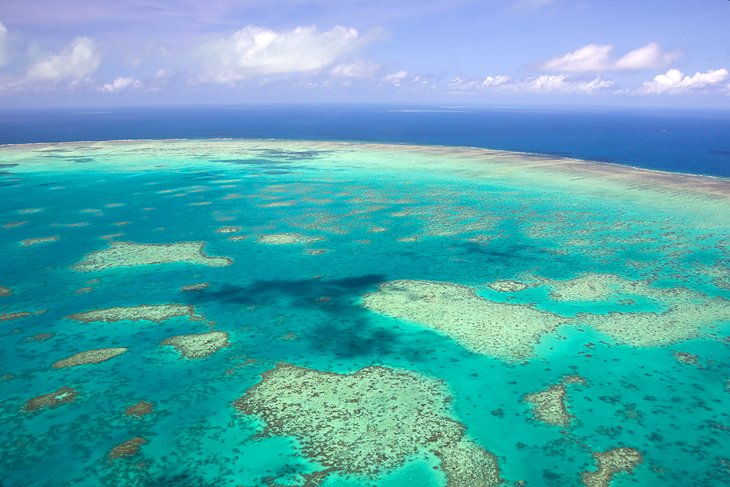 It's difficult to overstate the beauty and ecological importance of this World Heritage-listed natural wonder. This is the planet's largest living structure, and it's so vast, you can see it from space.
Much of the reef lies within the Great Barrier Reef Marine Park, which extends off the northern coast of Queensland, from Mackay to the northeastern corner of Australia. The park itself is about half the size of Texas and protects more than 3,000 coral reefs, 600 continental islands, 300 coral cays, and a patchwork of mangrove islands.
Diving or snorkeling the reef is one of Australia's must-do outdoor adventures. The astounding diversity of marine life lures visitors from around the world. More than 1,600 species of tropical fish inhabit the reef, as well as sharks, dugongs, dolphins, turtles, giant clams, and kaleidoscopic soft and hard corals. Underwater viewing stations and glass-bottom boats also offer a window into this underwater wonderland.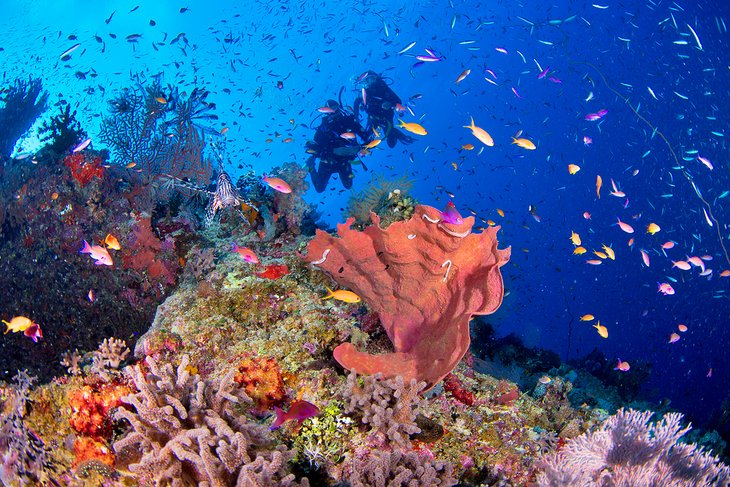 Other popular things to do during a visit to the Great Barrier Reef include scenic flights, island-hopping cruises, and sailing trips.
On the mainland, Cairns, Port Douglas, and Airlie Beach are the top gateway towns for tours. Alternatively, you can stay at one of the resort islands within the marine park. The Whitsunday Islands offer popular attractions and accommodation options and make a great base to explore the reef.
2. Take a Safari through Daintree National Park and Cape Tribulation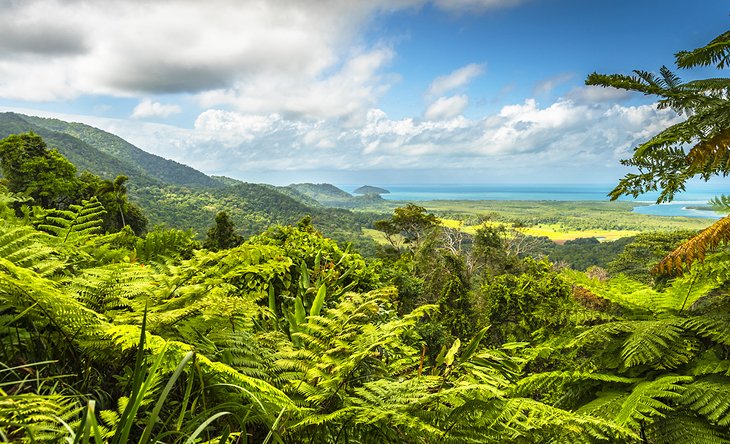 A Wet Tropics World Heritage Area, Daintree National Park is the planet's oldest surviving rainforest. That alone should be reason enough to visit, but it also harbors one of the world's highest concentrations of threatened and endangered species.
Located in Far North Queensland, the two main sections of the park include the crystal-clear waters and lush forests of Mossman Gorge, as well as Cape Tribulation, where tropical rainforest fringes the reef-splotched shores of the Coral Sea.
The ecosystems here are incredibly diverse. More than 18,000 plant species, as well as a fascinating array of animals live within the park, including the flightless southern cassowaries (ostrich-sized birds), crocodiles, Boyd's rainforest dragons, brightly hued azure kingfishers, spotted cuscuses, and musky rat-kangaroos.
The best way to explore this area is on a guided safari. Many companies offer tours on amphibious vehicles and include rainforest hikes and tropical fruit tastings. However, you can also take a self-drive tour.
Other popular things to do include ziplining through the rainforest, horseback riding, swimming at Mossman Gorge, looking for cassowaries along the Jindalba Boardwalk, and hiking the many other rainforest trails.
Just south of the park, the resort town of Port Douglas is a popular base for arranging rainforest wilderness safaris. This area is one of the best places to visit in Queensland in winter, during the dry season.
Accommodation: Where to Stay in Port Douglas
3. Go Four-Wheel-Driving on K'Gari (Fraser Island)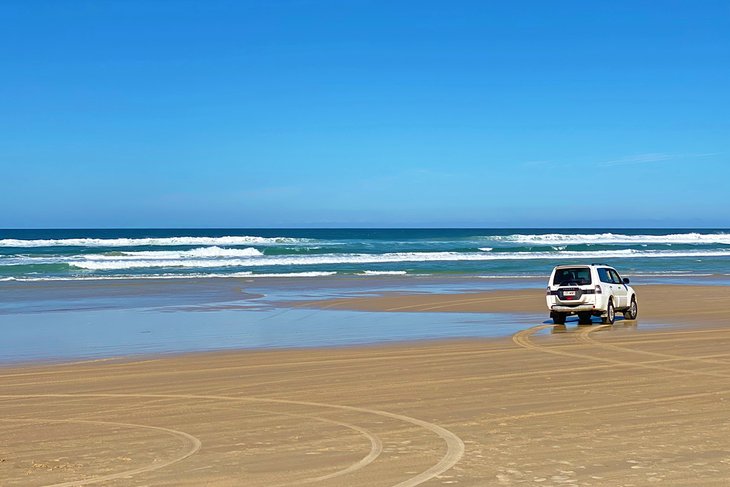 On the beautiful Fraser Coast, about a 3.5-hour drive from Brisbane, World Heritage-listed K'Gari (Fraser Island) is the largest sand island in the world. Four-wheel drive adventures here explore wide windswept beaches, crystal-clear lakes and streams, dingoes, dense forests, sacred Aboriginal sites, and multi-hued rock formations.
Seventy-Five Mile Beach is the island's main thoroughfare and provides access to some of K'Gari's top attractions. These include the rusted hull of the Maheno shipwreck, the bubbling rock pools of Champagne Pools, Eli Creek, and the colored sandstone cliffs of The Pinnacles.
Tiger sharks, dolphins, and whales swim in the wind-whipped waters, and the island's fauna includes Australia's purest strain of dingo and more than 300 species of birds.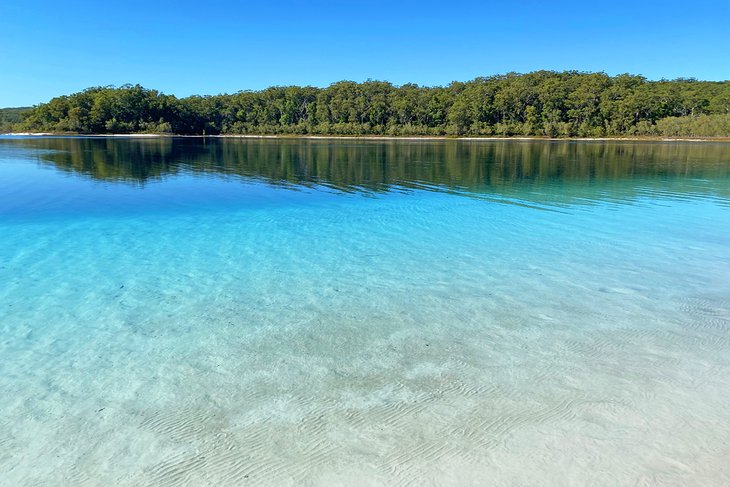 Top things to do inland include swimming in the aquamarine Lake McKenzie; exploring the rainforest trails of Central Station; and visiting Lake Wabby, backed by a towering sandblow.
4. Island Hop at the Whitsundays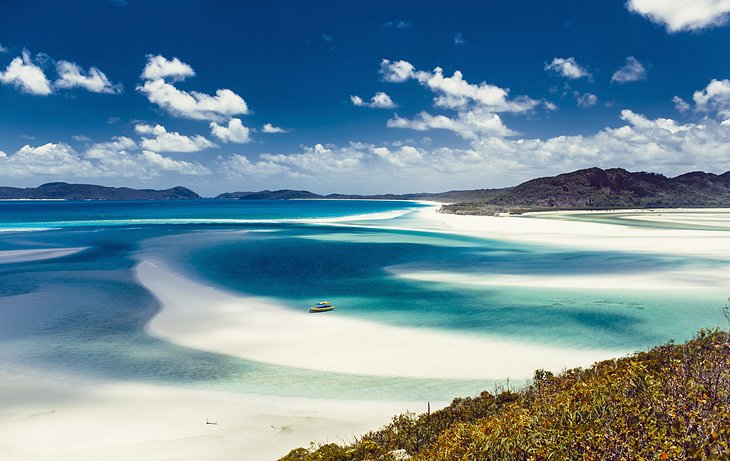 Off the coast of central Queensland, the Whitsunday group encompasses 74 stunning islands strung along the Great Barrier Reef. The Whitsundays are continental islands, the summits of a coastal range emerging from the sea. All but five of them have been declared national parks, and about eight are home to popular resorts.
Popular things to do in the Whitsundays include diving and snorkeling tours, sailing trips, basking on the dazzling tropical beaches, and relaxing at the island resorts.
The most famous resorts include luxurious Hayman Island; tiny Daydream Island Resort; well-developed Hamilton Island, the largest of the island resorts; and Palm Bay Resort on beautiful Long Island, with access to 13 kilometers of walking tracks.
On uninhabited Whitsunday Island, Whitehaven Beach, with its powdery white sands and turquoise water, is one of the most beautiful beaches in Australia.
Airlie Beach is the main launching points for island excursions.
5. Stroll along Four Mile Beach in Port Douglas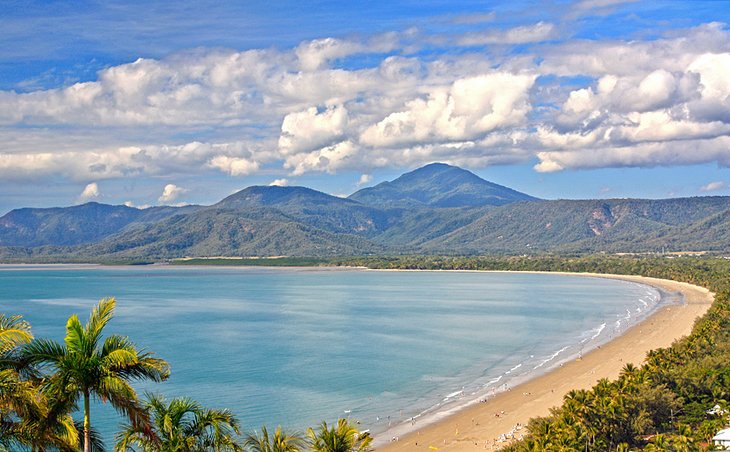 Dotted with palms and mango trees, the once-sleepy village of Port Douglas is now a charming holiday resort. It's the closest mainland town to the Great Barrier Reef, making it a popular base for reef trips, as well as wilderness safaris in Daintree National Park. This picturesque town lies about an hour's drive north of Cairns, along a scenic coastal road, which winds between beaches and rainforest-cloaked hills.
Skirting the beautiful blond sweep of Four Mile Beach, Port Douglas has a relaxed tropical vibe, with cute cafés, shops, and art galleries. From the Flagstaff Hill Lookout enjoy breathtaking views of the palm-fringed beach merging with the turquoise Coral Sea.
Top things to do in Port Douglas include getting up close to Aussie animals at the Wildlife Habitat, shopping at the farmers markets, and soaking up the downtown scene on Macrossan Street. Other adventures on offer include safaris in all-terrain vehicles to Daintree National Park and Cape Tribulation, fishing trips, northbound expeditions through the rugged landscape of the Cape York Peninsula, and boat trips to Cooktown and the Great Barrier Reef.
Thanks to the year-round toasty weather in the tropics, Port Douglas is one of the best places to visit in Queensland in winter. This is the prime tourist season, when the weather is typically sunny and dry.
Accommodation: Where to Stay in Port Douglas
6. Visit Cairns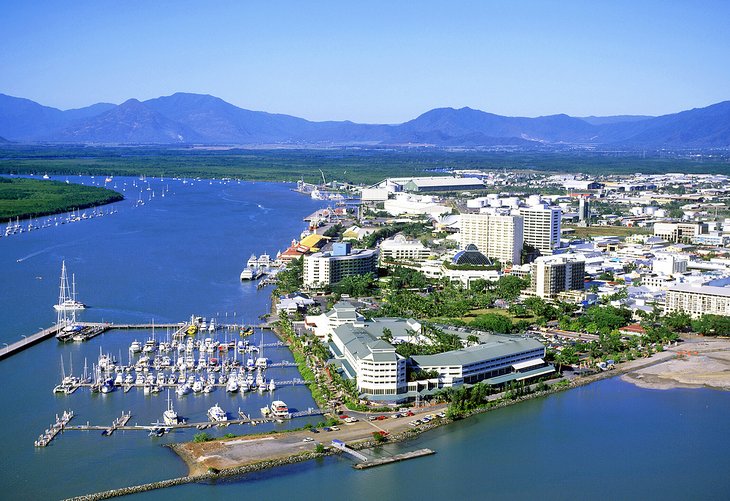 In a superb location, between the Great Barrier Reef and the dark hills of the Atherton Tableland, Cairns is one of the most popular tourist towns in Far North Queensland. It makes a great base to explore the best of Queensland.
Cairns is a friendly, laid-back town, with palm-fringed streets, large parks, and colorful gardens. Beautiful beaches radiate out along the coast from Trinity Bay and Palm Cove to Port Douglas. Feel like a stroll? The five-kilometer-long Cairns Esplanade runs along the bay, with a saltwater swimming lagoon and free water-themed playground for young children.
Cairns is an excellent base for day trips. It's one of the most popular launching points for excursions to the Great Barrier Reef, as well as tropical islands such as Green Island and Fitzroy Island.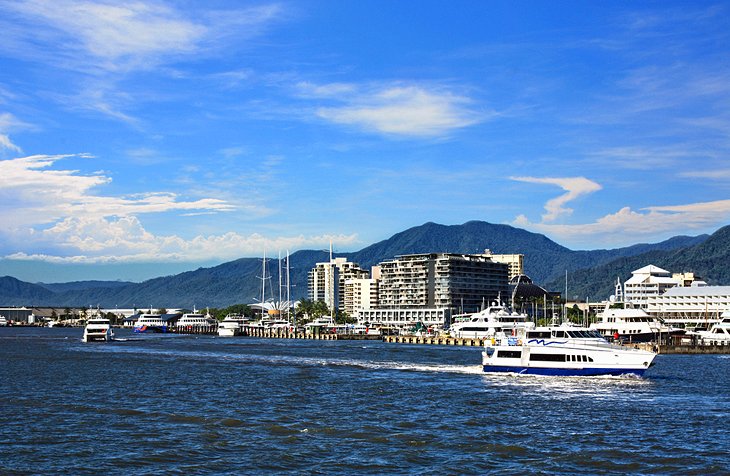 The Atherton Tableland to the southwest is another popular day trip destination, where you can explore rainforest reserves, waterfalls, and the charming attractions in the mountain village of Kuranda. The Kuranda Scenic Railway or the Skyrail cableway offers spectacular views over the surrounding countryside and the World Heritage-listed rainforests of Barron Gorge National Park.
Other top things to do in Cairns include visiting the Flecker Botanic Gardens, with more than 100 species of palms, and learning about the region's history at Cairns Museum. Cairns is also one of Australia's best fishing destinations.
Wondering where to stay in Cairns? You'll find accommodation to suit all budgets, from buzzy backpacker digs to flashy resorts.
Accommodation: Where to Stay in Cairns
7. Bask on the Beaches of Noosa Heads and the Sunshine Coast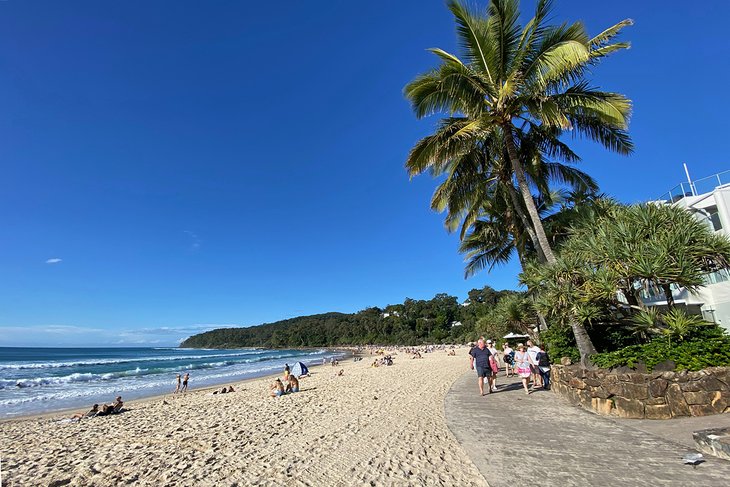 Stretching from Caloundra to Noosa Heads, the Sunshine Coast is one of the most popular places to visit in South East Queensland. Known for its beautiful beaches, it's also a popular holiday spot for Aussies, only about two hours north of the Gold Coast high-rises but seemingly a world away. Beaches are among the top attractions on the Sunshine Coast, from peaceful, cliff-fringed bays to famous surf breaks.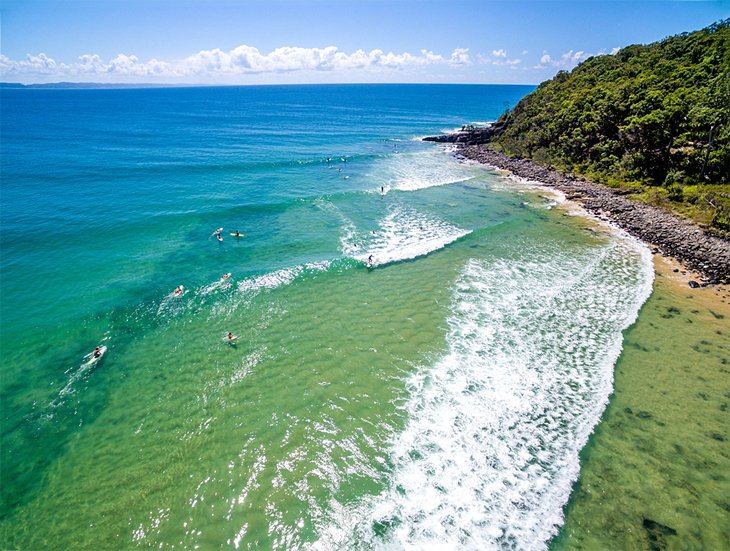 Noosa Heads is one of the most popular resort areas. Its postcard-perfect slice of sand and sea, Main Beach, is one of Noosa's top attractions, and it's also home to a famous surf break.
For more beautiful beaches and fantastic surfing, Coolum is another great place to visit on the Sunshine Coast. The Point Arkwright Trail here connects a series of secluded cliff-fringed bays, where you can escape the crowds and take a cool dip on a hot summer's day.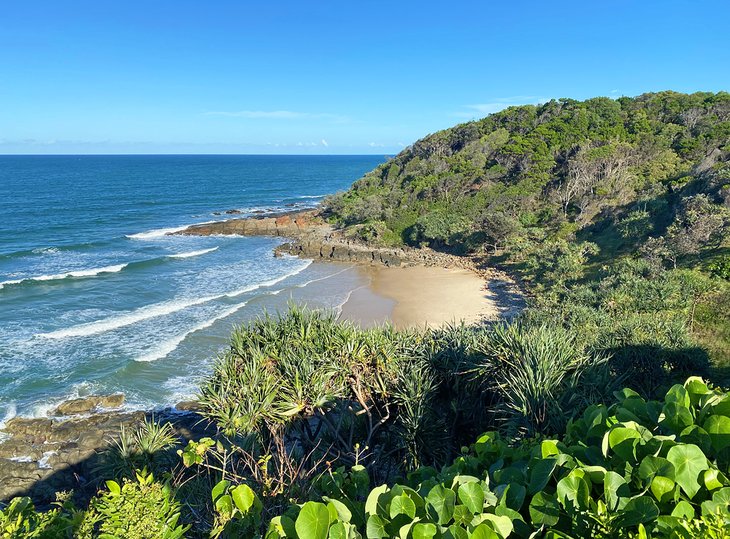 And more beaches await at Caloundra, from popular Kings Beach, with its oceanfront pool, to Moffat's point break and the perfect paddling waters of Paradise Beach.
8. Soar over the Rainforest to Kuranda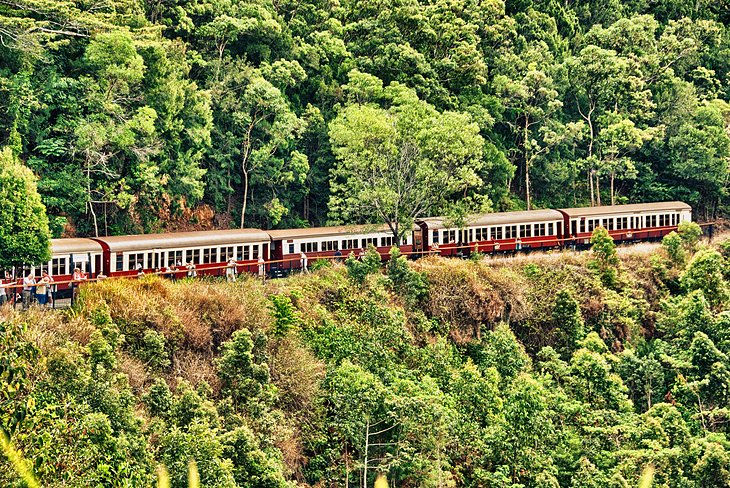 A trip to Kuranda, a charming rainforest village on the Atherton Tableland, is as much about the journey as the destination. From just outside of Cairns, you can take the Skyrail Rainforest Cableway and fly over World Heritage-listed rainforests and the beautiful Barron River and Gorge.
Alternatively, the Kuranda Scenic Railway chugs through the rainforest, past rugged peaks and waterfalls. The journey ends in the little station at Kuranda, about 25 kilometers northwest of Cairns, which is almost hidden by tropical plants and palms.
Exploring Kuranda's highlights starts with a stroll around the village. Artsy shops, galleries, and the colorful Kuranda markets sell souvenirs and local crafts, and you can soak up a slice of nature at several animal sanctuaries. The Australian Butterfly Sanctuary, Birdworld, Kuranda Koala Gardens, and Rainforestation Nature Park are favorite things to do in Queensland for families.
Walks can be arranged on request from Kuranda to the wildly romantic Barron Gorge National Park. At Tjapukai Aboriginal Cultural Park by the Caravonic Lakes, you can learn about Aboriginal culture and enjoy frequent native dance performances.
Travelers wishing to take the scenic self-drive route to Kuranda will also enjoy the journey.
9. Live it Up on The Gold Coast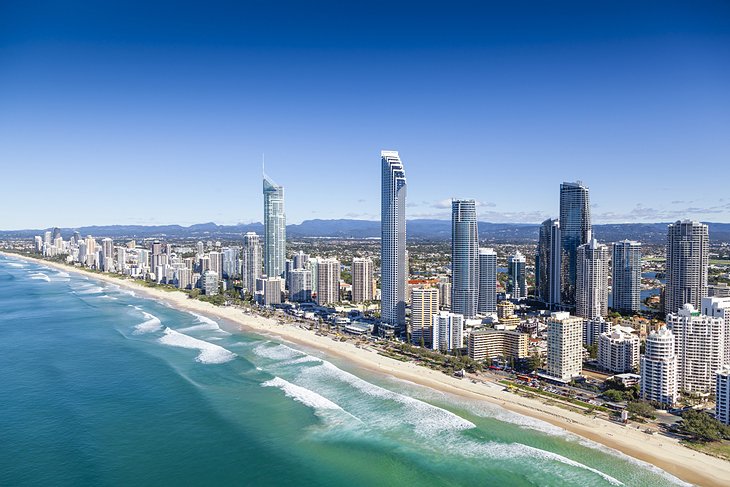 The Gold Coast is one of Australia's best-known holiday regions. During the last few decades, a building boom transformed the coast into a kind of tropical Las Vegas, with skyscrapers and shopping malls stretching from Southport in the north to Coolangatta in the south.
Packed with tourist attractions and high-rise hotels, Surfers Paradise – "Surfers" for short – is a tourist magnet, legendary for its alliterative assets: sun, surf, and sand. But it's easy to escape the crowds in the surrounding wilderness areas or on the outlying beaches.
Despite Surfers Paradise's reputation for hedonism, you'll find plenty of Queensland attractions for families in the region. South of Surfers Paradise, kids love Currumbin Wildlife Sanctuary, and Movie World, where old film sets have been recreated by Warner Bros. To the north, in Southport, you can see your favorite marine creatures at Sea World.
Not surprisingly, swimming, sunbathing, and surfing are popular things to do on Queensland's Gold Coast, and nature lovers will find plenty of attractions to explore. Excellent networks of roads lead to scenic lookouts in the hinterland, where many wilderness areas are within easy reach, including popular Lamington National Park.
10. Get a Culture Fix in Brisbane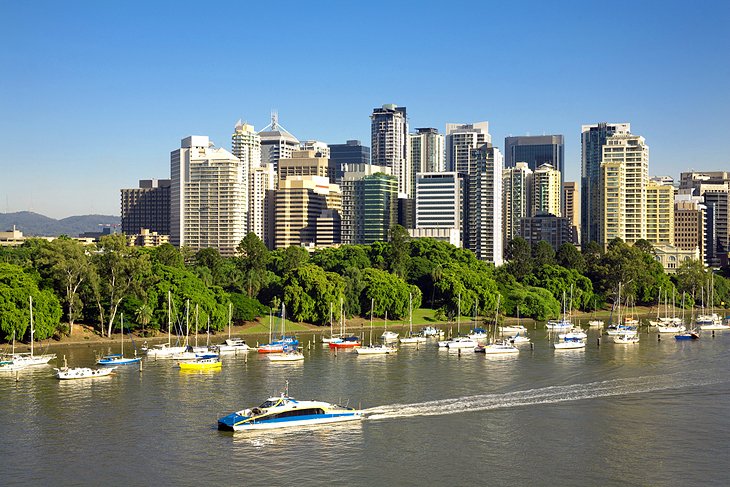 Brisbane, Australia's third largest city and the capital of Queensland, offers a more relaxed pace than the larger capitals in the country's southeast. It makes a great base to explore Queensland. The city straddles the Brisbane River and is bounded on the east by the sea and on the west by the Great Dividing Range.
Visitors love the city's sunny climate and its luxuriant parks and gardens. Top things to do in Brisbane include strolling around the Brisbane Botanic Gardens Mt Coot-tha, with more than 2,000 species of plants, and visiting Lone Pine Koala Sanctuary, one of the few places where you can touch and feed koalas.
Family-friendly South Bank Parklands features riverside walking and biking trails, lush gardens, shops, and restaurants.
River cruises are also popular. One of Brisbane's best known tourist attractions is the Kookaburra Queen, an old paddle steamer, which cruises down the Brisbane River, and the River Life Adventure Centre offers adrenalin-fueled water sports on the river.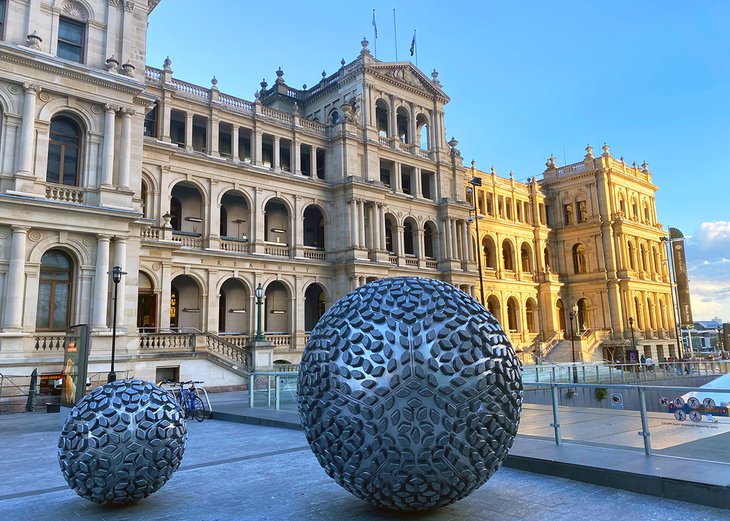 Other things to see and do include shopping at the Queen Street Mall, climbing the Story Bridge, exploring the exhibits at the kid-friendly Queensland Museum, browsing the inspirational art exhibits at QAGOMA, and enjoying beautiful city views from Mt Coot-tha Lookout.
Brisbane is also a great jumping-off point for a range of rewarding day trips that showcase the best of Queensland, from island getaways and wildlife-rich national parks to the famous Australia Zoo and family-friendly theme parks.
11. Hop aboard a Whale Watching Cruise in Hervey Bay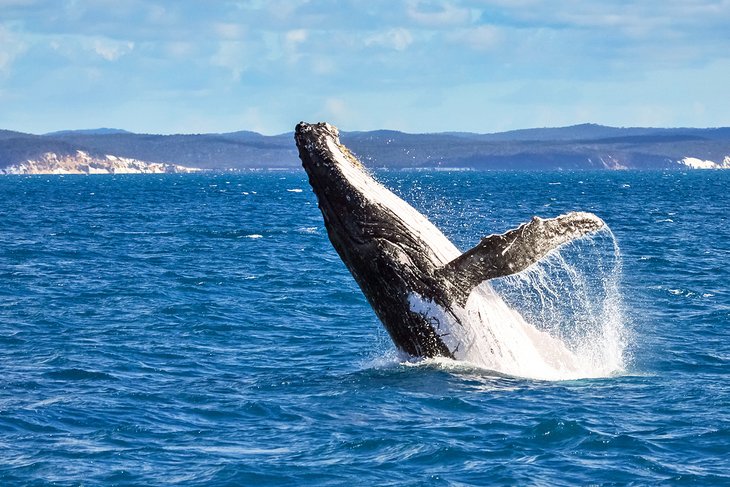 Ever wanted to swim with a humpback whale or come eye-to-eye with one of these gentle giants? This bucket-list adventure is one of the top things to do in Hervey Bay, the whale watching capital of Australia.
In 2019, Hervey Bay became the first place in the world to earn a World Cetacean Alliance designation as a Whale Heritage Site.
What makes it so special? K'Gari (Fraser Island) shelters the shallow waters off Hervey Bay, providing a sanctuary for these magnificent marine mammals. Here, they take a break from their long migration to rest, socialize, and teach their calves, and lucky visitors can enjoy up-close exhilarating encounters with them. Some cruises even offer you the chance to swim with the whales, one of the unique things to do in Queensland.
Wondering about the best time to visit Hervey Bay for whale watching? Late July through early November are the prime months. And if you're not visiting during whale season, you'll find plenty of other nature experiences in Hervey Bay, from eco-cruises, sunset cruises, and fishing charters to Indigenous cultural tours and spending time on the peaceful beaches.
12. Enjoy the Views in Maleny & Montville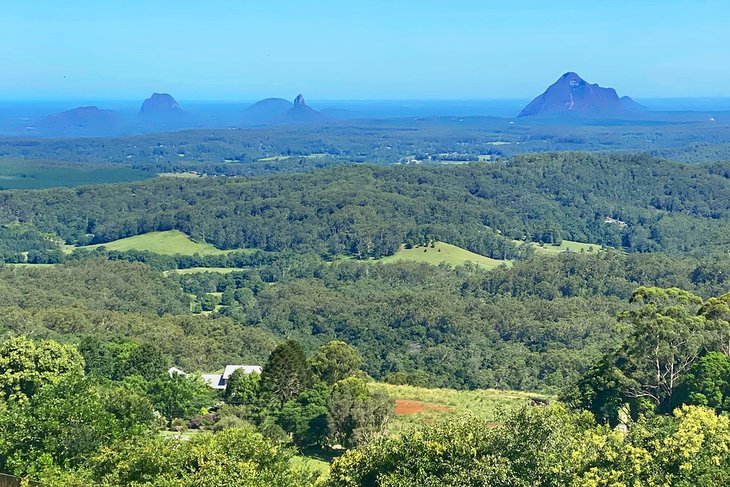 Craving some tranquility in the country? Head to the Sunshine Coast hinterland villages of Maleny & Montville. Both these charming villages sit high in the Blackall Ranges with breathtaking views of the Glasshouse Mountains, a cluster of volcanic plugs rising out of the coastal plain.
Maleny is dairy country. That means rolling green hills, cows, and, best of all, cheese! You can sample some while you're here, as well as other artisan products, like the sweet cocoa treats at Maleny Chocolate Factory.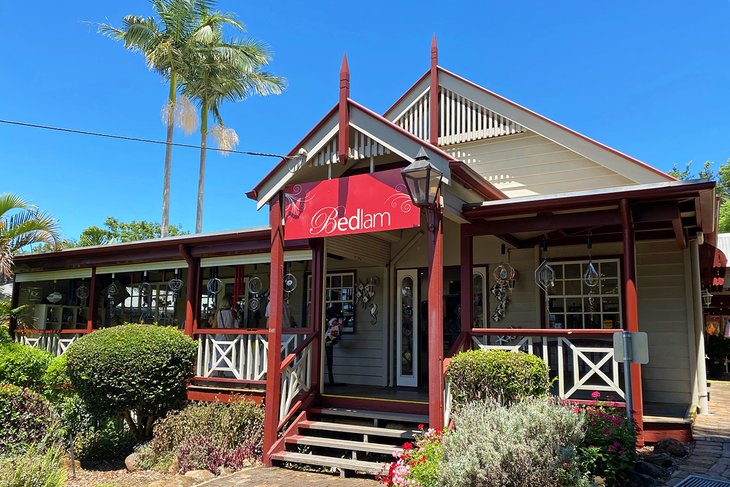 Montville also offers inspirational views of the lush valleys and the Glasshouse Mountains. Art galleries, craft cottages, boutiques, and gift shops peek out from veils of blossoms on the main street. Along with Maleny, it's one of the best country towns to visit in Queensland, and it's the perfect place to linger and enjoy Devonshire tea.
Nature is also never far away. Look for pademelons on the rainforest trails at Mary Cairncross Scenic Reserve, enjoy a picnic at Barron Pocket Dam, spot platypus on the Obi Obi Boardwalk right near downtown Maleny, or hike to Kondalilla Falls.
13. Bird-Watch at Lamington National Park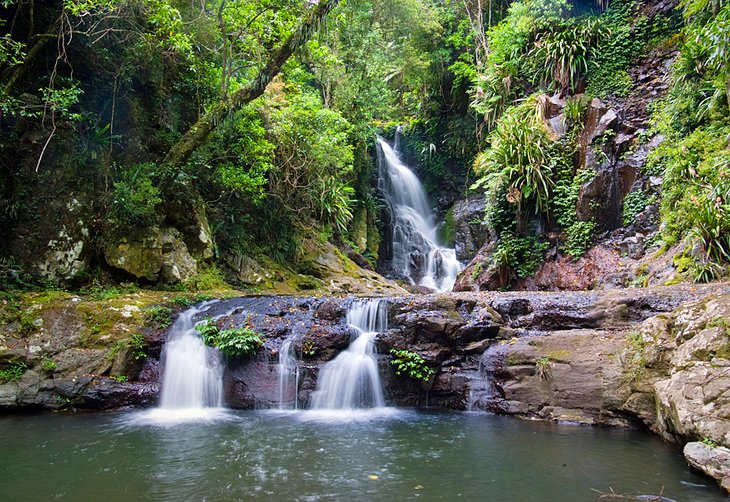 About a two-hour drive south of Brisbane, Lamington National Park is a World Heritage Area and one of the state's most popular national parks. Located on the Lamington Plateau of the McPherson Range, amid the remnants of an ancient volcano, the park contains spectacular scenery, with steep gorges, more than 500 waterfalls, tropical and subtropical rainforests, and beech forests in the higher elevations.
Nature buffs will be in heaven here. More than 190 species of birds live in the park, including bowerbirds and colorful flocks of parrots. Red-necked pademelons, a small kangaroo-like marsupial, frolic at the rainforest fringes, and the shy platypus swims in the park's river rock pools.
14. Tour Townsville and Magnetic Island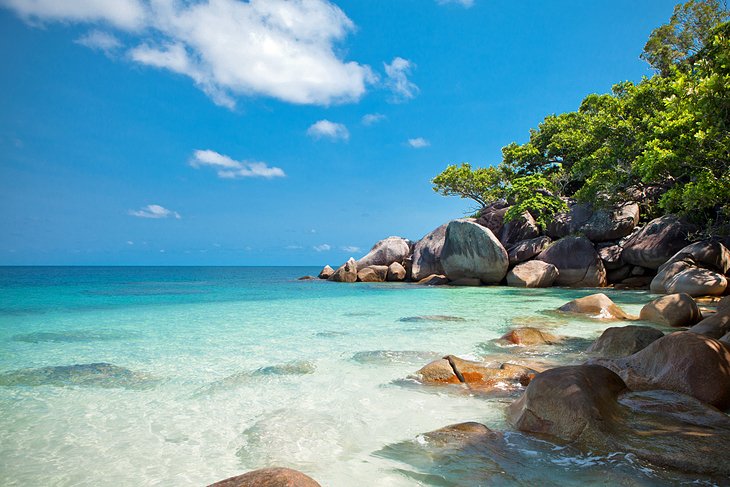 Townsville is the largest tropical town in Australia. It's an excellent base for excursions and tours, particularly to beautiful Magnetic Island and the Great Barrier Reef, but it also offers plenty of tourist attractions of its own.
The town lies on Cleveland Bay at the foot of Castle Hill, a 300-meter-high granite crag. Walking tracks lead to its peak, with panoramic views over the town and sea. But perhaps the best place to start exploring the city is the Strand. Strolling along this scenic waterfront promenade, you can take a dip at one of the swimming areas, soak up some of the region's history at Jezzine Barracks, enjoy a picnic in a park, or dine at a nearby café.
Apart from the picturesque waterfront, Townsville owes much of its charm to its many parks and private gardens filled with luxuriant tropical flowers. While you're here, be sure to take a stroll through the Queen's Gardens, Townsville's oldest botanical garden, and Townsville Palmetum, with the world's largest collection of palms.
Families will find plenty of kid-friendly attractions. Pack a picnic and head to Riverway, with its pretty riverfront parkland, walking and biking trails, art exhibits, and free swimming pools, and if you're interested in the local aquatic life, Reef HQ Great Barrier Reef Aquarium features an underwater tunnel where you can view the coral reef and marine life up close.
Other popular things to do in Townsville include visiting the Museum of Tropical Queensland and diving the SS Yongala wreck.
15. Feed a Kangaroo at Australia Zoo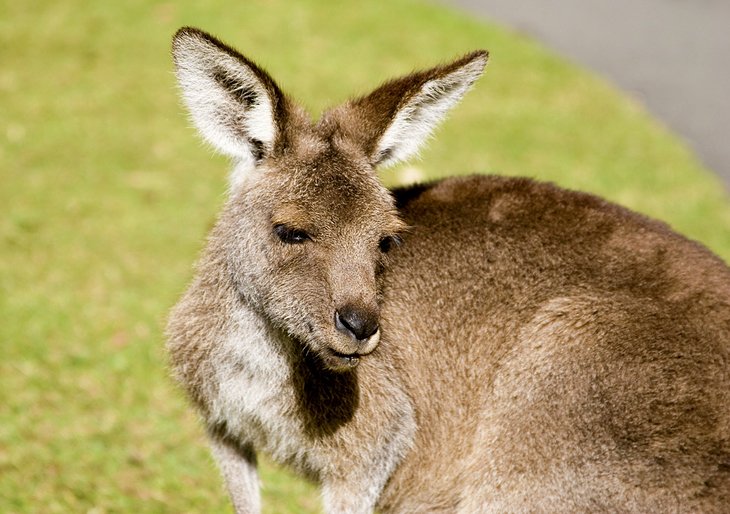 Made famous by the late Steve Irwin, the charismatic croc-loving Aussie conservationist, Australia Zoo is one of Queensland's best loved family attractions. An easy day trip from Brisbane, the zoo has a strong focus on education and conservation. As well as Aussie favorites like kangaroos, koalas, emus, dingoes, – and crocs – you can also see exotic animal species, including Sumatran tigers, rhinos, meerkats, zebras, giraffes, cheetahs, and elephants.
Crocoseum performances are a great way to learn more about some of the fascinating creatures that call the zoo home, including birds of prey, snakes, and the venue's namesake crocodiles. You can also ride a camel, feed a kangaroo or red panda, and cuddle a koala. The zoo is spread out over 110 acres, so make sure you wear your walking shoes.
Official site: http://www.australiazoo.com.au/
16. Explore the Cape York Peninsula & the Torres Strait Islands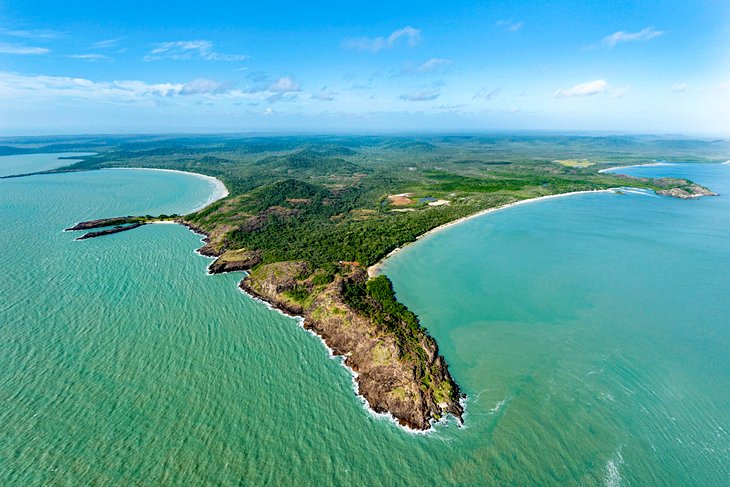 Remote, rugged, and rich in Aboriginal history, the Cape York Peninsula & Torres Strait Islands are some of the most the unique places to visit in Queensland.
Looking for adventure? You'll find it on the legendary "trip to the tip" of Cape York Peninsula, one of Australia's epic road-trips. You can also reach some of the top Cape York destinations on a day trip from Cairns, including the historic settlement of Cooktown and the wildlife-rich wetlands of Lakefield National Park.
But to hit the northernmost tip of Australia, excellent planning and an off-road vehicle are essential. River crossings are part of the adventure, and in the far north, wet season deluges wash out the rudimentary roads, so travel must be tackled during the dry season, from May to October.
Along the way, you'll see jungly rain forests, wild mangrove-fringed beaches, sprawling savannah, croc-filled rivers, ancient rock art, and fascinating Aboriginal communities. North of Weipa, it's usually necessary to camp, and satellite phones are highly recommended.
If you're not up for the planning and logistics of a self-drive tour of this wild, relatively unspoiled region, you can always take an organized tour or fly directly into one of the 274 Torres Strait Islands north of Cape York's tip. Thursday Island is the main administrative center and a great place to learn about the culture of the Torres Strait islanders. Horn Island reveals a fascinating military history. Private Roko Island offers a unique glamping experience, and you can tour a pearl farm here and on Friday Island.
Fishing charters off Weipa are another popular way to explore this untamed coast.